Liquid Interiors creates a neoclassical home nestled in the mountains of Tai Tam for artist Betty C Fan to showcase her mixed media artwork.
When multimedia artist Betty C Fan sought the help of Liquid Interiors to design her 1,500 sq. ft. residence, her main objective was simplicity. "The goal was to create a home that's a sophisticated, white and clean canvas for artwork that is also cosy and relaxing," said Rowena Gonzales, Founder and Creative Director of Liquid Interiors. "The styling shows Betty's appreciation for sculptural art in balance with simplicity."
Liquid Interiors opted for a timeless style that can easily be accented with interchangeable digital and physical art pieces as the resident's artistic journey evolves. A neutral colour scheme of mostly black, white, brown and beige reigns throughout the home, which coupled with the vertical wall trims and abundance of natural light, gives the illusion of height and larger space.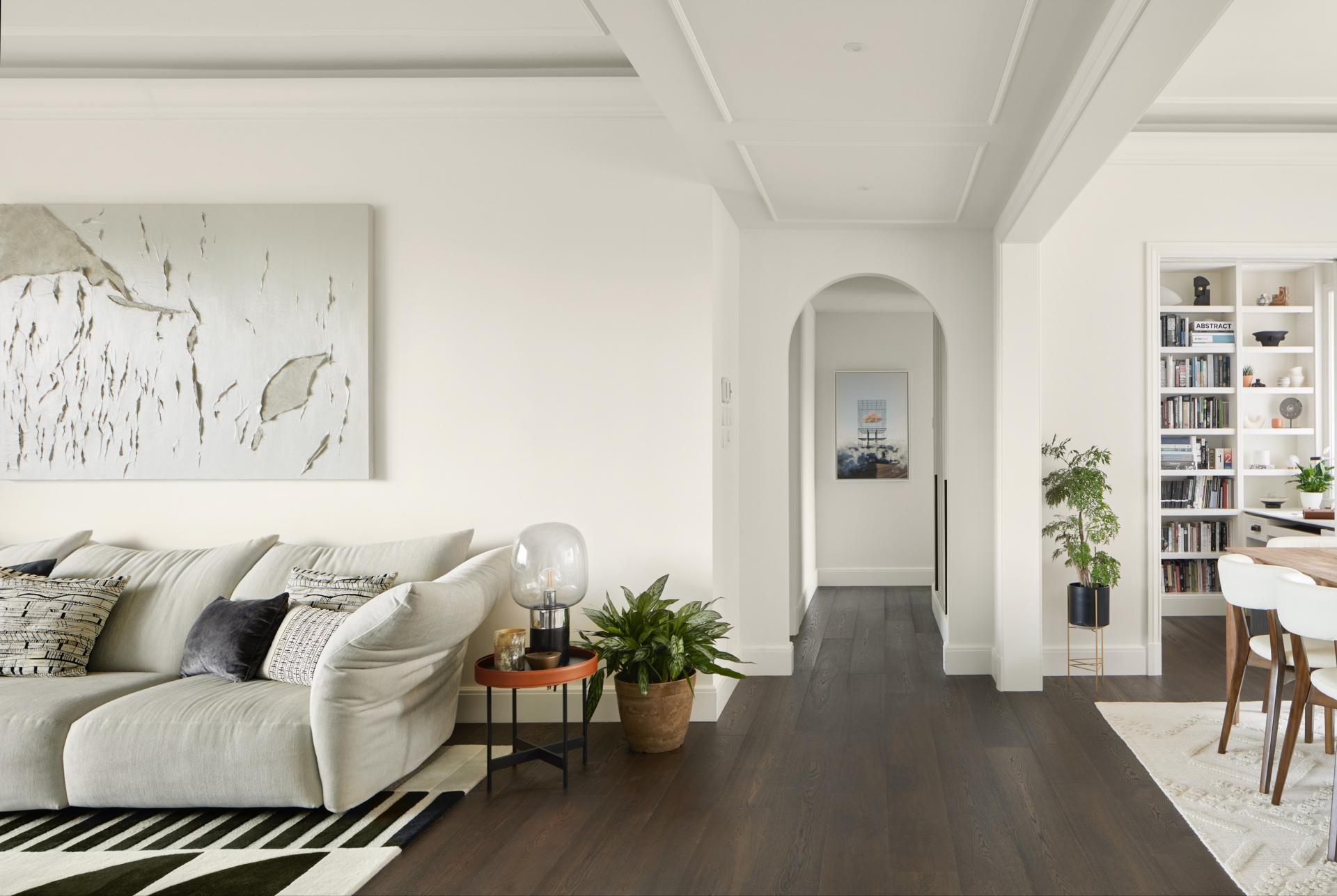 Artwork above sofa: Grey On Grey by Betty C Fan
The living room looks out to luscious mountain views, inviting more beauty and serenity into the home. Samsung's The Frame TV is mounted onto the TV wall, which in art mode, allows artists to display digital artwork that appears life-like. Underneath the screen is a charcoal-smoked glass panel which hides all of her TV and router equipment. The flickering artificial candles behind the glass create the illusion of a cosy and warm fireplace, with a custom-made geometric rug by Rug Your Life carpeting the floor.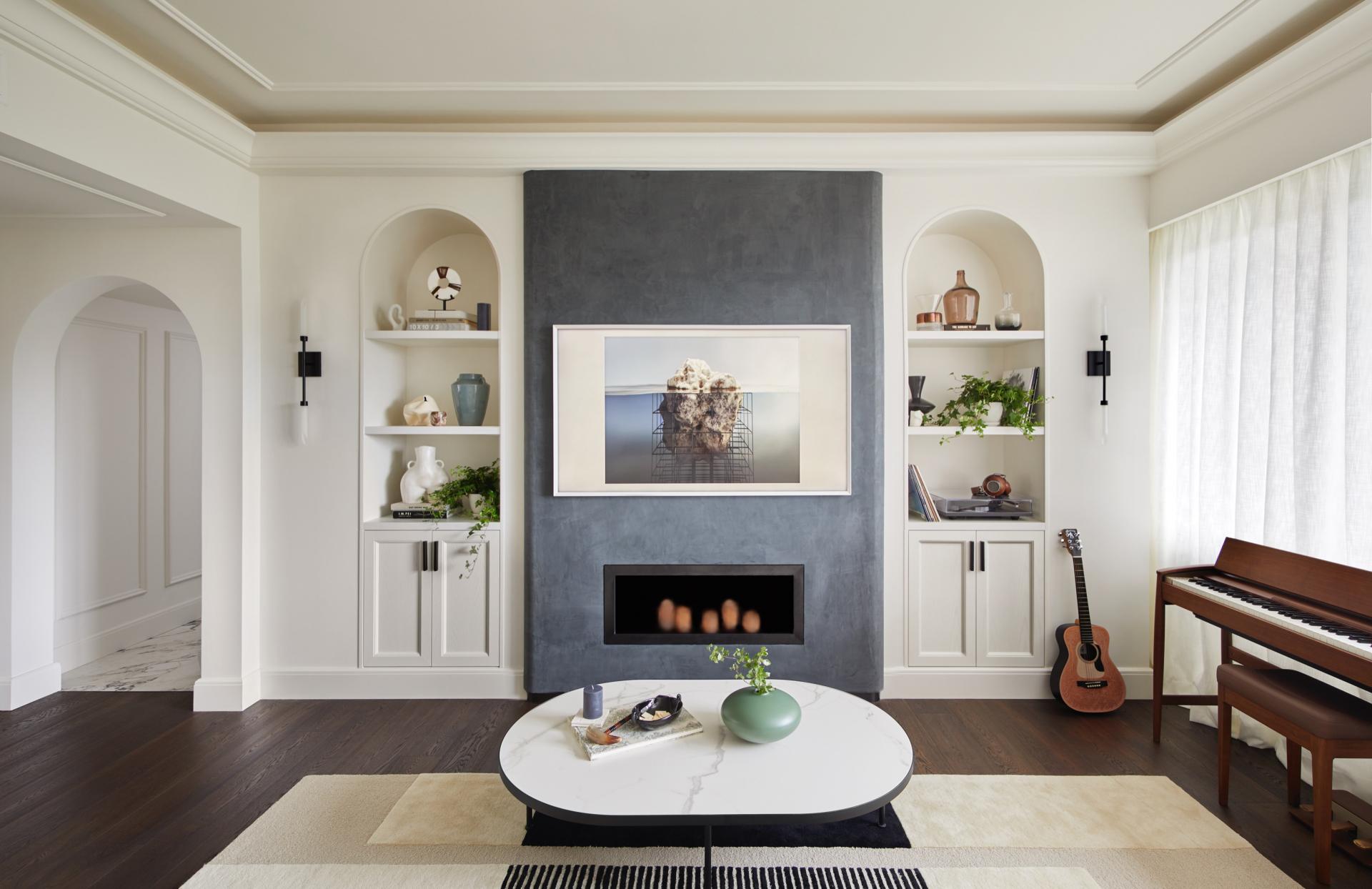 Artwork on the TV: Overlooked by Betty C Fan
The original three-bedroom layout was adapted to give the dining and living areas an illusion of more space. The smallest bedroom was converted into a creative workspace where Betty does much of her digital artwork, and is connected to the dining area with sliding doors. Antiqued mirror glass is used on the doors to reflect light and add depth even with them closed, creating an illusion of continued space.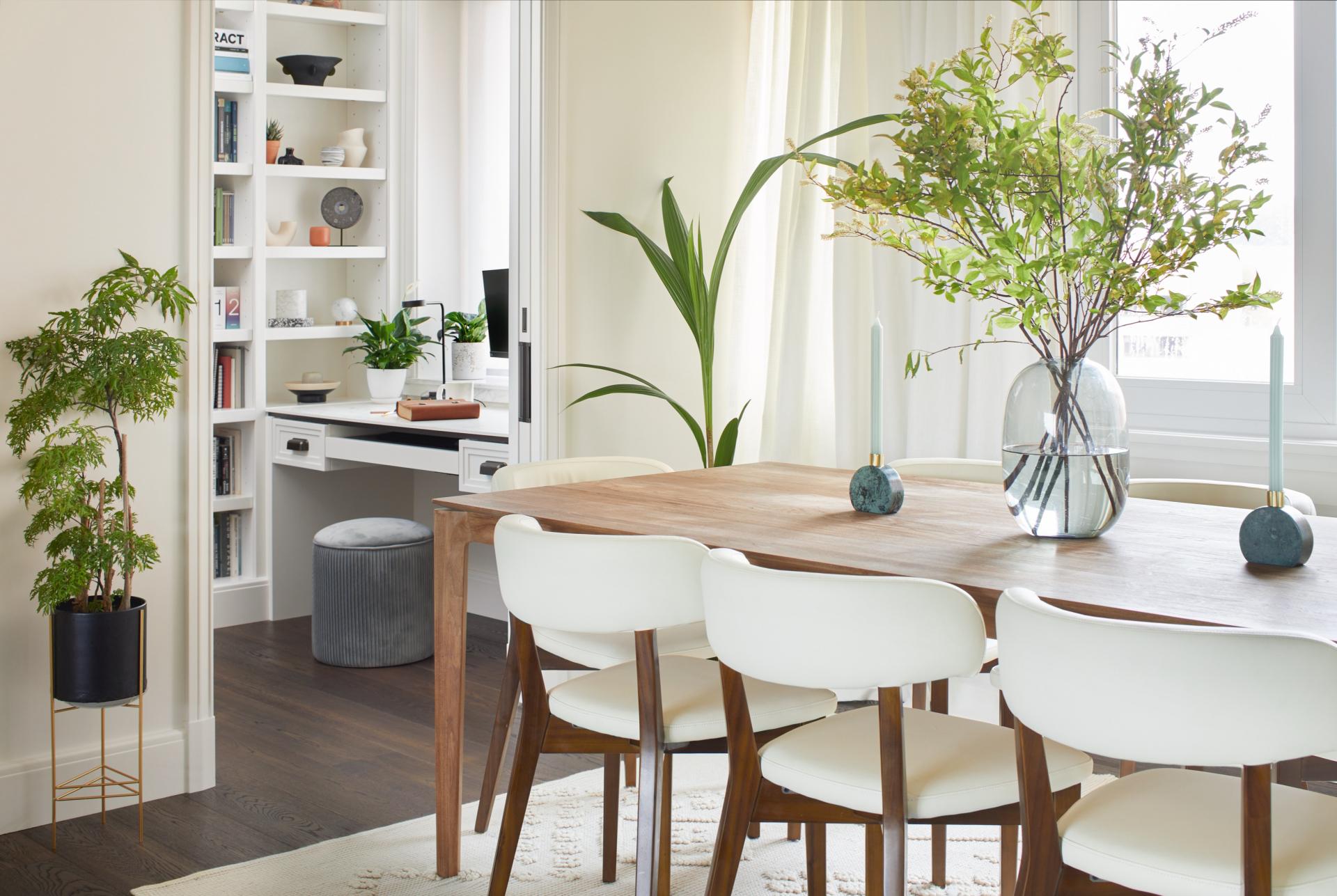 The dining room is centred around a teak wood dining table by Tree with matching teak wood chairs from E on Furnite on another Rug Your Life rug, while plants from Flora Houses decorate the space.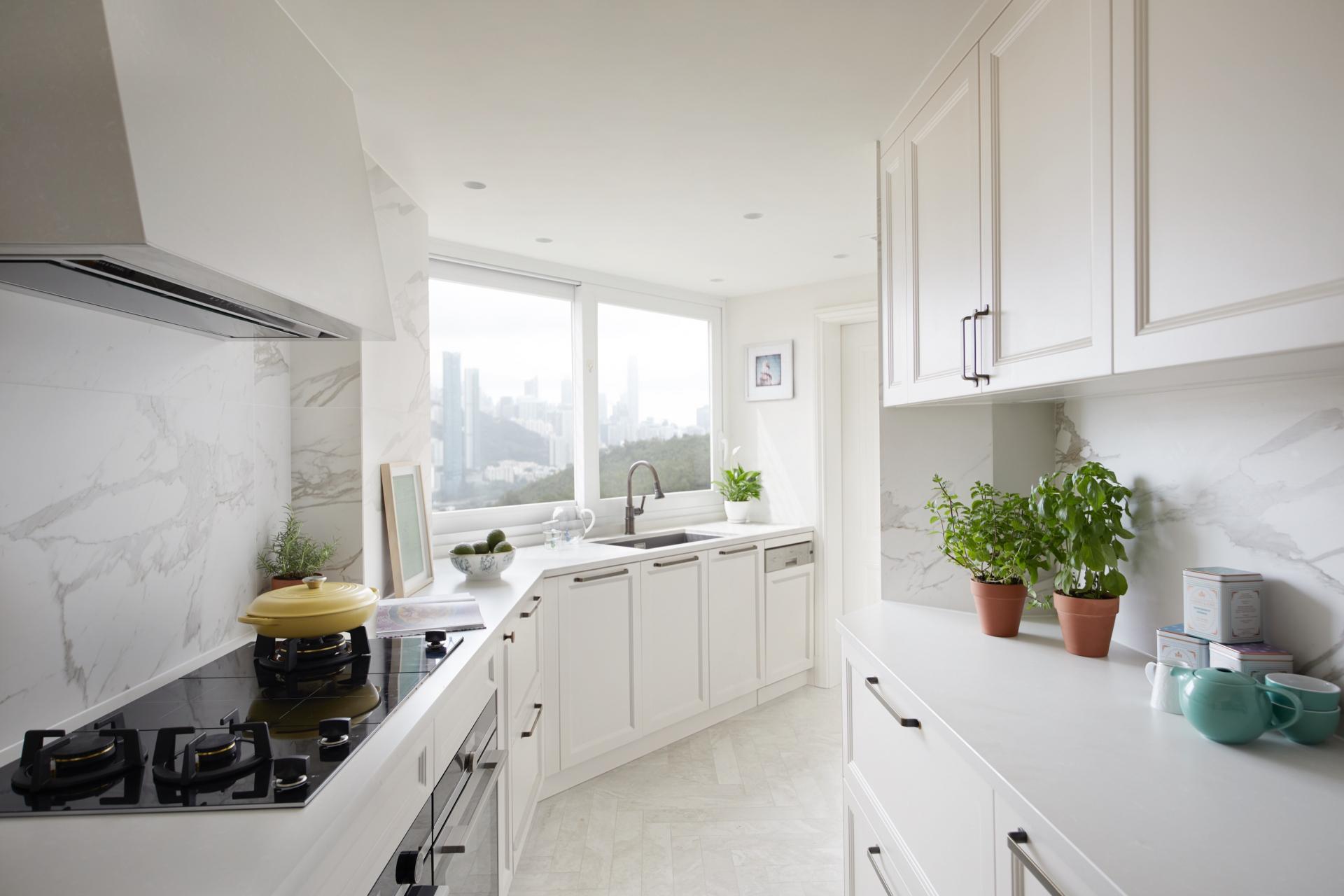 The kitchen was renovated to accentuate the neoclassical theme of the home, with clean modern lines and careful detailing on the cabinets that create a more classical feel.
For end-of-the-week gatherings with friends, the apartment also features a small wine bar with a fridge and extra storage for wine bottles and glasses. The area even has a separate sink from the kitchen that has filtered hot and cold water.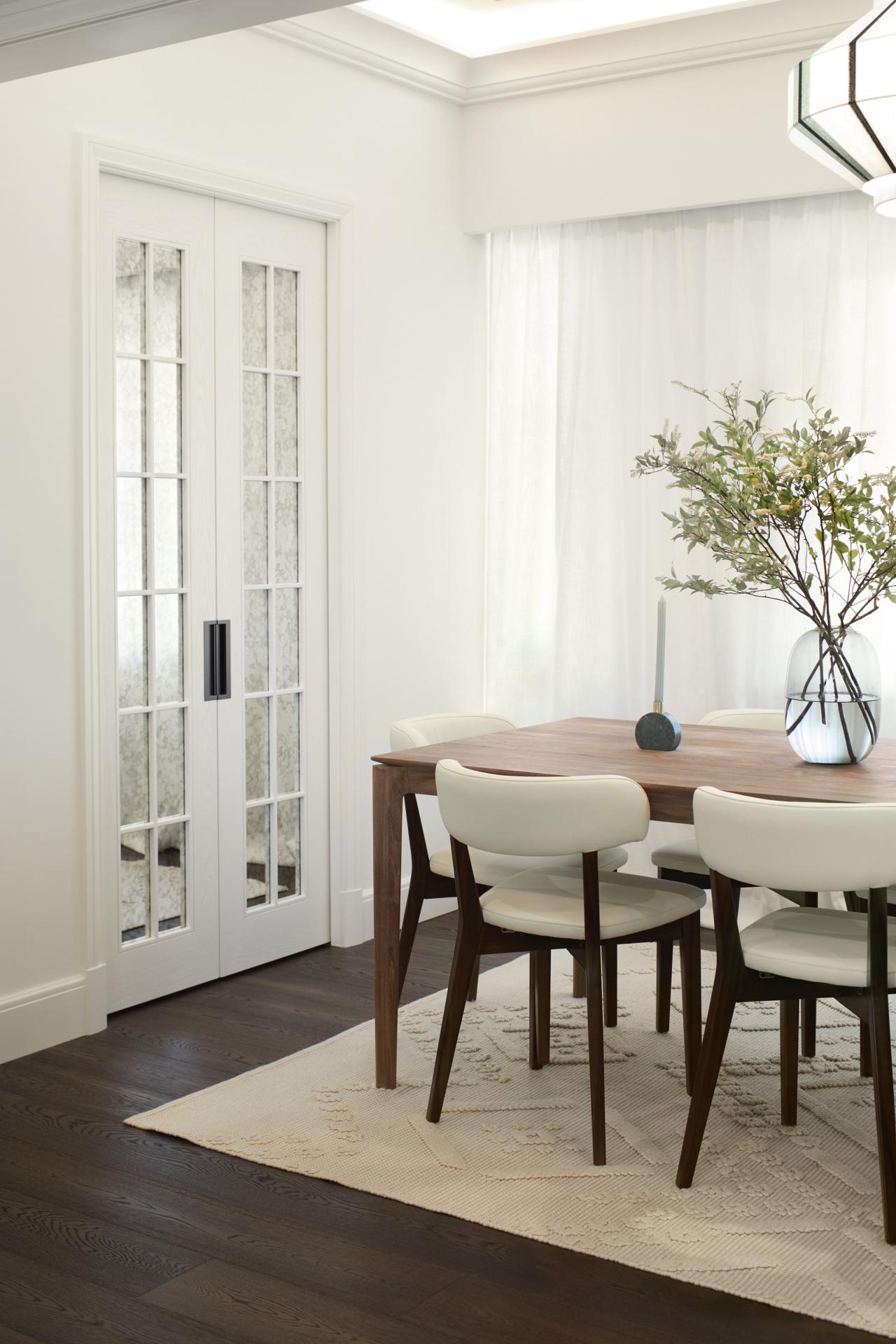 Since the artist wanted a non-toxic move in process, Liquid Interiors ensured that all the sourced materials were non-toxic and had minimal to no traces of VOCs and formaldehyde. It did a thorough process of flush-outs and VOC treatments, and tested all cabinets and other possible sources of toxic chemicals to make sure the home is a healthy environment.
Photos: Simon J Nicol
Senior Designer: Polina Volkonskaya, Stylist: Christie Simpson