Having grown up around the countryside landscapes of Northumberland and been inspired by Roman art and architecture, award-winning British designer Fiona Barratt-Campbell's work has been known to capture that same rugged richness and splendour as her influences.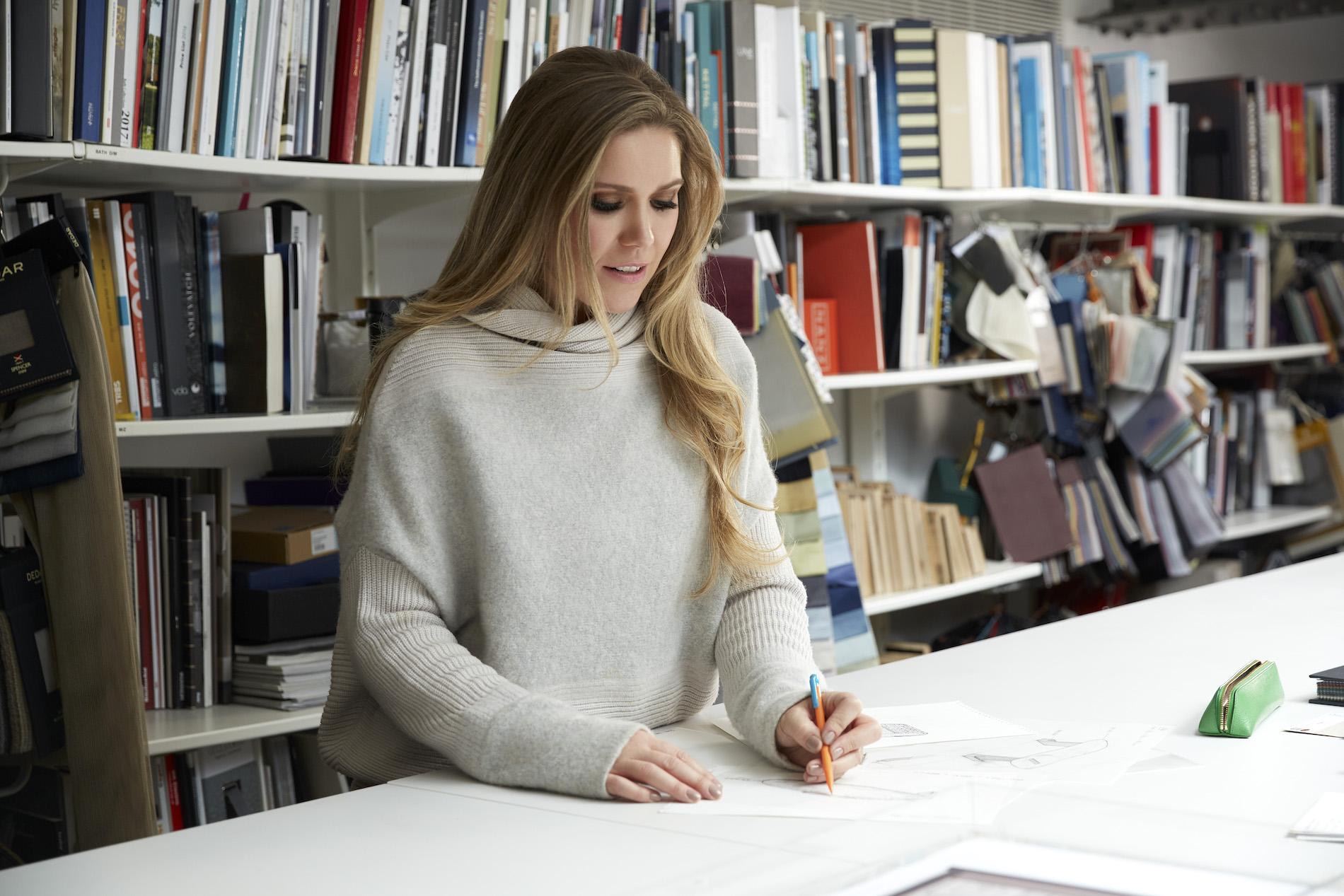 It was also these qualities that caught the eye of Adrian Cheng, who tapped Fiona and her team to design one of luxury residential concept K11 Artus' penthouses – a 3,703sqft oasis imbued with a cosy residential feel and strong artisanal flair. For her first project in Hong Kong (she also designed the newly unveiled Christmas tree for Upper House), Fiona's signature aesthetic is evident throughout the home in details from the stone-crafted double-sided fireplace to the specialist plaster wall finishes and almost every single piece of bespoke funiture in the home by her studio FBC London.
We sit down with Fiona to talk all things design – and why we'll be seeing more of her in Asia in the future.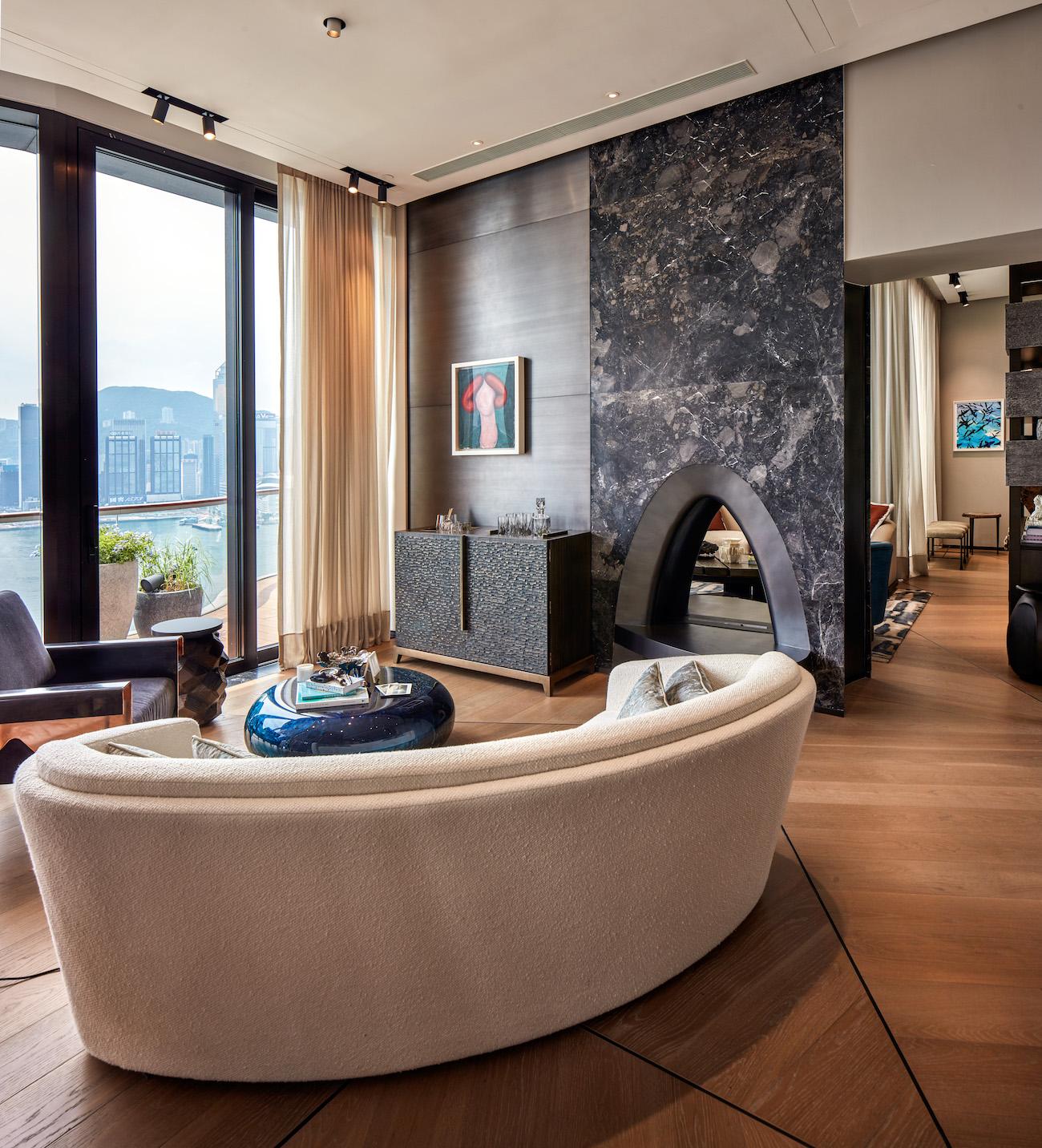 How did this collaboration with K11 Artus come to be?
Actually, New World Development emailed my office and asked if we'd work on the project. I'd never worked in Hong Kong before, so it was really interesting, especially as it was the biggest-scale hospitality project for us. We got asked and you don't turn something this down (laughs).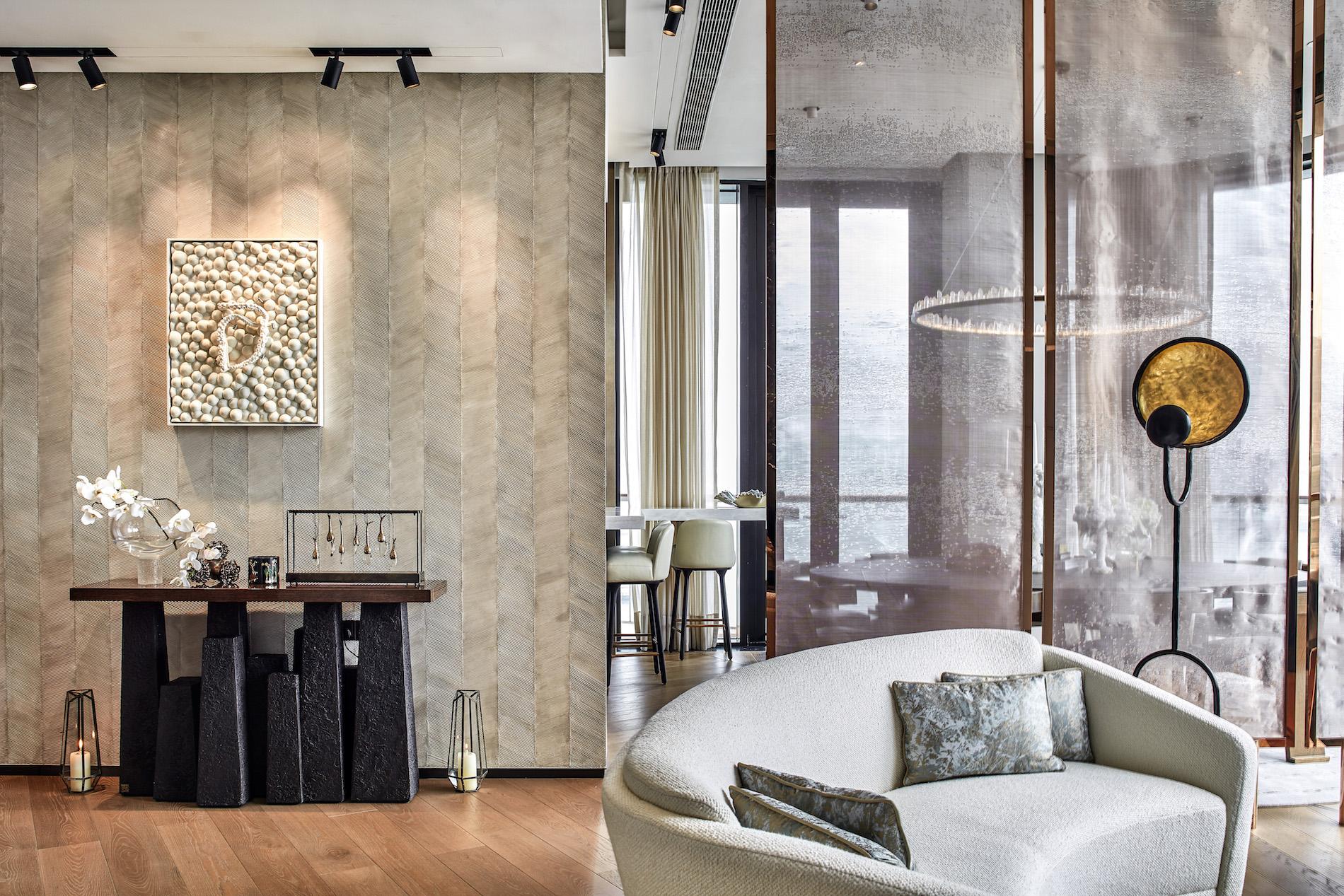 Can you describe the vision for the penthouse?
We had to understand the actual concept of the development and materiality of the building. The brief was very open; we were basically asked to do our own thing and keep very true to our design ethos. Adrian loves my story of being from Northumberland and using influences from Rome and nature. It was then me using those elements of our design and making sure they fit into the surroundings in Hong Kong.
What was very important when I was designing the layout is that every room has a view. Every room apart from two bathrooms has a view. It was important for us to design the flow like that.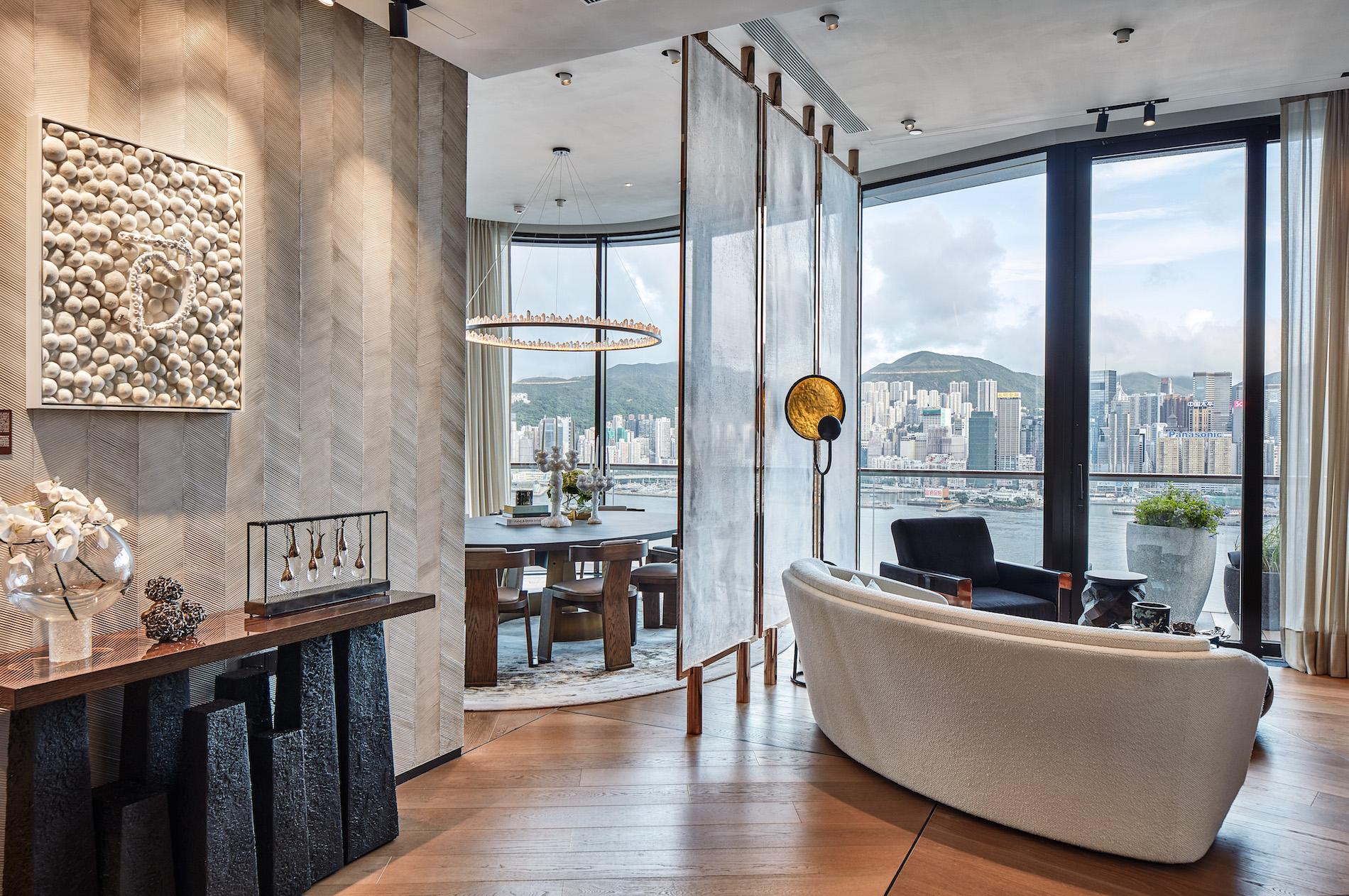 What are some specific features or accents that you utilised to inspire the look and feel of the penthouse?
In the living room we've got the fireplace crafted in local Chinese stone. We've got the bronze next to it, with the beautiful arch and the base is elliptical. I really enjoy the materiality of that.
The walls are made of specialist plaster and herringbone; in the master bedroom, the walls in the bath and shower is 100-year-old antique barnwood, coated with silver paint with resin over to protect it. I think what is lovely is the unexpected mix of textures throughout the penthouse. In the master bedroom we got that beautiful curved wall in leather with a pattern cut into it which is really nice. On the other wall, there is a textured wallpaper. In the other room, we have sandblasted ash wood wall behind the bed.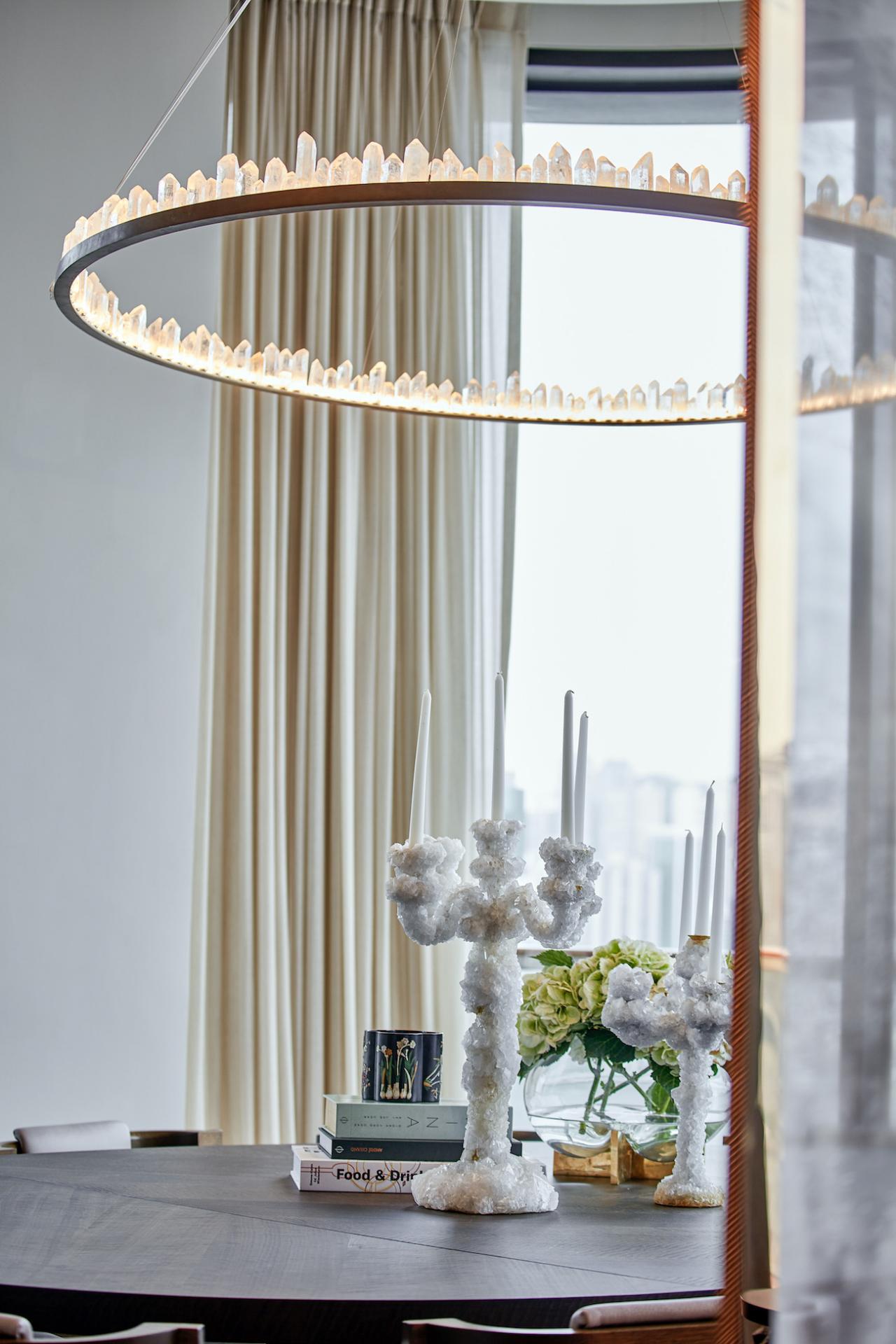 There's just so many different textures in there; it becomes very tactile; I think that's what I really enjoyed. Seeing guests come in and wanting to touch everything – that for me is lovely.
Do you have a favourite area or elements in the penthouse and why? (furniture, accessories, art, textiles, wall coverings etc.)
A lot of the furniture in the apartment is from my retail brand, FBC London all made in the UK. A lot of things here are European made and all the cabinetry were made in China.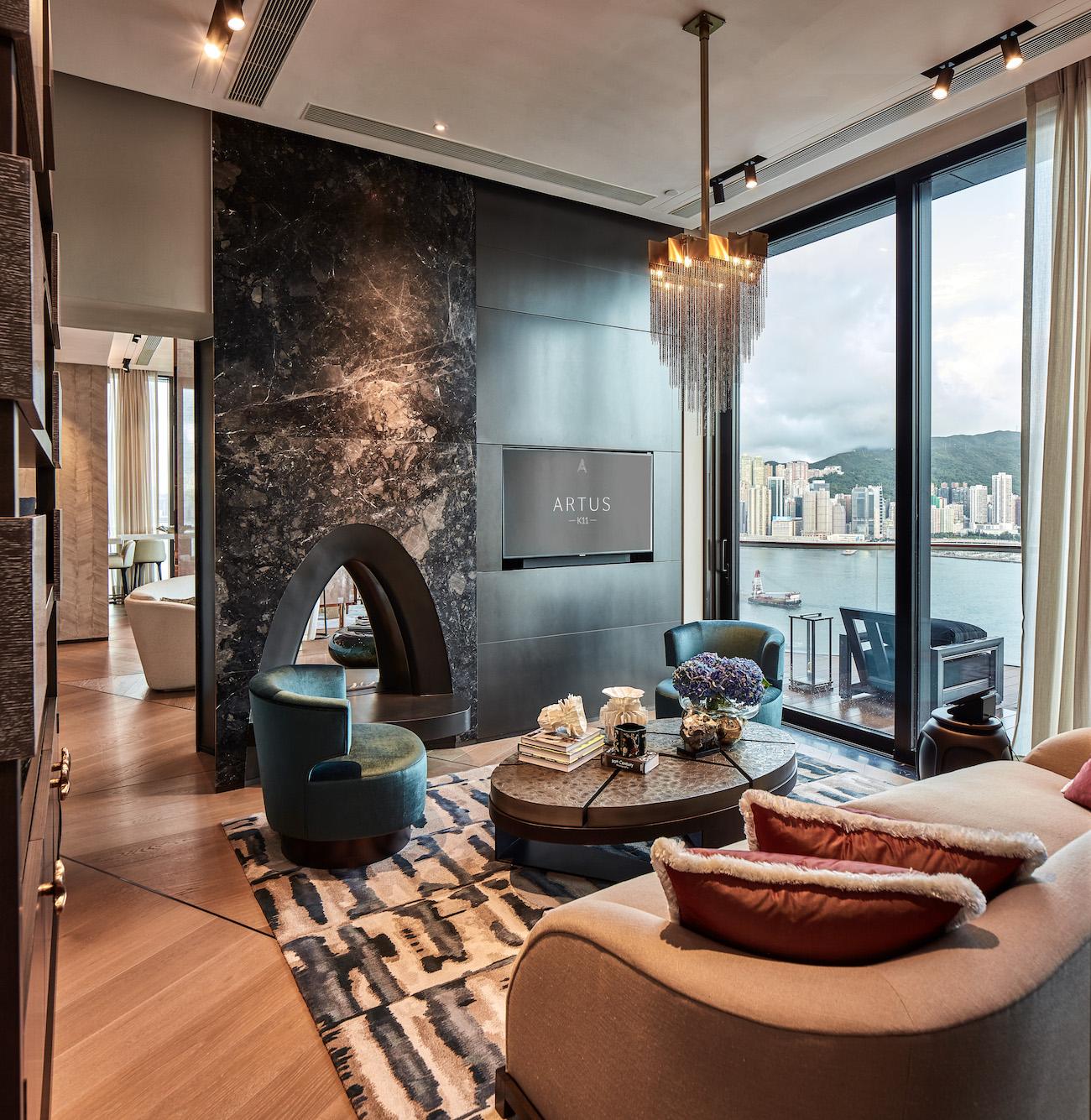 This is your first project in Hong Kong – did you approach it any different than the rest of your projects?
The thing about hospitality is that you don't know who your end user is going to be. So you have to design with an open mind and an international feel. It has to feel like a home without it being too personal and isolating some cultures. That was what we kept at the forefront of our minds. And also, to maximise the space I wanted it to feel very open and free.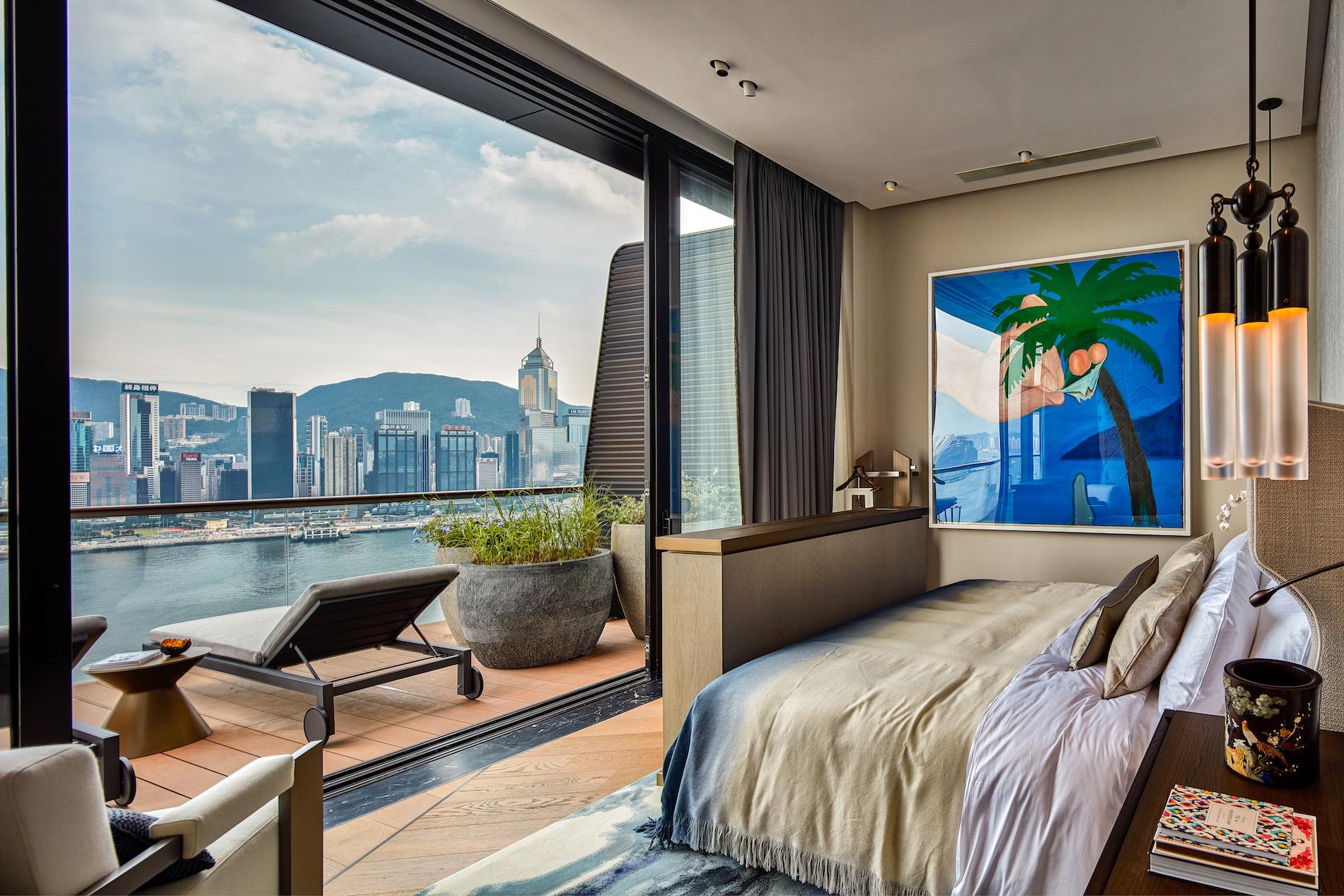 What is a beautiful hotel to you?
It's the usability and the ease of it. Can you come in and switch on the lights without a manual? Can you plug all your devices in without unplugging hotel items? Practicality like storage – our unit has loads of storage –is really important. A hotel should be a cosy space, where everything is special but nothing is too dominating – where people can feel relaxed and calm.
And nice big bathrooms is really important. All the bathrooms in there have double showers. I think people don't mind a slightly smaller bedroom, but if you have a larger bathroom especially for women, we appreciate that (laughs).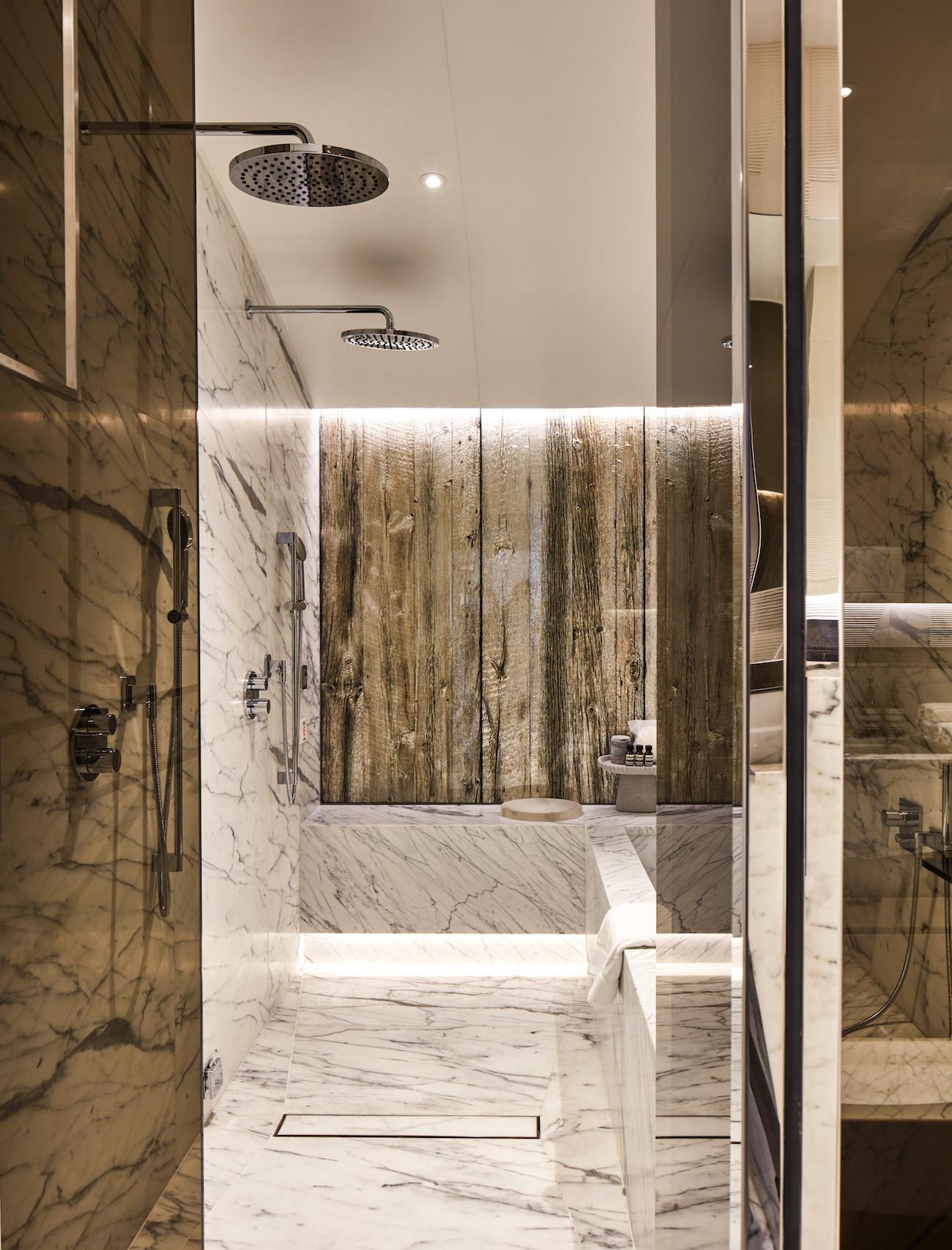 How do you like to relax and unwind?
I don't often have time to, but it's usually the small things. My husband and I recently went to a hotel and I had a spa treatment, we had dinner, and I got to sit and read a magazine for an hour with a coffee – that, for me, was real pleasure. I always say that a good interior should enhance not dictate the way you live.
What is next for Fiona Barratt Interiors?
The core of the studio is high-end residential, but we're actually looking next to make that balance of half hospitality, half residential. We've also started our own developments under our own brand; we just bought a property in Chelsea and we're developing that under Fiona Barratt Interiors and fit it out with our furniture. It's a branded development – it's something we'd like to pursue. We're also focused on expanding our business and the furniture brand across American and Asia.