In the bustling hub of Casablanca, Morocco, interior designer Tasnim Ashraf scrupulously adorns her living and work space with a sleek and refined wabi-sabi aesthetic – inspired by the time-honored elegance of Japanese tea ceremonies.
By embracing imperfection and adopting a clear-eyed perspective on life, one can develop humility and live a simple existence. The wabi-sabi philosophy encourages recognition of the organic life cycles of all things and respects nature's superior power over humans. Interior designer Tasnim Ashraf embodies this ethos by reorganizing different rooms with simple and refined color palettes, cultivating a peaceful atmosphere, and embracing the natural world's beauty and imperfections.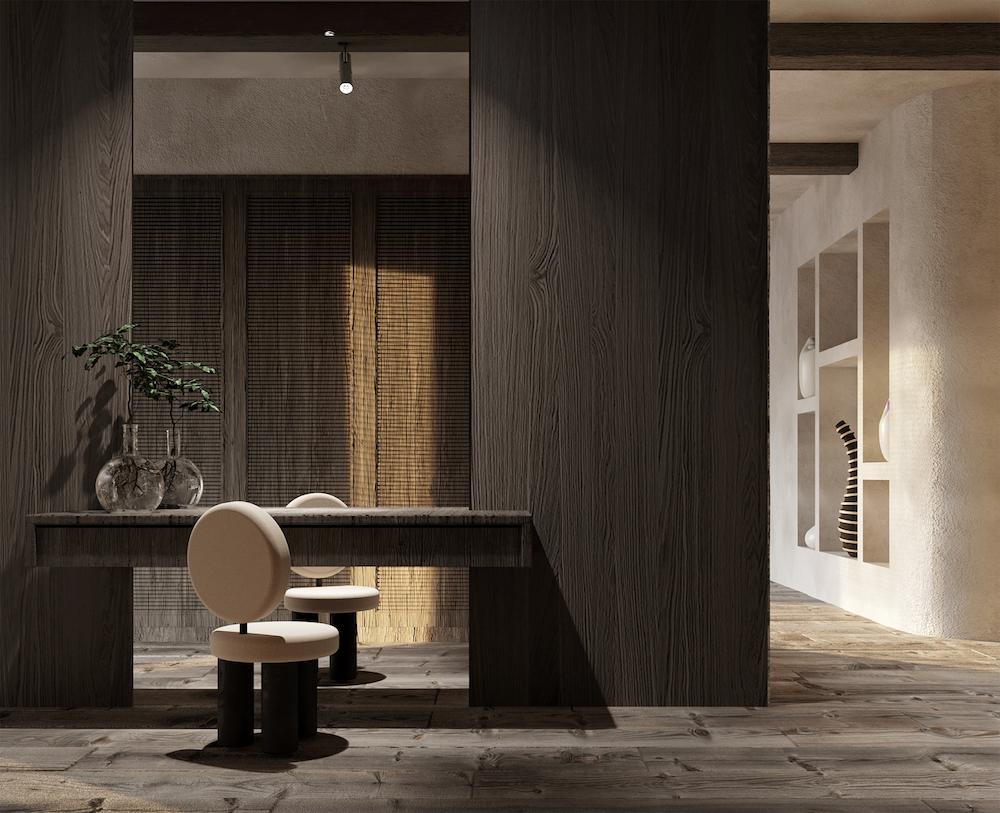 An exquisitely crafted piece by Masquespacio, the Body Chair, is placed at the entrance, wordlessly beckoning to all who pass by with its irresistible allure.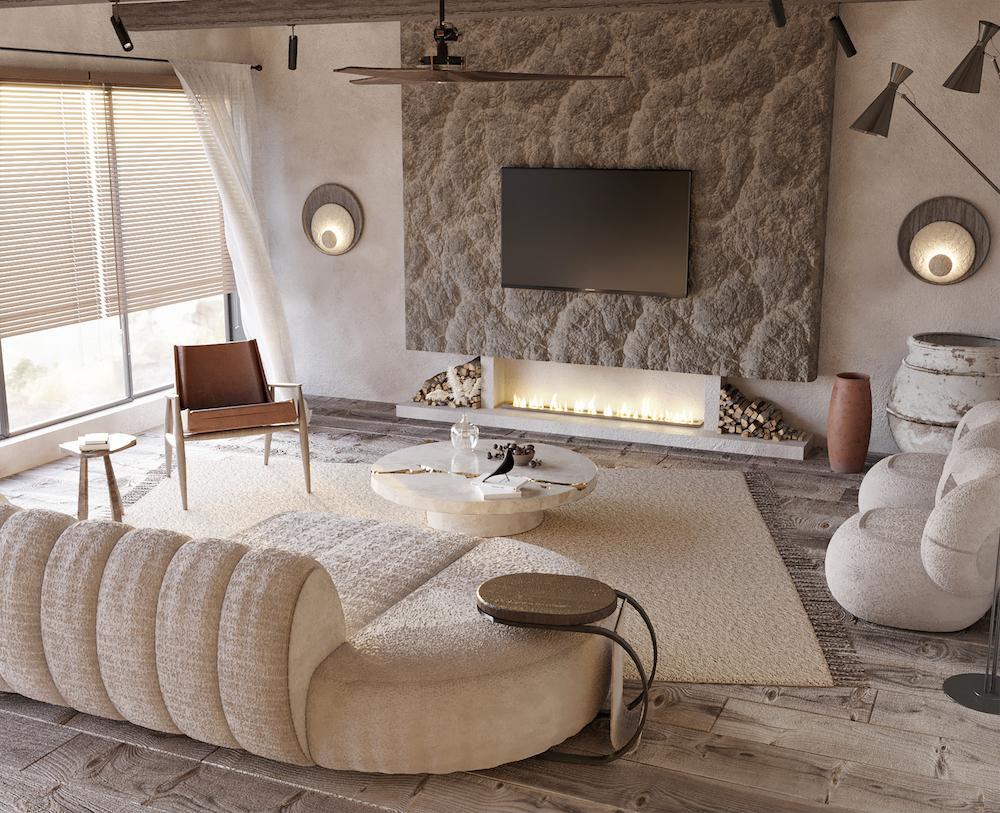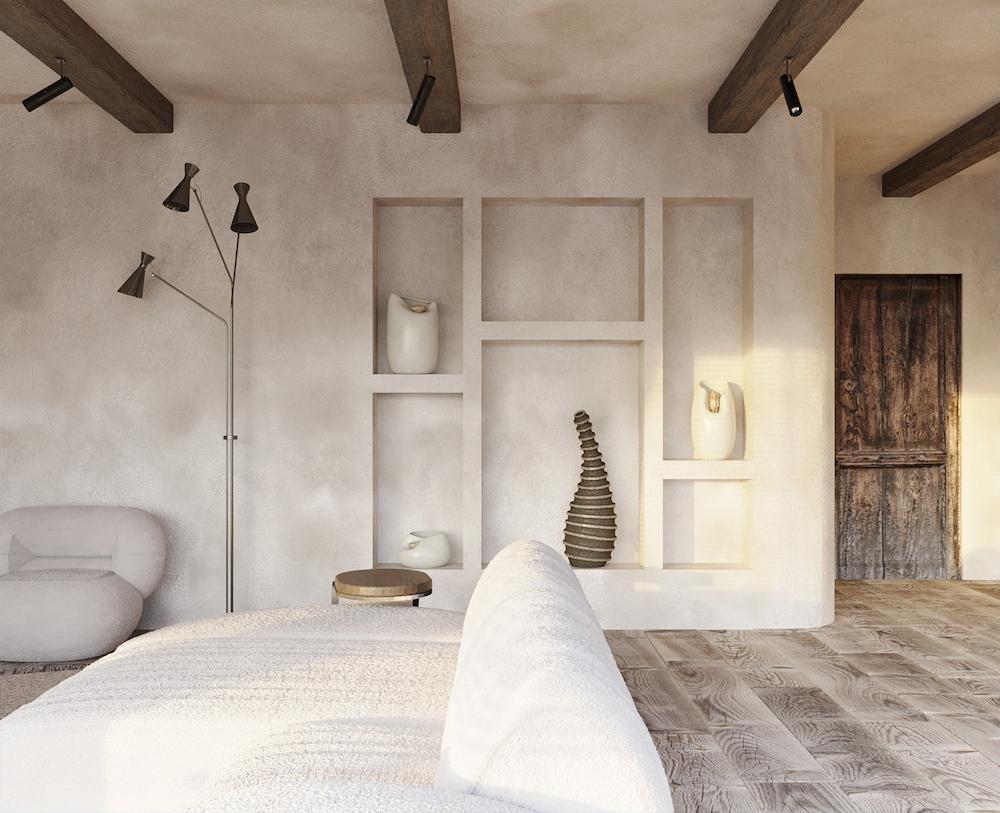 As you step into the living room, a cleverly curated blend of understated simplicity and refined sophistication comes into view. The Cassia combo sofa and Ceylon coffee table, from the esteemed Caffe Latte, are thoughtfully paired with chic wall ornaments, plush floor coverings and sleek light fixtures, seamlessly merging minimalism with contemporary elegance. The ambiance of the room is further elevated by the inclusion of quaintly vintage elements such as the Amy table lamp and the Etta chandelier, hinting at a medieval opulence that envelops the space.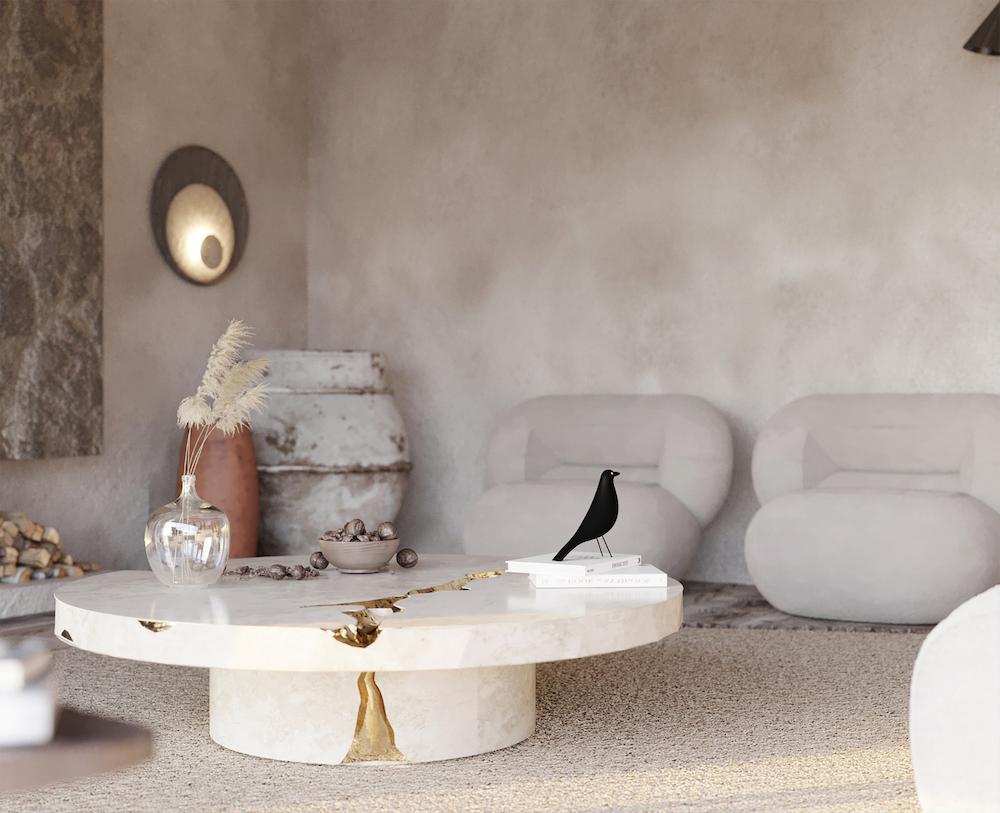 At every turn, the essence of mid-century design is palpable. The Zelda single-seater sofa and Hudson armchair, both exhibiting curved shapes, occupy one corner of the living room, exuding an inviting and cozy vibe. In the midst of these pieces lies the Empire coffee table, transforming the space into a peaceful and serene retreat.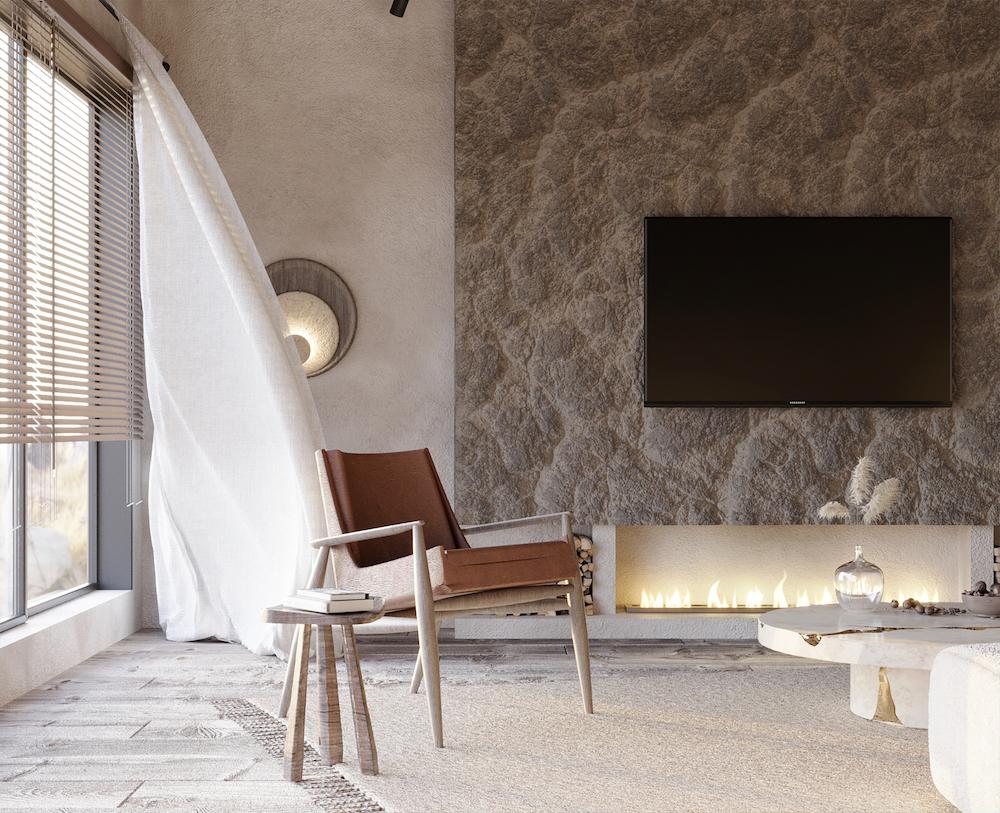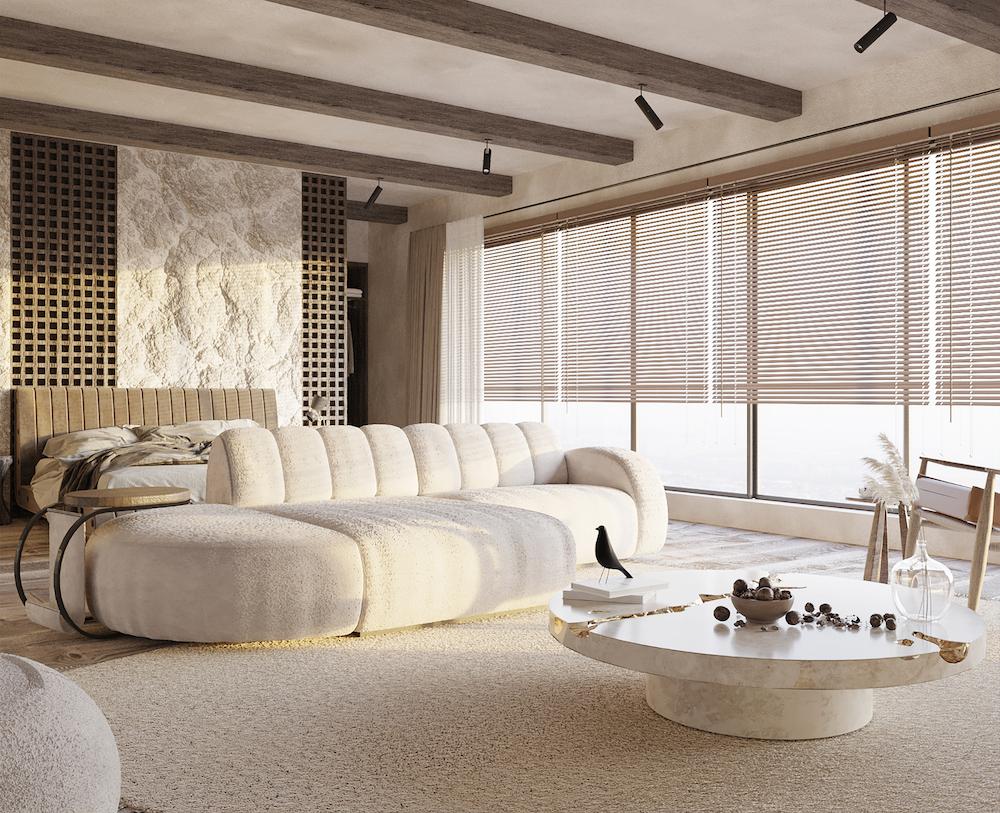 The furniture and lighting fixtures have been thoughtfully chosen, exuding a sense of old-school charm. The Dolmen stools stand beside the Hudson armchairs, while Simone floor lamps and a distinctively retro TV wall imbue the room with a nostalgic feel. As you look up, you'll notice wooden beams interspersed among granite walls, infusing this unique space with endless character.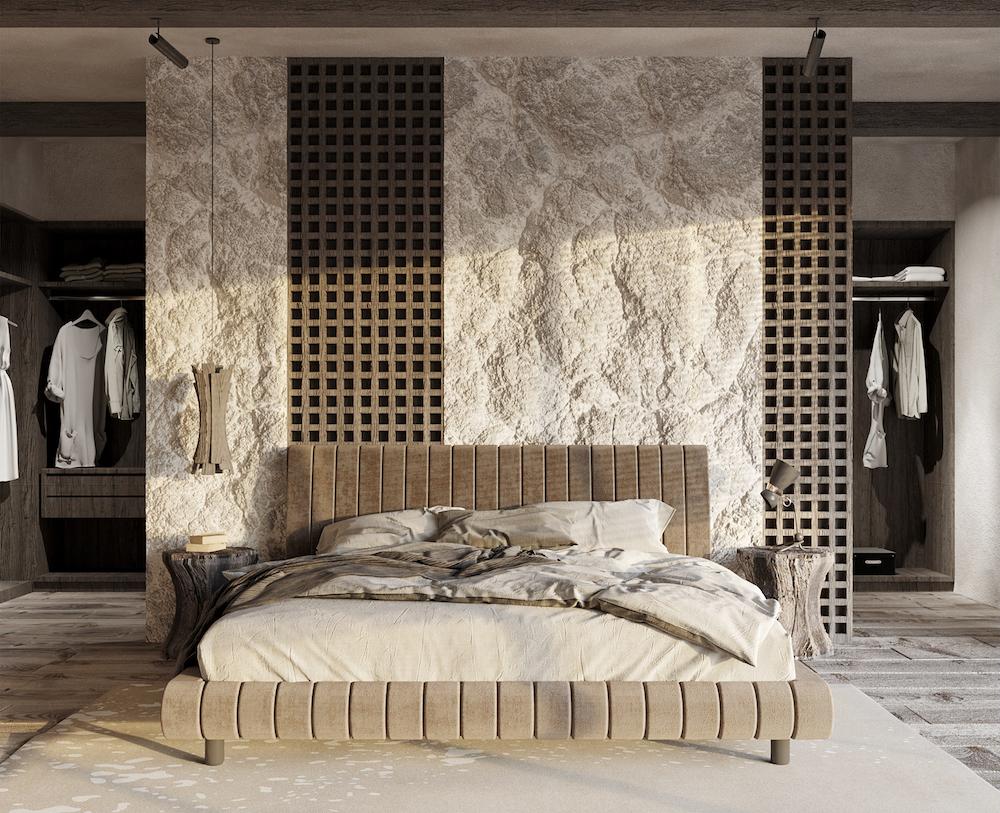 The bedroom serves as a place for introspection, where individuals are confronted with their true selves. Though devoid of any extra embellishments, the space is filled with intricate details. The centerpiece is the Minelli bed in muted hues, flanked by Caffe Latte's Cocoa bedside table and Sugar carpet. An interesting feature to note is the discreet walk-in closet behind the bedside wall, offering ample storage space. Here, the emphasis is on functionality rather than extravagant decor.
This workspace and living area showcase an array of furnishings from the lauded Caffe Latte collection, effortlessly blending ergonomic design with aesthetic appeal. With an inherent Japanese wabi-sabi sensibility, the space evokes a harmonious balance between understated simplicity and utilitarian beauty.
Photo: Caffe Latte
Follow Home Journal on Facebook, Instagram and YouTube, and subsribe to our Newsletter.