The trajectory of wealth applies everywhere and to everyone – you start with visiting Michelin starred restaurants, taking expensive vacations and then buying luxury cars and homes. Then what's next? You buy art.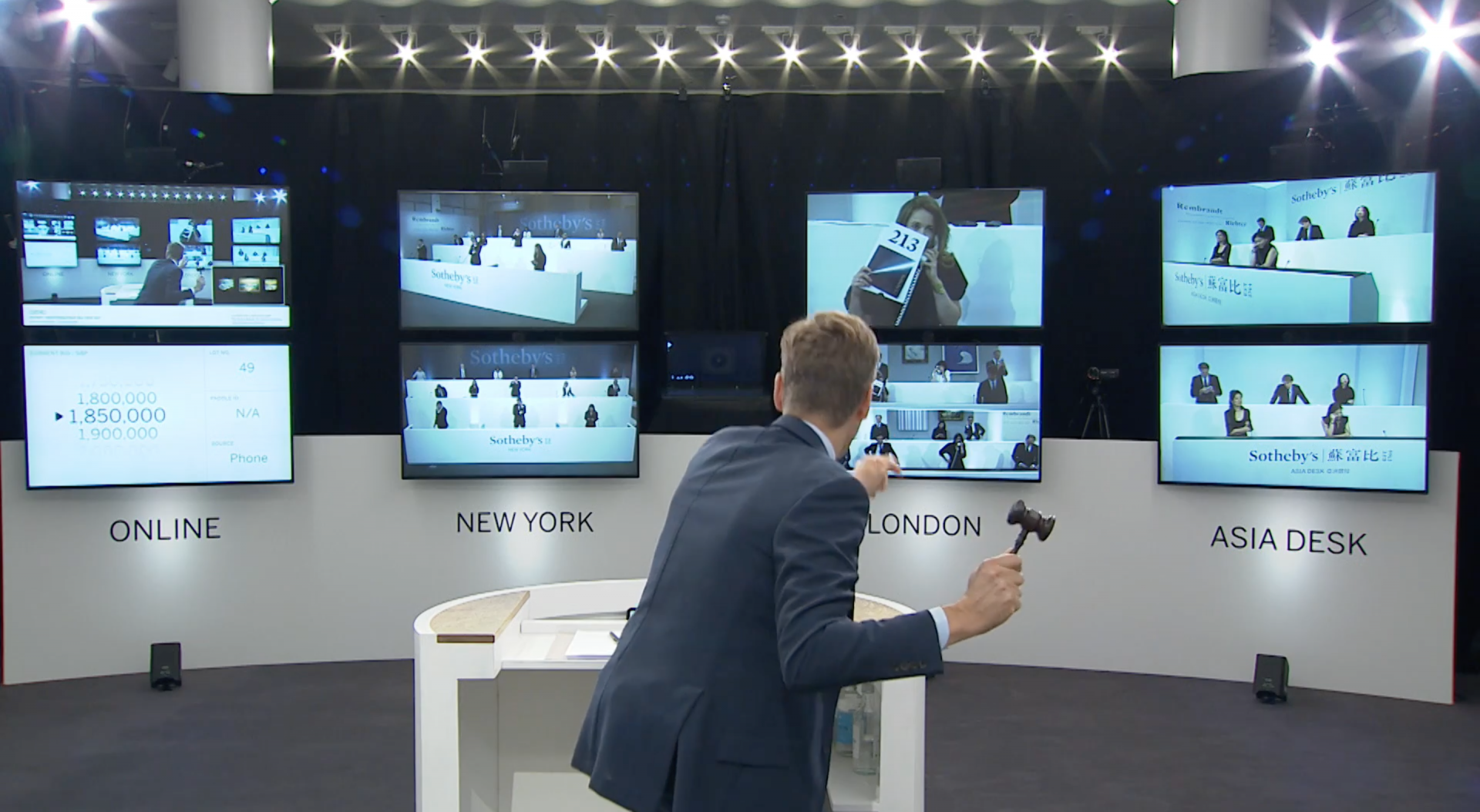 In times of uncertainty, art appears to be a better investment than real estate, as records keep being broken at auctions even amidst a global pandemic.
Smart investment in art not only requires sufficient knowledge about the art market but also the artists who made it all happen. While work by Asian artists vastly outperform those by Western artists at the latest major sales in Hong Kong, we bring to you some of the most high-value Chinese abstract painters who stole the show in this auction season, namely Wu Guanzhong (吳冠中), Zao Wou-Ki (趙無極) and Chu Teh-Chun (朱德群).
Hailed as the "Three Musketeers", the three modernist masters, who shared similar backgrounds at the crossroads between Chinese and Western cultures, capitalised the spirits of both in their emblematic works that are vastly inspired by the majesty of nature.
Wu Guanzhong (1919–2010)
A household name in the Asian art scene, Wu Guanzhong represents a generation of Chinese painters who bridged the gap between Chinese brushwork with Western painting style.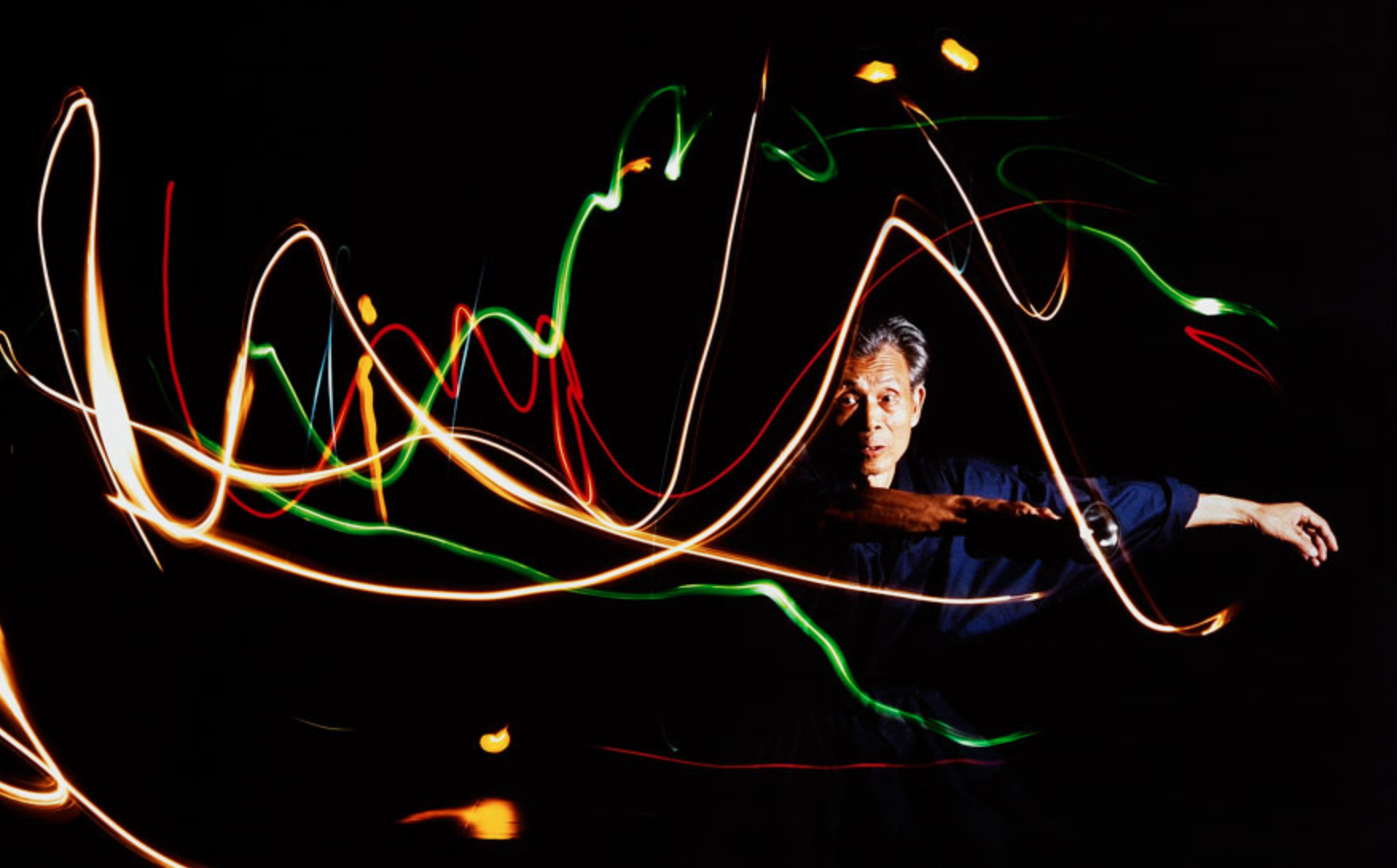 Born in the Jiangsu region in 1919, Wu attended China Academy of Art in Hangzhou where he studied alongside Zao Wou-Ki and Chu Teh-Chun under Lin Fengmian (林風眠) — an acclaimed Chinese painter regarded as the "father of Chinese modernism". Wu relocated to Paris to pursue art on a scholarship in the '40s, where he found himself enthralled to the work of Paul Gauguin, Paul Cézanne and Vincent van Gogh alike.
His admiration for Western Post-Impressionism is vividly evident in the disproportionated bucolic Jiangnan abstract landscapes that make up a major part of his oeuvre. Wu's work is marked by a fusion of Chinese calligraphy and Western painting principles of space division and geometric composition.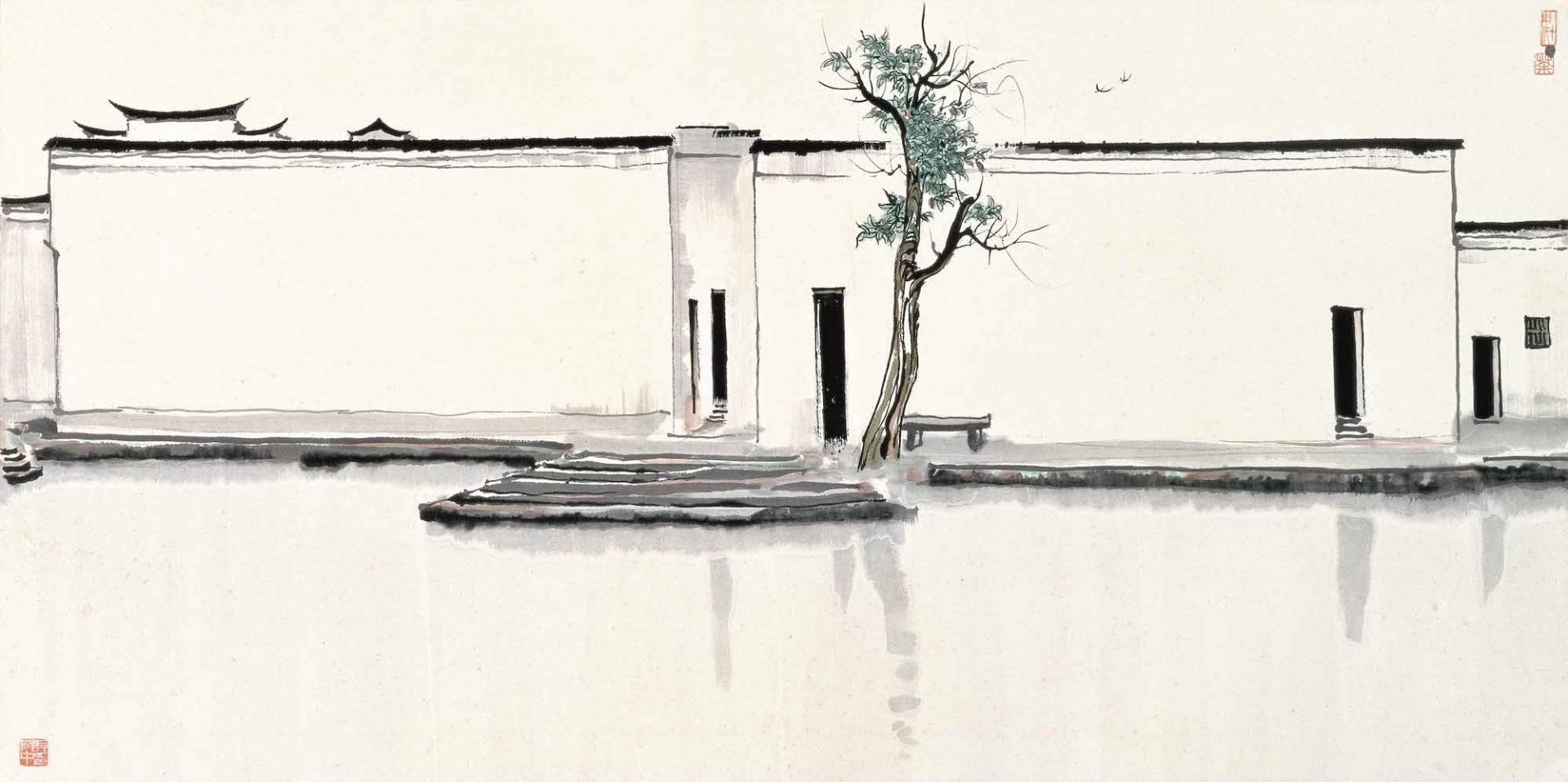 One exemplar being the Twin Swallows (1981), which is now residing in the Hong Kong Museum of Art. The composition of the painting is clearly divided into three parts – the river, a stretch of whitewashed houses at the centre of the canvas, and the sky, in which a pair of swallows are disproportionately positioned.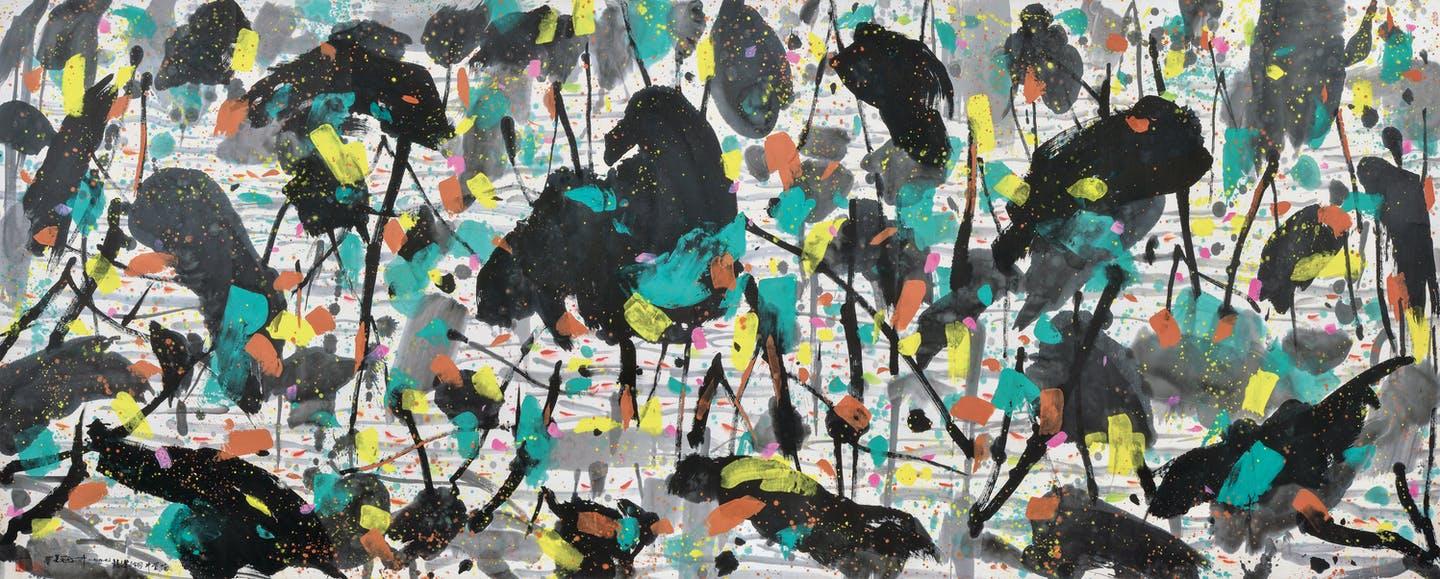 Another East-meet-West abstract being displayed in the museum is A Lotus Pond (1997), which is comprised of expressive brushwork and free-flowing splashes of paint likened to Abstract Expressionist artist Jackson Pollock.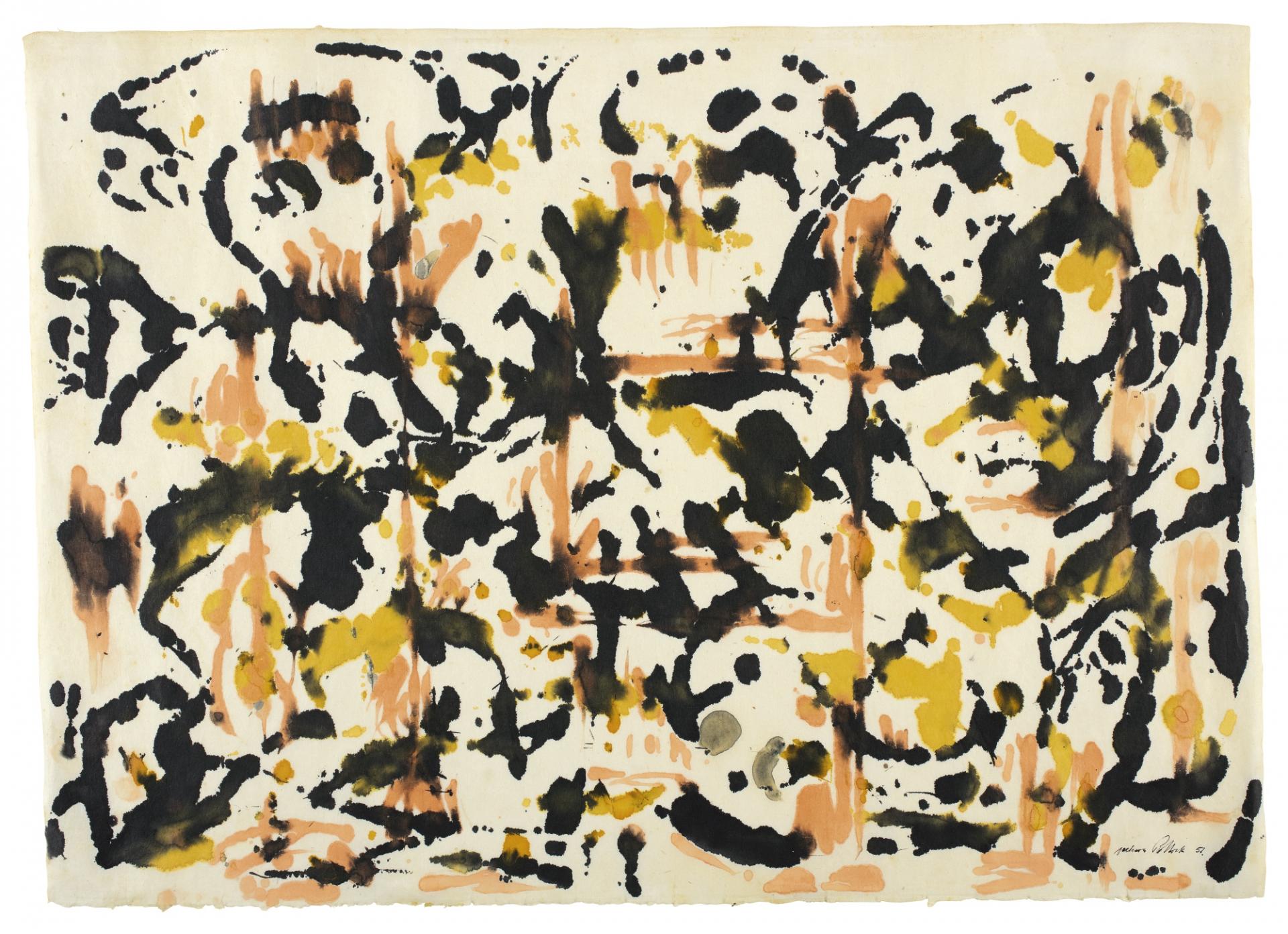 In July, Wu's painting Heavenly Lake IN Mount Changbai went for HK$24 million at a Sotheby's sales in Hong Kong, well beyond its high estimate of HK$18 million.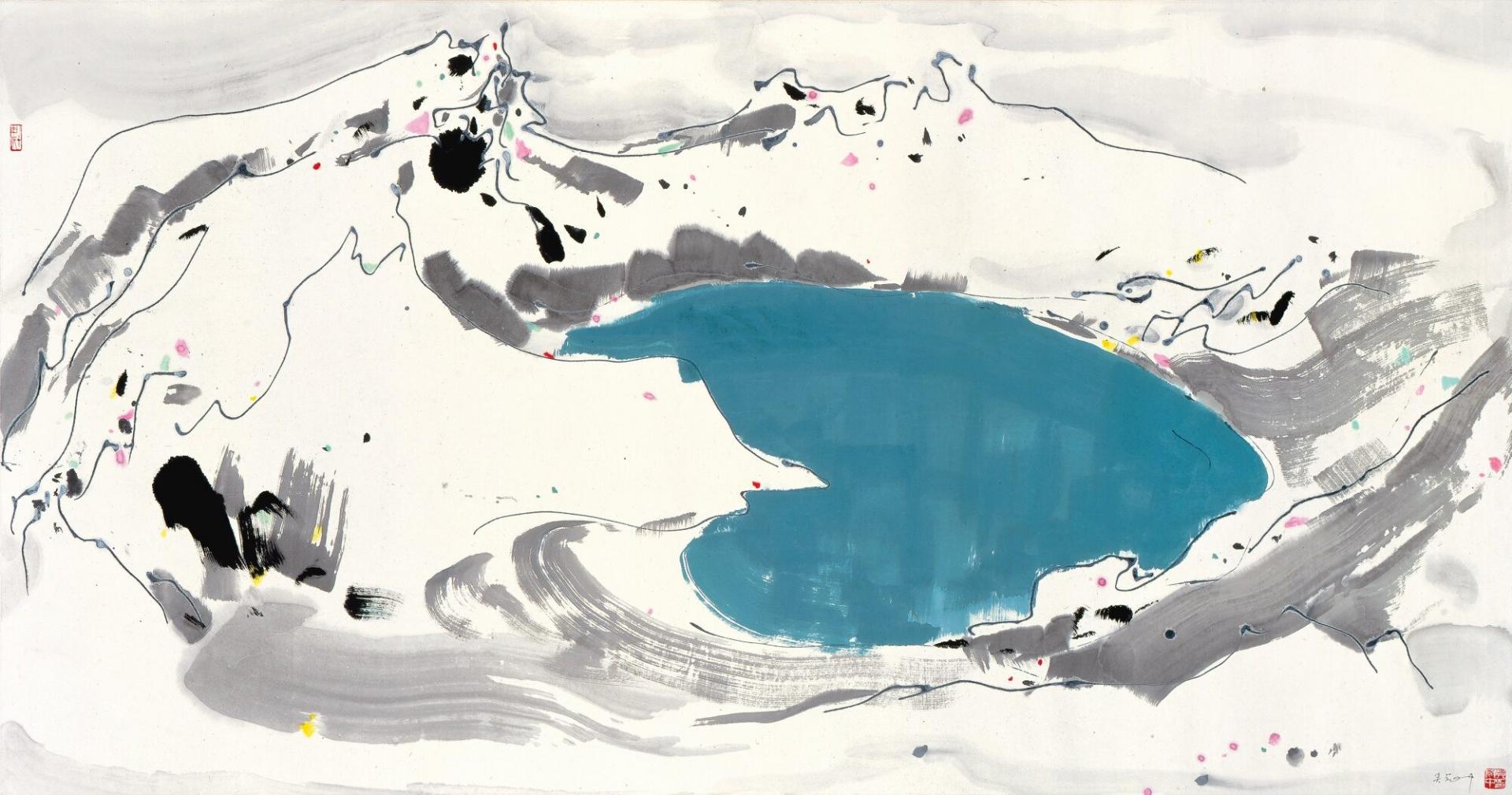 Measuring 95 by 180cm, the work is conceived during his trip to the Changbai Mountains in 1985. On the canvas, a couple of gnarly brushstrokes outline the rugged rolling hills soaring skywards, whilst chunky brushstrokes add texture to the turquoise "Heavenly" lake and shadowy slopes. Dots of colour vividly scattered atop the jagged peaks, adding motion to the whole picture.
Another abstract by Wu in a similar fashion – Vibrancy of Mountains – also realised HK$10.9 million at the sale, falling comfortably within estimates.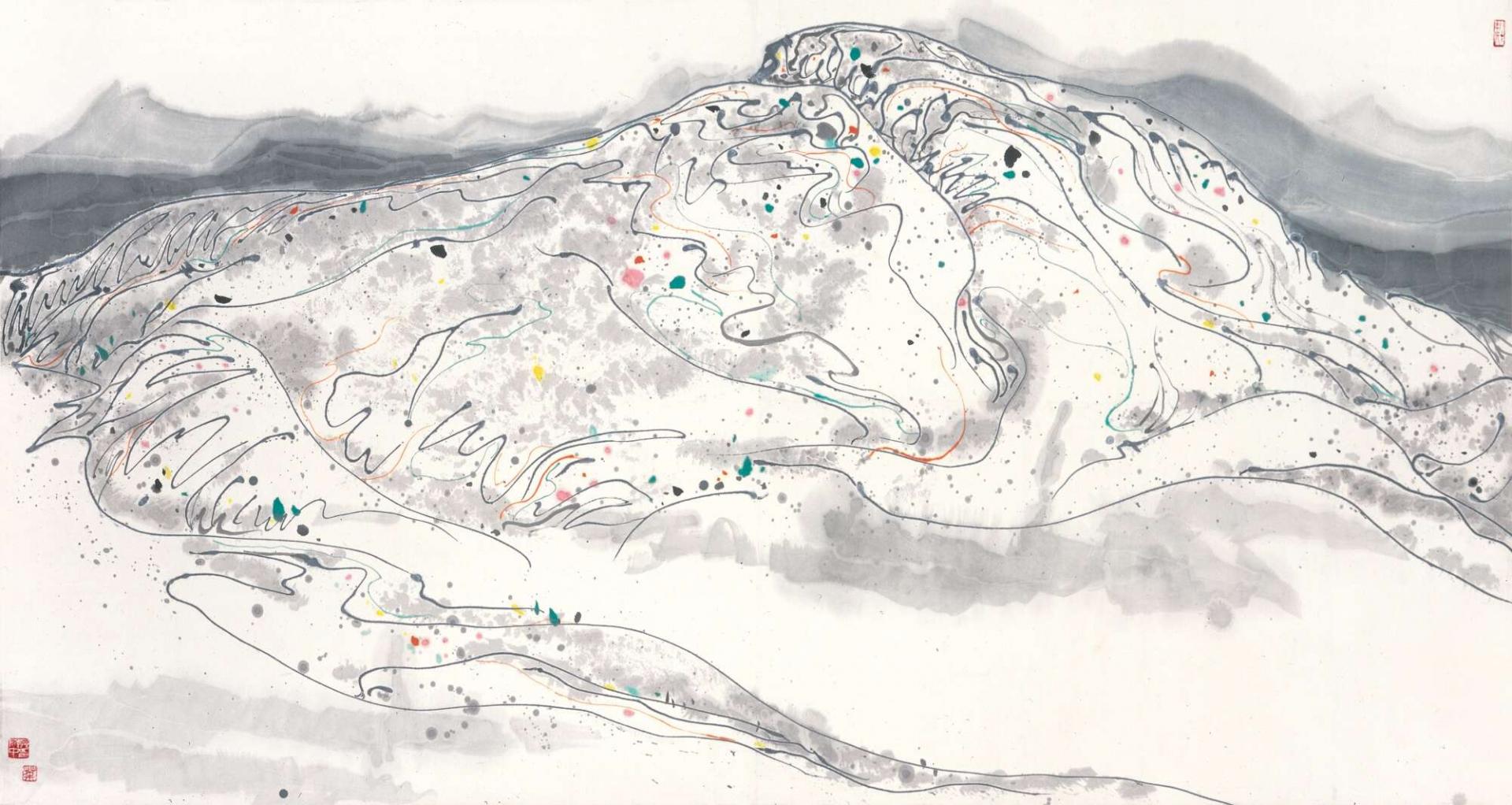 Zao Wou-Ki (1920 – 2013)
Also a French-trained painter, Zao Wou-Ki is known for abstract landscapes that exhibit a whimsical blend of fantasy and reality and a synthesis of Chinese and Western painting techniques.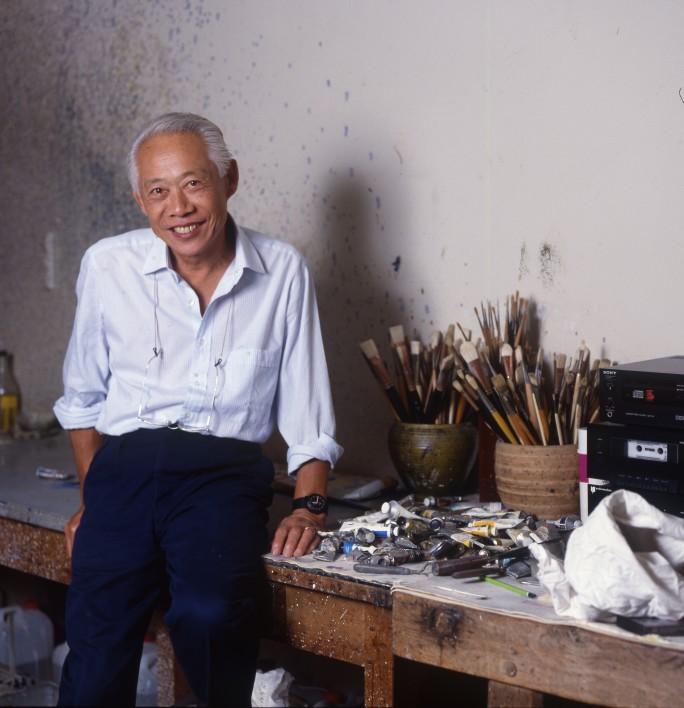 Zao, who was born in Beijing in the '20s, studied traditional Chinese calligraphy along with Western art. In 1948, he moved to Paris to further his studies, during which his imposing "Oracle Bone" period (1954-1959) was developed – a style that resembles ancient Chinese writing.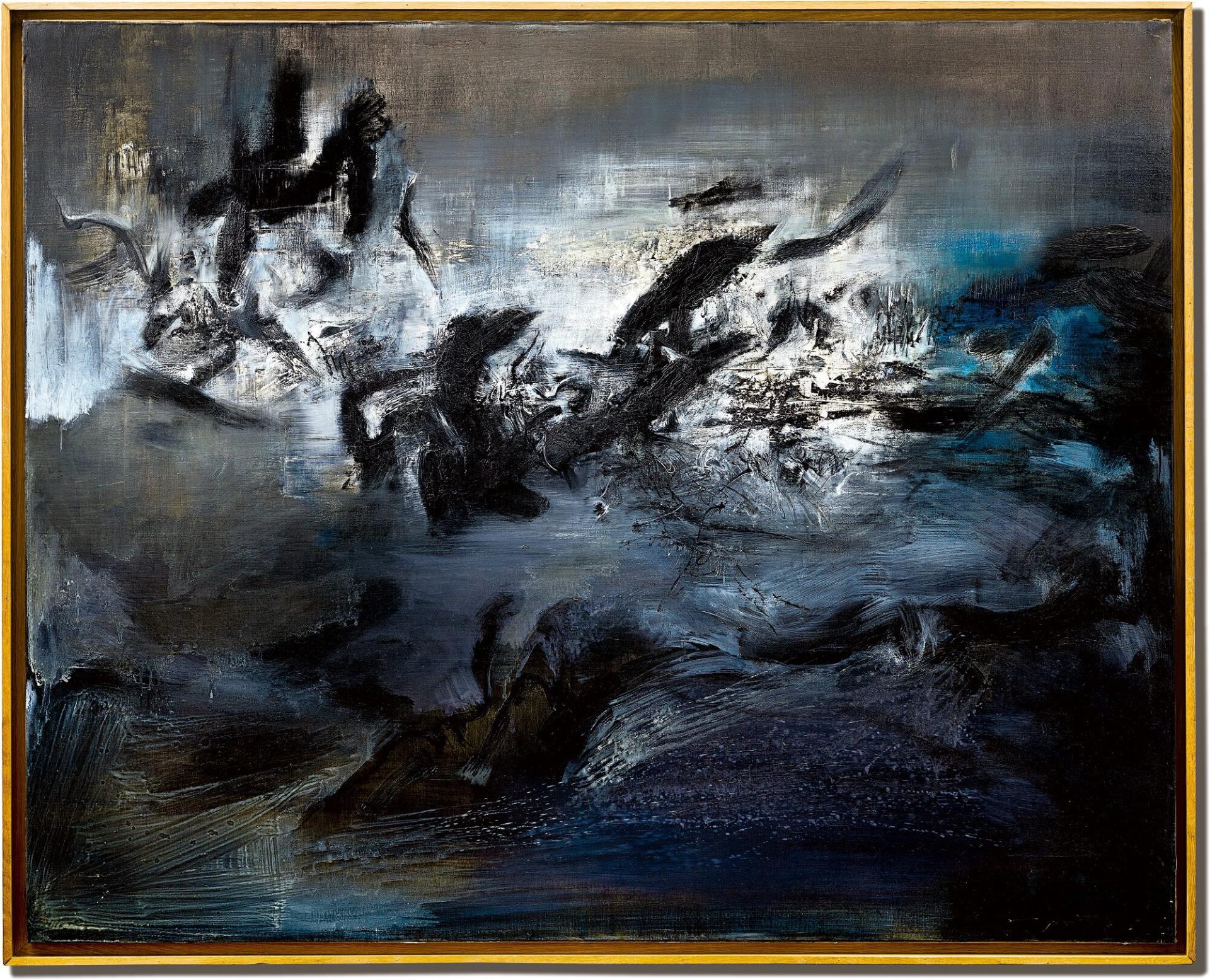 His first trip to New York in 1957 with French artist Pierre Soulages informed a bolder painting style known as the "Hurricane" period (1959-1972), which marked the peak of his artistic career.
Characterised by central-axis composition, paintings conceived during the Hurricane period showcase Chinese cursive calligraphy with references of Abstract Expressionism from the West.
Prime examples of this period being the crimson-hued 22.6.63 (1963) and the beige-coloured 24.10.63 (1963), which sold for a whopping HK$54 million and HK$46 million respectively at a Phillips sales that took place in Hong Kong in July.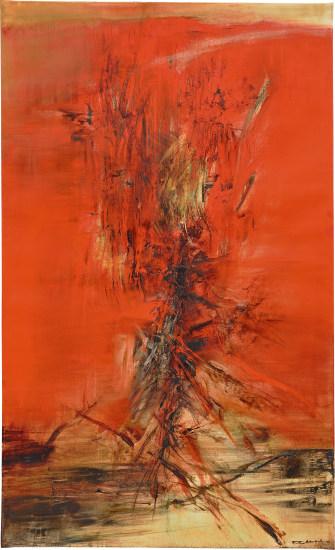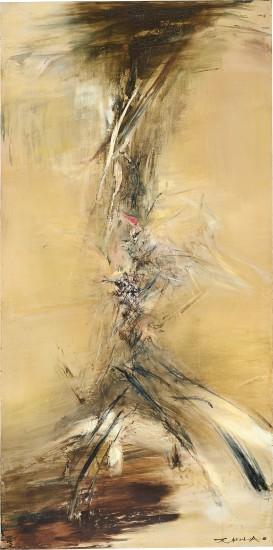 The scale of the price achieved at the sale amid a global pandemic reflects the climbing interest and demand for his works from the market.
Chu Teh-Chun (1920-2014)
Frequently compared to Zao, work by Chu Teh-Chun also generates big auction prices in Hong Kong.
Born in the Jiangsu province in 1920, Chu moved to Paris in the '50s and lived most of his life there. Yet, his passion for Chinese poetry and calligraphy never waned. These two forms of art, the painter believed, display shared rhythms, which may explain his tendency towards producing multi-panel works, as the format helps direct the viewer's gaze over the painting in a left-to-right manner, or contrariwise, the same way as reading a Chinese poem.
Just like his fellow artists Wu and Zao, Chu's elegiac abstracts that blend the essence of Chinese brushwork and influences of European abstraction also left a deep imprint on the art scene.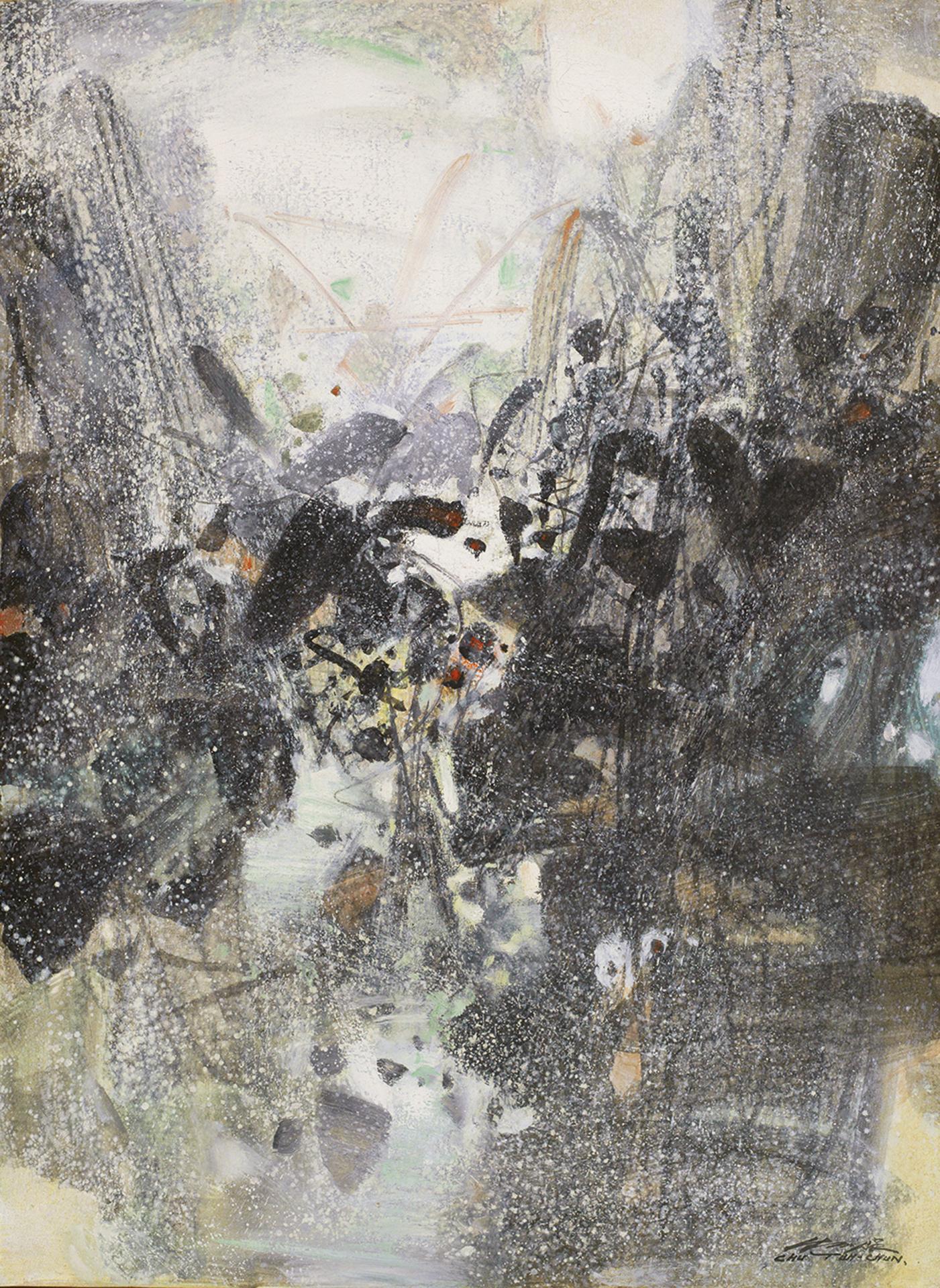 Chu's oeuvre is largely inspired by nature. Examples being Untitled in 1963 and Evocation Hivernale A in 1988, on which blocks of vivid colour and deft Chinese brushstrokes compose the optical sublime resembling snowy landscapes.
Last month, at a Christie's sale in Hong Kong, Chu's swirling pentaptych abstract Les éléments confédérés (1983-84) achieved a total of HK$113.6 million.

Produced upon the artist's first return to China since his departure, the whimsical oil painting in shades of green express his emotions towards the landscapes of his homeland, while paying homage to Beethoven's symphony Nº9 – a masterpiece he was listening to when creating the piece.
Image credit: Sotheby's; Christie's; Phillips; Poly Auction and Hong Kong Museum of Art