An idyllic estate in South Africa's Cape Winelands, Brookdale is all about lifestyle and elegant country living.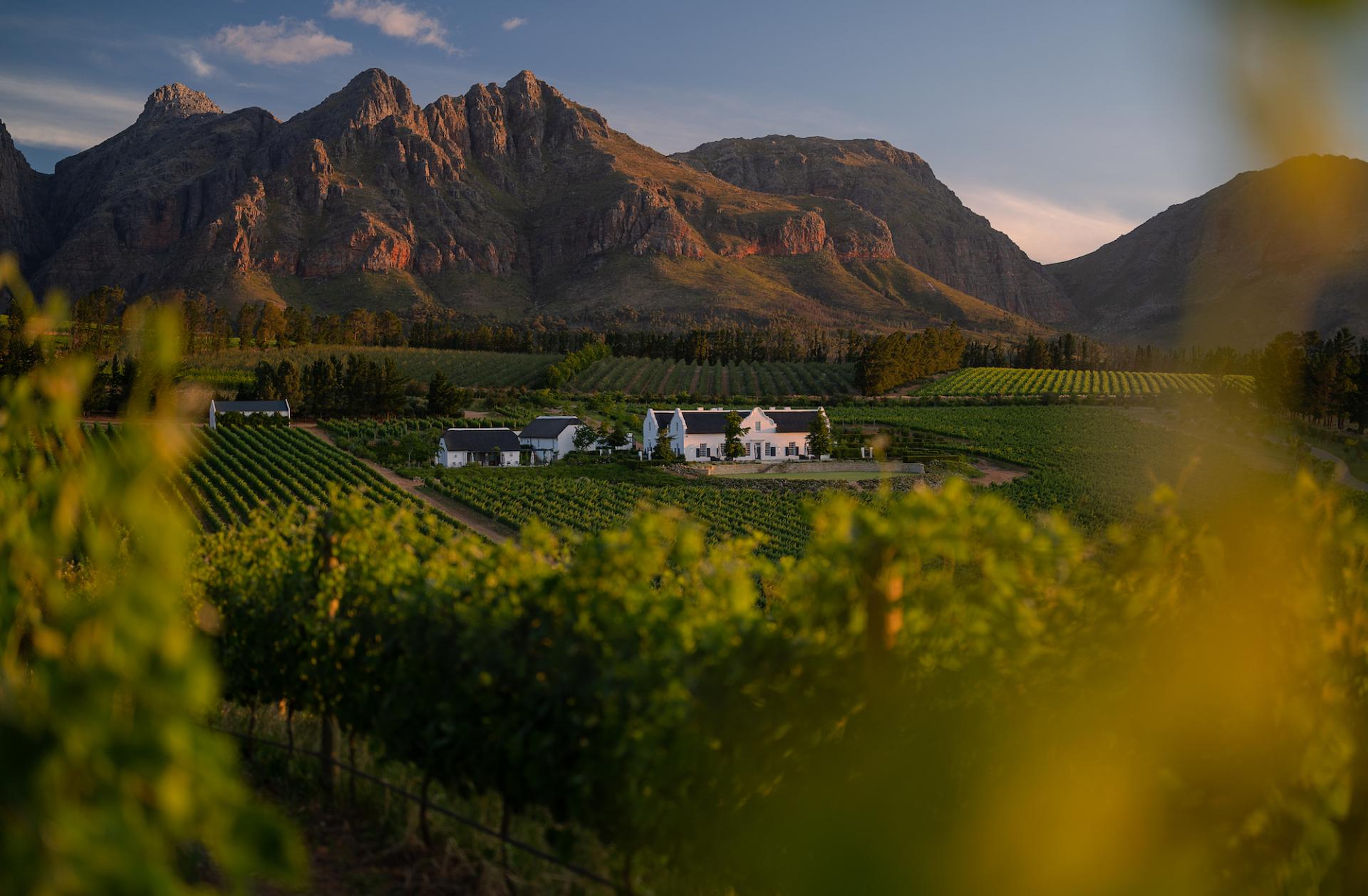 Arriving at Brookdale is something special. Once through the gates, you travel along a 2km driveway, where at one high point, you catch a glimpse of the Cape Dutch Manor House, looking down through a series of winding brooks with breathtaking views of the house nestled within a dipping lush green valley enveloped by the dramatic mountains.
Upon arrival at the Manor House, we receive a warm welcome awaits us from manger Yvonne. We step into into a vast open hallway with a soaring ceiling, and light flooding in. The portrait of a young woman by local artist David Thorpe catches your eye from the top of an imposing stairway leading to a mezzanine floor. Light floods though the house, and despite a scorching day in the Winelands inside Brookdale you'd swear air con was blasting out. It's not at all what you expect from a typical Cape Dutch Manor House. We can see that all the rooms lead off the hallway, inviting you to explore.
But first to the kitchen, which I soon learn is definitely the heart of the home — Gary's food is to die for. Gary being Yvonne's other half and the chef; together, they manage Brookdale Estate. Yvonne and Gary Coetzee come with a fabulous pedigree—they were at Singita Lodges for nine years and the last ten years at the Kerzner Estate in Hout Bay (Cape Town).
Yvonne gives us a tour of the house, it is incredibly comfortable, and we feel immediately at home. Gary and Yvonne see to this. They are exceptionally welcoming, and you just know you are in good hands. An air of calm pervades. All feels well, and we immediately feel ourselves settle in, ready to enjoy our time here.
Our room is just as spacious as the rest of the house, with high ceilings, lots of light, modern, and elegant.
We are invited for drinks and a snack on the terrace— a mouth-watering homemade treat, served with Brookdale Rose. What bliss! The sun is shining, and the views are to die for what's not to love.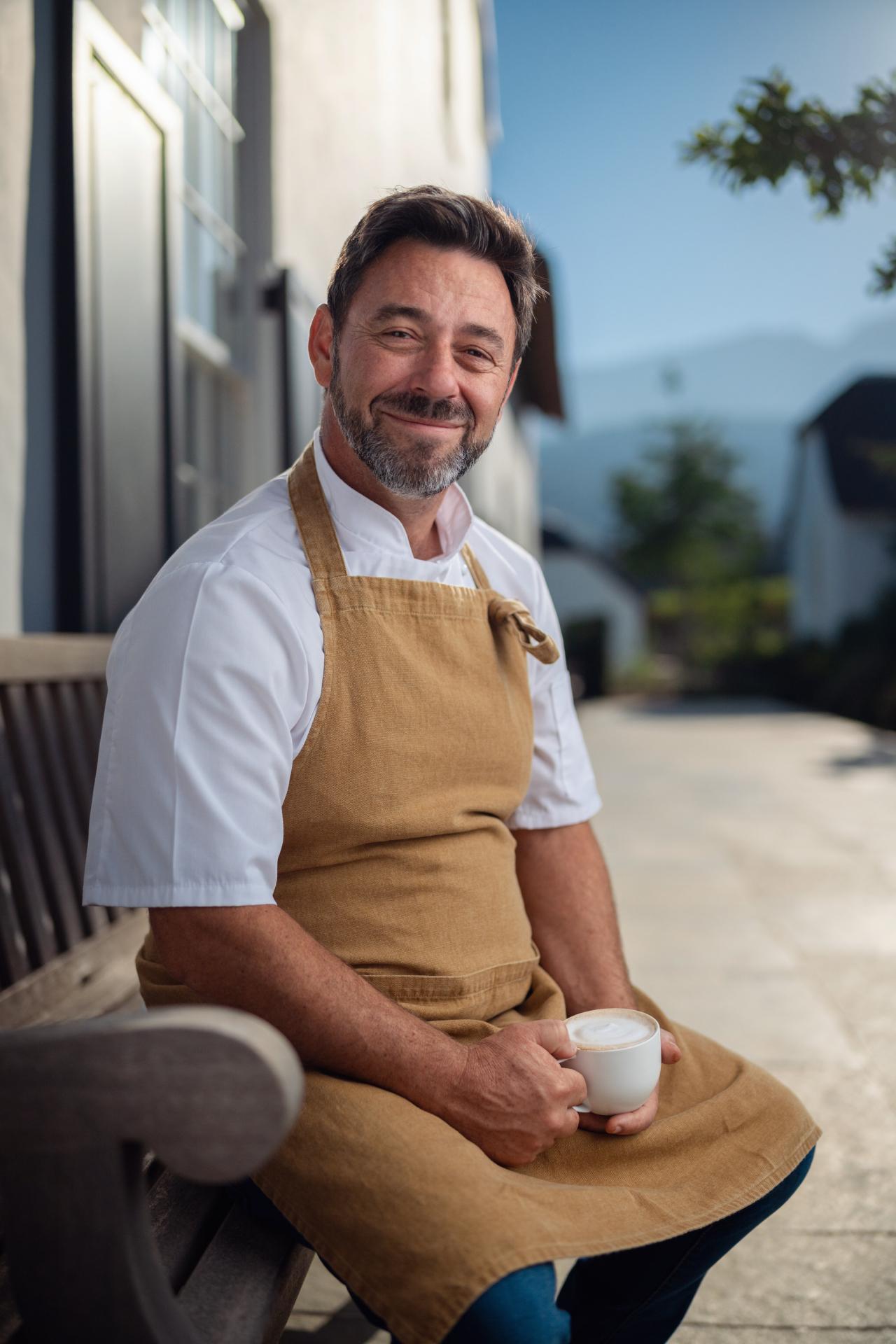 I meet the owner Tim Rudd, a Brit who has enjoyed a lifelong passion for wine and farming, and South Africa that led him to buy Brookdale with his industrialist father, Sir Nigel Rudd. The estate takes its name from the hamlet in Derbyshire, England, where Tim has lived for many years. It's like being in England—on an exceptionally sunny, blue sky day! And with the addition of the winding brook you traverse, this is precisely the feeling it gave me.
Tim based the house on historical drawings of an 18th-century farmhouse. It's a truly lovely five-bedroom manor house in the traditional Cape Dutch style with distinctive rounded gables, whitewashed walls and a thatched roof. Built-in a traditional H-shape, the front section flanked by two generous wings running perpendicular to it allows the breeze to circulate freely.
Tim admits to me he's a bit of a design enthusiast and, with the help of his mother, he has created an inviting, peaceful home, and tells me, "I wanted the house to look traditional with a modern light and spacious interior", which he has achieved in spades. Tim has used a mix of antique and reproduction pieces complemented by contemporary versions of traditional Cape pieces. Tims's collection of local modern artworks bring colour and vibrancy to the rooms, and all enjoy gorgeous views of the gardens and vines with access to out door terraces.
Downstairs, you'll find a library/study, a formal dining room, two sitting rooms with deep comfortable sofas, all stylishly decorated in sophisticated soothing hues. The breakfast room leads to Gary's den, the creative hub— the kitchen where he conjures his taste sensations with the help of the young and lovely Ozzie. Permanent staff includes a butler, and thirty staff members.
The mezzanine floor is home to four of the six spacious bedrooms, with a further suite on the ground floor and a sixth, a honeymoon suite in an adjacent outbuilding.
"We want our guests to make themselves home and to treat the farm as if it's their own for their stay. We especially want it to be an authentic experience," Tim explains. Tim is a keen conservationist and gardener and, since taking ownership, has overseen the clearing of all the alien vegetation, replanting the valleys with 3,600 indigenous trees and re-seeding the mountain slopes with wild Cape fynbos and flowers.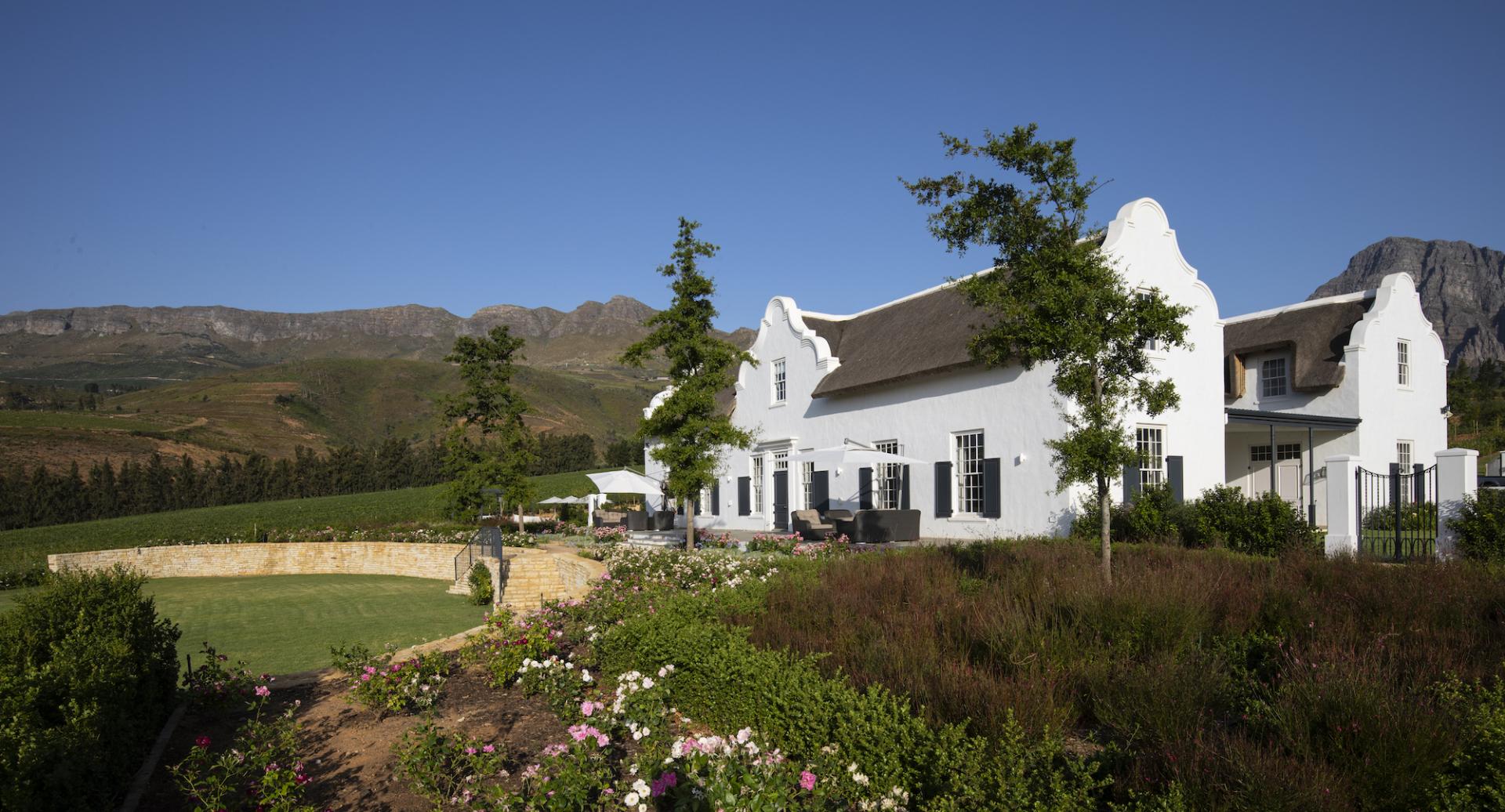 The house is surrounded by vineyards so that when you look outside, you see a garden of rooms, which was part of Tims's brief to Cape Town-based renowned landscape designer Franchesca Watson. A kitchen garden sits to one side of the house, with formal gardens to the others. A stunning circular lawn sits in front of the house that doubles as a helipad, and a smaller strip of lawn down between the vines is another gorgeous spot for alfresco wine tasting.
At Brookdale, your stay is highly personalised. Before you arrive, the team ask you what you might like to do on your visit. Experience on offer include a cooking demo and a herb garden walk with Gary, whose menus take inspiration from the seasonal produce from his kitchen garden. Brookdale grows peach, nectarine, mango, orange, passion fruit, plum and pomegranate trees. They aspire for the estate to be self-sustainable except for meat and fish, which is all ethically sourced locally. You can take a guided walk through the grounds with the estate manager, Cleophas Kajekere. The grounds are a natural haven for birds and wildlife with sixty-seven hectares of vineyards, fynbos, and a natural water source from the mountains, it's a fertile habitat for all kinds of birds, fish eagles, bat-eared foxes, lynxes, leopards, and porcupines.
Then there is wine tasting with Kiera Scott, the winemaker, one of just a handful of female winemakers in South Africa, who shares Tim's passion for creating great wine.
What excited me most from the experiences on offer was the chance to take part in the wine harvesting. Guests are actively encouraged to join the team in the dawn harvest. Luckily the harvest is in full swing, and the team use the morning cool before the fierce midday sun sends the sugar levels rising. An early start but so worth it. We jumped out of bed at 5 am to meet downstairs, grab a pair of secateurs, watch a demo of how to crop the grapes. We grab a crate, and off we go in a convoy through the organic vines.
It's exhilarating! The vines are brimful with the ripest, deep burgundy fruit. Slow progress at first as the grapes seem so delicate and have wrapped themselves around the supports; however, we soon pick up speed and learn how to handle them. It felt good to be part of this magical process, albeit in a very small way—what an experience.
Gary will happily organise a picnic for you to have on the grounds accompanied, of course, by a bottle of the estate wine—or will set up a feast in the pool house if you choose to chill by the pool. There is also the option to indulge in a spa treatment in your room.
And finally, there's the main event, the wine. Wine is one of Tim's passions, and he has spent much time in the vineyards of the Mediterranean. He saw the potential in the overgrown piece of land in the Paarl Winelands. With a clear vision, he's created a world-class country estate exploring the lesser-known wine varietals of Portugal, Italy and France. Tim has planted Mediterranean varietals that produce fine and interesting wine blends with the unique Paarl terroir employing unusual winemaking techniques; working with winemaker Kiara Scott, they create distinctive and intriguing blends using unusual techniques.
The wines produced thus far include the Premium Chenin Blanc, Mason Road Chenin Blanc, Mason Road Serendipity Rosé, a serious and elegant rosé blend of Syrah, Grenache Noir. Of the 67-hectares on the estate, 27 are under vine planted from 2016. A single block of 36-year-old Chenin Blanc was saved from the pre-existing vines and forms the cornerstone of the current Brookdale range. Watch out for more great wines coming from the estate soon.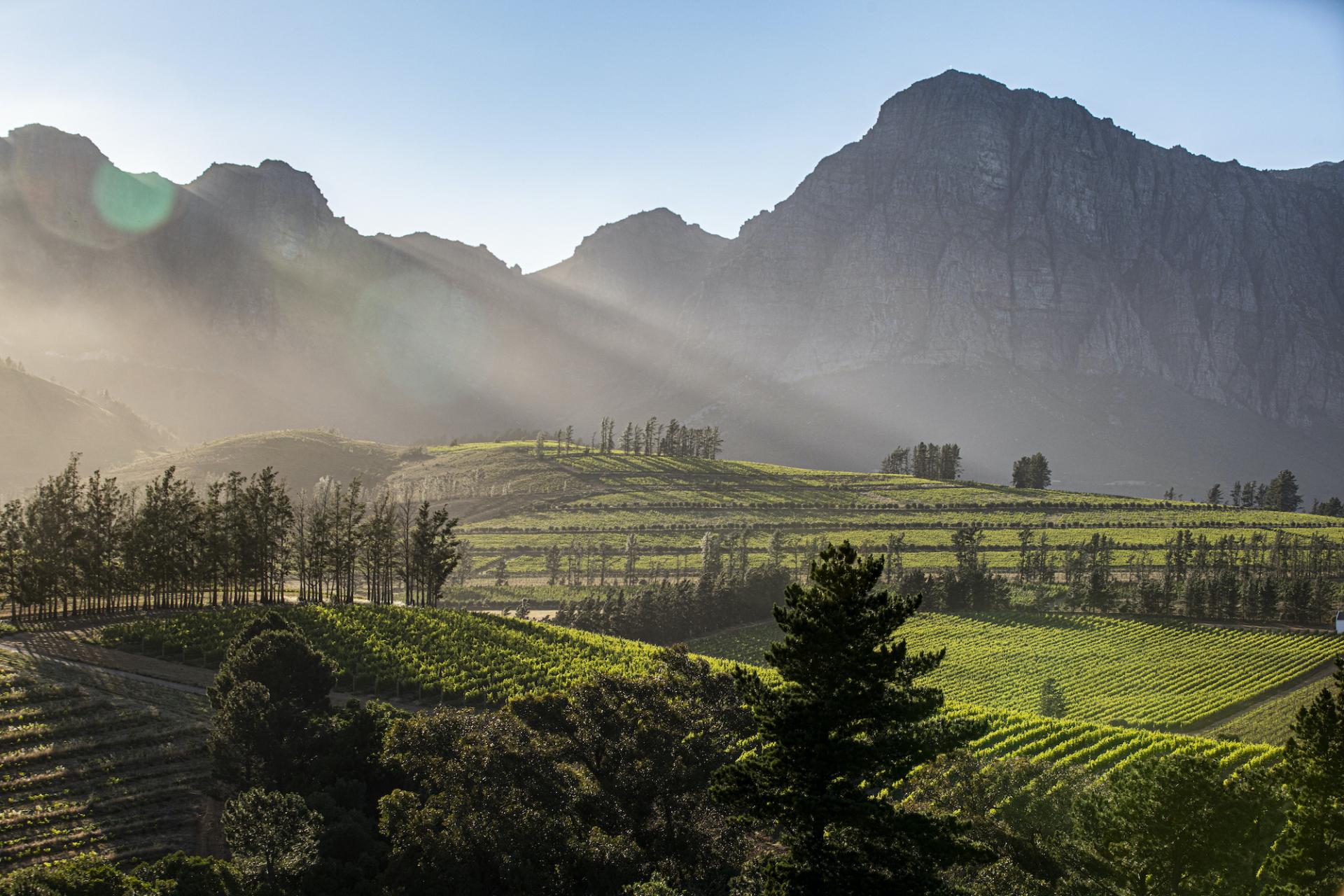 And excitingly, ground has just been broken on the upcoming restaurant and wine tasting lounge, which Gary will oversee. He is excitedly planning menus and proudly gave us a tour. The new project is situated well away from the Manor House, so guests will not be disturbed. Peace will continue to reign in this charming and utterly relaxing haven. However, it will add another dimension to your stay should you wish to wander over and indulge in what sounds like a fabulous venture.
Tim suggests we enjoy a bottle of bubbles up at the viewpoint where a burnt-out tree stump had been carved into a wooden seat for sundowners while the sunsets over the house and the gorgeous grounds. Sounds good to me! If you feel particularly chilled, you can opt for a tractor ride up there.
There are candlelit dinners on the terraces, weather permitting, which it generally is here in the Winelands, and the food is superb. It's modern, light, and inventive, and it looks beautiful. We enjoyed every morsel. I can only imagine the new restaurant will be an enormous success.
For dinner, we sampled scallop with cucumber, salt, lime, habanero and radish. Followed by beetroot and black pudding, homemade labneh, Dukakis and farm honey.
Next up, pan-seared Kingklip, with curry sauce, coriander pesto, semi-dry tomato, baby spinach and grilled spring onion.
Supreme of Quail, potato gratin, gooseberry Gastrique, quail jus Gras, and fine beans. Finishing with almond and potato drizzle cake, passionfruit curd, sorbet and coulis, accompanied by a white chocolate soil, and it was as fabulous as it sounds!
Breakfasts here are equally fabulous. You will not starve here! In fact, you may need to use the small gym! Better still, just ensure you walk the fabulous grounds. You will leave as we did, happily content.
Brookdale is a perfect spot for a weekend away from it all or for longer stays when it makes a fantastic base to discover the region. To embrace nature, and to enjoy great food in a tranquil and beautiful setting.