They say it's the thought that counts when it comes to gift-giving. For any holiday enthusiast, though, what could be more enchanting than when the packaging is as delicate as the surprises wrapped within?
Cherie Yip, the founder of Hong Kong-based floral studio The Spring Is Here, experiments with her flair for nature through gnarly, textured branches and foliage in a bevy of gift boxes and bags, injecting a breath of fresh air into otherwise predictable wrapping ideas. "I was still working as a designer when I first established The Spring Is Here, but the business expanded so quickly that I wasn't able to keep up with both sides anymore," says Cherie. "And that's when I decided to wholeheartedly dive into the world of flowers and plants." While her career has taken a new turn, she confesses that fashion, art and design continue to serve as prominent sources of inspiration. "The golden ratio in layout design, colour theory, combinations of materials and textures – these matter," she says. "We strive to recreate the biodiversity and the inter-relations commonly found in nature by shattering stereotypes with unexpected combinations."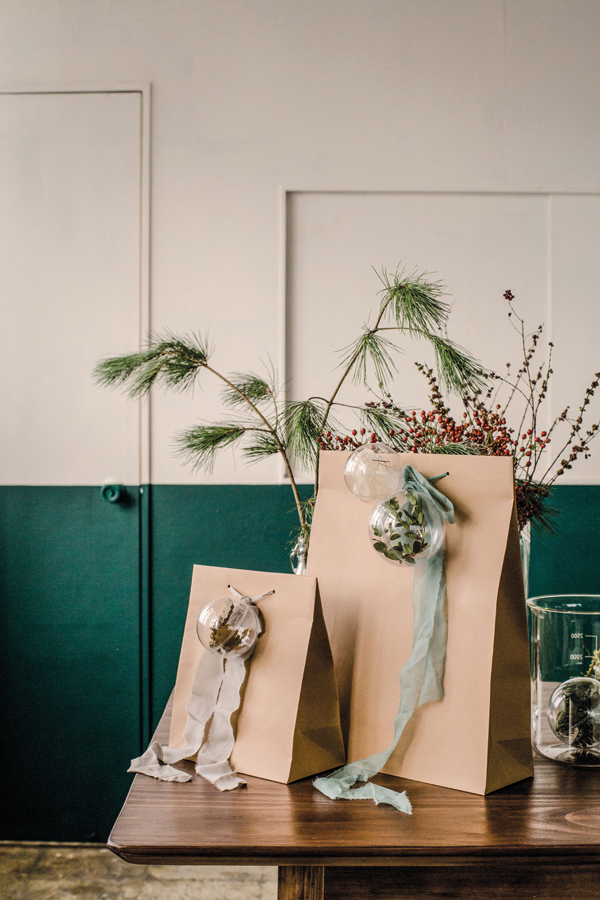 Cherie blends these principles in a series of botanical festive gift-wraps, exclusively for Home Journal, in her Kwai Chung studio. The Prince Edward flower market is always my go-to place for sourcing, as they can basically order any seasonal plants from overseas, she says. I also enjoy collecting rare species of dried and preserved flowers while I travel. You can easily purchase festive flora there starting from October – popular choices include noble fir, rosehip, cypress, pine and eucalyptus. I would suggest you select evergreen species that contain more oil and enjoy a longer lifespan, and make sure there are no infected black spots on the leaves. When you put together the presents, it's all about simplicity and textures. Cherie advises that you can casually complement a sprig or stem with kraft paper, velvet ribbon, cotton and hemp rope. She sums it up thusly: Let the details shine!
Scroll through the gallery below for more ideas! (Photography: Amanda Kho; Art Direction: May Lau)