This whimsical house is an inspiration to all dreamers. It's a testament to the saying: if you can dream it, you can do it.

Located in Ho Chi Minh City, Dreamscape is a cosy abode that expresses its inhabitants' personalities through whimsical décor. Like its name, this dreamy residence was designed to evoke feelings – a testament to those who aren't afraid to dream. The 968 sq. ft. property expresses its owners' personalities through the exciting design and arrangements. Red5 Studio uses plenty of art to infuse a playful, retro-chic aesthetic into the space.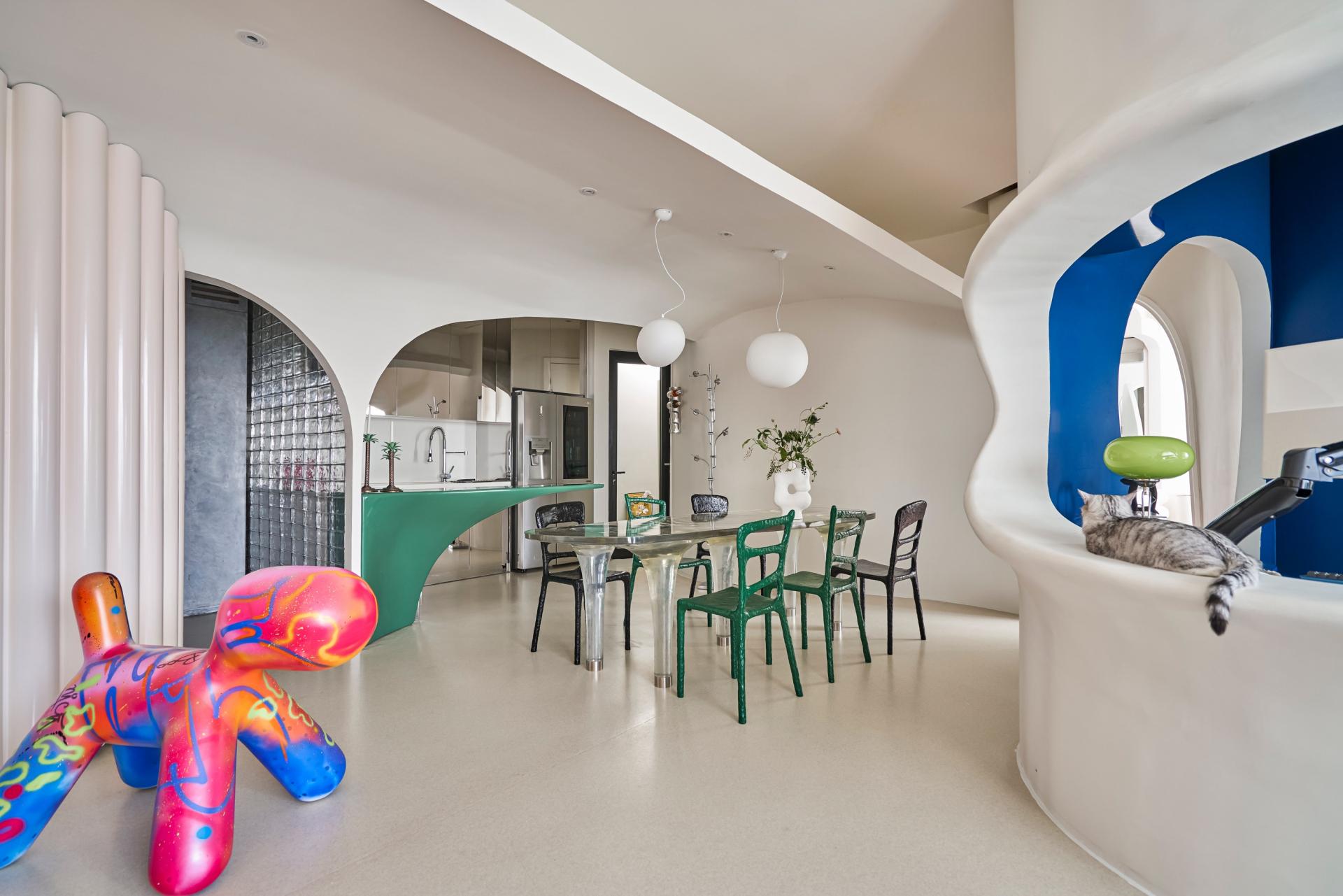 "Dream on!" the apartment seemingly cries, as it welcomes you to enter through an area called Dream Cave. As you go further in, curvy divisions divide the flat into caves with no doors that lead to different sections of the home.
In the the first zone of Dreamscape, the kitchen and dining area uses acrylic painted green and stainless steel for chairs. The quirky resin dining table imitates the liquid state of water, while adding another eccentric touch to the house.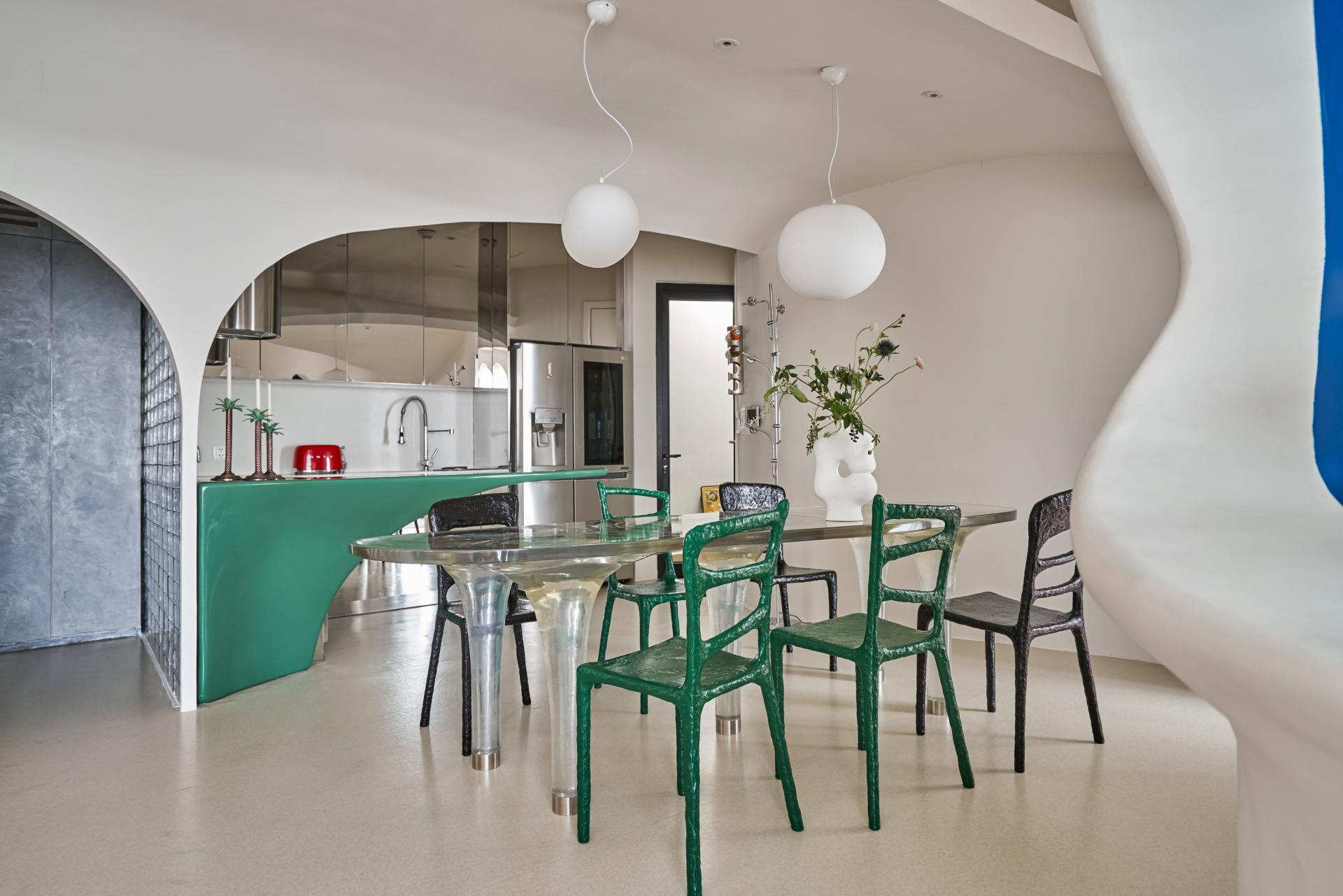 Catering to the owner's hobby of DJ-ing, the unconventional walls wraps the Persian blue working space into a smaller cave. This way, the workstation turns into a DJ booth that allows get-togethers and house parties at night without worrying about noise.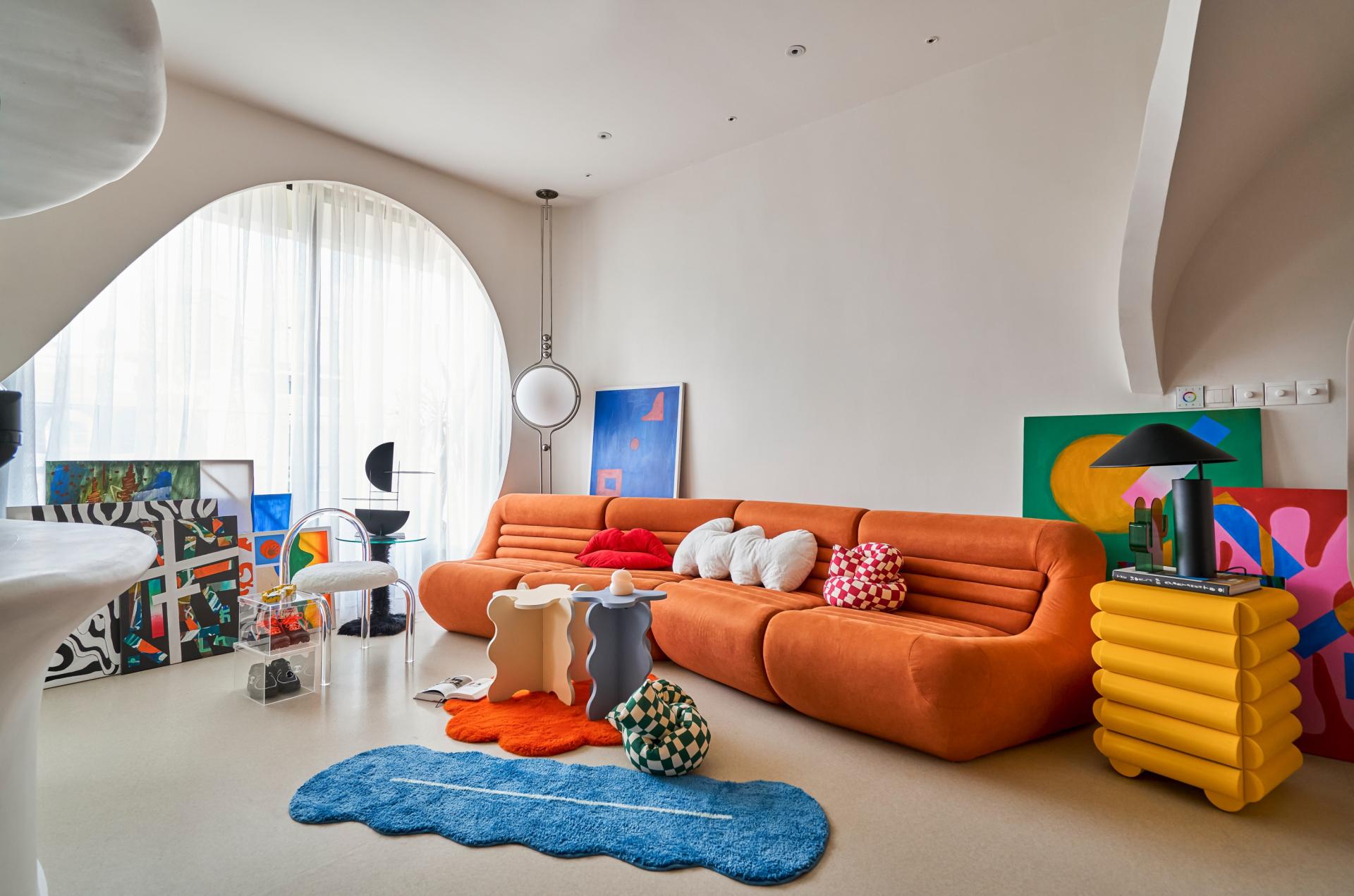 Across from the booth is the living room that's inspired by the space age aesthetic. The zone is brimming with a lively and energetic mix of colours and furniture pieces, as seen in the tangerine sofa and other bubbly rugs and tables. The fun distortion creates a mix-and-match collection of furniture and art pieces.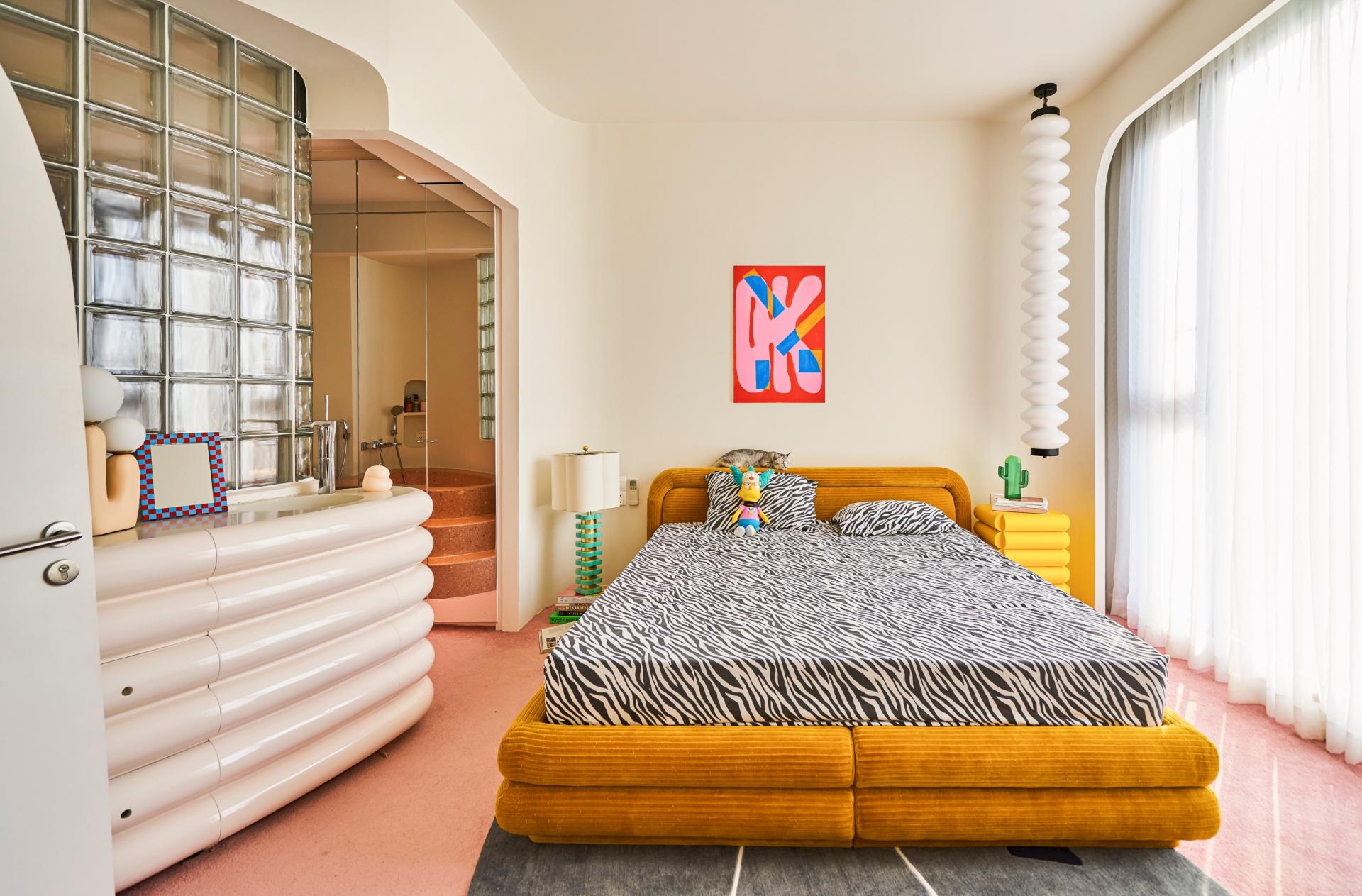 Walking into the bedroom, a soft-edged bed with zebra print cover sheets along with other fun items are scattered around the room. The en-suite bathroom is separated from the bedroom by a curved glass wall, covering the wavy bathtub in coral pink.
At night, the apartment comes alive with more colours. Neon pink and blue that mimicks the retro hues from 60s - 50s film contributes to the retro-futuristic design language.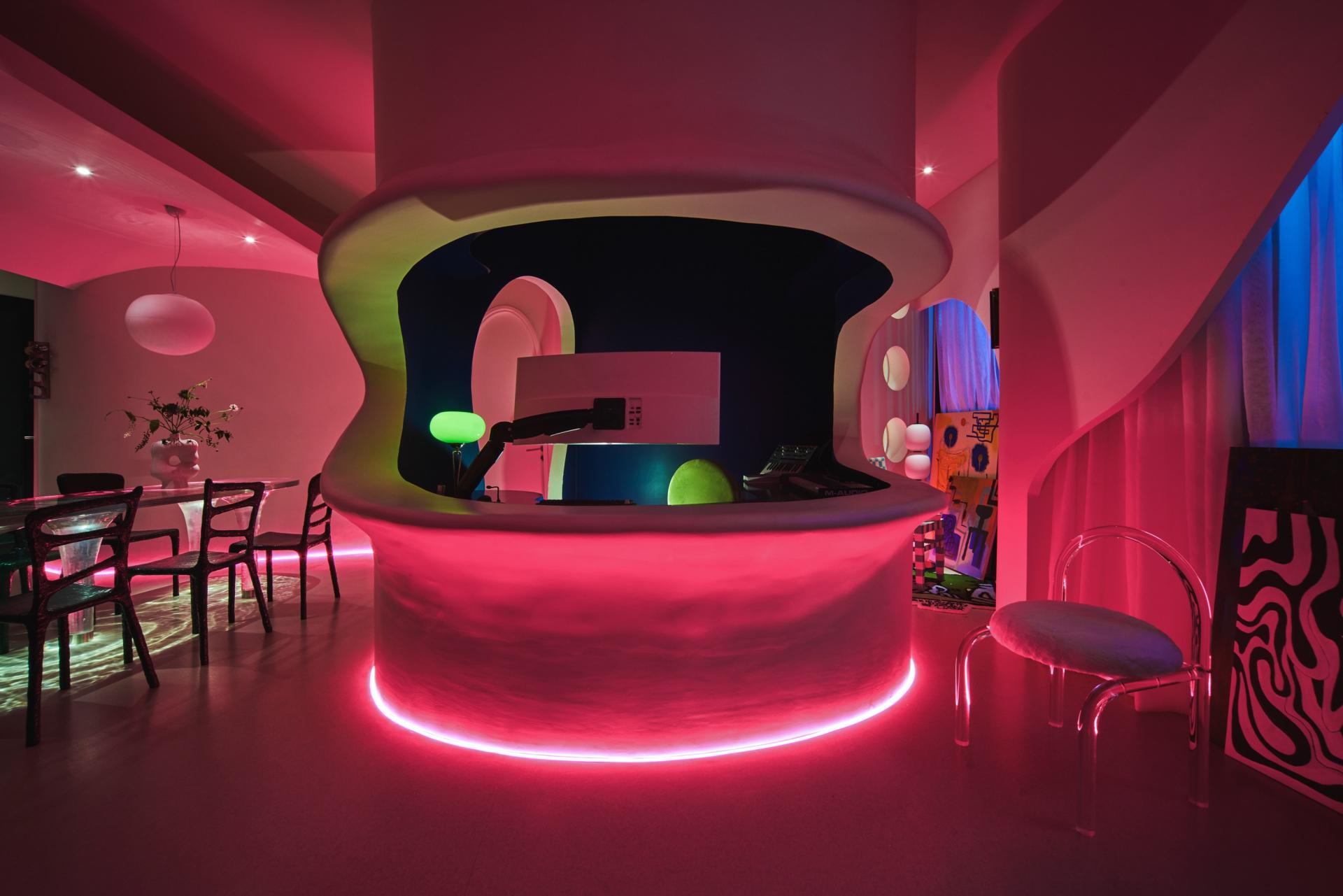 The bright and vibrant colour palette decorate the house beautifully, and translates the owners' art-led lifestyle into the space where they can always be true to themselves.
Photo: Đỗ Sỹ