Barbara Panizza and her husband Danilo were looking for a home that would let them combine life, family and work. The idea to build an extension to their existing home – located in the north Italian town of Guastalla – came when Barbara was pregnant, and the result is an unexpected home combined with office space; one that's surrounded by fields, hay bales and red cows.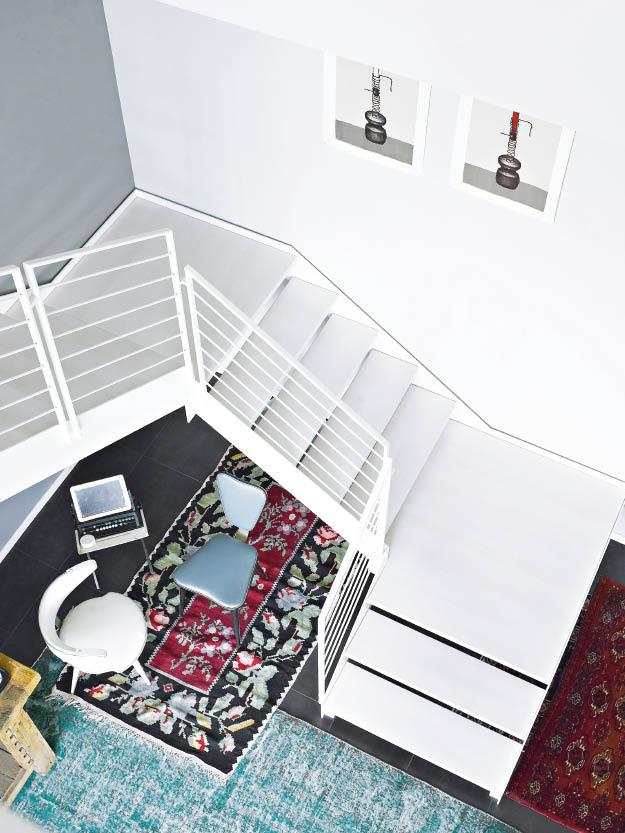 The interior of the house is an open space, simple and versatile, designed this way so that it can be "dressed" and transformed according to every need. It's comfortable, filled with natural light and cool design pieces. "I surround myself with an eclectic world [filled with interesting objects], to offer my customers and to use in my projects," says the designer.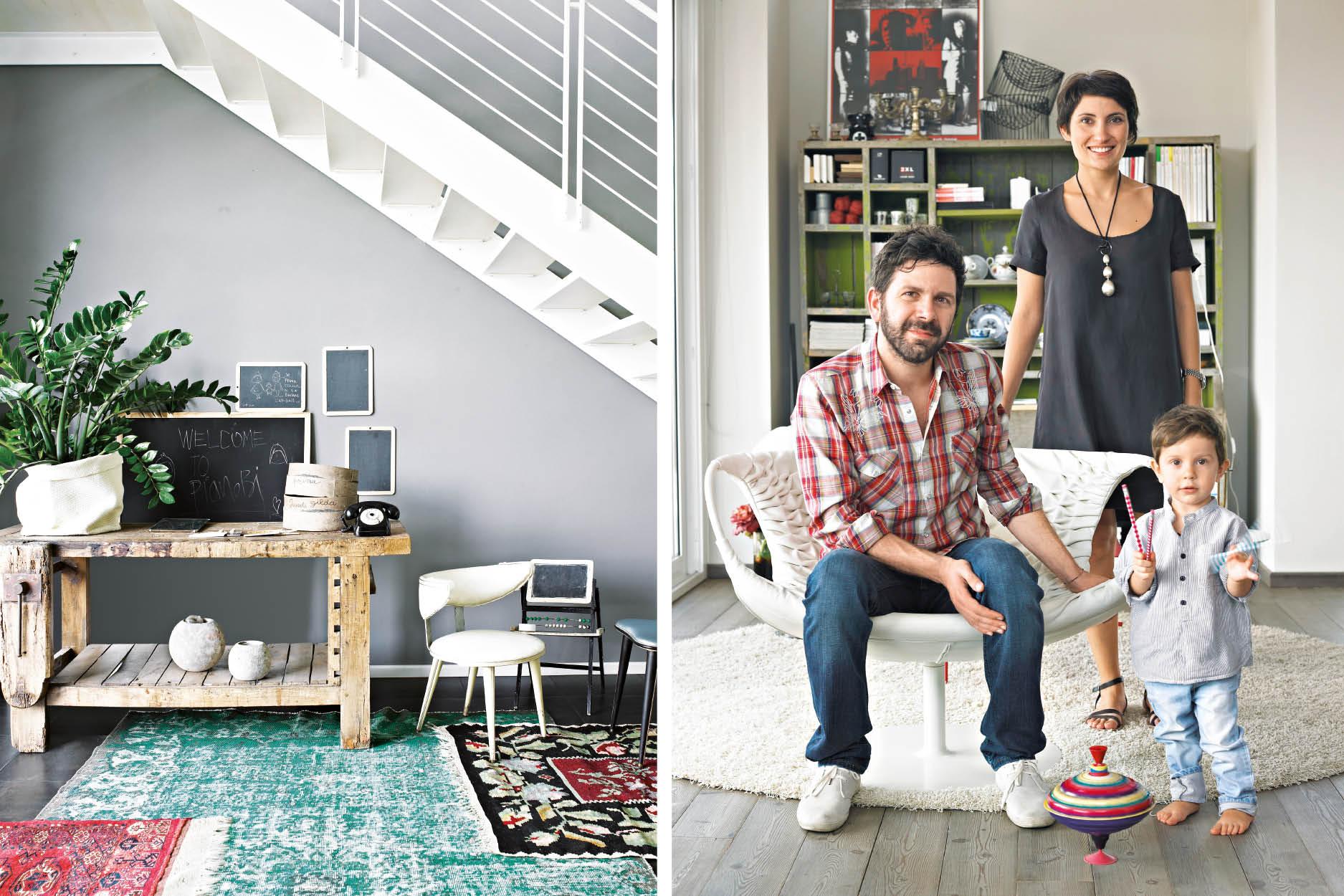 The space is divided so that public areas and the living space are on the lower floors. "The ground floor is the mechanical workshop where Danilo works, and the first floor is our home study," says Barbara of the space. "Piano Bi provides an alternative to working in an office and being away from home most of my days," explains Barbara.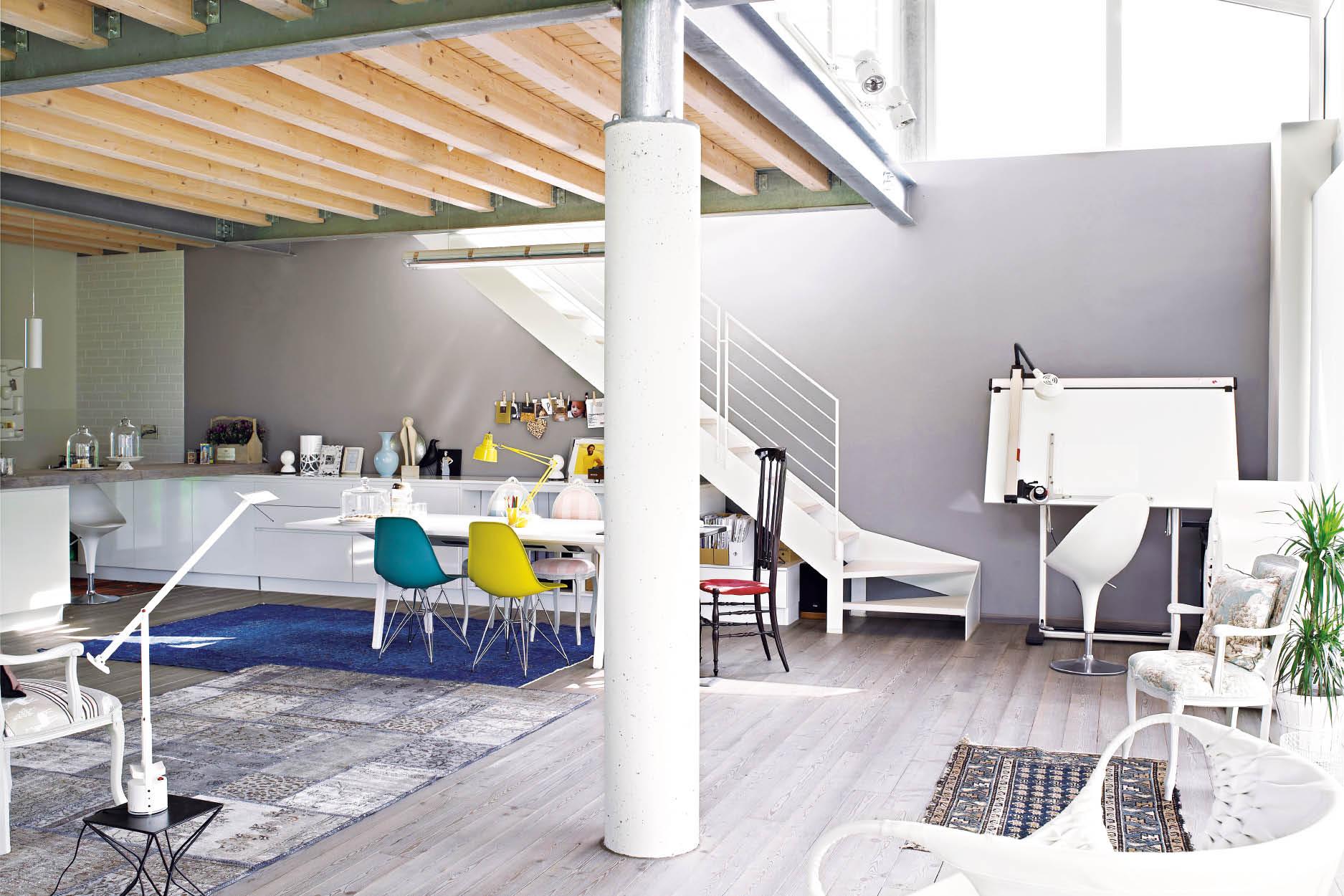 On the first floor, dark wood floors are offset by grey walls, white kitchen cabinetry and a white bucket chair by the window, and pops of bright colour in the form of yellow and aqua Eames chairs. Everything is enhanced by the sunlight streaming in. "The large windows allow me to communicate with the outside world, to experience the fullness of the passing seasons; to perceive the severity of winter and the intensity of summer," says Barbara with a smile.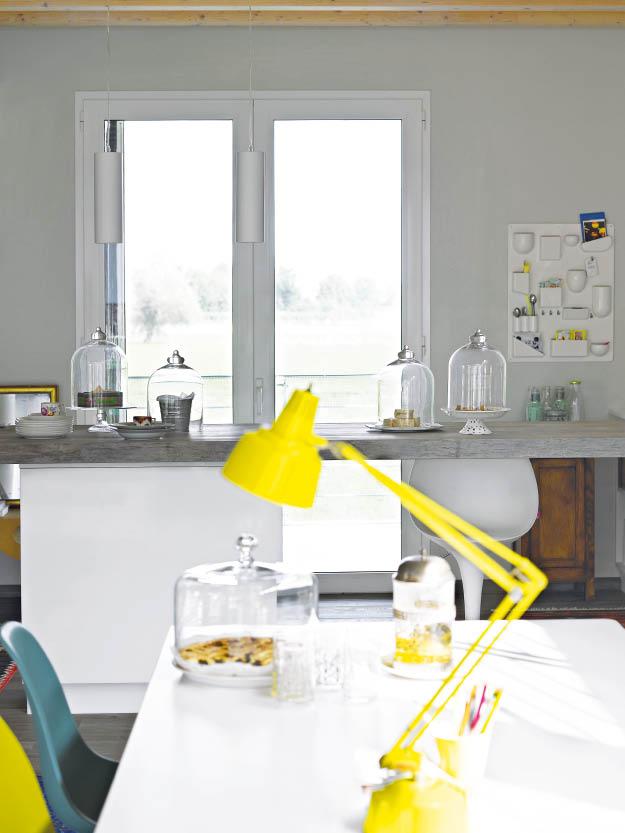 As an interior designer, Barbara's skills came in handy when creating this space. "In the early days of my work, I had the good luck to work alongside Paolo Mecugni, an architect of extraordinary sensitivity," says Barbara. "He taught me to see spaces in 360 degrees and think about them in a 'global' way." This experience gave her the know-how to take the driver's seat on her own home project.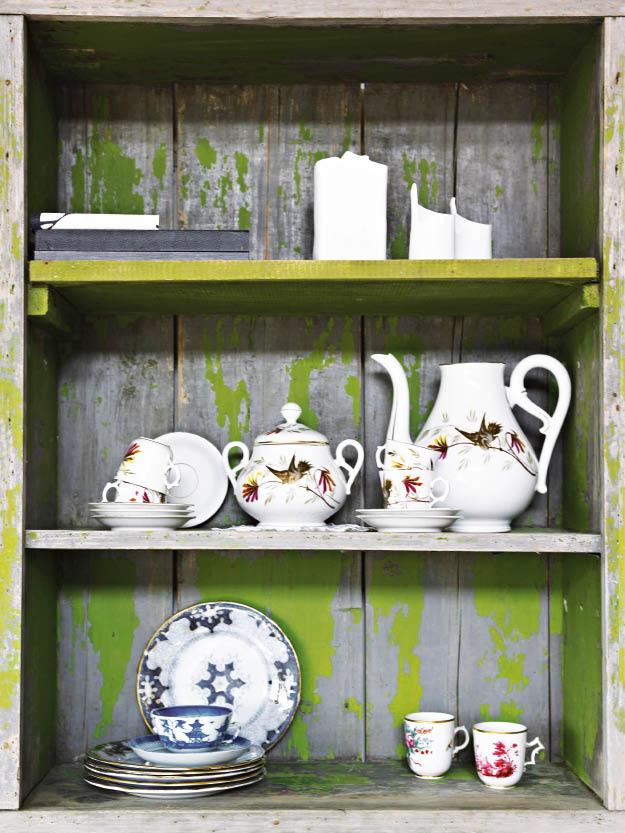 "The iron structure is a solution dictated by technical requirements, as well as aesthetics: we wanted a light structure and made sure it didn't weigh too much on the existing structure below," says Barbara of the extension they added to the house.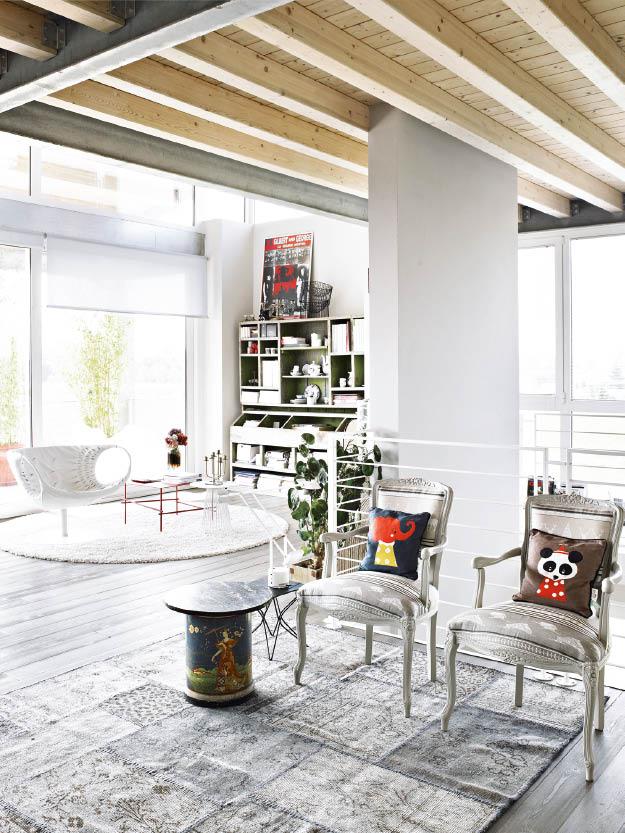 On the mezzanine floor above the home study are the bedrooms, which are also filled with sunlight. Here, earthy tones such as burnt sienna mix with neutrals and raw wood furniture, providing the spaces with a cosy, comfortable and laid-back feel.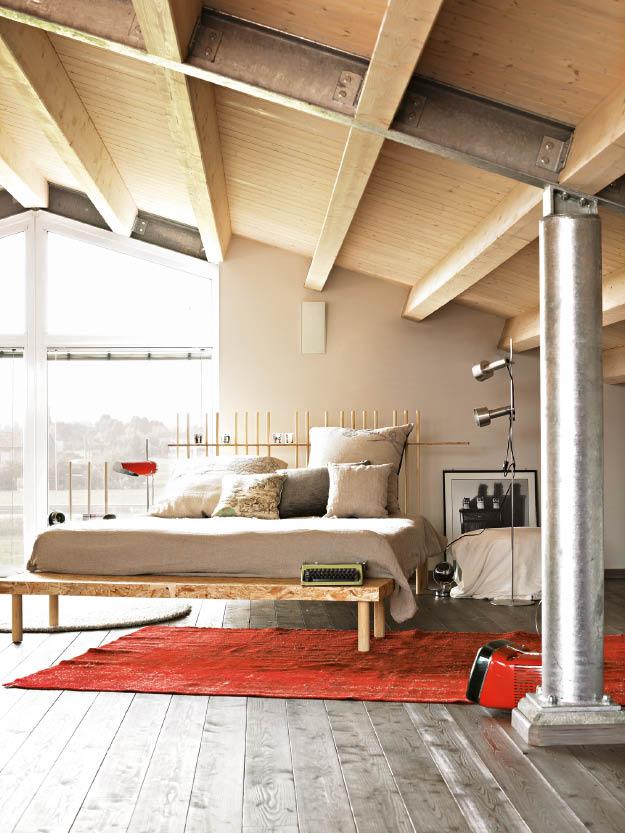 Wood is a prominent feature in this rural home, which is not surprising, given that inspiration for the materials came from the countryside around the house. "They had to be as natural as possible, and this is one of the reasons why I chose to treat the wood floors and ceiling with natural oils and wax only," says Barbara.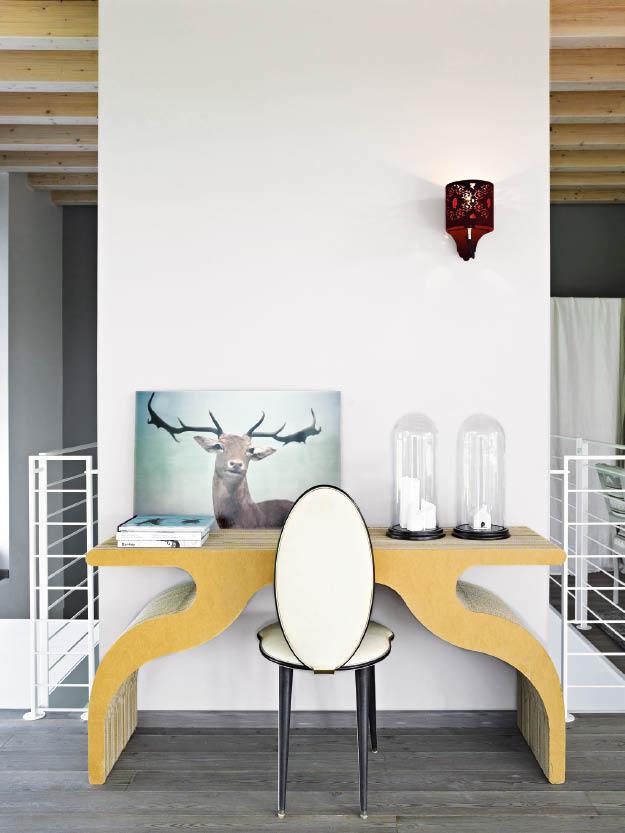 This floor is also home to Danilo's recording studio. He and his band, Welcome Back Saylors, regularly practice in this space. In this way, the home encompasses all the family's activities, from work to rest, and it lends itself perfectly to play, too. Perhaps this is a factor of Barbara's personality, for her own approach to work is also playful. "I approach my job with a cup of coffee, a slice of home-made cake, and some nice music – strictly vinyl," she says. "I think this is a good way to start every project!"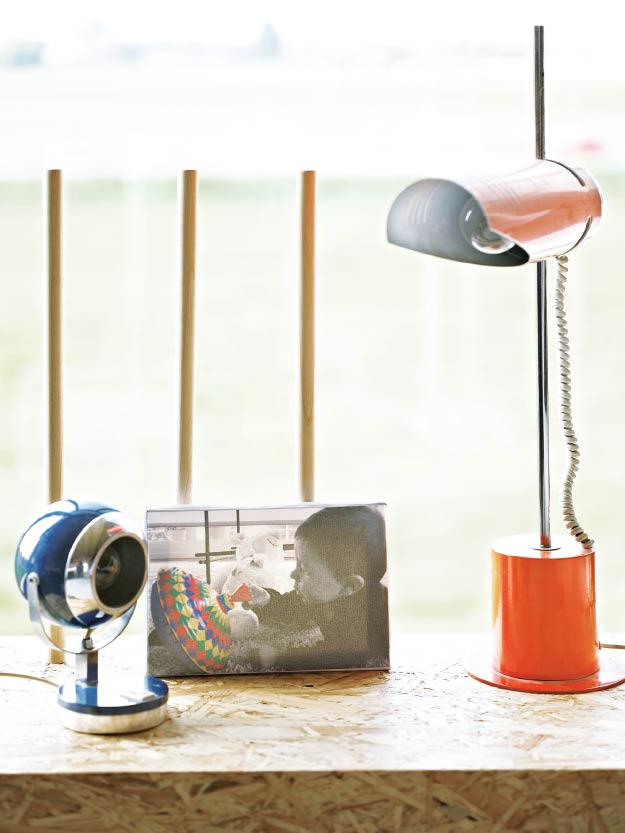 Styling: Francesca Davoli
Photography: Fabrizio Cicconi