The opulence of Venetian villas comes to London at Jacuzzi, a restaurant that straddles the line between high camp and high class.
Big Mamma, a French restaurant group known for its lavish Italian-themed restaurants, opened another ambitious restaurant in Kensington High Street earlier this year. It takes over a four-storey former bank with 4,000 square feet of space. The newly opened restaurant quickly became a hit on social media, and we certainly understand why.
Inspired by the Big Mamma founders childhood memories of exploring a grand Venetian villa, the restaurant boasts a vibrant atmosphere. Its OTT interiors are a feast for the eyes. An enormous lemon tree dominates the middle of the ground floor, surrounded by bright red banquettes. The ceilings are adorned with low-lit chandeliers, while colourful artwork line the walls.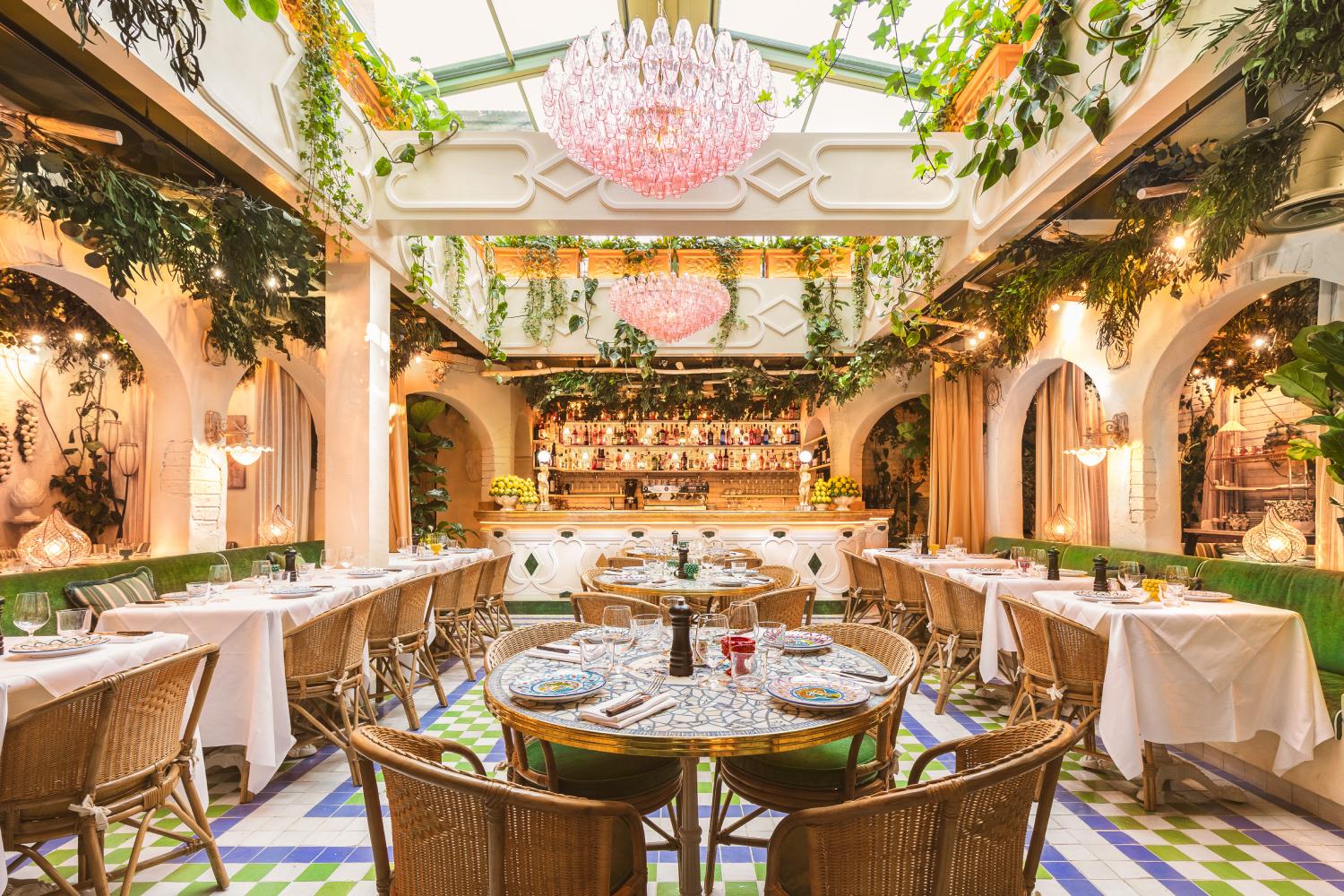 Up the brightly lit staircase, above the botanical themed first floor, lies the Sicilian mezzanine with a retractable roof that lets sunlight in. The space radiates laid-back sophistication, reminiscent of an Italian courtyard – as long as you look past the giant framed underwears on the walls. If you venture up yet another flight of stairs, a boudoir-themed bar which offers cocktails just as fancy as its interiors rests on the top floor.
Finally, wander down to the basement to what social media deems the pièce de résistance of Jacuzzi – the toilet. Glitter disco balls and plenty of mirrors greet you as you enter the former bank vault turned lavatory, making the place appear like a cross between a club and a science museum. The cubicles come equipped with one-way looking glasses that allow people inside to see out (but not vice versa, thankfully), so you can spy on people without them knowing. Cheeky.
This fantastical restaurant is just as its press release promises to be: "more than just a trattoria; it's a divine Italian mansion where the naughtiest fantasies come to life".