Location, location, location: for soon-to-be weds, chief among wedding planning decisions is where the ceremony will take place.
Indoors or outdoors? Local or destination?
In Japan, a futuristic new chapel lends itself as a worthwhile contender.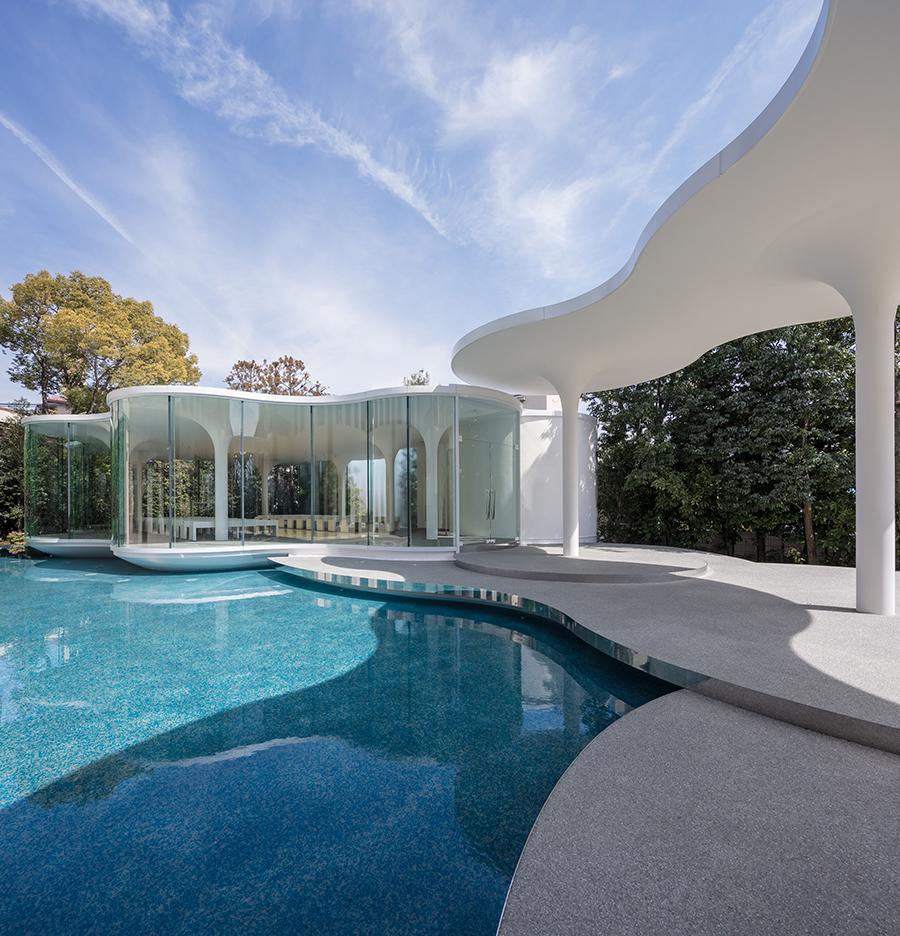 The Cloud of Luster Chapel is a futuristic yet elegant indoor-outdoor wedding venue, designed to resemble clouds perched lightly on water.
The graceful structure, part of the La-Vienne Wedding Ceremony Hall in Himeji, Hyogo Prefecture, is designed by Japanese firm KTX archiLAB to replace the former Aile-Blanche Chapel. The 2,630sqft venue features a curvacious covered pathway leading up to the main chapel, an all-white one-storey building dominated by curves.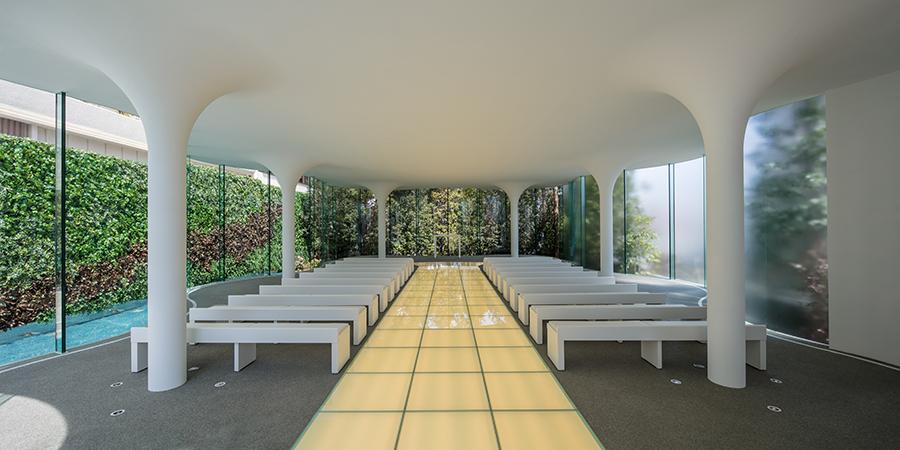 Inside the venue, which can accommodate about 100 guests, are minimalistic pews and an altar, with a backlit aisle down the centre. An organ and the technical room are hidden in curved white walls at the back.
With curved glass enclosing the main venue, the Cloud of Luster easily doubles as an outdoor venue, with daylight illuminating the room alongside full views of the water and garden.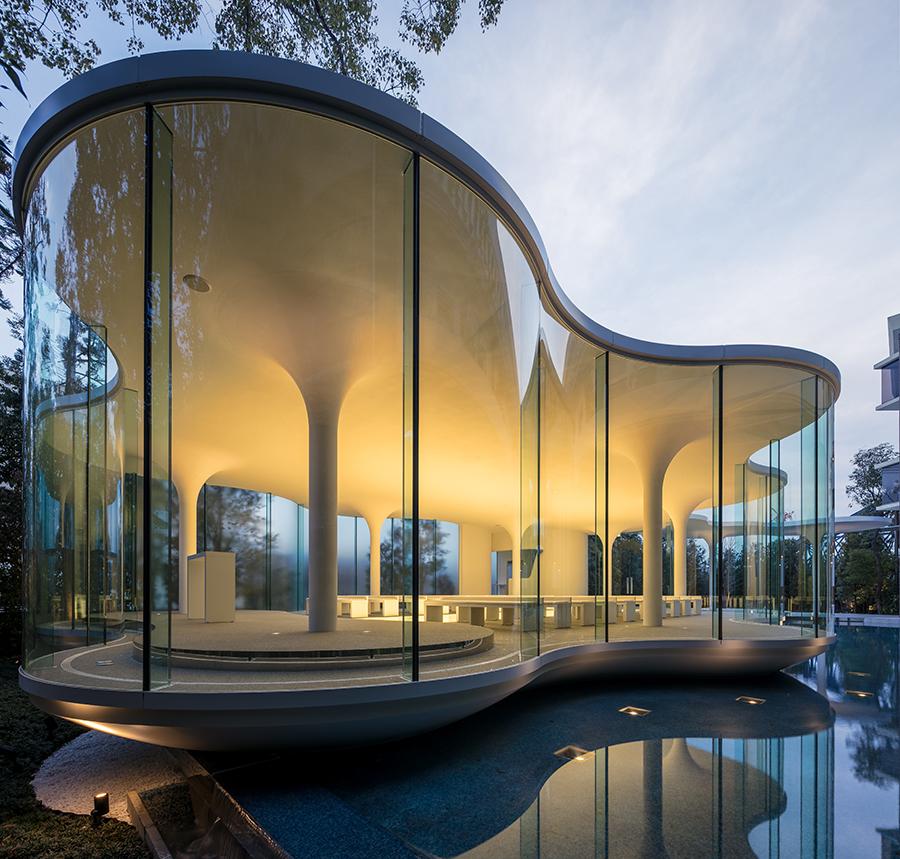 Lighting also comes by way of the backlit aisle floor and the lights around the columns. Meanwhile, slits along the glass curves serve the venue's air-conditioning.
When the sun is out, the water feature lends the dazzling additional effect of reflecting movement onto the chapel ceiling – which, among other visible areas of the chapel including the walls, sports no technical details or wiring.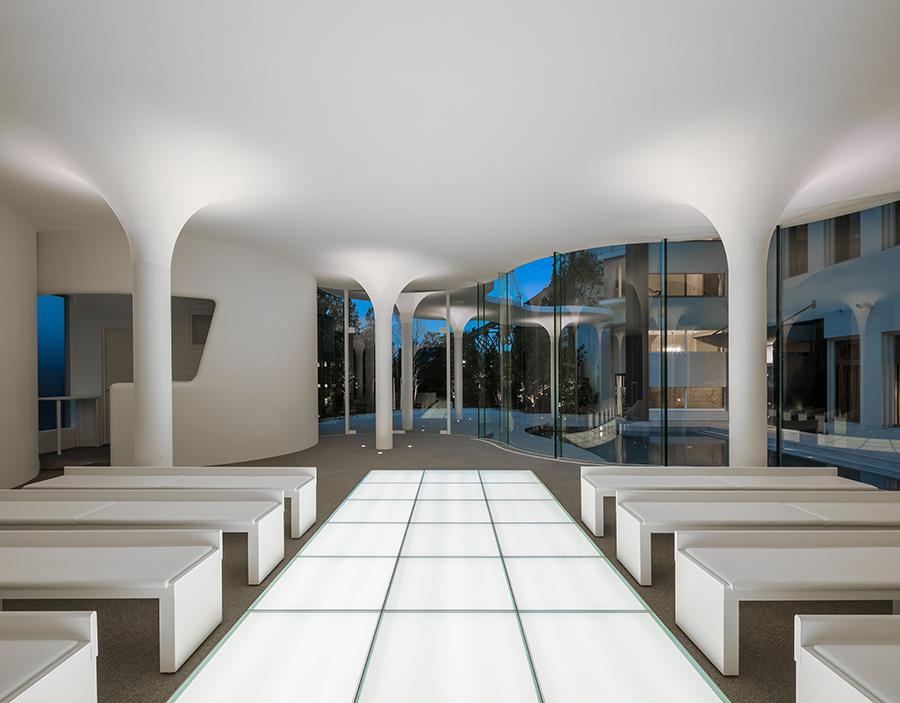 In bringing the project to life, KTX head architect-designer Tetsuya Matsumoto says each step of the process encountered its own unique challenges.
"Sketching the concept posed the question of how a chapel – specifically built for wedding ceremonies – can reflect its function, the importance of the wedding day, and the spirit of the wedding ceremony," says Matsumoto. "How can a building be transformed into an atmosphere?"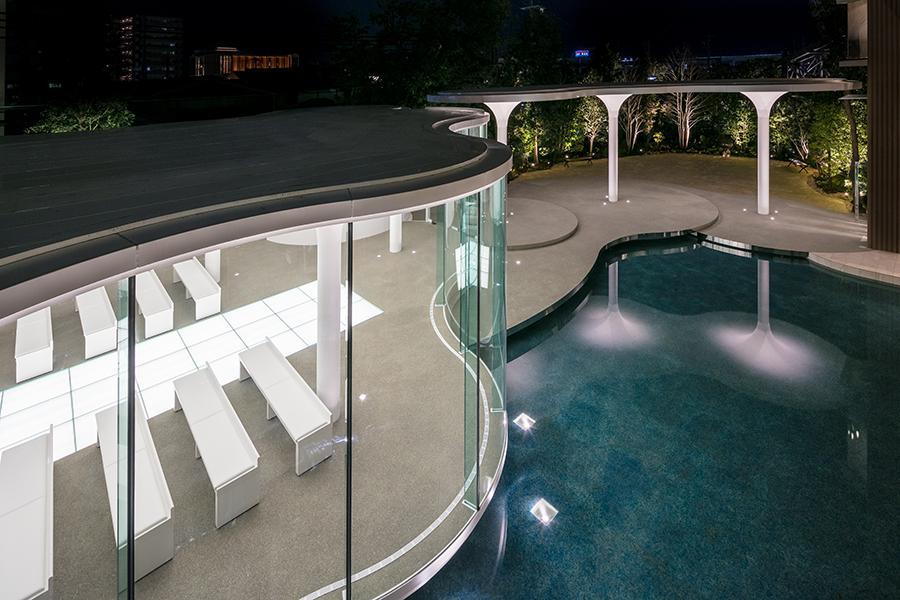 "Once the primary ideas were set, the challenge was to try to reduce the construction cost, especially for the curved glass. Some technical details for the roof and flooring were also challenging for their novelty."
Indeed the novel venue, likely to attract couples with a preference for a cross of elegant, mimalist, and futuristic motifs, features a host of unique traits.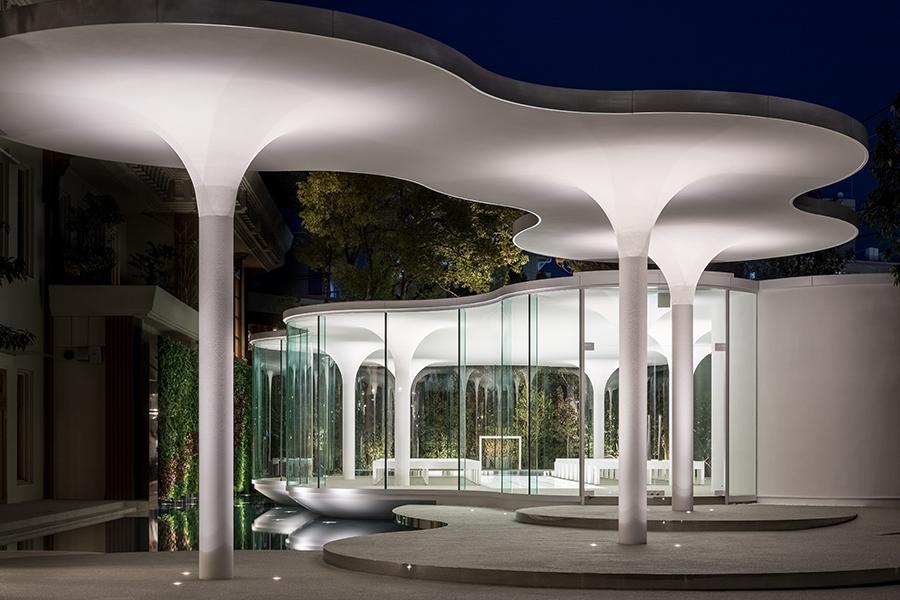 "One of the key features that's probably difficult to notice with bare eyes, even when visiting the space, is that all the glass curves have the same radius," describes Matsumoto. "The reason behind this is to standardise the production of the glass to reduce its cost."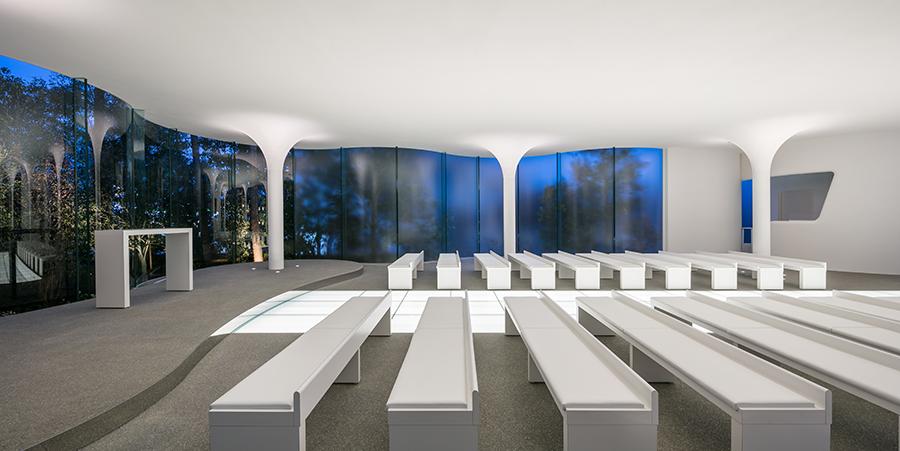 "Other features that could be noticed by a more attentive observer is that the ceiling is free of any technical pieces of machinery – no lighting and no air-conditioning."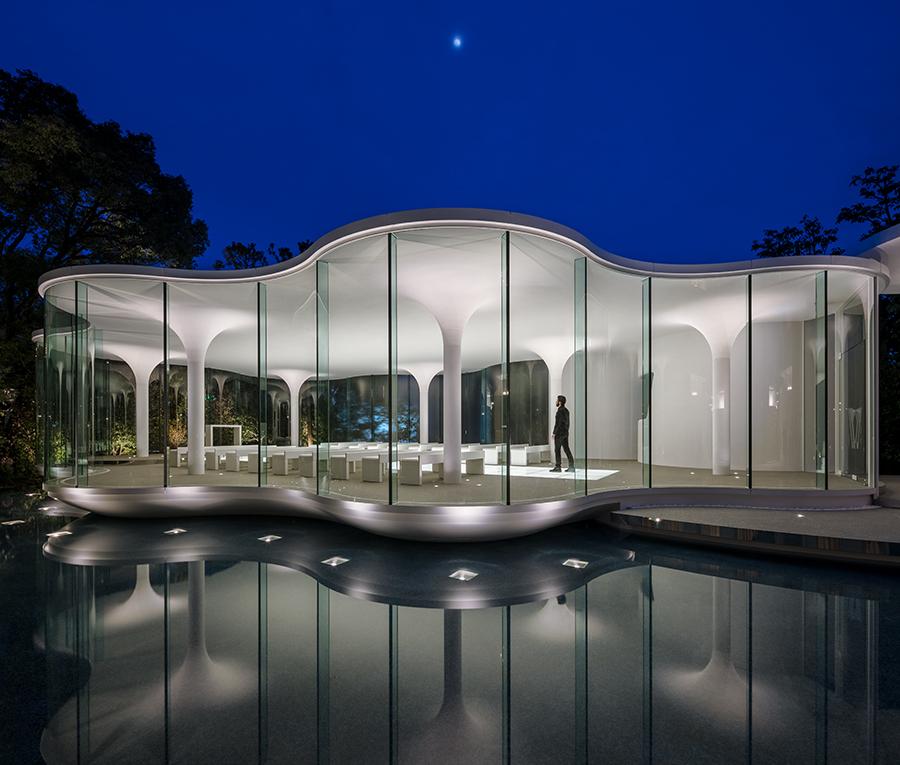 "The moulding for the concrete-made shapes was difficult to perfect on the site," as well. "We had to ask a carpenter specialising in Japanese shrines and temples to produce such a complicated form – and they delivered with perfection."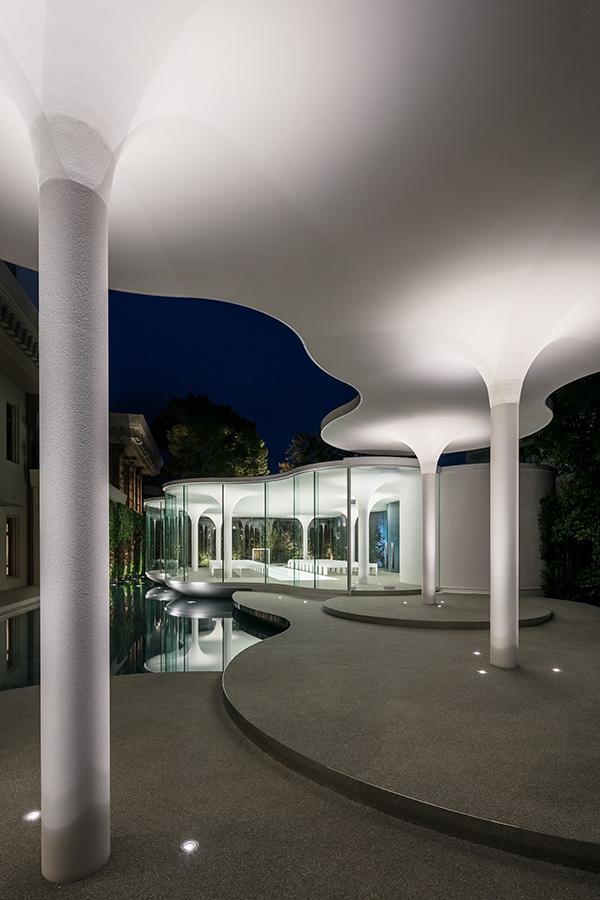 See more: Hoshinoya Tokyo: Authentic Japan in the Heart of the City