Aptly coined The Roof House, this sprawling 2,045sqft estate located in the Ranawa District, Bangkok that is an extension of a family's original home fittingly boasts a strikingly conceived ceiling.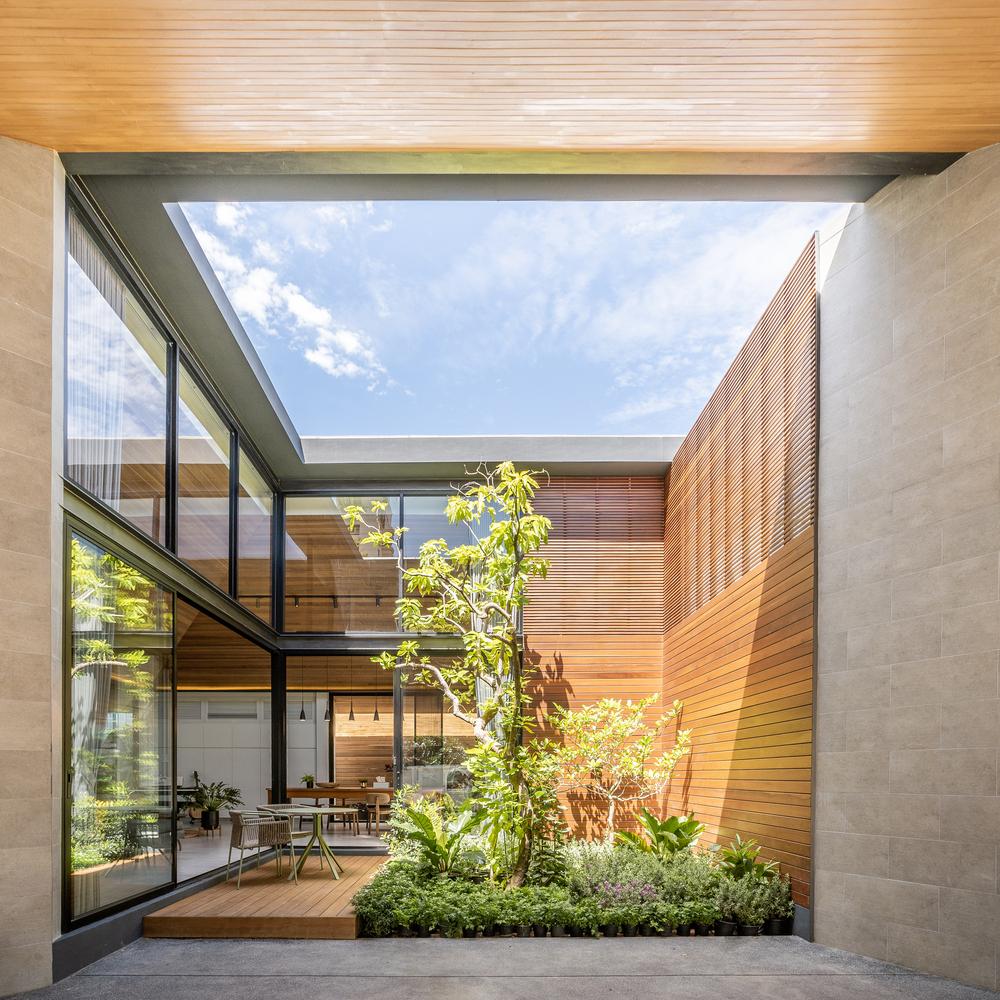 Surrounded by residences on the quiet alley that the home sits on, the home was given a much needed update when the homeowners proposed an idea to Looklen Architects, hoping to transform their 15-year-old home into a house that can host a variety of gatherings for friends and family. In addition to being a casual entertaining space, piano lessons were also to be taught here on Saturdays and Sundays, as well as serving as a spacious playground for dogs.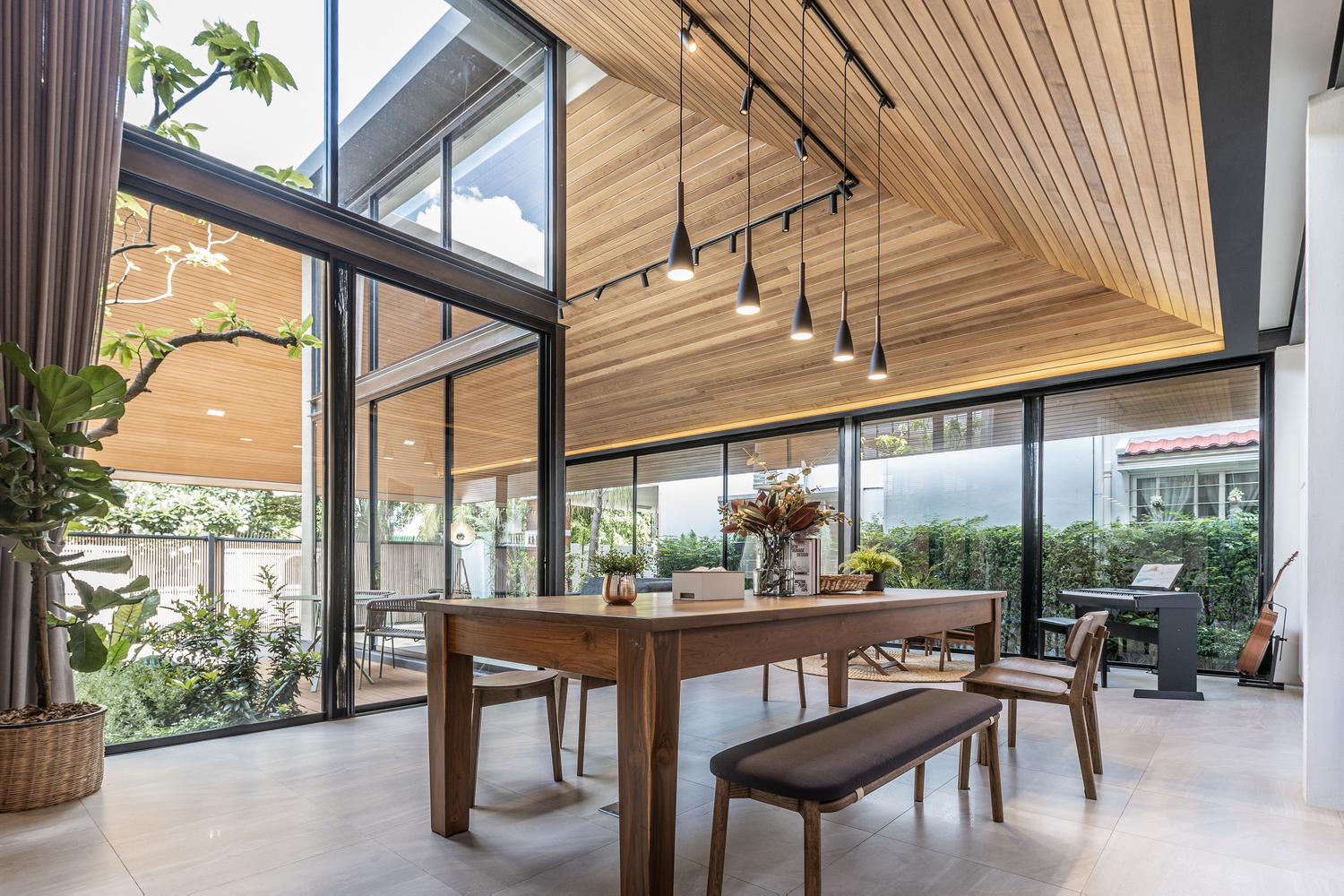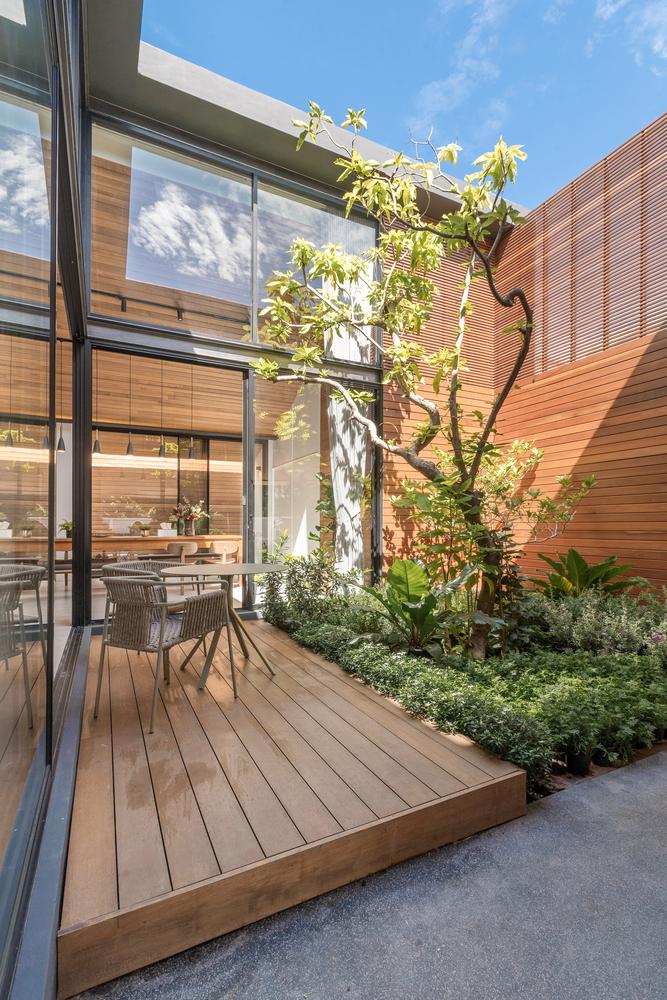 Working with limited budget and space, Looklen Architects' first order of business was to increase the feel of the space with an open layout design, concentrating on utilising all functional areas within the home. A courtyard was built around an existing tree in the centre of the home, which is a key functional area that simultaneously helps natural lighting and ventilation, making the interiors feel much brighter and more spacious.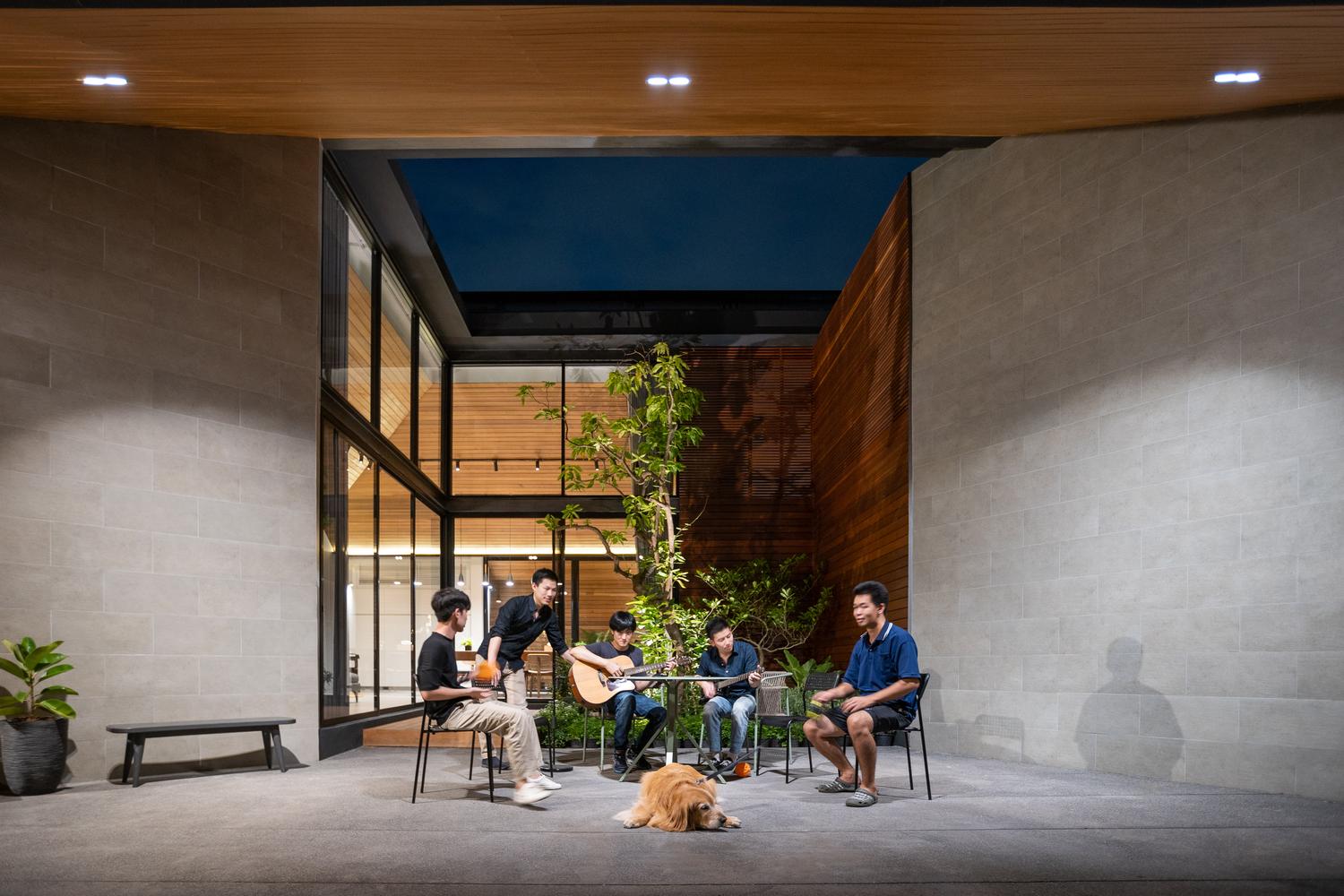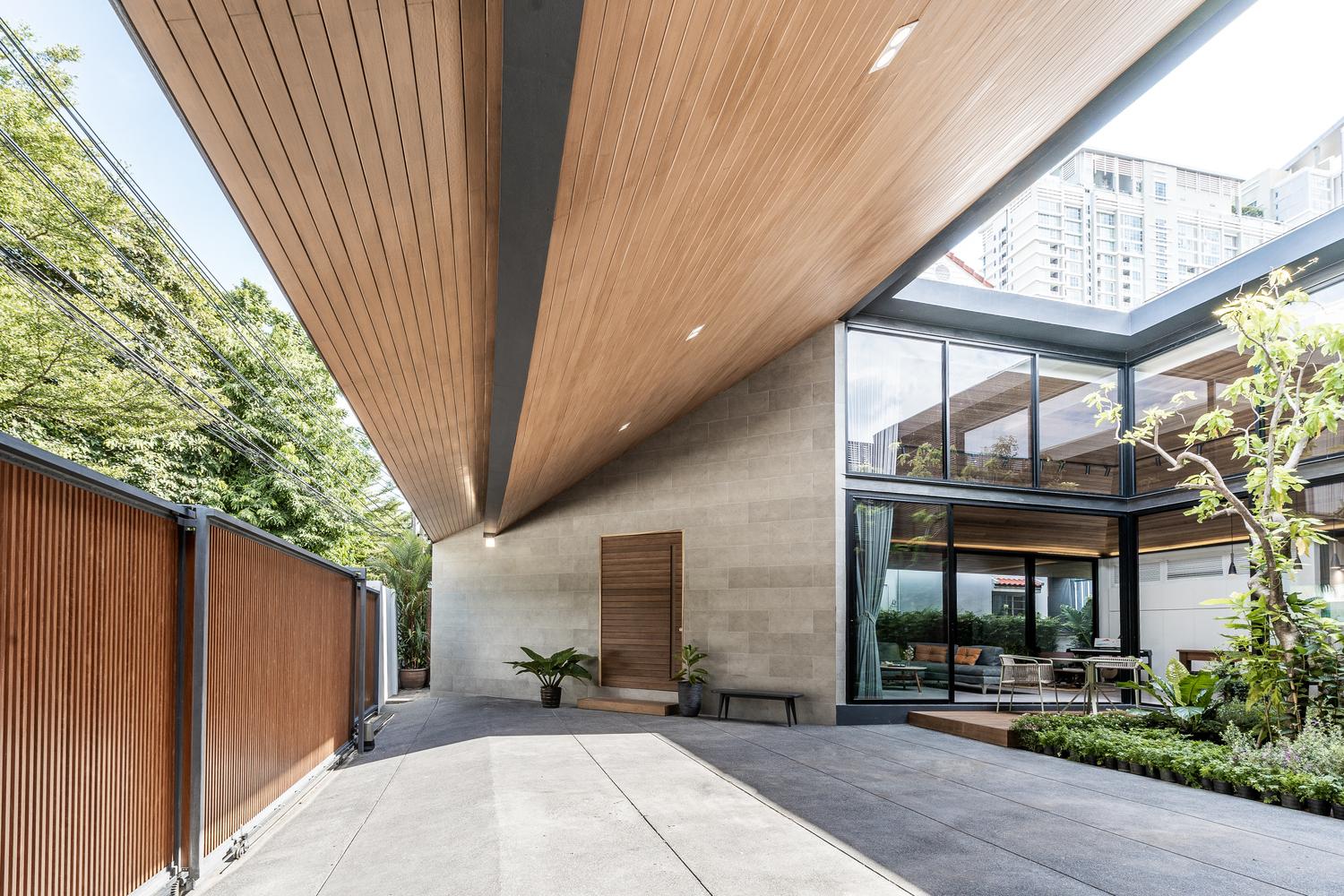 Interestingly, the central courtyard is hidden behind a curved wall at the front of the house, lending to a relaxed tropical atmosphere that is at once secluded and private. The overhanging roof, which features a striking sloping design, provide just enough shading for the home with its long eaves.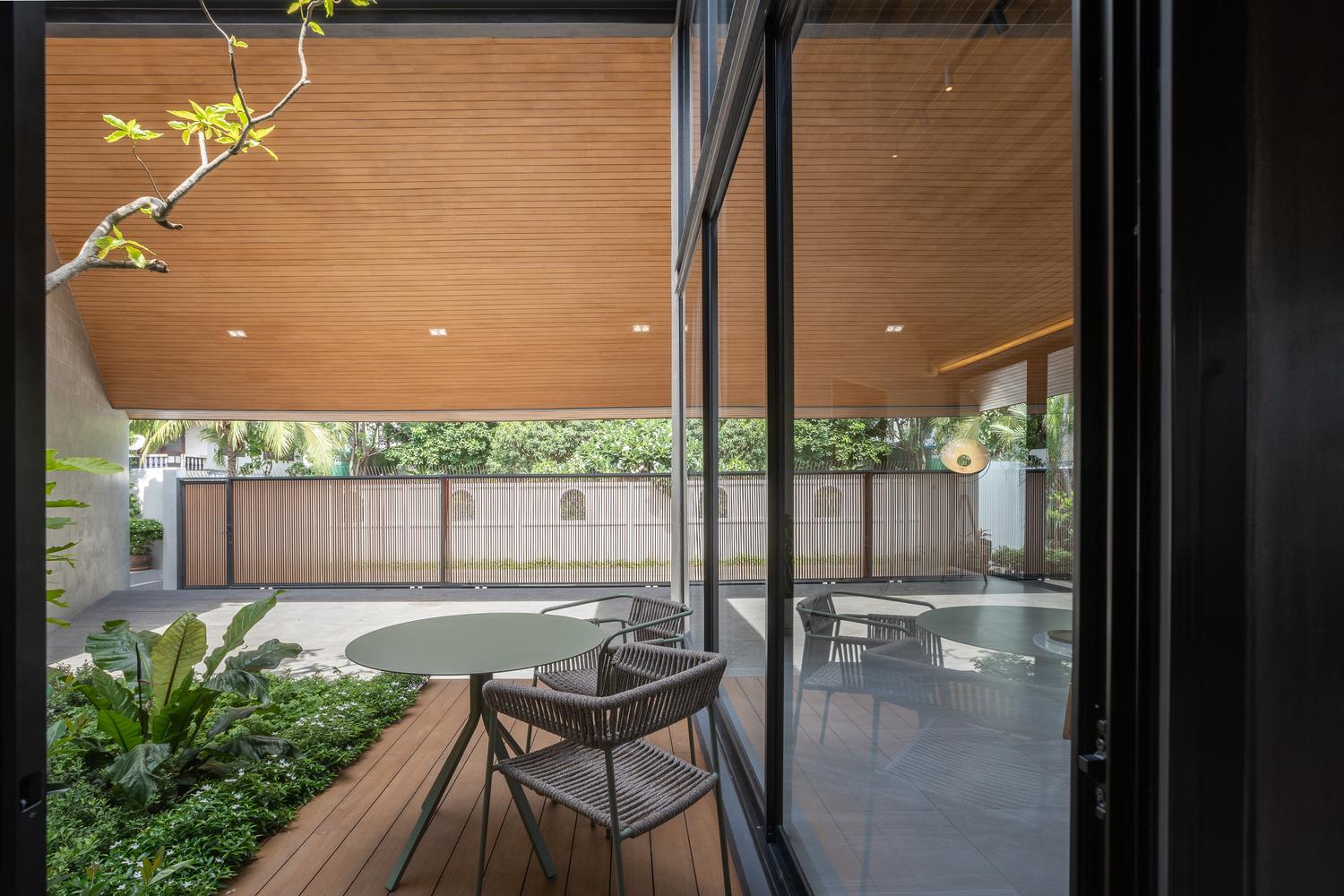 Adding to the home's lightweight form – a necessity given Bangkok's high temperatures – is the home's architectural structure that is made of steel, which features a 14-metre wide opening at the front of the home and is framed by inclined walls that connect to the central courtyard.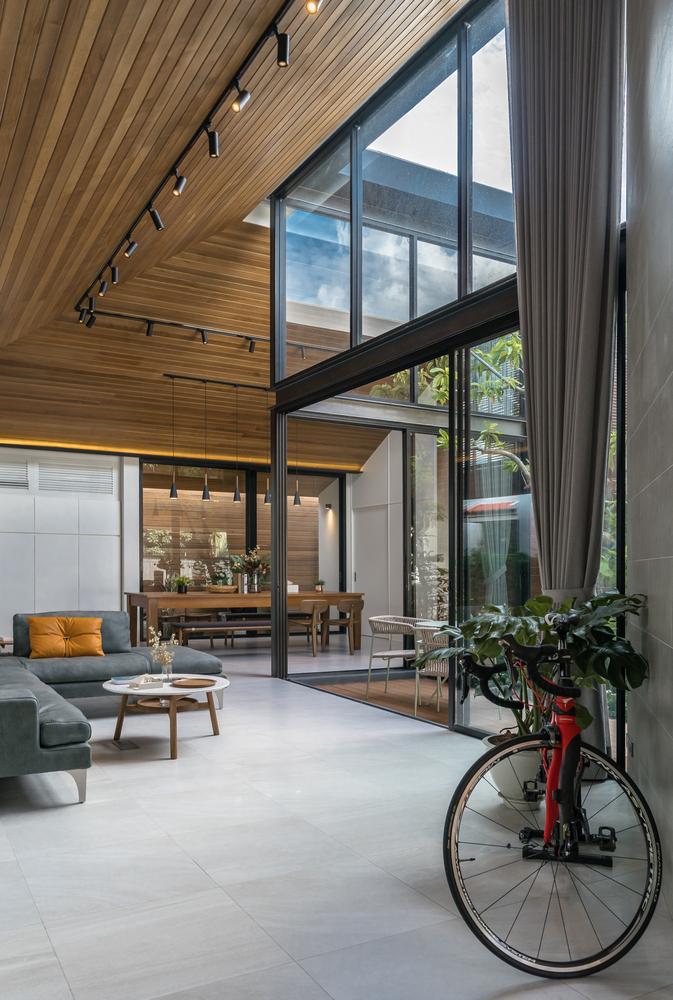 The architect had hoped that by connecting the angled roof with the interiors, the outdoors and indoors would be integrated in a seamless and unified way.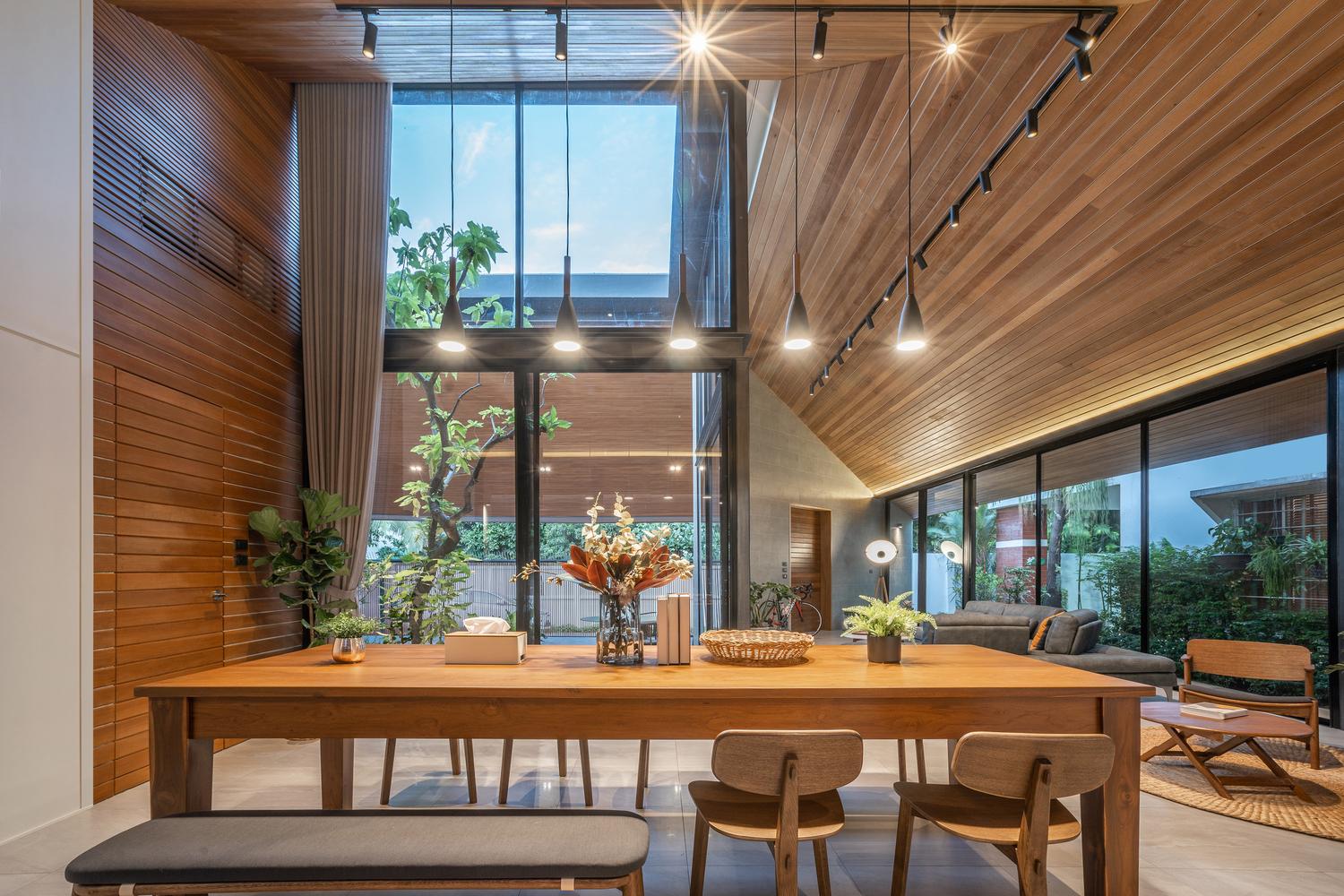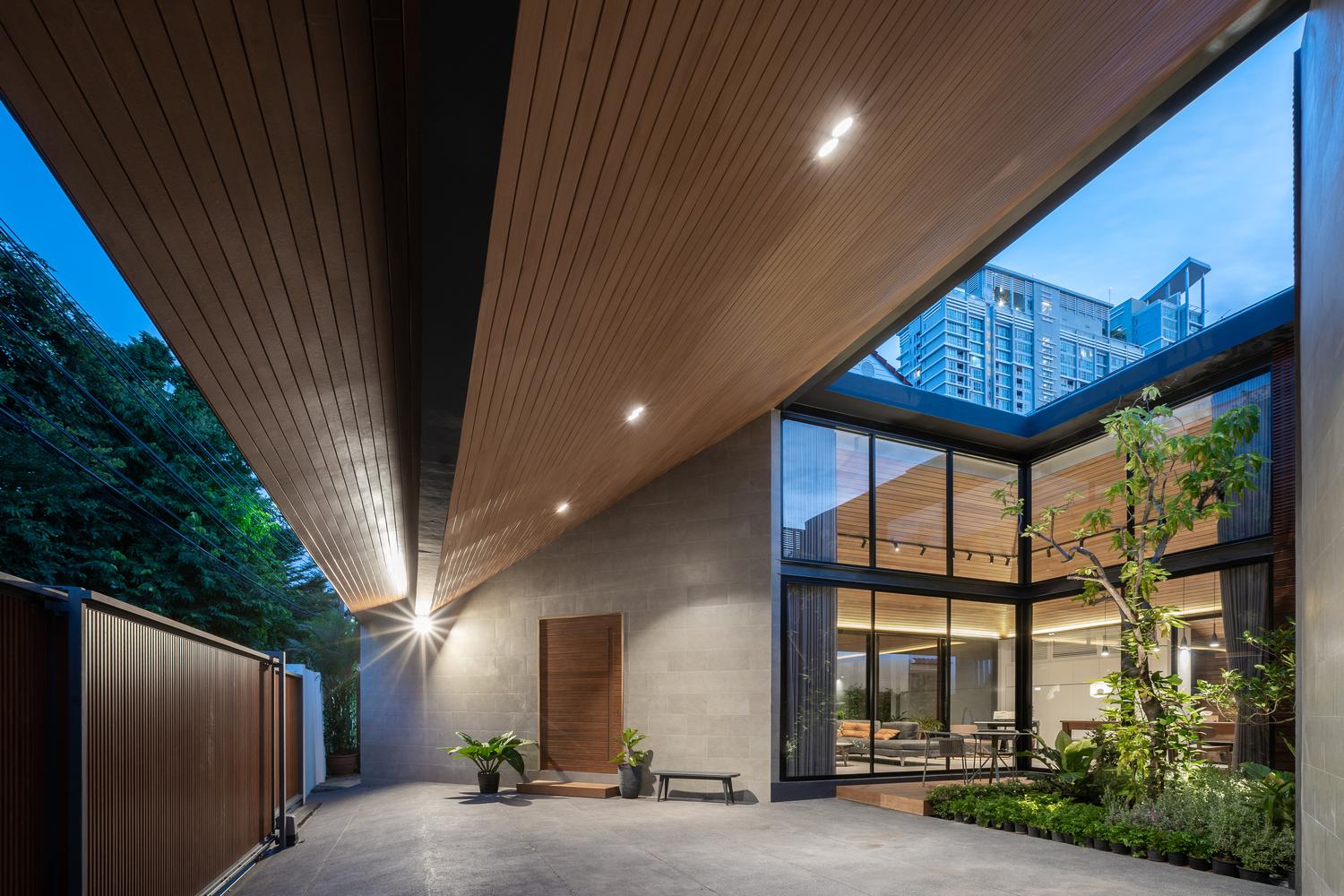 The main material decorating the home's ceilings as well as many of the walls is wood, which not only improves thermal insulation performance and reduces echo, but also lend to the home's majestic and nature-inspired aesthetic that feels much like a tropical woodland. The material also blends with the surrounding exterior which is filled with greenery and shrubs. They are complemented by strikingly sleek lighting fixtures that give the home a contemporary, sleek vibe.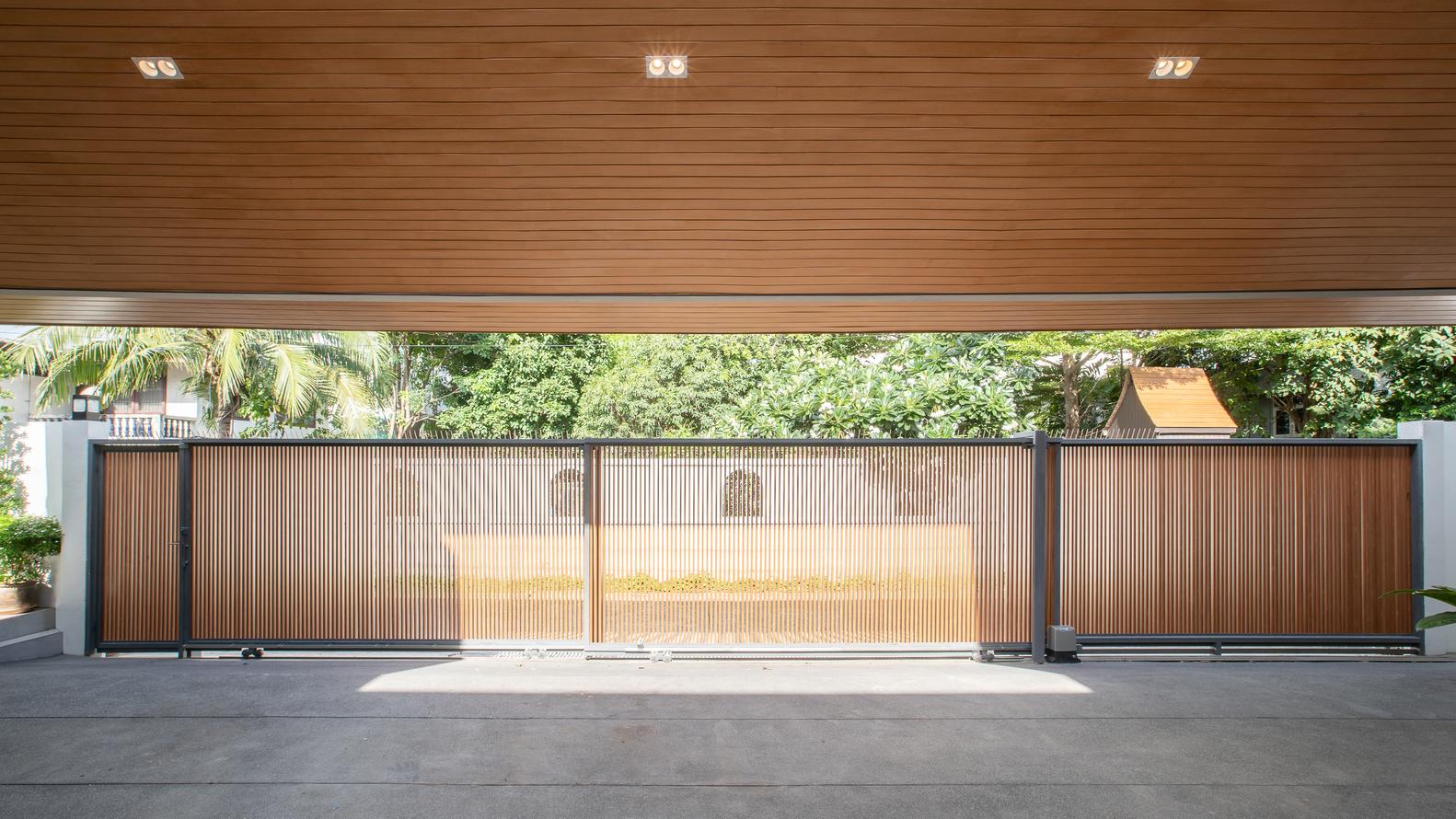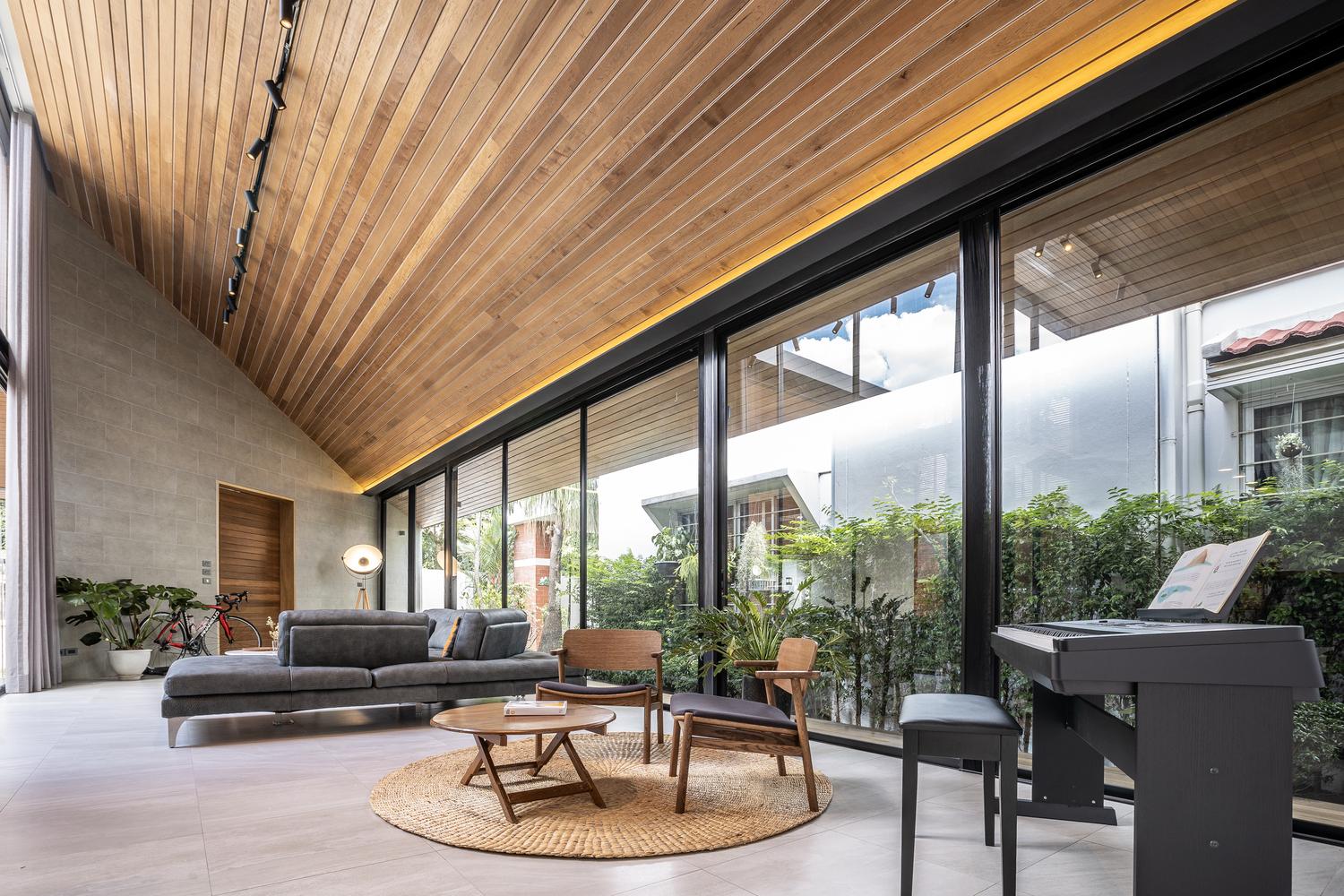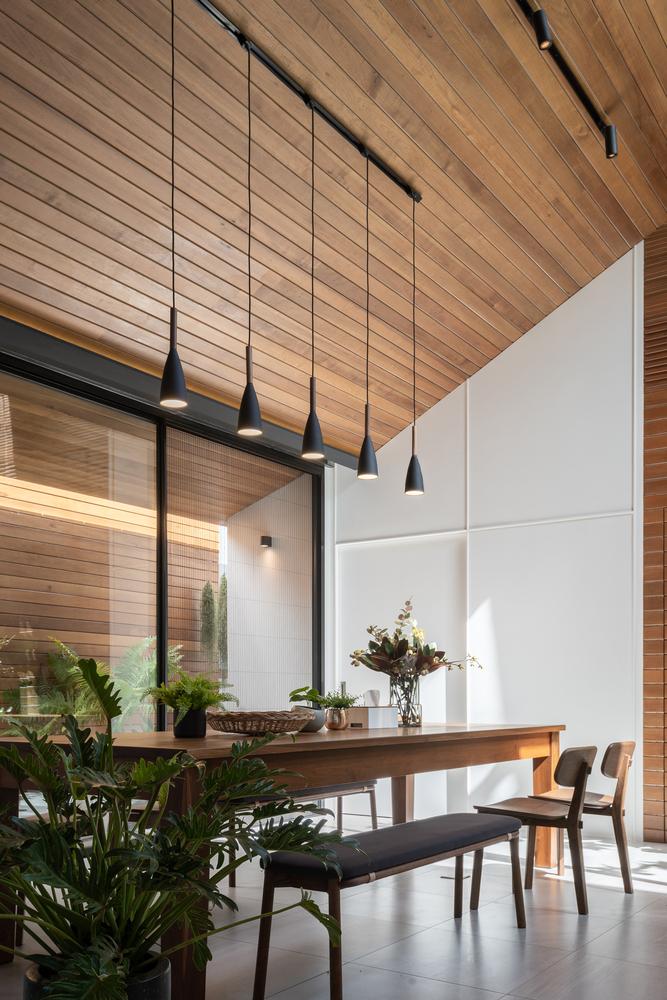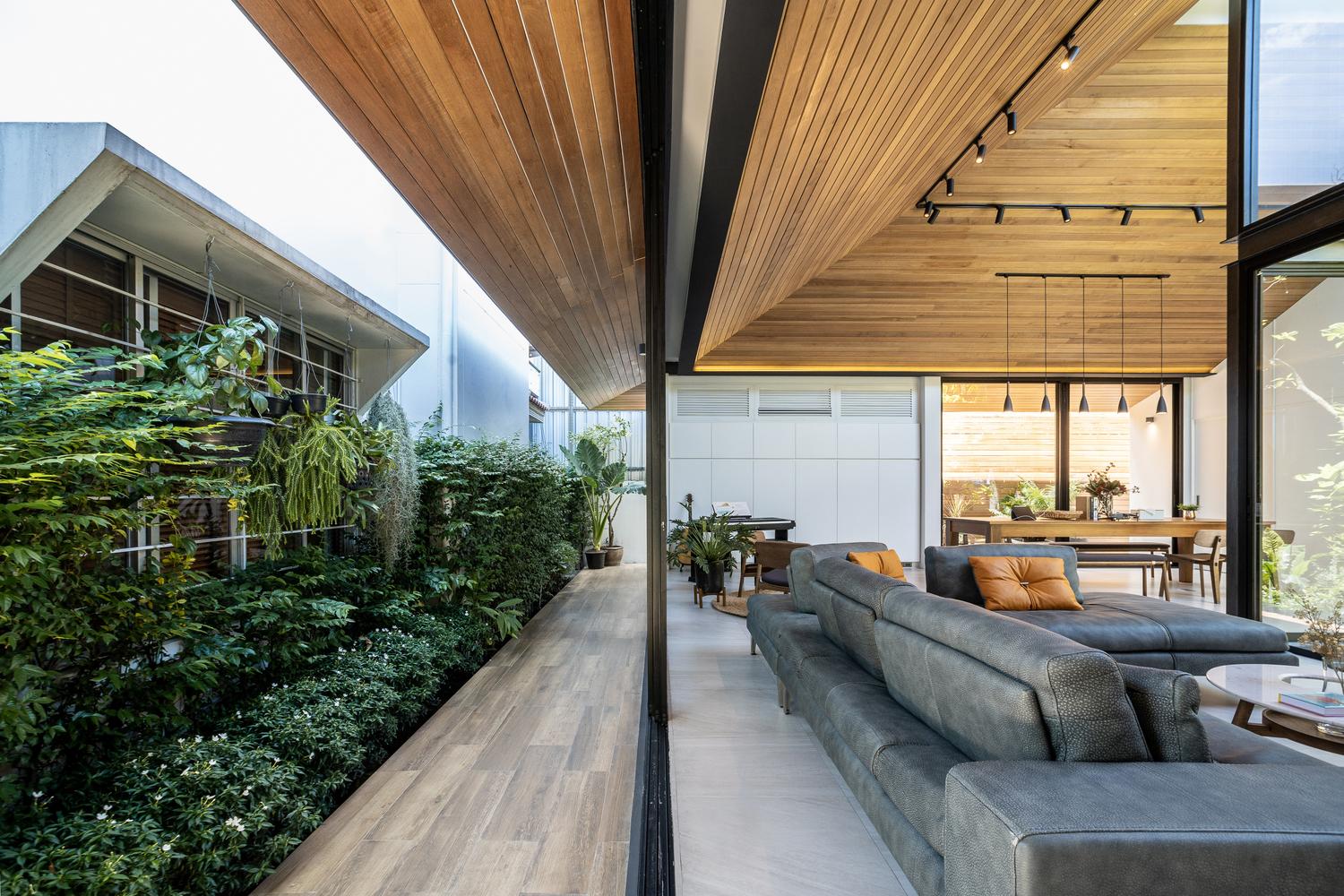 Naturally, sustainability is at the fore of the approach, as the entire home is designed to be energy sufficient thanks to the northern side of the roof helping to facilitate cool wind that flows through the home. Large windows were added to the northern and eastern orientations, and a long sliding partition is used not only to increase air circulation but also transforming the home into a semi-indoor area at any time, making flexible use of the space suited to the homeowners' needs.
Photos via Varp Studio