Nestled on the southern tip of India, Tamil Nadu is most renowned for the many vividly hued, masterfully intricate Dravidian-style Hindu temples that can be found dotted all around the state.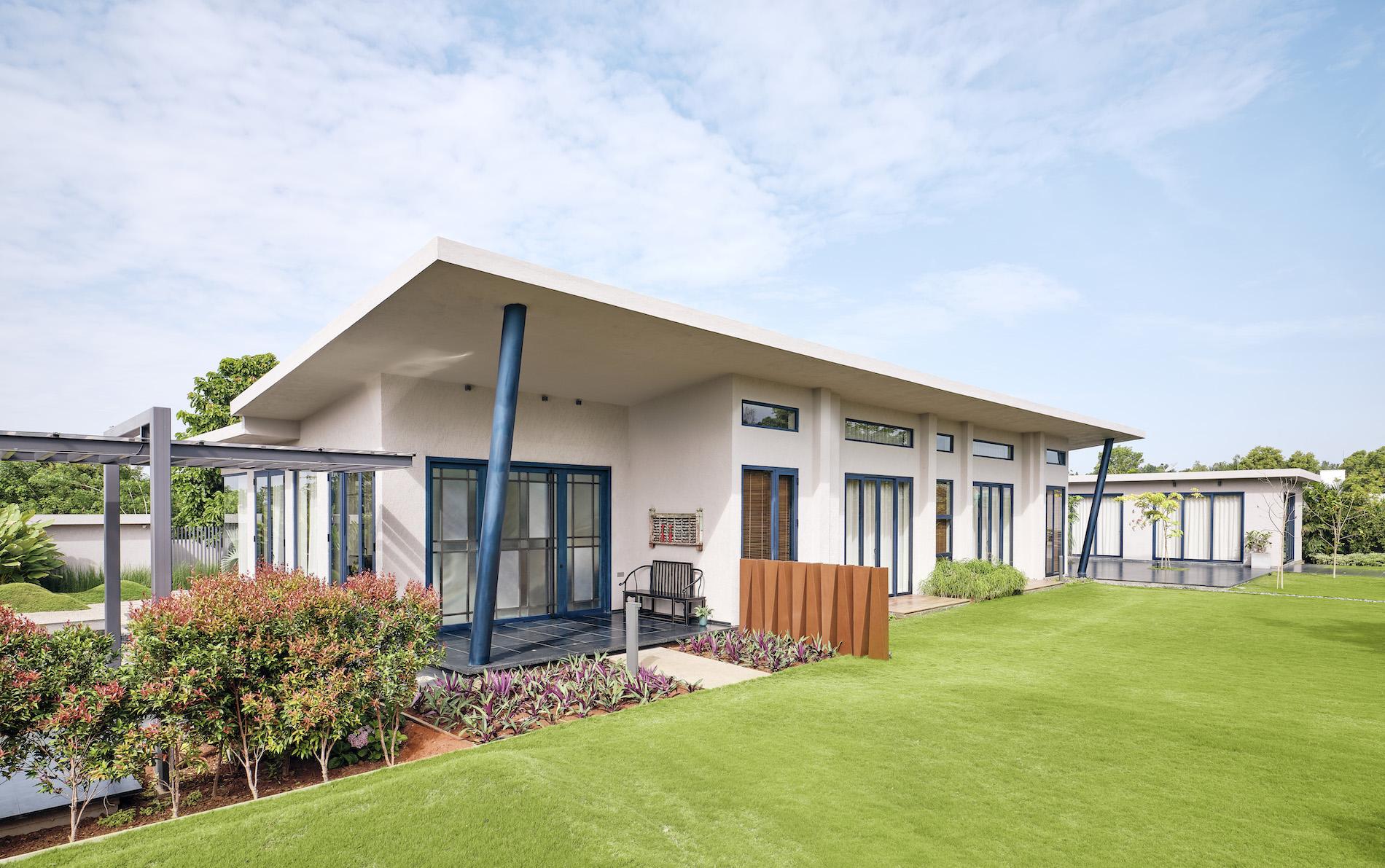 And in the heart of its industrial city of Hosur, located on the bank of the river Ronnaiyar, a sprawling 10,000sqft family holiday home was conceived by Bangalore-based firm FADD Studio that captures that same bold cultural flair – perfectly balanced by a global sensibility that reflected the homeowners' worldly lifestyles.
"They are well travelled and more broad minded than most," explain Dhaval Shellugar and Farah Ahmed, co-founders of the firm, of this expansive home that sits on an impressive 27,000sqft of landscaped land inside a gated community. "In this home, they wanted a place that provided a canvas for experimentation."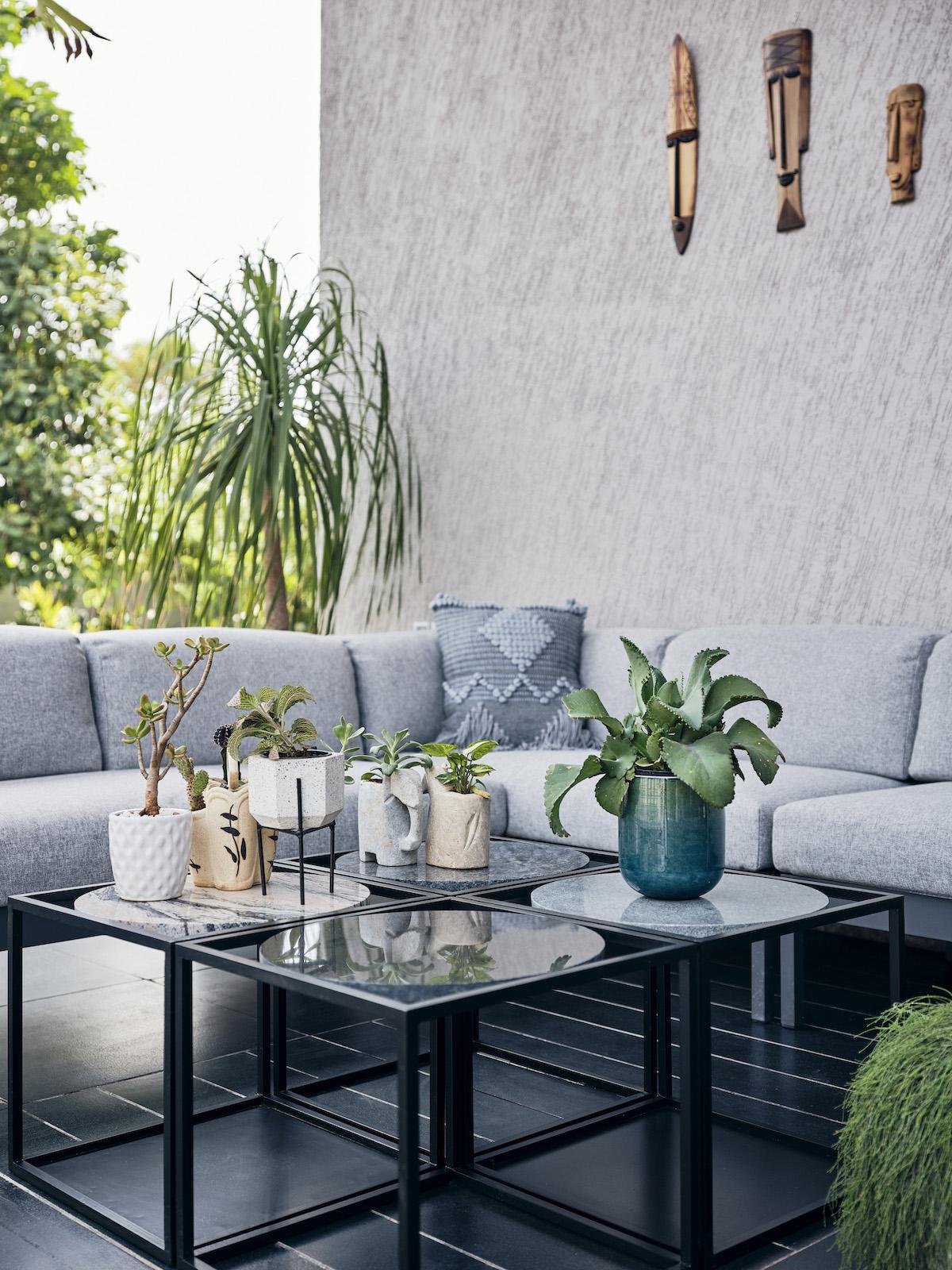 From the home's exterior, featuring lush tropical greenery and expansive outdoor entertaining areas on all sides that envelope the unassuming grey concrete structure with Prussian blue columns, one would be forgiven for mistaking it for any understated humble abode.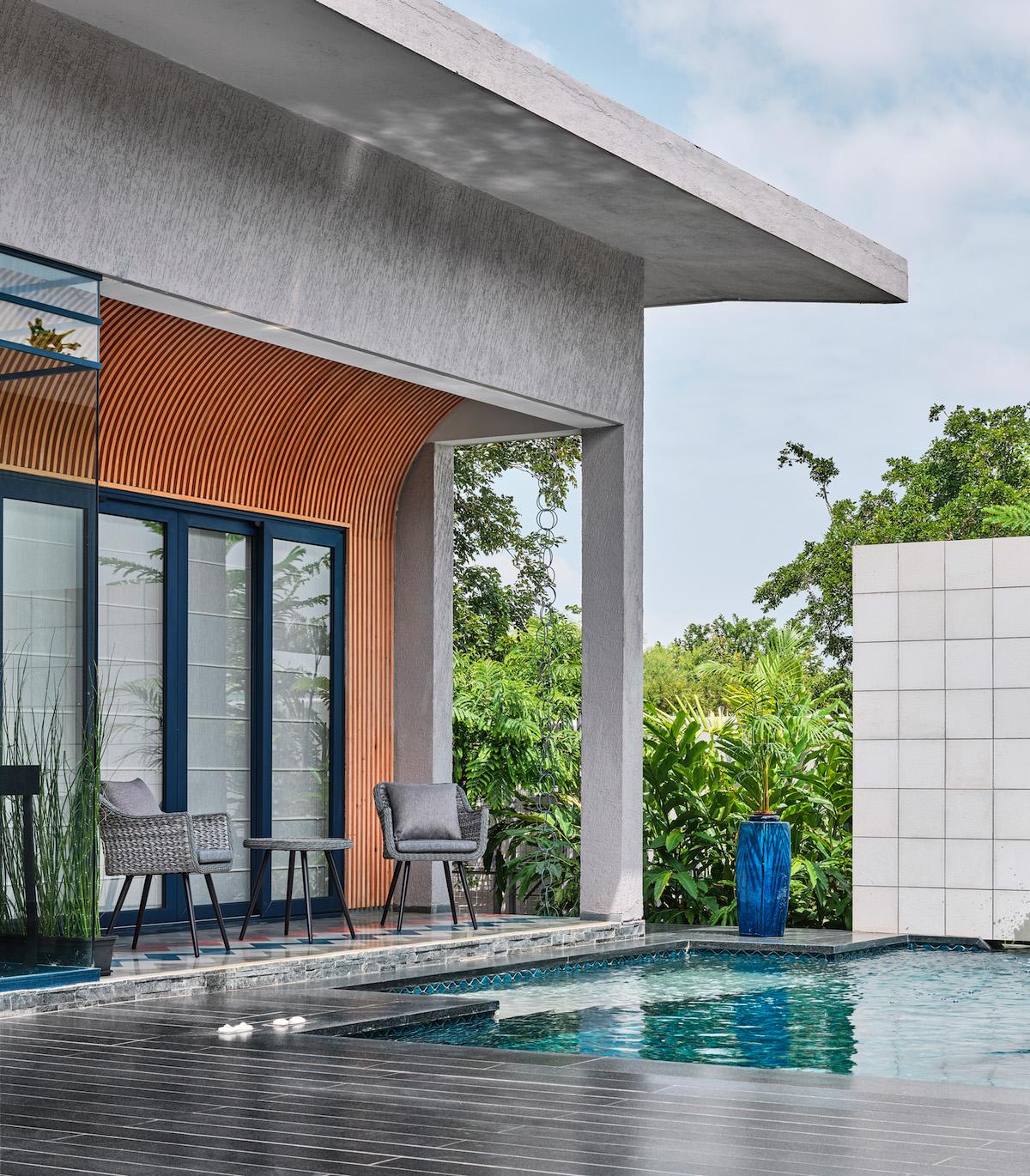 Yet, doors open up to a surprising oasis that is fittingly described by Dhaval and Farah as "a burst of boldness and drama". Every corner of the interiors oozes an obvious playfulness, as one's senses are treated to a geometry of dynamism – think bright blues, soft peach tones and muted textures – juxtaposed against stylish grey Bharat floor tiles and striking brown walls composed of thin slatted pinewood. They softly curve as they reach up towards the ceilings and the passageway over on one end of the house.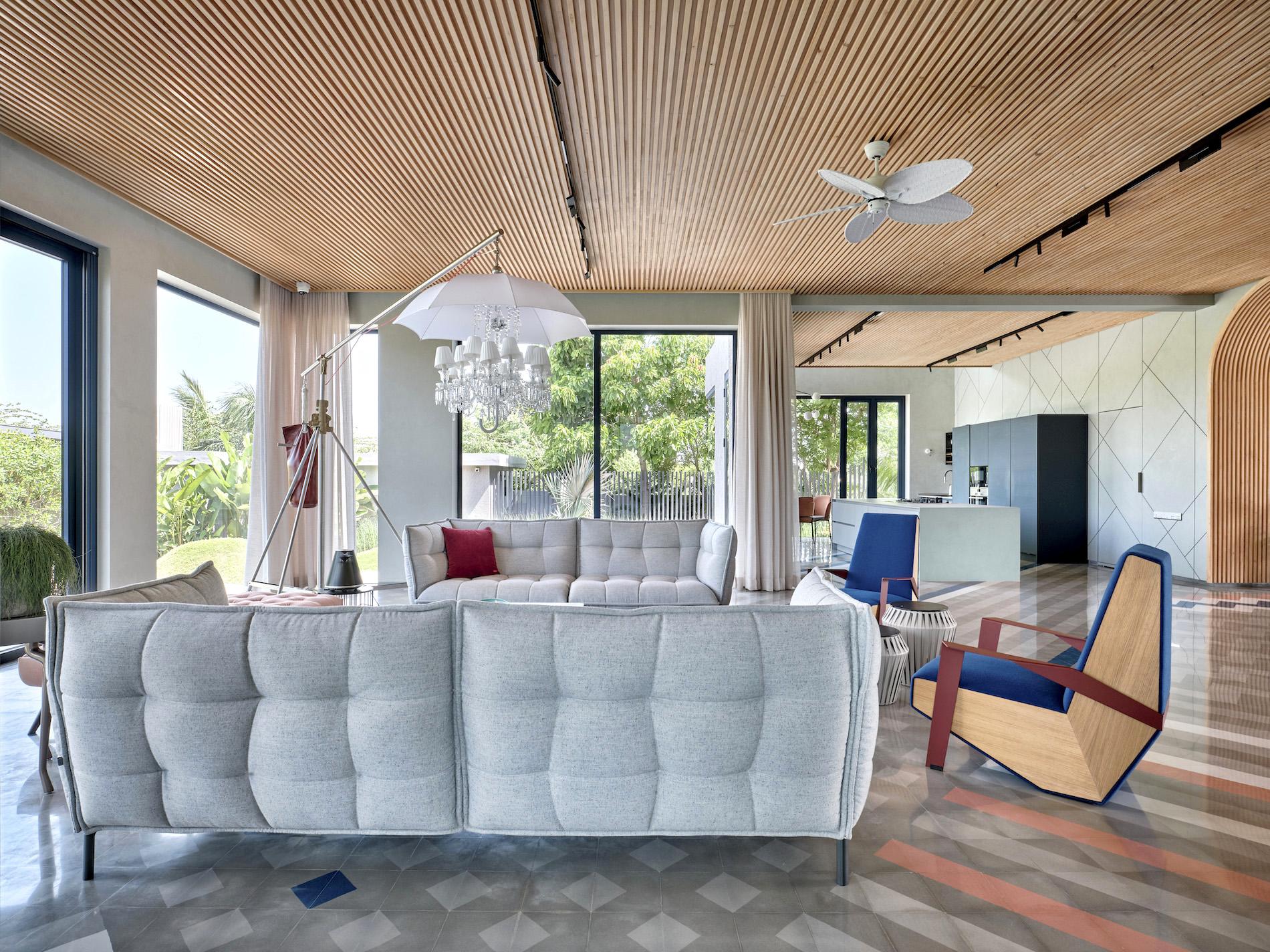 That sense of the unexpected extends into the living room, which is anchored by a statement lamp composed of an umbrella that enwraps a chandelier, balanced on its end by a boxing punching bag. The piece is designed by Phillip Starck, renowned for his unorthodox and sculptural creations.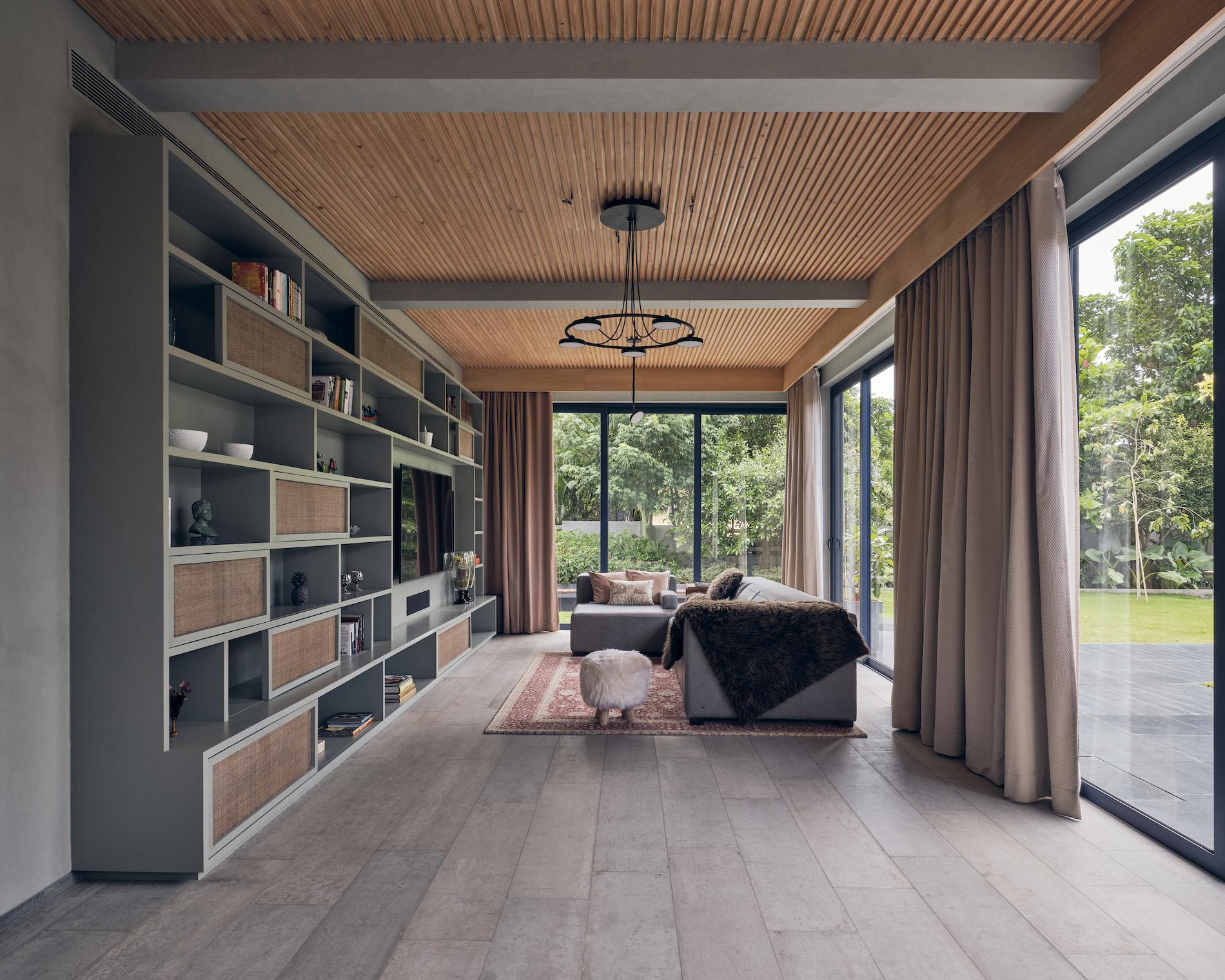 More surprises can be found in the nearby sharp-edged chairs, a metal dining table that is surrounded by dining chairs each upholstered in a different colour, mix and match tiles and furniture spanning bright red, delicate mint and royal blues. A ceramic installation by Vinod Daroz is found on the wall of a hallway, while more trophies collected from the homeowner's international travels adorn various corners, most notably on a timber wood shelf underneath the central staircase.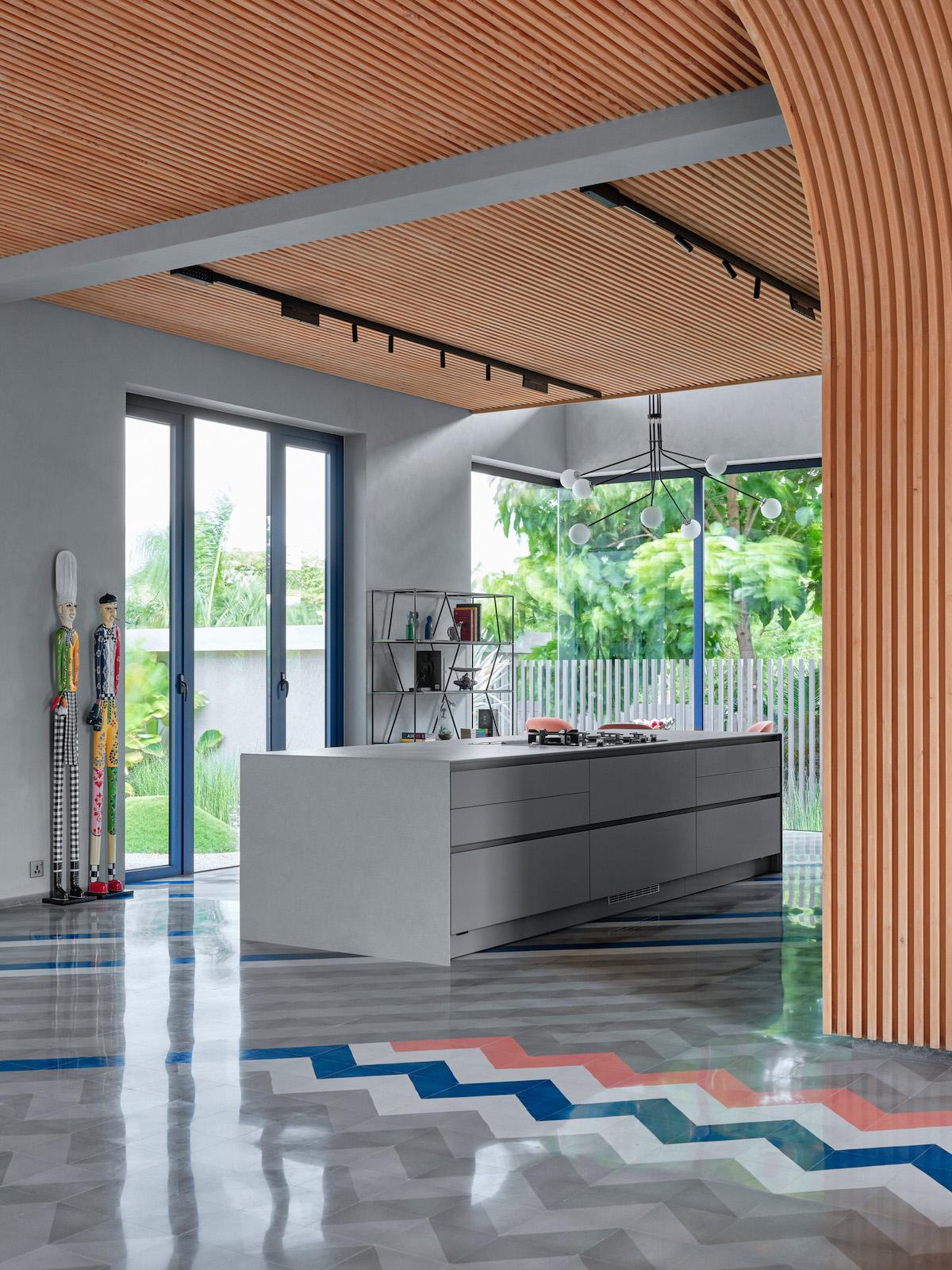 This splattering mix of aesthetics aren't normally expected to work together, yet in this instance only help to enliven the interiors to charming effect.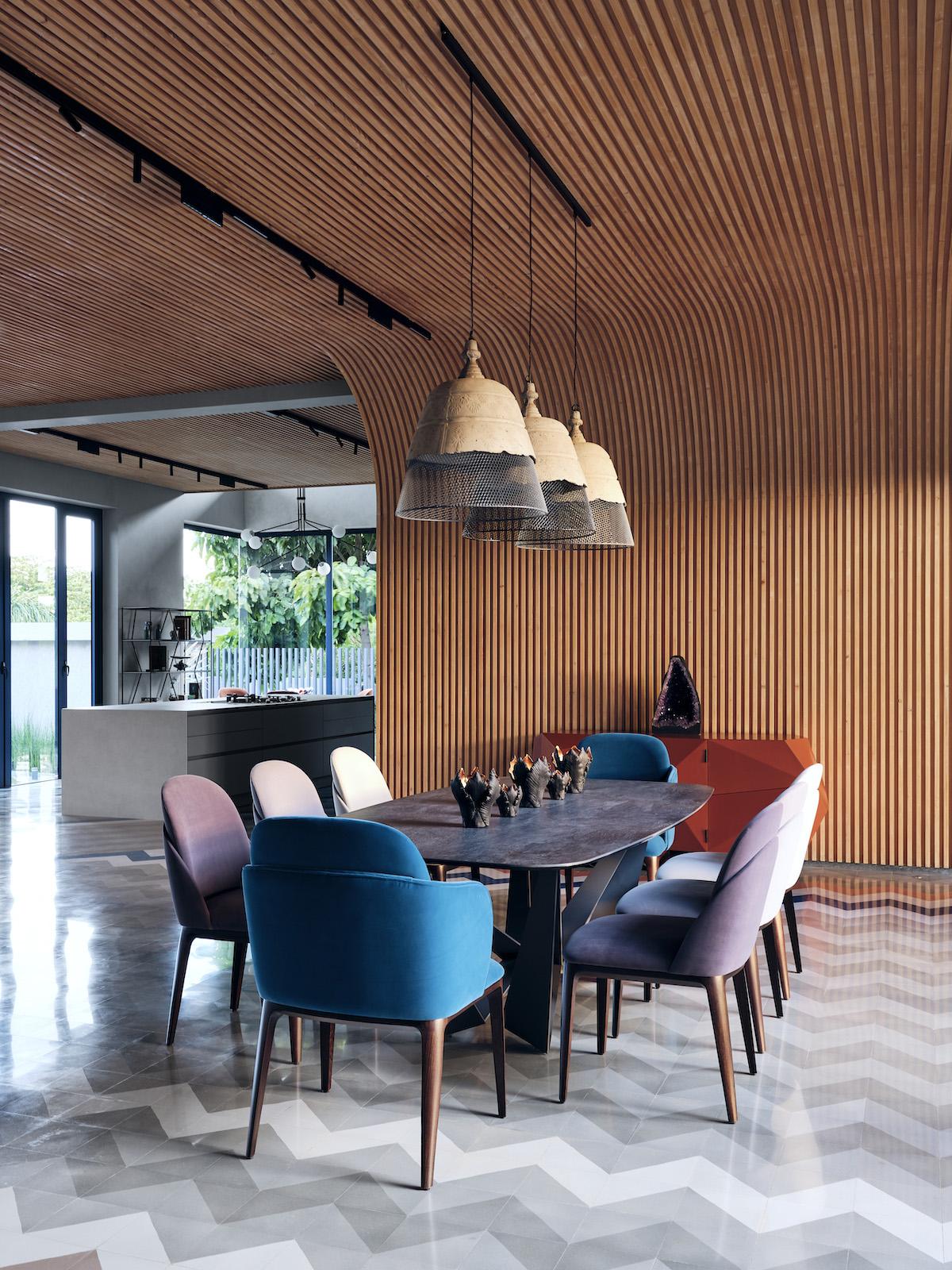 Grand yet sleek design meets brass highlights in the master en suite complete with a state-of-the-art bathroom that looks straight out of a Bollywood blockbuster. "All bathrooms are lavish, and the master especially is fit for royalty," say Dhaval and Farah. The guest bedroom boasts a softer and more wintery look, while the room of the young sons is painted in blue and black.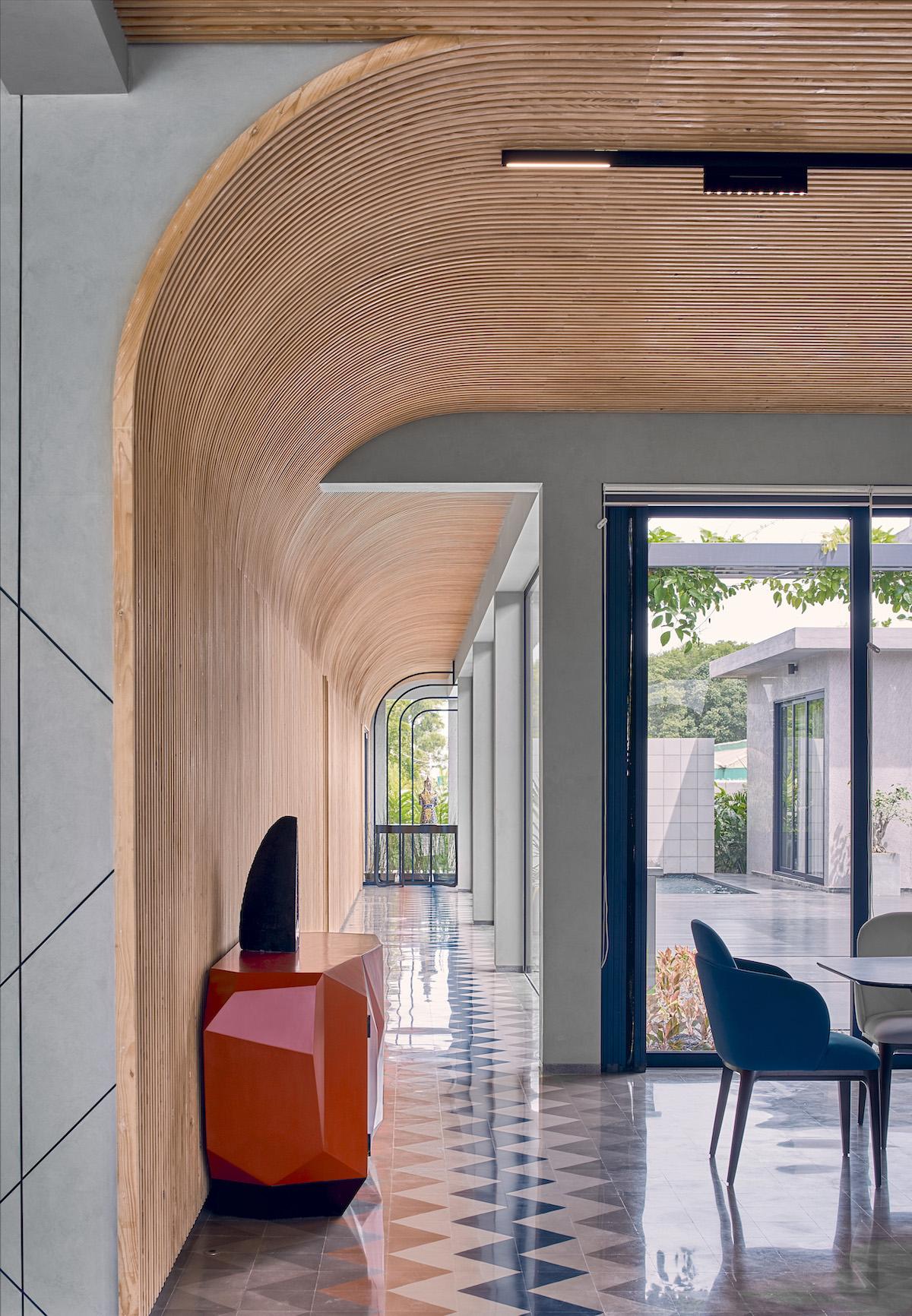 Amidst the smorgasbord of aesthetics found within the home, there is, however, one anchoring factor that works to tie the eclectic space altogether. "The beauty of this house is that every room opens into greenery," say Dhaval and Farah. "This house truly marries the desire of a luxurious home amid nothingness with creature comforts and design gratification."
Scroll through the gallery below to see more of the home: