A black and white design may evoke visions of a stark and unwelcoming home, but this debonair residence in Tsuen Wan's seaside neighbourhood, Sham Tseng, is none of those things.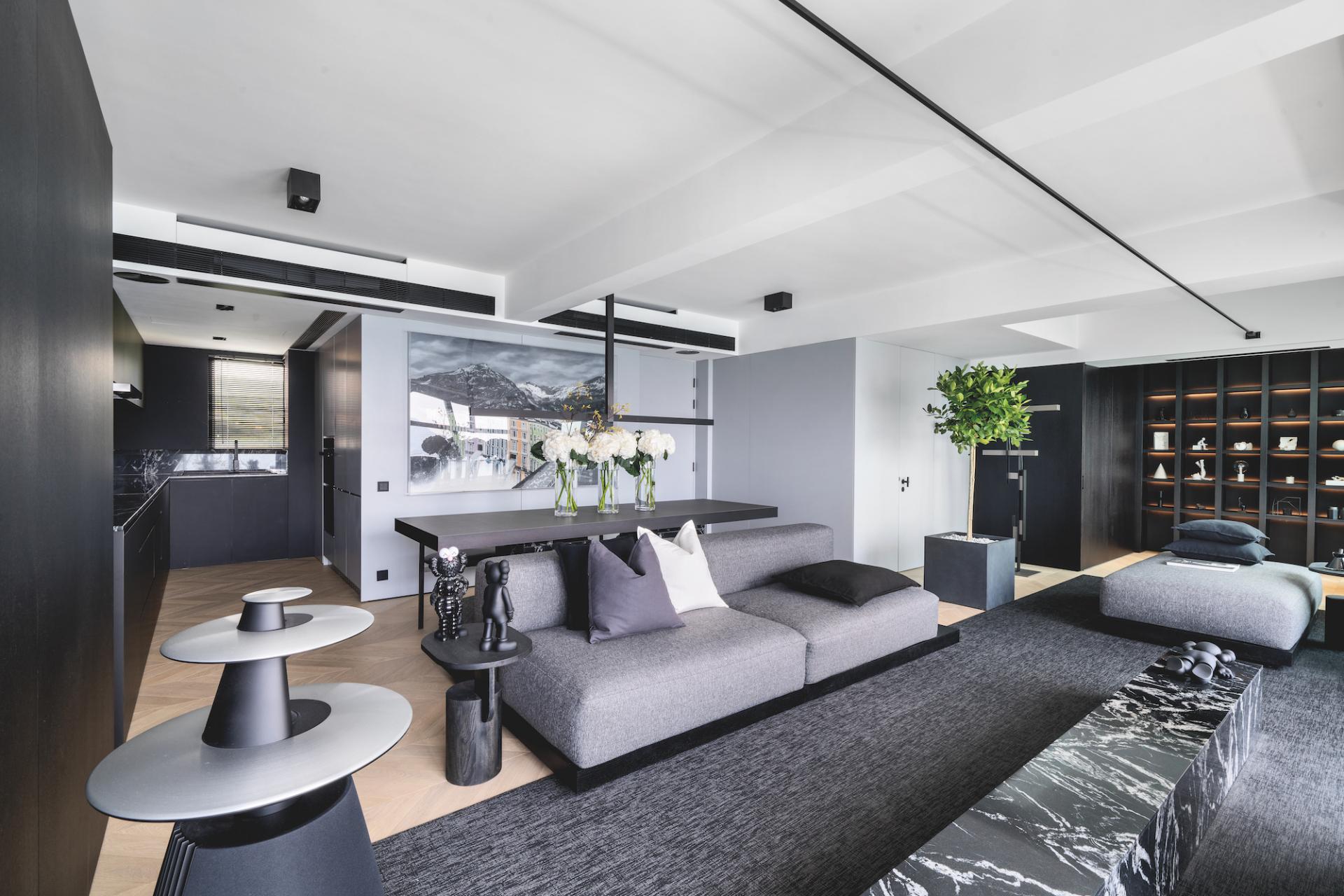 When the client, a family of three, sought the help of Danny Cheng Interiors to design the 1,200 square foot flat, their main objective was to create a place that would be their forever home.
Danny Cheng, founder of Danny Cheng Interiors, opted for a monochrome style that adds sophistication, contrast and character to the home.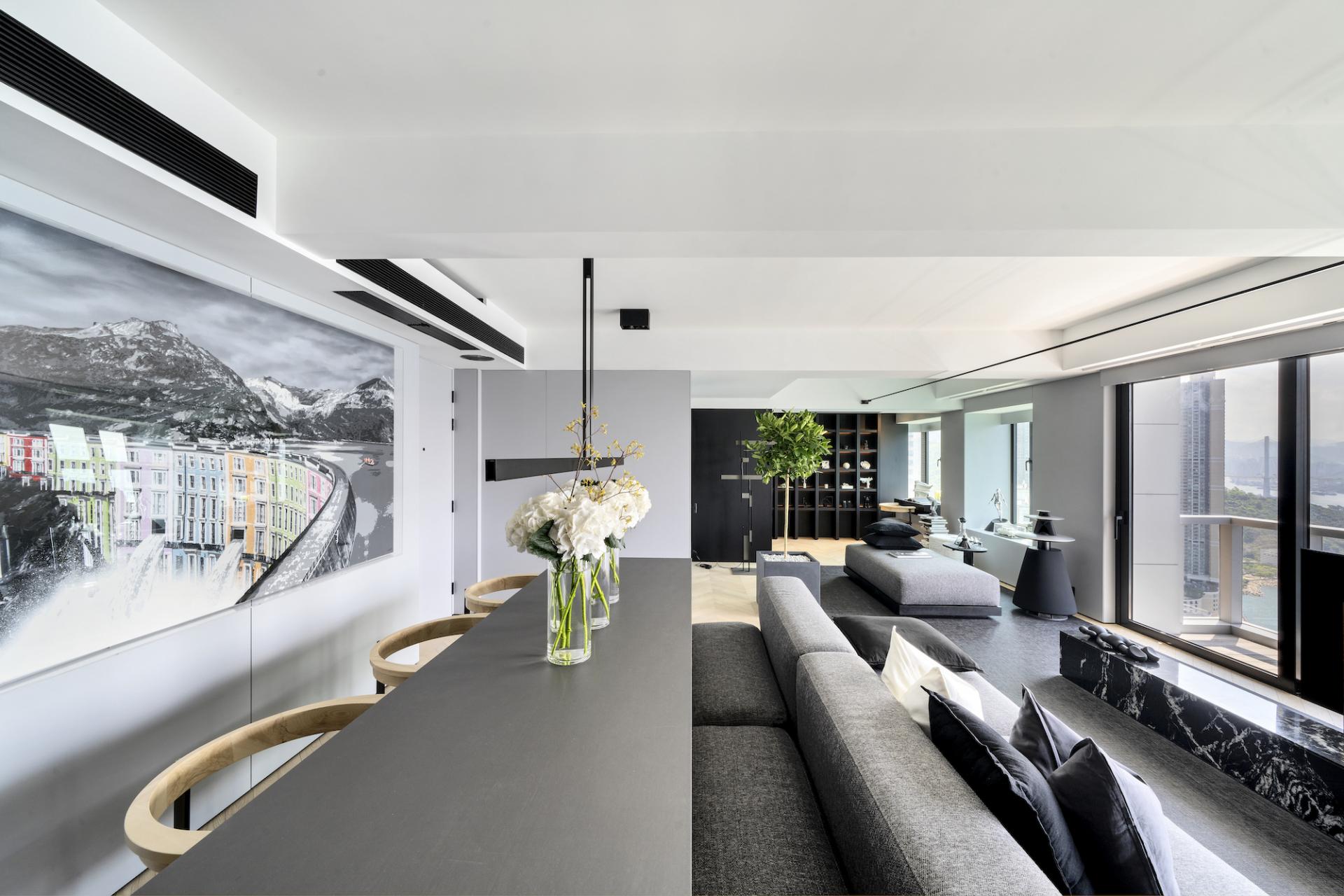 "The couple wanted a clean, crisp minimalist design for their home," says Cheng. "And since they often have guests over, it was important for the place to look spacious. Additionally, they desired to have sufficient space throughout their home so they could display art pieces."
The dining room features a large hanging picture by the French artist Kurar.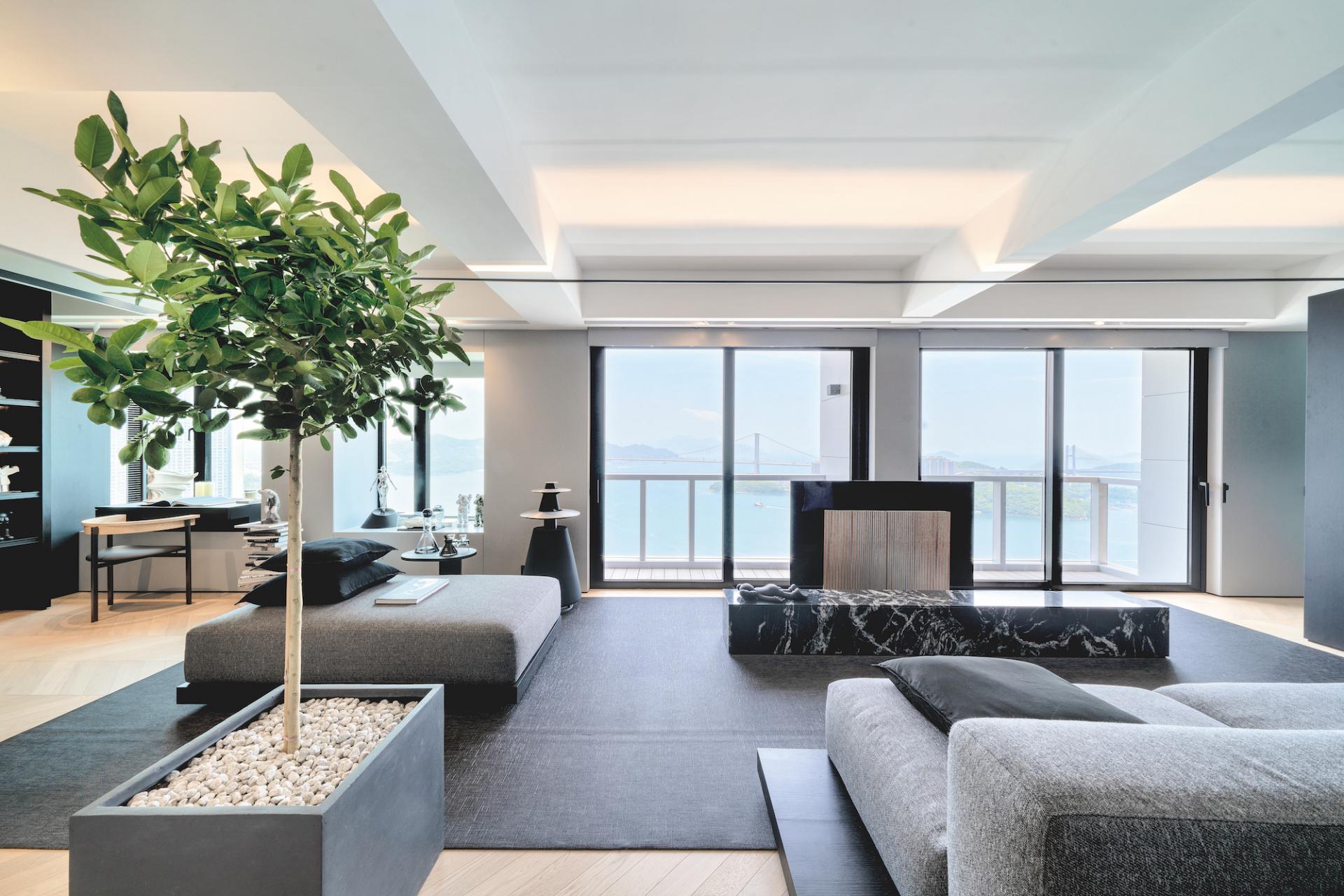 The original structure of the home already had plenty of depth and width. White and light wood was chosen as the backdrop to make it look even more spacious, with black in varying textures as the main accent for a layered, dimensional space.
In the living room, natural light pours through glass sliding doors and large windows that frame incredible views of the Tsing Ma Bridge. At the centre of the room, a low, rectangular black marble plinth serves the dual purpose of being a beautiful sculptural piece and a podium to display sculptures or books while giving the space a sleek modern look.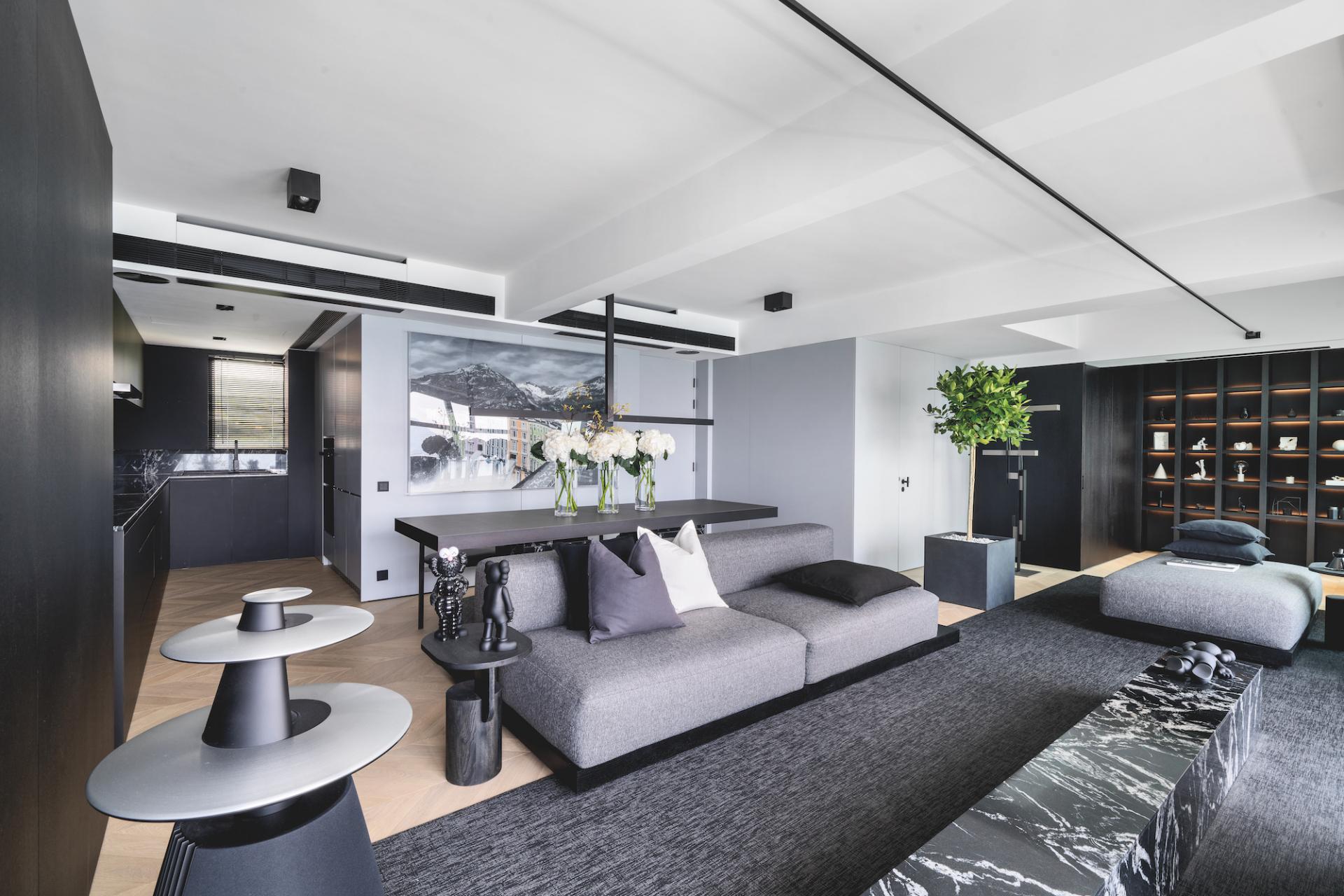 Opposite the plinth is a grey double-sided sofa that sits on a black piece of wood and can be used in conjunction with the dining table. Rubber floor mats are used in place of the usual carpets so the homeowners won't have to worry about the carpet getting dirty quickly from often hosting parties.
The original four-bedroom layout was knocked down and turned into one and a half bedrooms to give the home more functional space. The panoramic water view continues to the master bedroom, where black and white tones and mirrored accents live together to create a sophisticated space that invites the outdoors in.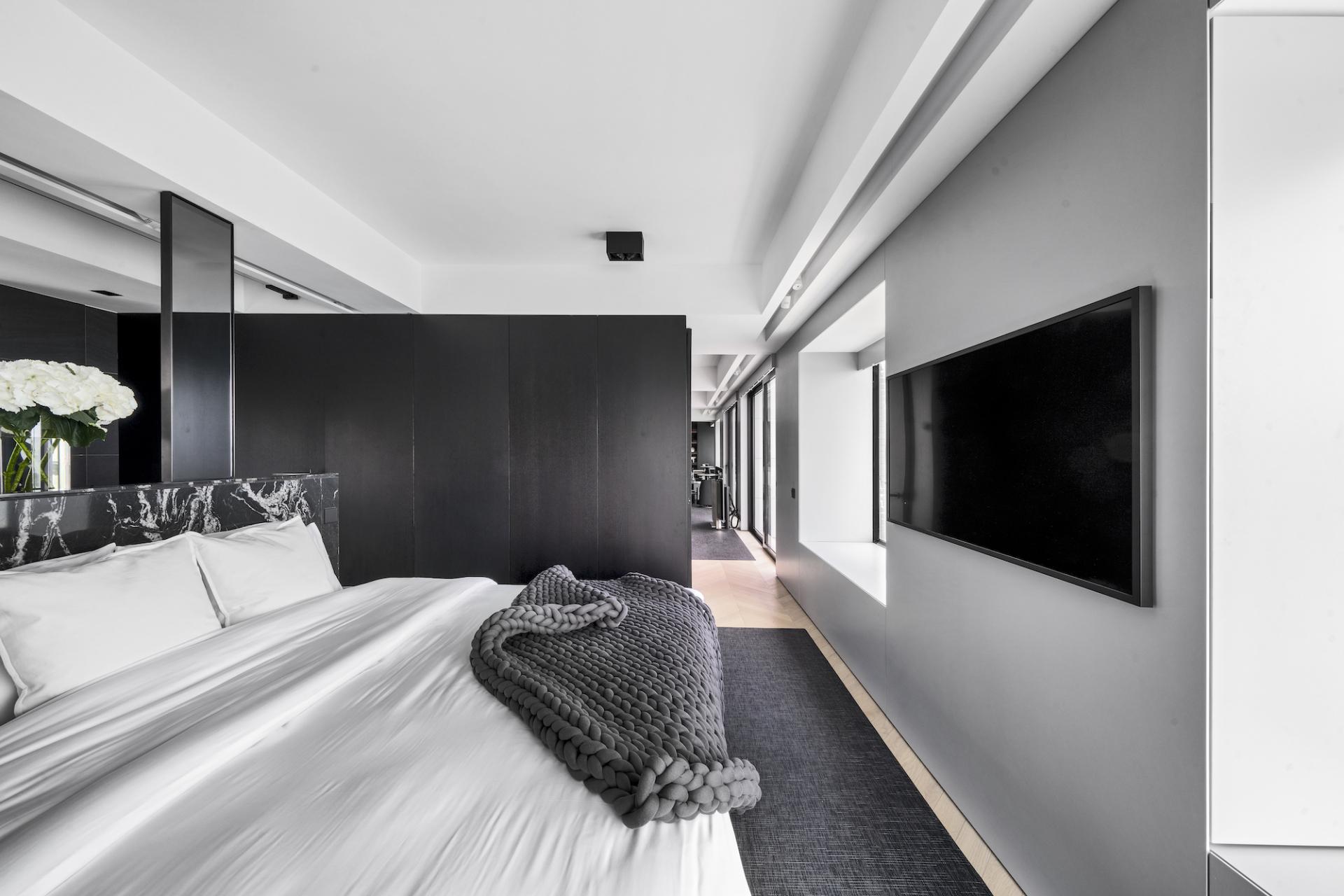 Only two wash basins fitted behind the bed frame divide the bathroom area from the rest of the room, allowing the homeowners to enjoy the stunning ocean scenery while taking a bath.
As for the "half' bedroom, Cheng reveals it is actually part of the study room.
"We created a small study room on the other side of the flat, with a pull-out bed hidden inside the high cabinet. This area can be turned into a bedroom whenever it's necessary by just moving the sliding door."