House plants are all the rage these days, and for this bachelorette residing in Seoul, simply a collection of pots and planters won't do.
For her single-bedroom loft, on the top floor of a 30-year-old industrial building in Junghwa-dong, the wellness-inclined, globe-trotting professional wanted no less than a green wall.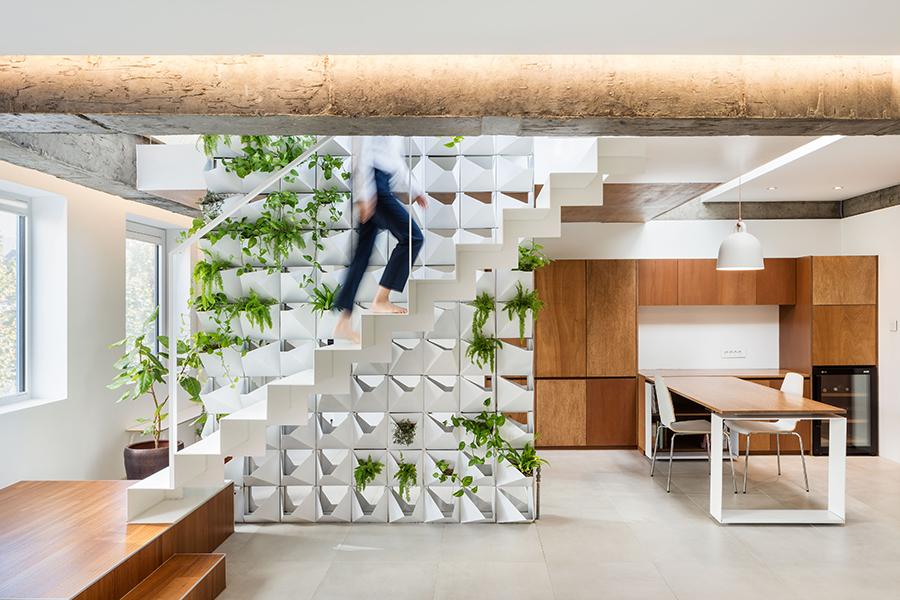 "She likes plants, and she liked the idea of having a green wall as a centrepiece," says Tae Kyoung Lee, founding partner at design and architecture studio Arcave.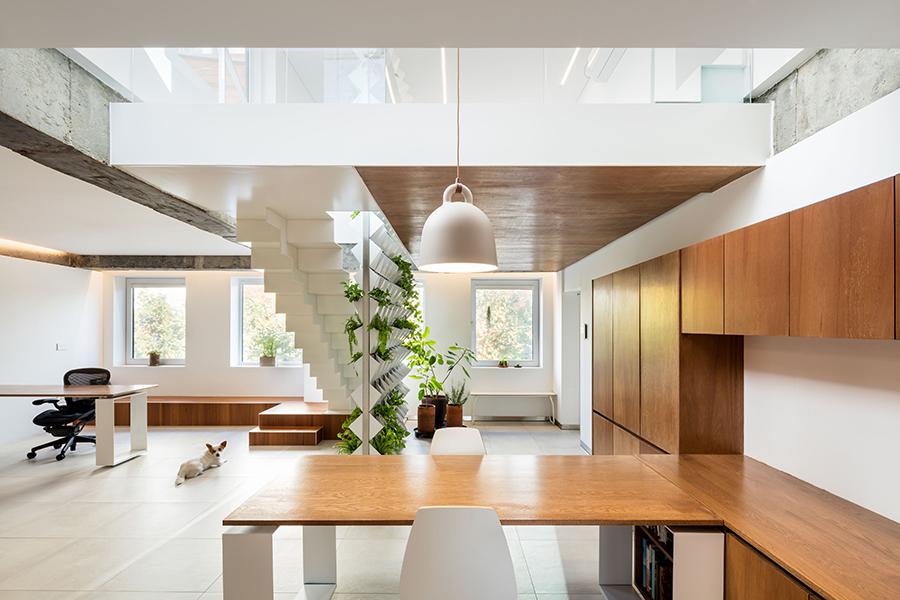 "She also goes on business trips often, so she wanted her residence to be like a calm, peaceful hotel suite."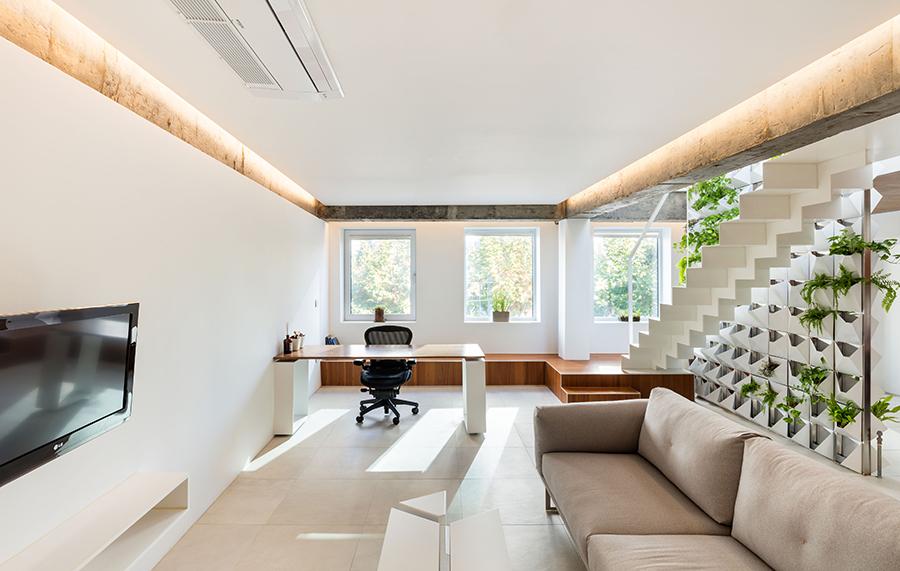 The residence is replete with bright white walls and honey-hued wooden furnishing, most of which are built into the space, which Tae Kyoung describes as "warm, earthy, and nature-like – an urban resort."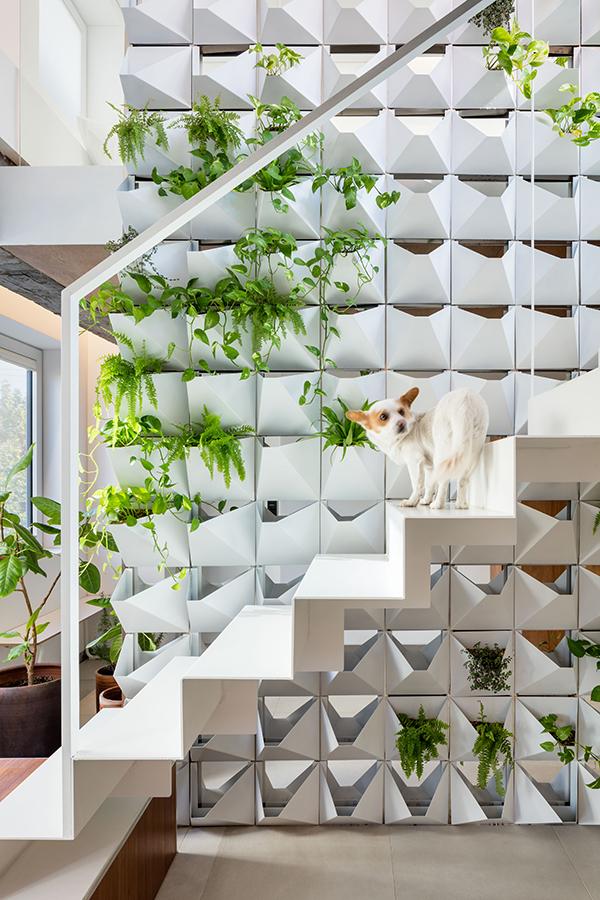 An open-plan blueprint forms the lower level, which includes living and dining spaces as well as an office. "It's a place in which she can bring friends and business acquaintances over," says Tae Kyoung. The service areas – kitchen, laundry, dressing rooms and a toilet – are hidden by sliding doors.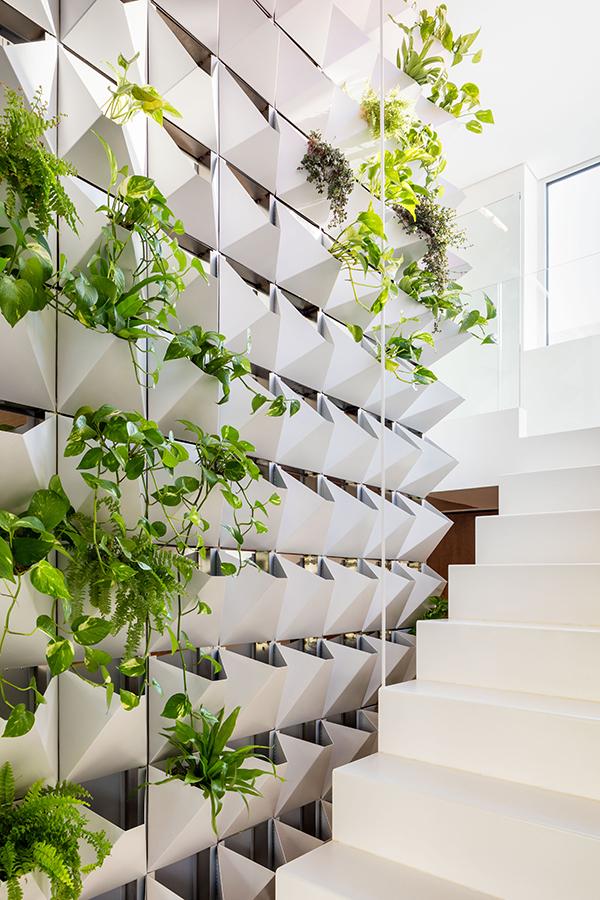 Anchoring all of this, at the centre, is an all-white staircase leading to the upstairs bedroom and bathroom. Next to it is a custom-built green wall comprised of 56 container units to hold an array of flora and fauna, designed with consultation from floral designer Jisook Yim, of Saison Fleurie.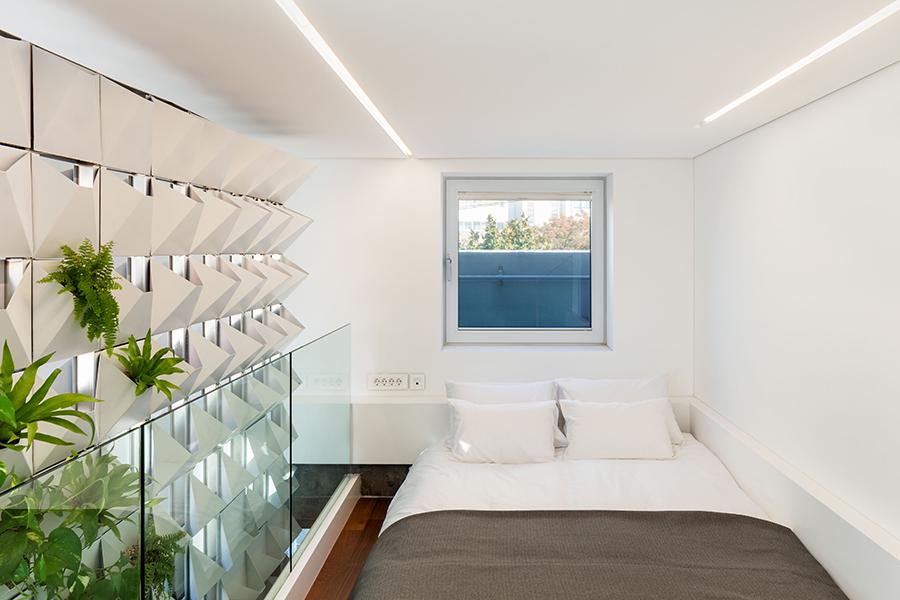 Measuring 6.8 x 14.7 feet, the green wall lends a measure of customisation, with each unit able to contain its own plant. The container units can be easily removed for maintenance.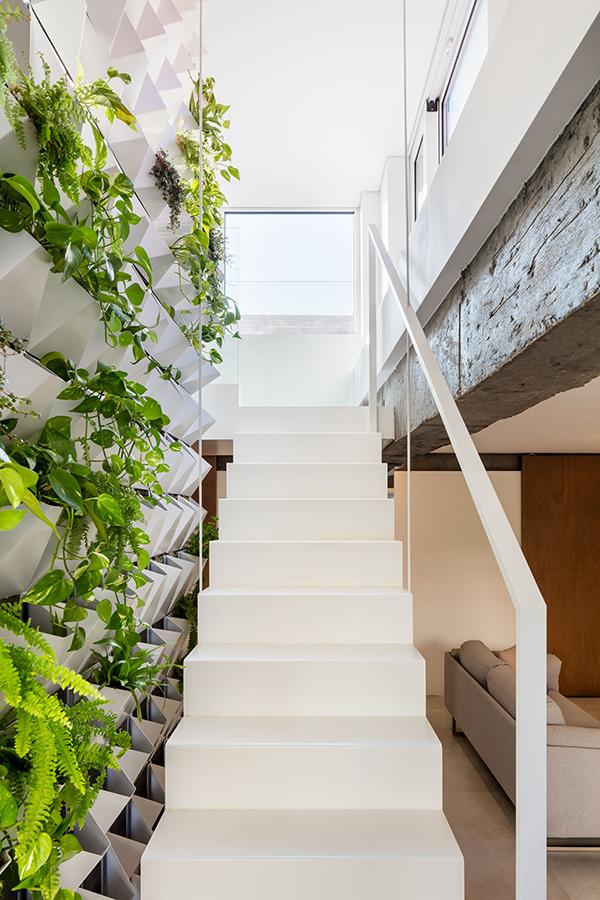 It's a beautiful feature of the apartment – a modern requirement in an urbanised environment, designed to match the interiors' clean aesthetic.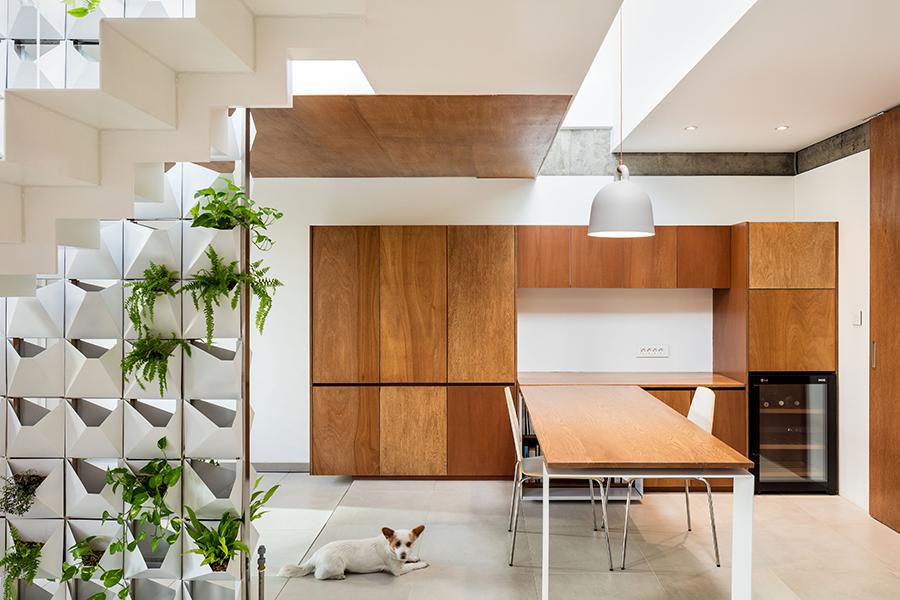 It also took a lot of planning to build. "Having a green wall inside the residence created many practical problems," says Tae Kyoung. "So we came up with a gutter and drainage system, as well as removable pots for easy maintenance."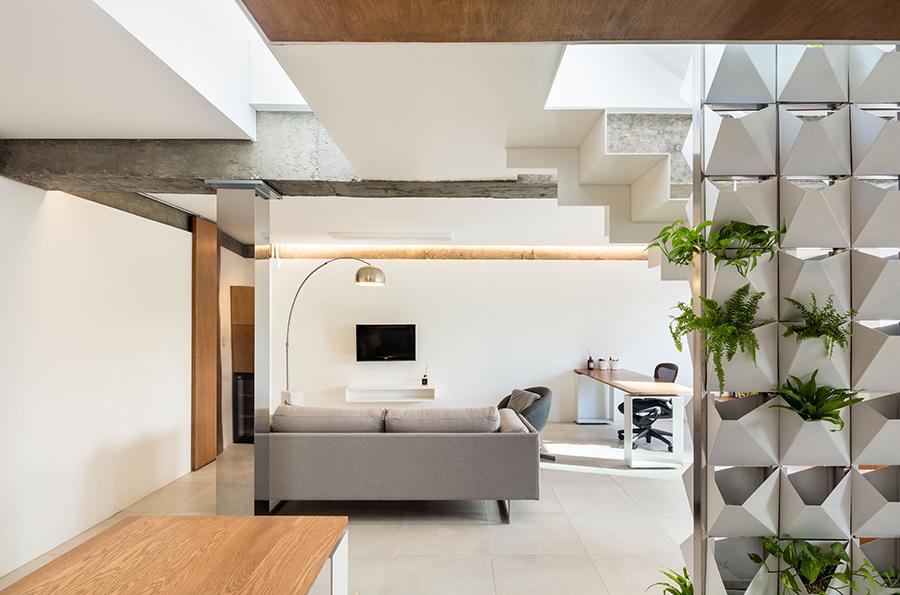 The greenery refreshes the abode with a touch of the natural, softening the grit created by the loft's exposed concrete elements. It also injects a dose of colour into the interiors, pairing well with the limestone tiled floor and stained plywood surfaces.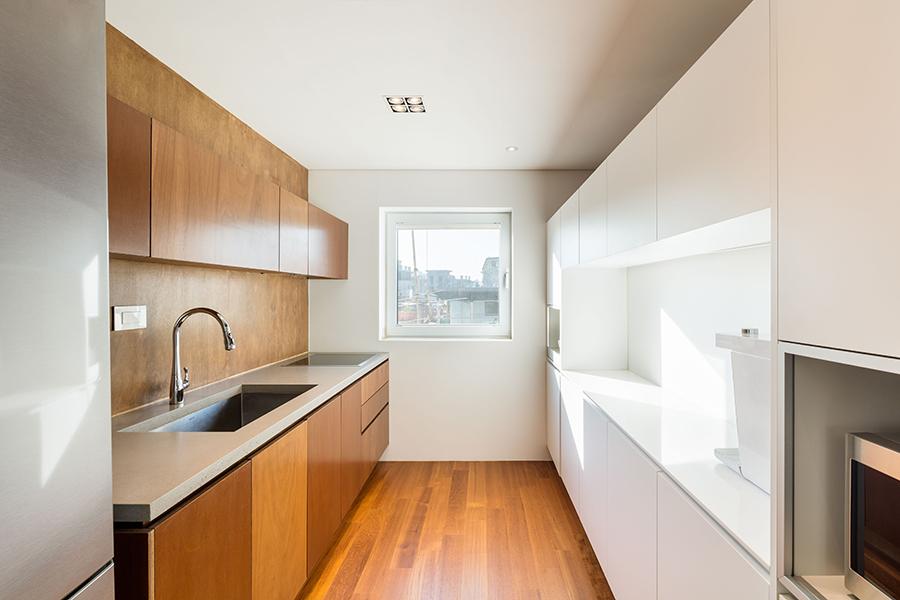 Upper floor windows stream in soft, indirect sunlight throughout the day, giving the homeowner – and her pet pooch – a sense of the changing sky and the movement of the clouds.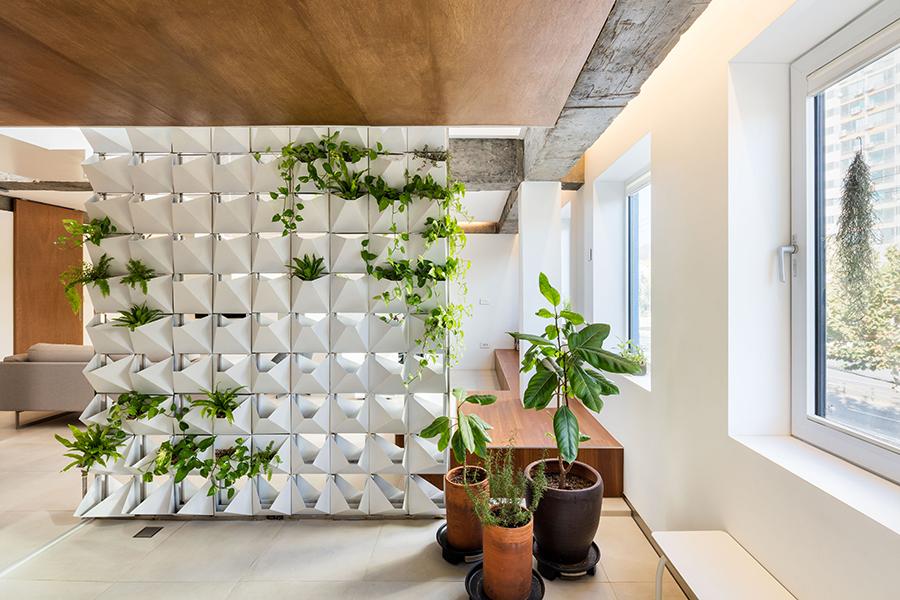 Tae Kyoung reports that the client is "satisfied with the overall atmosphere."
"She likes the large entrance area that plays the role of an indoor garden, and" – of course – "the green wall."
See more: These 5 Plants Will Spruce Up Your Home This Spring