Tailored for a Swiss-Hong Kong couple with a baby on the way, this tranquil haven in a quiet Mid-Levels neighbourhood contains a wealth of textures, sleek silhouettes and doses of refreshing modernity.
Living in fast-paced cities like Hong Kong, it's important for us to have a home where we can leave all the hustle and bustle far behind – a sanctuary to clear our minds and spend quality time with friends and family with minimal distractions, expresses the husband. He describes their first home together as warm, peaceful and functional – and the couple deliberately keeps electronics of all kinds away from the living area. It was an intriguing brief for Kenny Kinugasa-Tsui and Lorène Faure, the founding directors of Bean Buro, to work with.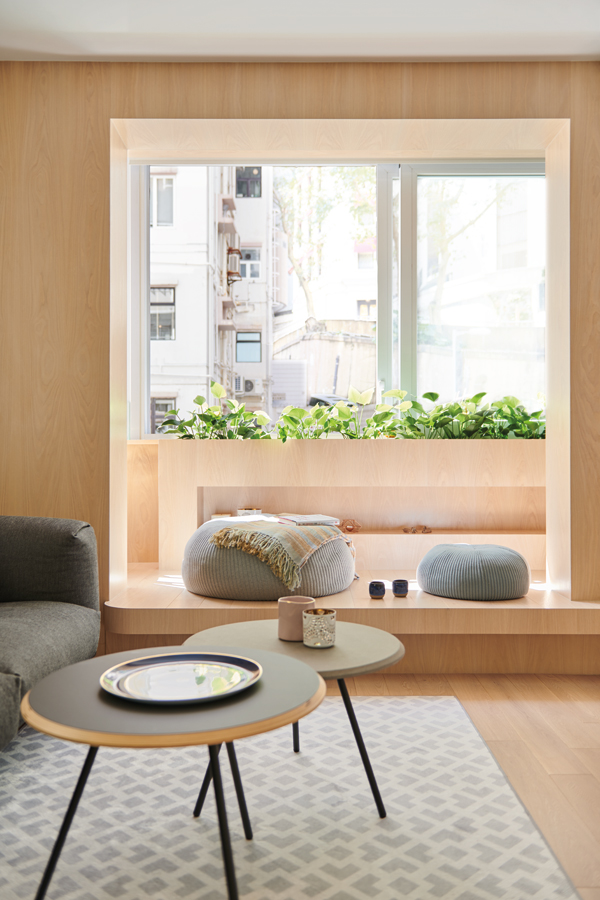 We looked into the history of this tong lau layout and realised the main viewing orientations were once very different, says Kenny. To frame the tranquil views outside, we moved the lounge and living spaces to the south to adapt to the new orientation. The creative duo took it one step further by removing dead spaces such as an enclosed kitchen and two enclosed rooms to establish a seamless flow between the interiors and the great outdoors.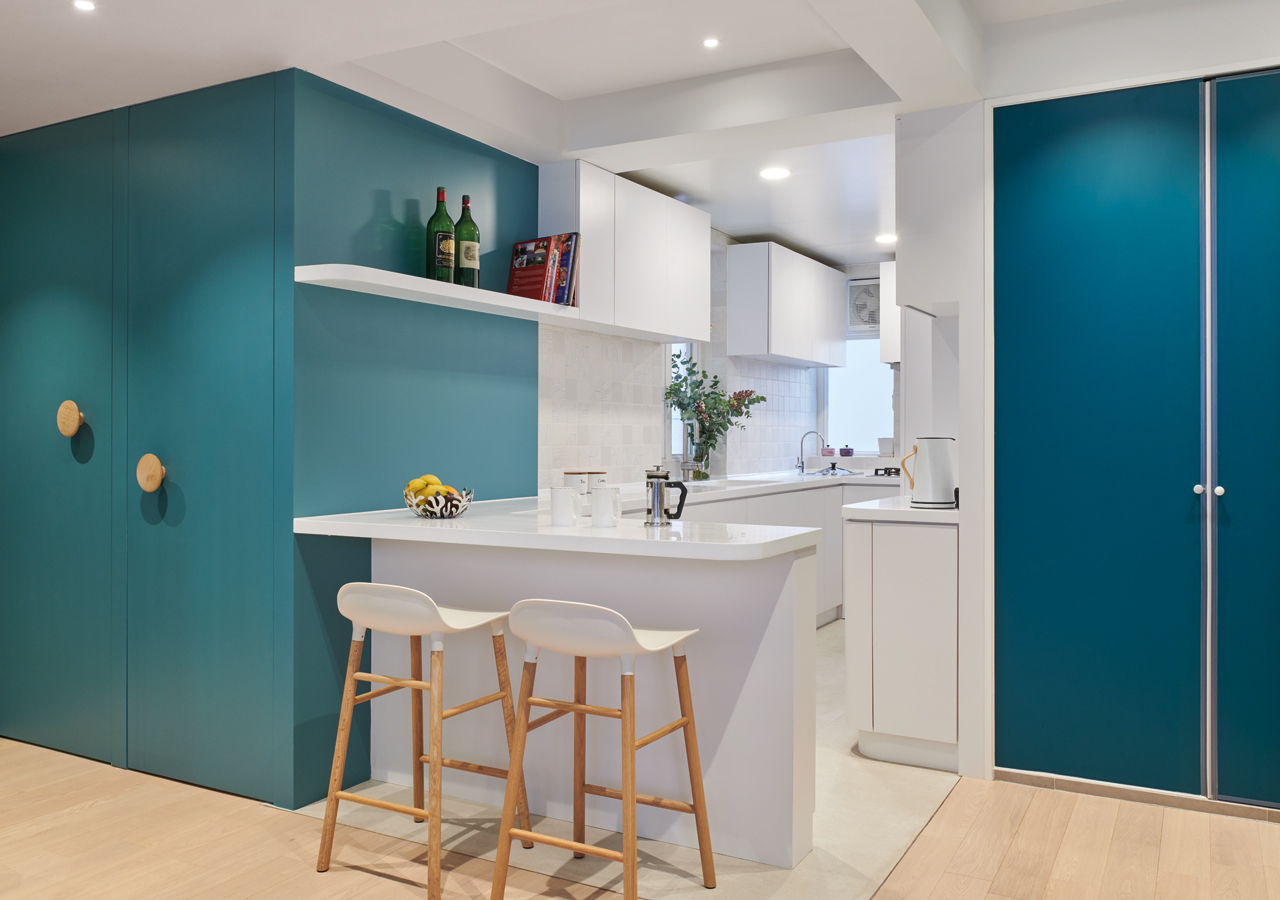 We opened up the kitchen with a bar that extends to the main living area, says Lorène. A multifunctional guest room sits side by side with the lounge which could be separated or linked together with movable partitions. The result is an airy, open and generous space with the private master bedroom at the back.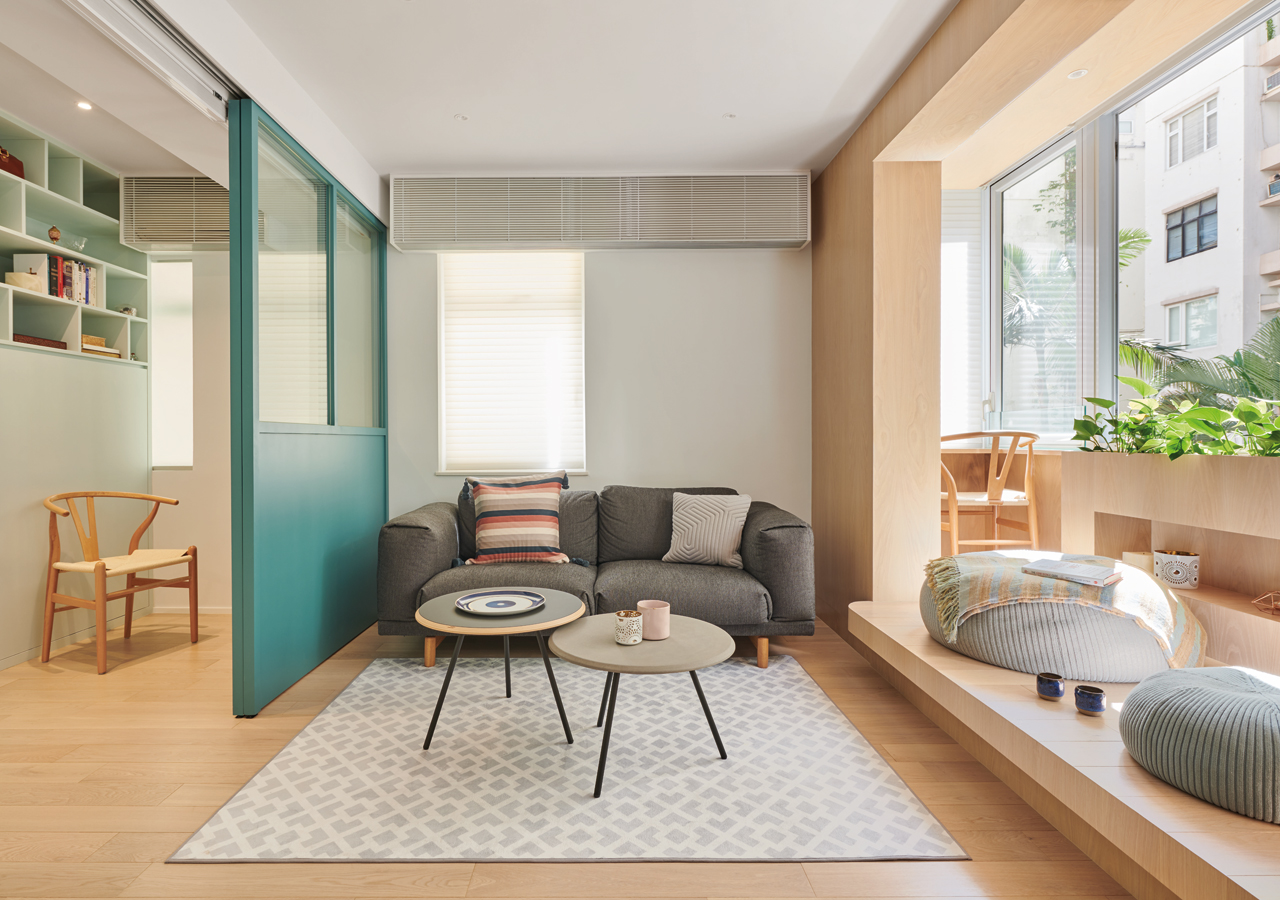 Kenny and Lorène also created a versatile lounge area. Our design strategy was to future-proof the variety of functions that could happen in this room. By embedding a Murphy bed, bookcases, concealed wardrobes and shelves, partitions and blinds, the flexible space could become a baby room, a study and a guest room.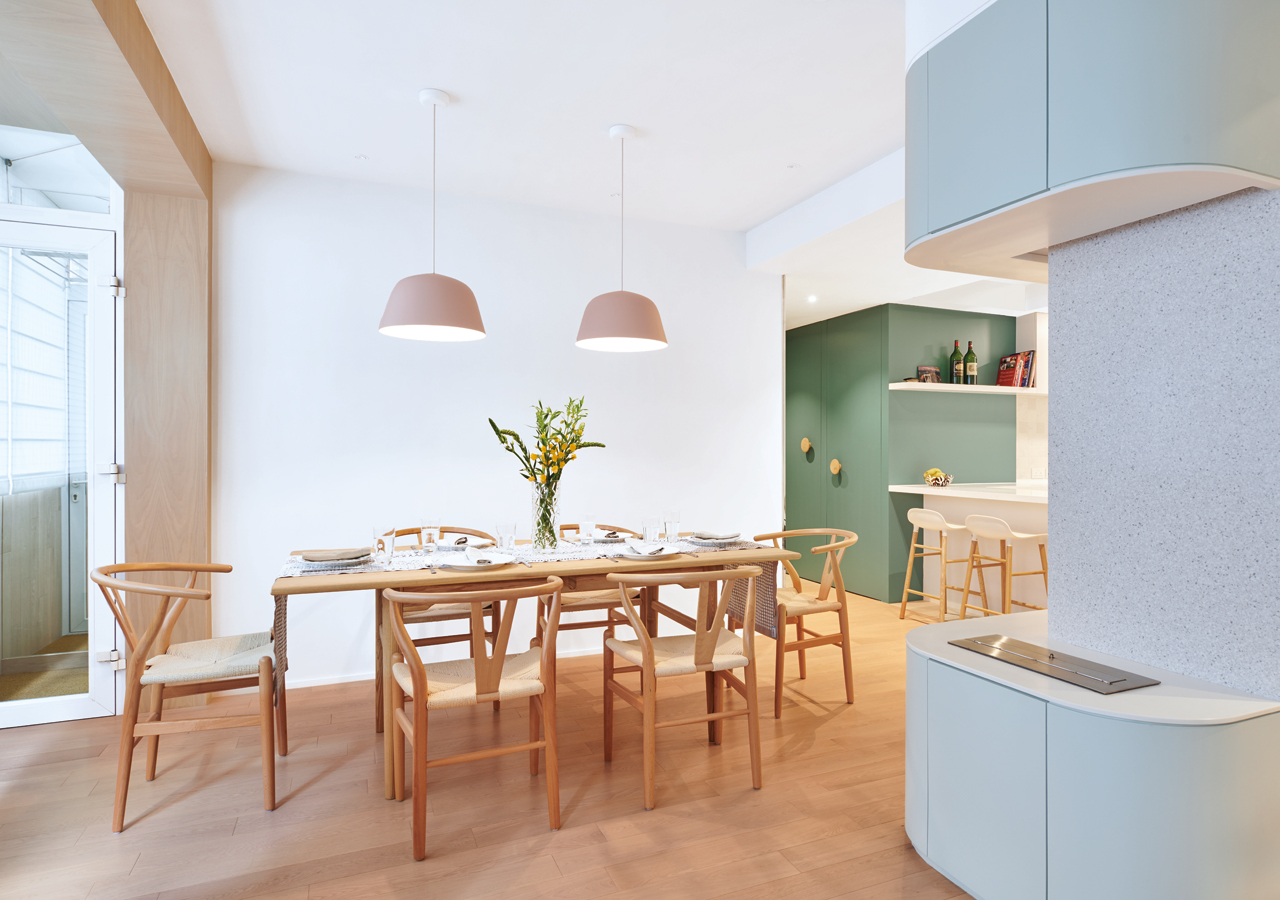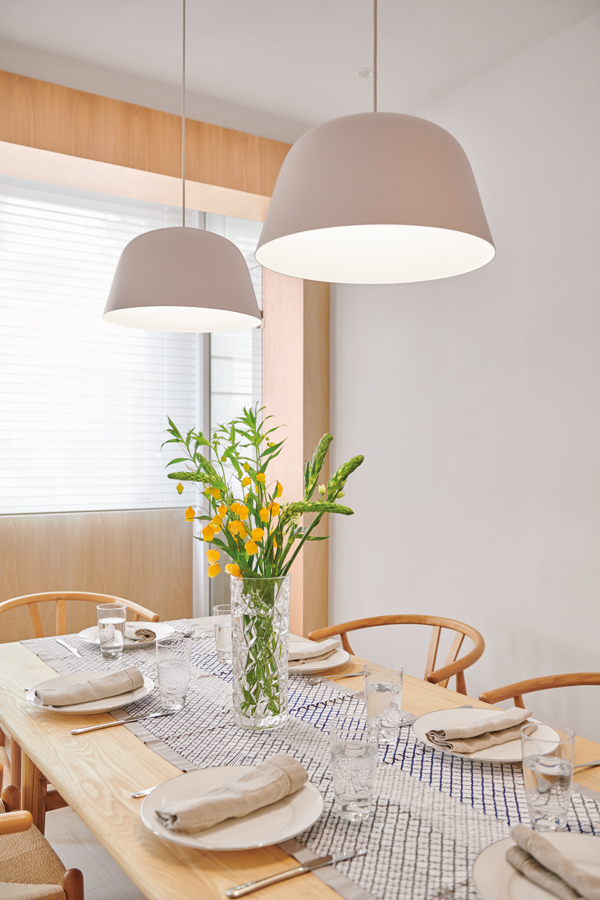 Another highlight of the home – the centralised sculptural green volume – serves much more than a storage purpose. The accent structure forms a subtle dialogue with the greenery outside and establishes a calm identity as soon as you set foot in the entrance foyer, which comes with a recessed stone niche and a small fireplace, says Lorène.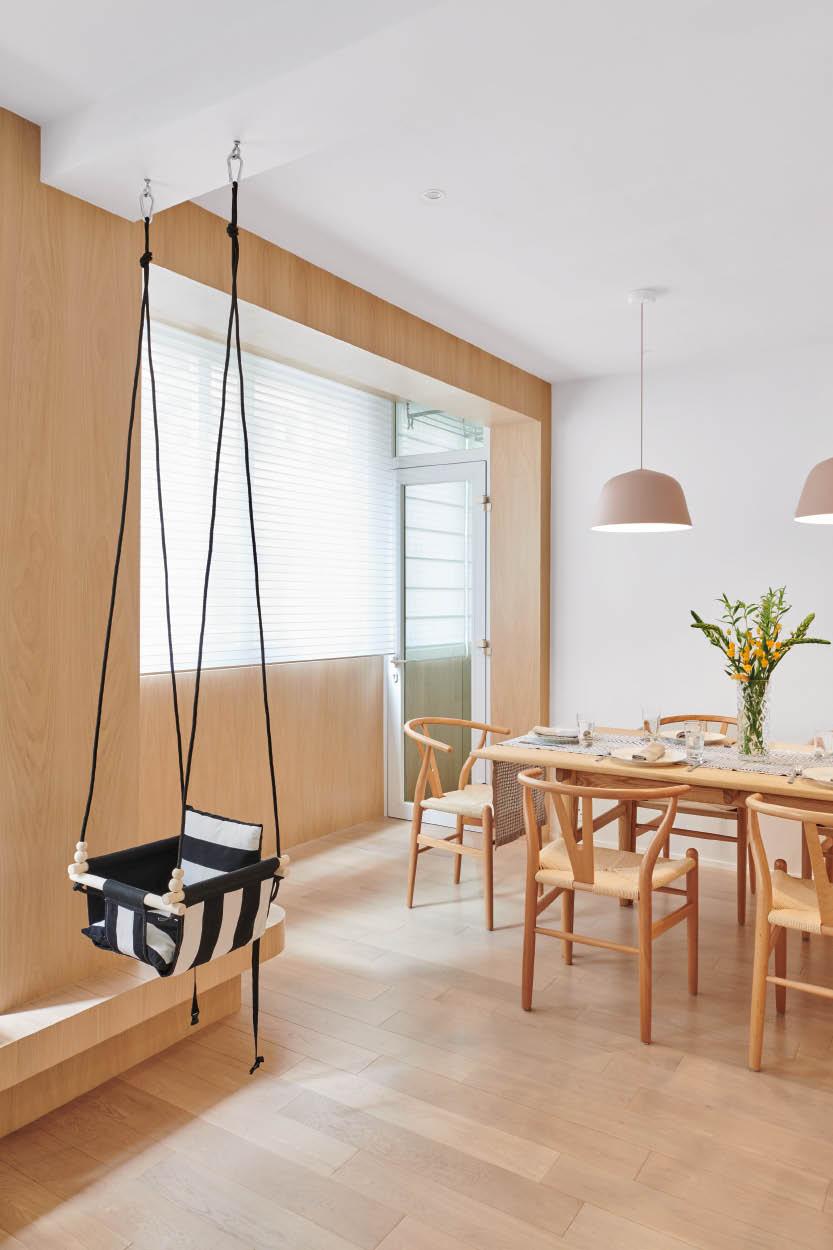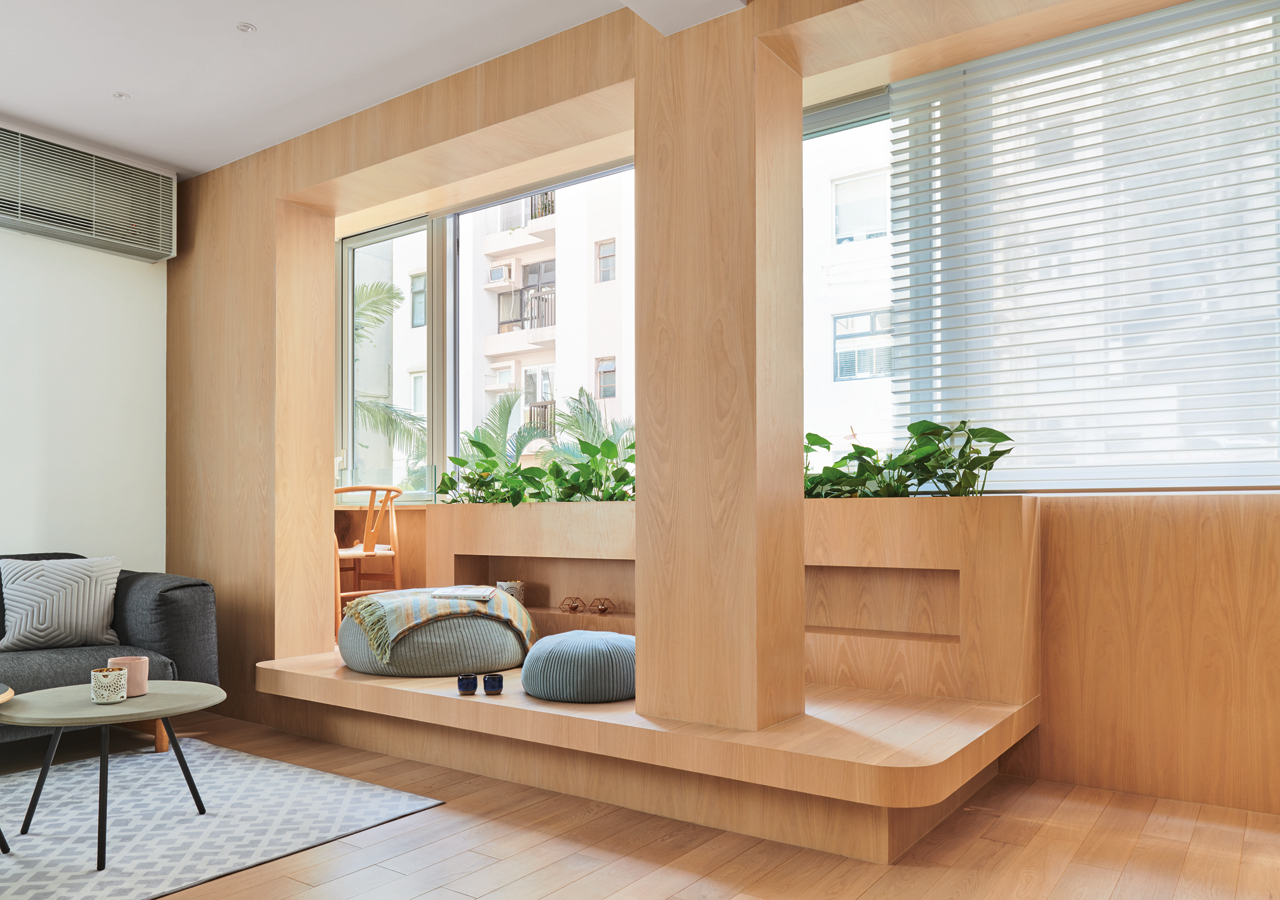 When asked about their favourite spot of the apartment, both homeowners and designers are in agreement: The elevated platform lined with long planters of peace lilies, where you can simply enjoy the street views, sip a good cup of coffee, exercise or read.
Photography: Hoshing Mok
Art Direction: May Lau