Beyond Designs' Sachin & Neha Gupta infuses Goa's local Indo-Portuguese design language with a Mediterranean charm.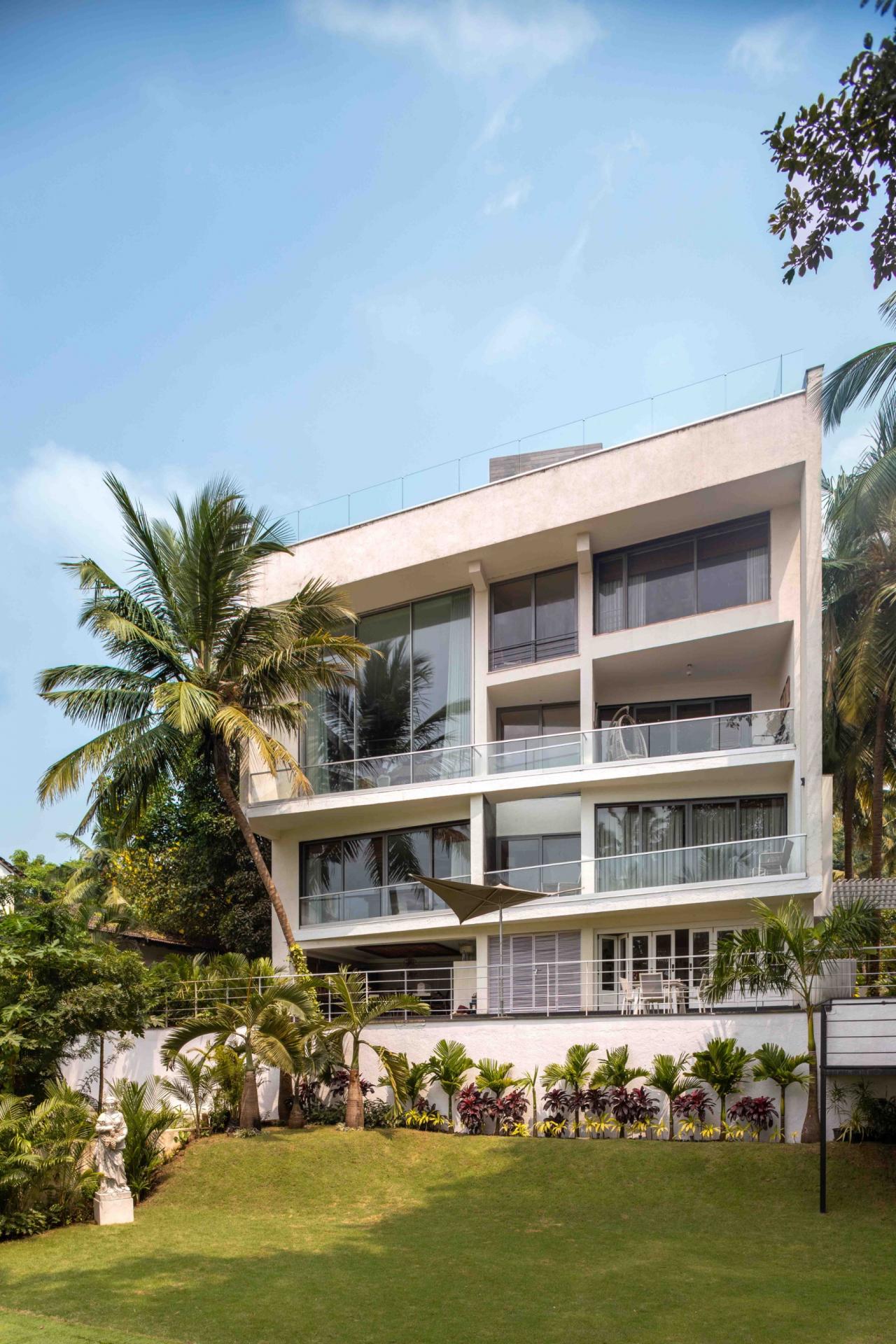 This four-storey villa was meant to be a typical city home, but design duo Sachin and Neha Gupta decided to infuse a Goan Portuguese flavour to match the location.
Goa is a place where many come to let their hair down and relax with family and friends. So naturally, this home features plenty of entertaining elements that's surrounded by greenery. Since the bungalow stands on stilts, Beyond Designs used half of the area to carve out a dining room, bar lounge and courtyard. The bar lounge is furnished with classic contemporary furniture such as the leather bar cabinet from Trunks Company. The decor combines exquisite furniture, unique fabric prints and European refinement, most of which are custom-made by Beyond Designs.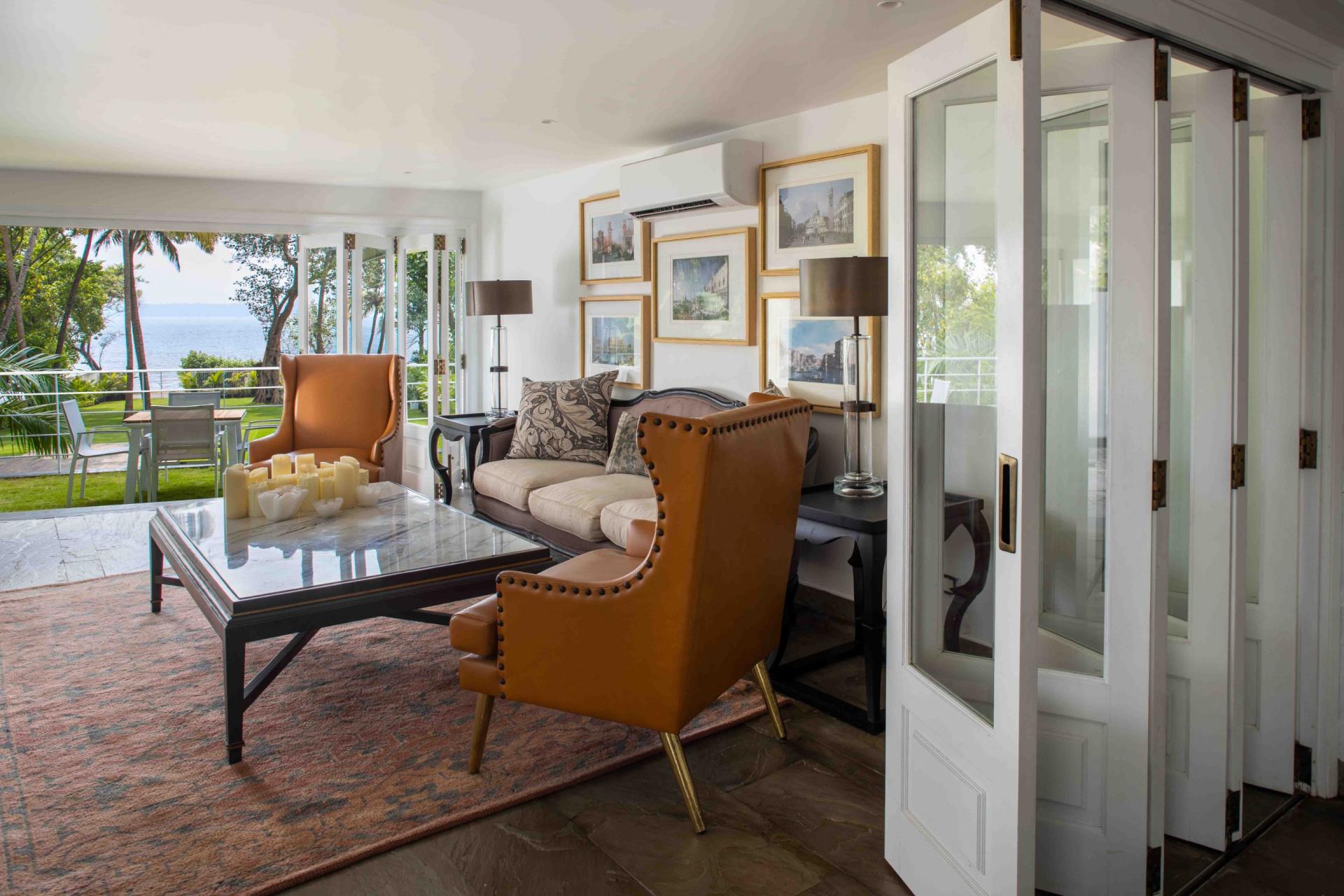 The property uses natural materials such as marble, wood and local stones to create an authentic, intimate vibe. Taking advantage of the blue expanse of the sea, two sea-facing, white and blue bedrooms with balconies are placed on the lowest level. The ensuite facilities also open out to their own balconies, fitted with an outdoor bathtub that's shrouded in privacy by a canopy of tree branches.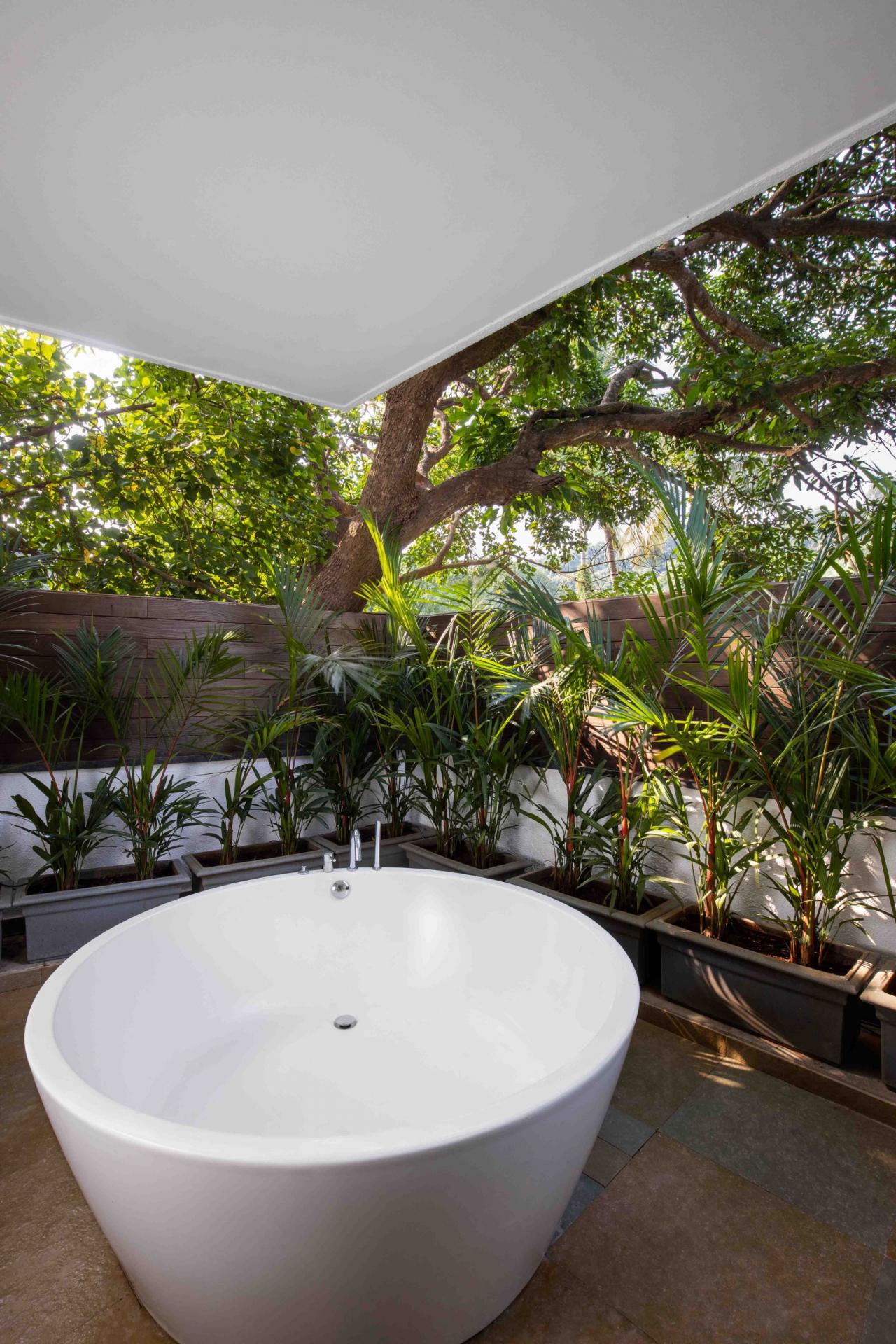 On the floor above is the voluminous, double-heightened formal living room. Boldness and elegance come together as a large, carved wood panel forms a gorgeous feature wall. Meanwhile, furnishings in a light shade and a mosaic stone coffee table in blue and white add a nautical freshness. In another corner, an all-timber mezzanine and mustard-orange spiral staircase serves as a play area for kids.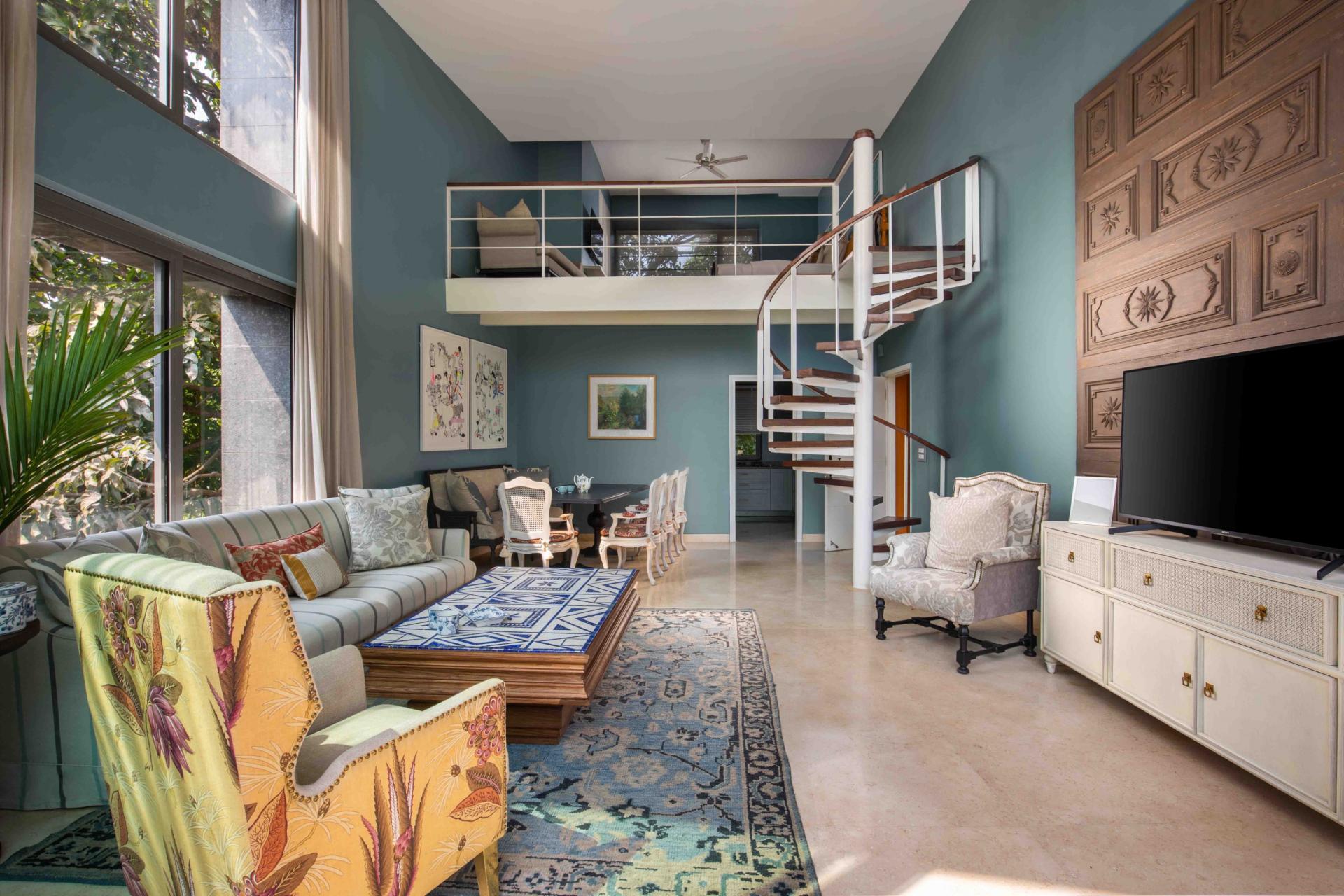 The homeowners' suite is painted in a sober blue shade and furnished with a four-poster bed. Ornate wooden framed mirrors are paired with modern, white nightstands. The designers used local pink and white stones to create a beautiful, striped flooring in the ensuite bathroom. The third floor's bedroom has a cosy lounge area and a bathroom with an attached balcony. Meanwhile, the uppermost floor features a wooden deck to soak in sea views and an infinity pool.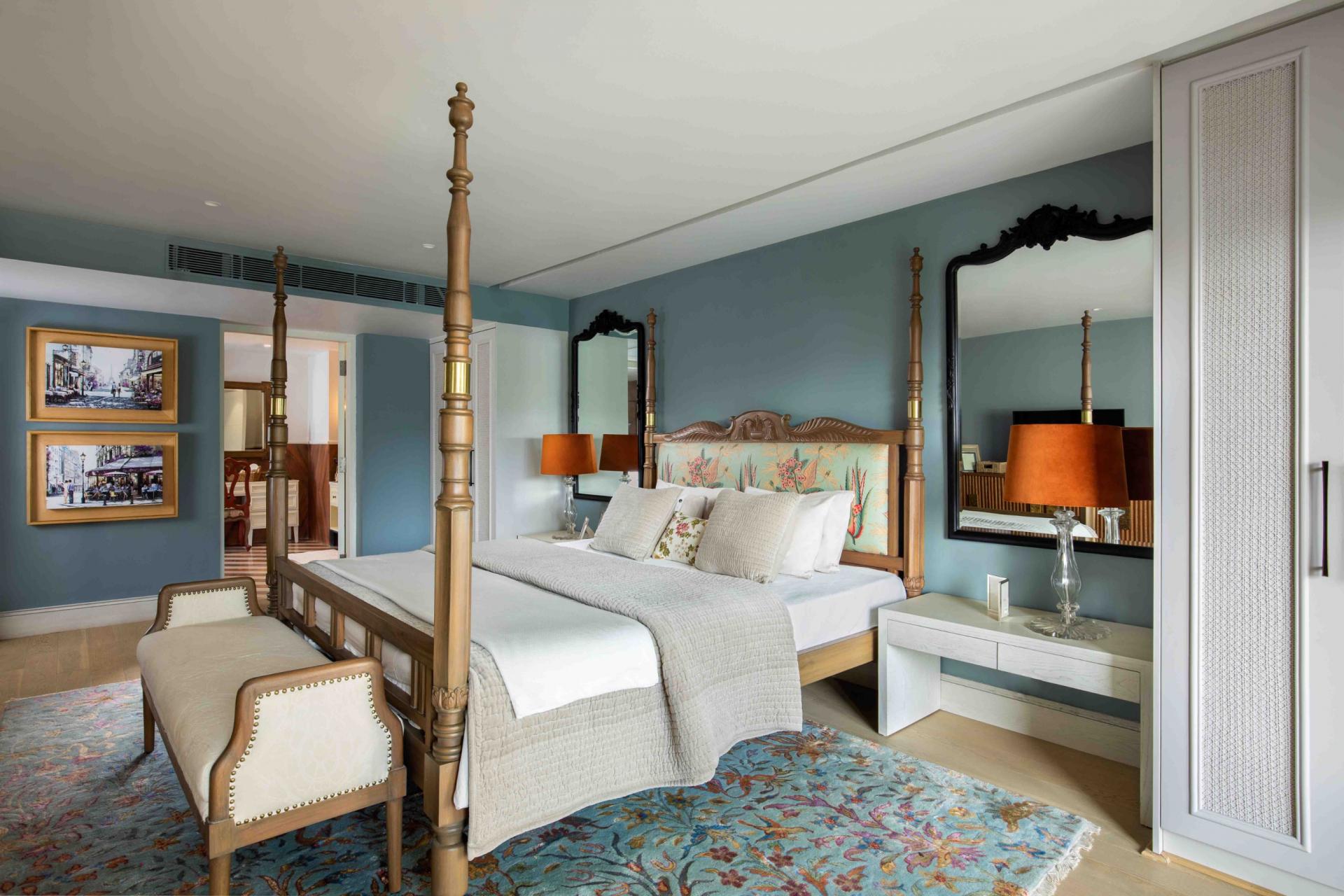 A plethora of family photographs and artworks adorn the many sections of the home, some customised by the designers, others picked by the owners during their travels abroad.
Photo: Atul Pratap Chauhan