When loved ones are just a text or Facebook message away, the last time many of us wrote – or received! – a handwritten letter was too long ago. That said, it might surprise you to learn that the art of calligraphy is making a comeback, finding its way into artwork, signage, greeting cards and Etsy stores en masse.
We talked to Hong Kong calligrapher Beverly Chan of Life At Studio B – who recently partnered with Nana Chan of café Teakha to host tea and calligraphy workshops – about the art of handwriting.
How did you first become interested in calligraphy?
I first picked up calligraphy in 2010 as a hobby. I was working in hospitality and craving to get hands-on with something artistic. I remember seeing some of the modern calligraphic works coming from the U.S. at the time; I was so drawn to how expressive and fresh they were, how free they felt compared to traditional forms of calligraphy I'd seen in the past. After purchasing a basic calligraphy set, I fell in love with its simplicity; there's a sort of archaic element about it.
Why do you think people are becoming more interested in craft and DIY hobbies – particularly calligraphy – recently?
Maybe, like me, people are craving something more creative, simple and pure. As dominant aspects of our daily lives seem to be accelerating, maybe we subconsciously yearn for something to slow us down – going against everything that is mass-produced, efficient, precise and clean towards something handmade, personal and imperfect. I think getting creative speaks to our souls, or maybe, let's our souls speak? I think getting in touch with that side of us that yearns to be creative is such an incredible and natural thing.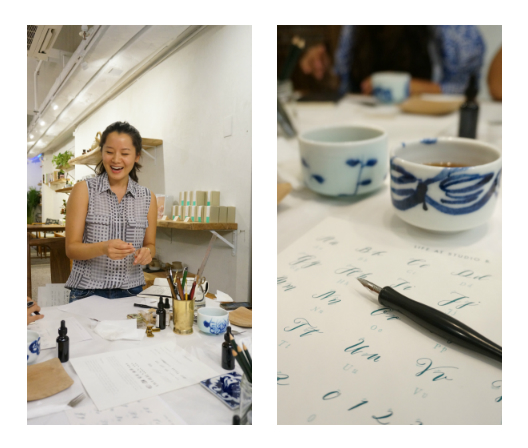 What are some of your favourite ways to incorporate calligraphy into everyday life? I like repurposing used practice paper to make DIY envelopes and gift wrap sheets. Scrap paper cut-offs also make handy gift tags. I've also seen lettering artists engage with their social media audience in ways to practise more everyday. Another nice way to force yourself to create a finished piece of art is to choose one of your favourite quotes, write it on some nice paper, take the time to get it framed and put it up in your home – or give it away as a meaningful gift.
Do you have any tips for calligraphy beginners?
The most common struggle people have is finding the optimal angle and pressure of the pen on the paper. The optimal pen position should feel pretty smooth and resistant-free on both up and down strokes. Students often try to rotate the pen, or write the letters coming in from the sides like they might with a normal pen or pencil. It helps to think about calligraphy not as writing, but more as drawing. Remember to clean and dry your nibs after each use; old toothbrushes are best for this. Be patient, and don't get discouraged if you find it uncomfortable or awkward at first – keep at it!
Check Teakha's Facebook Page for more details on upcoming calligraphy and tea workshops.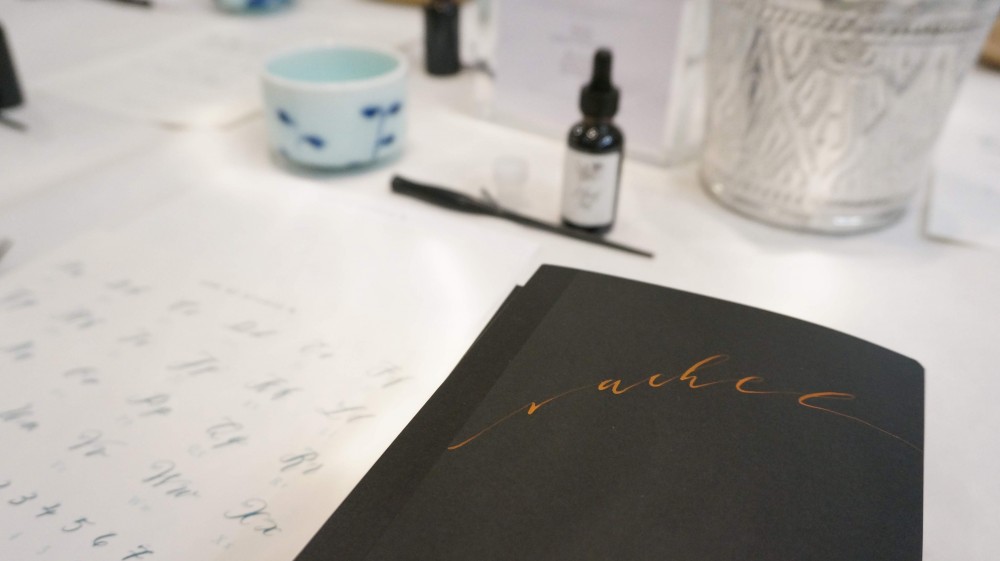 The post The Write Stuff appeared first on Home Journal.