To say that the modern world is at a crossroads with its environment is an understatement.
In recent decades, we've been plagued by some of the most defining issues of our time, ranging from rapidly shifting climate patterns to human overpopulation, and from rampant waste to digital evolution – all of which continues to threaten our communities and resources, and which are driving radical transformations into how we inhabit and preserve our earth. Yet, as the indomitable French architect Jean Nouvel once said, "Each new situation requires a new architecture." The core of great design is perhaps not in mere aesthetic excellence, but in innovative creativity that serves to benefit our world. From geodesic domes to zero-waste power structures and implanted artificial intelligence, we're spotlighting some of the most ingenious solutions and pioneers who are spearheading brand-new styles of living.
STREET TREE PODS
Living in a treehouse is the childhood fantasy of many – and in the near future, that dream may become reality thanks to a visionary concept by University of Westminster graduate student Matthew Chamberlain. Titled Street Tree Pods, this series of teardrop-shaped, self-sufficient treehouses have been imagined as short-term accommodations or starter homes for students and young professionals. To be built in the heart of London, with each design responding to the "uniqueness of each tree", the low-impact timber structures will merge into new and existing street trees – much like the natural phenomenon of inosculation that inspired Matthew's vision – while targeting the city's high pollution levels and housing shortage. The psychological benefits of natural scenery are taken into account, too; by introducing an urban forest into people's lives, Matthew hopes to "implore people to realise street trees as not just a luxury, but a vital piece of infrastructure."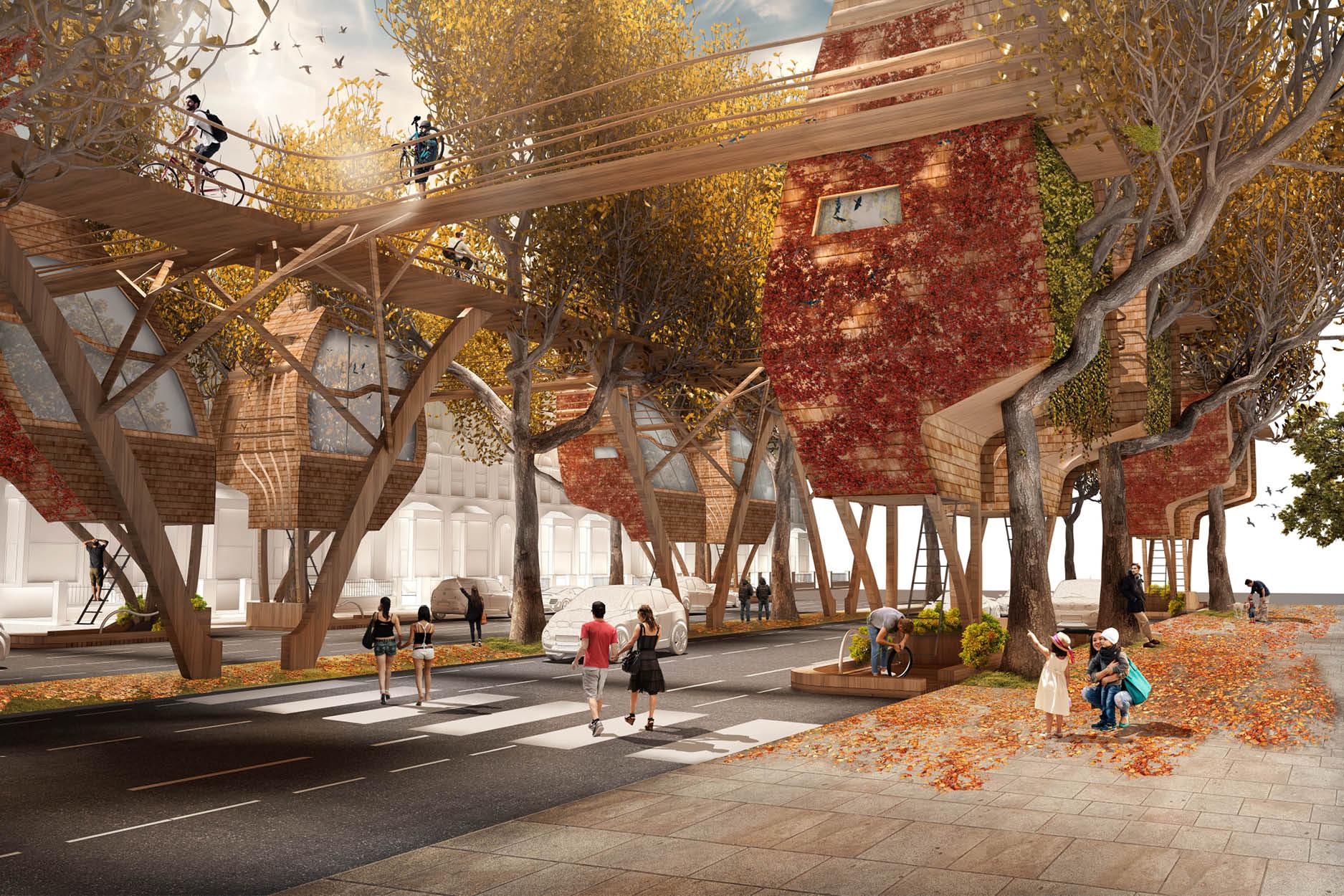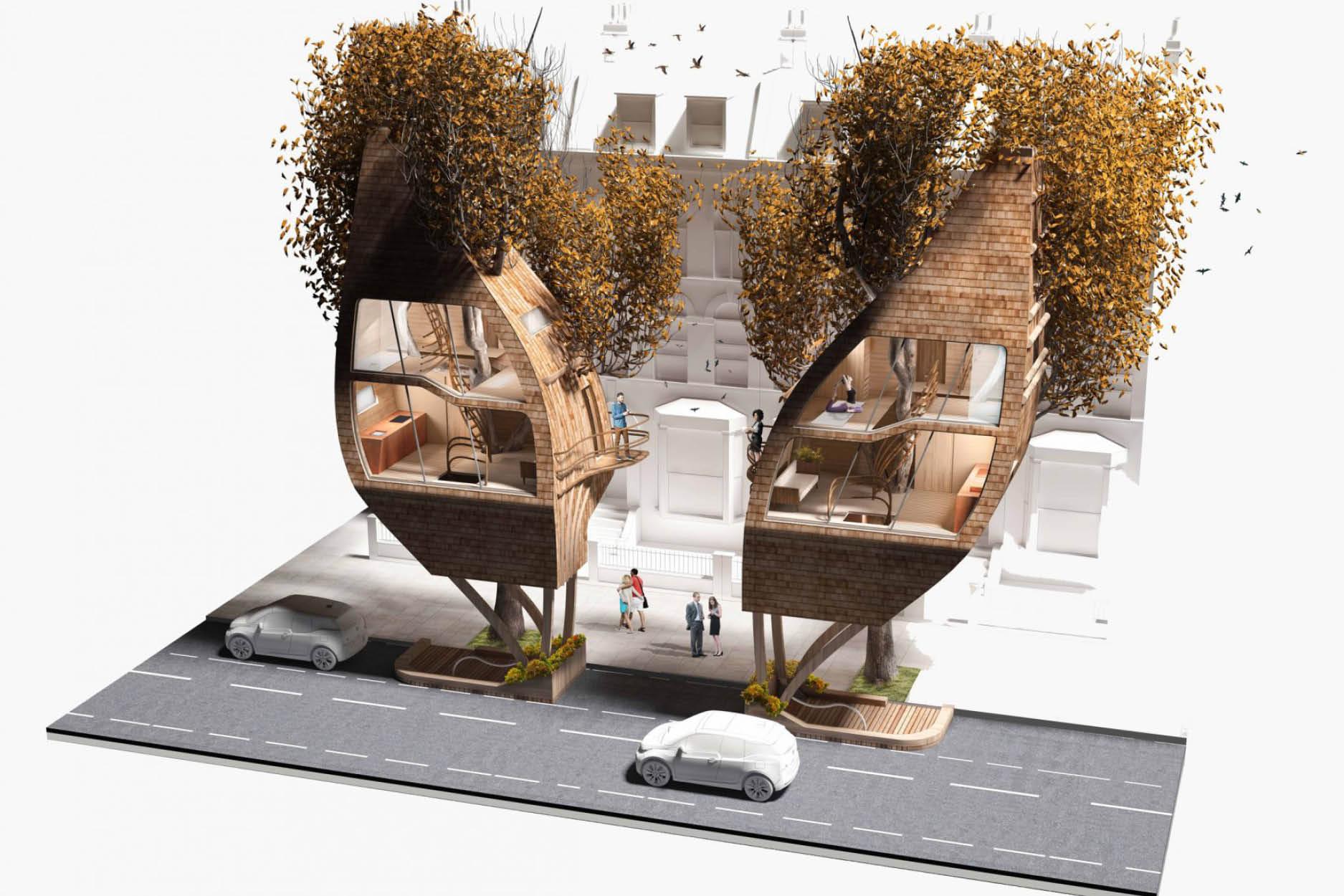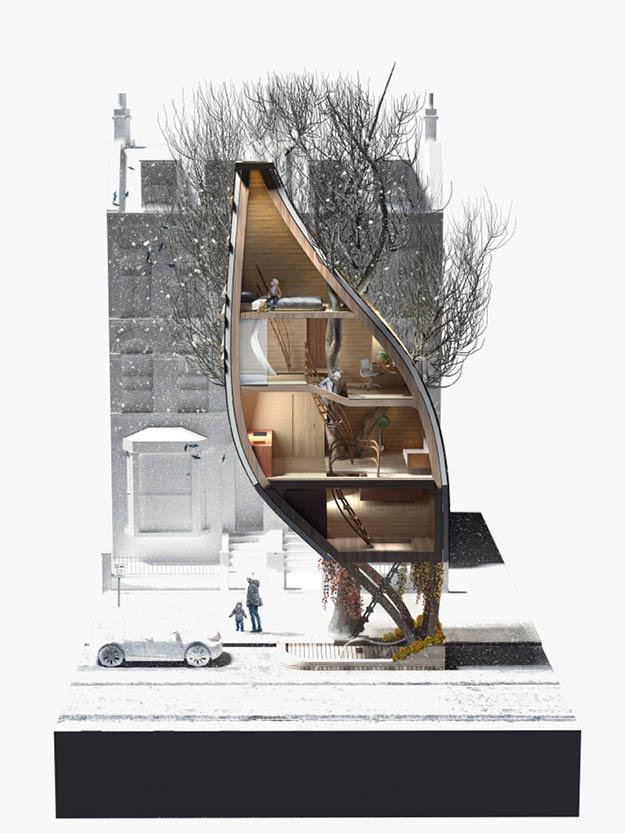 FLUX HAUS
When you live in an urban metropolis as dense as Hong Kong, is it irrational to dream of a better way to use and enjoy compact spaces? Kammil Carranza, Jitendra Farkade and Vinay Khare, graduates from the Institute for Advanced Architecture of Catalonia, have imagined an alternative construction for the cage homes and partitioned flats of Sham Shui Po. Named Flux Haus, the innovative "parasitic housing scheme" is designed to offer individual pods as a dignified solution to minuscule rooms. While the number of pods and configurations of constructions are variable, an abundance of communal spaces are also made available, such as an auditorium and a vertical screen. Powered by AI and an advanced swarm robotic system, furniture in each pod can be constructed and deconstructed based on each occupant's living behaviour. The best part? The state-of-the-art technology allows inhabitants to swiftly transform the space from a bedroom into a living room, or other specific areas as required. Fitted with CoeLux artificial windows to simulate natural light and the SlinkyBot project (a bot that creates objects and interiors for homes), Flux Haus is exploring uncharted territory for future living.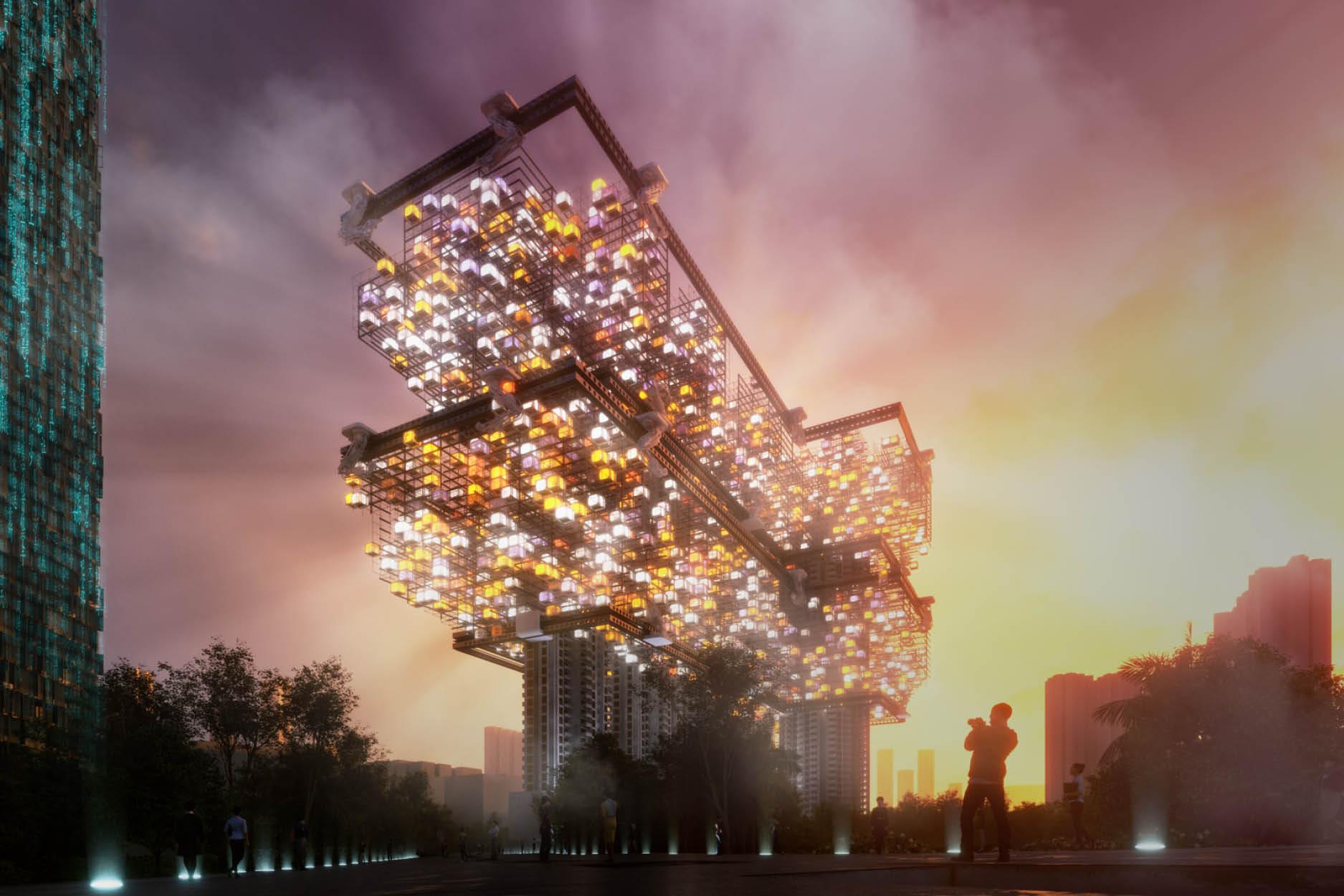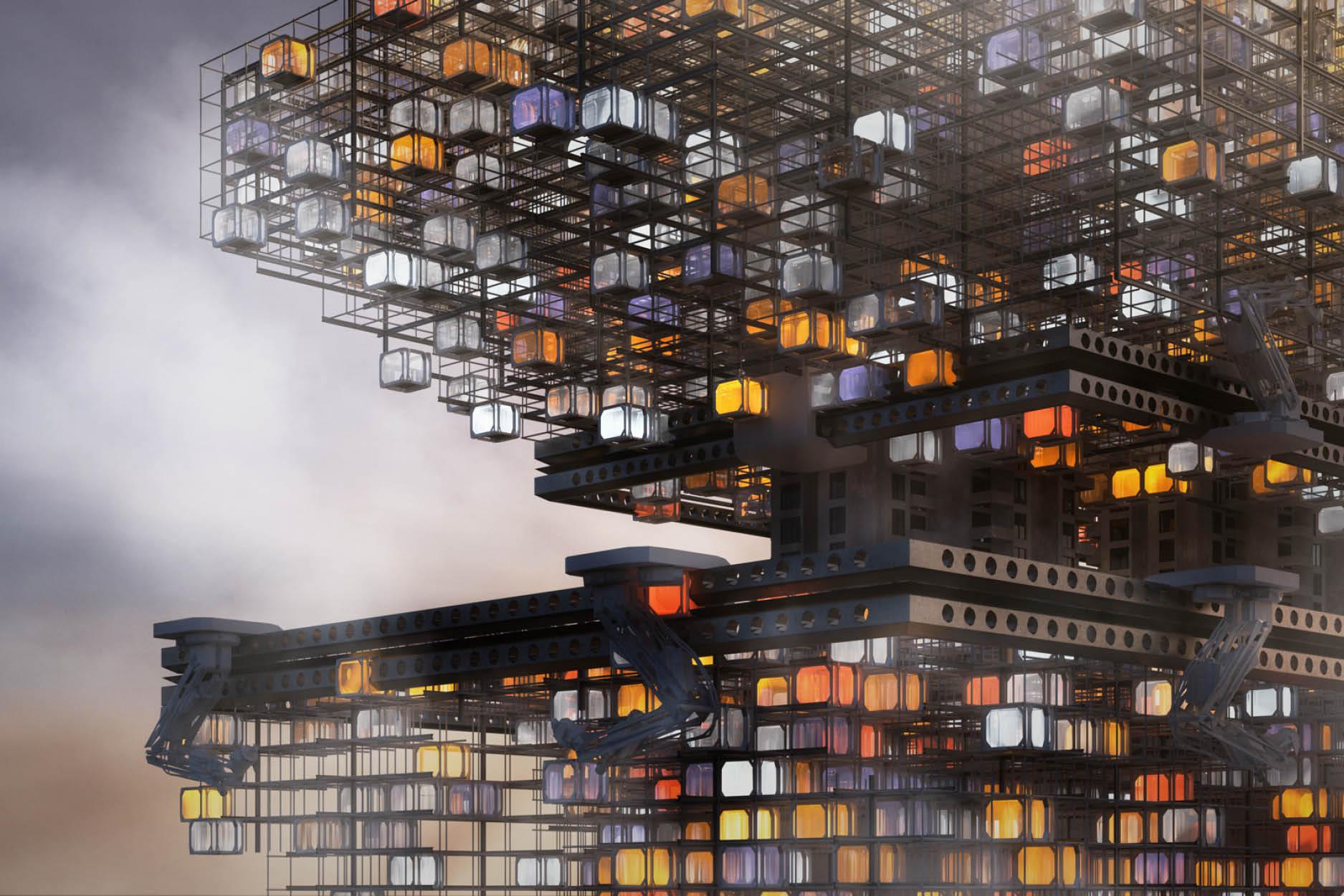 GEOSHIP DOMES
As global temperature rises and ice sheets shrink, the calamity of climate change brought on by global warming has become an increasingly indisputable and pressing concern. Extreme weather events such as heatwaves, hurricanes and tsunamis are predicted to surge – with the poorest often being the most vulnerable. Anticipating these disasters, US entrepreneur Morgan Bierschenk has conceived a transformational earth-friendly solution named Geoship. It's a geodesic igloo-like single-family home created out bioceramic – a self-adhesive natural material that's affordable, energy-sufficient, recyclable, fire-resistant (withstanding up to 2,700 degrees Fahrenheit) and designed specifically to survive the likes of earthquakes and floods. Easily built and assembled, it's estimated to cost 40 per cent less than traditional construction and is intended to last well over 500 years. "We're working to change the archetype of home to reconnect with the earth and build community," says Morgan of the domes he envisioned to be built collectively as social housing villages, which also help to foster human connection and exchange. The first village is in production in Las Vegas for the city's homeless.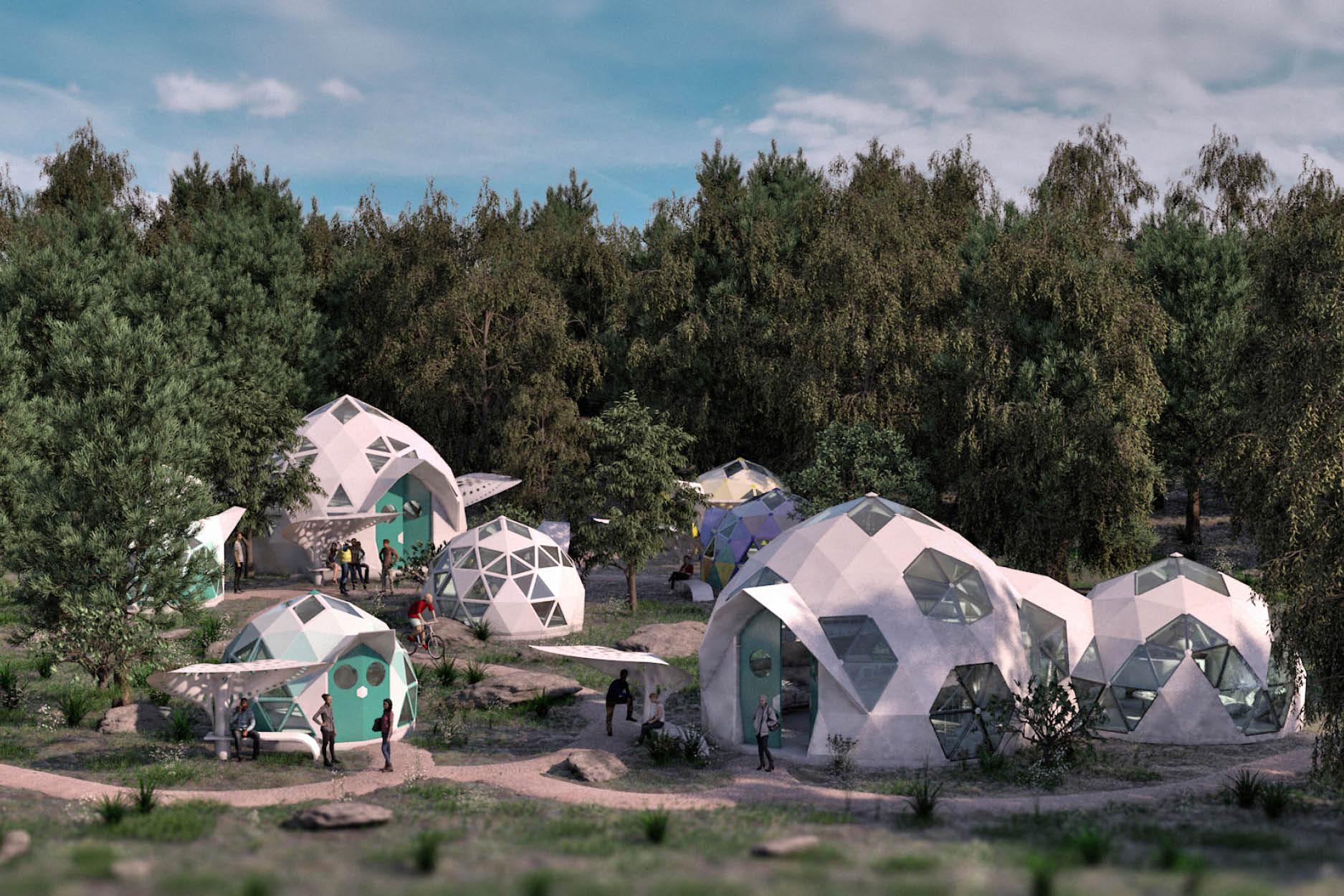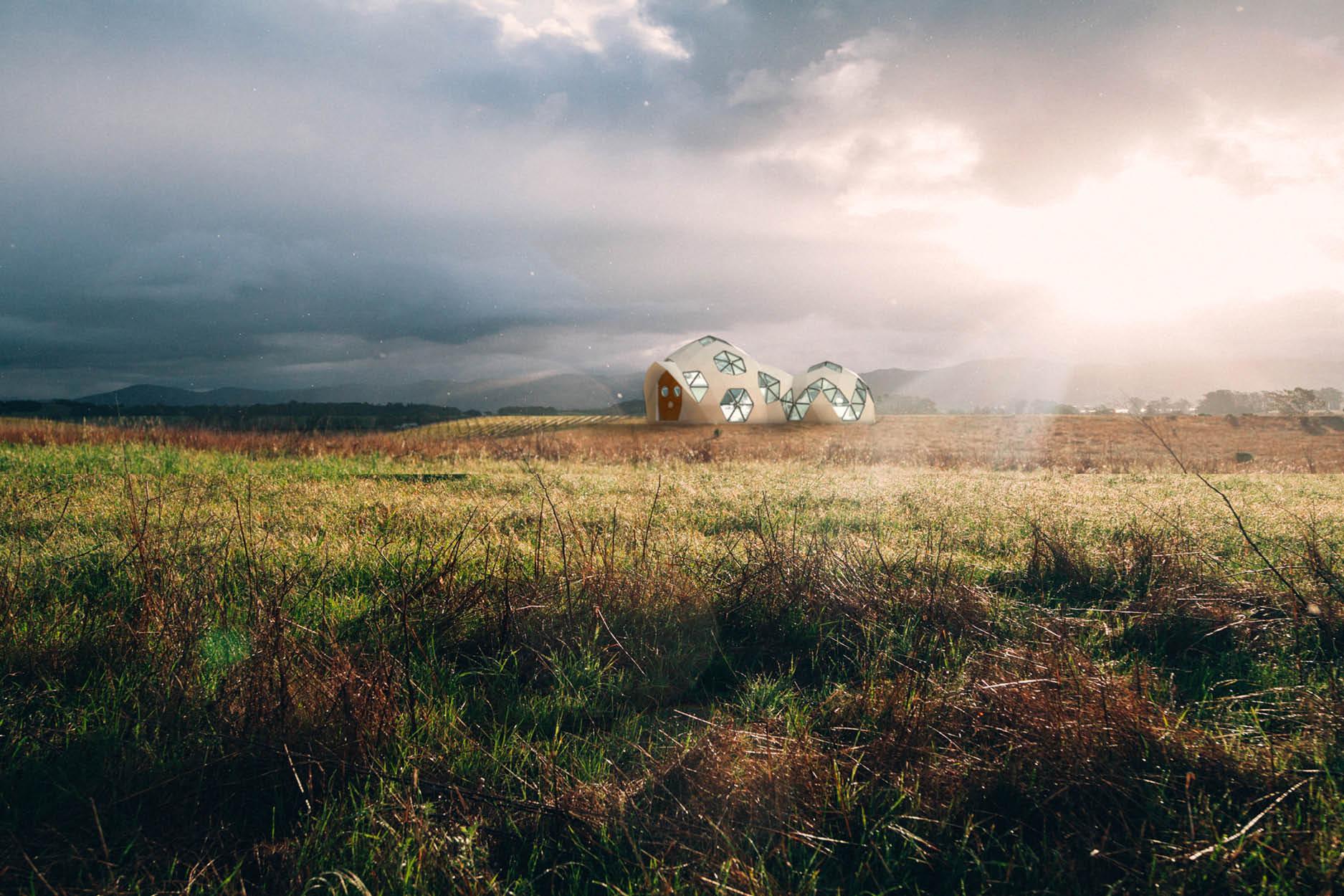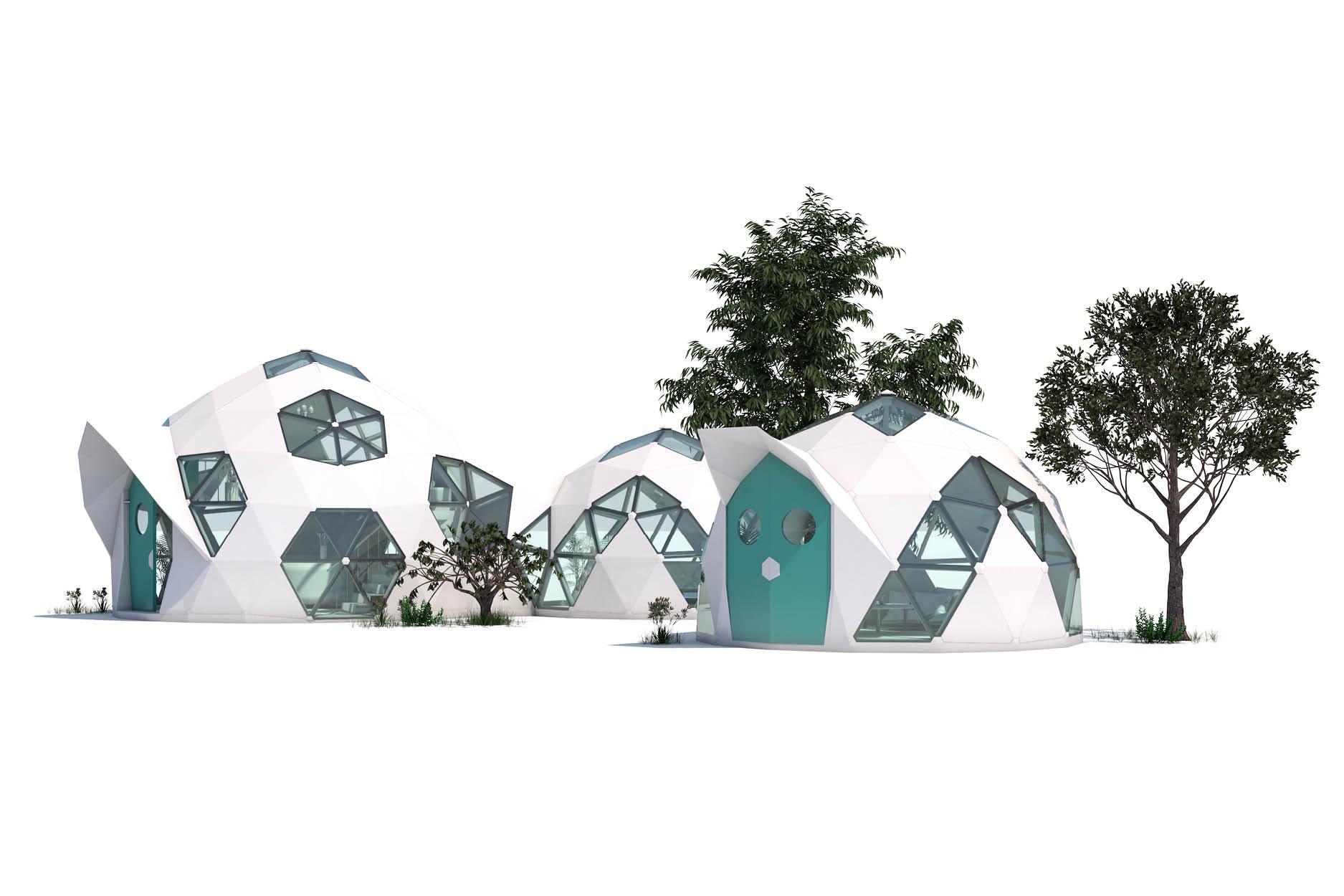 FILTRATION SKYSCRAPER
As we see a steady movement towards environmental awareness, architecture and design forces are relentlessly pursuing inventive methods in order to protect the world we live in and minimise the negative human impact on the environment. With hopes of solving environmental and energy issues around the globe, architectural designer and visualiser Honglin Li's sci-fi-inspired Filtration Skyscraper suggests deploying high-rise waste-to-energy power plant megastructures in the oceans – the Great Pacific Garbage Patch in particular. Unlike many traditional recovery facilities of its kind, the structure would make use of seawater to pump garbage and polluted water to the top of the building, then filter water and recyclable materials down to the bottom; completing the sustainable cycle would be the non-recycled material and recycled material being carried away by tidal power. Energy would also be generated with recovered waste being burned in a waste-to-energy plant.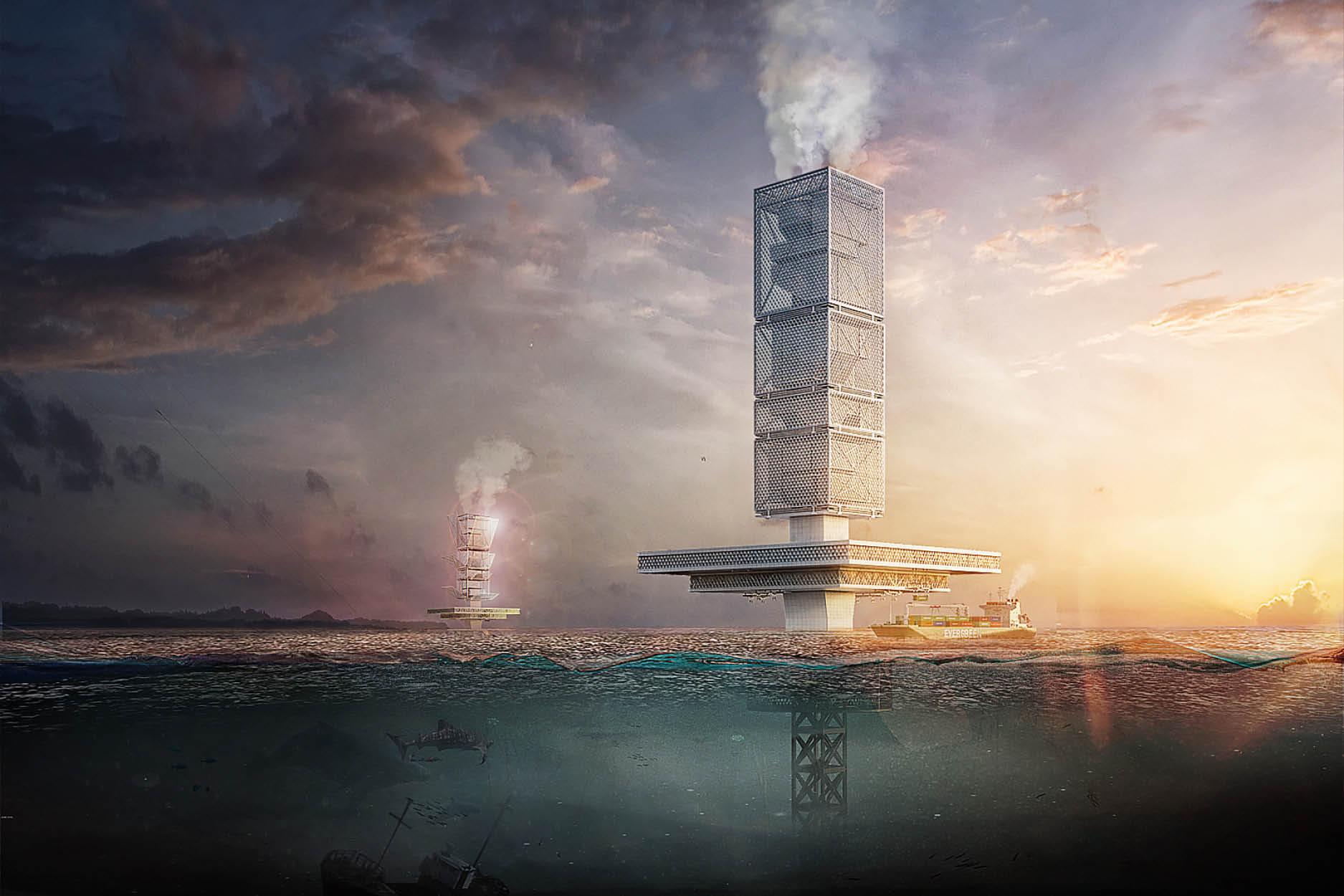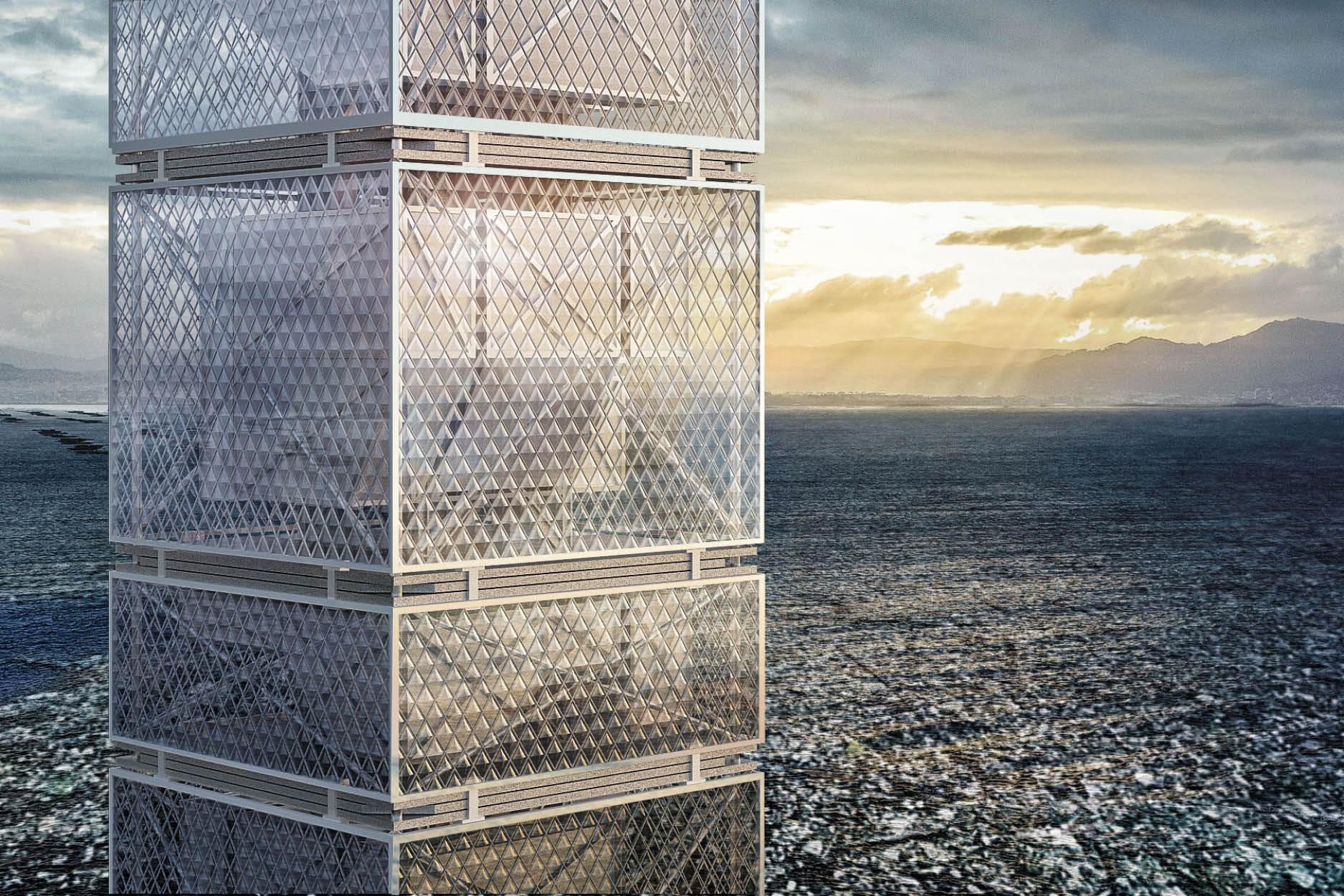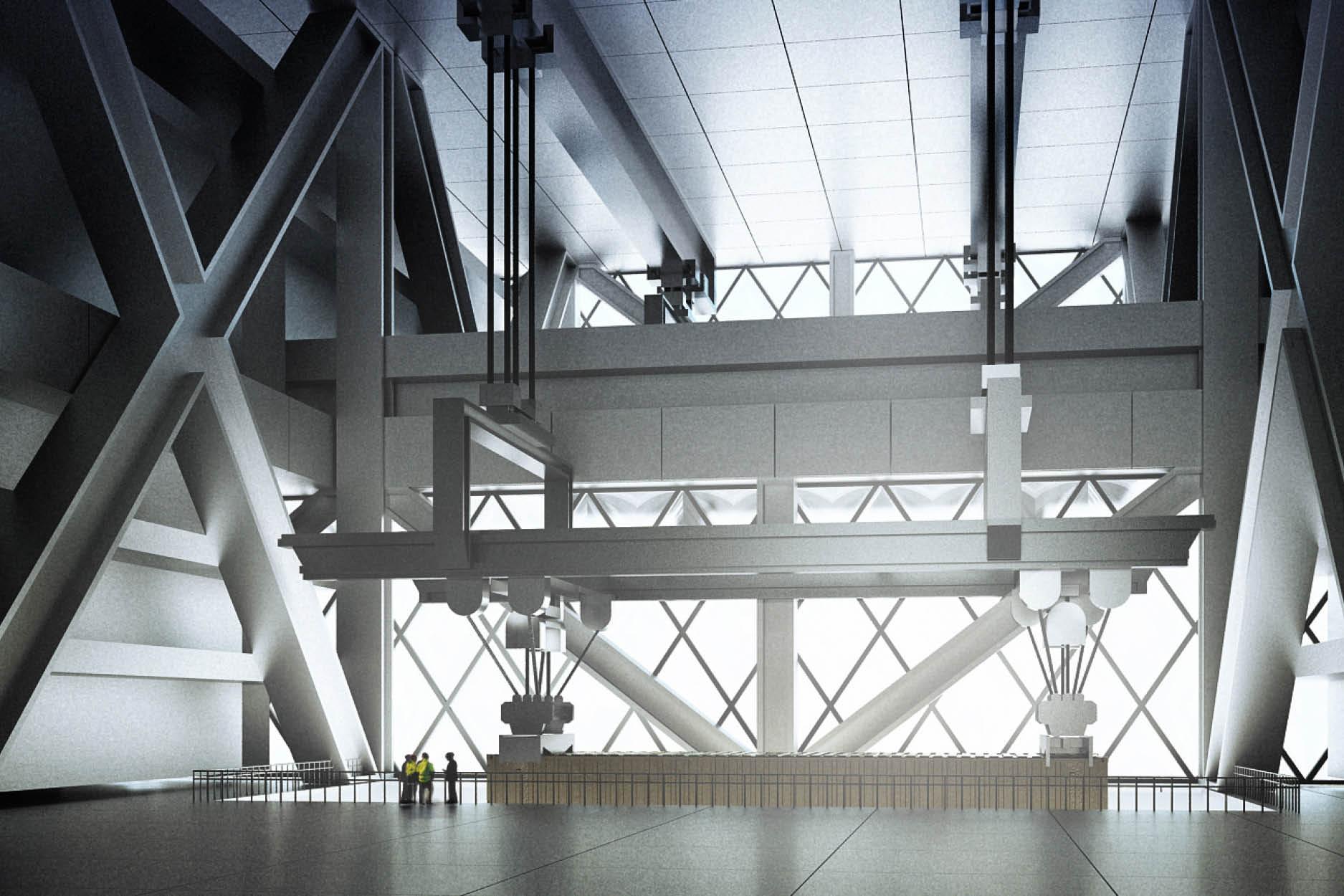 See more: Inside Zaha Hadid's Striking and Sustainable Beijing Daxing Airport