Embedded in the landscape, Studio NaMata's design explores nature and architecture's beauty and functionality.
Studio NaMata combines architecture, context, and landscape to create a mystical living space that connects landscaping to residents.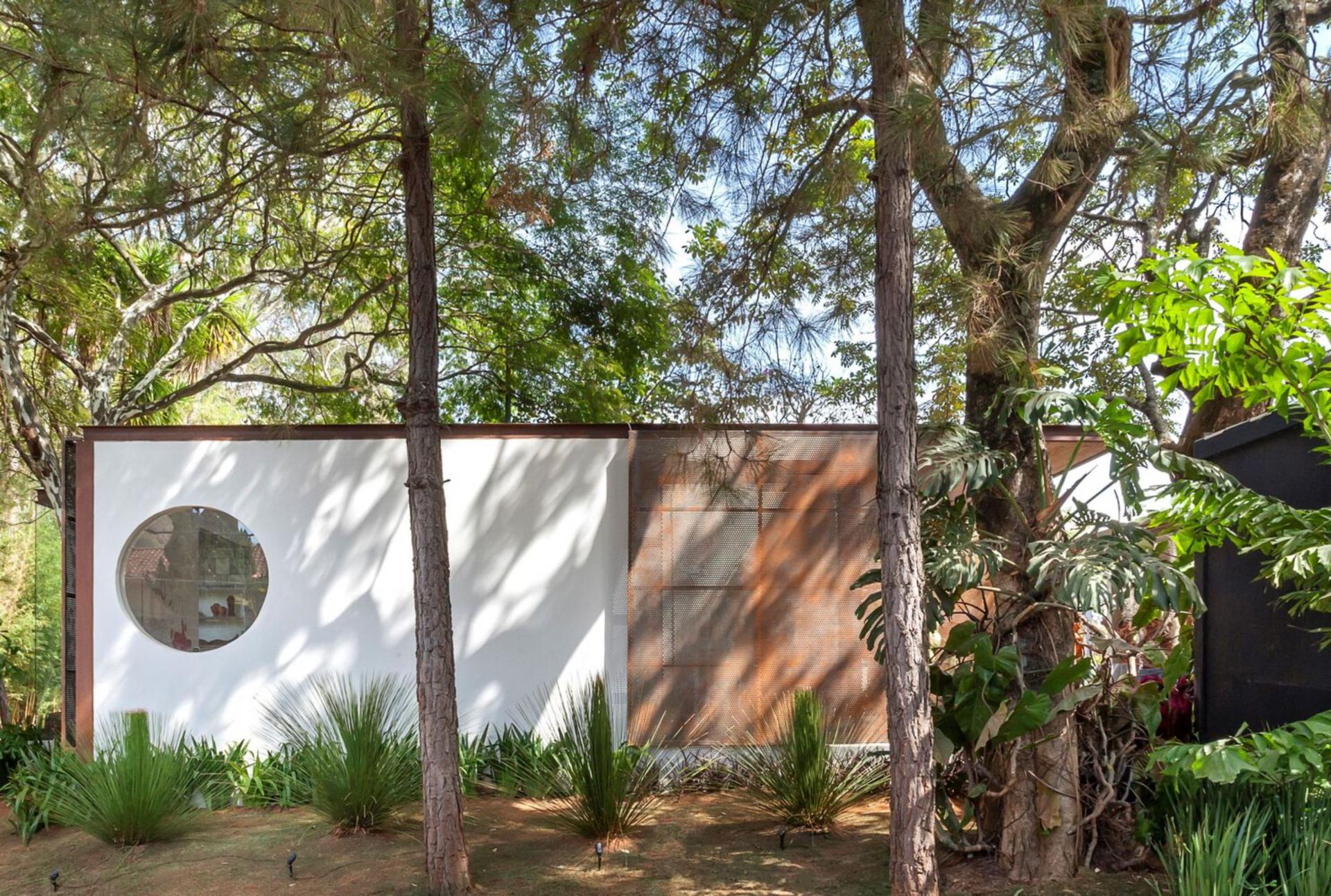 Listed as one of the nine unforgettable houses from CASACOR 2022, Studio NaMata is a project situated in Belo Horizonte, Brazil and only spans 699 square feet. According to the studio's principal architect, her exploration of CASACOR/Minas Gerais' theme of "Infinite Particular" was done by searching for references in her origins, creating a calming home away from everyday life and letting one reconnect with oneself.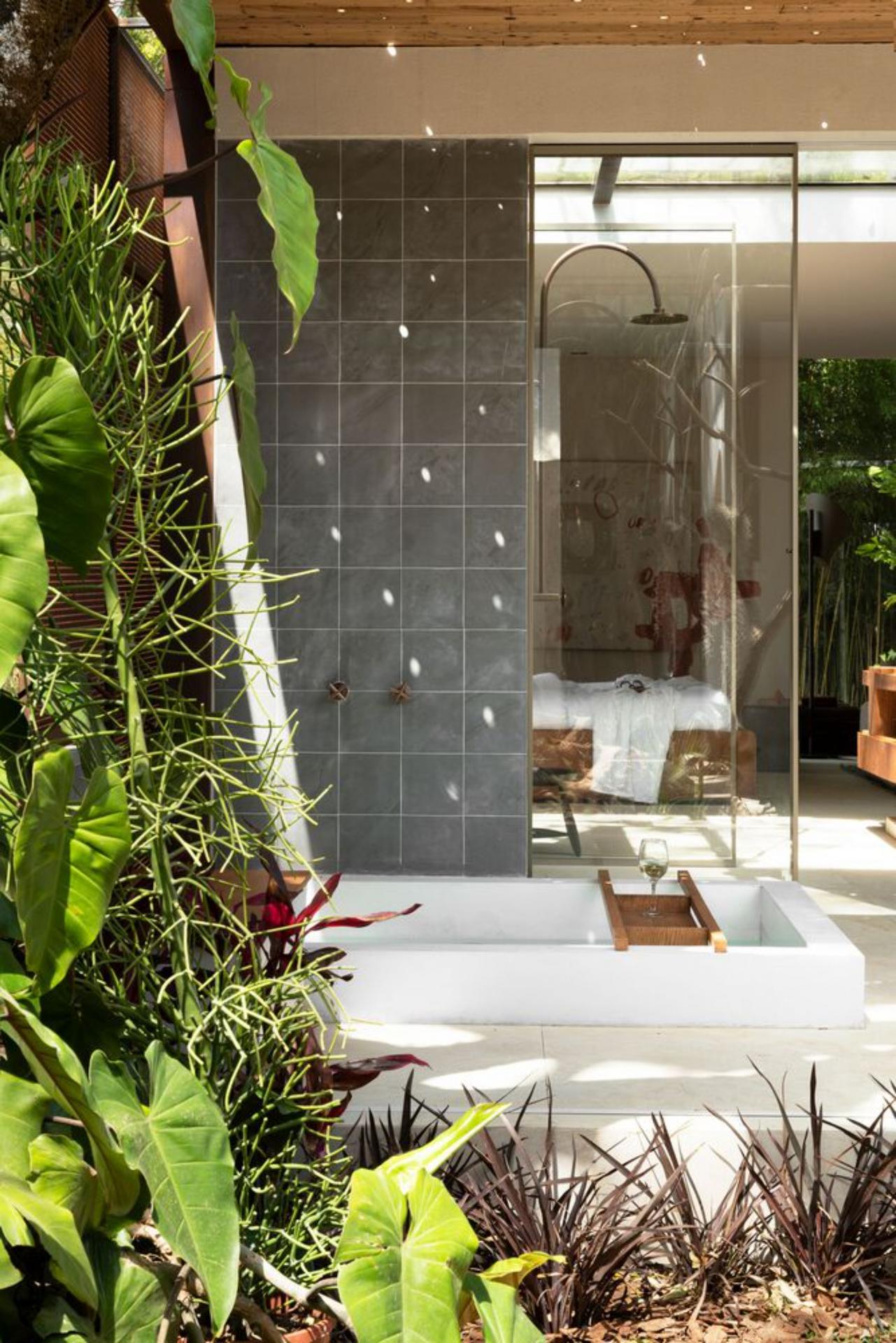 As part of the site's landscaping, Studio NaMata preserved all the vegetation to enhance the project's final look, resulting in an abode surrounded by lush foliage, trees, and flowers. Moreover, putting the container home in its natural environment enhances the sense of living in harmony with nature. Through multiple interchanging pockets of light and air, the facades create a living space that extends beyond its assigned location by bringing the outdoors indoors.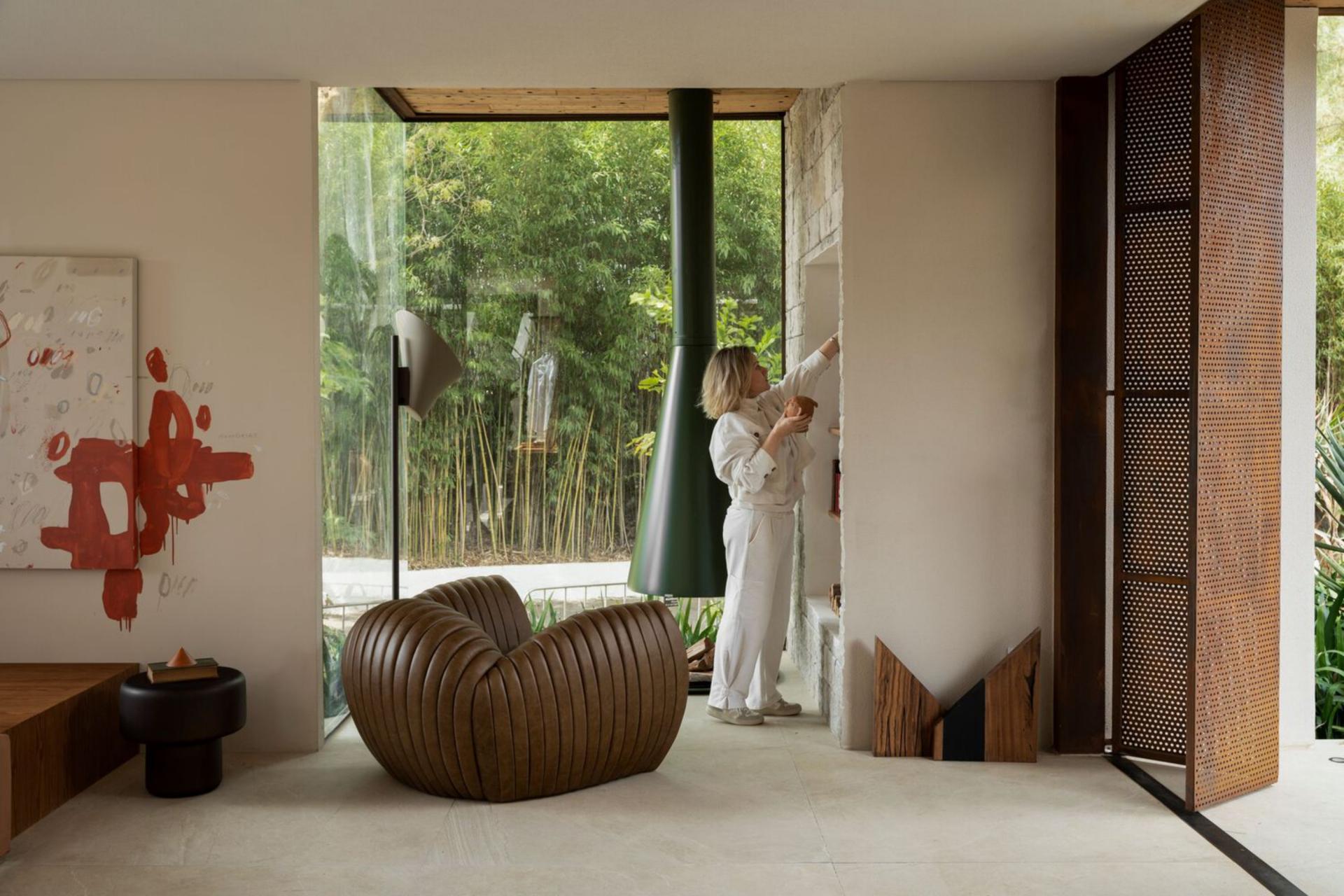 Through perforated rusty bifold doors, the open plan reveals itself with the soft-edged cream sofa set in the middle. On the left, you can see a cooking and dining area decorated with natural shadows cast on the floor by trees during the day and two olive-like pendant lights hanging from the ceiling. The kitchen is clad in beige square tiles, with a wooden shelf attached to keep the space light and compact. It remains modern by tucking all appliances in or below the surface.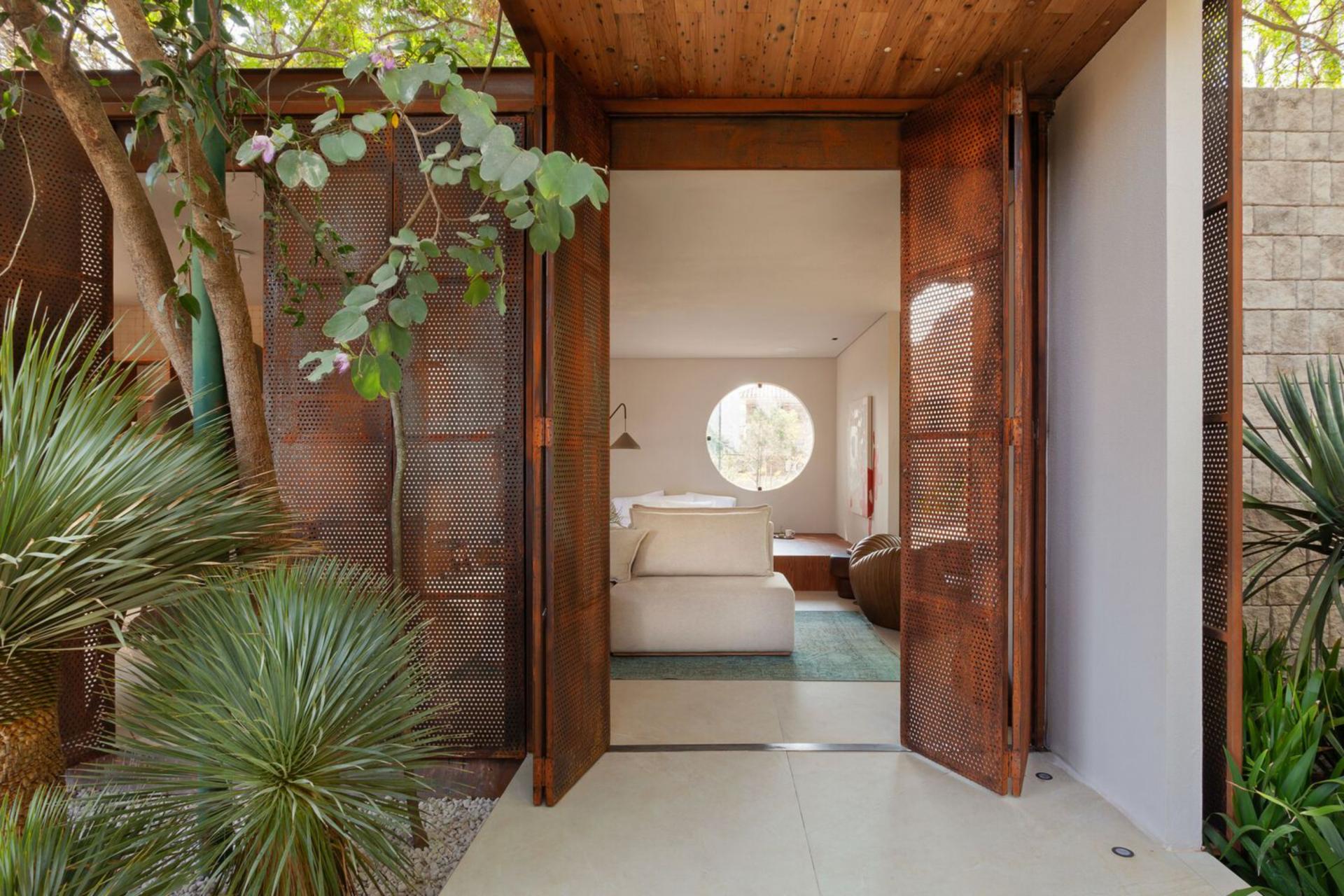 A large circular glass window brings natural light to the room, making the sleeping area inside Studio NaMata appear to share the same air volume as the rest of the house. A timber-based platform adjacent to the installation provides the homeowner a reading and relaxing spot.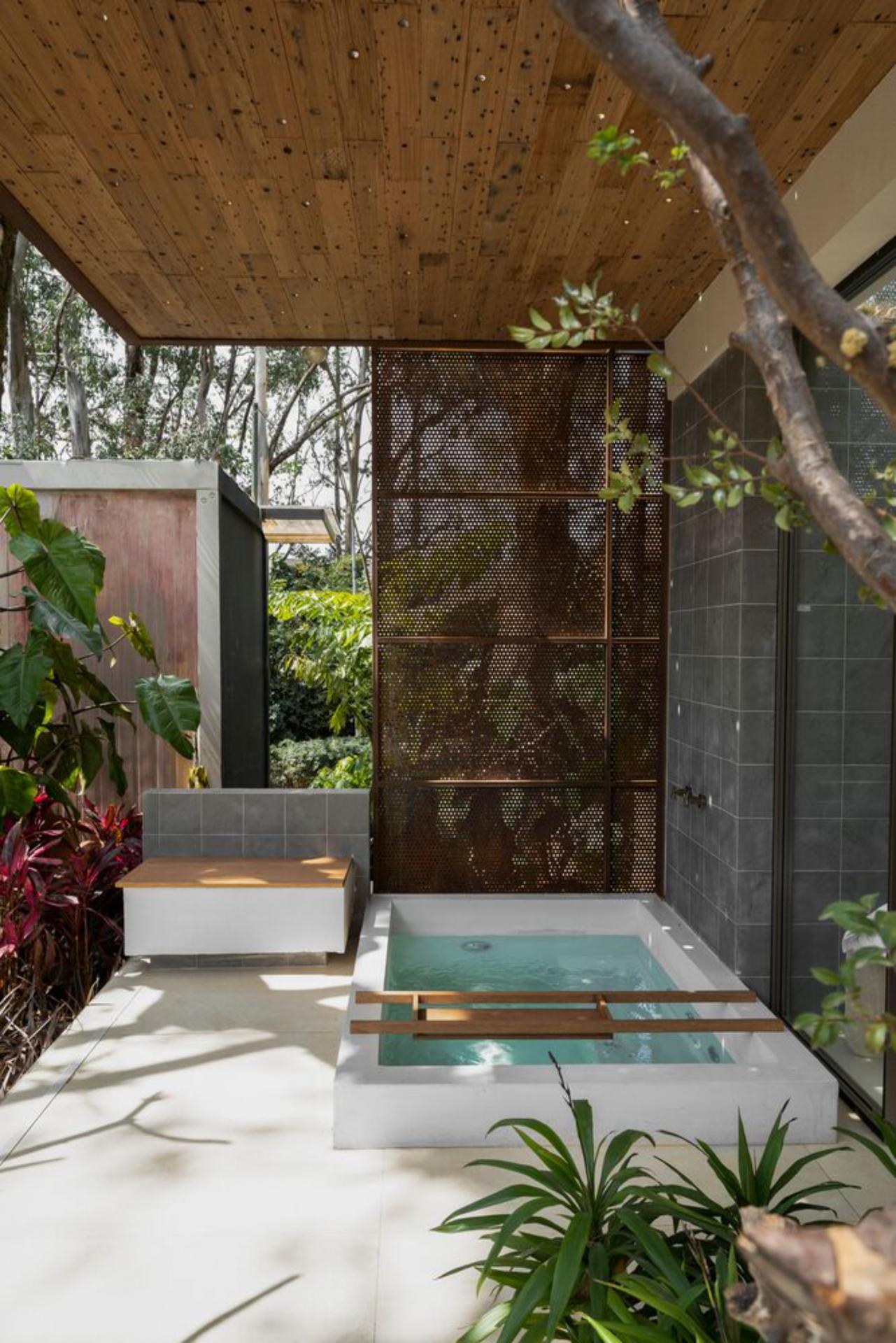 Among the open-plan arrangements, Janaína Araújo Arquitetura e Interiores presents a bathtub in burnt cement on the rear side of the house. With greenery covering the tub, the set-up recalls a jungle spa retreat.
Photo: Henrique Queiroga, Estúdio NY18