In an enviable setting on the Kowloon waterfront, Kerry Hotel enjoys panoramic views that span the skyscrapers of Hong Kong Island. It is the first new hotel to take up such a prestigious spot on this side of the harbour in two decades – and it's well worth a visit, particularly for the design lover keen on a Hong Kong getaway.
Rocco Yim of award-winning firm Rocco Design is behind the architecture of the 546-room hotel, while the interiors of this modern and clean-lined urban oasis are the work of design wunderkind Andre Fu, whose previous projects include Hong Kong's The Upper House, Fullerton Bay Hotel in Singapore, and The Berkeley Hotel in London.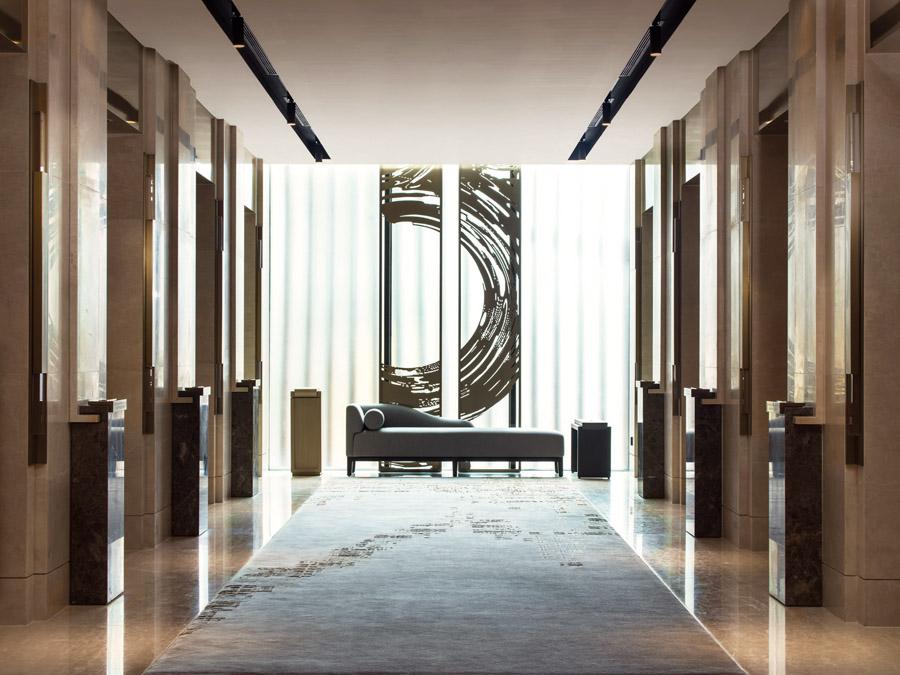 The design of Kerry Hotel is no small feat. The sizeable hotel spans 16 storeys with an entrance lobby that features eight-metre-high ceilings and floor-to-ceiling windows stretching 80 metres, revealing views of the hotel's waterfront terrace and garden to Hong Kong's stunning skyline beyond. Yet Fu brings to the property an intimacy that is found throughout his oeuvre, while imbuing the space with a lightness and flow that reflects its waterfront setting. In fact, much of the design is influenced by the hotel's location.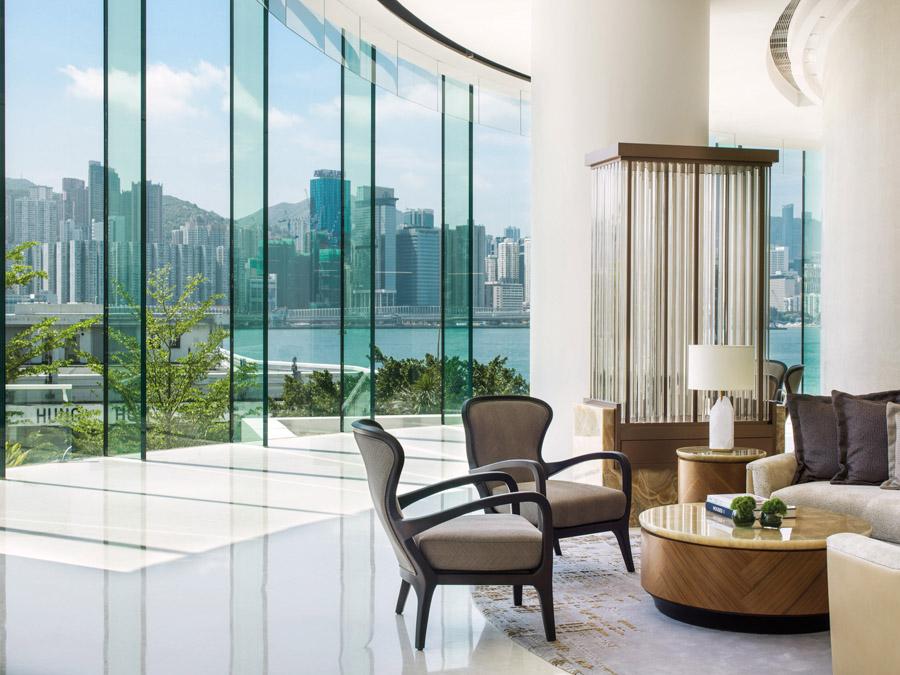 Sculptural and tactile, the curved marble walls are inspired by the fluidity of water. The palette is natural and muted with mauve, bronze and mineral grey furnishings enveloped by the warm beige marble walls. Bright, green plants bring the outdoors in, emphasising the close relationship between inside and out.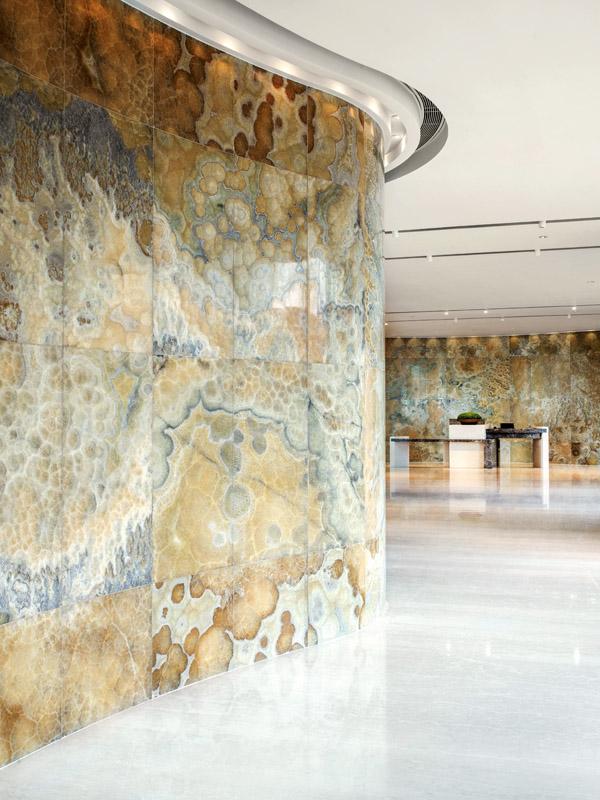 A pair of monumental bronze sculptures by Taiwanese artist Ju Ming connects the two areas, with one placed on the outdoor water feature and the other located inside at the base of the grand staircase. These sculptures form just part of a 1000-piece strong art collection on display throughout the hotel, with many specially commissioned artworks among them.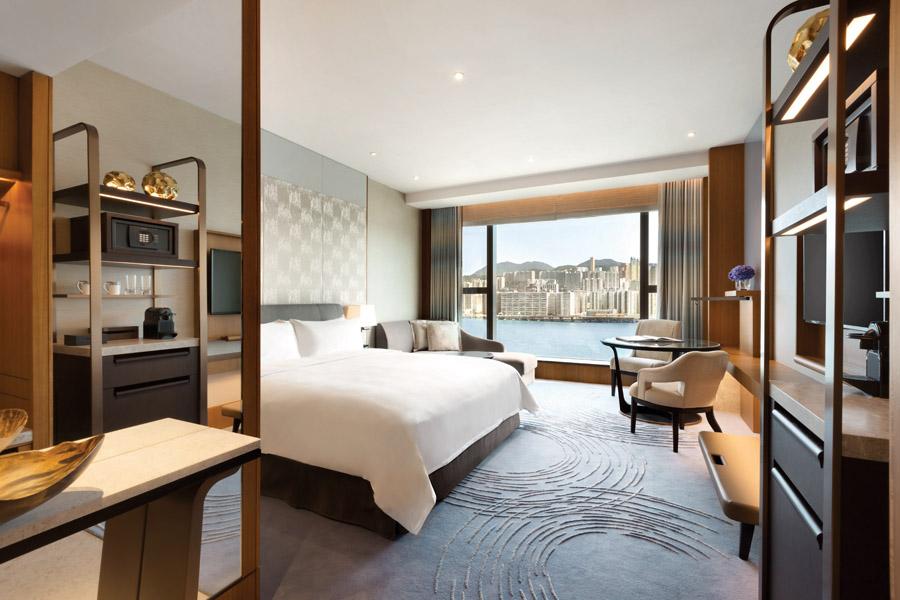 There are other nods to Kerry Hotel's location, not least in the design of its five food and beverage outlets, each of which includes both indoor and outdoor space overlooking Victoria Harbour. Take Hung Tong, a modern Chinese restaurant that not only draws inspiration from the heritage of the Hung Hom neighbourhood for its menu, but also for its interiors which hark back to the area's industrial past as a shipping yard. There are walls with exposed brickwork, vintage-inspired leather chairs and coloured-glass pendant lights, while a 1960s-era Hong Kong vibe is borne out in metallic window frames, wooden shelves and rustic carpets.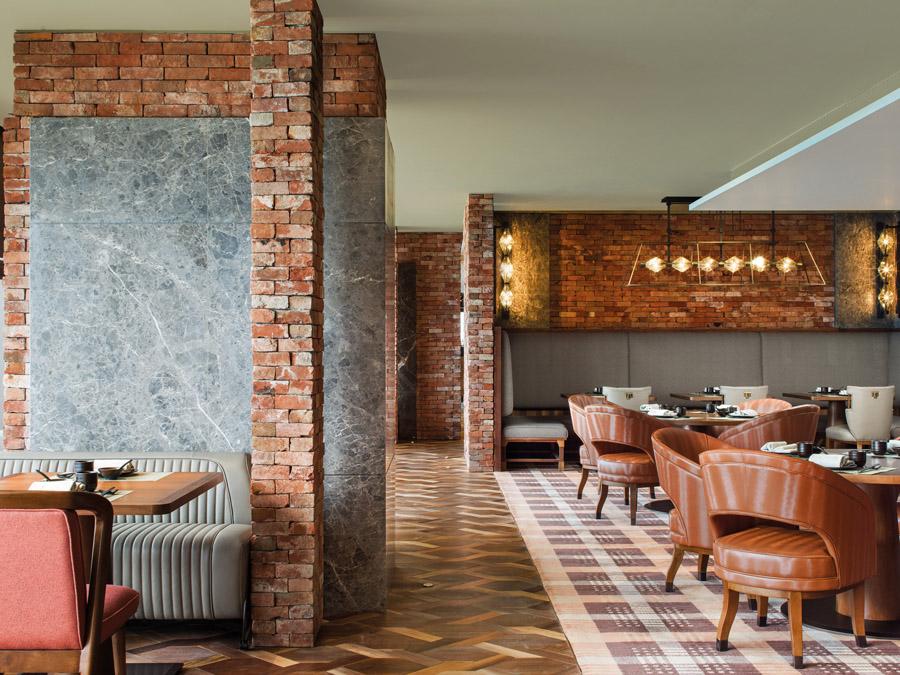 The bar, Red Sugar, also references the area's past through industrial-tinged brass detailing, yet it ensures one foot remains in the present with pieces like local artist Adrian Wong's contemporary neon installation. A large wraparound terrace uses timber, steel planters, and lush greenery to guarantee privacy for patrons without obstructing the hotel's superior views.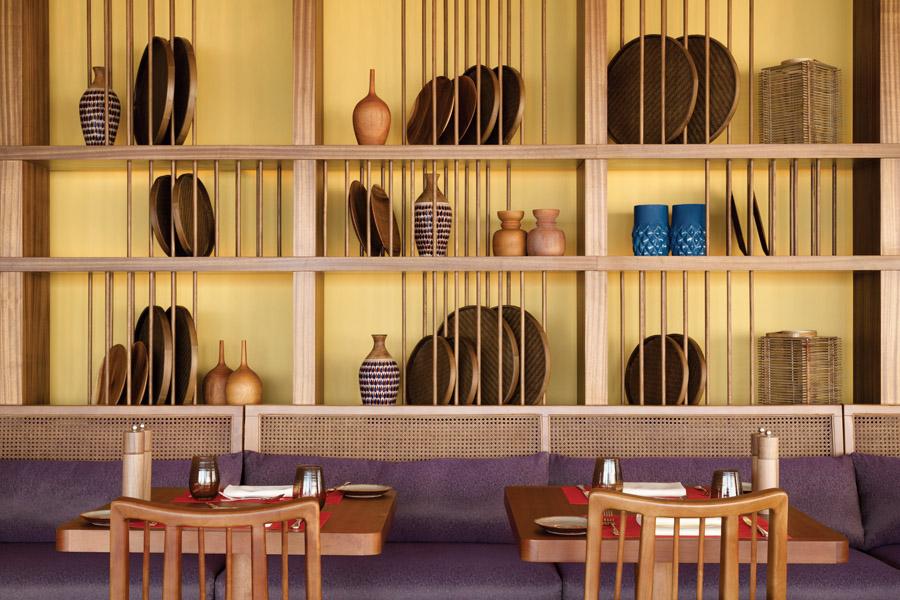 Kerry Hotel's design is subtly steeped in Hong Kong. But it's so spacious yet intimate as to feel a world away, too, with its outdoor landscaped gardens offering a rare escape. Is there anywhere better for staycationers to indulge? Unwind in the chic, sleek and harmonious guestrooms complete with Asian design references or beside the 25-metre infinity pool, both of which accord magnificent views that are familiar but nevertheless splendid. Kerry Hotel is a prime example of a luxury hotel whose sharp design elevates its appeal.