Interior and furniture designer Stéphanie Coutas' Parisian home is both a beautiful family abode, and a stunning gallery for her collection of Brutalist artwork.
Parisian interior and furniture designer Stéphanie Coutas' most recent project is her very own family home in a traditional 2,411 square foot historical Haussmannian building along Paris' verdant Esplanade des Invalides.
Coutas loved the interior architecture of the unit, which overlooked the Eiffel Tower, but felt the original layout was not as functional as it could be, so she reconfigured the space to create a more fluid and flexible floor plan.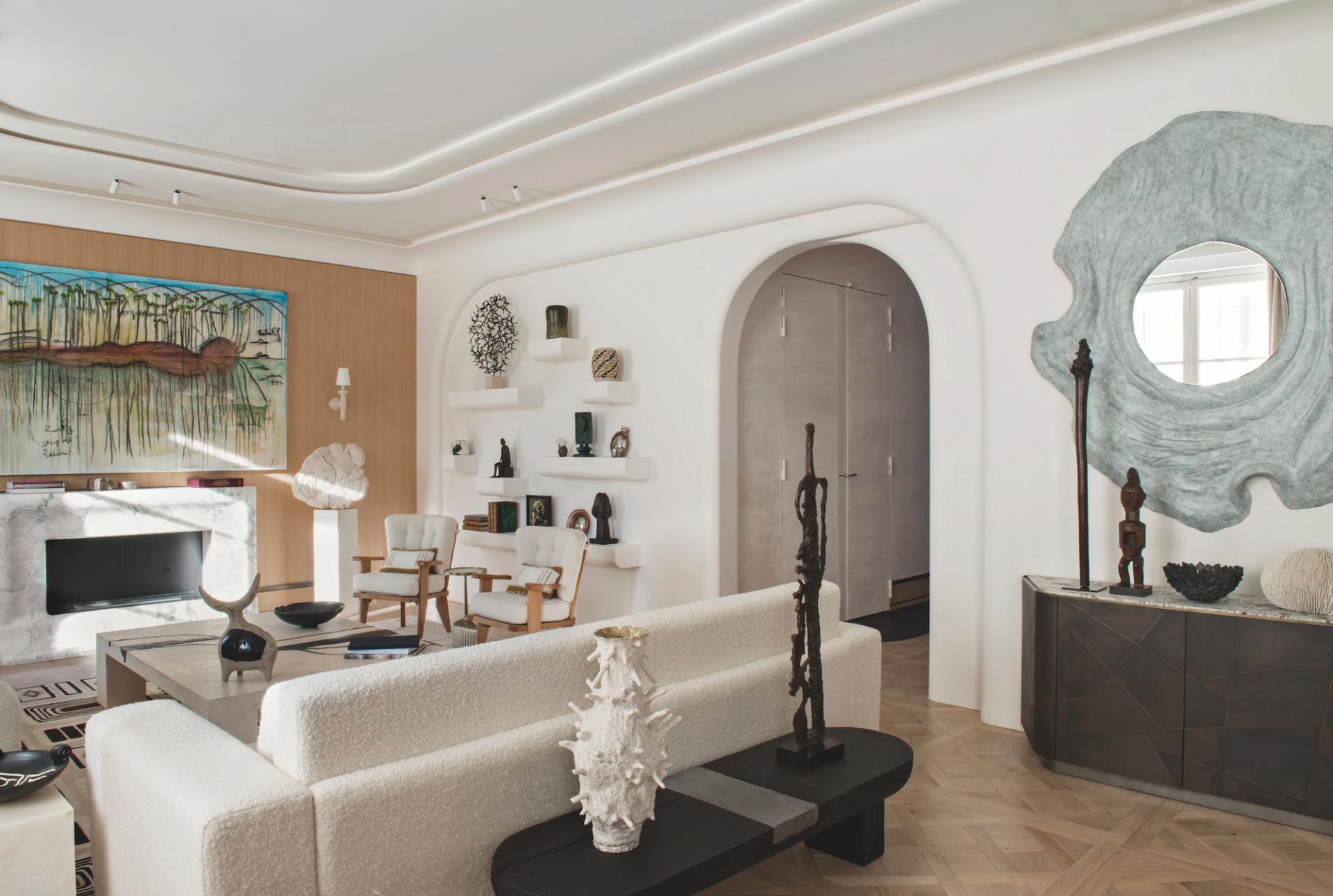 "We redesigned, rethought and broke down the original interior architecture of the apartment so we could install climate control, sound insulation, sound equipment, and other connected technologies," says Coutas, who equipped the study, master bedroom and dressing room with sliding doors so these areas can be cordoned off for privacy, but also opened to connect with the rest of the home.
Her aim was to create a warm and homely dwelling with a convivial setting for entertaining guests. It was also crucial the spaces beautifully showcased the artworks, sculptures and furniture that she has acquired over the years.
The property's high ceilings and large windows provide just the right amount of illumination for this purpose, so she has carefully positioned each piece of art in the right location to receive the best light.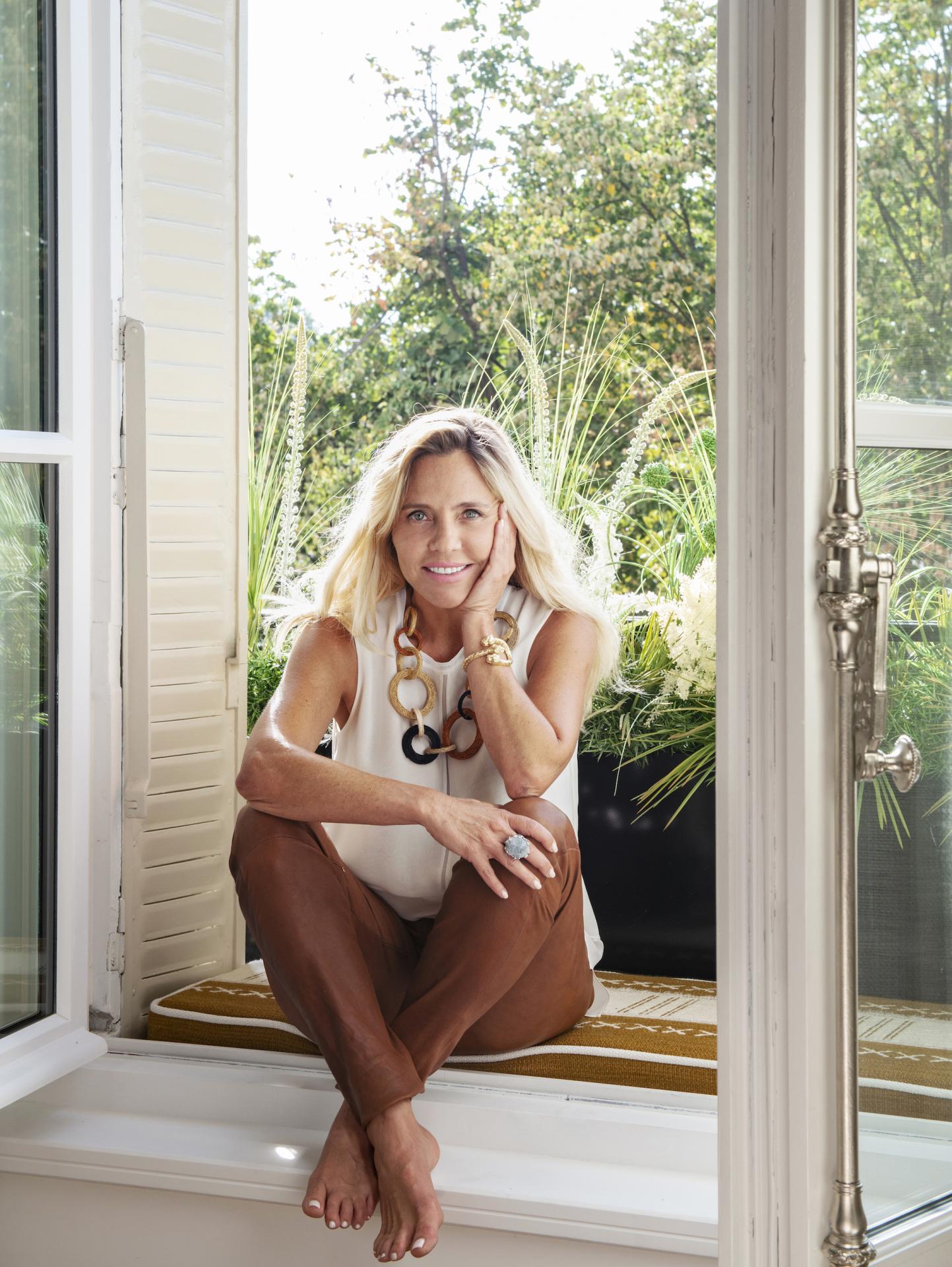 To create the ideal backdrop to display her prized collection of brutalist sculptures and furniture, she used an antique Versailles parquet for the floor and inserts of curved stone.
The new floor plan includes an entrance hallway, an open plan living and dining area, a kitchen, a study that can be converted into a guest bedroom, a master suite with an en suite bathroom and dressing room, and a second en suite bedroom for her son.
"Within the open plan layout, the sense of fluidity is reinforced by intertwining architectural elements throughout the design," she says.
"Asymmetrical curved arches surround the doorways and lava-paving inserts punctuate the pale oak Versailles-style parquet flooring throughout. This gives rhythm to the space, offering a strength and softness while delineating each functional zone within the open plan."
A textured sanded marble double door leads into the entrance hallway of the apartment, and this material is reiterated in a console that she designed for this space. A neutral palette, large dome chandeliers, and a three-dimensional artwork above the console, work together to create a dramatic, but sophisticated first impression. Across from the console is a curved wall that opens up the hallway so light can enter from both sides.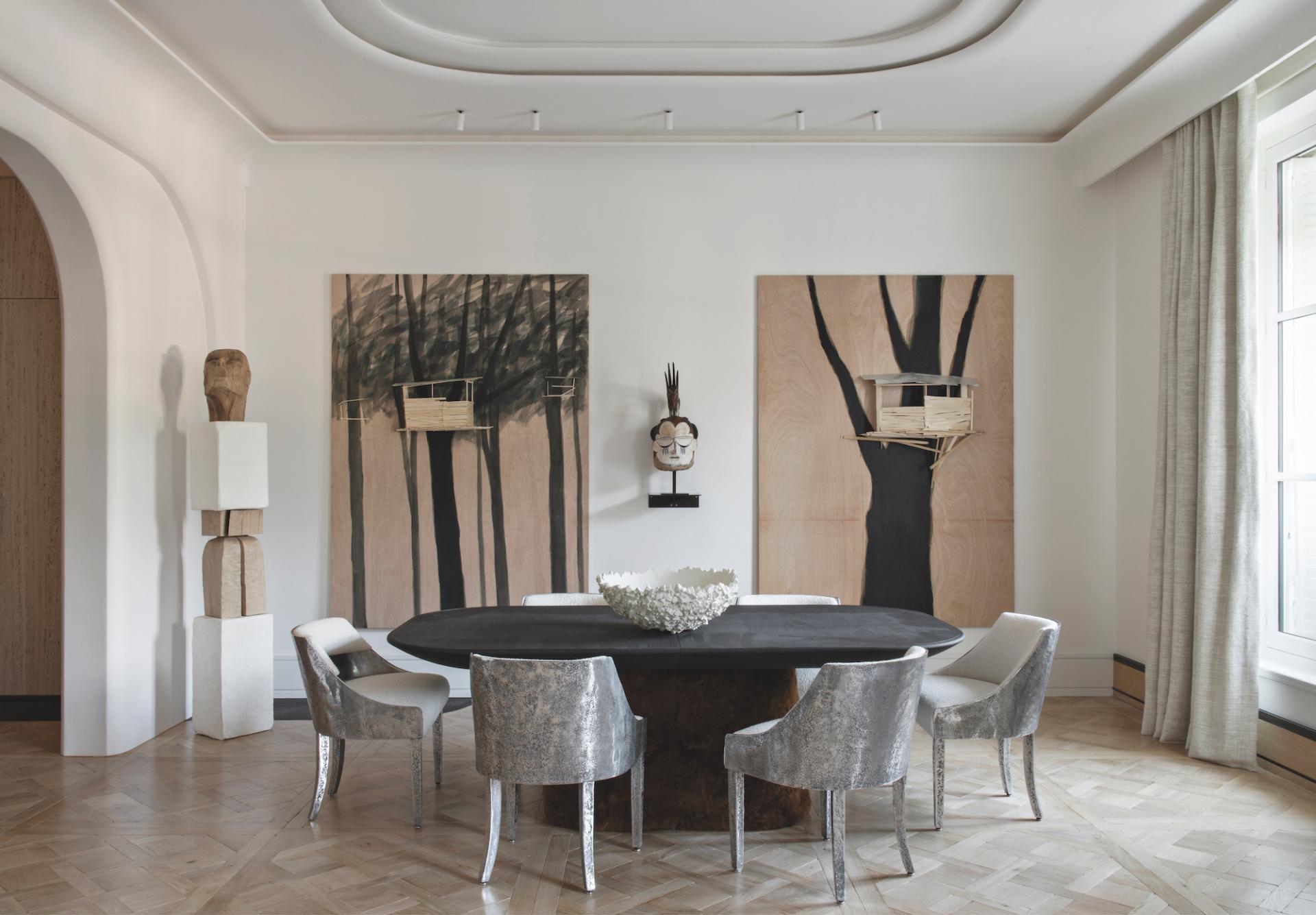 A monolithic brutalist-inspired modular dining table with a base that can be clad in fur in winter and straw in summer allows for the atmosphere in the dining room to be altered with the changing seasons. Accompanying this dining table are texturally striking aluminium-encased Clélia chairs. Both the table and chairs were designed by Coutas.
On the wall are mixed-media artworks by Japanese artist Tadashi Kawamata, and a late nineteenth century tribal sculpture from Congo.
In the living lounge, above a sculptural modern marble fireplace, hangs a painting by Fabrice Hyber that's flanked on both sides by pedestals displaying sculptures by artists Coralie Bonnet and Simone Pheulpin. The painting and sculptures are delicately lit by Christian Astuguevieille rope sconces.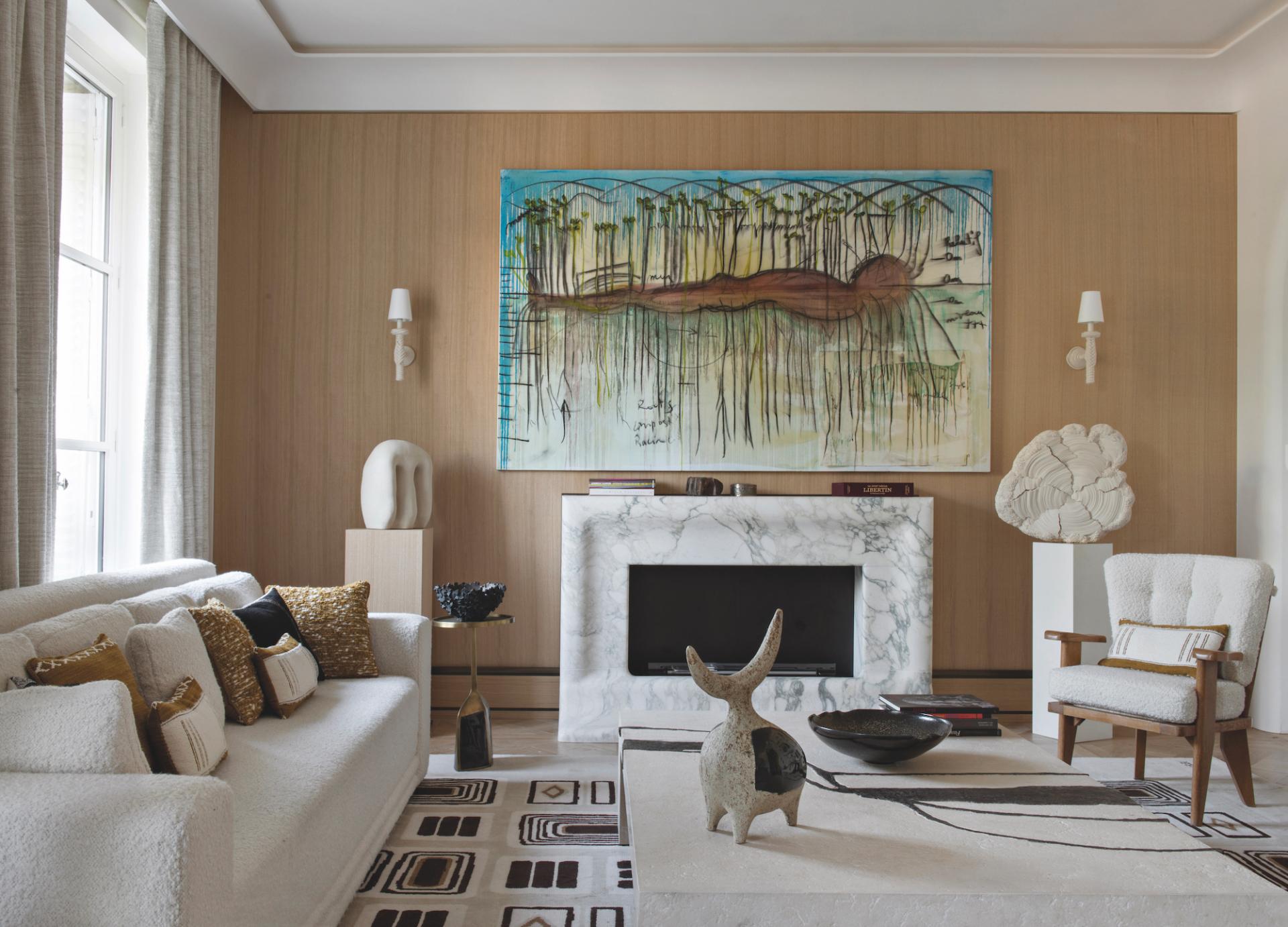 Within this area, a sculptural bookcase and the asymmetrical Minos mirror from Coutas' own collection echo the curved elements of the entrance hallway, and a marble and bronze coffee table and sofa – both also designed by Coutas – complement a 1950s Guillerme & Chambron wood and wool bouclette armchair.
In the kitchen, travertine was used for flooring, and "white beauty" marble in swirling sea greens for the counters and lower cupboards. Oak was used for the upper elements and the bench and table of a breakfast nook. Stools in glazed stoneware by ceramicist Marc Albert complete the breakfast nook ensemble. Above the oak bench is a painting by Wang Yan Cheng.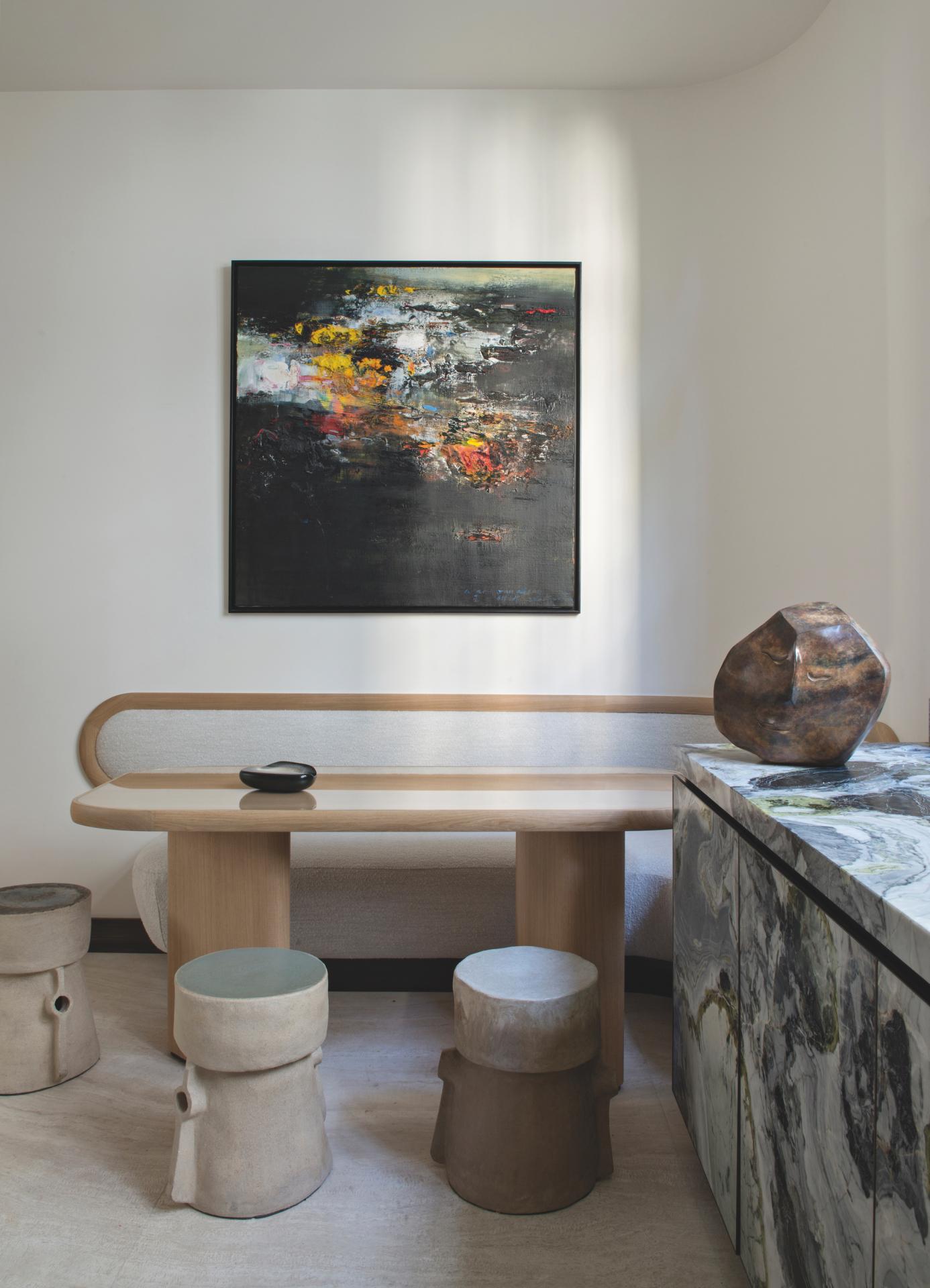 The study, which can double up as a home cinema or a guest bedroom, features brass and oak accents; a wall relief sculpture of olive trees made from a combination of plaster and marble powder; a desk signed by Charlotte Perriand, and Pierre Jeanneret, of Maison Dumas; a Leda armchair sculpture by Salvador Dalí; and a L'Oeil coffee table by Pierre Chapo.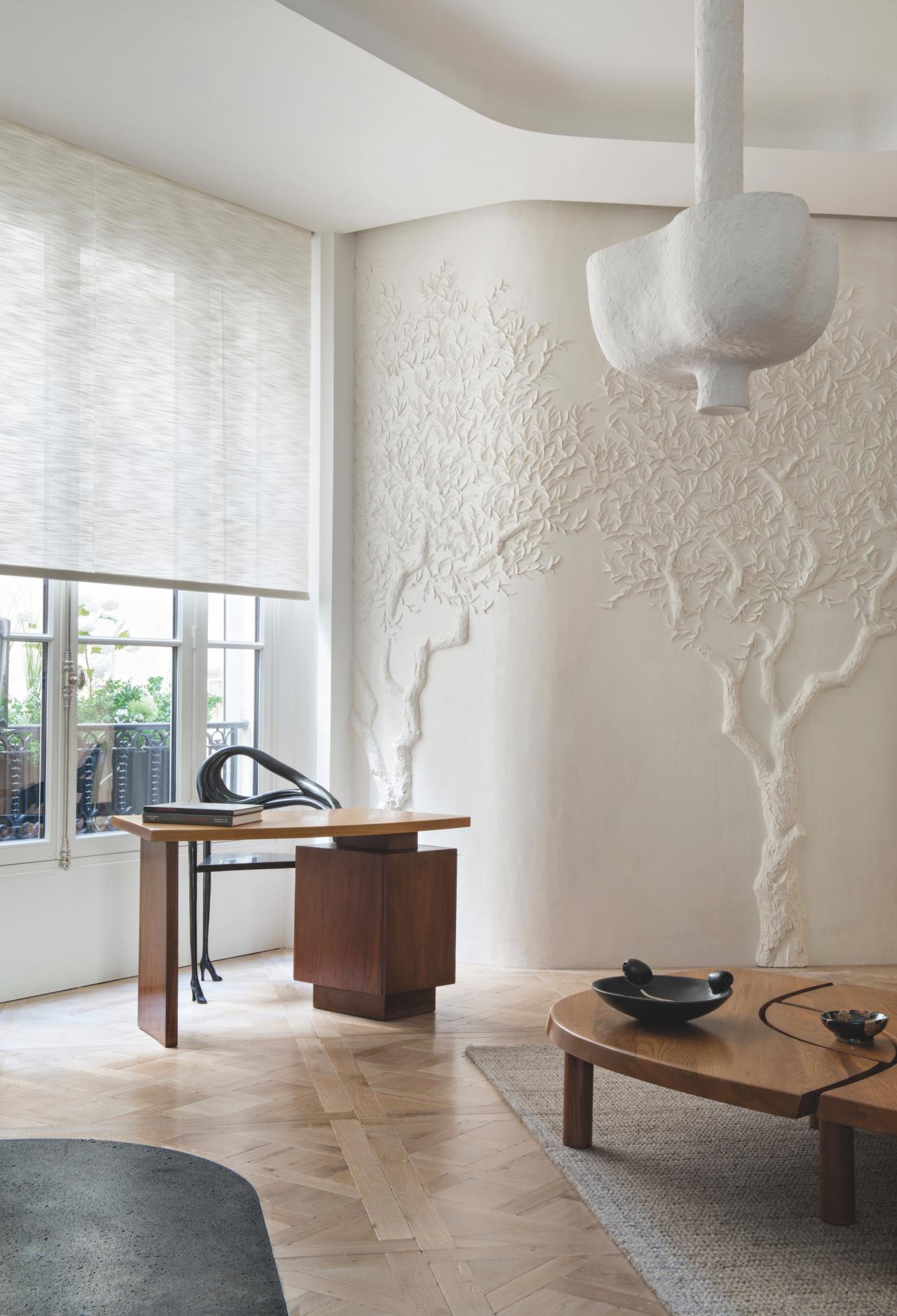 "I developed the olive tree wall relief sculpture from a design idea I had three years ago in collaboration with a sculptor friend. This element of the design creates a strong, yet whimsical base, allowing for sophisticated furniture and décor to surround it," Coutas says.
For the master bedroom, she used a variety of different tactile fabrics in light cream colours to create a clean and cosy mood. The master bathroom is connected to the bedroom via a set of marble inserts on the floor. This bathroom is covered from floor-to-ceiling in a timeless Italian Arabescato Corchia marble with oak white glitter high-gloss varnish fittings, and includes a plant wall by Parisian landscape architect Sébastien Habert.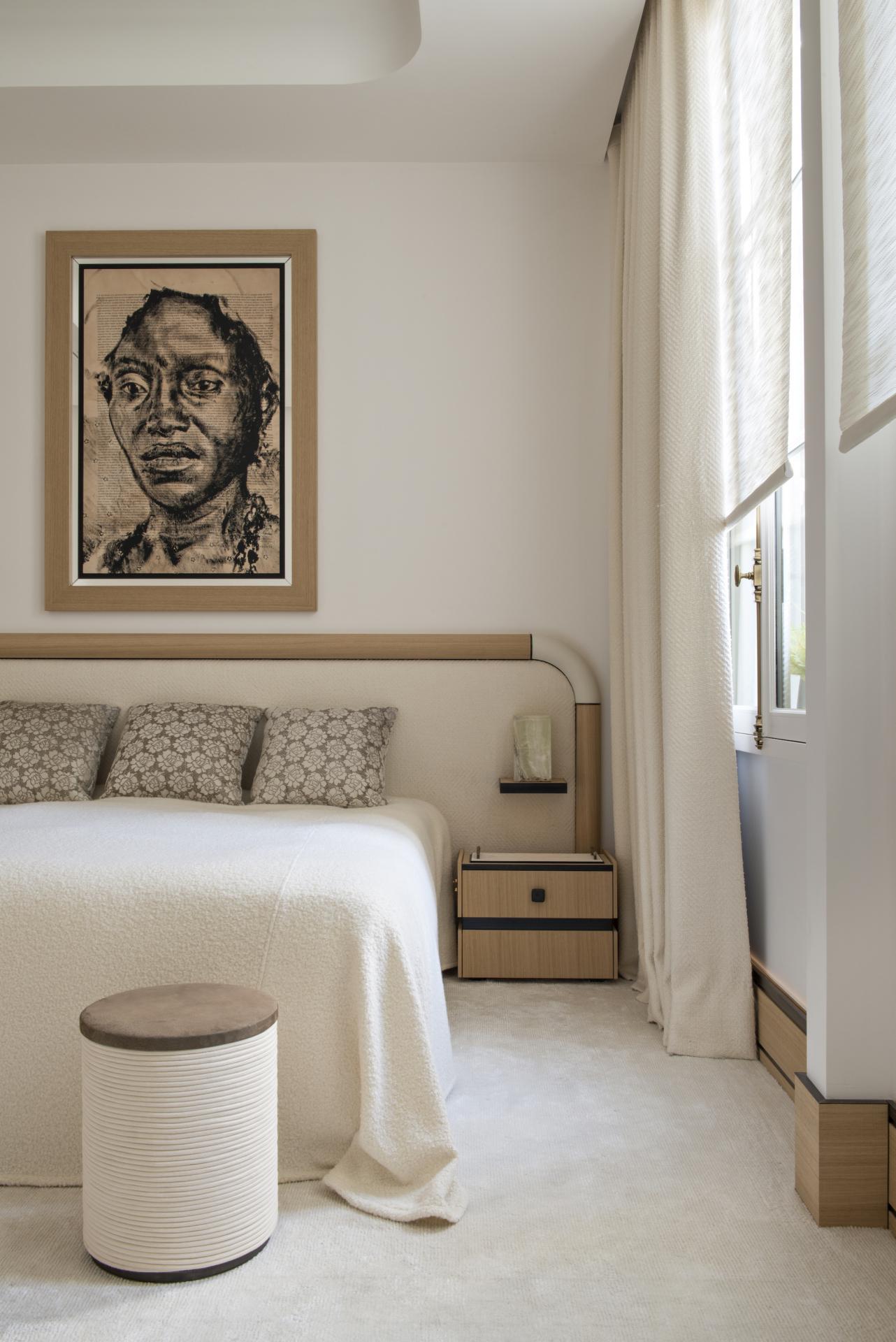 The dressing room is clad in made-to-measure high-gloss finished wood and has a mirrored ceiling. The second bathroom is clad from floor-to-ceiling in striking made-to-measure Fantastico Arni marble.
"I mixed vintage and contemporary pieces to give our home the charming and delicate, playful, yet sophisticated atmosphere that I like to create in my projects," she says.
"This home reflects my creative universe and my passion for beautiful craftsmanship and art. As my family home, I love how the uncluttered spaces evoke a joyful and peaceful mood, while allowing us to enjoy extraordinary views of the Eiffel Tower.‭ ‬