Most people dress their homes with arts solely for decorating purposes. But art can do so much more than just visual spice if curated properly.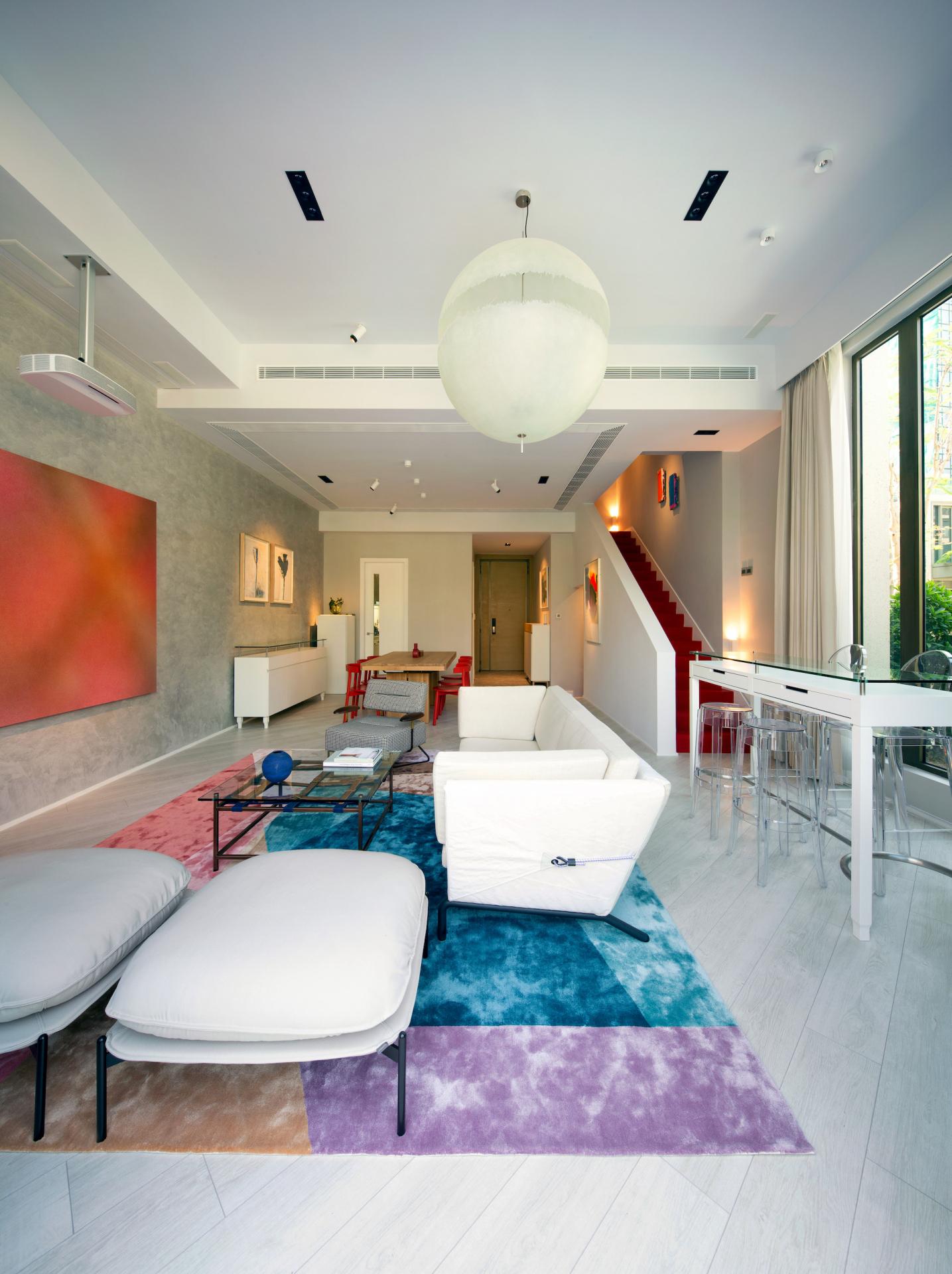 Local design firm PplusP Designers has turned a two-storey abode in Beacon Hill into a gallery-like home for a well-travelled art collector, who has been looking for a place to store and to showcase an impressive collection of art she has amassed over the years. Vibrant and diverse, works from different eras and countries are purposefully arranged throughout this 1,802-square-foot space as a form of storytelling that speaks to the homeowner's diverse backgrounds.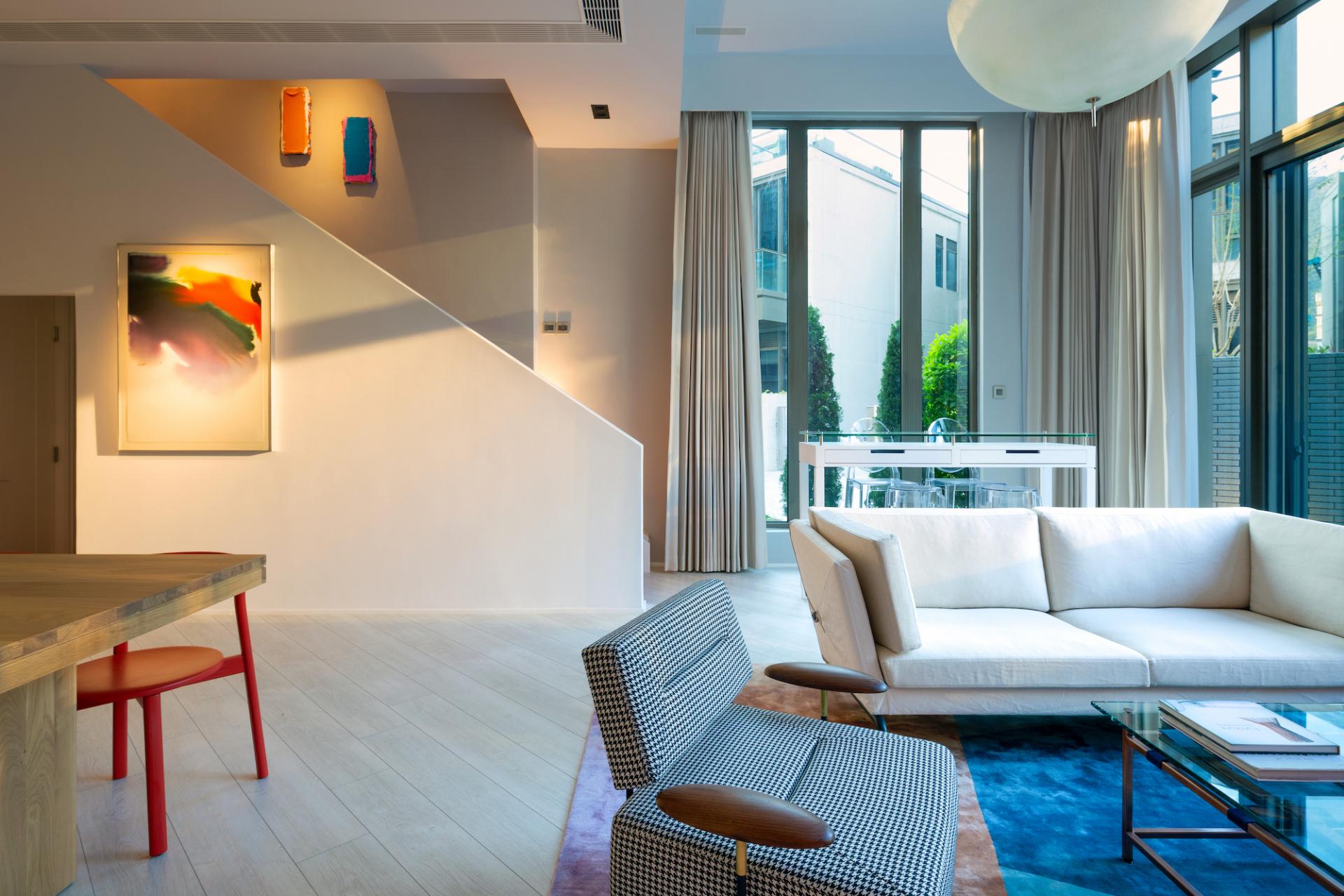 "As a Chinese art lover who grew up in the U.S and now back to Asia, the client was looking for a home that serves as a reminder of her life's journey," says Wesley Liu, design director at PplusP Designers.
"To form a transitional aesthetic from the West to the East, we fashion the lower floor with Western paintings and sculptures and leave the upper floor for Chinese art, so when you tour the house, you get that experience of a cultural shift."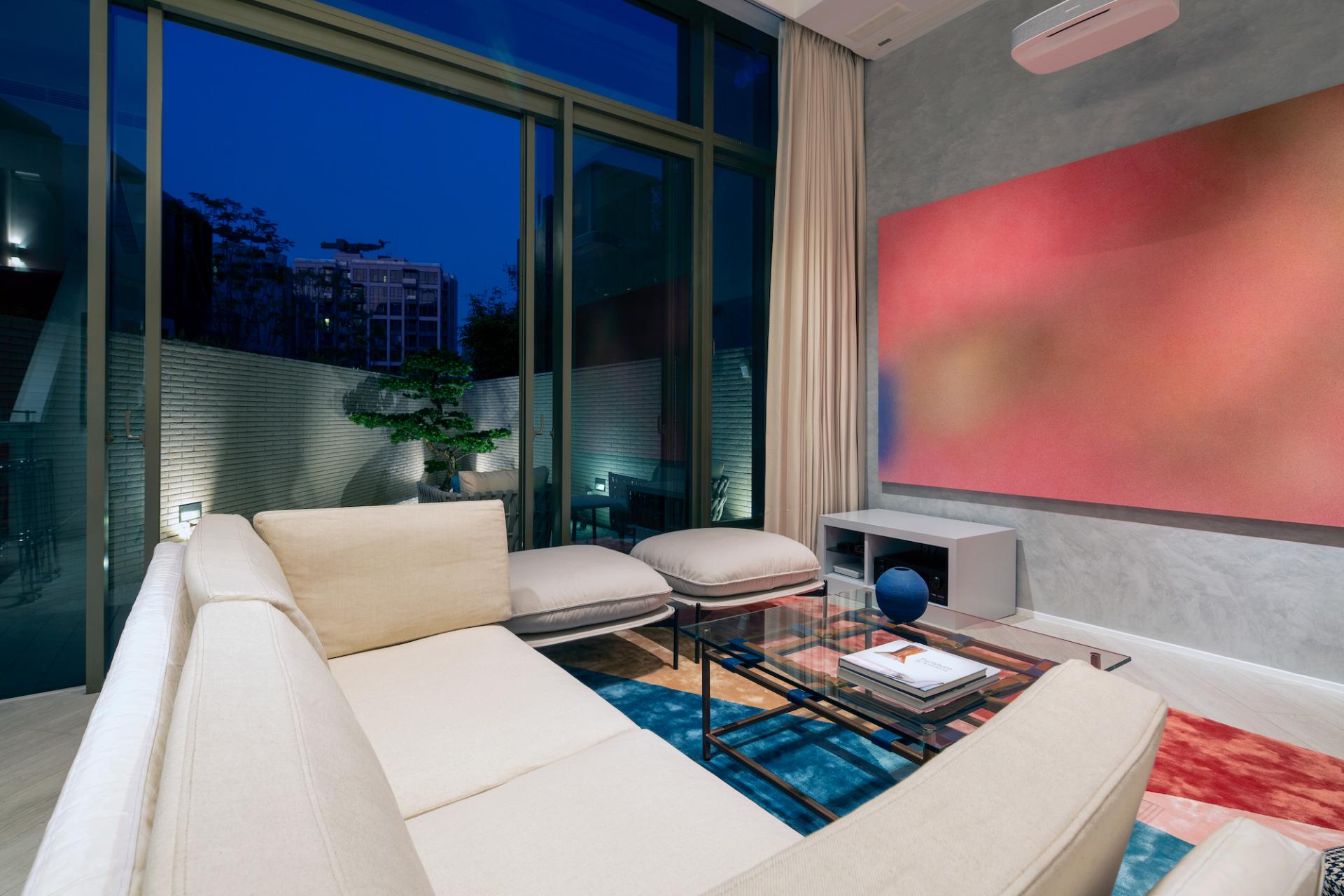 In the living room, a grey accent wall serves as a backdrop to the conceptual "Reproductions (Metronomie, #1)" (2018) by French artist Isabelle Cornaro. It is illuminated by the statement-making Postkrisi 66 Suspension Lamp from Catellani & Smith, which casts branching shadows on the wall and ceiling when interacting with light. The dramatic quality is offset by the creamy Bowline Sofa (2016) from Stephen Kenn Studio, and the chequered QT Chair (2012) from Stellar Works launched in 2012.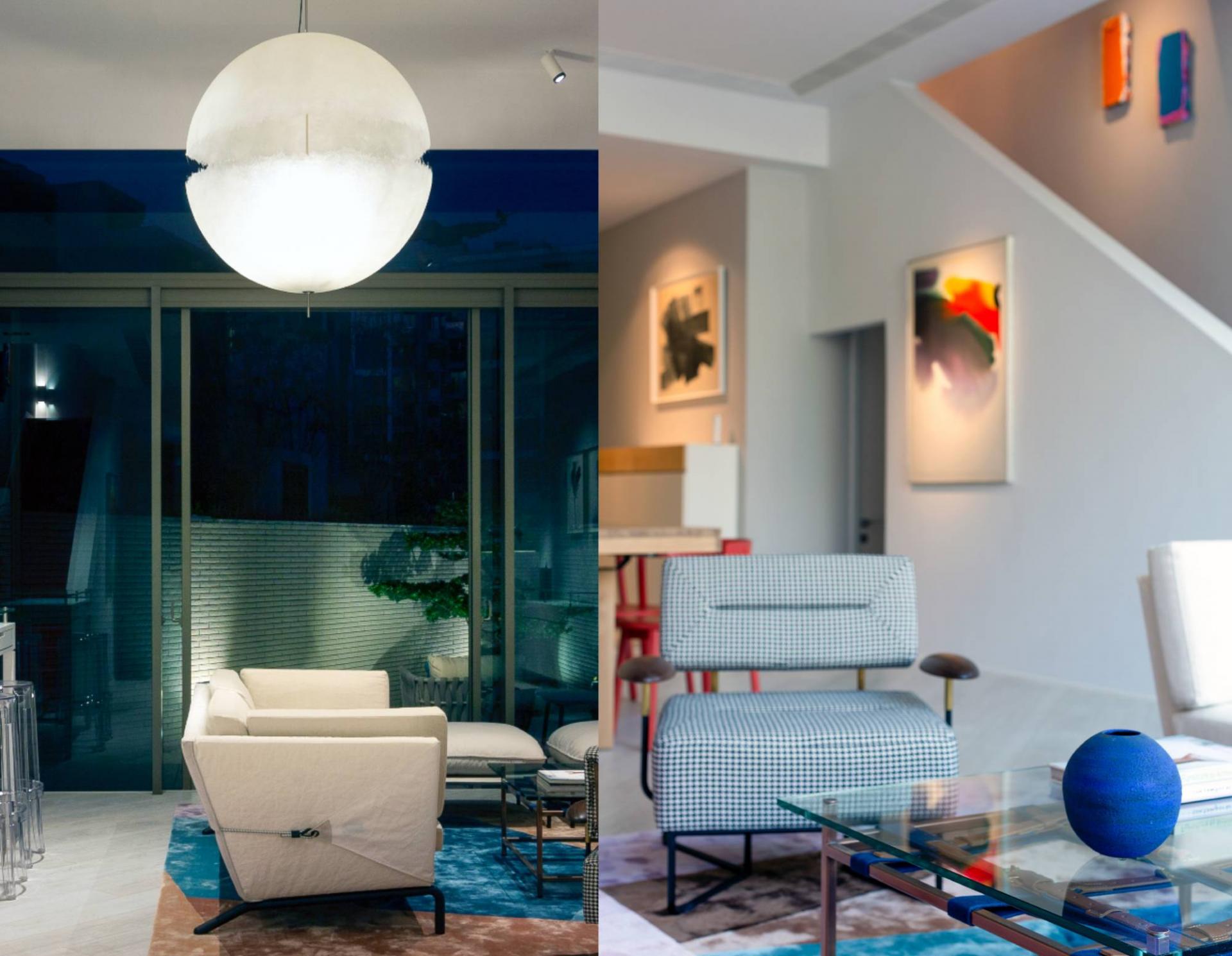 "The client wanted a home that reflects her personality – tough on the outside but soft on the inside," the designer continues. "So we've incorporated a bold use of red throughout offset by muted wall paints with wooden accents to achieve a balance between tough and soft, strong and resilient."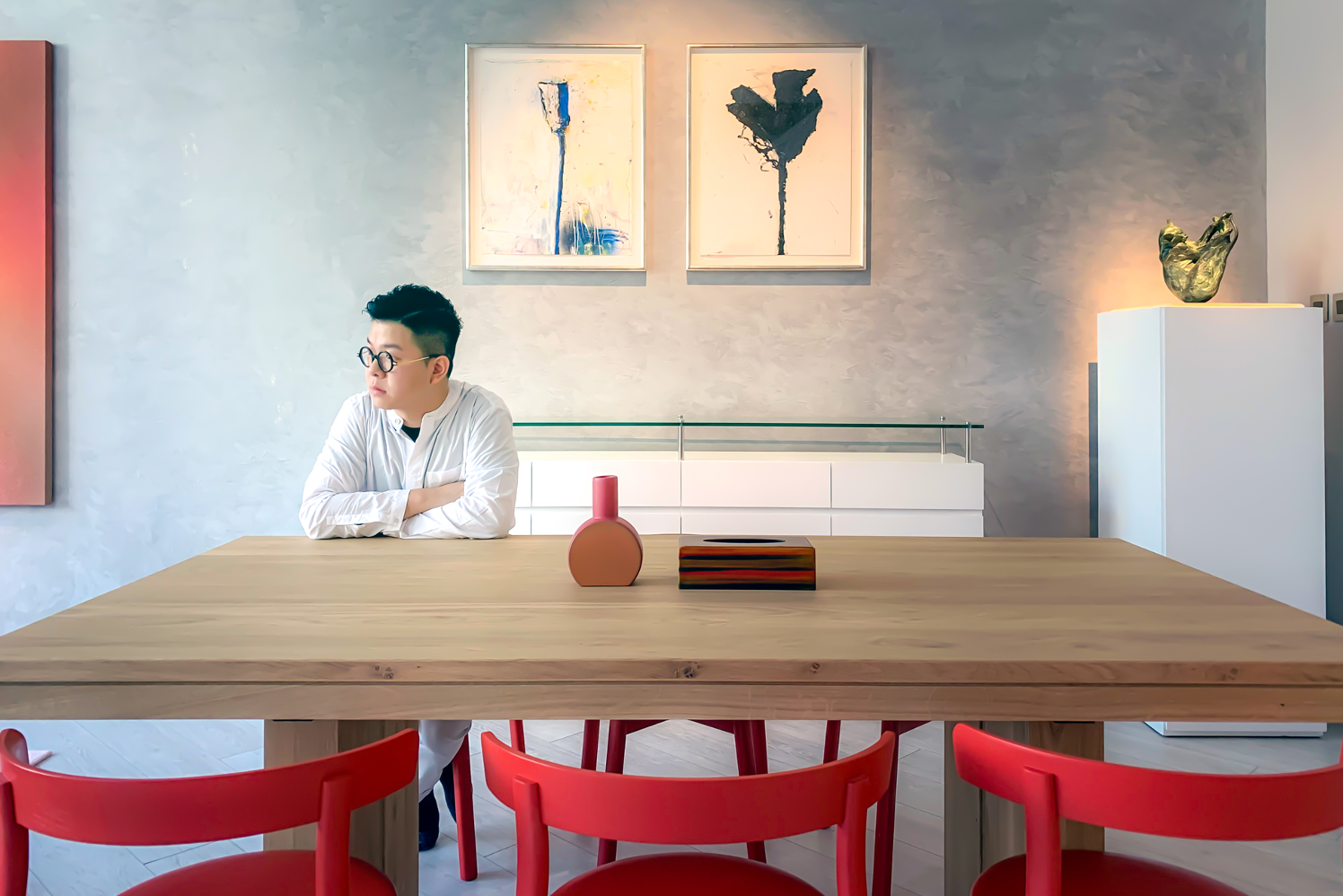 Over to the adjoining dining area, Paul Jenkins' "Phenomena X Marks The Spot" (1979) takes centre stage, complemented by Robert Baribeau's twin paintings (2004-2005) on the opposing wall and a Dylan Lewis sculpture "Sleeping Oriental Cat I" (1998) which occupies a quiet corner.
Yet, the focal point of the home goes to the crimson staircase – a feature the homeowner adores the most.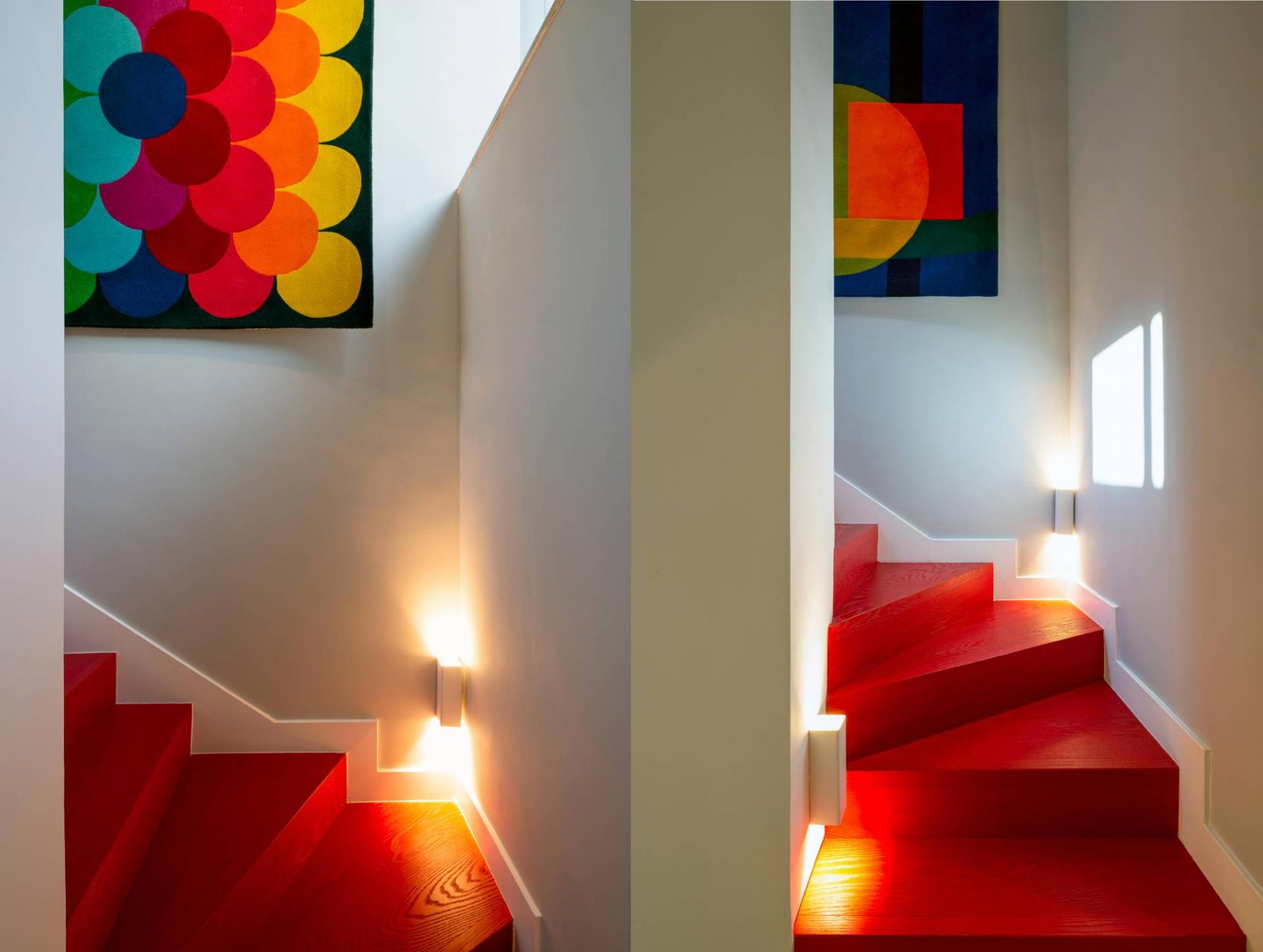 "The client specifically asked for a staircase reminiscing the red carpets of Hollywood that makes her feel special and pampered every time she walks up," notes Liu. This is where the convergence of West and East takes place, flowing from the abstract painting "Phenomena X After Light" (1968) by American artist Paul Jenkins to the wall sculpture "Untitled T2, T5" (2018) by Chinese artist Ma Shuqing.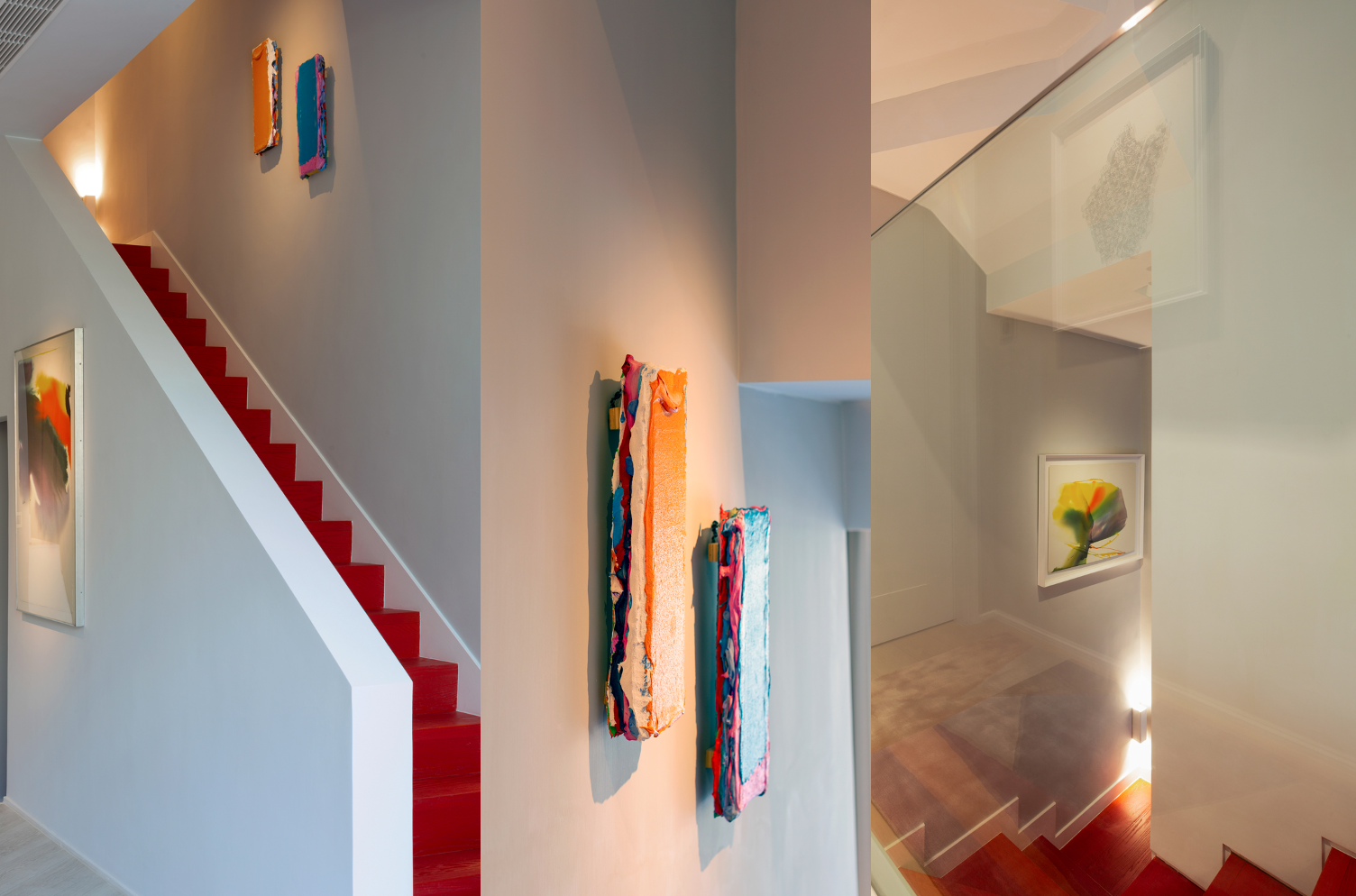 Upstairs, light grey walls and wood panel flooring carries through the gallery-like backdrop to showcase an assemblage of Chinese artworks, including a set of "Calligraphic Inscriptions from Longmen Grottoes" herking back to Northern Wei Dynasty (Circa 483-510) at the corridor, and the abstract "Reverberations In Vast Mountains" (2018) by Koon Wai Bong in the master bedroom.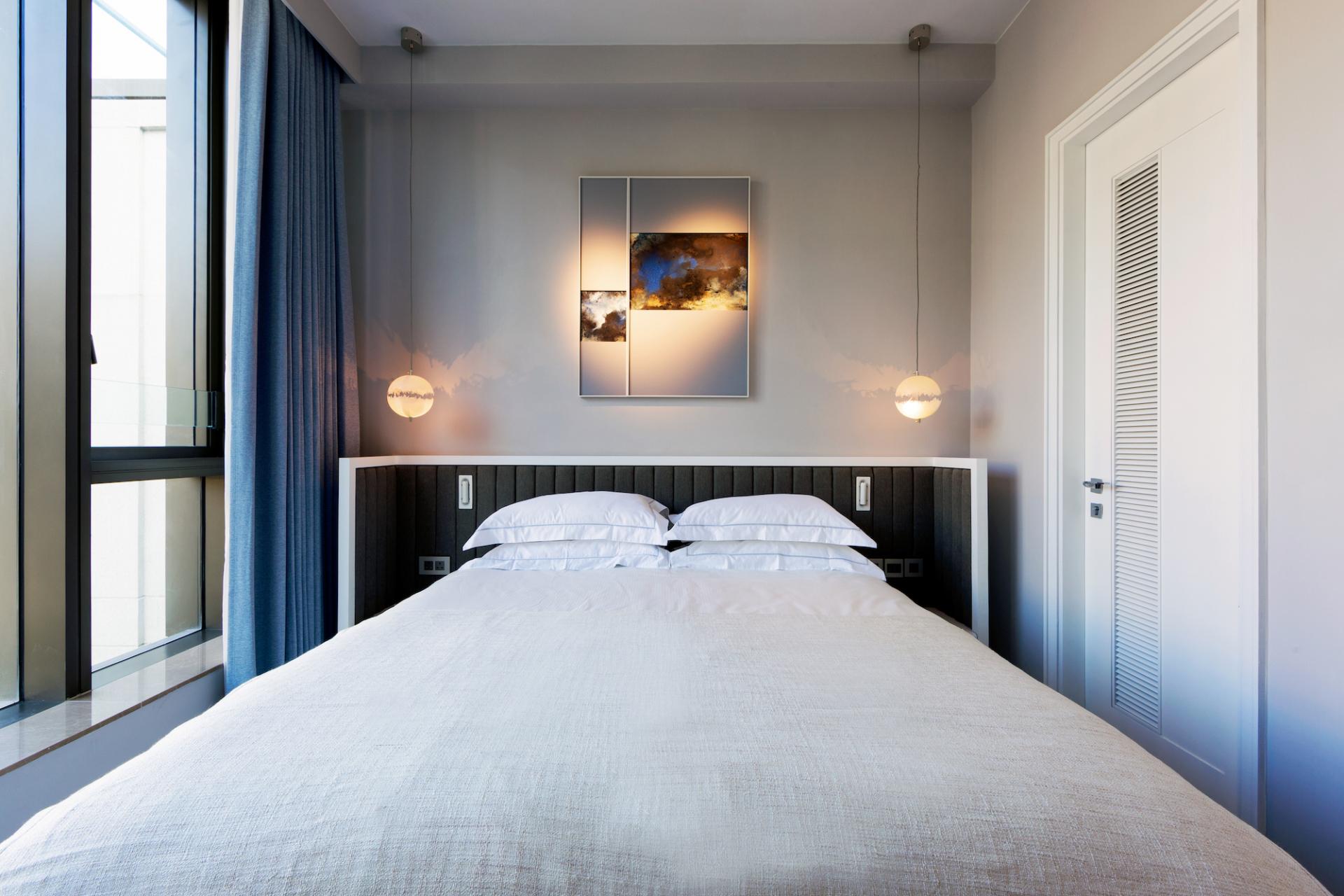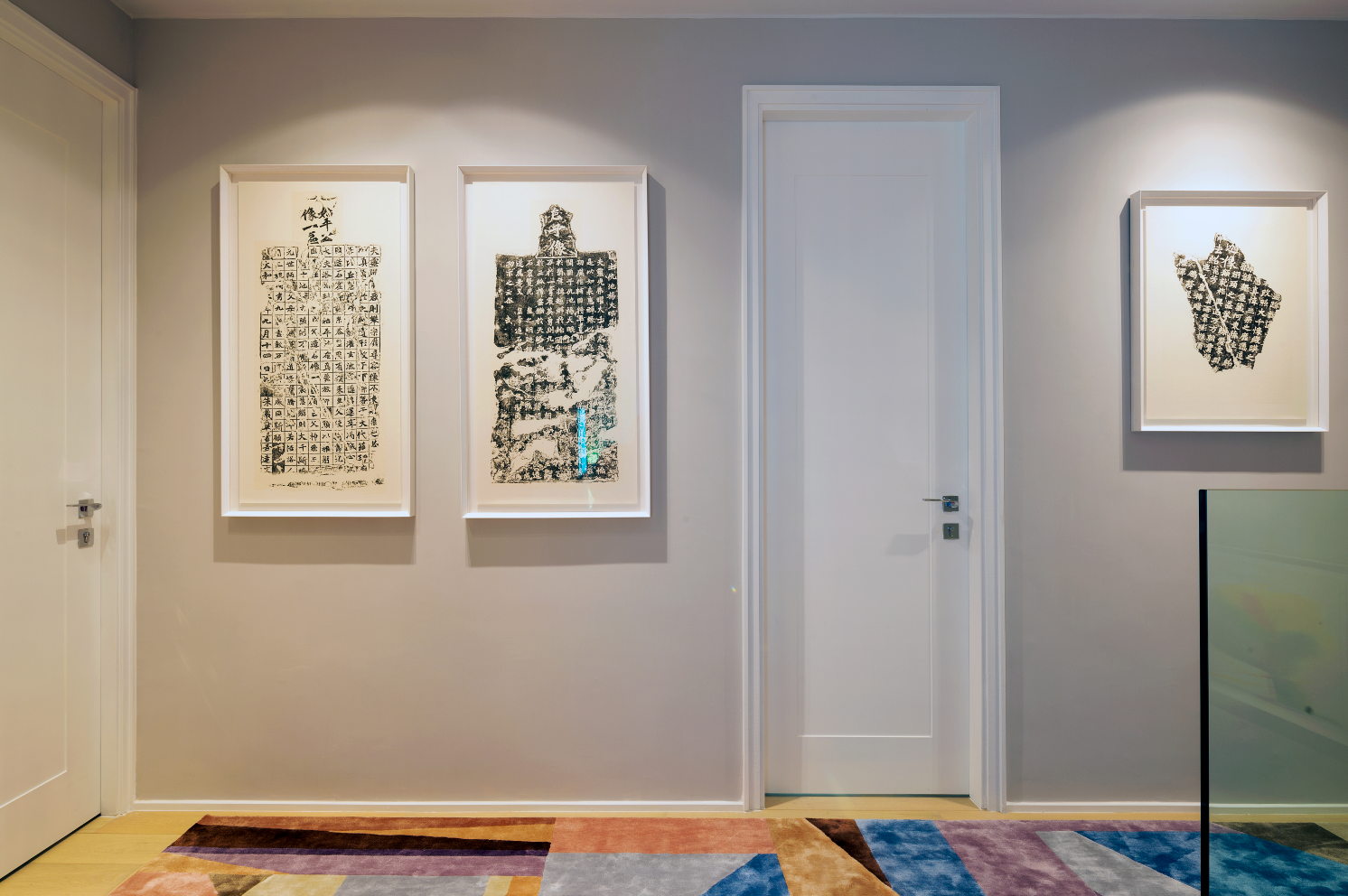 With all the moody paintings and vibrant shades dominating the interior, the homeowner decides to go Japanese Zen for her 465-square-foot rooftop, which is now a tranquil sanatory fitted with a bonsai and a live edge bench on gravel stones, paired with patio sets for unwinding.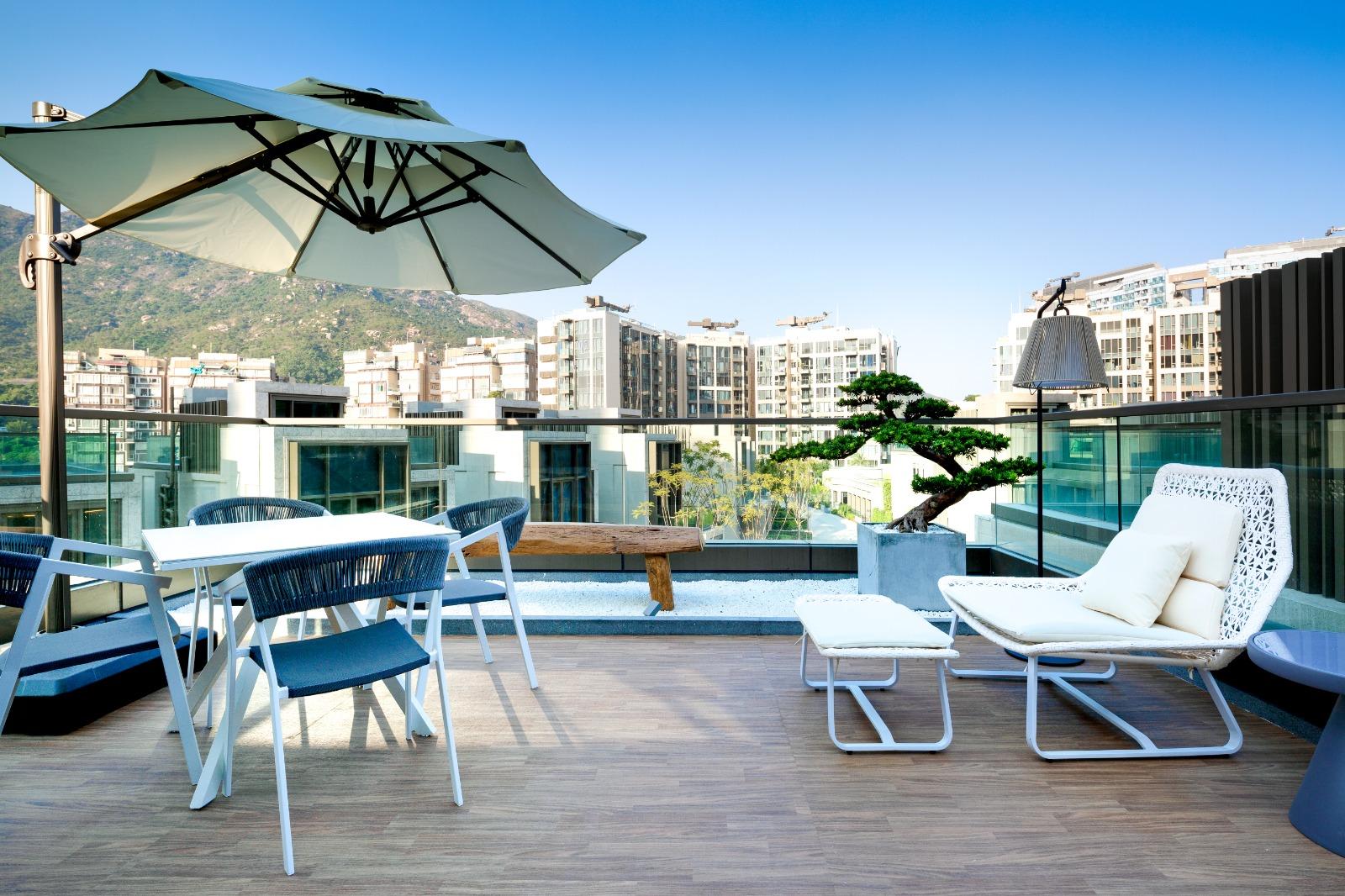 The project is done by PplusP Designers
Address: Unit C2, 11/F, Hoi Bun Industrial Building, 6 Wing Yip Street, Kwun Tong, Kowloon
Tel: (+852) 3590 3340
Website: https://ppluspdesigners.com