A faint breeze rustles the needles of a wizened pine tree, which extends a tender bough over a channel of raked pebbles and towards a boulder bordered by shores of moss.
A wayward sunbeam warms a patch of a handcrafted tatami mat, teasing out the distinctly transportive scent of woven igusa straw. These elements form a zen microcosm within a whitewashed courtyard and an adjoining meditation room – yet they aren't nestled within an Edo-period machiya townhouse in Kyoto's Higashiyama district, but in a two-storey, 7,500sqft family residence on Victoria Peak, occluded by forest on all sides.
Indeed, Japan's cultural capital is a frequent reference in this home of two devout Buddhists who are frequent travellers to Kyoto, as well as their young daughter. Deferring to the design talents of husband-and-wife duo Jason Yung and Caroline Ma of Jason Caroline Design, the homeowners sought to transform their property – a rarity in Hong Kong for its relative seclusion and abundant outdoor space – into a personal nirvana that's separated from the chaos of the city below.
See more: This five-storey home is filled with art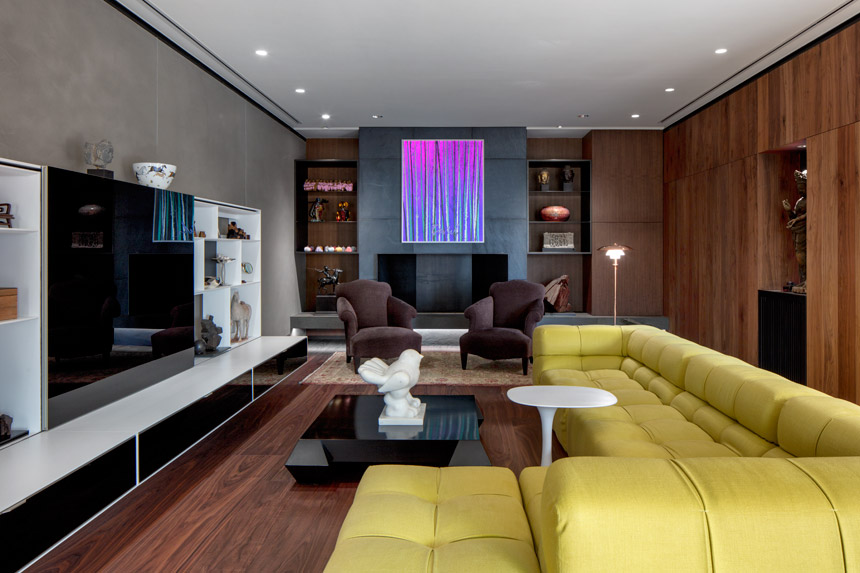 "When we were in architecture school in the '80s, we were all influenced by Japanese architects of that era, so we understand the traditional Japanese style well," explains Yung. Yet he's quick to distance himself from calling it a Japanese home, instead referring to it simply as "zen minimalist design – an empty, minimalist type of approach."
Even then, this label threatens to oversimplify the aesthetic that, upon closer inspection, unfurls a cornucopia of details. Past the front entrance, the level bifurcates into upper and lower levels – the stair bannisters leading upwards featuring a complex, abstract leaf pattern cut from a sheet of metal, while the downward stairs are accompanied by a "handrail" reminiscent of the sacred shimenawa rope that's traditionally hung over the torii gates of Shinto shrines.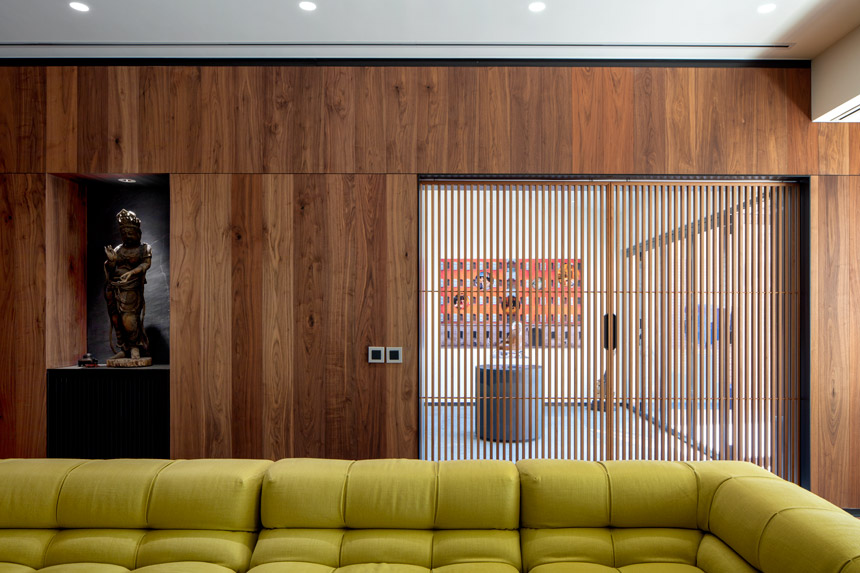 It's not so much Japanese as zen minimalist; it's an empty type of approach.
Intentional connection defines the floor plan. Since cooking is a favourite pastime for the family, the kitchen serves as a nexus of sorts, connecting to the zen garden and the dining room, which in turn connects to the organic garden in the backyard.
The home theatre, meanwhile, is demarcated from the study by locally sourced shoji sliding paper doors, while the master bedroom's high volumes allowed Yung and Ma to create a mezzanine level for a TV lounge.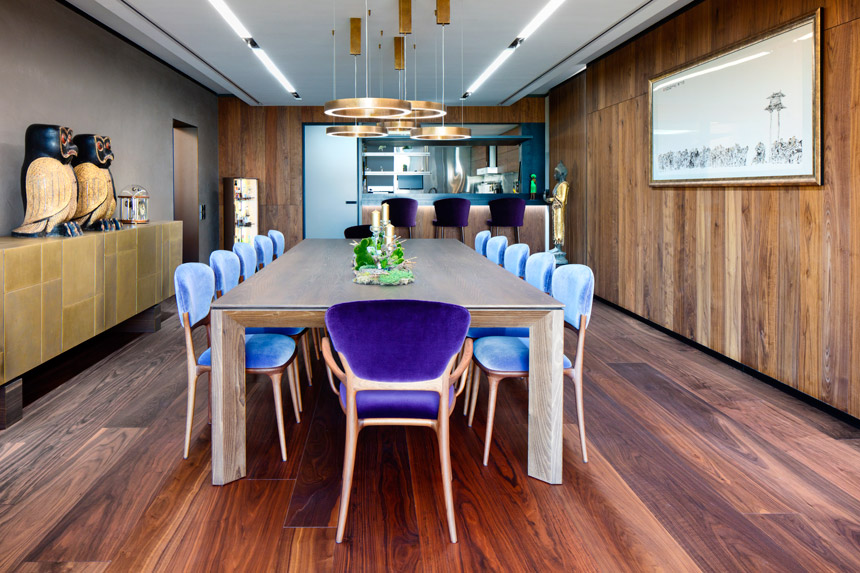 Perhaps the most jealousy-inducing aspect is the daughter's bedroom; thanks to a similarly ample ceiling height, it's able to accommodate a loft that can be reached via a bouldering wall, thus adding a third dimension to the space.
See more: Street art takes centre stage in this sprawling home on The Peak
Throughout, Yung and Ma also sought to connect the home's inhabitants with the surrounding nature using windows and skylights as framing devices – a design choice that harks back to the famous Windows of Enlightenment and Confusion at the Zen Buddhist temple of Genkō-an in Kyoto.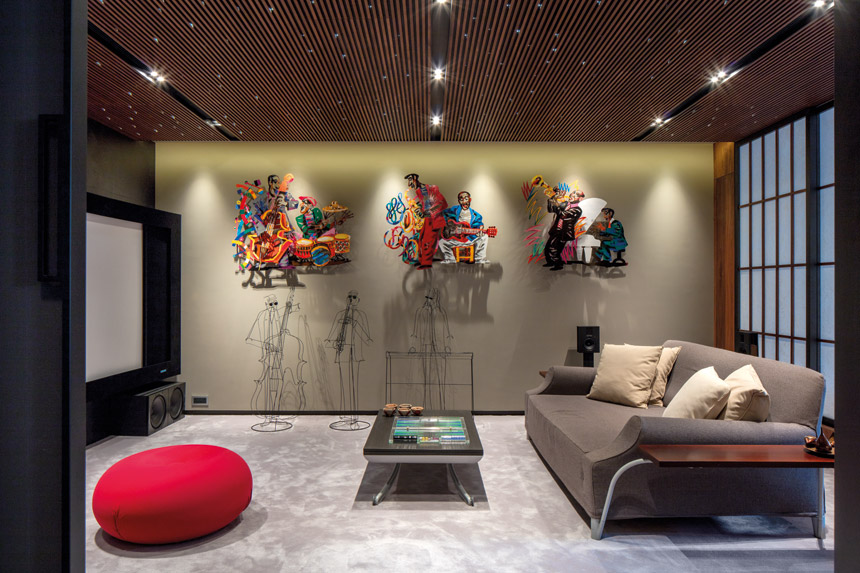 We don't have to be a millionaire to design for a millionaire, but we need to get into their life.
The monastic atmosphere continues inside the living room, with its prodigious use of walnut walls and flooring, but stops short of becoming overly austere thanks to an unmissable lime-green Tufty-Too sectional designed by Patricia Urquiola for B&B Italia.
On their nuanced approach to designing these interiors, which needed to function as a luxury home as much as a religious sanctuary, Yung explains, "We don't have to be a millionaire to design for a millionaire, but we need to get into their life." In the same vein, it doesn't take a devout pilgrim to foster a sense of reverence for this deeply purifying abode.