How do you get your new home renovated without ever stepping into the home or meeting the design team in person?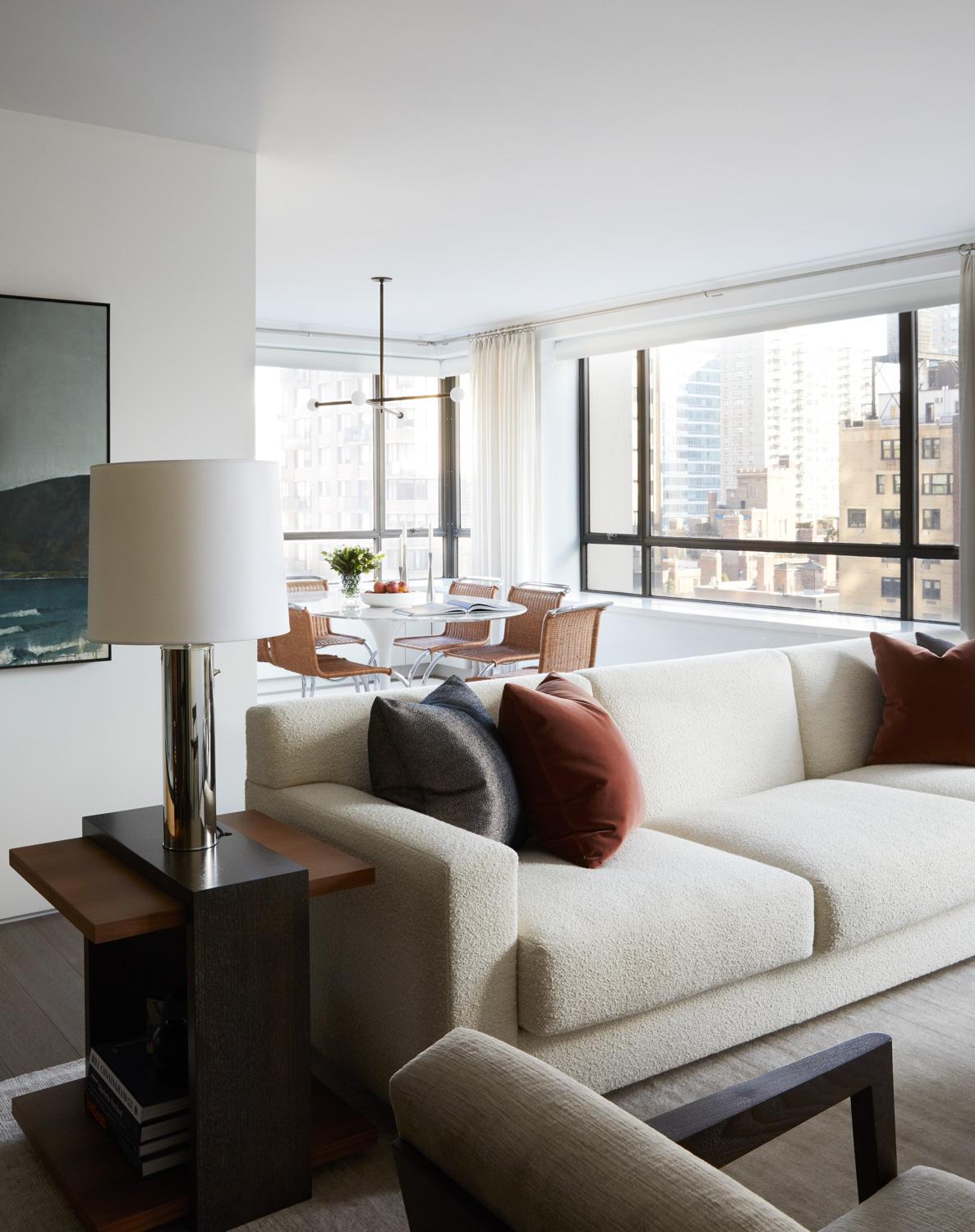 Social distancing and the circuit breaker have made life challenging for interior design firms that involve in-person consultations, especially when it comes to international projects. But rather than throw in the towel, some have swiftly adapted to offer their services online.
Pembrooke and Ives designed this 1,400 sq ft New York pied-à-terre for a client located in Australia. Due to the distance, the client was unable to check on the project or meet with the design team in person. So, the client and design team turned to digital aids to help sort out the decorating details. Most discussions consisted of electronic weekly skype and conference calls, while all samples and materials were sent via FedEx. With little in-person encounters, this project came together as a beautifully modern city escape with an Asian aesthetic in mind.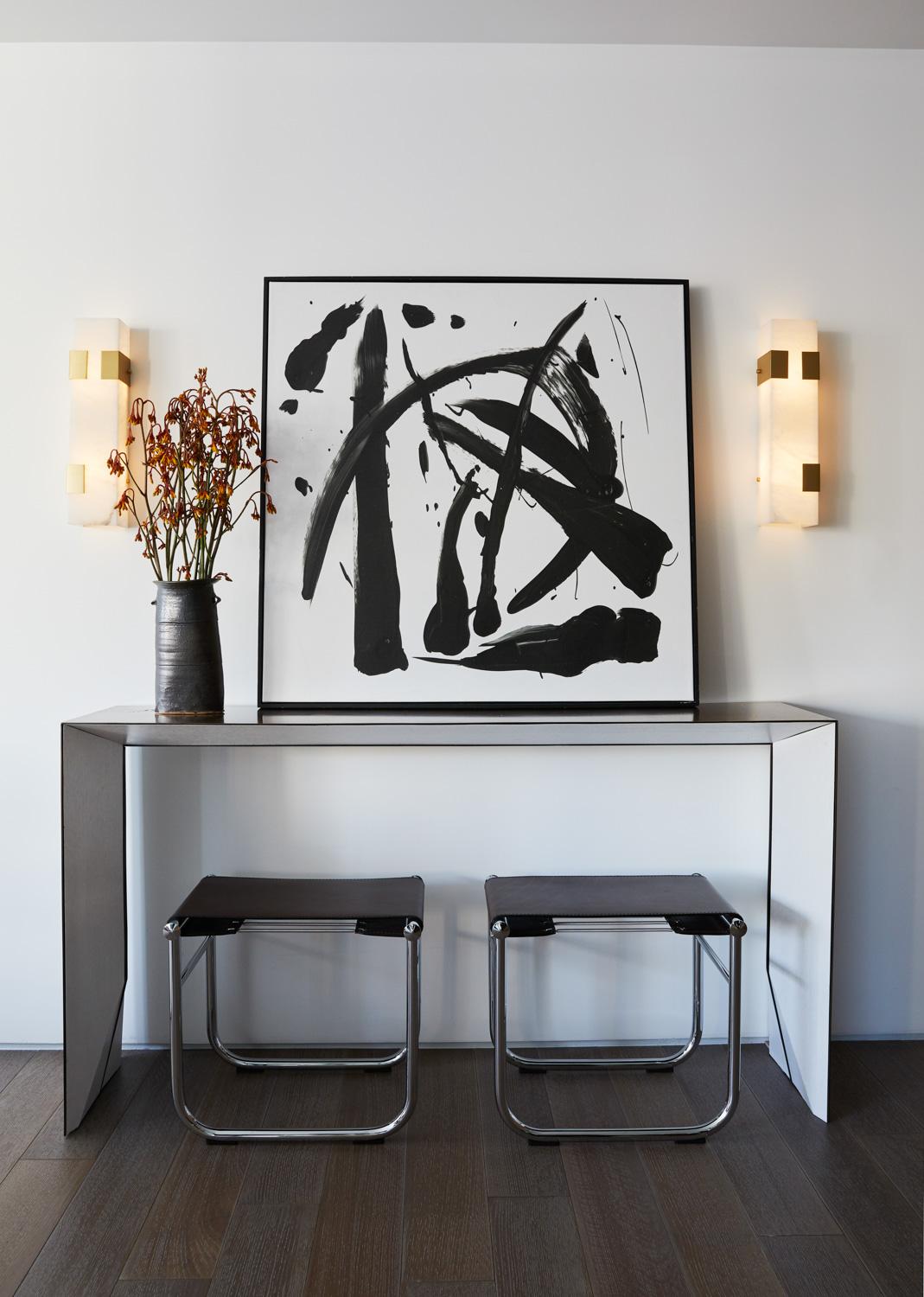 "Our client was clear on their design intent, looking to achieve something that was timeless with soft colours and subtle textures; they did not want anything that felt too fussy or precious but rather a liveable space that invited a reprise from long travel and a home where they could 'put their feet up'," says design director Nathan Thomas. "The couple loves classic modern elements, which include inspiration from Jean Michel Frank and the Bauhaus."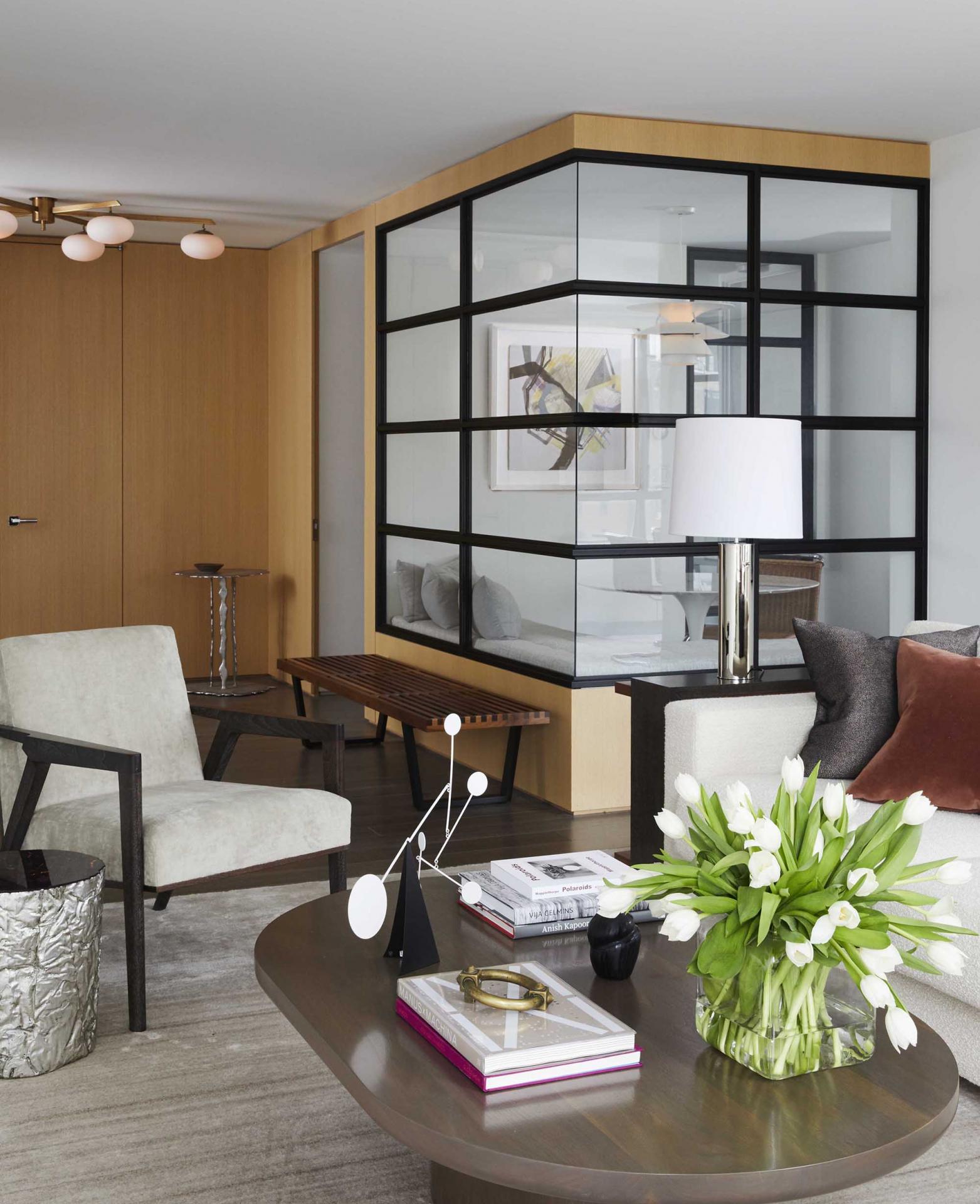 The palette for the home is quiet and neutral, with sumptuous textures that include bouclé, velvet, wool and cerused wood. "We did not want anything 'loud' or that made a strong statement, but instead for the apartment to feel harmonious and unified in its palette," says Nathan.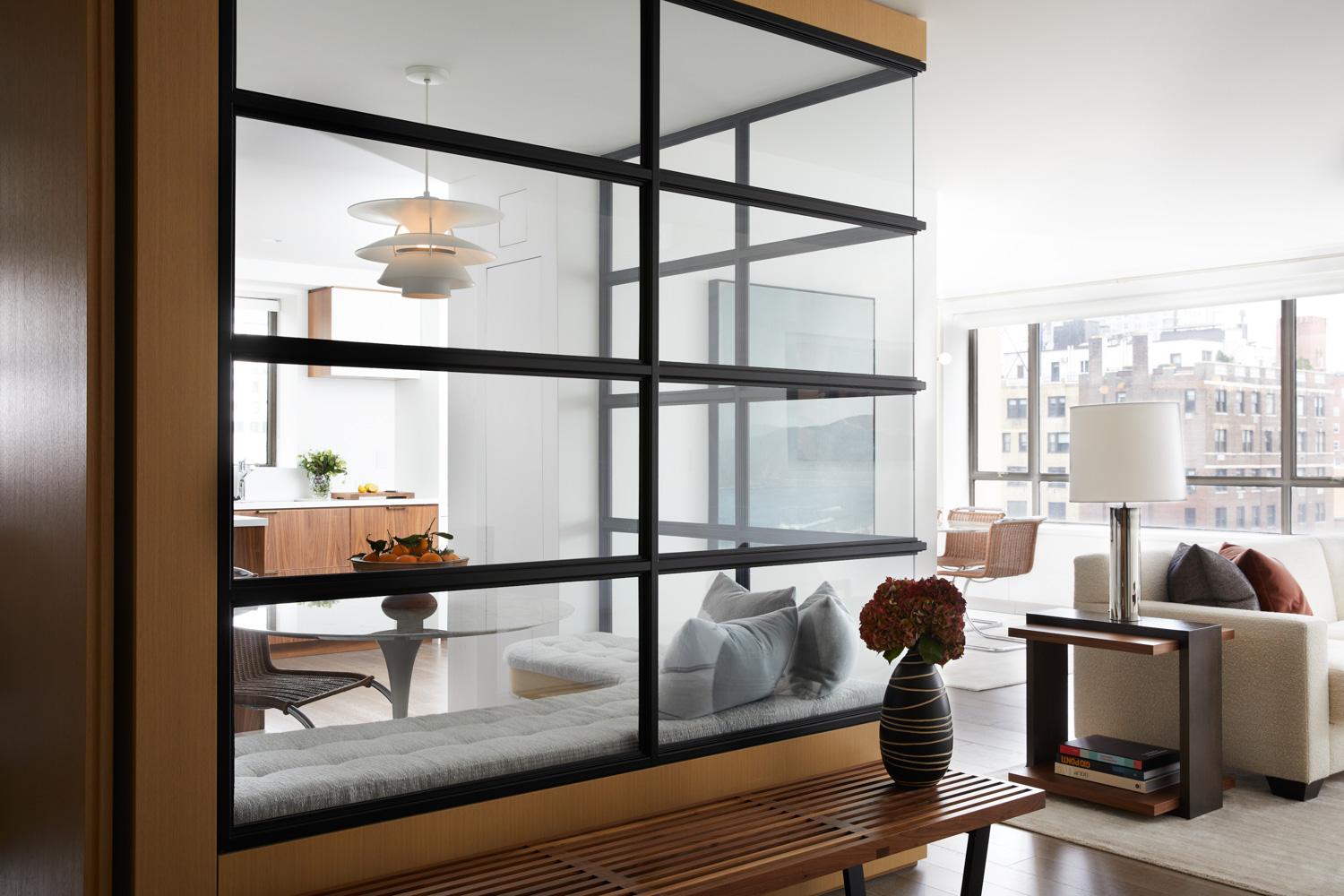 The strongest design move in the apartment is the glass surround of the kitchen. This architectural feature makes the apartment feel much larger than it is and provides a division of space while allowing natural light to reach both the kitchen and the entry." Within the kitchen, we created an eat-in breakfast nook with a custom built-in floating banquette," says Nathan. "We used indoor/outdoor fabrics by Link for the pillows and seat cushion for their durability and ease of maintenance and cleaning."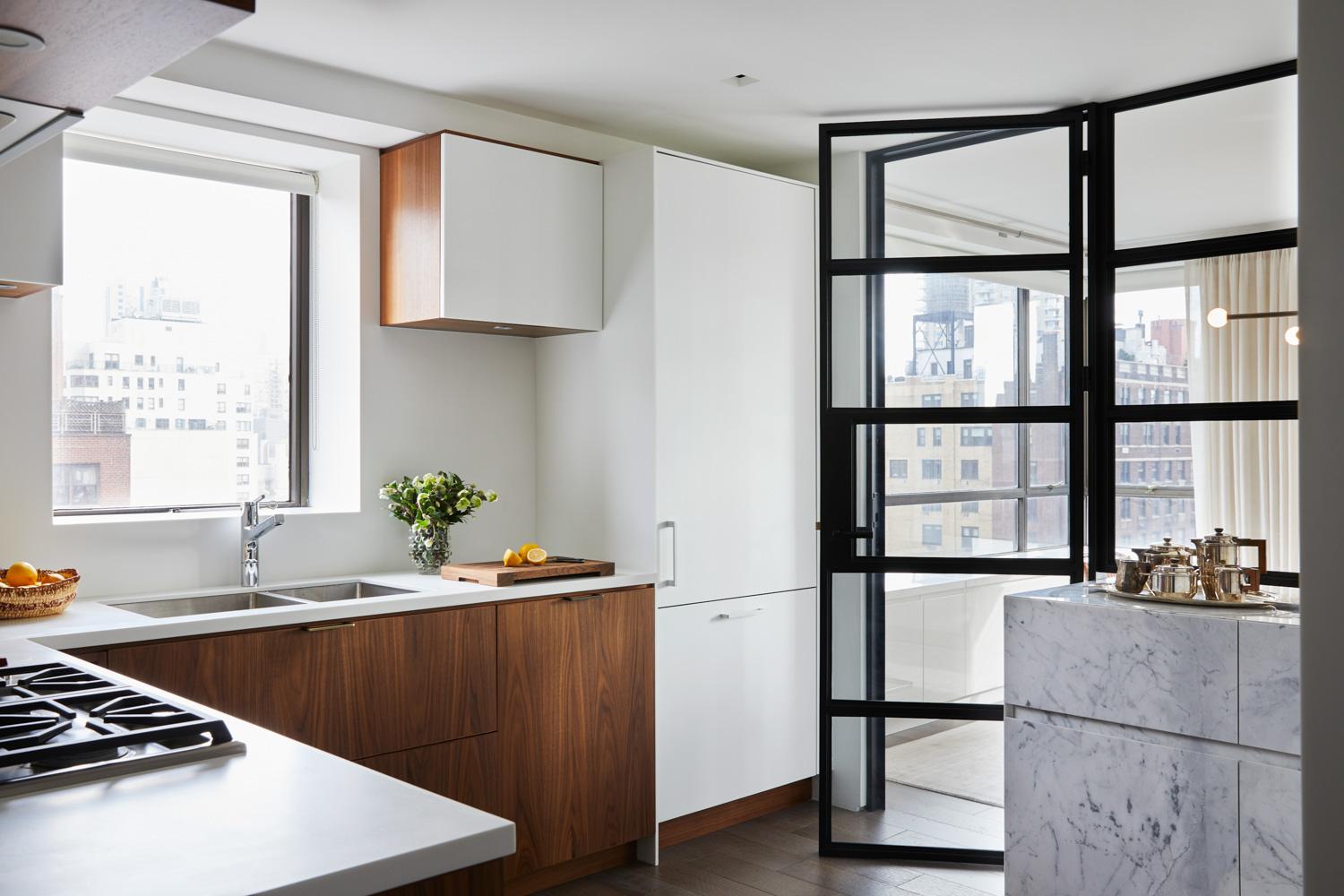 The bedroom is enveloped in one tone and colour – a soft silver grey with white accents. The bed wall is upholstered using the same wool sateen by Rogers & Goffigon as is used for the drapery, and the silver-grey wall-to-wall carpet (from Vanden Loom) has a subtle strié effect.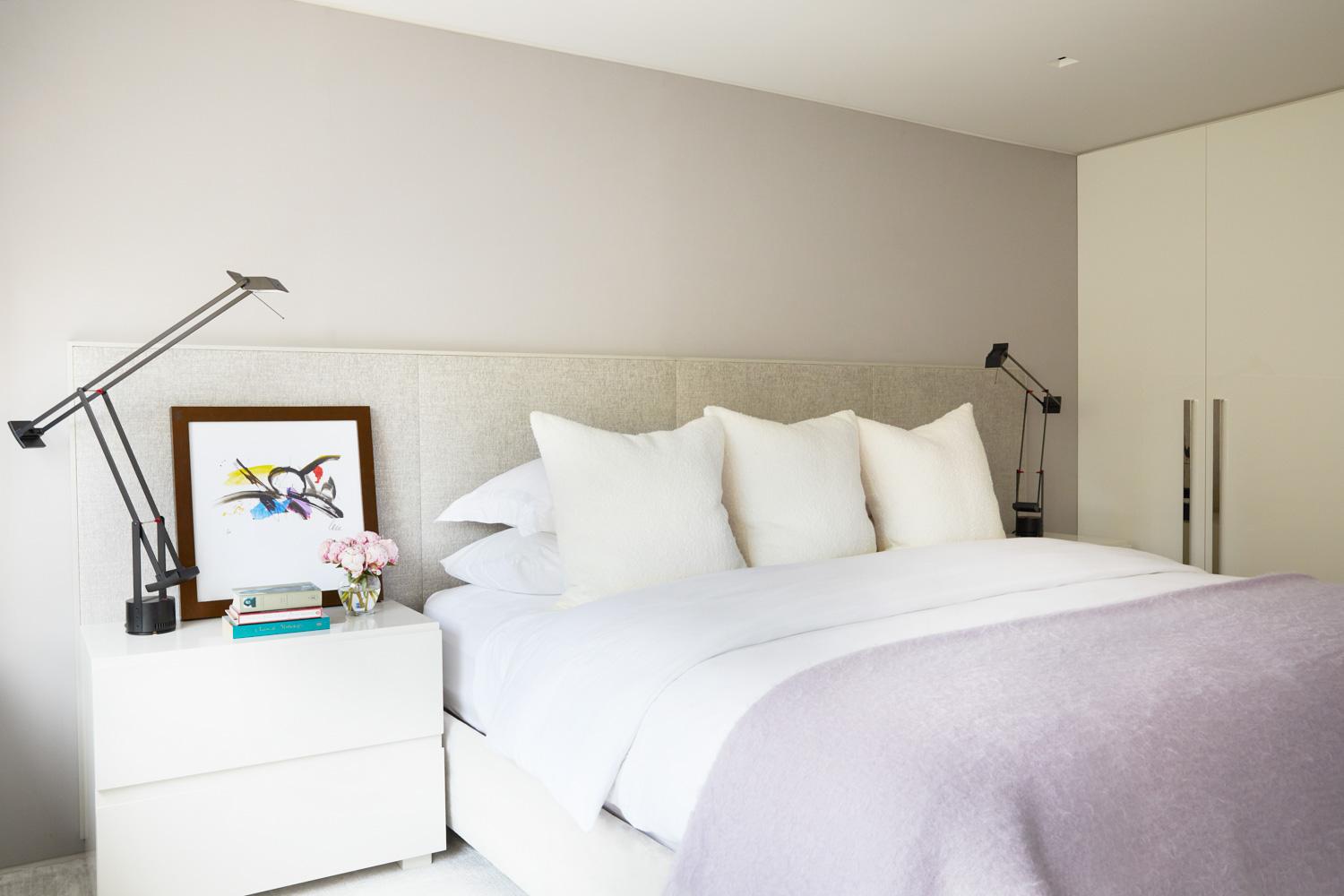 "We also used high gloss lacquer on the closet doors and matched this same finish and color for the bedside tables and chest of drawers," adds Nathan. "The monochromatic approach to this room creates a very calming effect."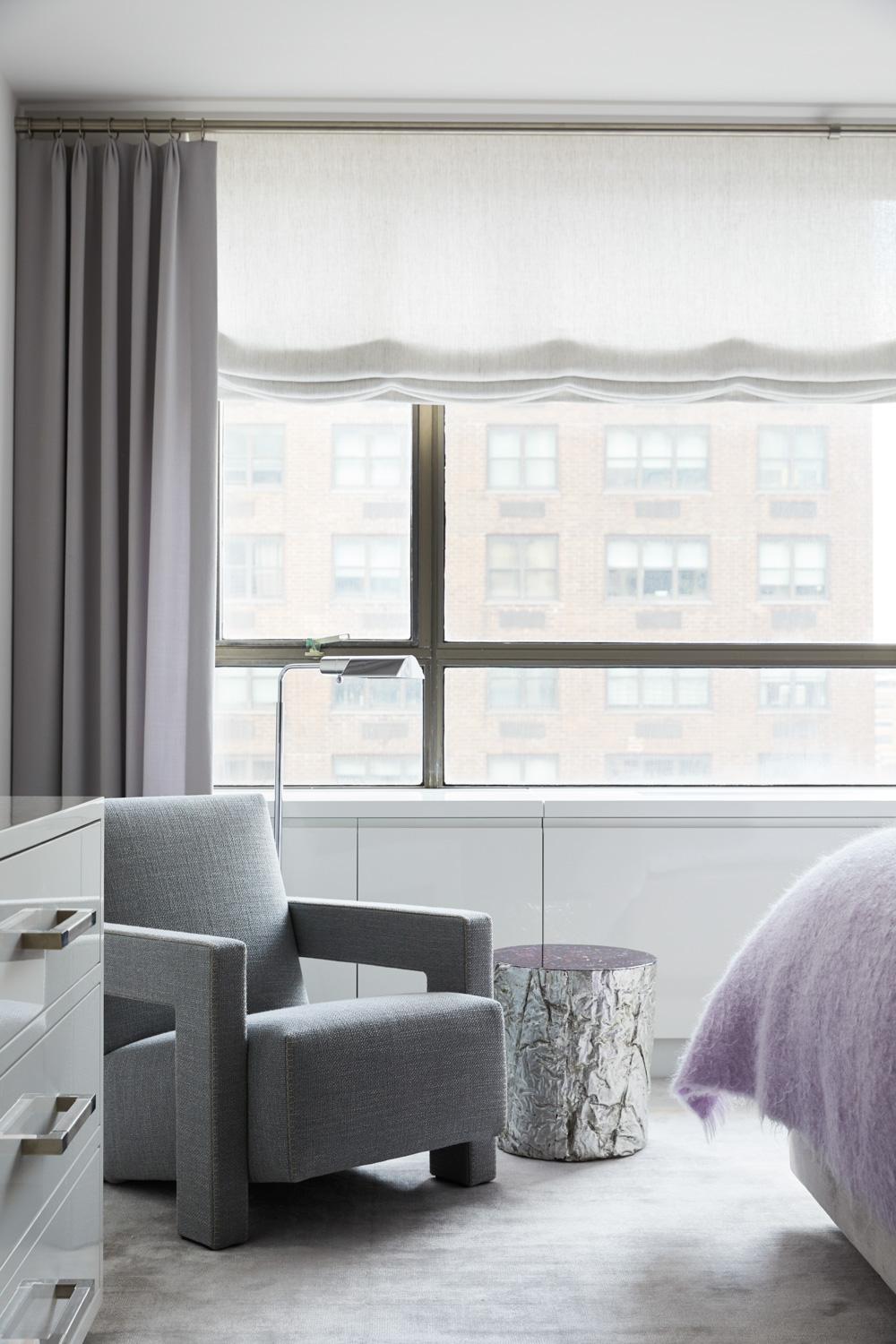 In New York City, every inch of space counts and Pembrooke and Ives did their best to take advantage of every possible location for storage, including outfitting a shallow space in the bedroom for shoe storage. "We installed high gloss lacquered built-in cabinets along the perimeter of the apartment where we were able to hide the heating and cooling equipment," explains Nathan.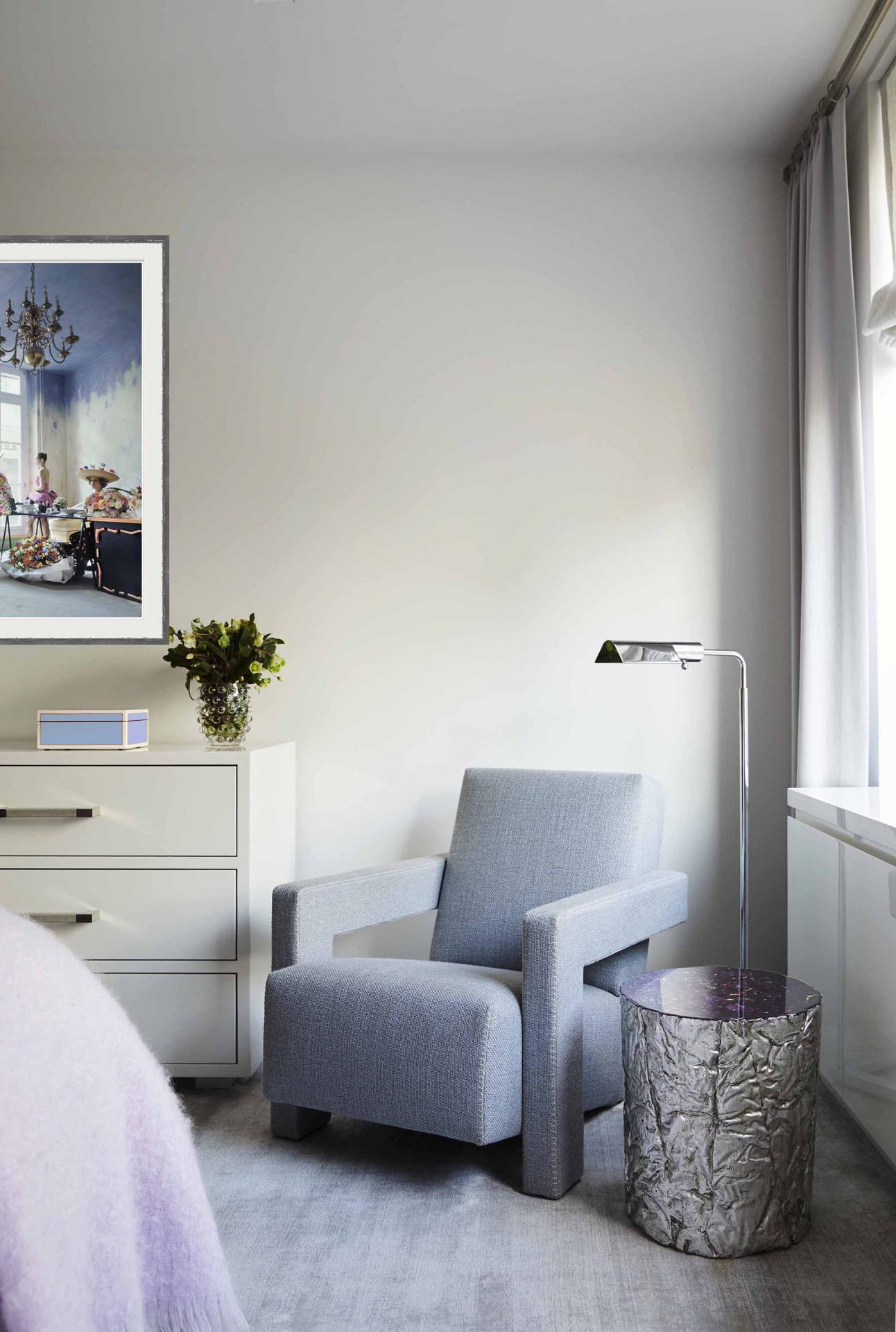 The bathroom is designed with white Glassos and a custom white Corian shower with Dornbracht fittings. It is modern, highly functional and easily cleaned and maintained.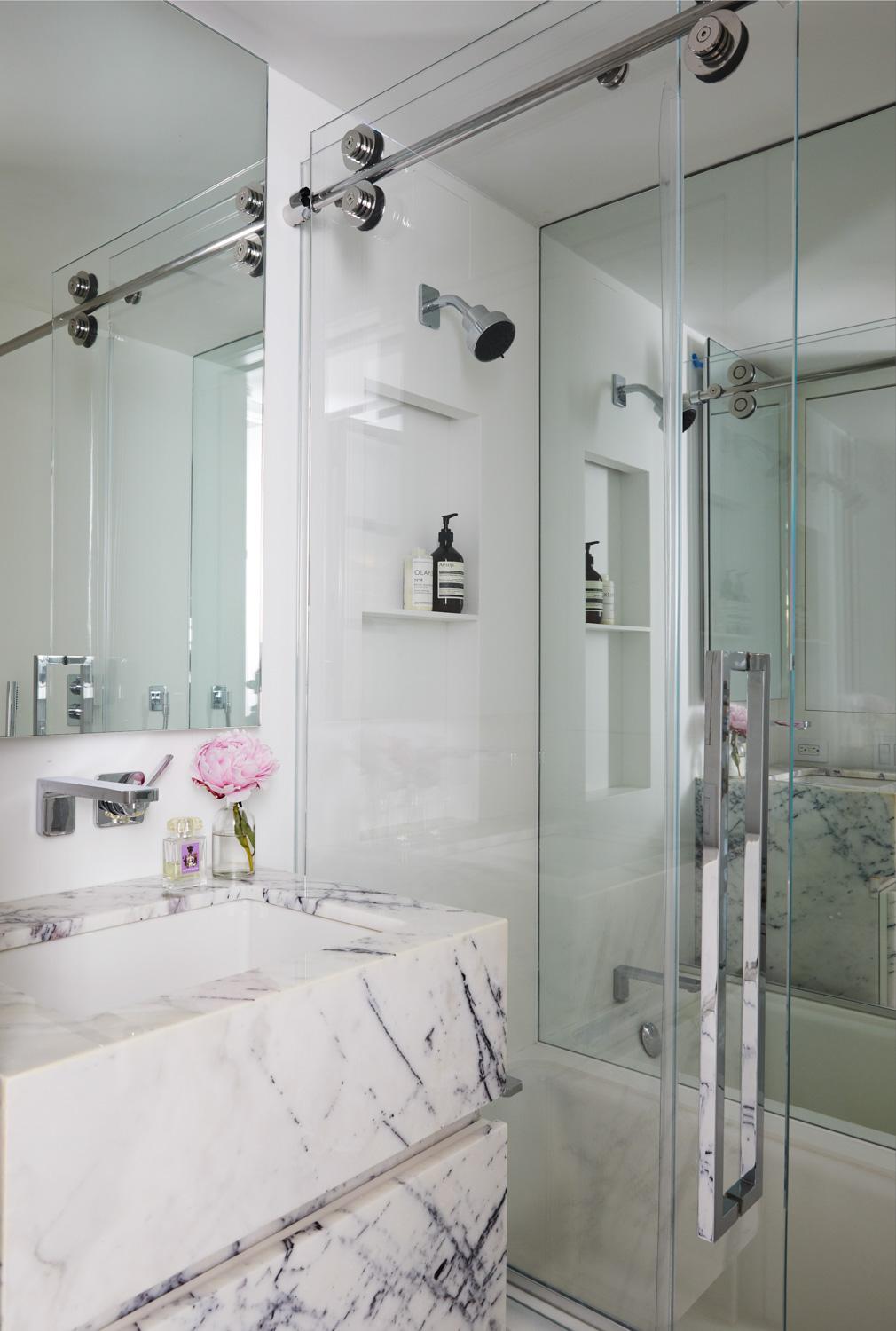 Some of the elements in this apartment are also features of their home in Australia, which lends itself to a feeling of familiarity. "We listened to our client's needs and aspirations and made certain we handed over an easy living space that prioritises comfort and functionality," says Nathan.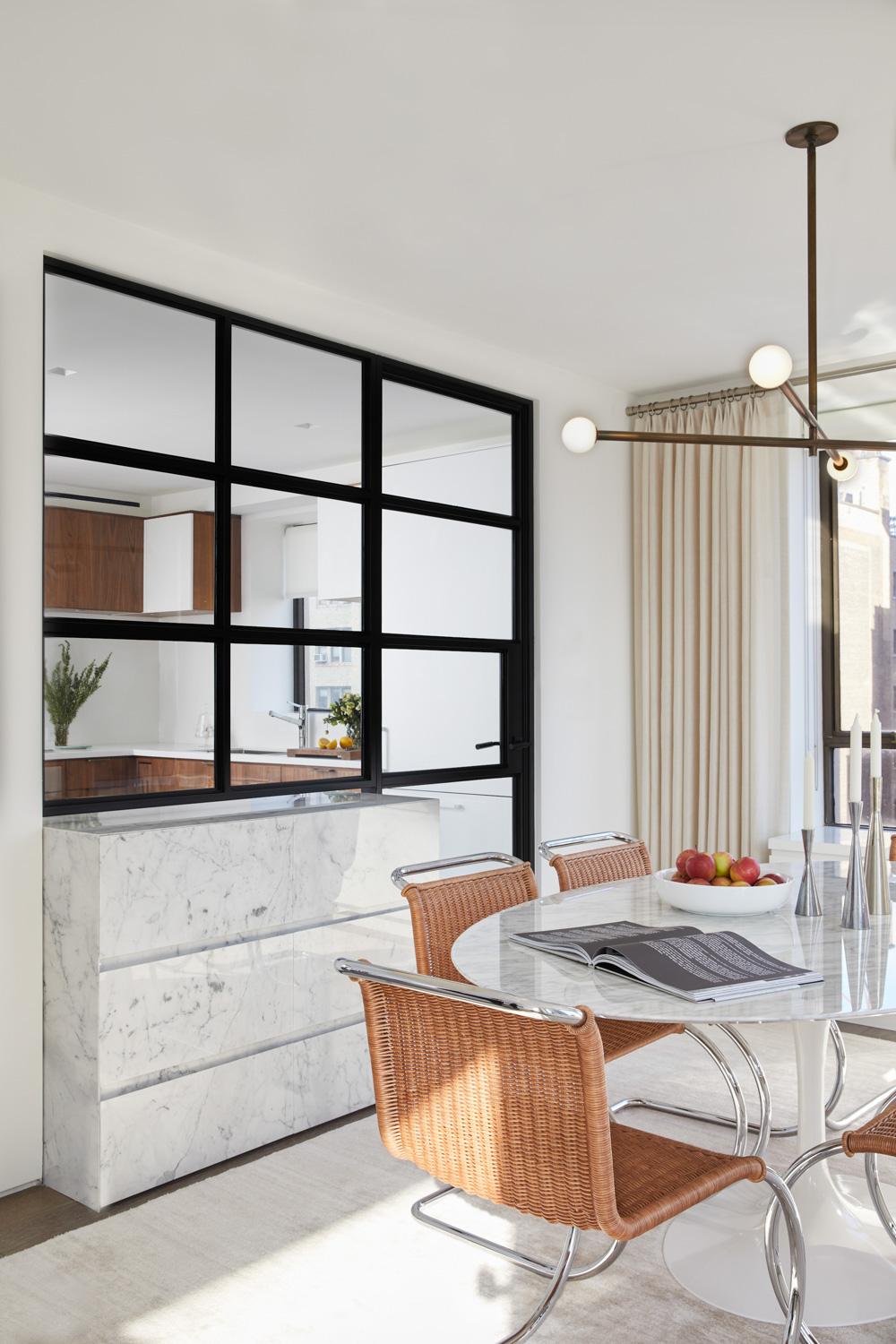 (Photography by Genevieve Garruppo)