For the first Starbucks Reserve Roastery in Tokyo, one could think of none other than Japanese architect Kengo Kuma to bring the project to life.
The architect had worked with Starbucks on their Dazaifu branch, and later on a branch in Hualien, Taiwan made, with shipping containers.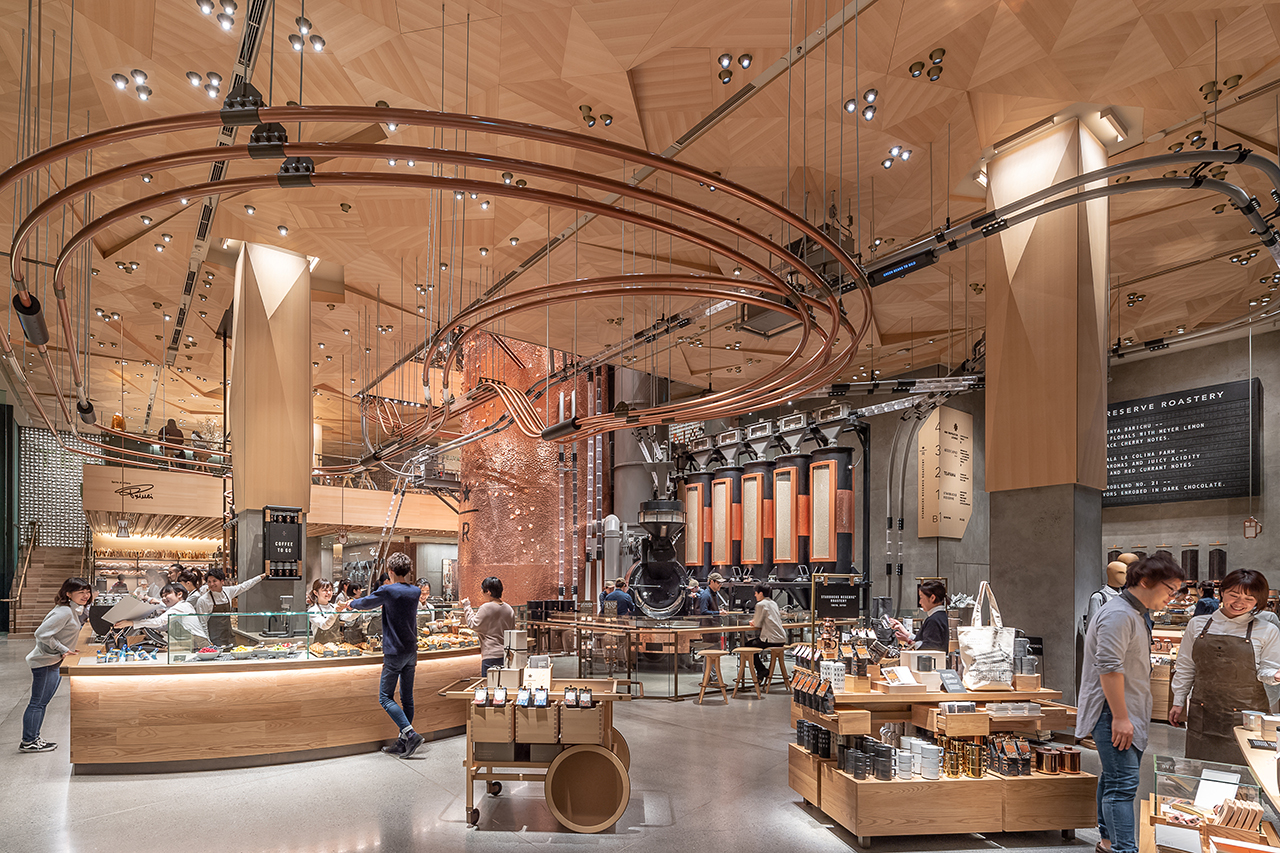 For the first Reserve Roastery in Tokyo – and the fifth in the world – Kengo Kuma & Associates enlisted to build the structure. Working with Liz Muller, Starbucks chief design officer and lead designer for all five Roasteries, Kuma and team fashioned a four-storey building in the Nakameguro neighbourhood with inspiration from local crafts, materials and motifs.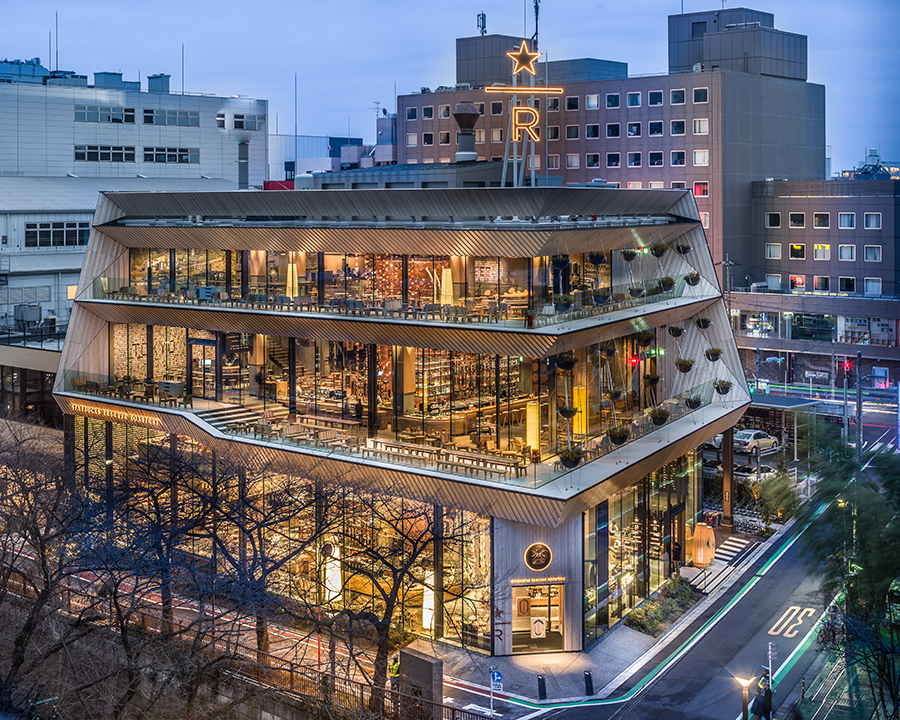 Hand-crafted cherry blossoms adorn the 55ft coffee cask anchoring the ground level, welcoming guests upon entry. The cask, made with rose-colour copper, is designed using a technique called tsuchime, which involves hammering the copper material to create texture. Every team member involved in the building of the Roastery was invited to make their mark on the cask, which rises up four storeys.
Up above, the ceiling mimics origami through light wood tiles sourced locally, which also fill the interiors of the Roastery to create a light and airy ambience.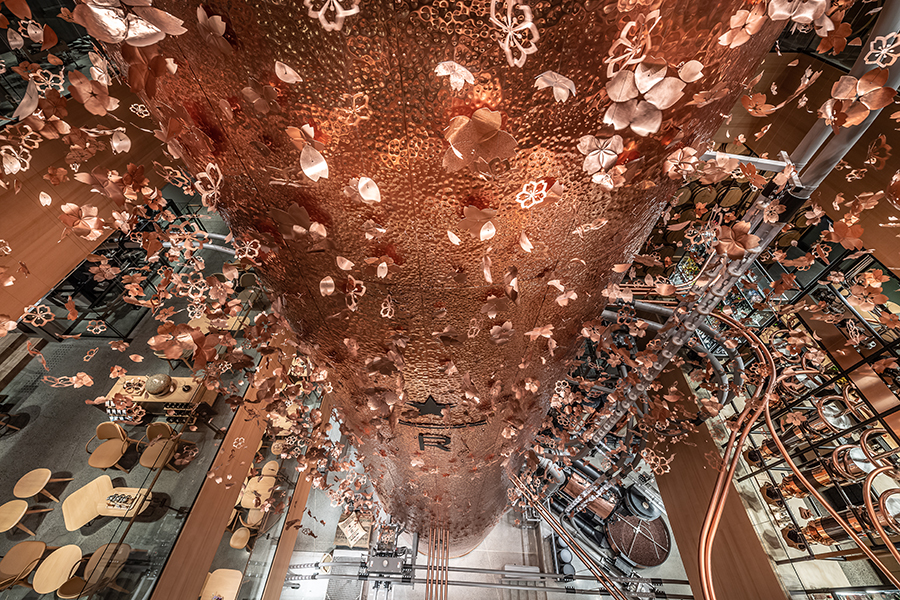 Intended to amplify the coffee experience for customers, Starbucks Reserve Roasteries are typically designed with more than just a coffee and tea bar. Like in its four other locations, the Tokyo iteration features a Main Bar on the ground floor that demonstrates the coffee-making process of roasting green beans to serving them brewed in a cup. Here, guests get to sample special Reserve coffee, such as Barrel-Aged Cold Brew, while enjoying fresh-baked treats from Princi, a dedicated bakery inside the Roastery.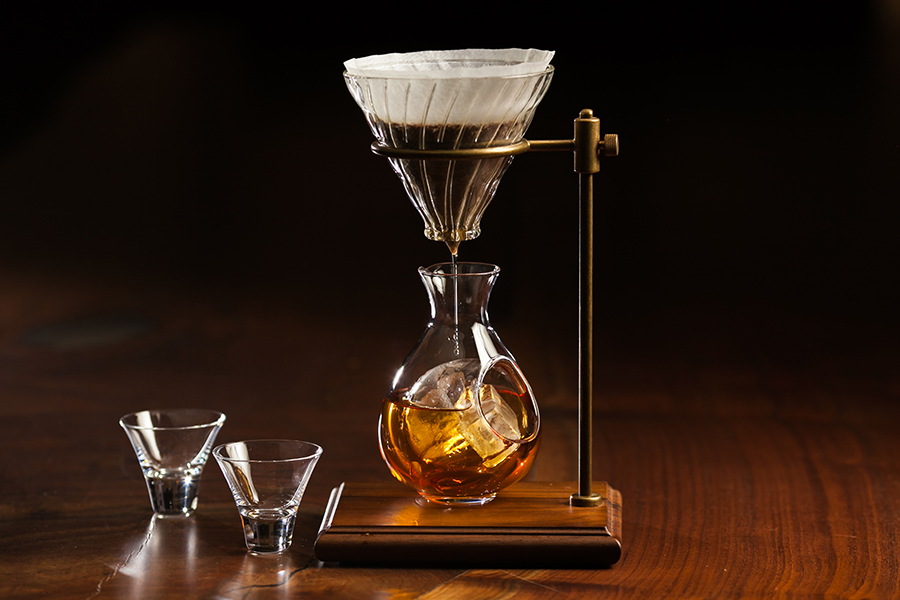 Up one level is the world's largest Teavana Bar, while Starbucks Japan's first cocktail bar, Arriviamo rests on the third, complete with a terrace and a menu of tea- and coffee-inspired cocktails.
The top floor, known as the AMU Inspiration Lounge, will eventually become a Specialty Coffee Association (SCA) location for training aspiring coffee professionals. For now, it's designed to host small events, talks and gatherings, as its name denotes – 'amu' means 'to knit together' in Japanese.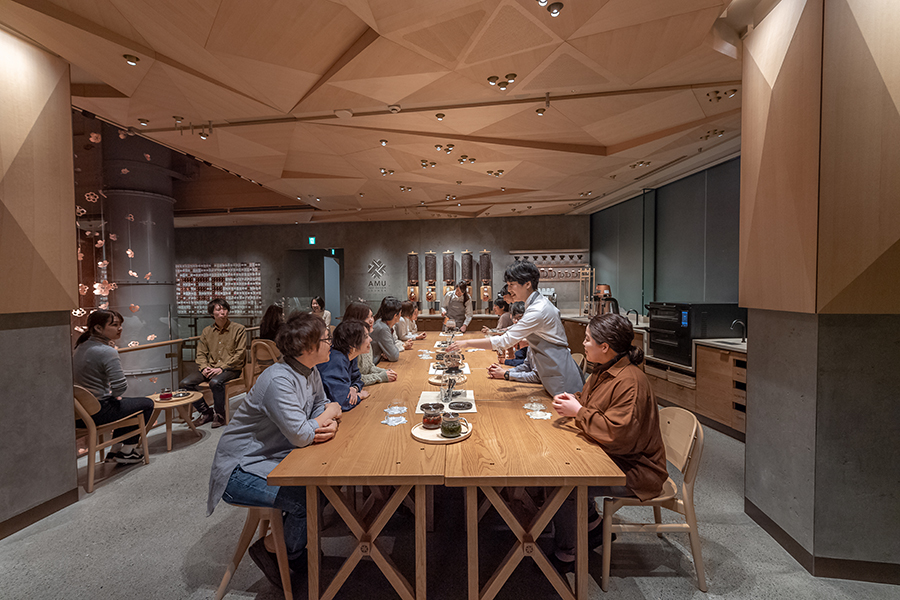 Peek inside Starbucks Reserve Roastery Tokyo designed by Kengo Kuma & Associates in the gallery below.