Situated in the trendy locale of the Mid-Levels, this three-bedroom luxury home, envisioned by B Squared Design, is a respite from the hectic city life.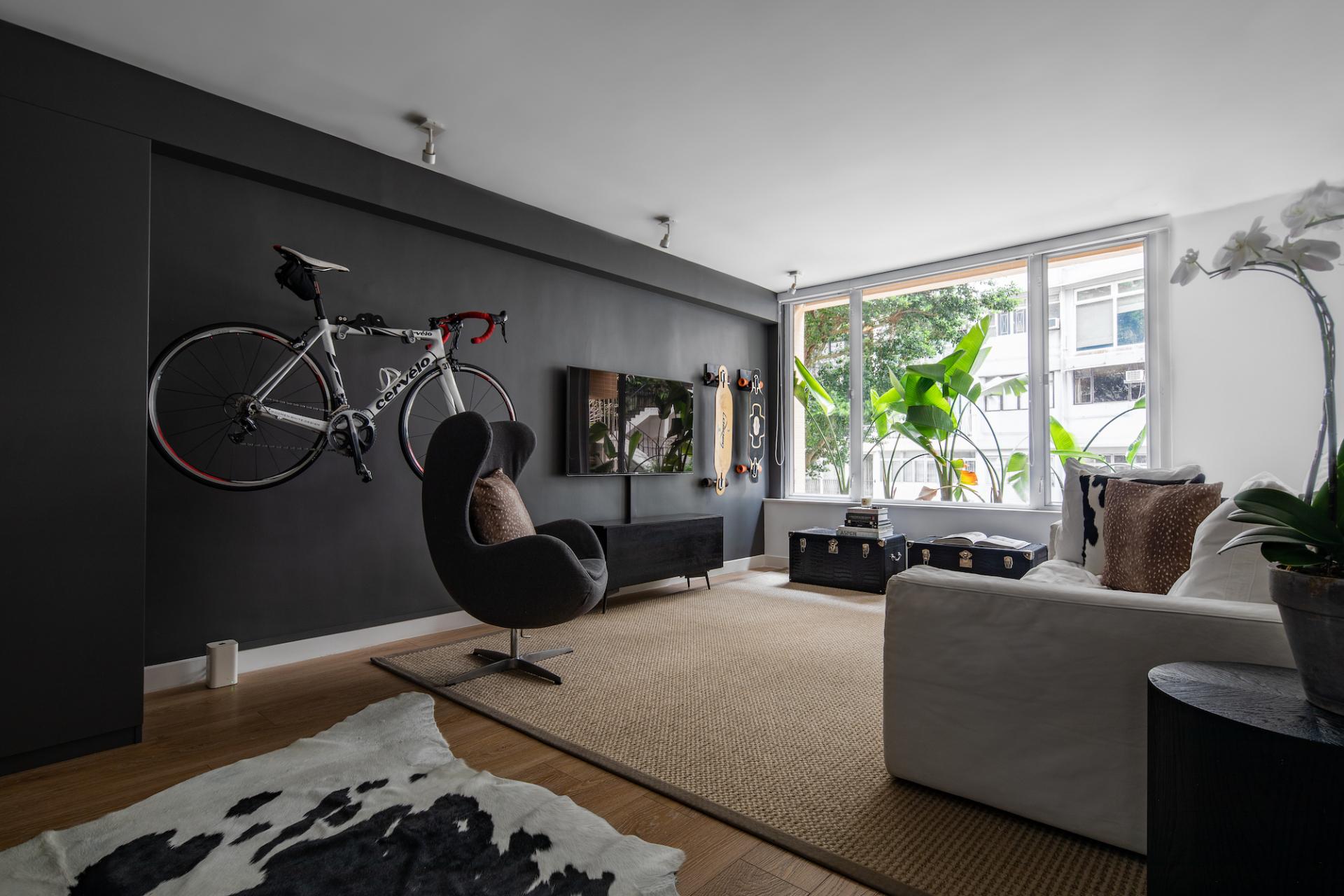 The client is a busy ad executive who wanted a clean aesthetic for her home that reflected her sophisticated and luxurious lifestyle, and was also family friendly and suitable for entertaining.
The home is centred around the spacious patio that functions as an outdoor room offering multiple uses. The wicker and rattan sofa provides a relaxing lounging area surrounding the concrete fire pit, while the adjacent armchairs serve as a Zen-inspired reading area.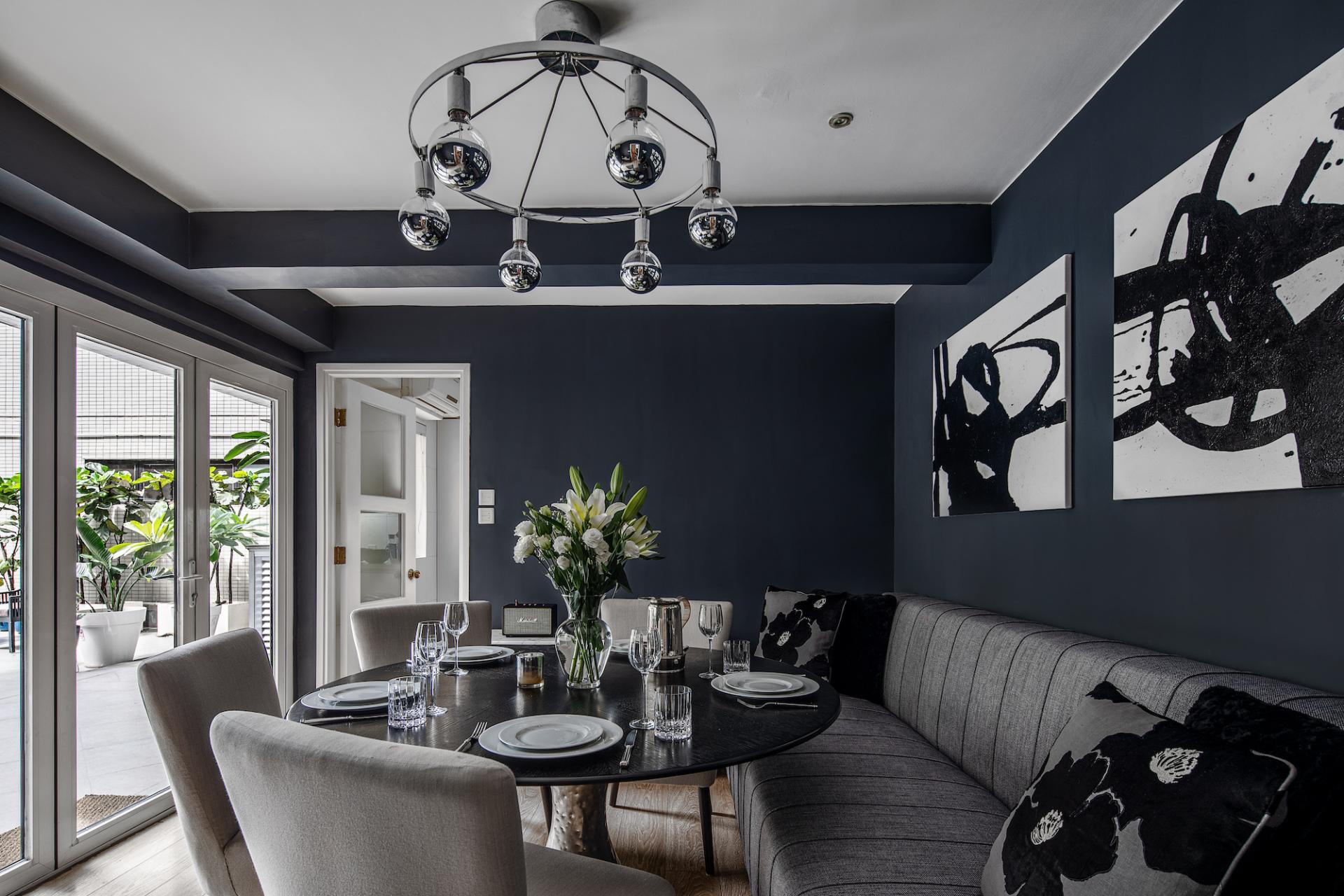 The large outdoor dining table enveloped by potted plants is a peaceful space ideal for entertaining. These elements create an outdoor oasis in the midst of Hong Kong's high-rise buildings where the client can enjoy reading during the day or a glass of wine at night with friends and family.
In the living room, the bicycle and skateboards suspended on hooks against the wall allude to the client and her family's active lifestyles and provide unique pieces of wall décor.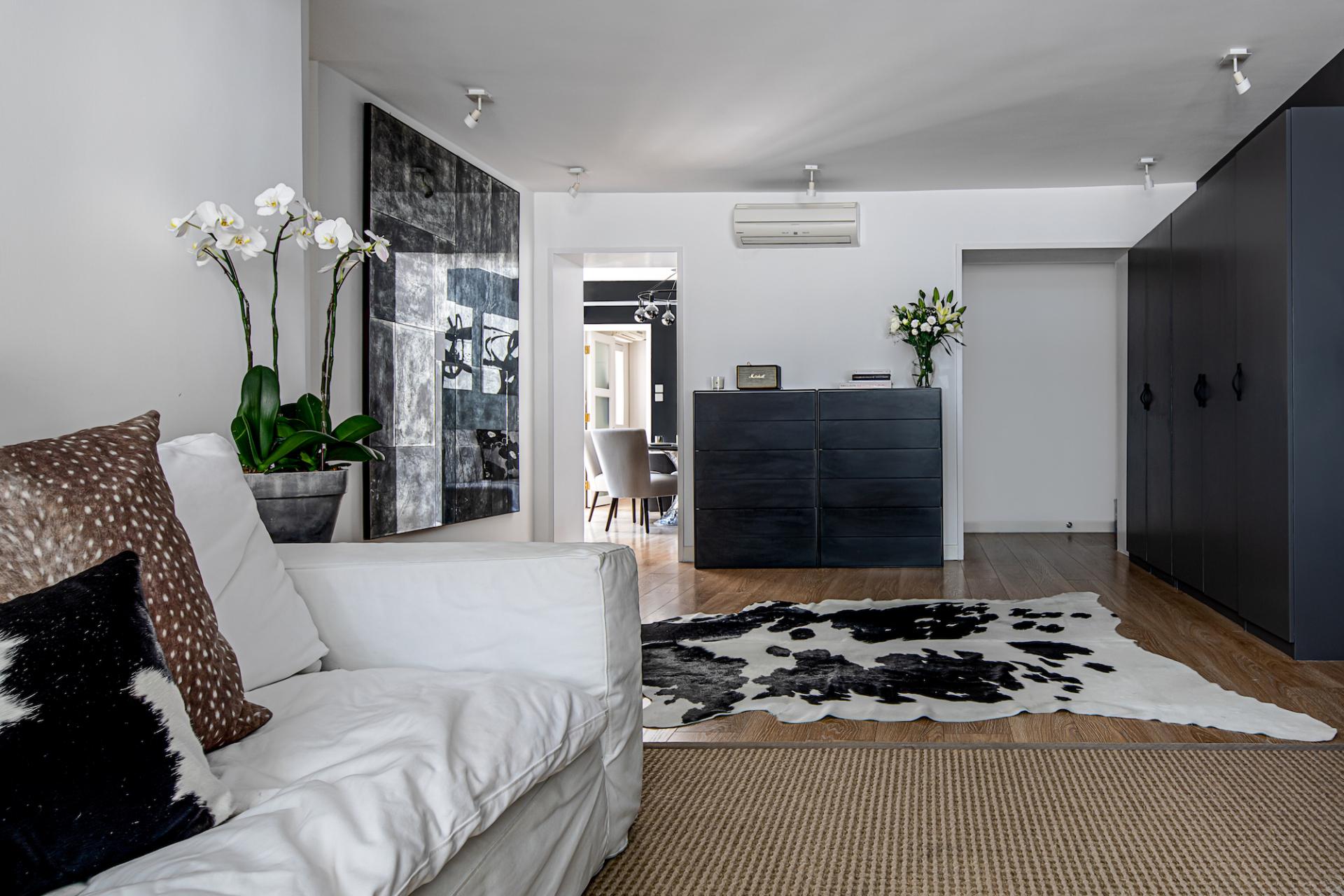 The living room also features items, including the egg chair; the "Lugano" television from BoConcept; and the "Machinto" round side table from Restoration Hardware. These signature pieces contribute to the colour scheme, fusing function with style.
"We used multiple textures and fabrics such as faux fur, leather, and rattan add depth and personality to the living space," says Butler.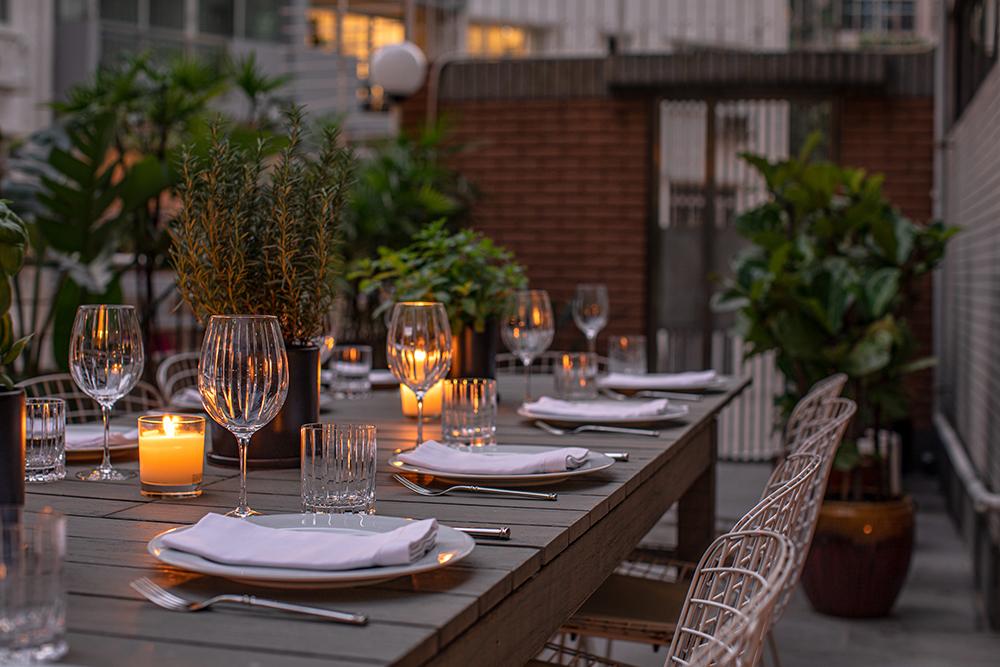 The black and white cowhide rug in the living room can also be found on the patio, seamlessly blending the indoors and outdoors. The living room opens into the dining room – a welcoming space facing the patio, with floor-to-ceiling glass doors that bring in ample sunlight.
The ceiling light, dining table, and chairs, all custom-made in Italy, elevate the dining area with a refined look, while the bench seat offers a casual seating option where the client's family can enjoy an outdoor view.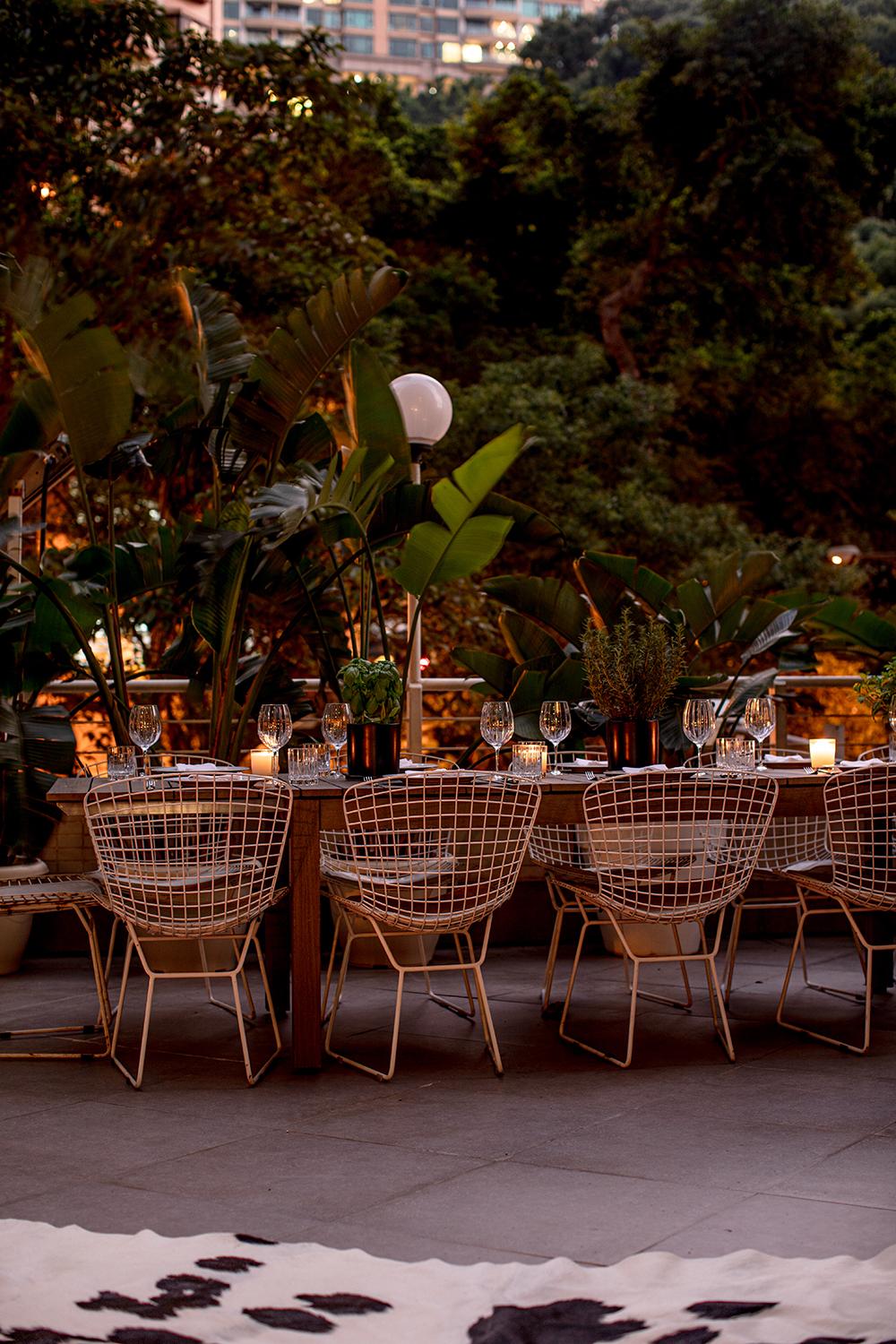 Lush plants outside the master bedroom offer a screen of privacy. On the bed, the plush bed scarf provides a rich texture that complements the charcoal wall and framed art piece in monochrome.
In the guest bedroom, jungle-themed wallpaper from Jimmy Cricket evokes the freedom of the wilderness and playfully brings elements of nature into the home. The kids' bedroom maintains the elegant colour palette while still providing a cosy space for children.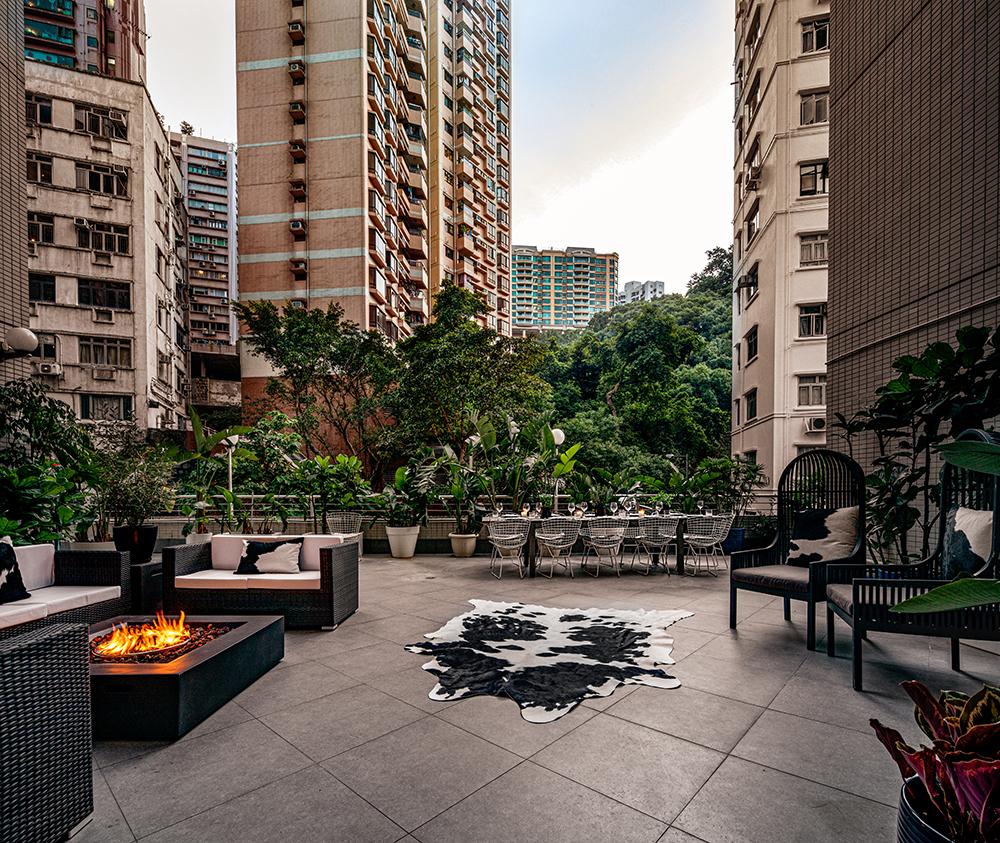 The "Amber in the Sky" bunk bed from Perludi, baby animal portraits from Restoration Hardware, a rocking horse, plush toys, and desk area, complete with marker and crayon sets, create a fun environment for playing and exploring.
Perched in the bustling Mid-Levels, this contemporary and sophisticated home is both stylish and calming.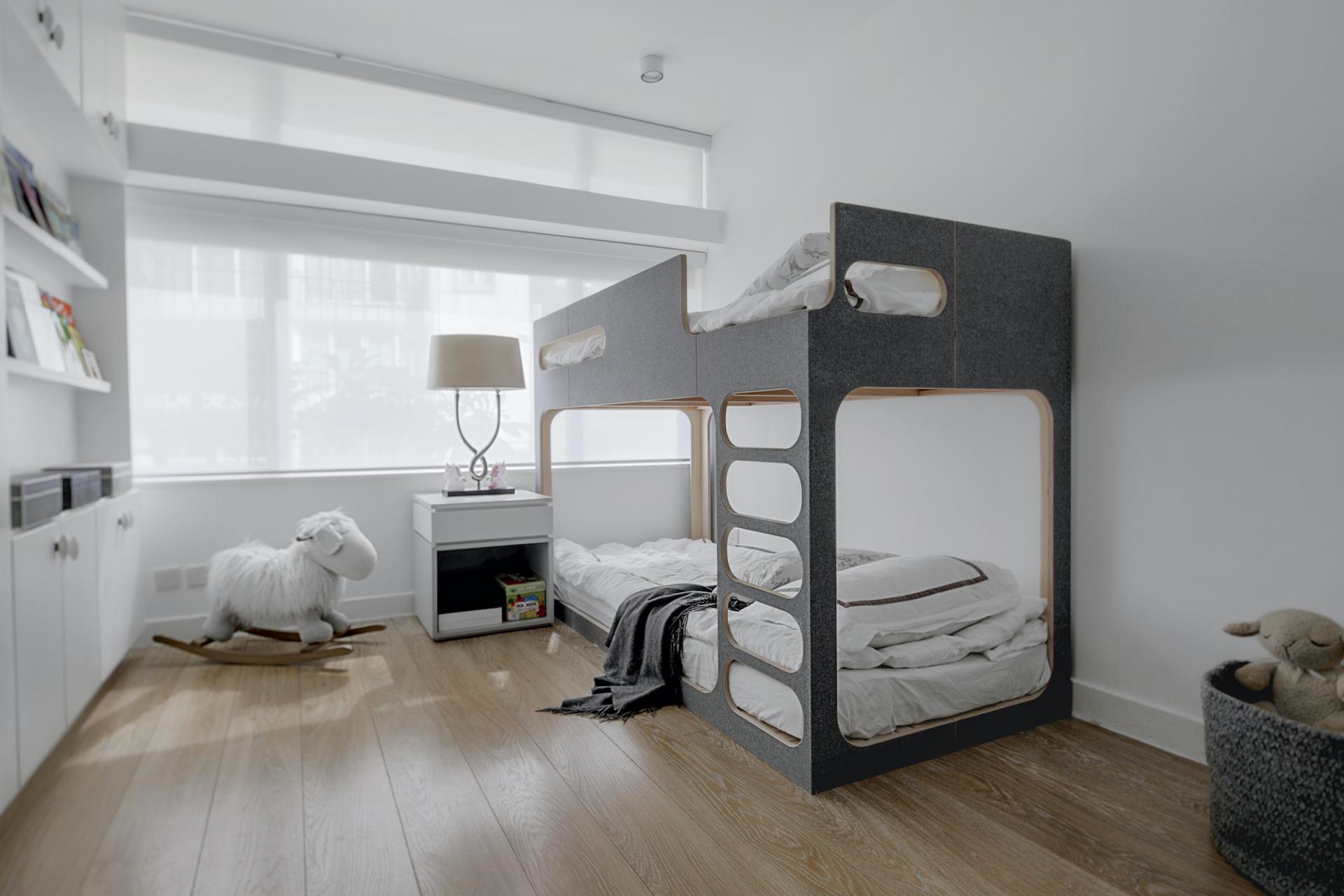 The home's colour palette features blacks, greys, and neutral tones, while avoiding loud colours and busy patterns. The dark colour scheme used for the walls – paired against the wooden flooring – provides glamour and drama without appearing crowded or fussy.
"We were not shy about using darker colors. When paired again the wooden flooring, the dark tones provide glamor and drama without appearing crowded or fussy," says Britta Butler, design director at B Squared Design. "Despite its dense urban location, the home is well-positioned to enjoy natural light, which creates a radiant indoor atmosphere amid dark color tones."
Image courtesy: Monika Kulon
Email: bykulonm@gmail.com