What is the secret behind a great chef? Some may point to fresh ingredients, age-old cooking methods or recipes passed down through generations. For French culinary master Pierre Gagnaire, part of the trick lies in a high-performing kitchen where tradition meets innovation.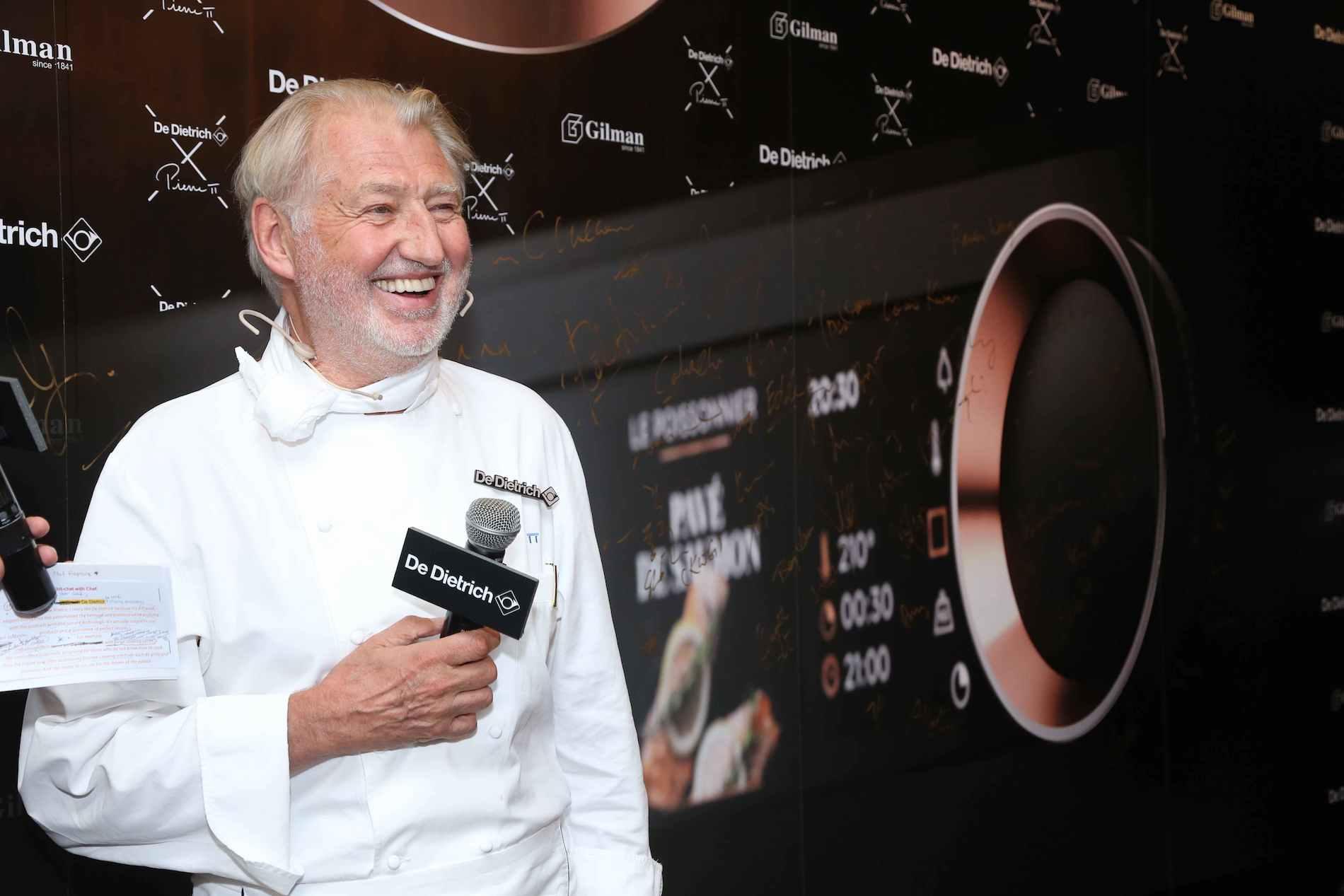 The illustrious Apinac-born chef, most known for his nouvelle cuisine that magnificently juxtaposes flavours, textures and colours, and who counts 13 Michelin stars under his belt for his restaurants around the world, demonstrated this to great effect when he whipped up an exquisite peach-garnished salmon dish atop a De Dietrich induction hob within mere minutes at a recent culinary live demonstration.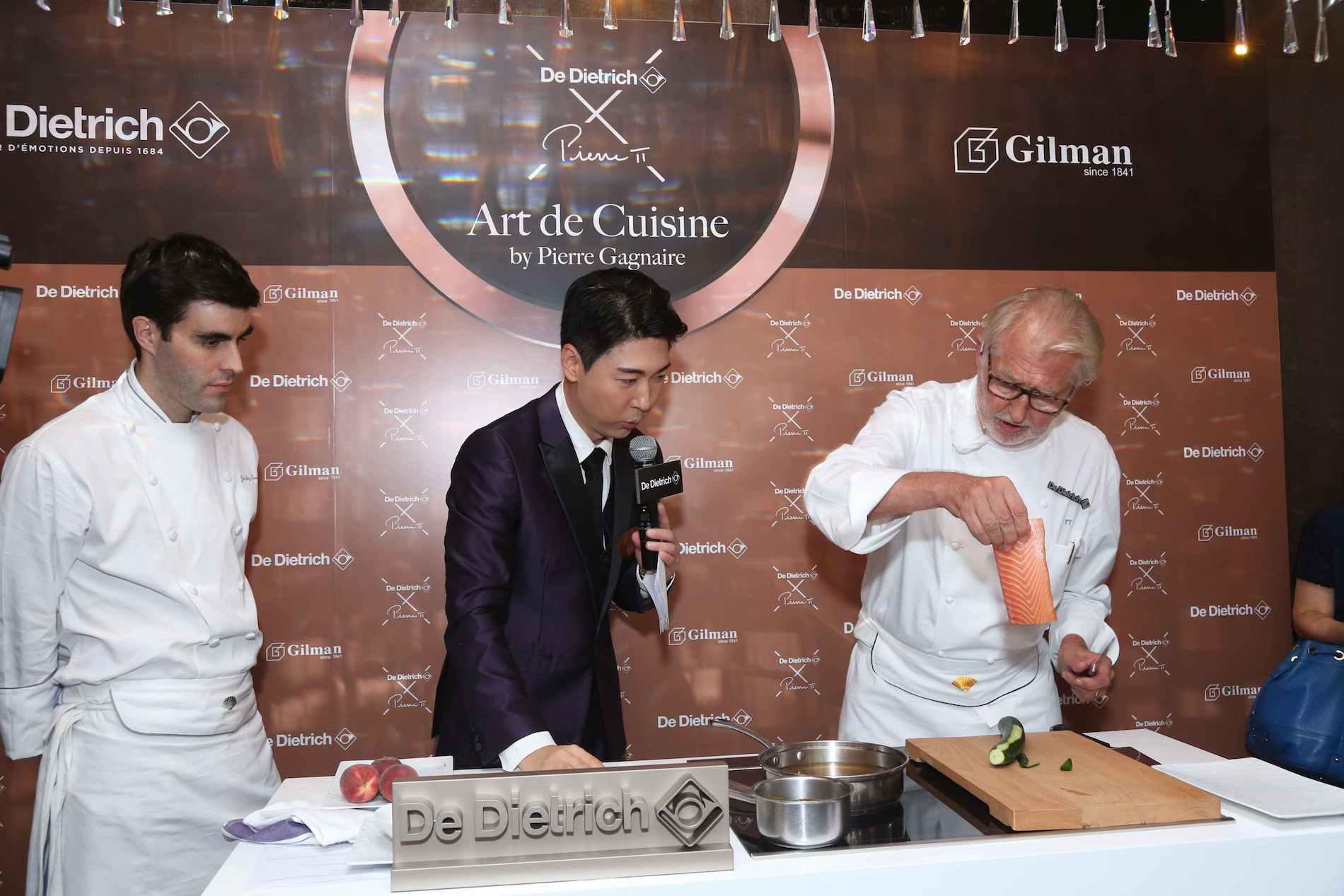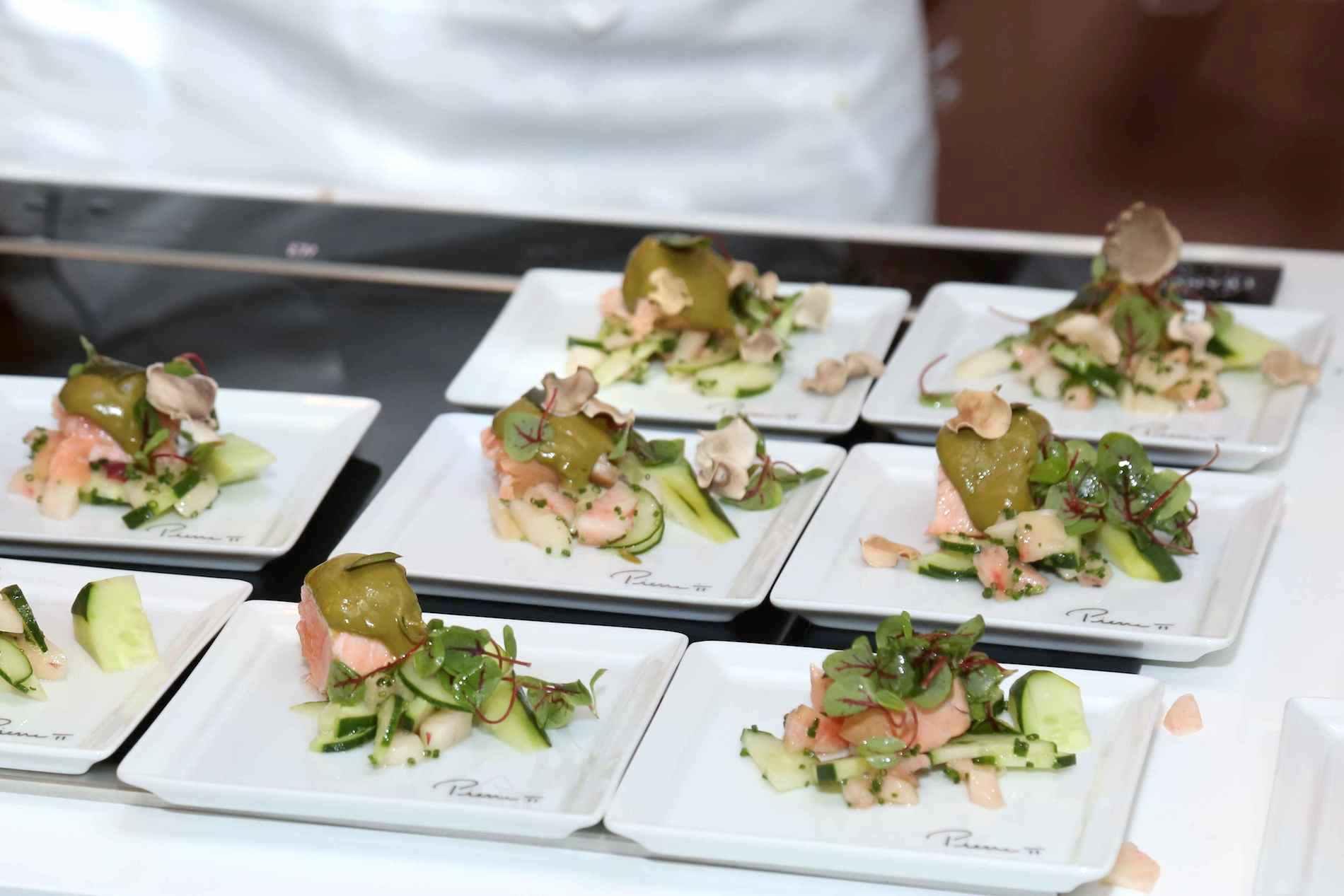 Hosted by De Dietrich at the chef's three-Michelin-starred Pierre in Mandarin Oriental, the event marked the 335th anniversary of the famed French kitchenware house as well as the launch of its newest Absolute Black collection – the Pyrolysis Oven and Horizone Play Induction Hob, two cutting-edge innovations from which the chef and global ambassador worked with in his showcase.
We sat down with chef Pierre Gagnaire, as well as De Dietrich's chief marketing officer Danièle Degli Emili and brands & connectivity director Mauricio del Puerto, to chat about their long-standing collaboration and their love for food.
How did your collaboration with De Dietrich begin?

Pierre: I've worked with them for 10 years, it's a strong collaboration. The design of the products are really innovative, the quality is there, there's a lot of technology but not too much. It's just like the light in a hotel – if it's too much you want to close the blinds. It's the perfect match between tradition and innovation. I love the new oven perfect – it's very precise and seamless.

It's been a very good relationship. We write recipes, give feedback, work on these new products together. Because I use them at home! For example, in a few weeks I'll be on a vacation – but I'll be cooking for my family and I cook with these products – I have these in my kitchen.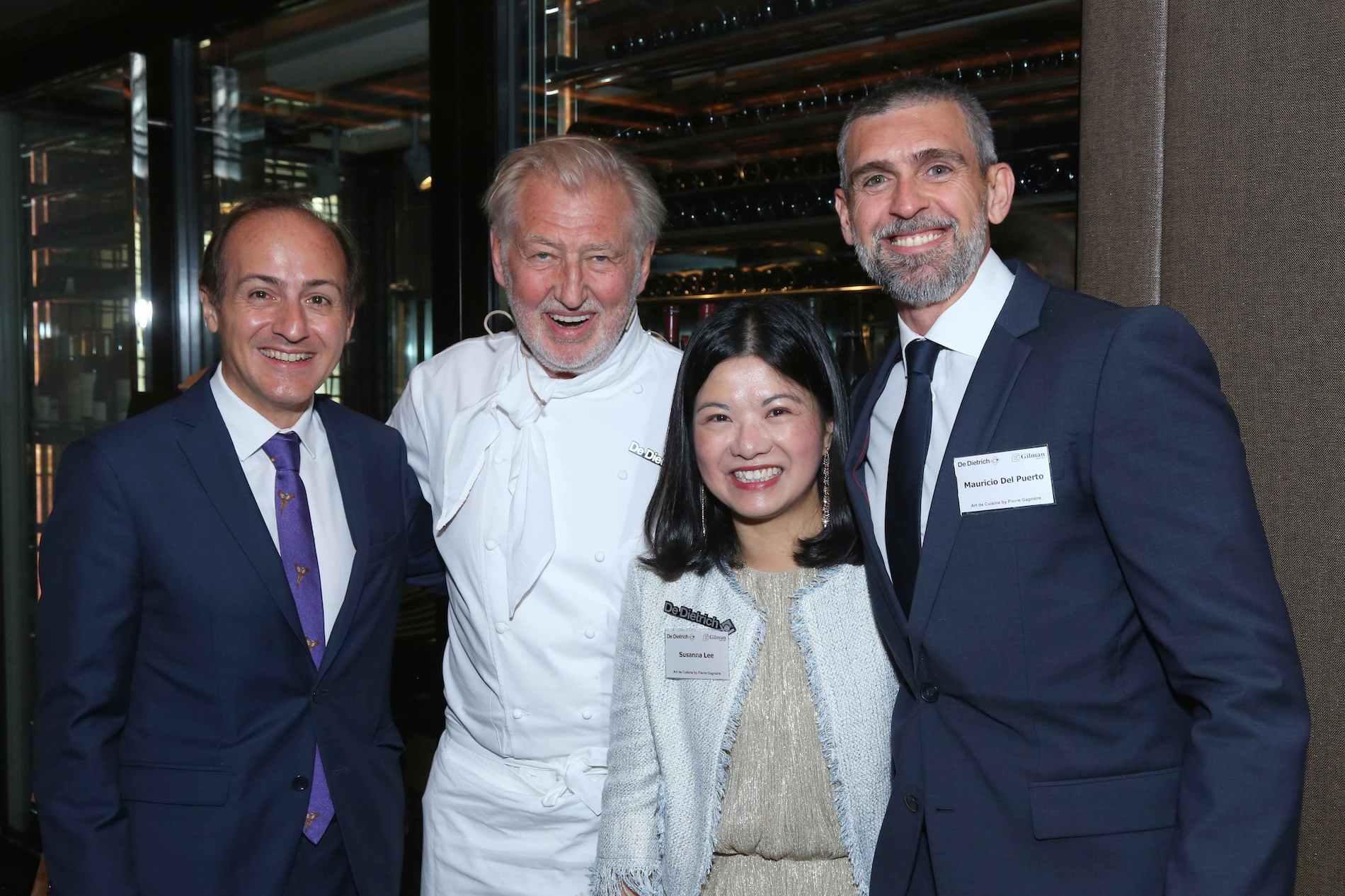 What similarities in chef Pierre do you see in the values of the De Dietrich brand?

Daniele: It's the maîtrise of France. The supreme expertise on the cooking that only few people in the world got. Only a French chef, I feel, can give that specific touch. So when we developed products, we would ask him – his contribution to our products to perform a certain way. A part of his brain and his art is in the product.

Mauricio: There is also luxury in the dash of madness and eccentricity. Pierre is also that. He's not a common chef. He's got these Michelin stars because he is a little mad – his recipe, he decided this morning when he woke up, and boom! This is very important because our products also express this eccentricity that is part of our success.

What are some qualities in equipment and appliances you look for?

Pierre: The longevity is very important. Technology that is innovative but not too complicated. The design too, and the quality of the material – you see the steel is good and is not cheap. When you touch it, you can feel it is good.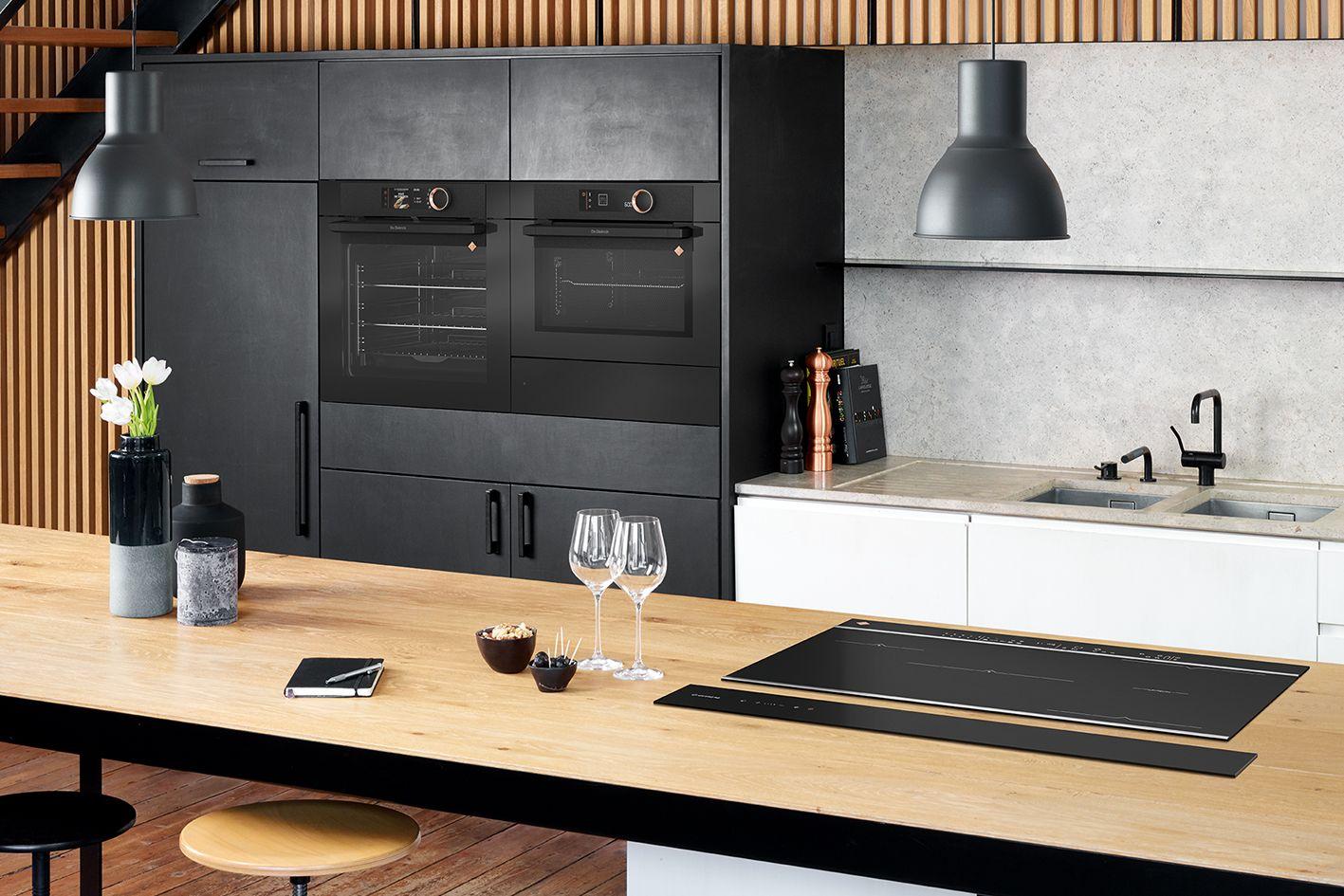 How do you see the evolution of technology in kitchen appliances and how has that helped you as a chef?

Pierre: Definitely, it's more comfortable to cook. It's clean, stable; totally different to cooking 50 years ago Today a kitchen is beautiful, elegant and easy to manage. You can also be sure you have the right temperature. When I first began to cook, I worked with fire and wood and the kitchen was very hot. Now it's a new kitchen. The designs too; within a small kitchen you can fit all the appliances you need; an induction table, a grill and so on.

Daniele: We see our products as opportunities to marry tradition with technology. The latter must serve the first. Through technology, we can achieve a higher level of taste and quality.

Mauricio: You know back in the day, before going to the mass, people would keep their food in bakeries utilising the low heat remaining in the oven; we actually have that low temperature programme in our ovens. It's not simple to have the temperature consistently at 90'c in order to avoid bacteria after cooking at 70'c for several hours, as to not collapse the collagen in the meat to have it be very tender. That is where tradition meets innovation.
How did your love for food start?

Pierre: I actually didn't start out specifically because of a love for food; in fact, I began to love my job when I understood that it was a fantastic way to connect with others; with the world, with society, with friends, with family. When you cook, you create an atmosphere with a capacity to connect people.
You have had an amazing career. What continues to inspire you to cook?
Pierre: When I serve a dish, I feel that the people are happy. You can have the materials and appliances – but at the end, you have the dish and connection. All the materials don't matter if you don't have the capacity to use them for the pleasure to offer to the people. The key of all is the connection between the guests. It's the at the heart of my cooking.
Who's your fantasy dinner guest and why?

Pierre: I don't want just one person – I want a whole table. (laughs) The family, the friends – it's the real way to stay connected to others.
See also: Inside The Newly Revamped Amber With Powerhouse Designer Adam D. Tihany