At the forefront of this elegant Cape home is an engaging collection of contemporary art juxtaposed to great effect against a classical backdrop.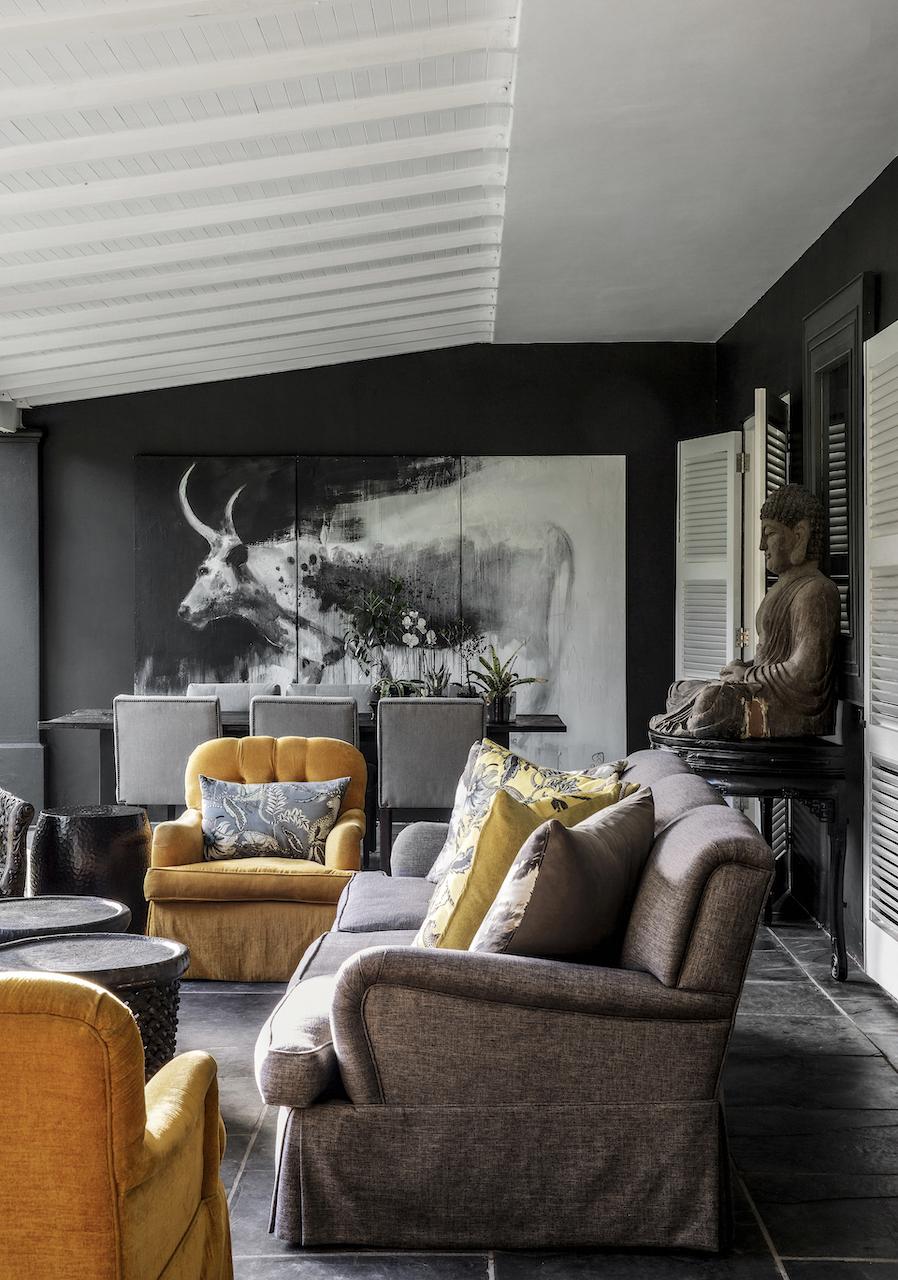 A first-time visitor to Nicky and Philip Tyers Upper Kenilworth home might be understandably mistaken for assuming they've arrived at an art gallery. Walking towards the colonnaded façade leads you past an arresting collection of artworks. These are frequently replaced with new creations from Philip's design studio and gallery, Villa Africa.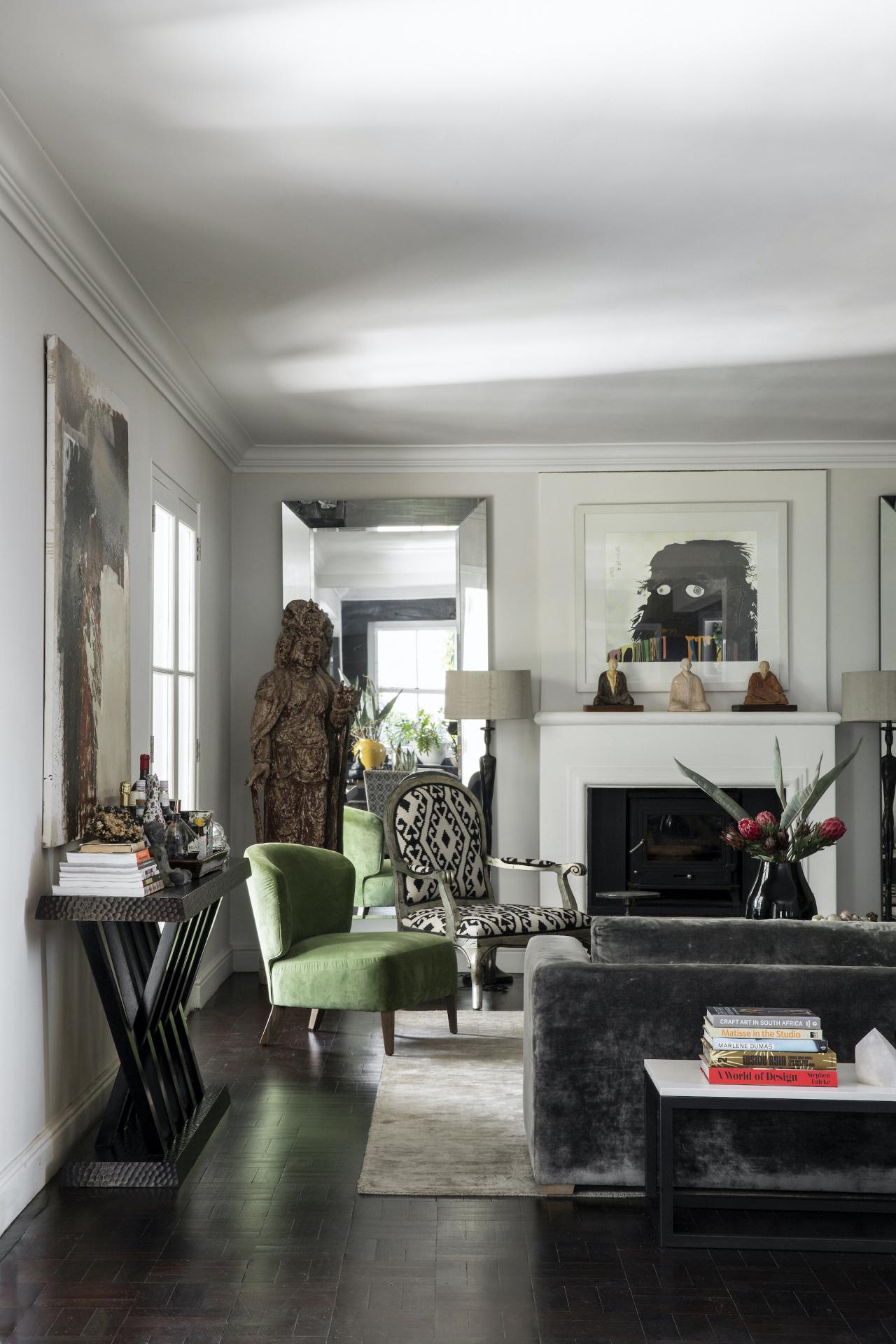 As you cross the threshold into the home, a provocative painting confronts. Nicky ­– a long time collector of Conrad Botes work – attended an auction for the sole purpose of acquiring this piece to fill the large expanse of wall. "I was intrigued by its scale, colour and the graphic nature of the content. It's one of those works people either love or hate, and everyone has an opinion on what it could possibly represent… it certainly sparks debate," she says with a smile.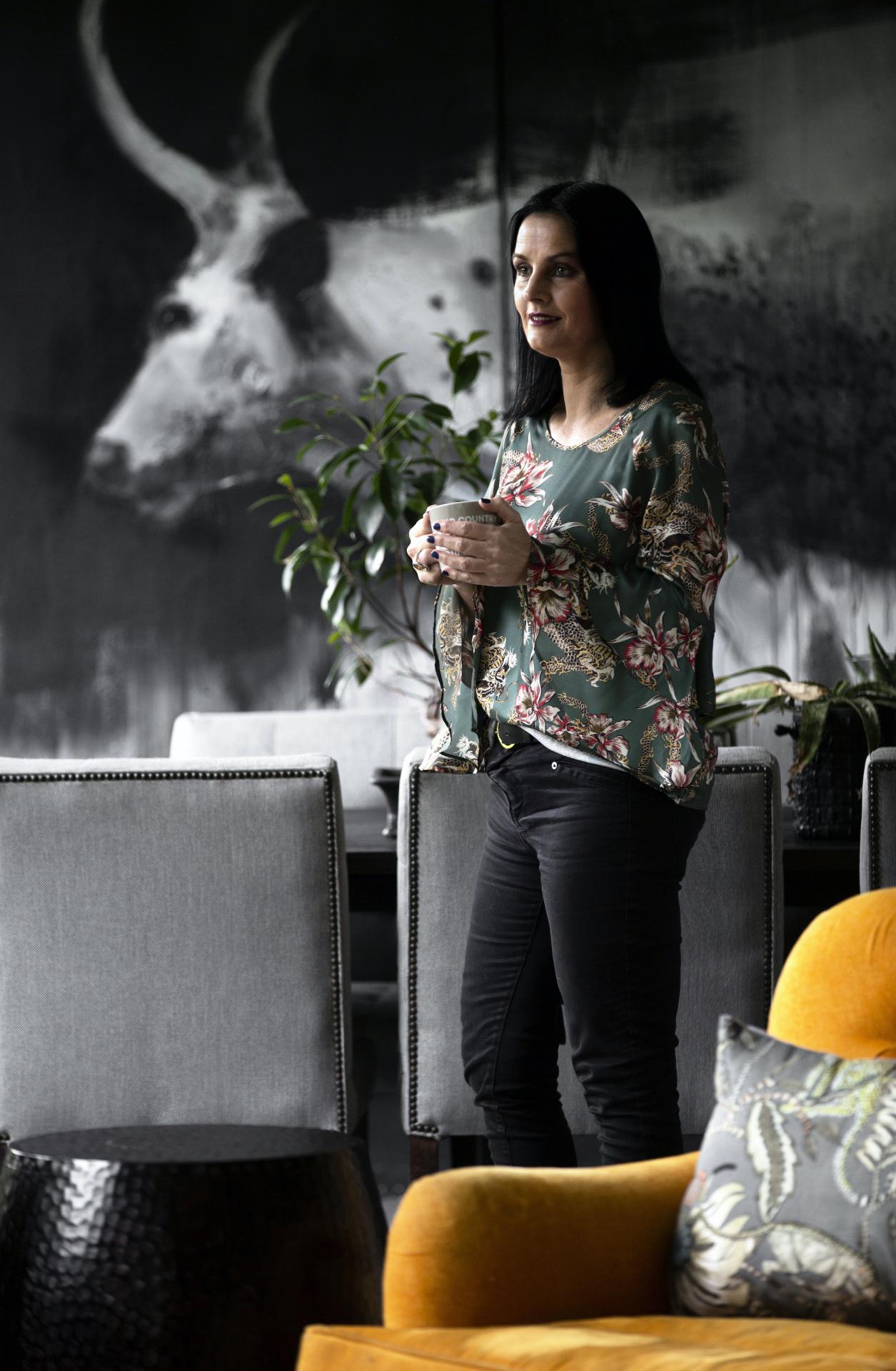 While the painting establishes a formidable contemporary presence, the entrance hall is heavy with heritage and tradition. The double volume height is anchored by an elegant Cape Dutch lattice window and a Burmese rosewood staircase that serpentines gracefully to the first storey bedrooms. Nicky and Philip bought the home for its good bones: sizeable rooms, lofty ceilings, wooden floors and large sash windows.
"A house should have a compelling and beautiful character even when empty. Furnishings and artwork are simply the final flourish," she says, remarking on the importance of the structural framework and integrity of a building. As an interior designer of 28 years, Nicky has honed her skill in overhauling homes, many of which have been landmark properties with distinct architectural styles such as Herbert Baker, Arts and Crafts and Cape Dutch.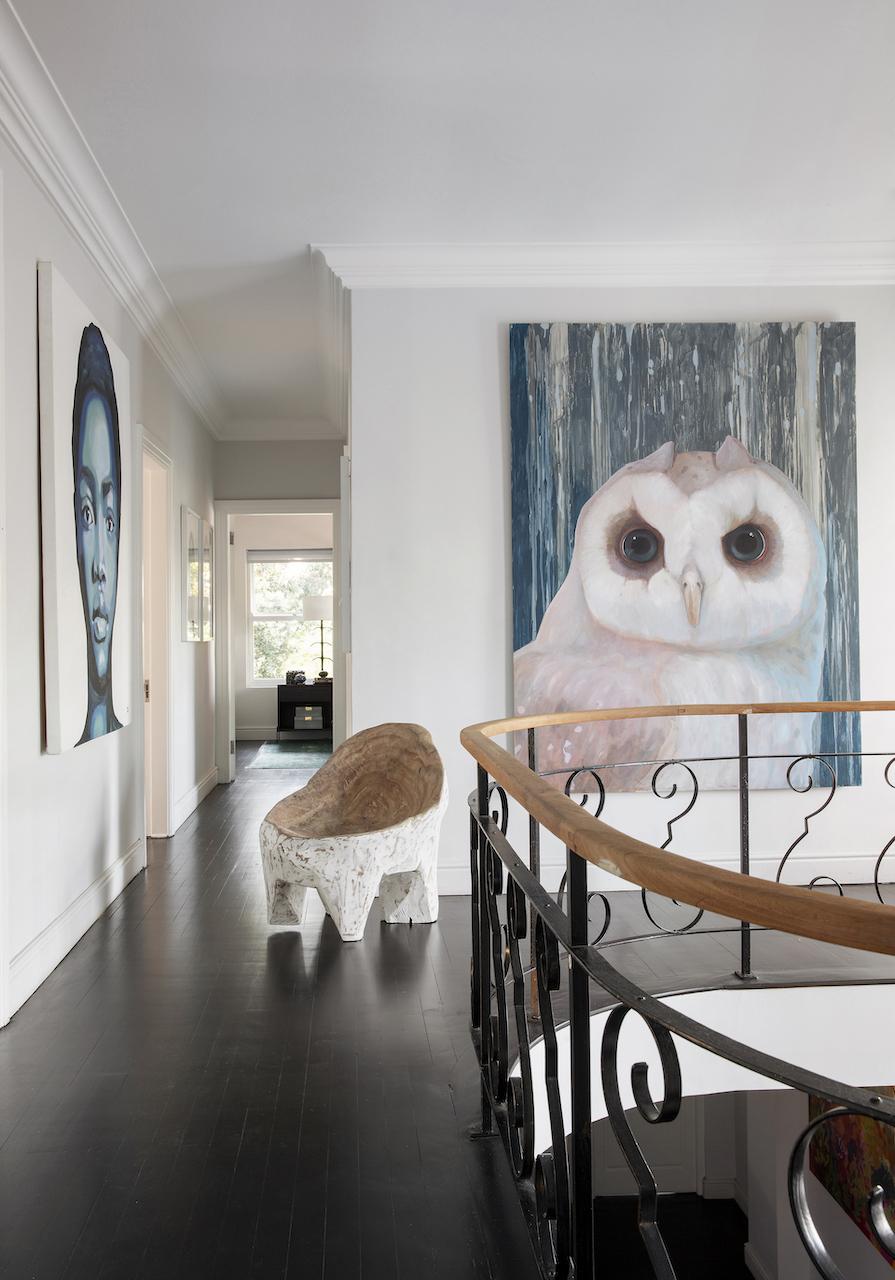 Much of the work done to the house involved re-arranging doorways to ensure good Chi in accordance with Feng Shui principles, of which Nicky is a firm advocate.
The single front door was replaced with a raised and fielded panel double door crowned by a glass fanlight that establishes the requisite strong entry to attract positive energy into the home. In keeping with the philosophy of circulating good Chi through the home, the double doorway leading from the entrance hall to the living room was moved to face the staircase rather than the front door.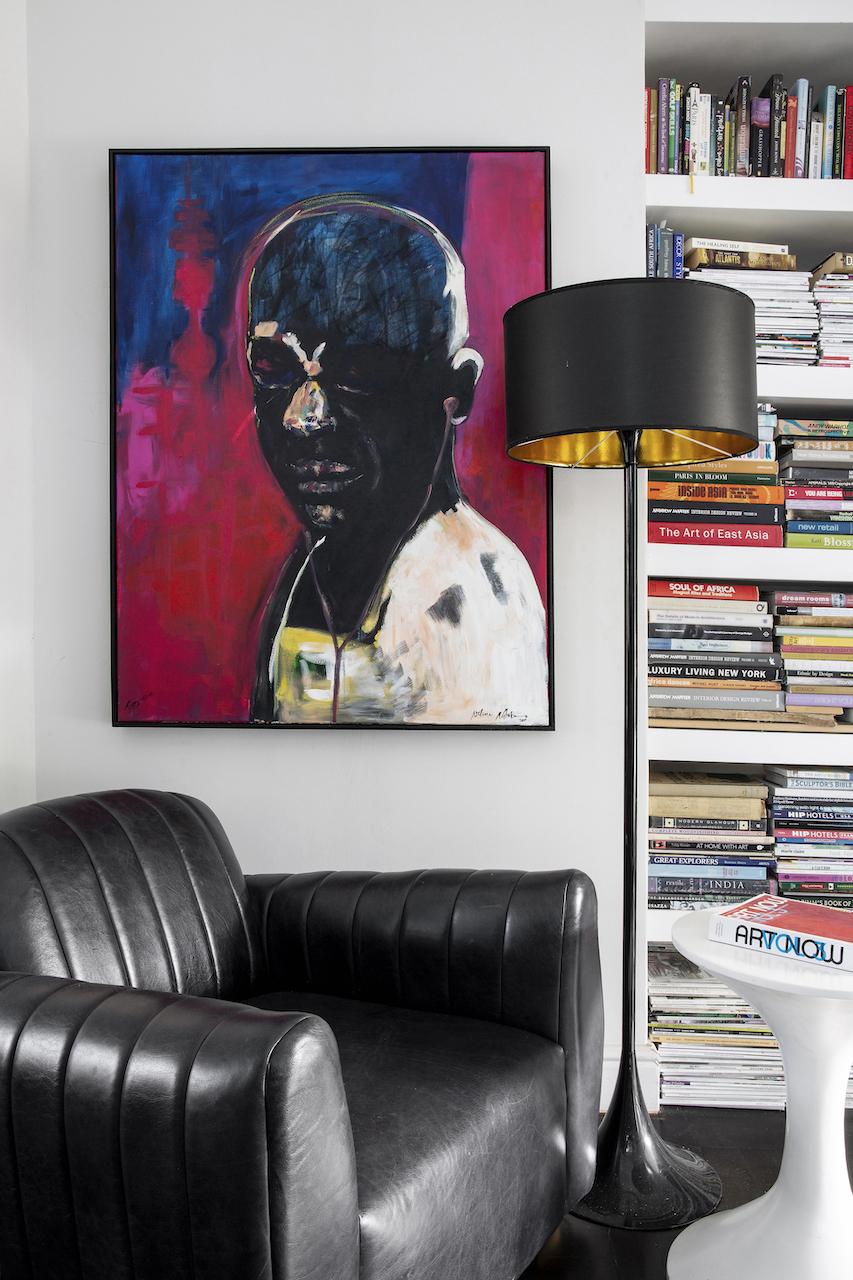 The opening now lines up with the doorway leading to the back veranda creating a pleasing symmetry and a coherent flow through the spaces. "What the shift also achieved is a larger wall surface to display art in the entrance hall and living area," Nicky says. 'When we move, we ensure that the wall space can accommodate our collection. A new house becomes a home only once our art is up."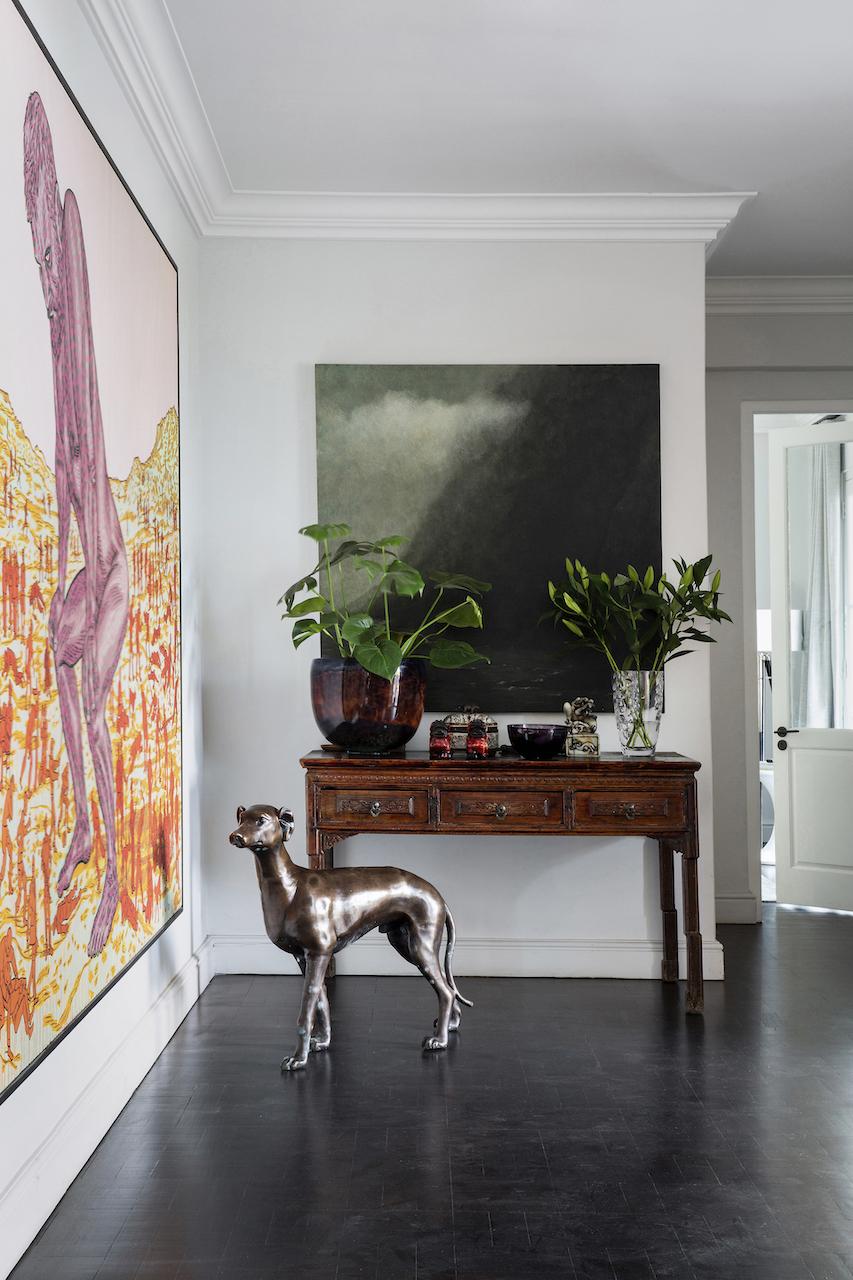 In places the house's traditional layout was liberated. Upstairs two bedrooms were merged resulting in a generous main bedroom suite incorporating Nicky's study. Similarly, the kitchen and living area were unified by removing a dividing wall.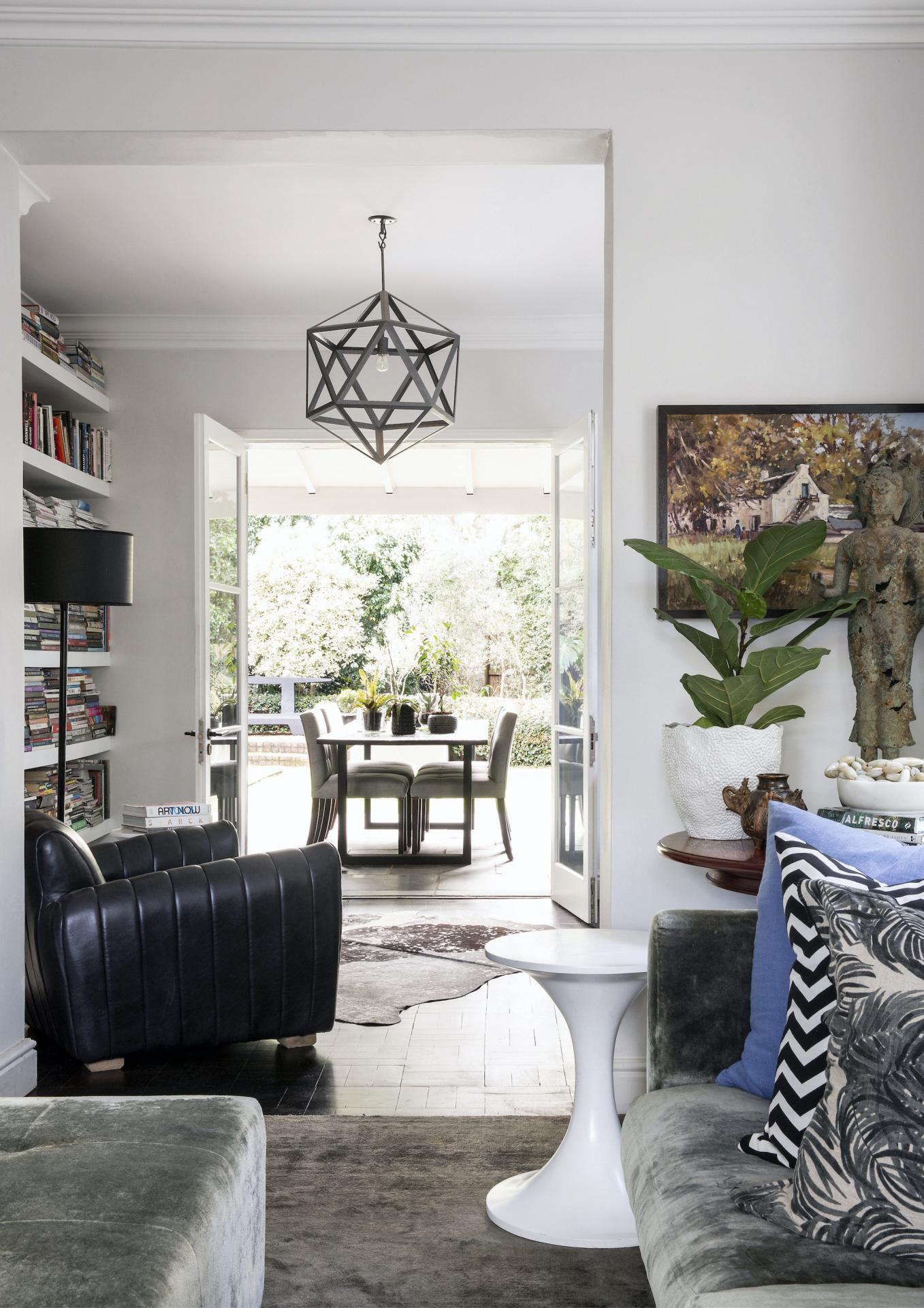 Previously galley style, the new u-shape kitchen sits snug to one end. The remaining section houses an island and dining table. Nicky explains that this arrangement solved the issue of filling the space with a very long rectangular dining and offers practical and flexible seating options.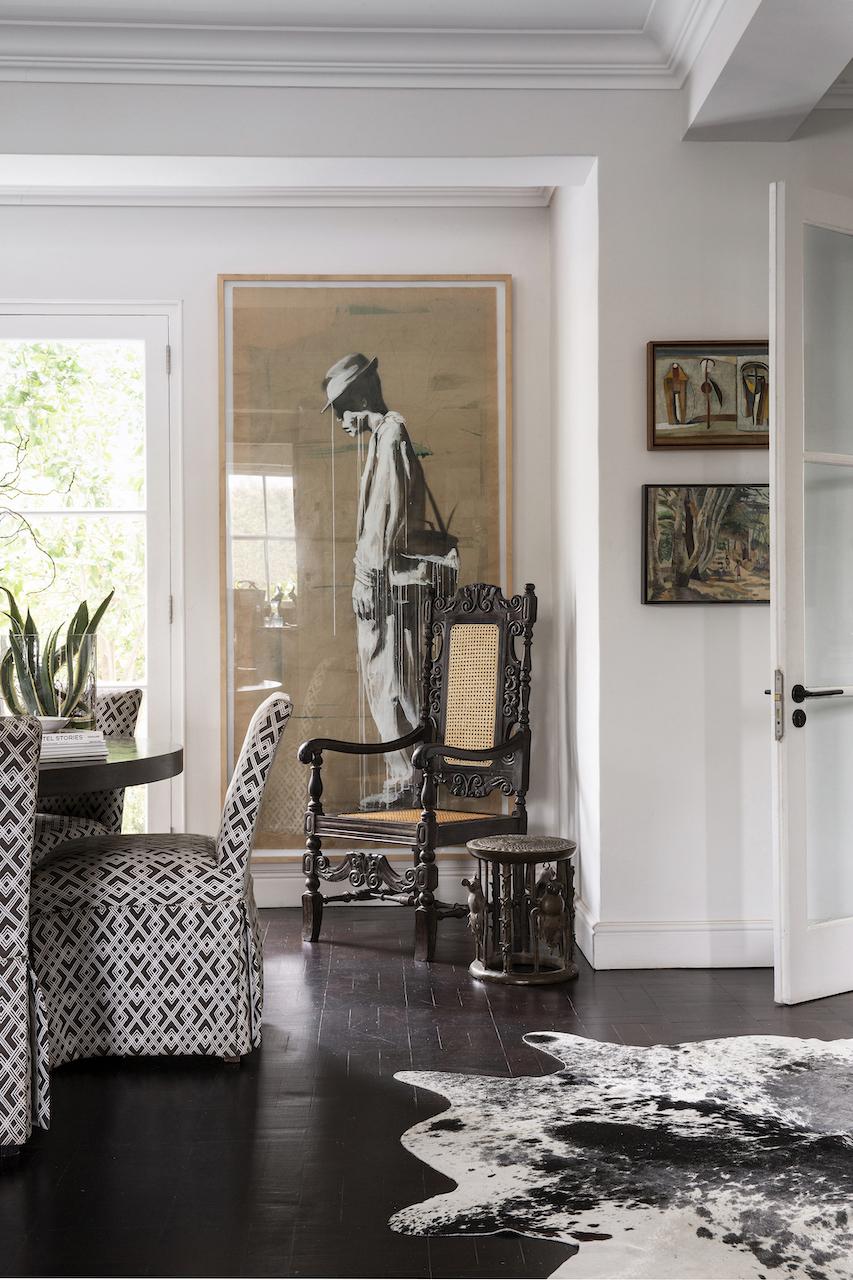 Breakfasts and lunches are quick affairs taken at the island at different times depending on the everyone's schedule while dinners are enjoyed as a family around the table. Paying tribute to the rich talent of South African artists, the space features works by Nelson Makamo, Maja Maljevic, Louis De Villiers and Faith 47. The Matador by Nandipha Mntambo leaps from a wall the colour of ink.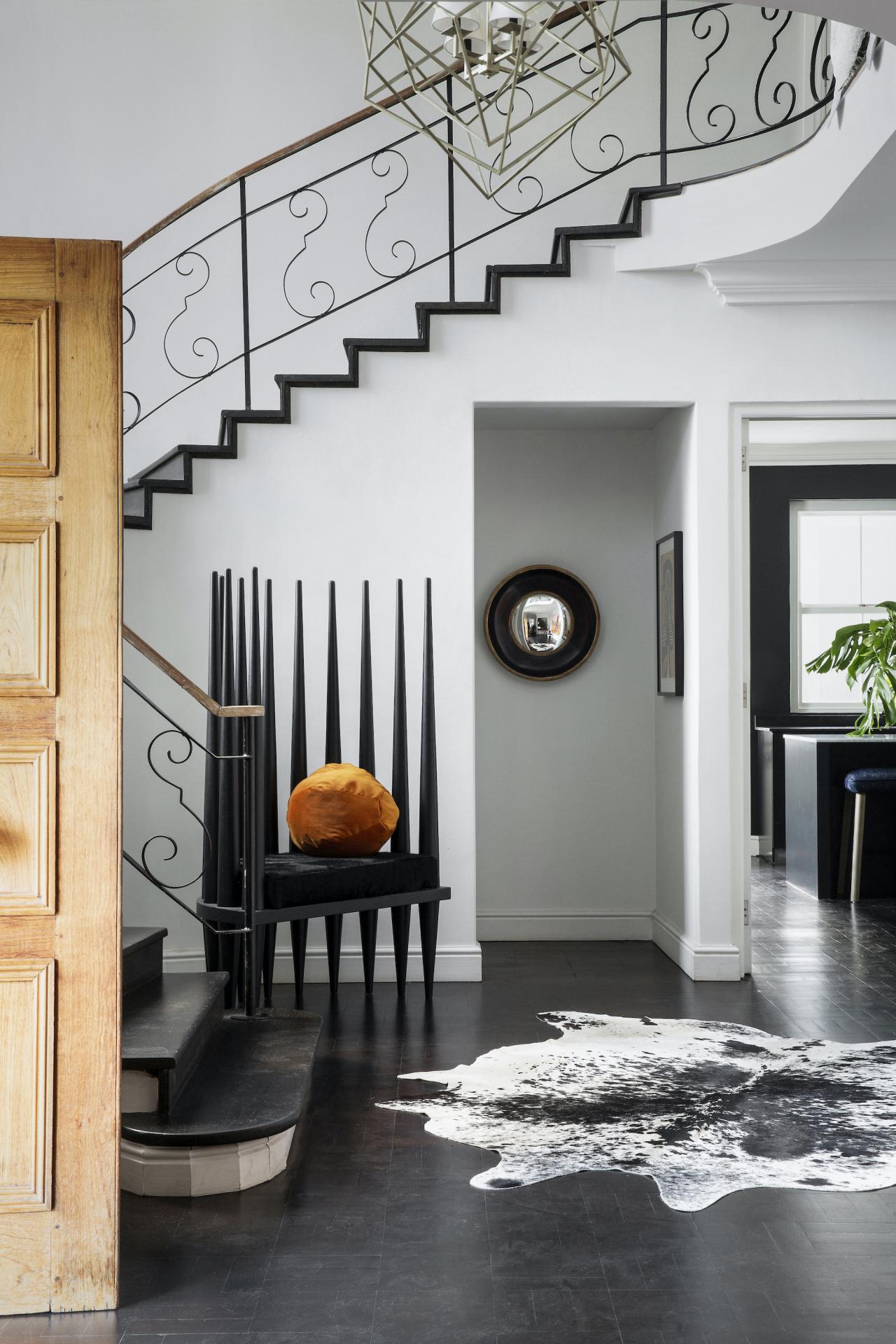 "I enjoy creating drama in a space and nothing achieves this better than a black wall," says Nicky, adding that the wooden floors were stained ebony to create depth and to contrast with the crisp white walls.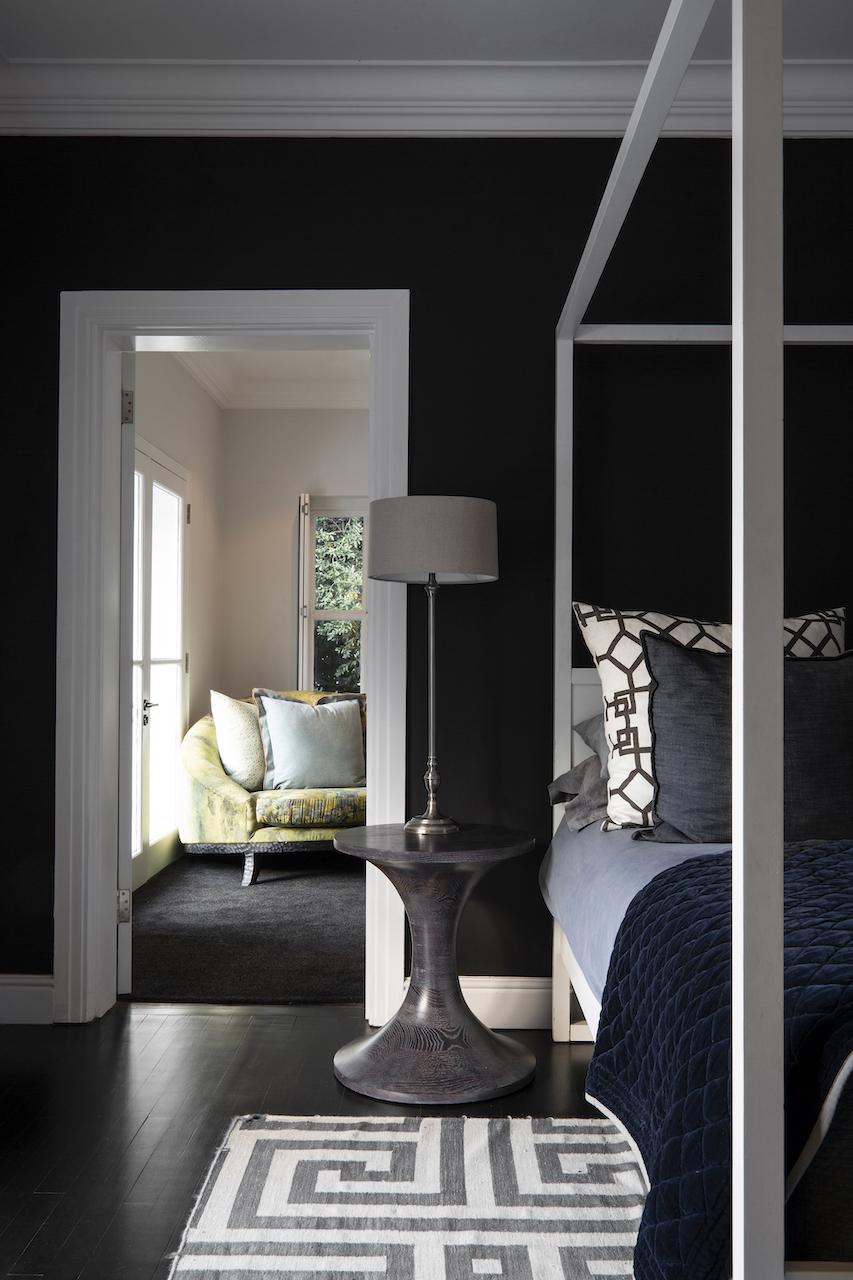 The living area reflects Nicky's appreciation of eclectic interiors, nurtured she says from a young age while poring over her mother's vast collection of British House and Garden and Architectural Digest magazines.
At the rear wall, a striking symmetrical composition is established with large-scale bevel edge mirrors, antique Buddhist statues, lamps with Giacometti-like bases and Louise XV style armchairs given a twist with upholstery in an Ikat-inspired print. The room has poise. While nothing competes, every item both holds its own and collaborates agreeably against a muted palette.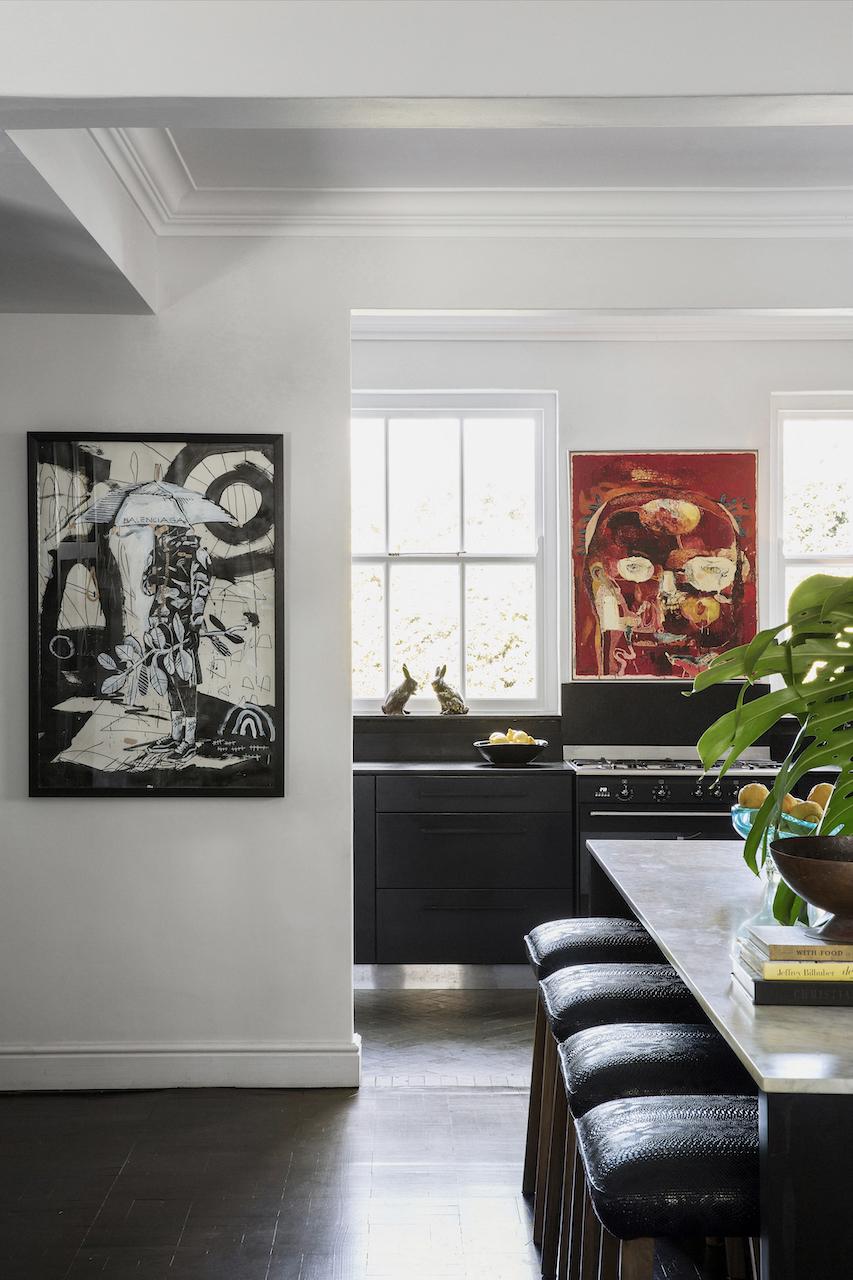 Outside, the veranda is an extension of the interior. Traditional outdoor furniture gives way to an unexpected ensemble that includes an antique carved chair, Bamileke stools and an inviting sofa and armchairs. Used as frequently as any of the other rooms in the home, Nicky plans to enclose it with glass to be able to enjoy the space and the view of the garden in the cold, wet months as well. Naturally, there is art here too – a three panel painting of a Nguni cow that brings a charcoal wall to life.