"Live, Love, Laugh" is the Gueniau family's mantra, and it's a motto that's in evidence in every corner of their home in Hunderup, Odense. The 1912 church house is a lively and humorous mixture of design, art, vintage and plastic in vivid colours.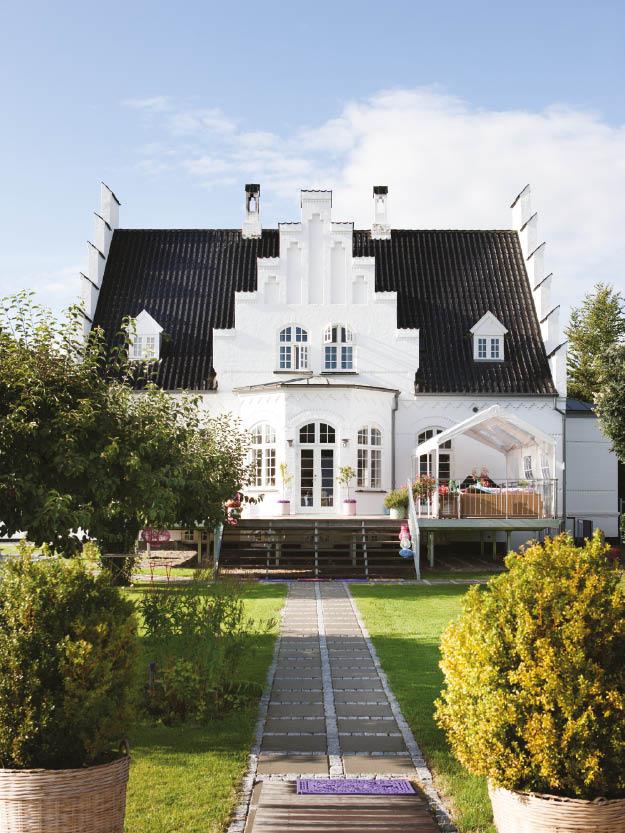 Colour has always been important for Charlotte Hedeman Gueniau, who is Rice's creative director. Rice is known for its colourful melamine pieces, handmade basket, storage options and hand-glazed Italian ceramics. "Our design is inspired by 'the good old days' and is very much down to earth, but with lots of details and colours," says Charlotte. "We have a big heart and strong social ethics. We support Global Compact, and Rice is the first Scandinavian firm certified to the SA8000 standard, based on our projects with suppliers all over the world."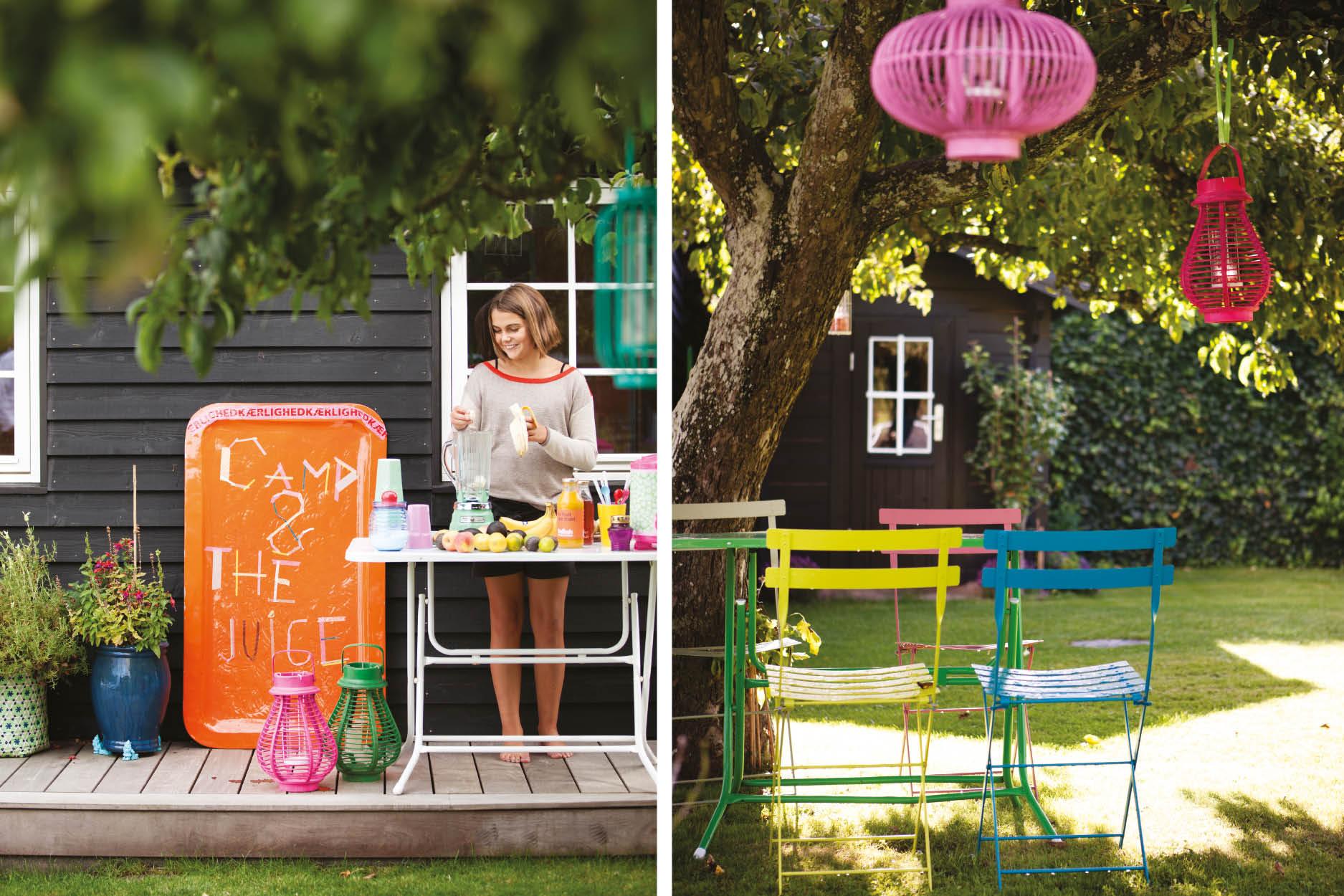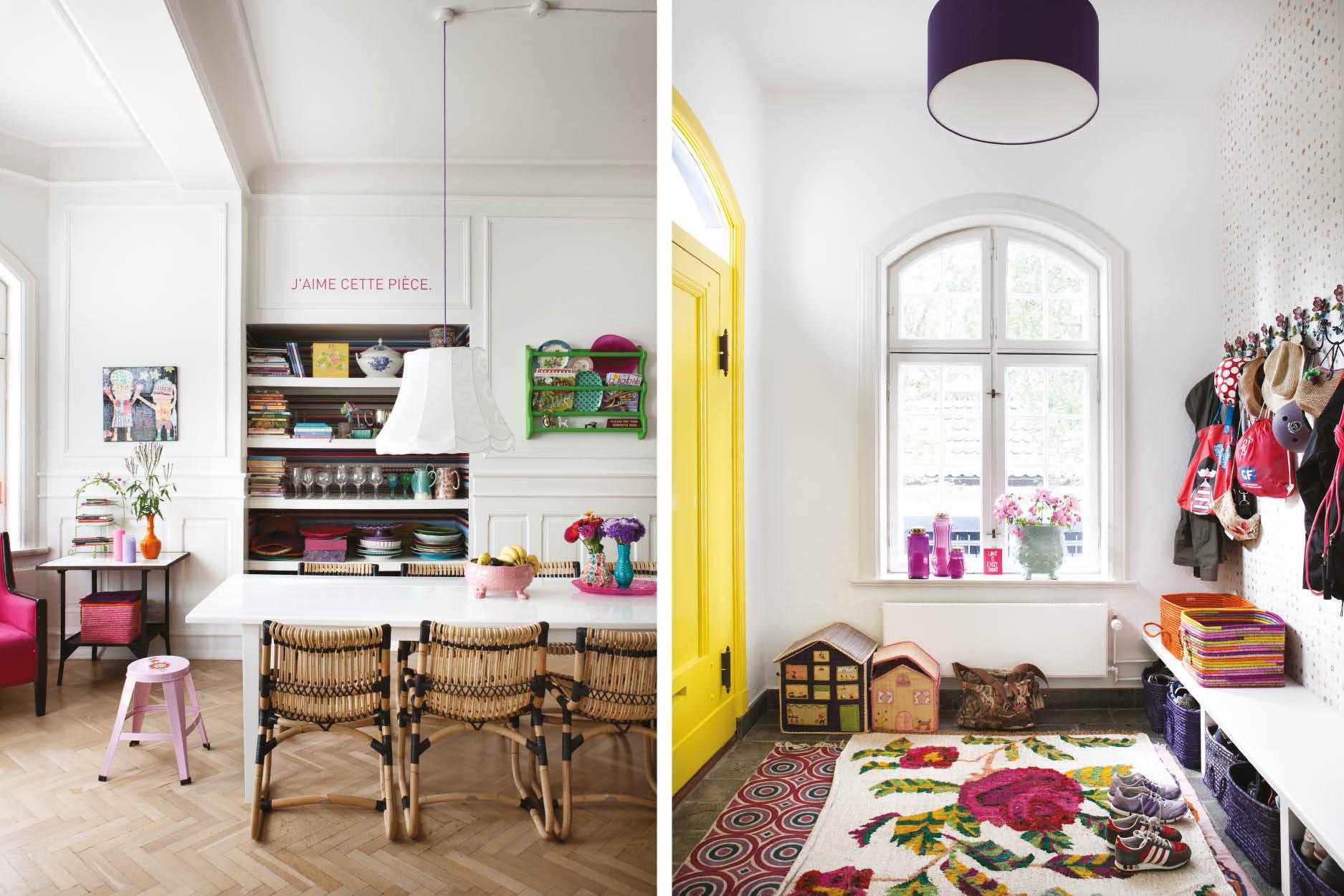 As Rice's creative director, Charlotte designs and develops the brand's colourful collections and products. It is she who is primarily responsible for furnishing their home. "I cannot live without colour and I think it is very important to be surrounded by them as they influence us mentally," she says. "I can easily see the benefits of a completely toned-down colour universe and enjoy experiencing this in other places. But I get happy when I come home again to all the colours we love."
Charlotte is always willing to give advice on colour to those who want to live an unconventional and colour-filled life. "Don't take it so seriously, and don't be afraid of colour," she suggests. "Just do it – paint that wall without thinking too much about it! If you get tired of that colour, it can be repainted in a couple of hours – it's no worse than that."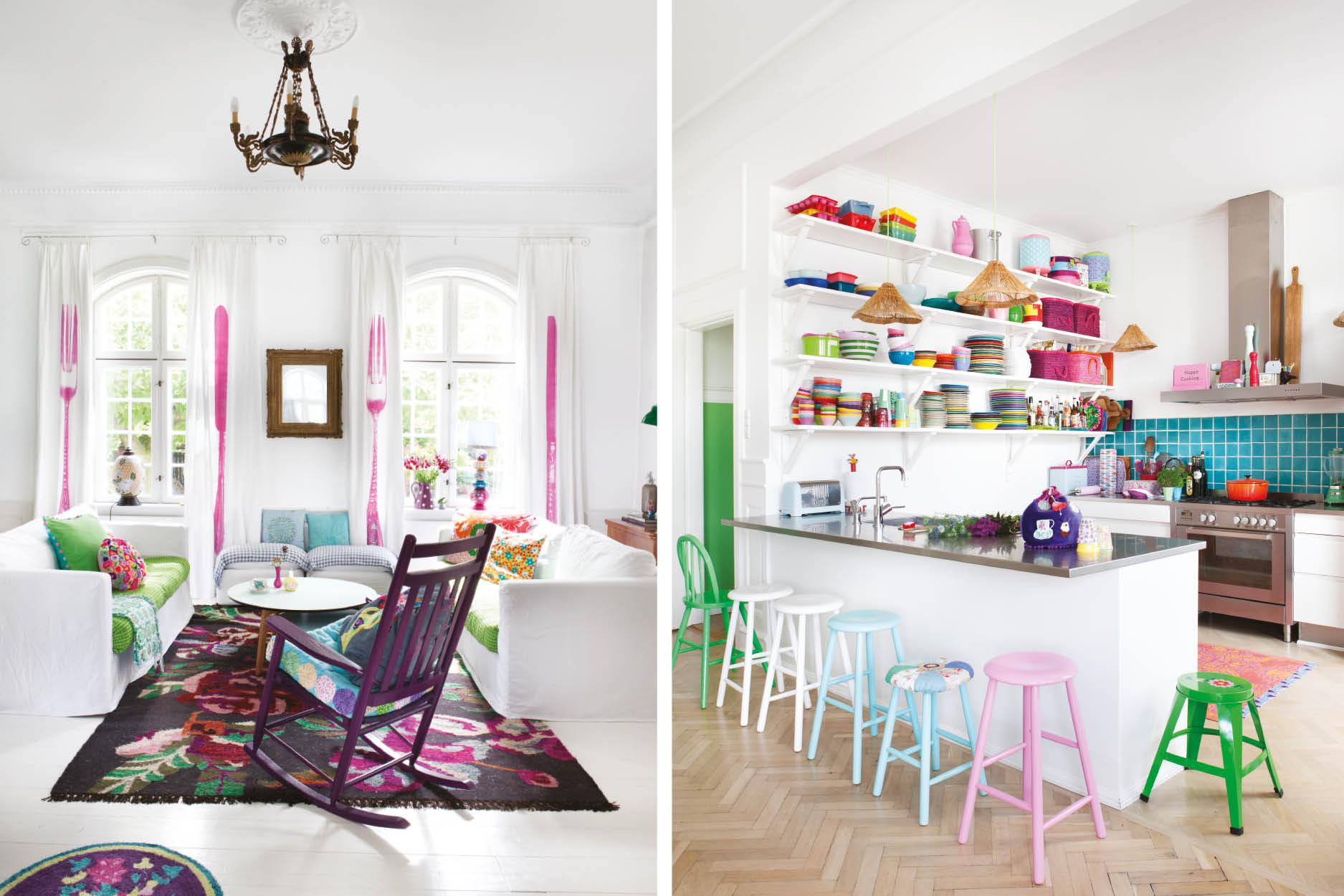 The designer has so much to say on the subject that she's even written a book about it: it's called Happy Homes.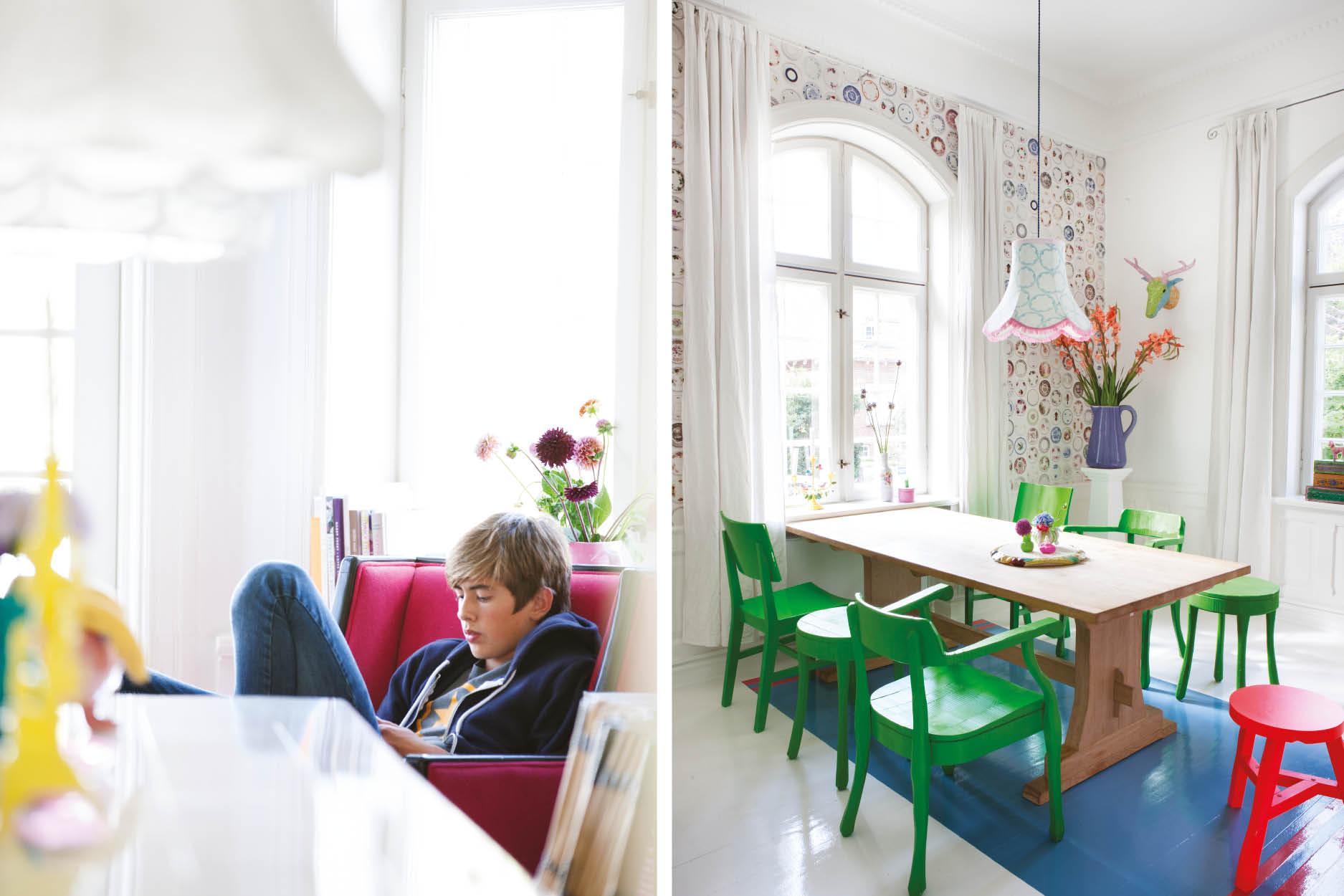 Aside from filling their home with colour, the creative couple didn't have to make too many changes. The space was already thoroughly renovated – however they did choose to alter the kitchen, which was not to their taste. "It was too sterile, dark and unpleasant for our taste," remarks Charlotte. "Other people would probably love a kitchen in steel and black marble, but I could not function in it at all … I dreamt of an open, light kitchen with plenty of space for children and dogs. A place where it doesn't matter if the furniture gets a few scratches or if a bit of dirt gets on the floor."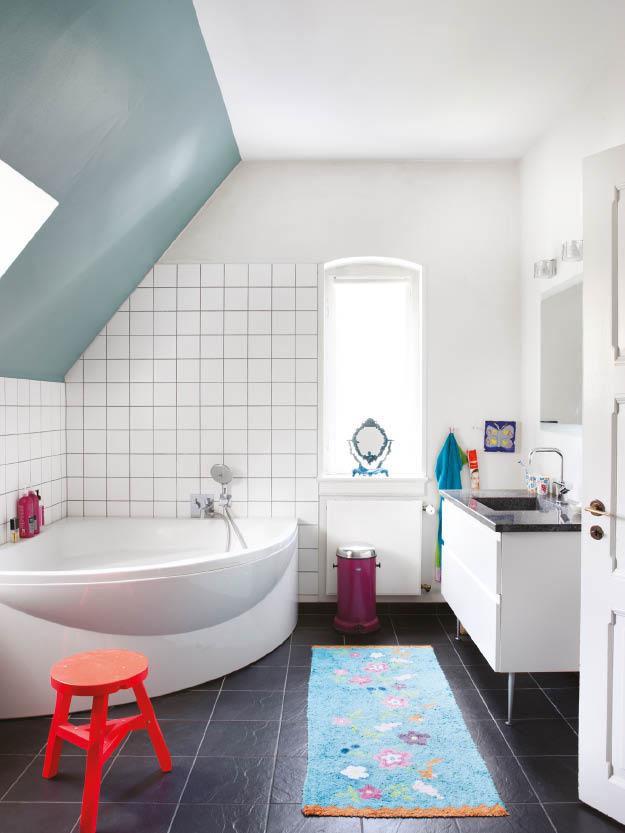 So they chose to re-do the kitchen in all white, using colour wall tiles and bright kitchen utensils to bring the space to life, underlining the colourful and unceremonious style that is at the heart of this family's ethos.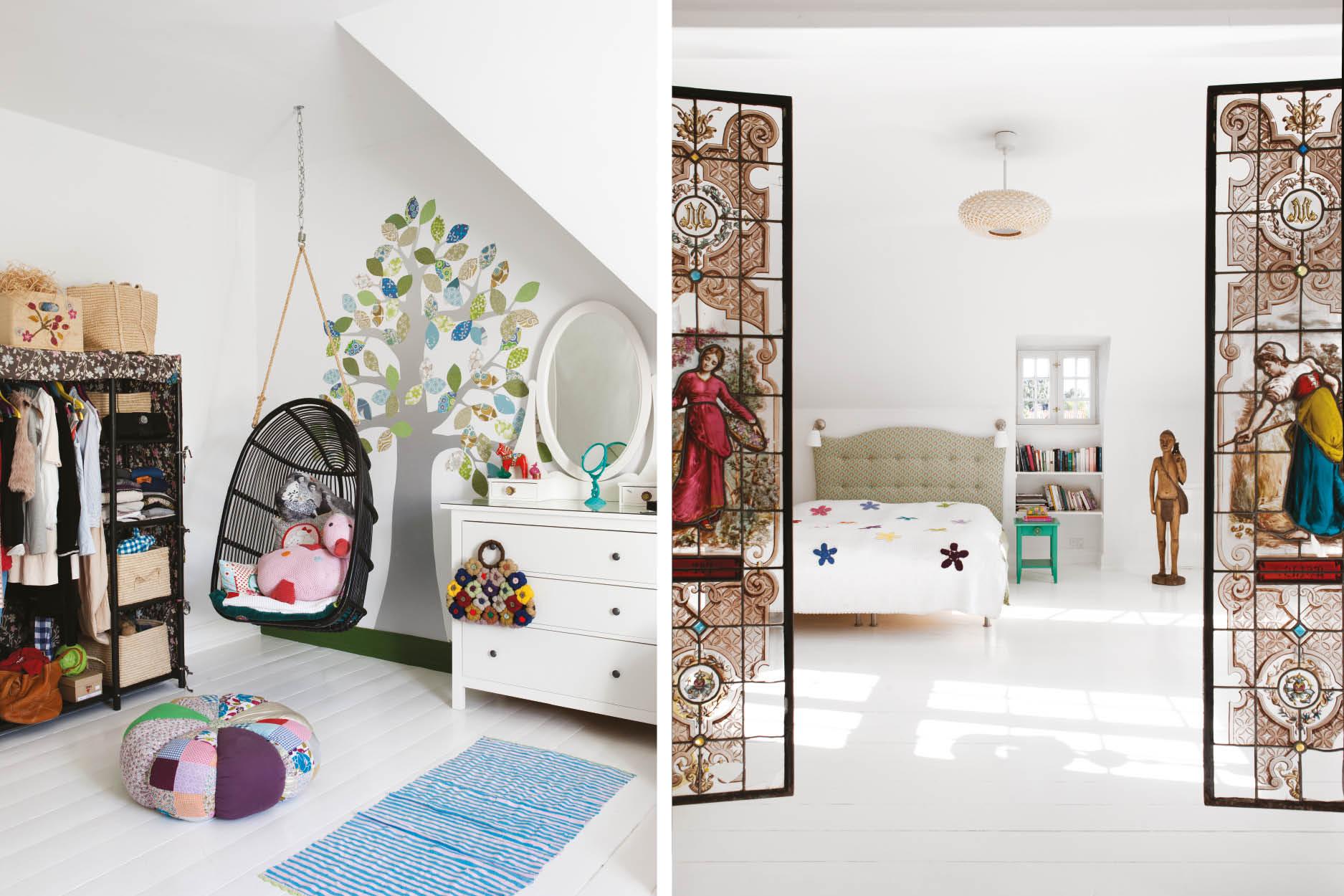 Adding to the fun is a tent Philippe (the man of the house and fellow founder of Rice) mounted on the terrace – a solution to the unpredictable Nordic weather. On warm days, it offers shade, and on cold ones, shelter from the cold. The sides of the tent act as a roof, and the windows now serve as skylights. "The terrace is like a prolonged living room in the summertime," says Charlotte. "It's the place we stay, eat, play games and have a pleasant time."It's clear from the riot of colour and fun, and from the happy smiles on everyone's faces, that pleasant times are an hourly occurrence in the Gueniau household.
Photography: Bjarni B. Jacobsen | Pure Public | Living Inside