Oh, to be India Hicks! What's there not to envy?
David Flint and India Hicks with their children in front of America Farm
The aristocratic family tree. The creative bloodline. The model-good looks. The thriving business that also empowers women entrepreneurs. The idyllic home on Harbour Island. The loving family of seven. India makes for a strong case for having it all – and for doing it all with a certain flair.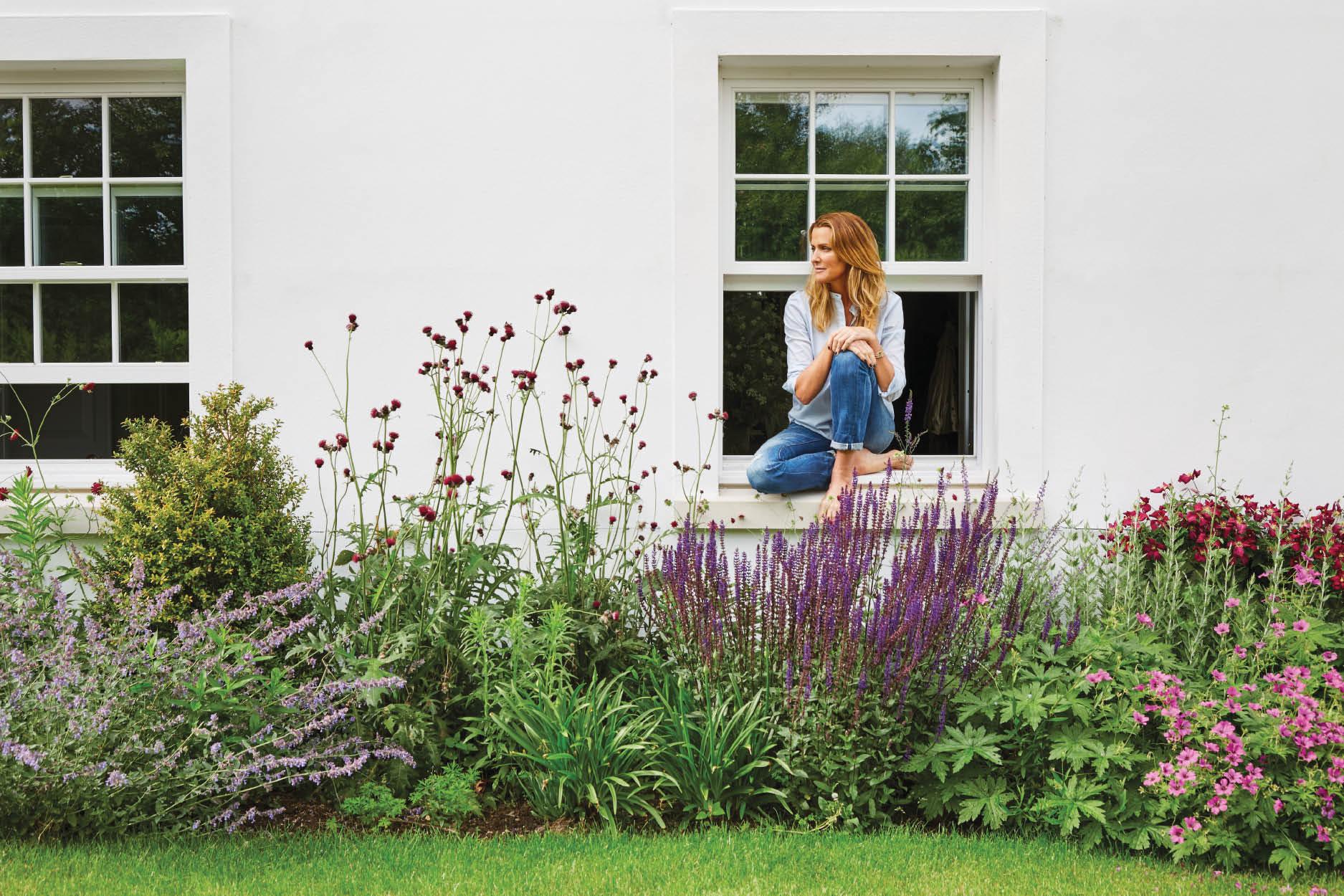 In creating their home, the couple wanted pure architectural symmetry
Adding to the growing enviable list is her new country home in England, which she and her partner David Flint have lovingly called America Farm.
After years of living a haute bohemian lifestyle on the pink sand beaches of the Bahamas, India and David decided that they wanted their five children to develop a better affinity to their British heritage. Decades of barefoot walks on the beach, climbing coconut trees and pirate games needed to heed to more Anglo-centric pastimes, so they set out to build their home.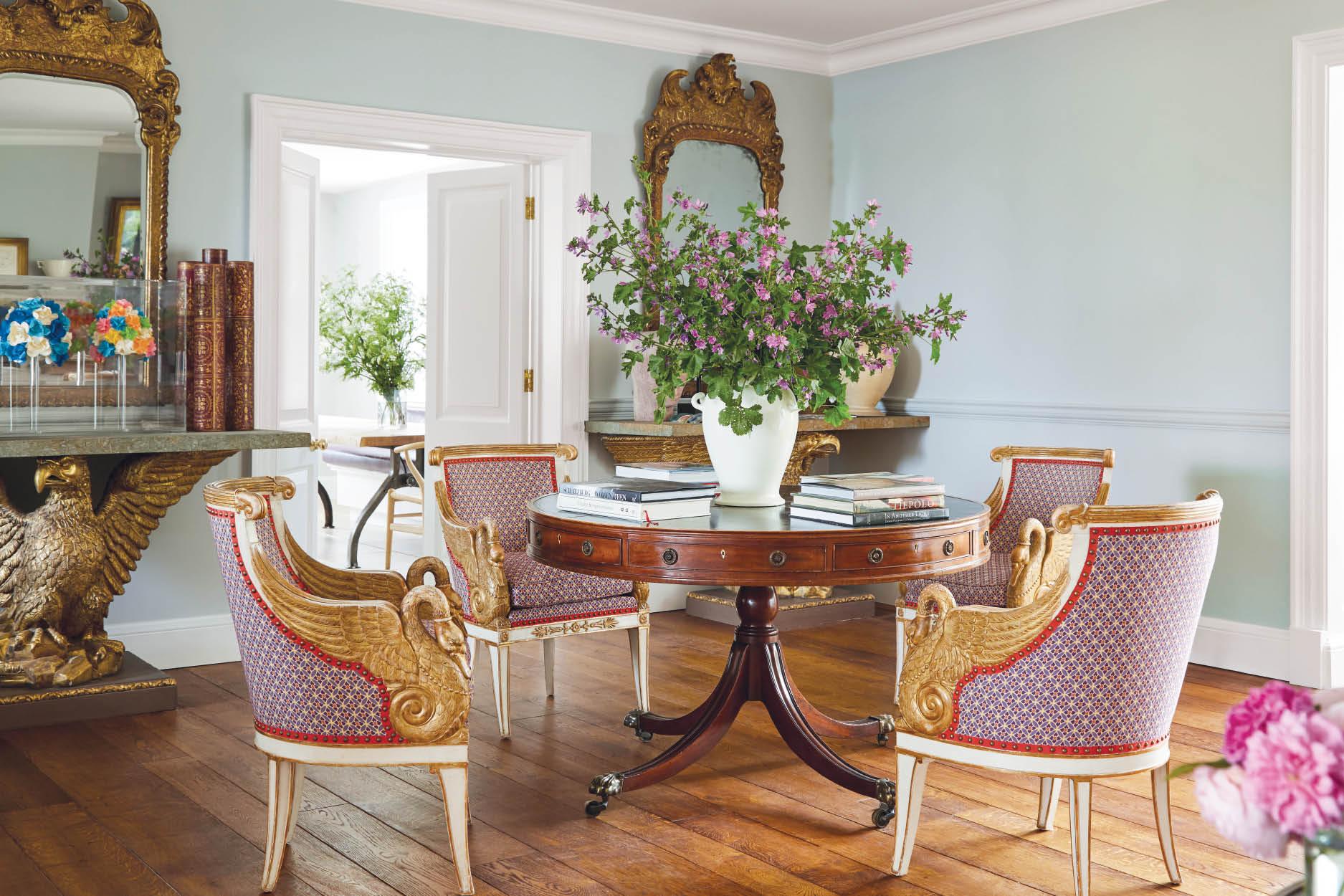 An English hall table surrounded by Napoleonic bergere chairs from India's mother covered in her father's fabric
India was lucky enough to have some farmland near her mother (in Oxfordshire), at the edge of the village where our boys had been christened. We had permission from the authorities to take down two 1970s farm workers' cottages and build our idea of a house, with a small garden alongside large fields, writes David in India's book, A Slice of England.
For historical context, India's mother is Lady Pamela Hicks, daughter of Lord Mountbatten, the last Viceroy of India – she can trace her family lineage all the way to Queen Victoria, and had traveled the world as lady-in-waiting to Queen Elizabeth. India's father was decorating genius David Hicks, making her a true blueblood in the royal and design sense and an authority by birthright on all manners of style and interior design.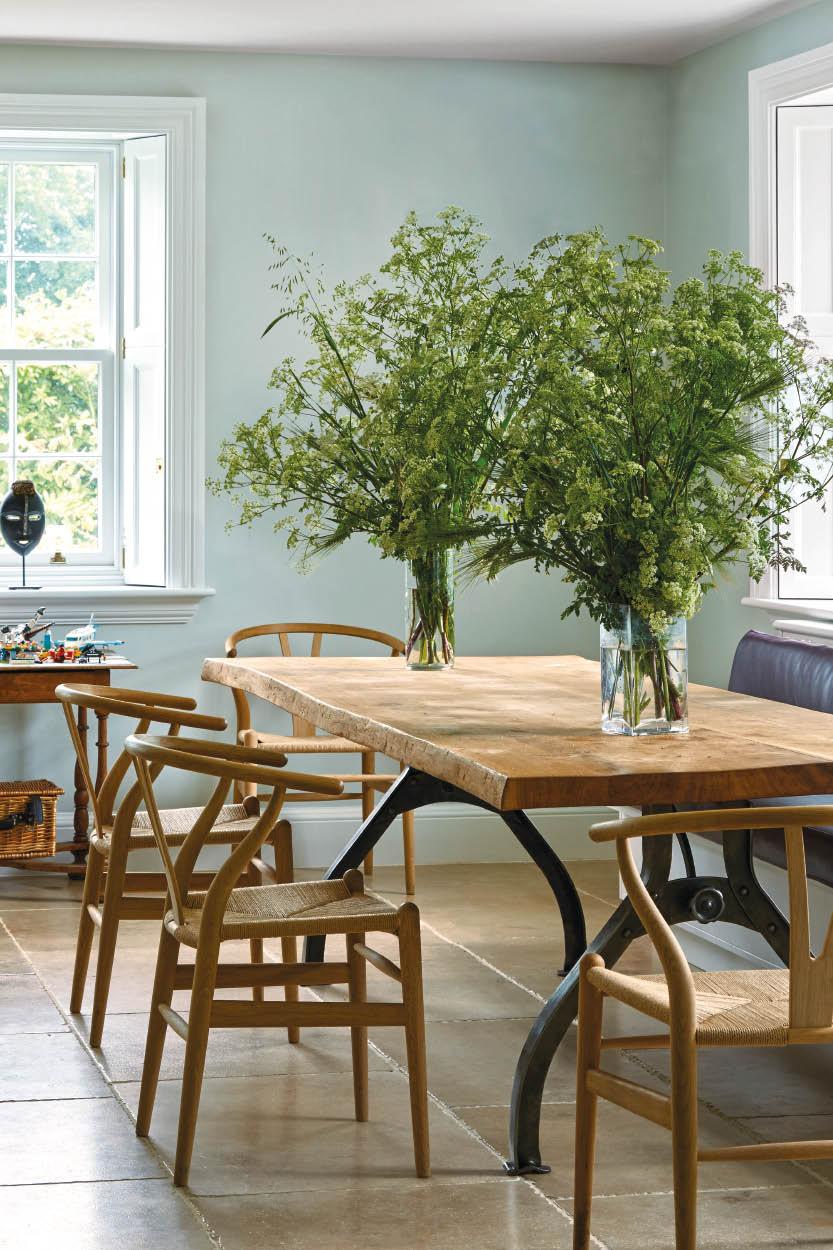 The eat-in kitchen has a reclaimed oak table and wishbone chairs
India grew up with transportive tented rooms and riotous colors and patterns, which in her father's capable hands worked magic and have become totems of interior design. It did not occur to me as a child that other people did not grow up eating breakfast in tented rooms of geometric fabric, in vibrating color schemes, or that you painted your swimming pool black to add drama, or had golden pheasants as pets, recalls India.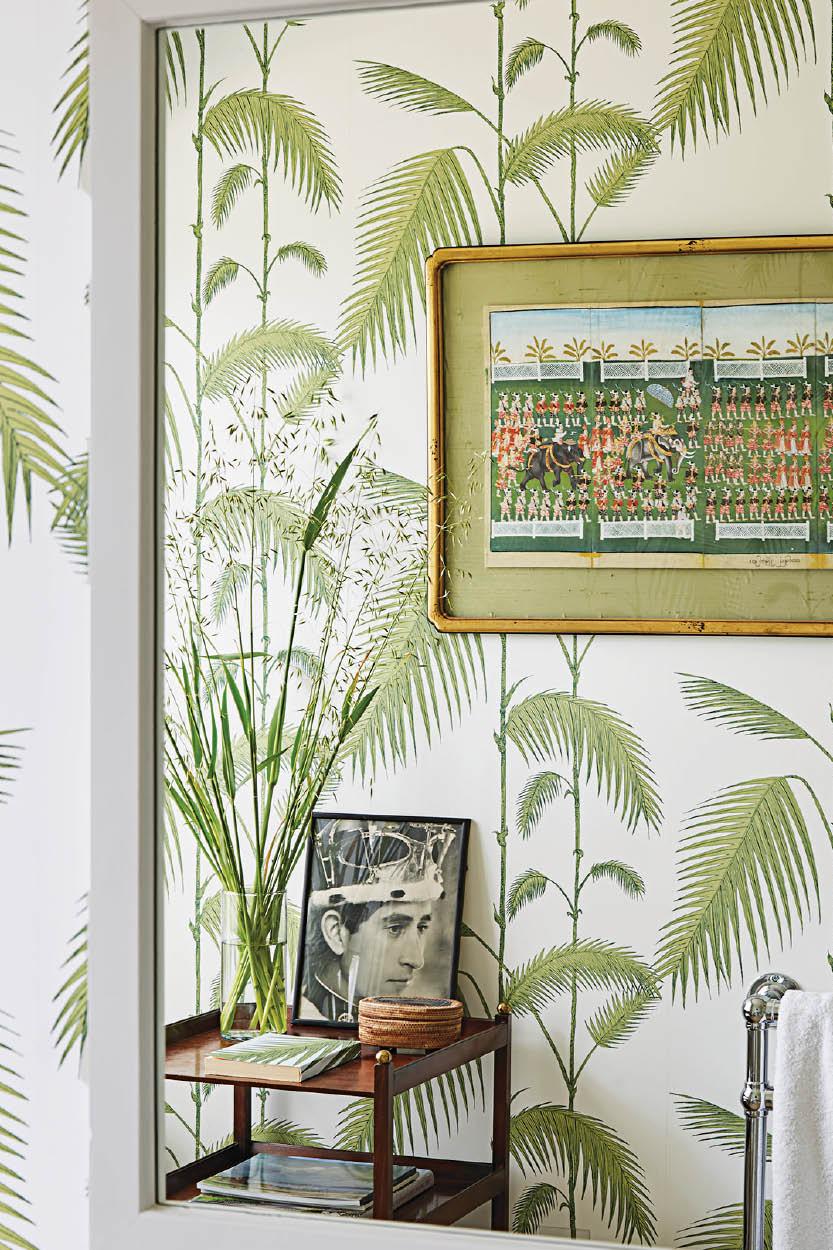 The home is filled with beautifully curated vignettes
Through her father, she learned invaluable lessons on decorating, and much of it has stayed with her, which she continues to deploy when needed. Although she is the first to admit that she isn't nearly as fearless, I certainly can't resist a pop of crimson or shocking pink!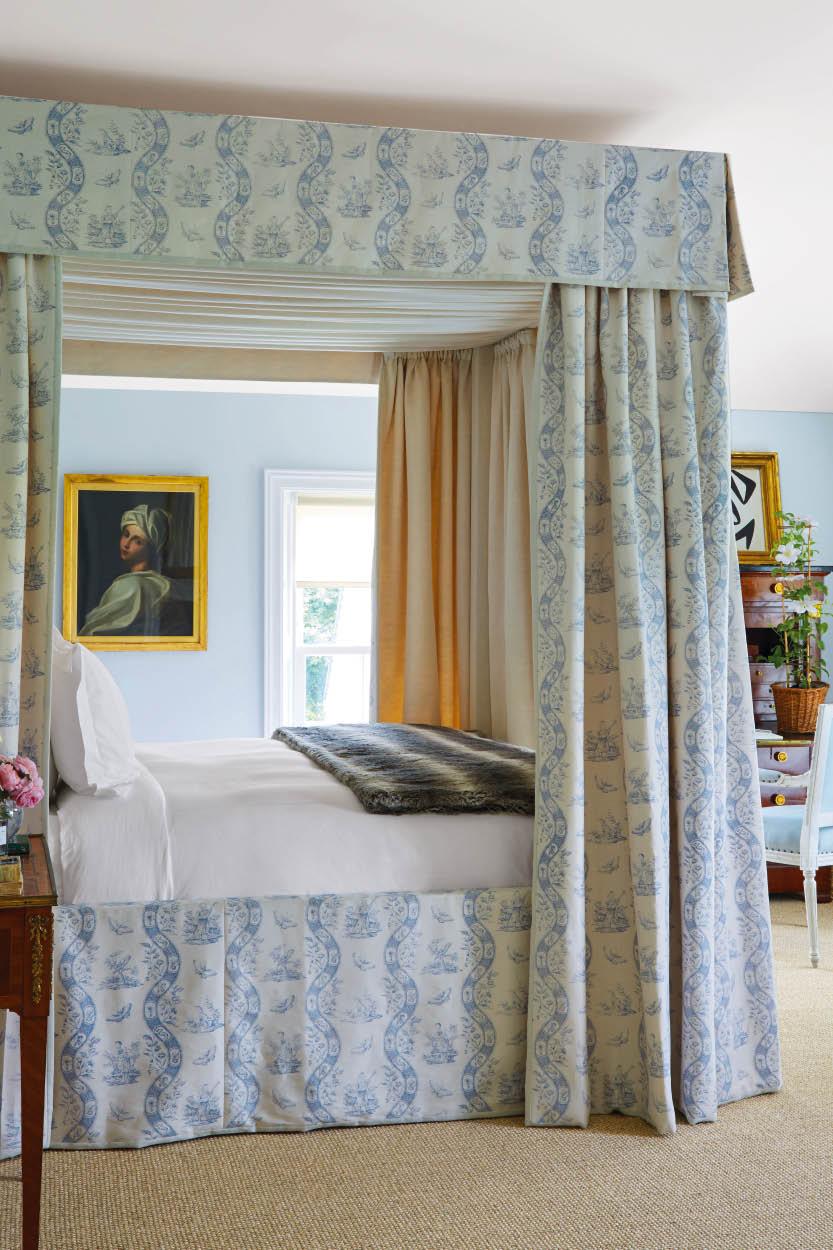 India calls her bedroom a refuge from the many, many children I have." The bed was custom-designed and locally built, and draped in blue Bennison fabric
In building their home, lessons from her father were coupled with the couple's wish list. India and I both wanted something traditional, probably white stucco, a cross between a Danish farmhouse and a Georgian rectory, wrote David. They obsessed over architectural symmetry and preferred a direct line of sight from doors to windows, so that vistas of the gardens and beyond remain uninterrupted.
America Farm is their labour of love, a bucolic English manor hyphenated with contemporary comforts such as under floor heating, which India describes as heaven.
Throughout the building and design process, creative and practical disagreements are bound to happen, and the Hicks-Flint household was not immune to such predicaments. Compromise with David was the biggest challenge!" says India. My mother reminded me how she sat quietly on the sofa reading while my father, like a whirling dervish, created homes all around her. David and I both wanted to make the decisions and they were not always the same.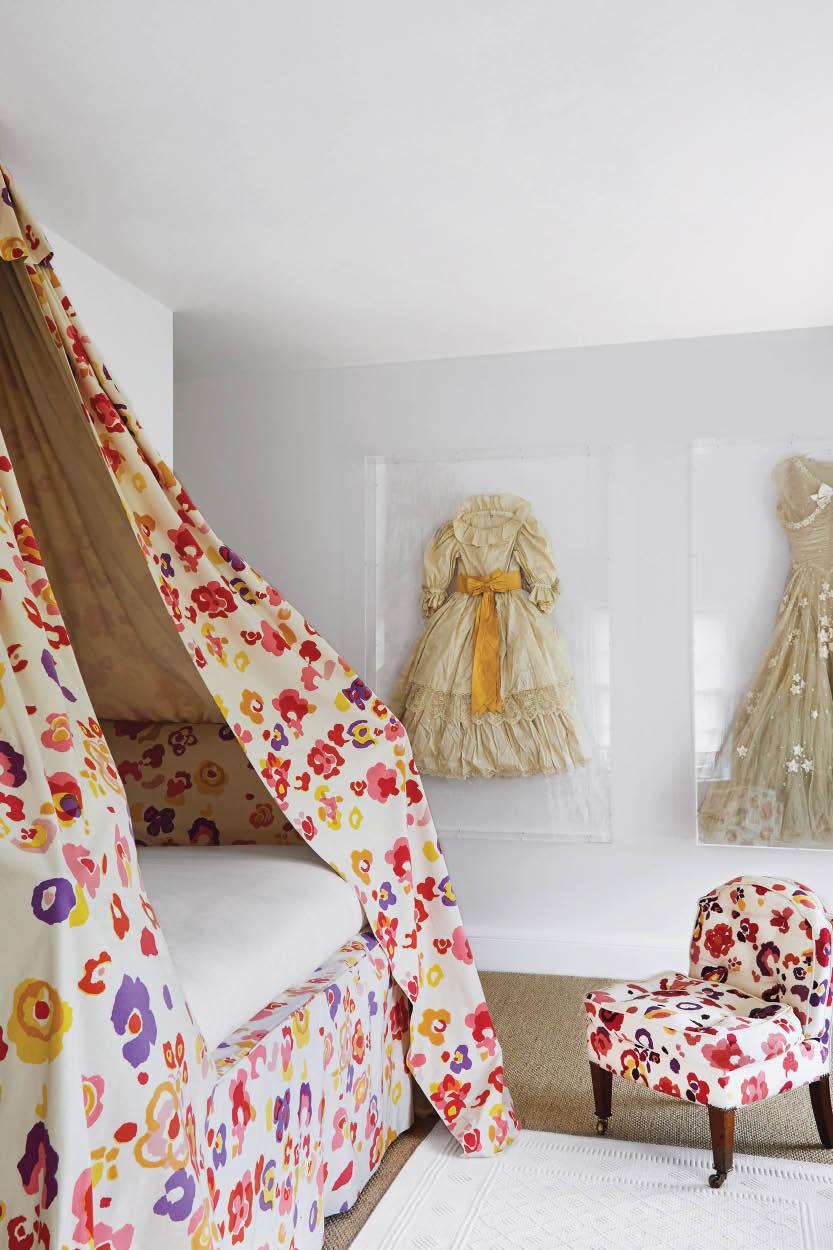 Vibrant colours and unique form of art inform the design of kid's bedroom
America Farm is their labour of love, a bucolic English manor hyphenated with contemporary comforts such as under floor heating, which India describes as heaven. There is an open plan kitchen, making entertaining a breeze, and the rooms are furnished with pieces both inherited and collected over the years. Throughout are family photographs and mementos not unlike royal memorabilia, museum-worthy bibelots displayed in a nonchalant manner – emblematic of the new brand of royalty that India has carved out in her own time.
The post India Hicks and Her Family Build a Country Retreat in Oxfordshire appeared first on Home Journal.