An enclosed balcony is transformed into an indoor verandah in this modern-rustic São Paulo apartment.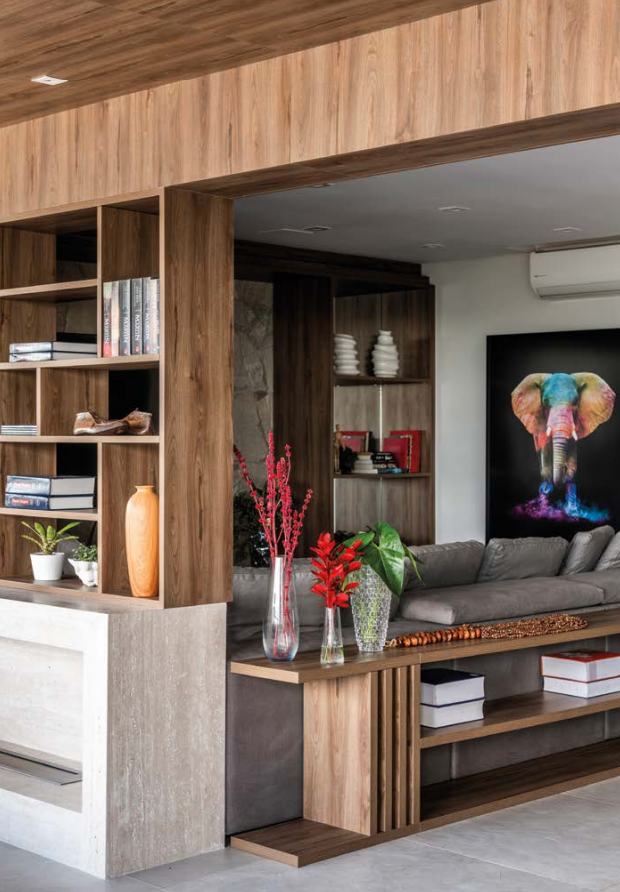 In the Brazilian city of São Paulo, it is warm and muggy for much of the year, so rather than having open-aired balconies, some apartment owners choose to turn the balconies in their properties into enclosed verandahs.
In this 2,626 square-foot São Paulo apartment, twin sisters Tássia and Thaisa Pereira – founders of São Paulo design studio TT Interiores – helped a family of four stay cool and comfortable in their new apartment by repurposing a balcony into an indoor verandah with an outdoorsy feel.
The home belongs to a couple with two young children who frequently entertain, and who love the colour blue. Their requests were for ample social spaces with good circulation so their guests could move around with ease, and for the colour blue to be included in the furnishings. They also wanted plenty of neat built-in storage spaces to be incorporated into their home.
To meet their requirements, the Pereira sisters removed the property's existing walls and frames and integrated the living room with the balcony and the kitchen. They also removed an existing wall that separated two bedrooms and conjoined these two spaces to create a new and larger children's bedroom. They enclosed the balcony, which extended the floor plate for the open-plan communal area.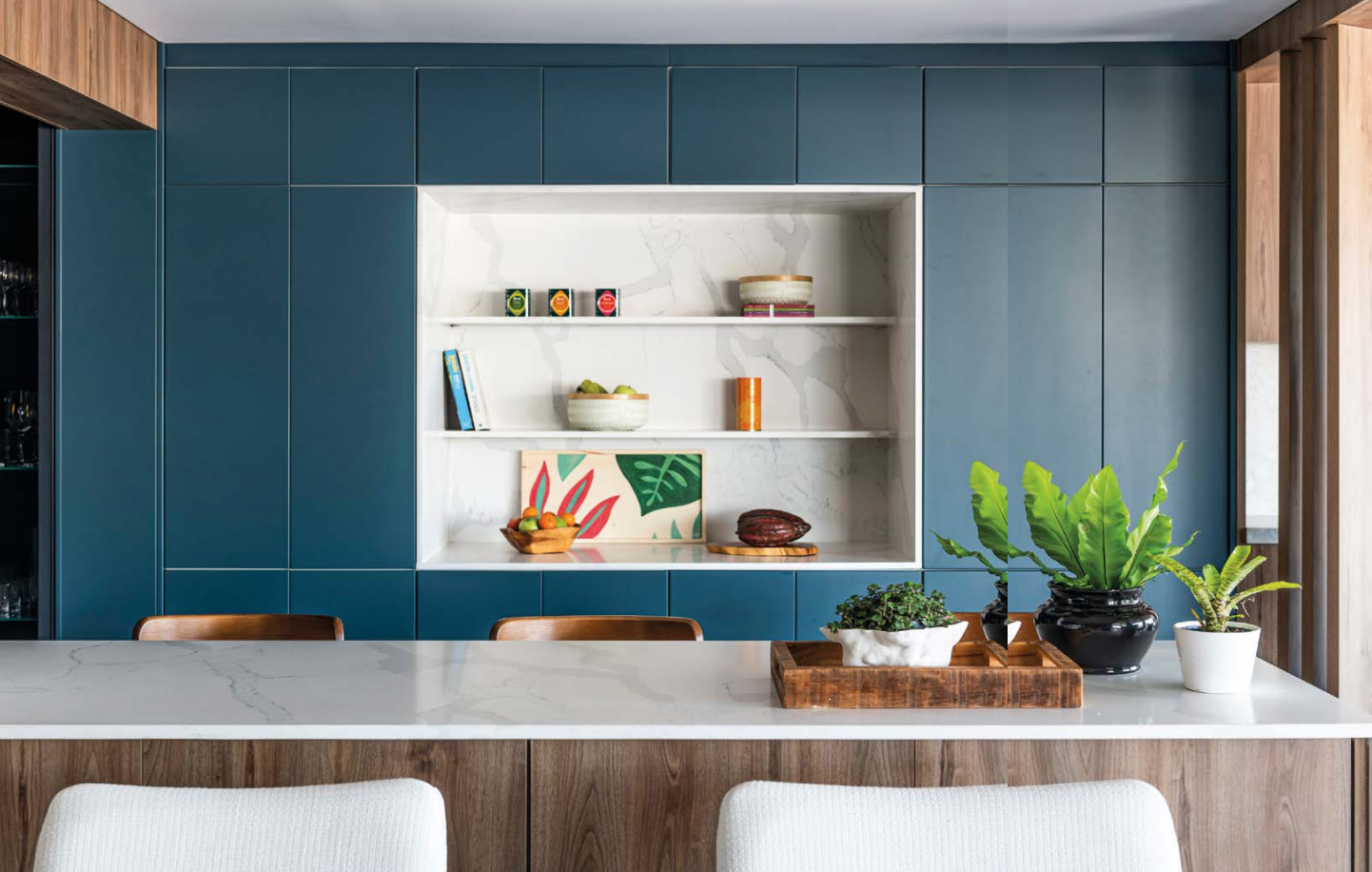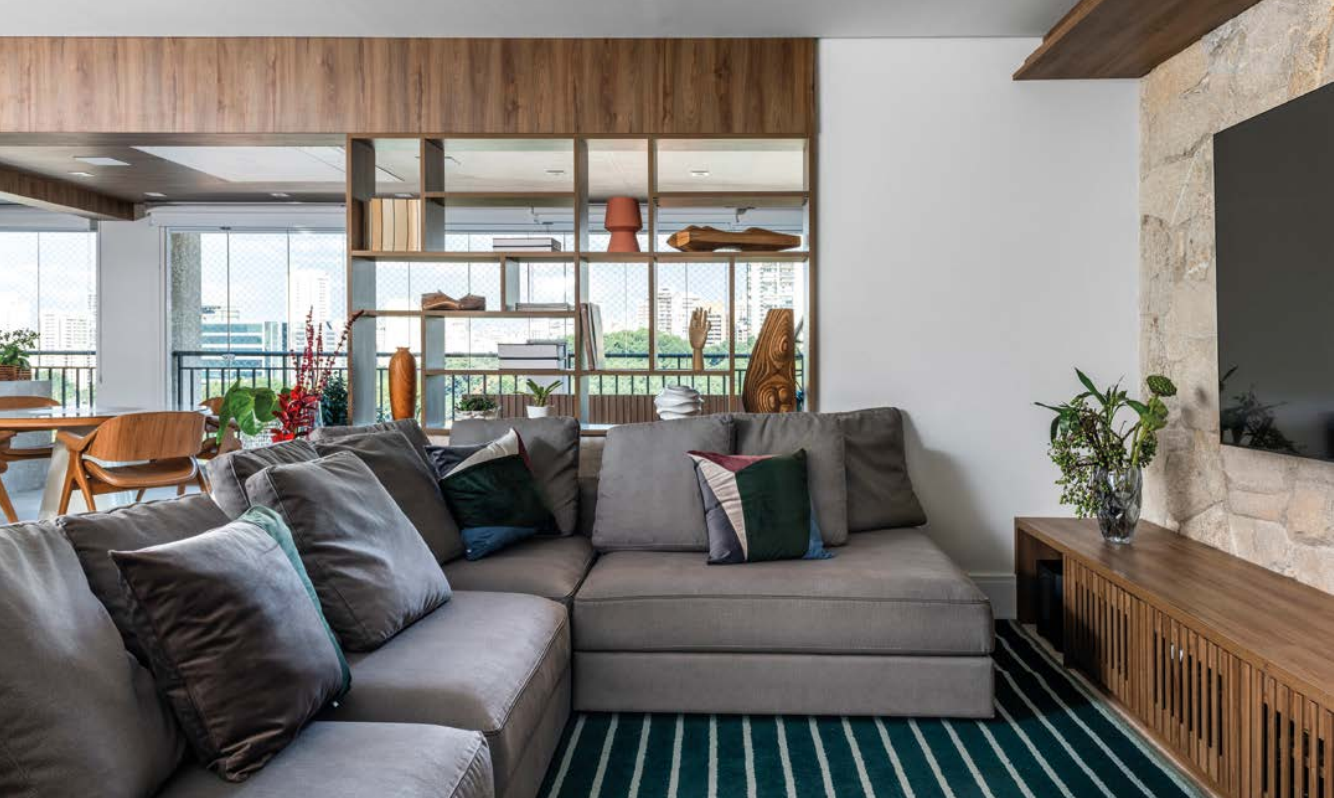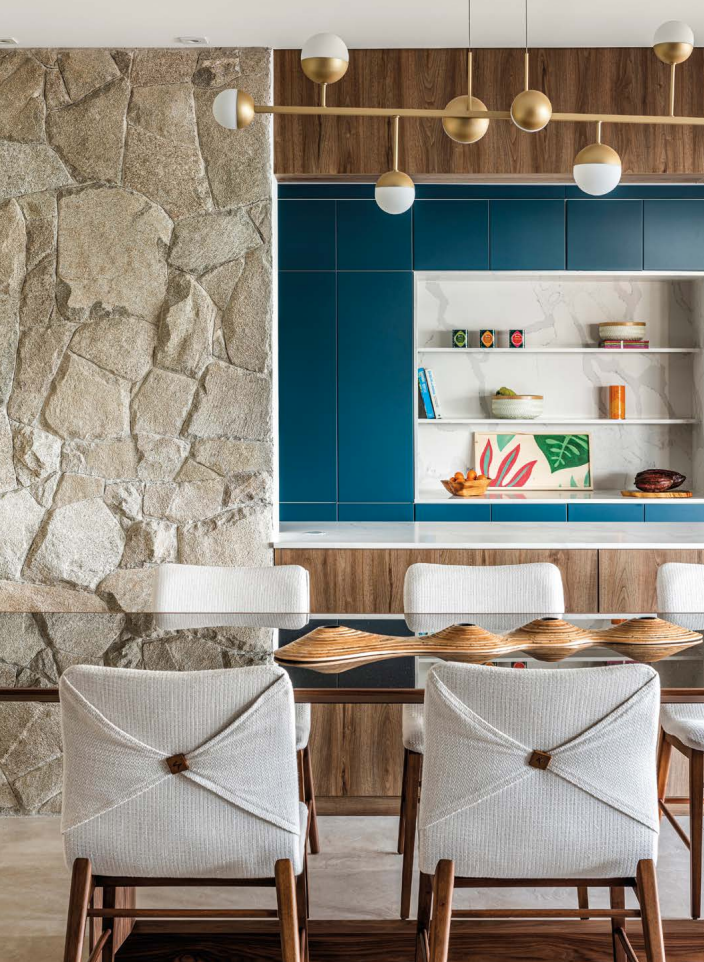 The new apartment includes an open plan kitchen, dining and living space with an integrated verandah, a home office, a master bedroom, one guest bedroom, the children's bedroom and five luxurious bathrooms. "The apartment is very spacious. It has both a social and service entrance. It is possible to go around the entire property, since the service door gives access to a laundry room, which in turn, gives access to an 'internal hall', where the home office is located," Tássia says.
To bring a garden-like atmosphere into the home, they fitted the verandah area with floor-to-ceiling windows, and used large slabs of natural stone from local company Pagliotto for the living and dining room walls, along with beautifully grained wood for the floors and false ceilings that were used to conceal the existing ceiling beams, which could not be removed. They have placed a bench seat, large potted plants and a garden swing chair on the verandah to simulate the layout of garden or terrace spaces.
"Set next to the full height windows, the 775 square-foot indoor verandah is flooded with natural light. To bring a sense of the outdoors and freshness into this space, we placed many plants set in organic-shaped vases to create a contemplative scheme," Thaisa says.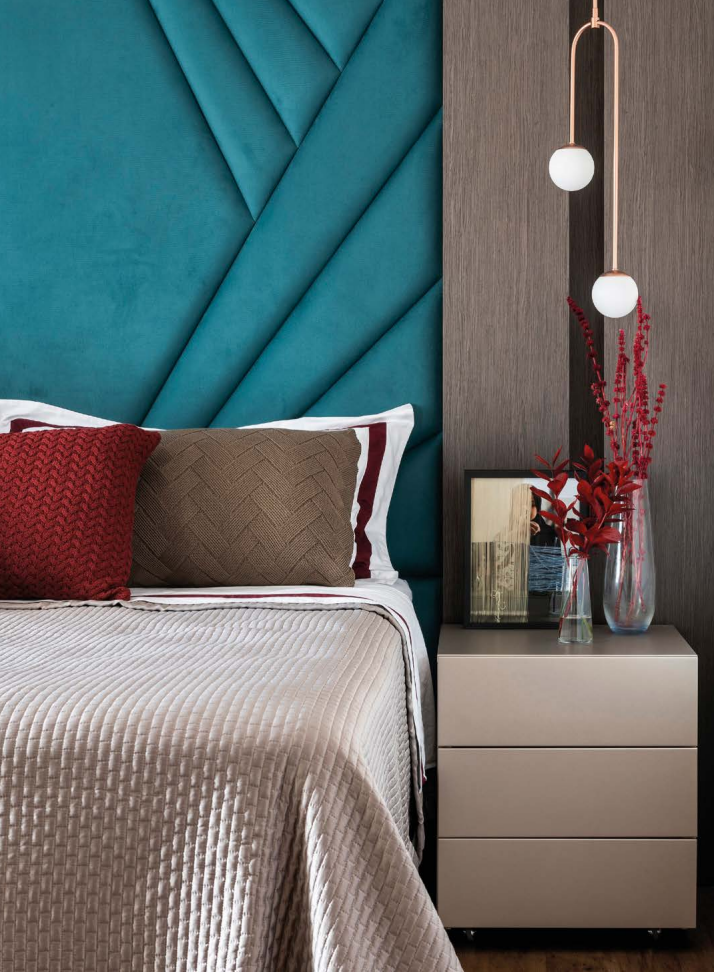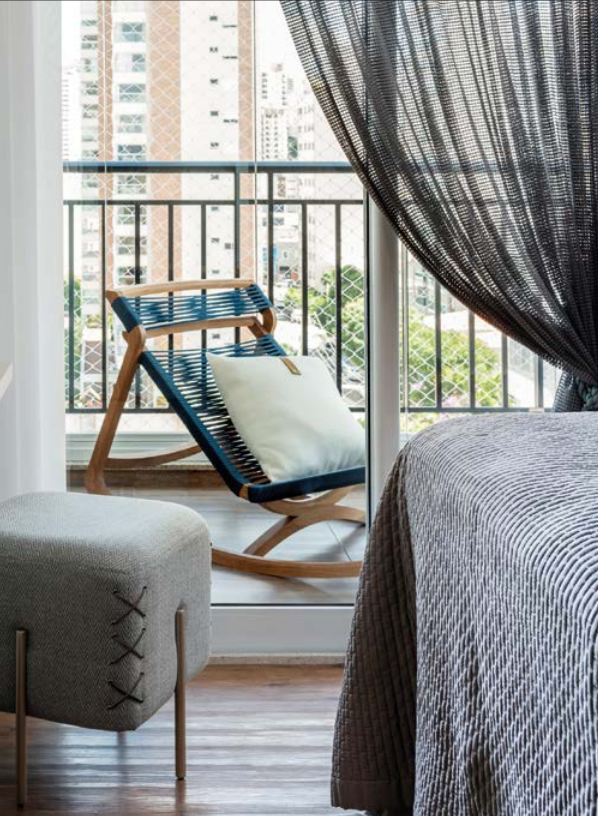 The sisters used a material palette of wood, natural stone, vinyl flooring, porcelain, leather and soft fabrics to create a mood that is rustic, yet contemporary. They chose earthy tones – cream, blue and green – to reflect colours found in nature. The couple's favourite colour – blue – was used in the kitchen cabinetry and in the bathrooms.
"Each of the bathrooms was designed with a different colour scheme," Tássia says. "For the wife's bathroom, we used white and grey-veined marble, wood tones and rose gold metal finishes. For the husband's bathroom, we used whiteveined, black marble, dark wood cabinetry and matte black fixtures. For the children's bathroom, we used a light-coloured wood, white and primary colours.
According to both of them, the main challenge for this project was creating an environment with an integrated communal area with a living lounge, kitchen and bar, reading areas and indoor verandah – and having these functional spaces harmonise with each other, yet retain their own distinctive personalities.