The apple never falls far from the tree, especially in regard to French interior designer Peggy Bels' portfolio – no doubt thanks to her honed and unsparingly minimalist aesthetic.
This made the choice exceedingly easy for one Australian couple looking to decorate their holiday home in the quaint, banyan tree-lined neighbourhood of Po Hing Fong, and who asked the designer to replicate a space that hits very close to home.
See more: How Peggy Bels created more space in a Hong Kong microflat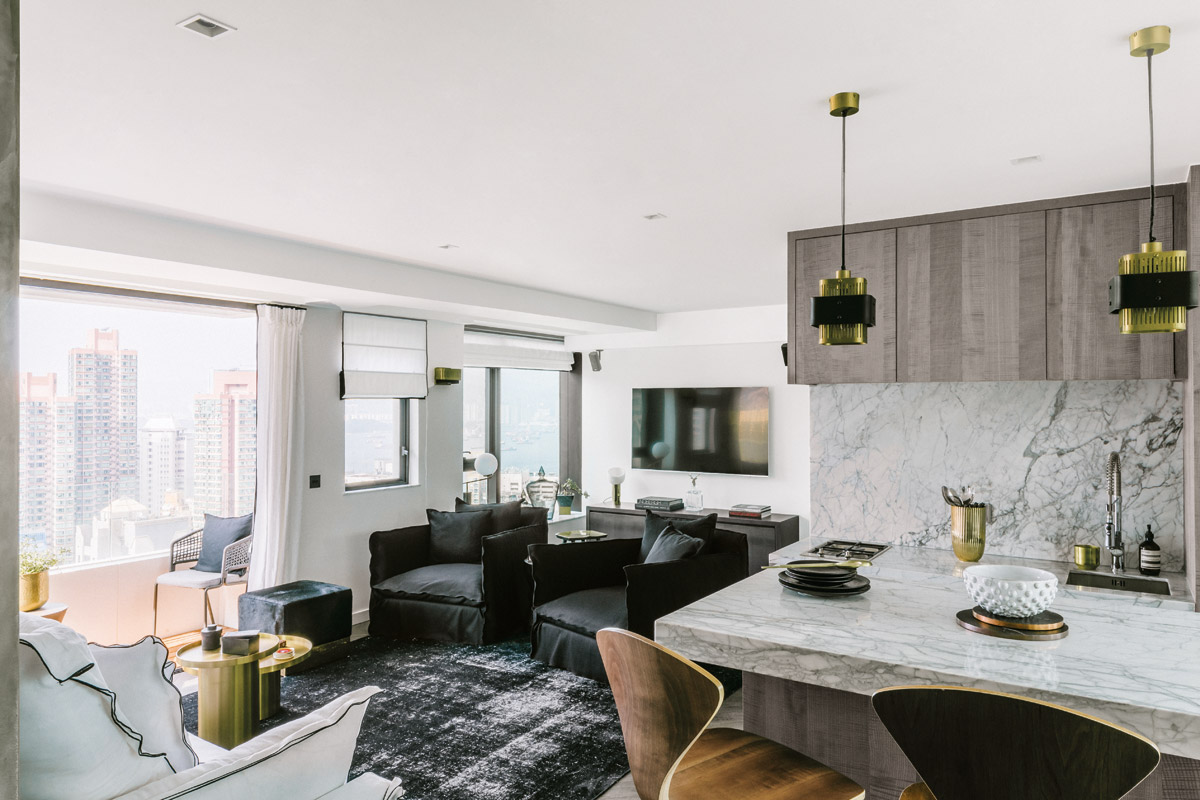 Stepping foot inside the compact apartment, it immediately becomes apparent that the source of inspiration for this particular abode came directly from Peggy's own 5,200-square-foot family abode just a 20-minute stroll away. A miniaturised version of Peggy's living room encompasses the majority of the floorplan – from the white Linteloo sofa by Paola Navone set against a subtly textured concrete wall and the twin black Ghost by Gervasoni armchairs placed opposite, to a similarly patterned kilim carpet that ties the whole area together, the effect works surprisingly well despite the stricter space constraints of this smaller cousin.
Crucial to mirroring the open atmosphere of Peggy's home within a more limited floorplan was the decision to sacrifice one of the apartment's original two bedrooms to expand the living room into its current generous proportions. However, a structural wall separating the second bedroom meant that Peggy had to work around its existing dimensions, which was thankfully mediated by the large windows that suck in the surrounding views.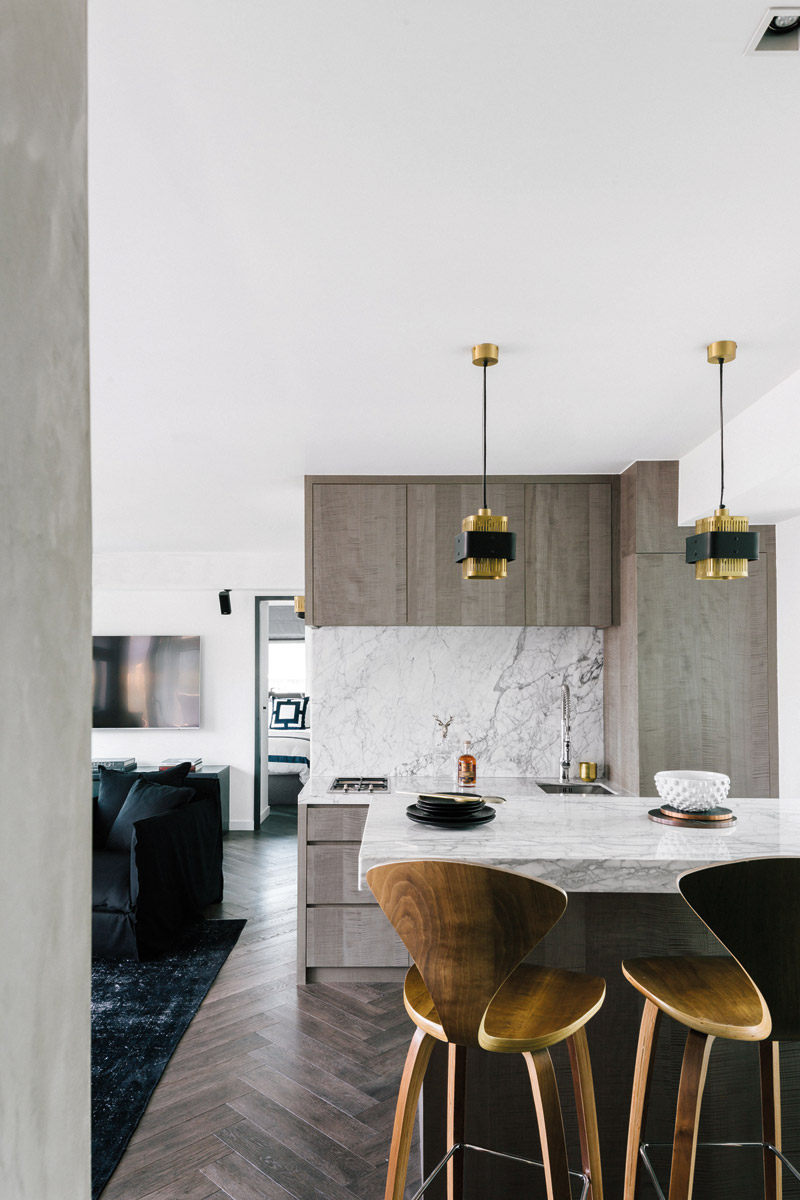 The couple asked Peggy to create a bathroom large enough for two people, resulting in a shower unit that could comfortably accommodate the both of them. A window that stretches almost from floor to ceiling wastes none of the views that the apartment's elevation affords, while wooden shutters moderate the amount of privacy desired by the bathroom's occupants.
See more: This blue-and-white home by Peggy Bels is the perfect canvas for museum-grade art
Meanwhile, the open-plan kitchen adjoins directly to the living space, its small size reflecting the couple's peripatetic lifestyle mainly spent travelling between Shanghai and Hong Kong. Satine bar stools in walnut veneer provide seating at the kitchen island, while brass Tarya ceiling lamps from British label Gong hang from above.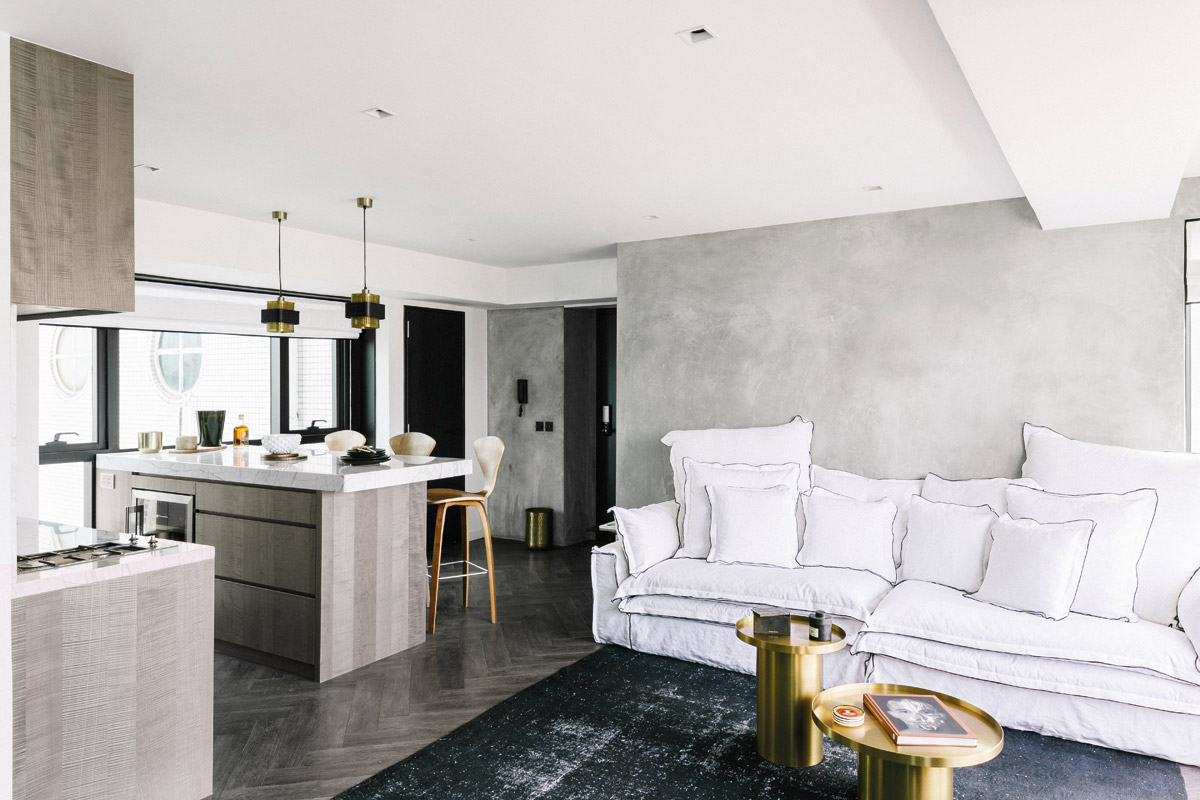 To minimise distractions and therefore maximise the feeling of space, Peggy stuck to a precise material palette of white, gray and black, while strategically populating the apartment with statement brass pieces (such as the living room's Rivet coffee table from Archetypal) and subtle brass fixtures alike to anchor disparate elements together. Italian Statuario marble surfaces in the kitchen and bathroom imbue rarefied elegance, while oak herringbone flooring runs the length of the apartment, providing a common material thread throughout and adding discreet Parisian flair to the otherwise industrial aesthetic.
Peggy's inside-outside philosophy carries over in part to this apartment thanks to a small balcony blessed with uninterrupted views of Sai Wan, Victoria Harbour and beyond, while two plush CTR chairs by Tribu entice inhabitants to settle down for an afternoon of al fresco daydreaming. Diaphonous curtains, which Peggy sourced from the fabric markets of Sham Shui Po, can be drawn to softly filter the sun while allowing for the breeze to gently make its way into the apartment, lulling anybody in that moment into a soothing reverie.
For more inspiration, pick up a print or digital copy of our small homes-themed May issue, on newsstands now.
See more: A sleek, monochrome palette sets this Peggy Bels-designed home apart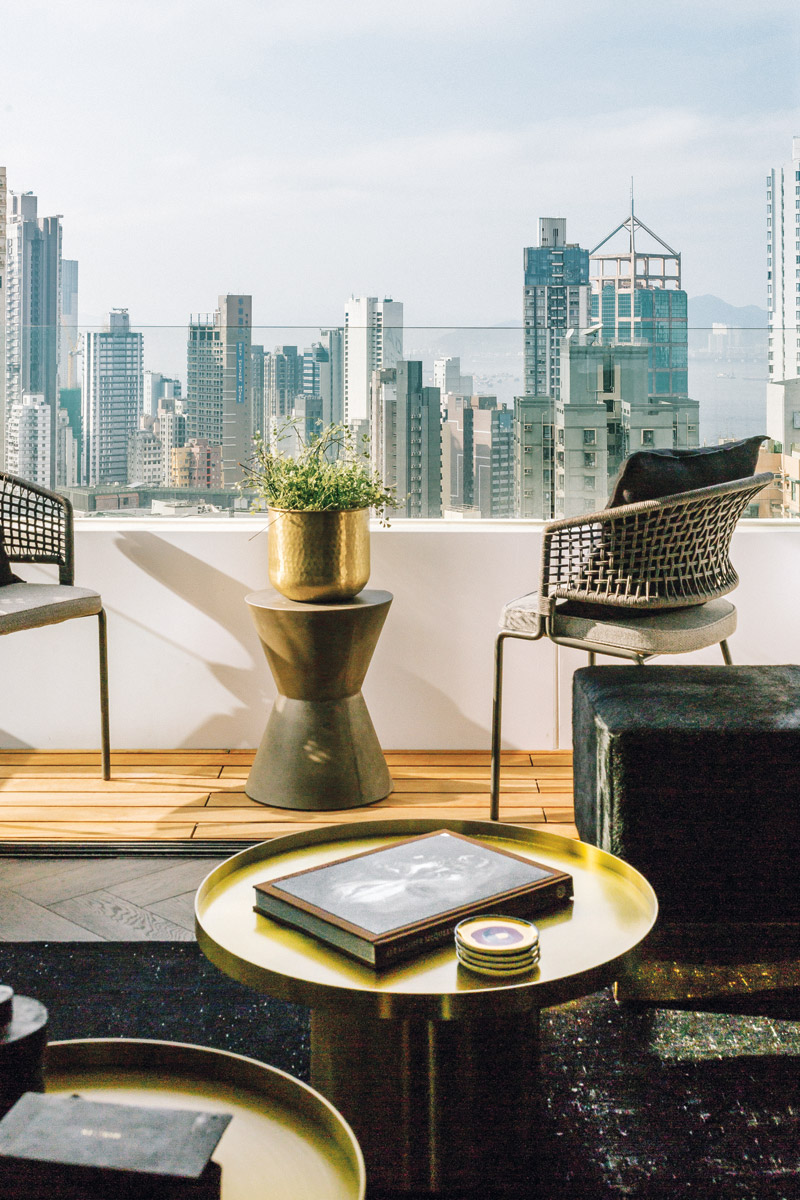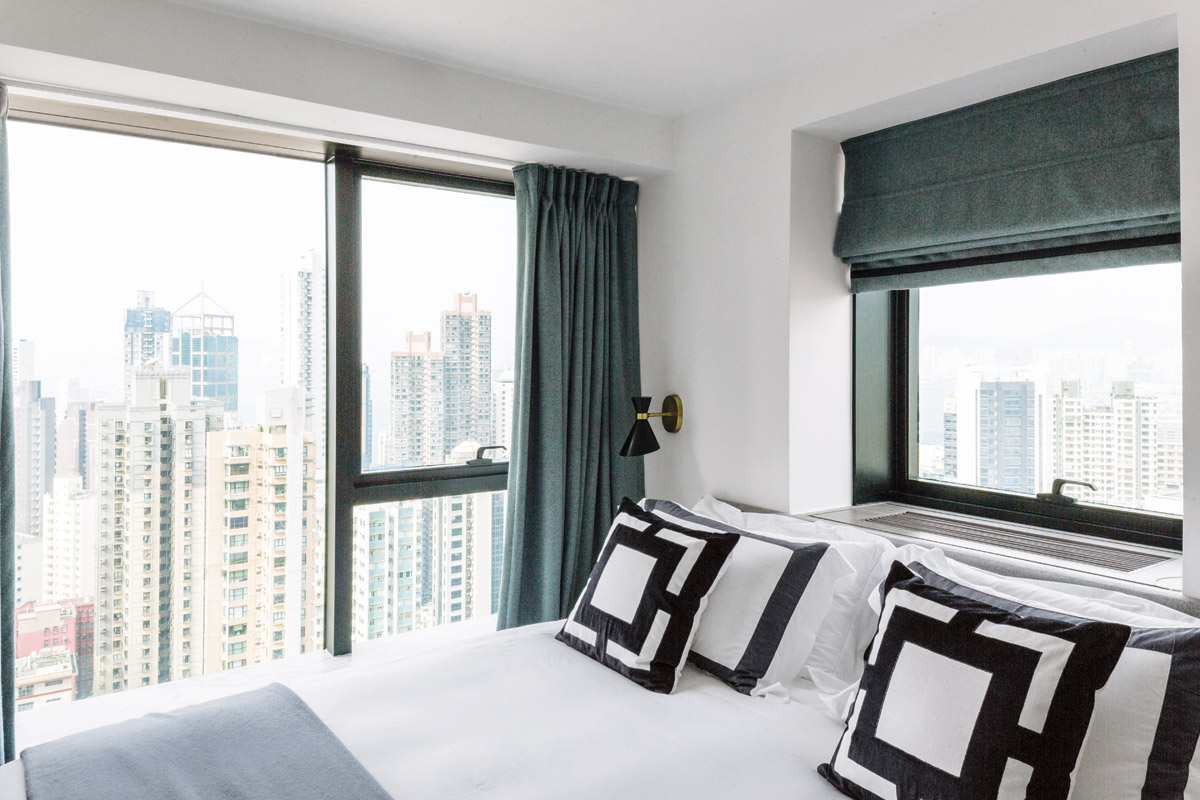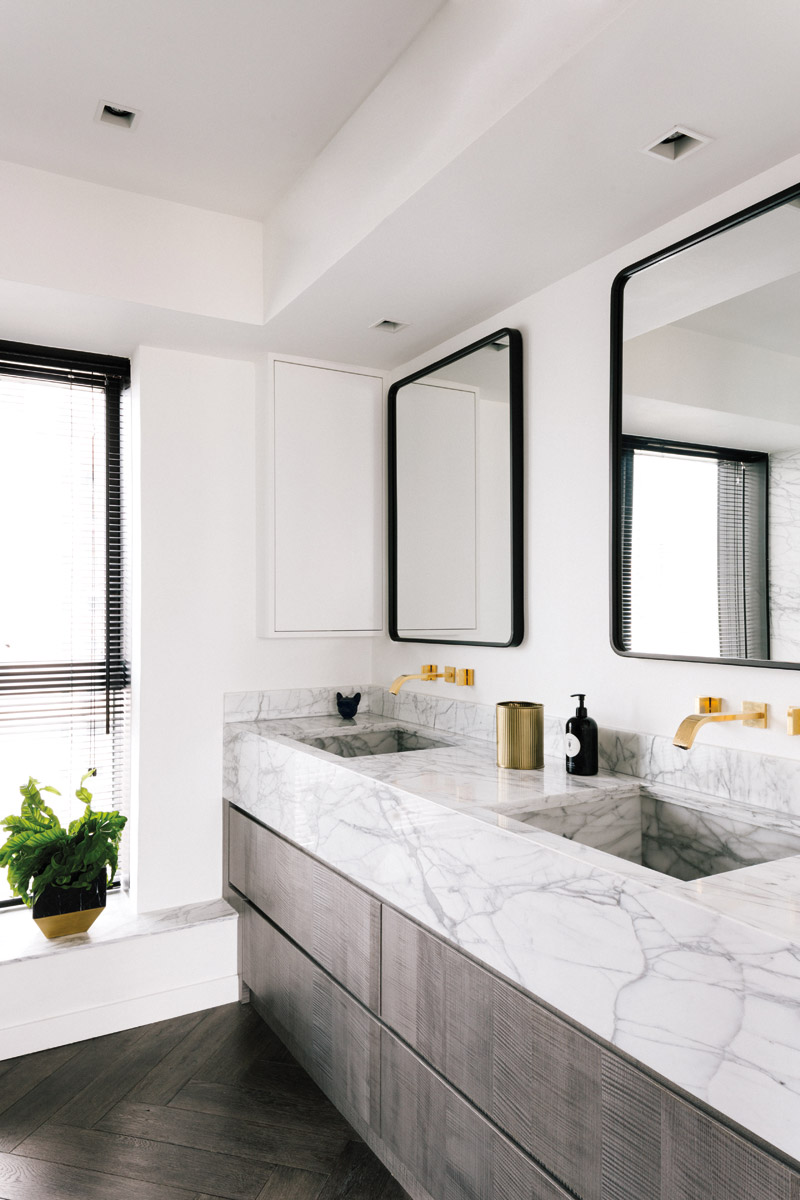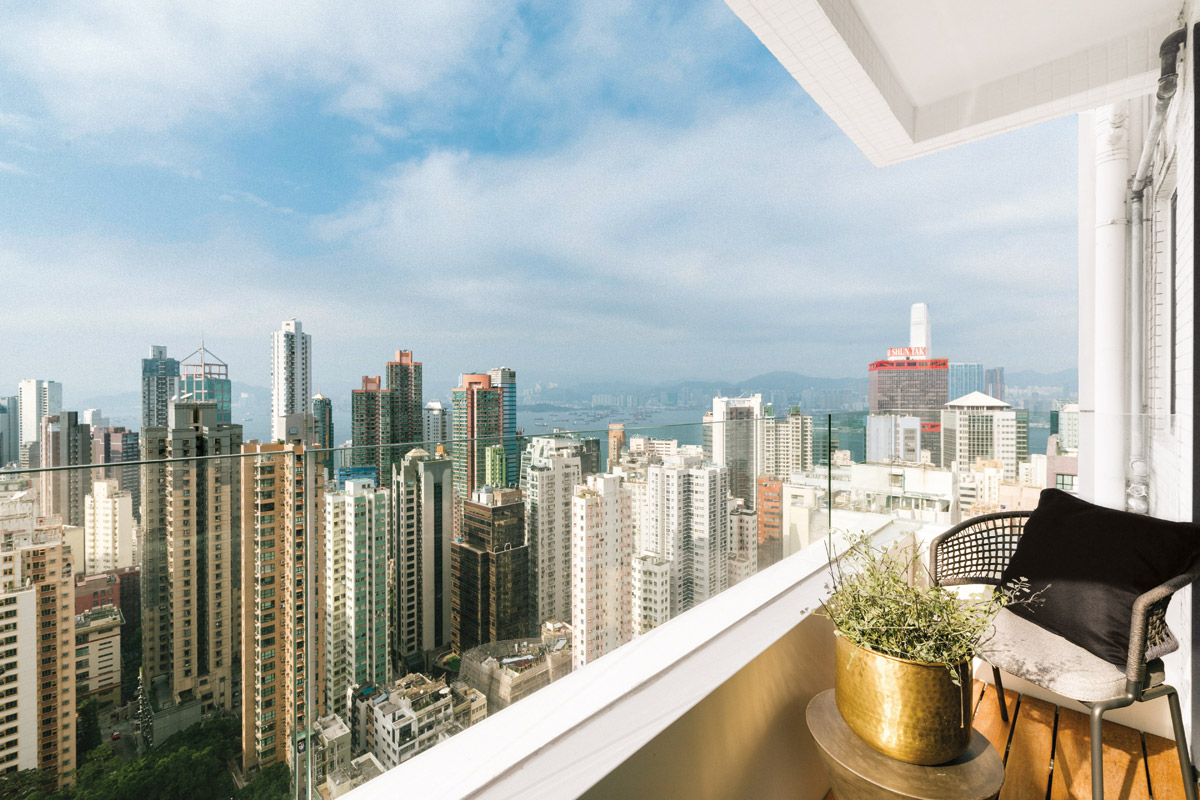 The post How Peggy Bels designed a miniature version of her own home for a jet-setting couple appeared first on Home Journal.