When working with a narrow plot, it helps to build a structure that pulls in as much light as possible.
Such was the case with this home on Bondi Beach, a two-storey structure that stretches out from front to rear. To create a sense of spaciousness within the home, Sydney-based firm Akin Atelier fashioned a two-volume structure replete with white walls and multiple apertures that also help free up circulation.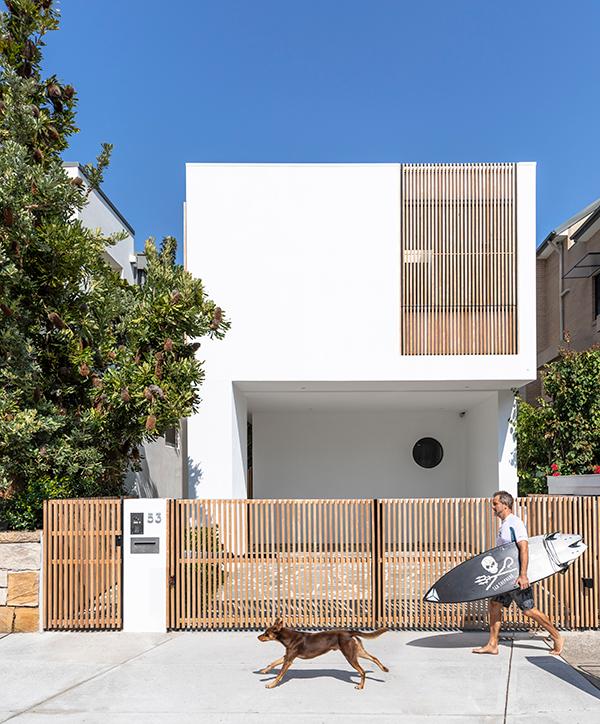 The 2,110sqft abode, owned by a globe-trotting couple that live between Los Angeles, Singapore, Hawaii and Bondi, is dubbed 'Cloud House', for how the white surfaces bounce light around the space as clouds do.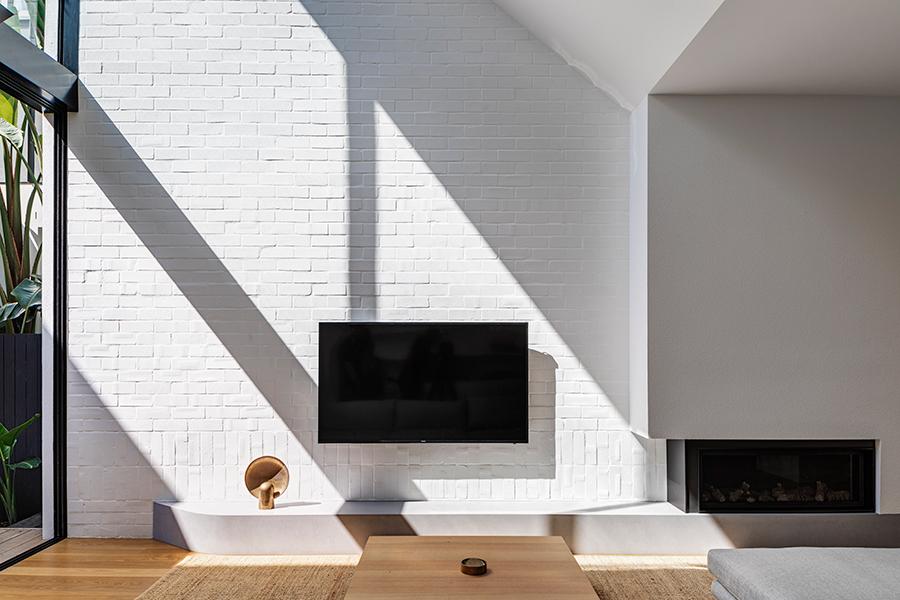 "The client's brief focused on designing a contemporary home that reflected its relaxed, coastal context," says Kelvin Ho, a member of the Akin Atelier design team that worked on the project.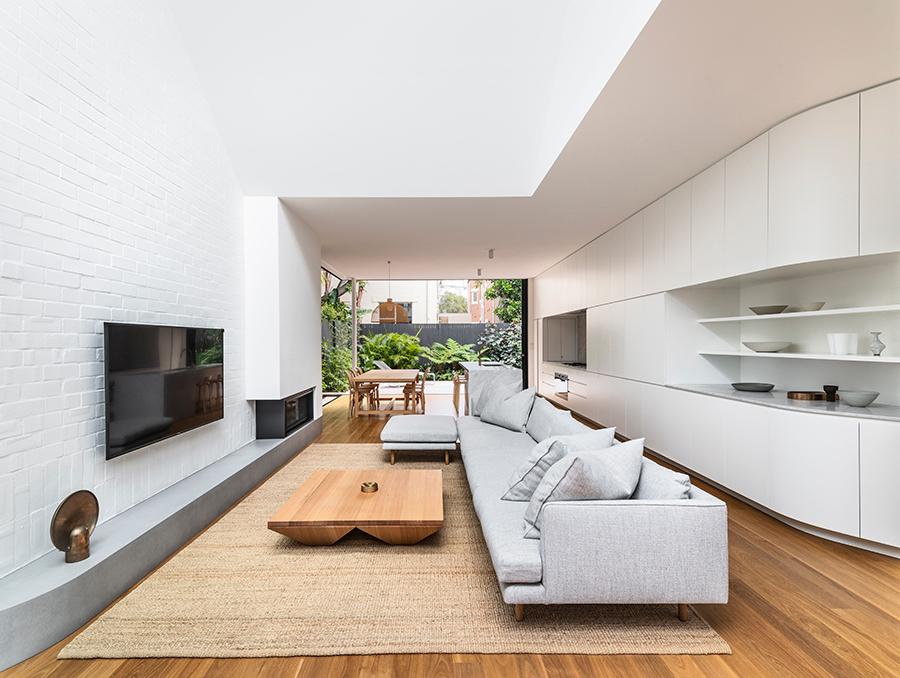 "Given its proximity to the street and neighbouring properties, the residence also needed to feel private, without forgoing a sense of space and light, which were paramount elements to consider throughout the design phase."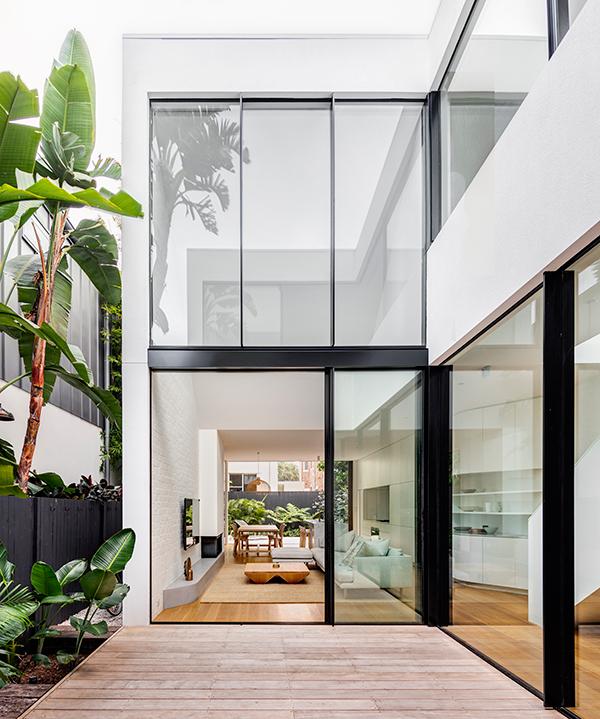 The house features contemporary boxy exteriors with the main volume separated from the front by an open courtyard, while a landscaped garden features at the rear.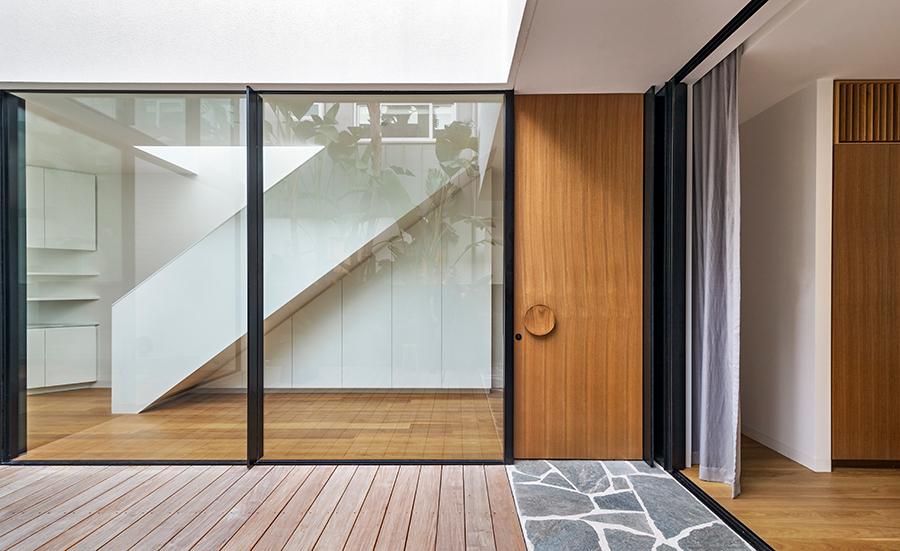 Inside, the house's public areas – living, dining, entertaining – are situated on the ground level, while the private areas are located on the second level.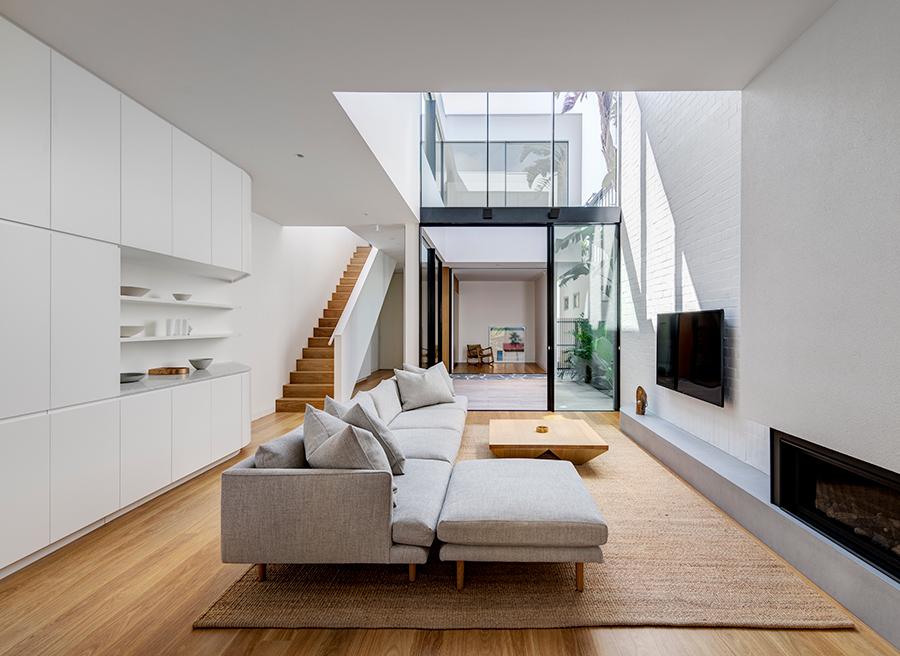 A palette of timber, white and grey keeps the interiors' aesthetic to a minimum – resulting in a more heightened sense of spaciousness – while soft features, such as a the custom-cabinetry and shelving by the staircase, counter the exteriors' geometrical details.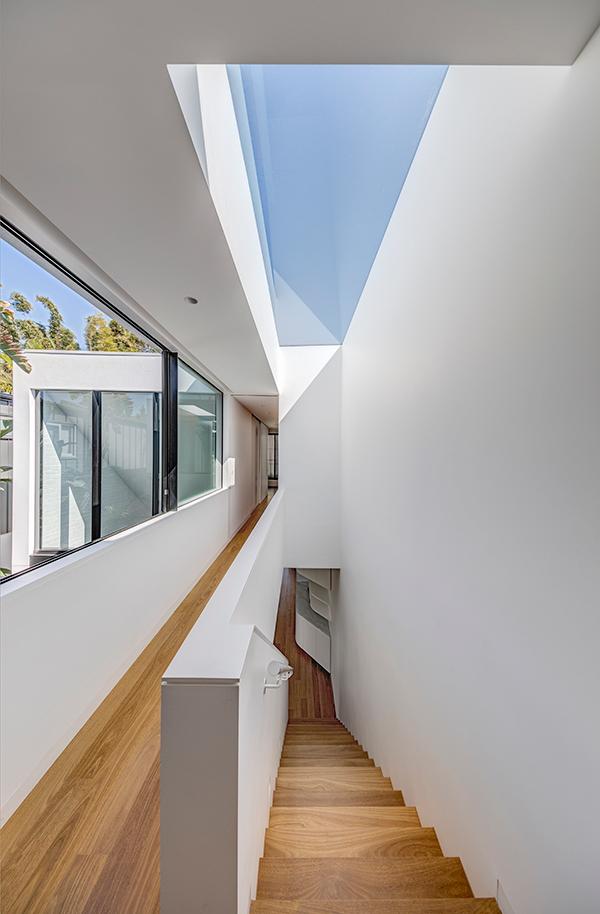 "Despite its contemporary design aesthetic, our intention was to create a comfortable and intuitive environment for the inhabitants. Our philosophy is found in striking that balance," says Kelvin.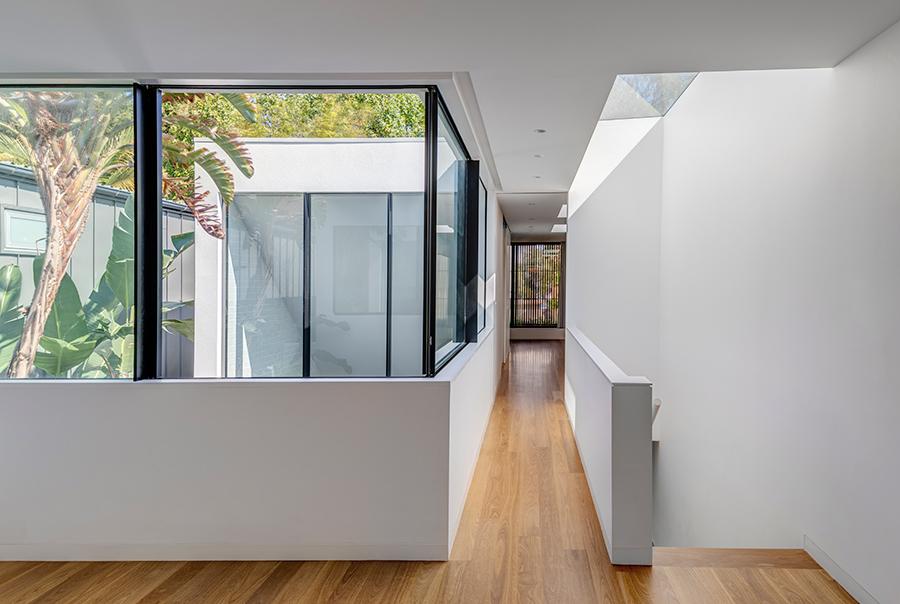 The living room, with its double-height volume, is the recipient of abundant natural light thanks to the floor-to-near-ceiling glass enclosures that separate the inside from the courtyard.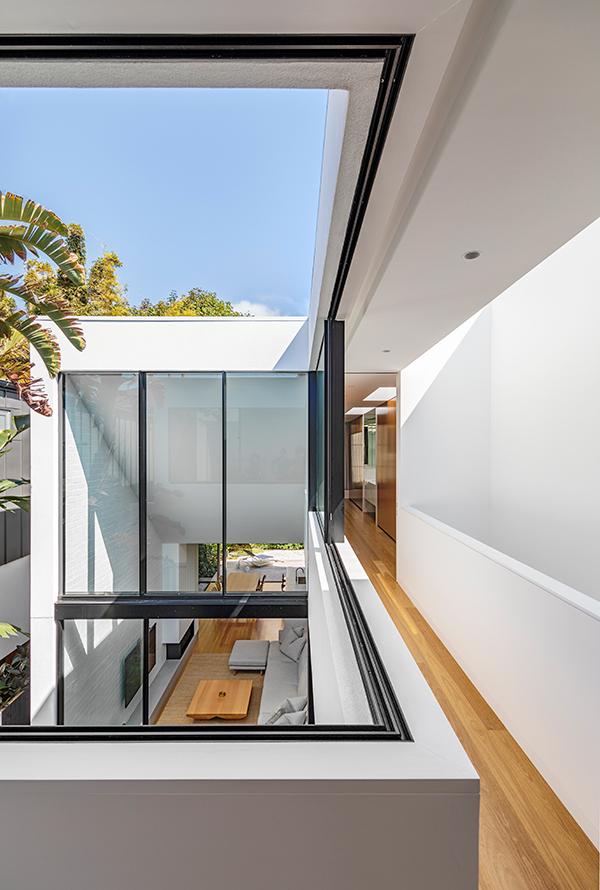 "This area demonstrates the way in which light interacts with its interior surfaces," says Kelvin about the living room, which is also his favourite part of the house. "Direct sunlight creates a shadow play on the textured wall, and ambient light bounces from the aperture above the stairs."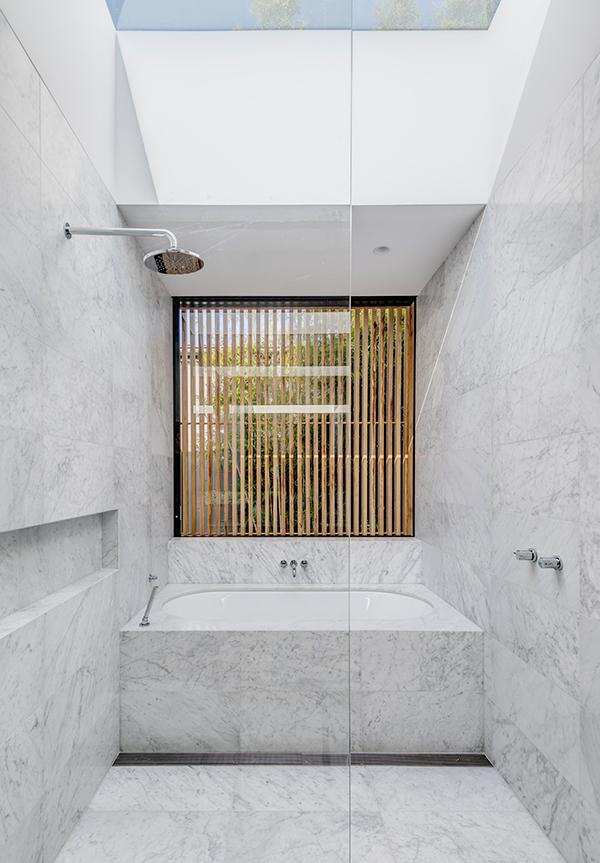 Upstairs, the sliding glass enclosure lines the corridors, directing more light in; left open, circulation is enhanced throughout the house, further blurring the delineation between interiors and exteriors.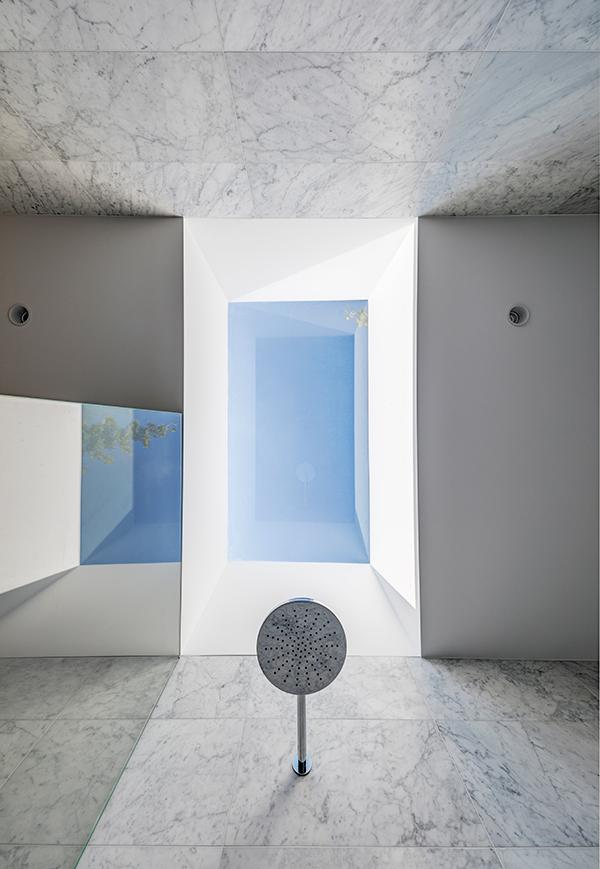 Skylights add to the house's outdoorsy feel, placed above the staircase and especially above the shower in the upstairs bathroom.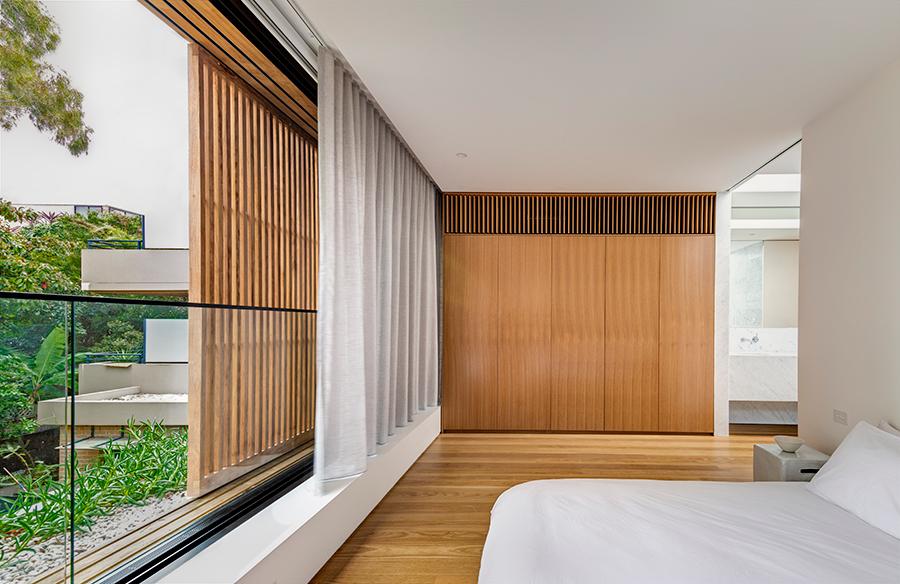 Meanwhile, the glass enclosures continue around the back, between the kitchen-dining area and the landscaped patio.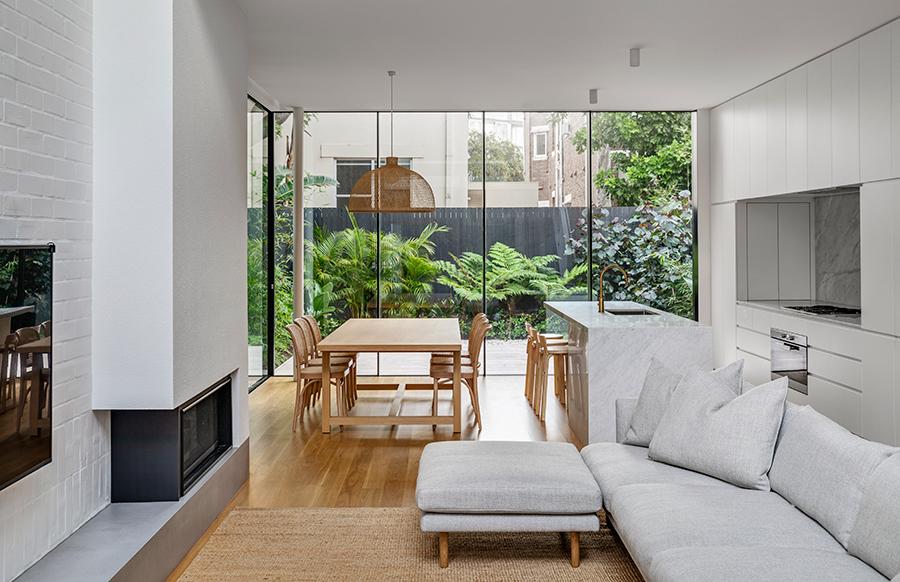 As for what the homeowners liked most about the home? "The absence of boundaries between interiors and exteriors," says Kelvin. "Each space of the house draws the outside in – a feature our clients are particularly pleased with."