This space, designed to spark artistic inspiration, enables unlimited creativity to unfold.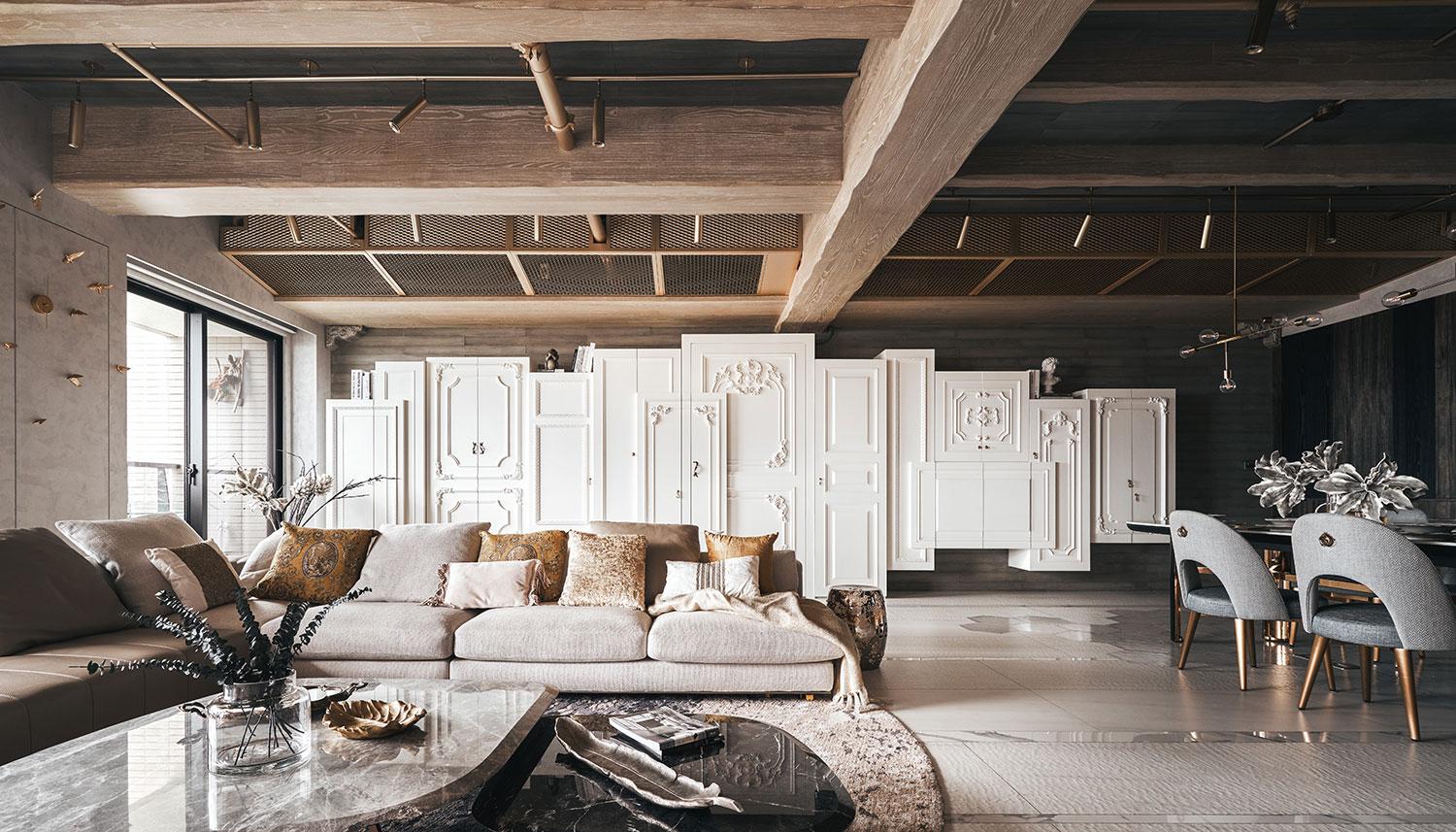 Inspired by a world of fantasy, this 1,900 square-foot residence transports its inhabitants into a magical journey in time, where dreams meet reality.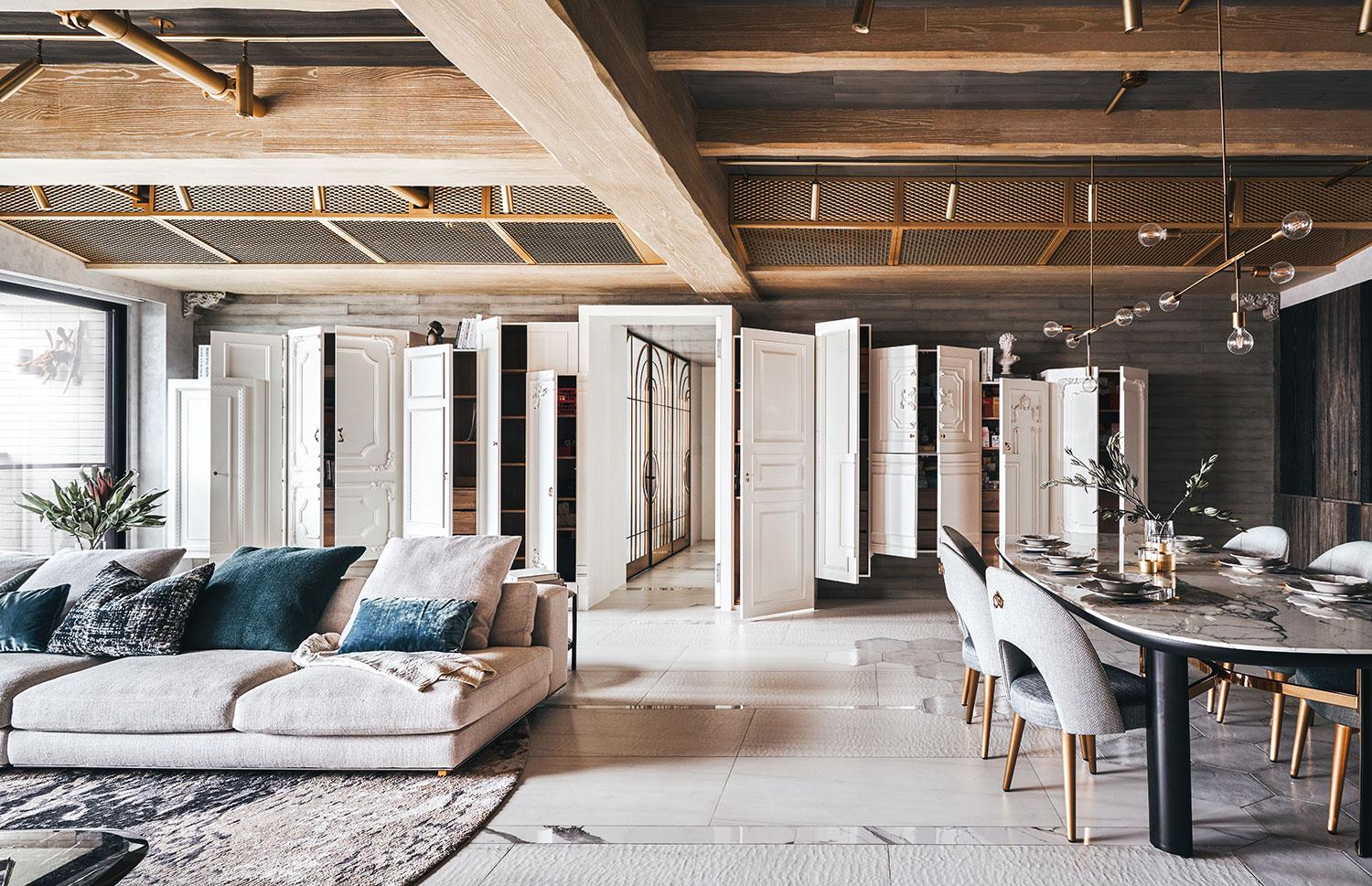 Designed by Chiung Hui Fu and Ken Lee, from the Yuli Design Institute, for a couple and their two children in Tainan, Taiwan, this home is an invitation to escape daily life and enter an enchanting realm of possibilities.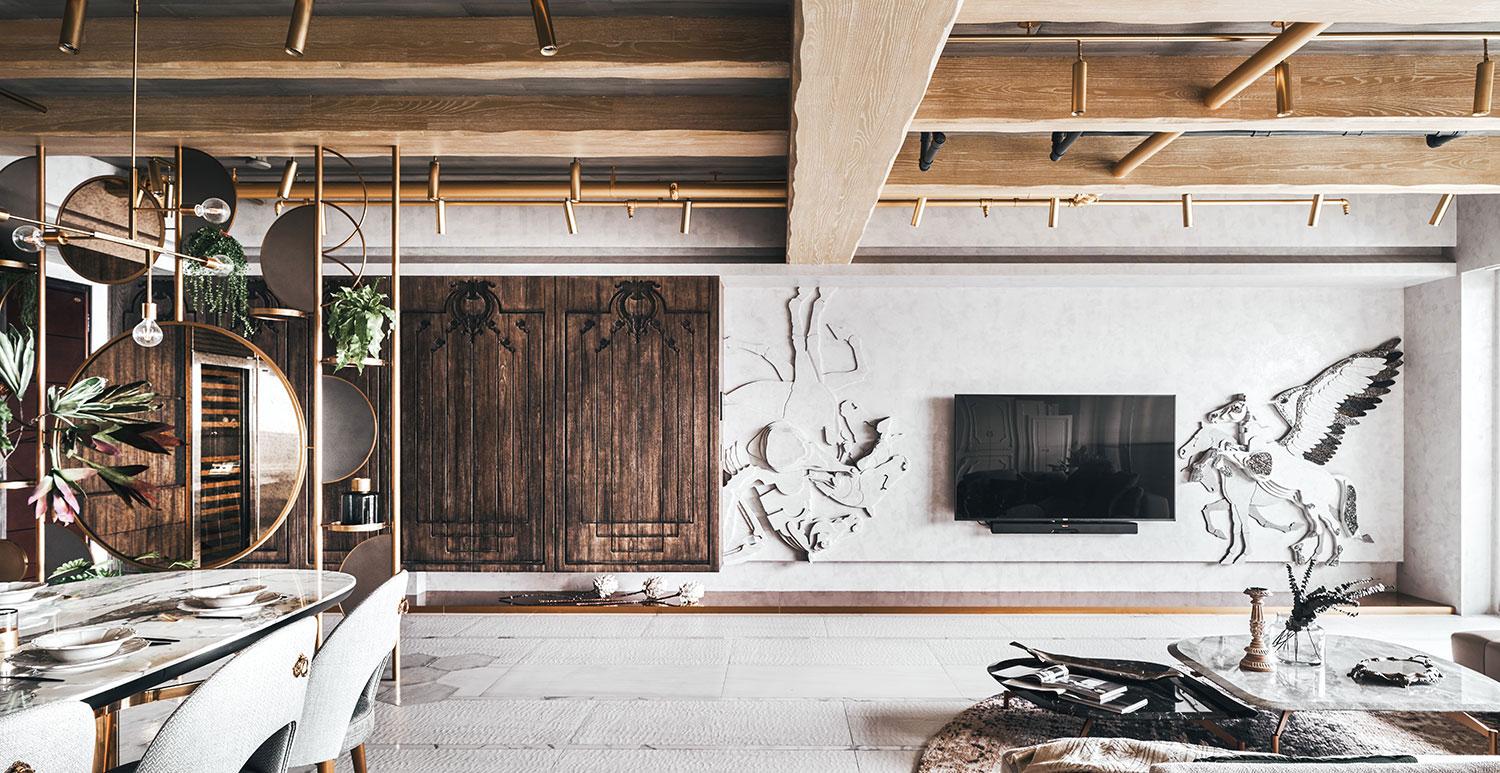 "The client works in the creative industry and envisioned an inspirational space for hosting lively gatherings," says Fu, design director of the Yuli Design Institute.
"The design elements juxtapose modern versus classical, covered versus exposed, and visual versus functional. These opposing elements are seamlessly woven together to evoke a sense of wonder."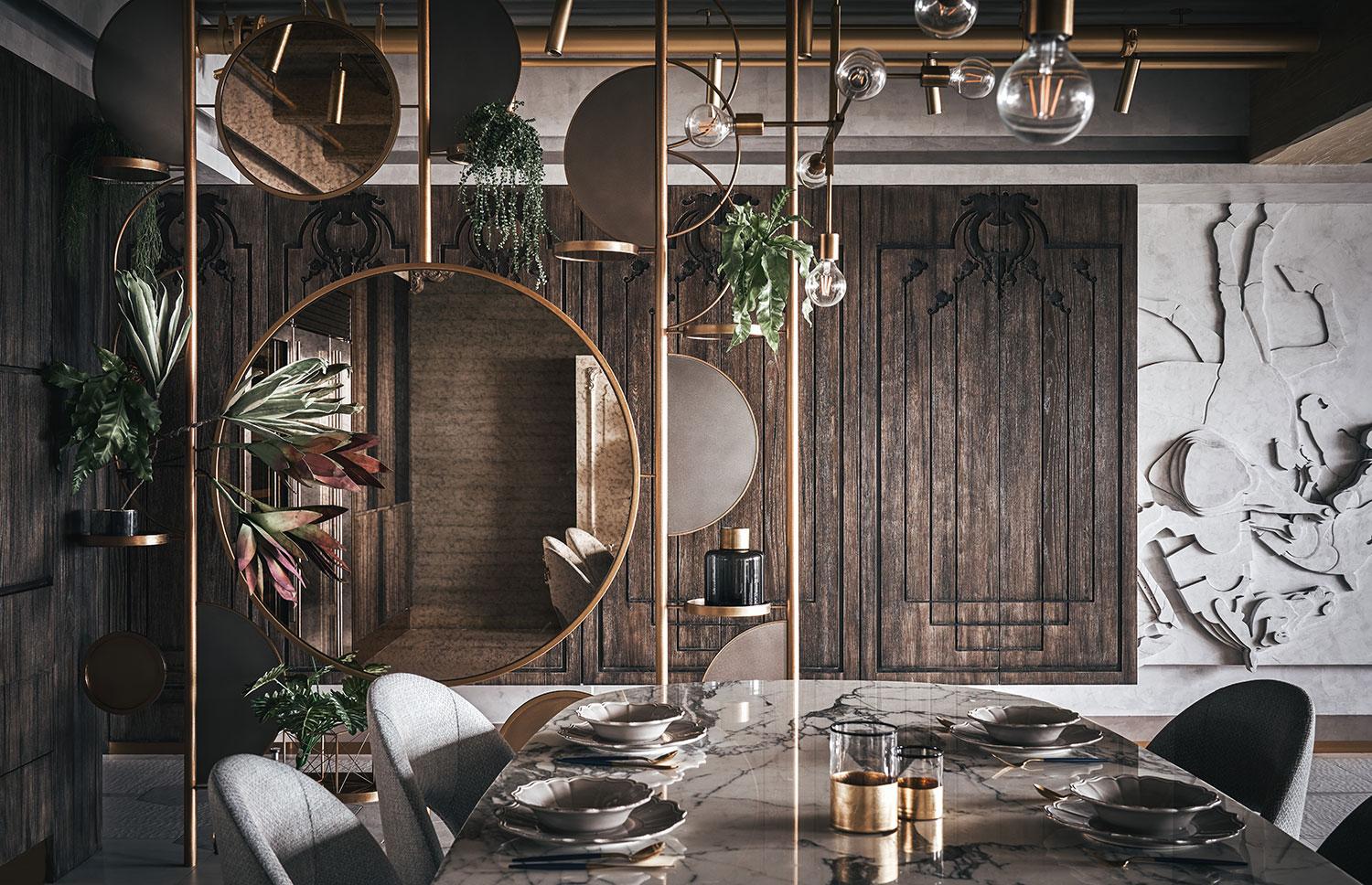 The living room wall is decorated with two mythical winged horses – one of them is rotated facing skyward, as if it is about to take flight. This striking image inspires its inhabitants to pursue their passions and reachnew heights.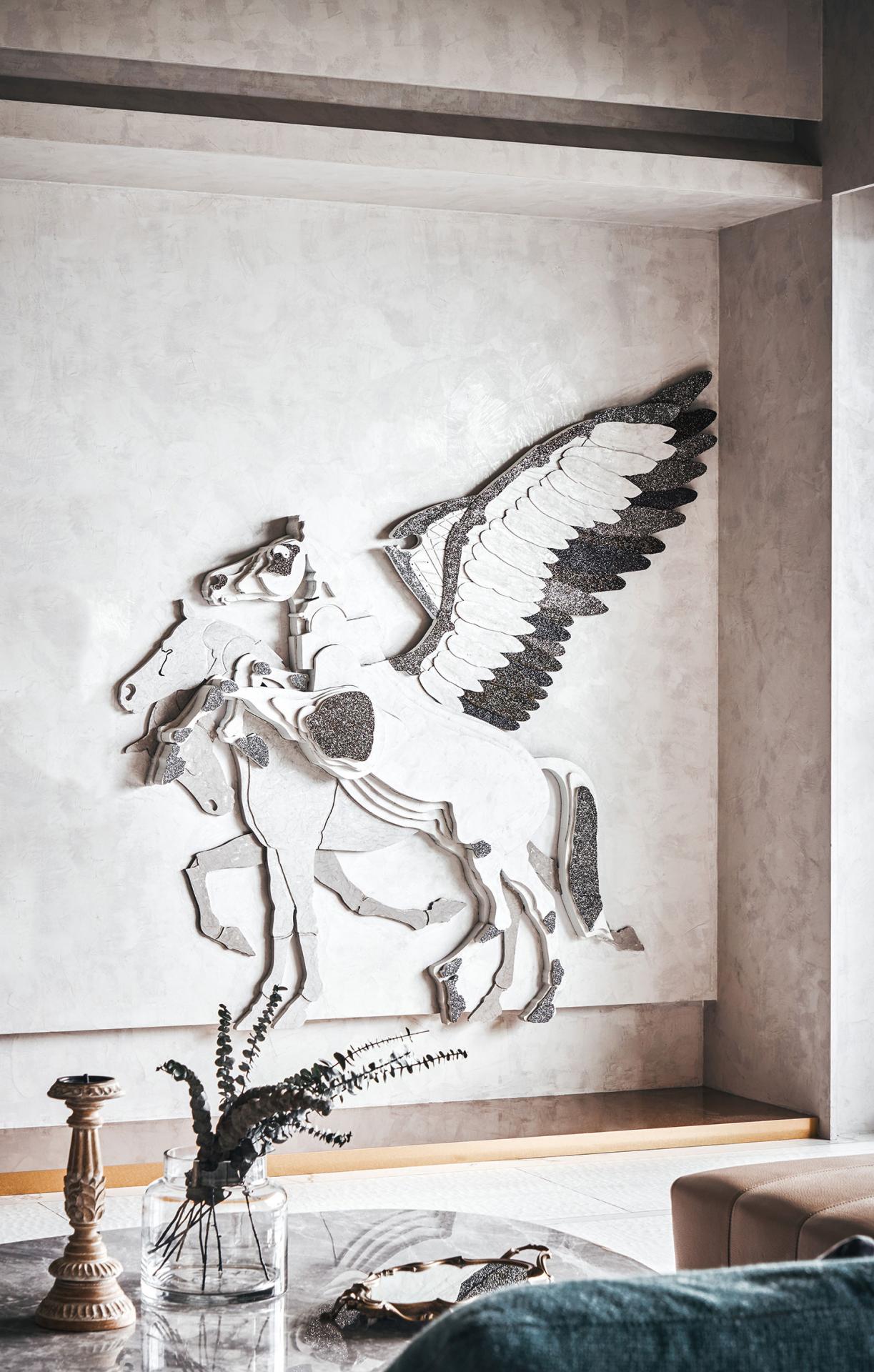 A white door panel, contrasted against the dark coloured wall, partitions the living room from the private area. This panel is made up of an array of rectangular shapes and serves as both a decorative wall and storage shelf, artfully combining fantasy with function. The door leading to the private area is hidden in the middle, like a secret portal leading to an alternate dimension.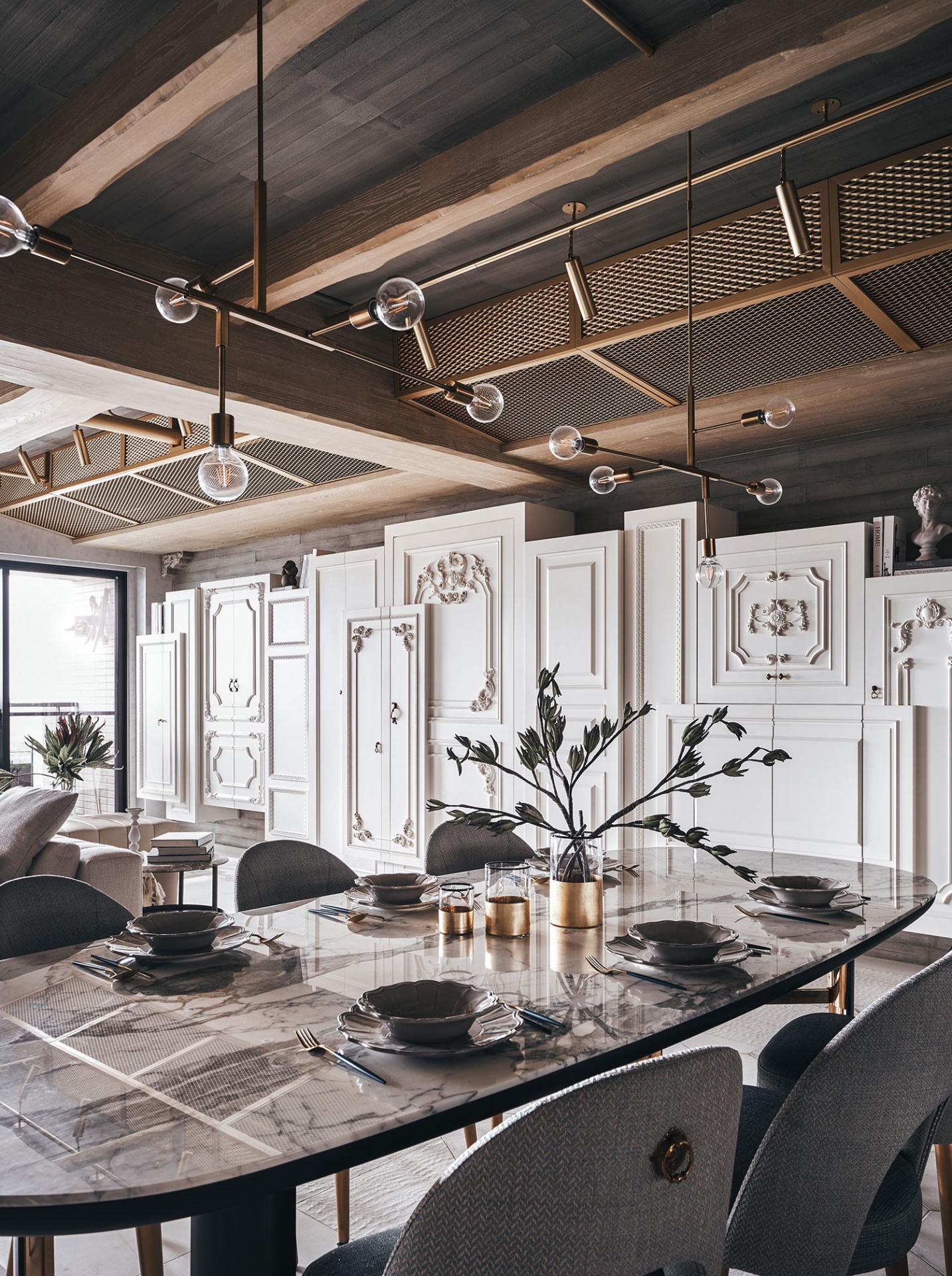 "The objects in the apartment are layered against one another in a cohesive pattern, with asymmetricalfeatures that break up the orthogonal framework," says Lee from the Yuli Design Institute.
"This scattered arrangement creates a dynamic scenography that appears to have emerged from a work ofart."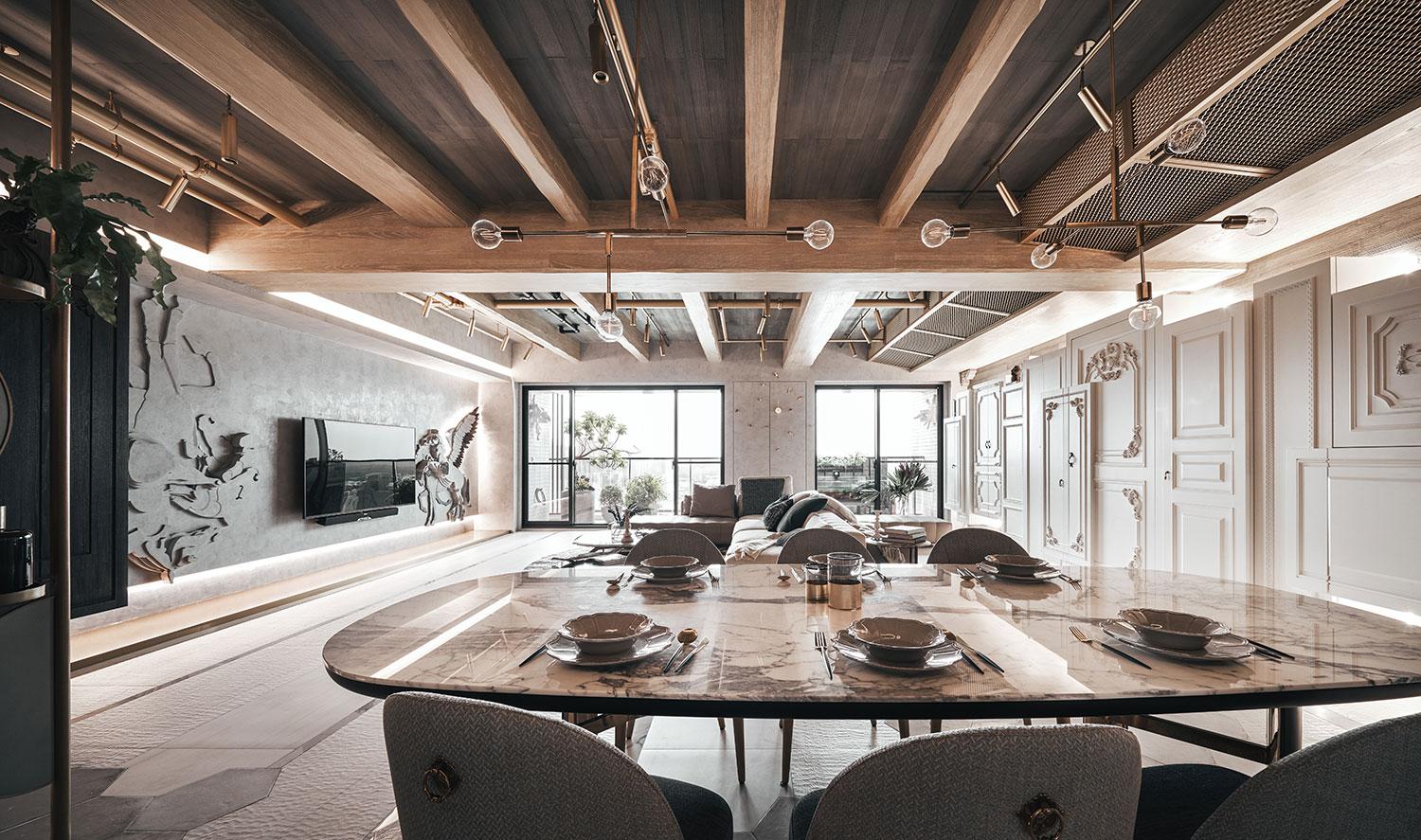 In the living room, the high ceiling has been left exposed. The building's original beams are enhanced with asymmetrical wooden beams as well as iron pipes and light fixtures galvanised with gold. The main lintel separates the living and dining area from above, while the floor tiles demarcate these areas from below.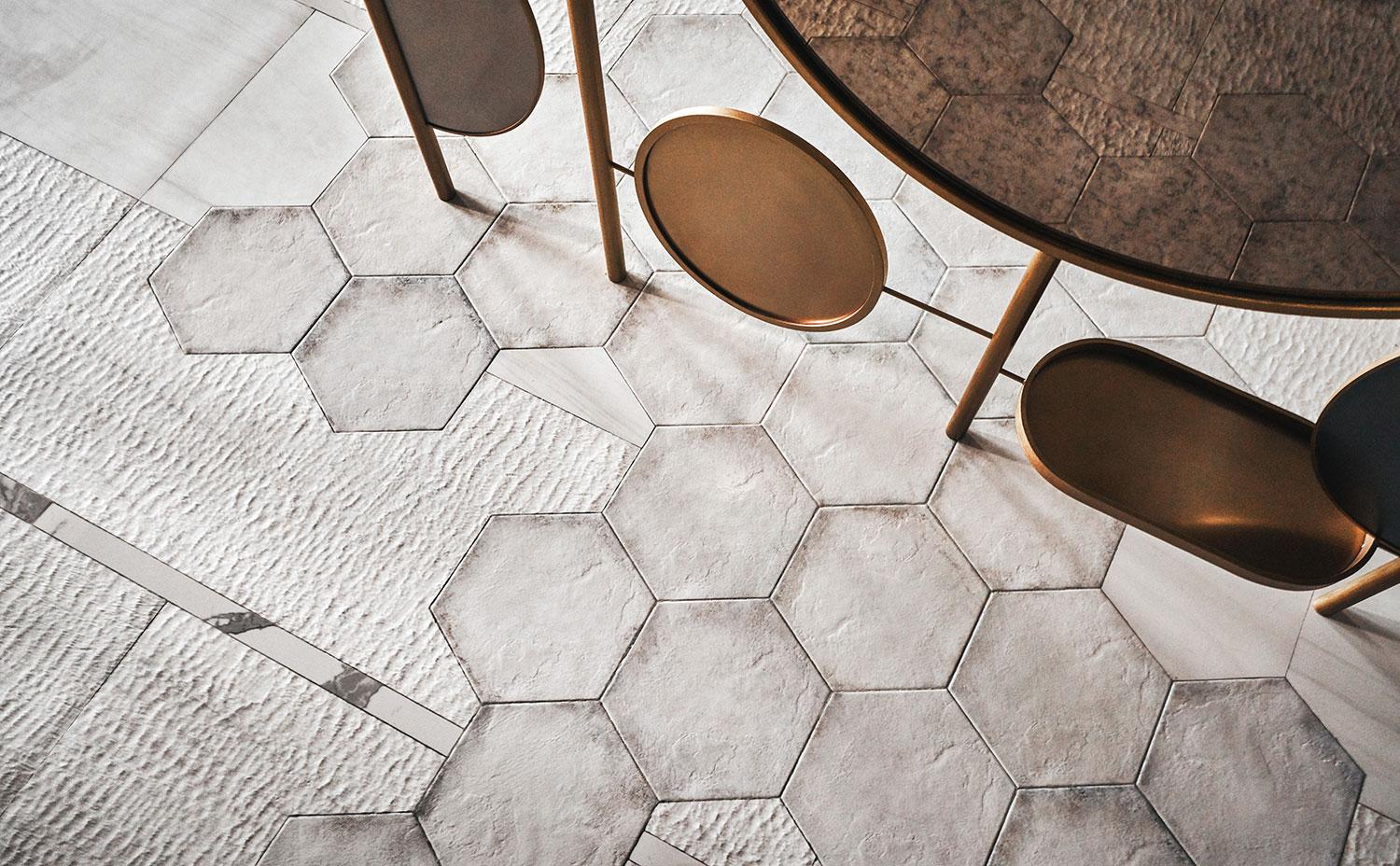 While the living space flooring uses square blocks framed by long marble strips, the dining area is marked by hexagonal tiles. Together, the asymmetrical beams on the ceilings and the mixed lines on the floor create an expansive and dynamic atmosphere.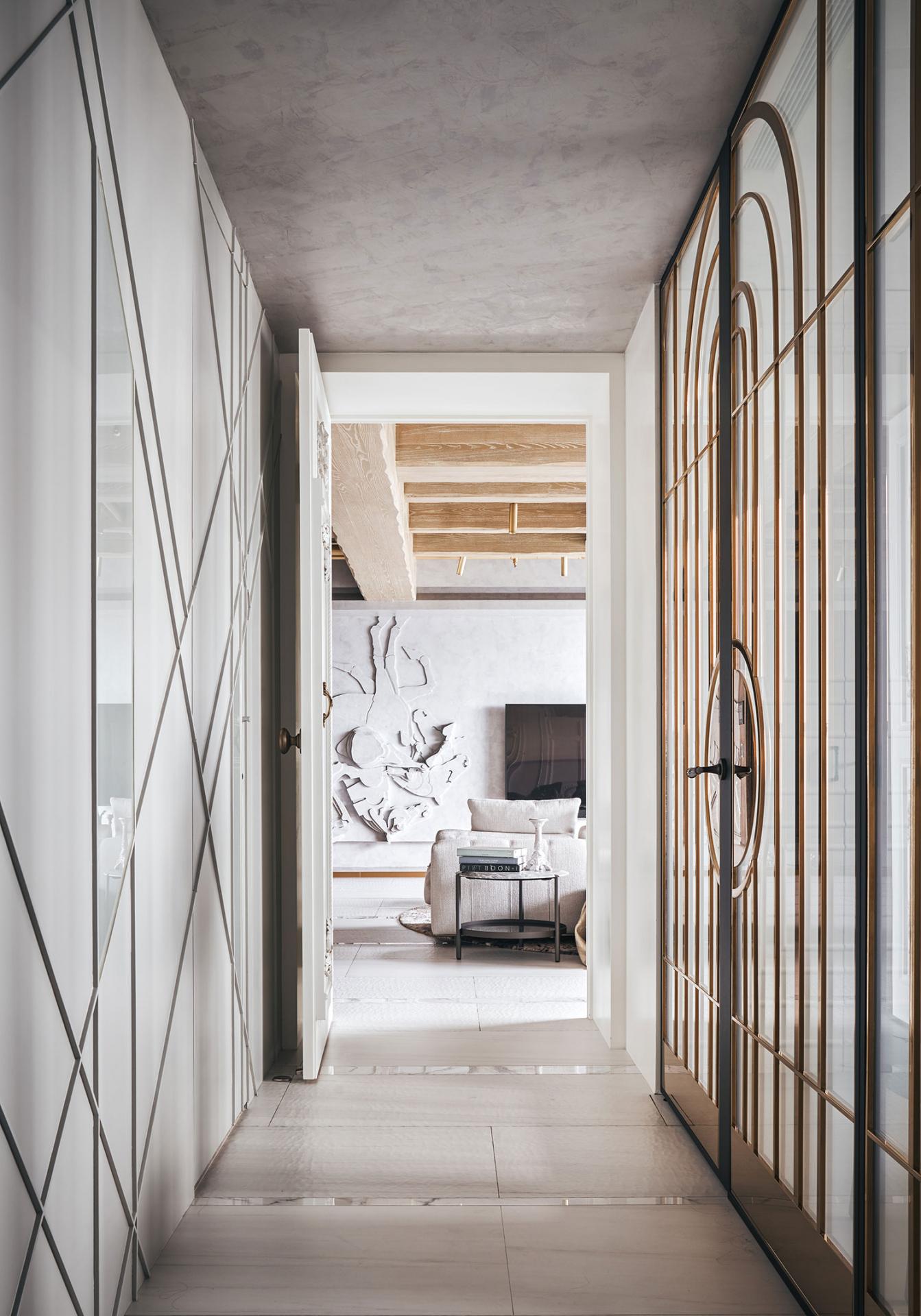 A metal screen teeming with plants separates the entrance corridor from the adjacent dining area. This screen, perforated with round mirrors and circular shapes, welcomes guests into a world of magic.
The corridor is decorated with titanium-plated art deco lines overlaid with diamond-patterned lines to create a rich and interwoven visual effect. The adjacent corridor wall is made of glass, embellished with galvanised arcs in dark colouring.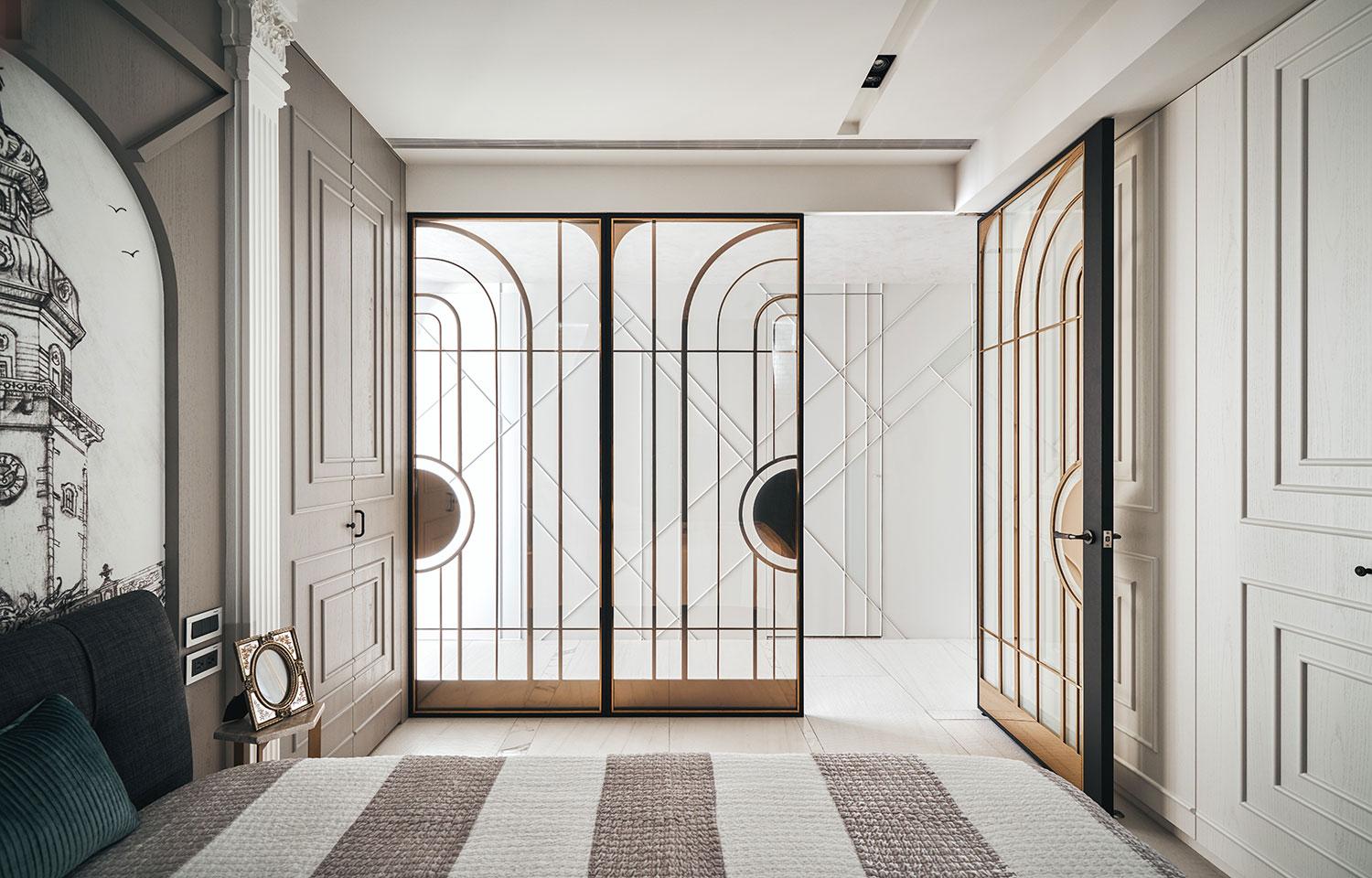 These geometric lines cast a mystical layer of shadows through the passageway that transitions inhabitants into the realm of the bedrooms. The combination of textures, shapes and materials construct a dense, yet ordered aesthetic.
This Tainan residence, blending functionality with aesthetics, is a place where fantasy comes to life, and has been designed to foster creativity and inspiration.