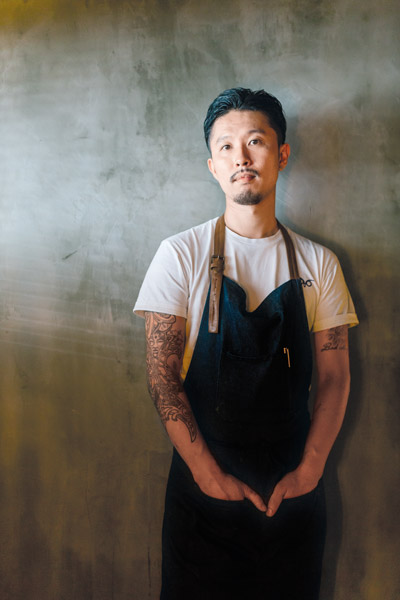 Chef Shun Sato
Cool yet understated, the recent debut of Fukuro on Elgin Street is set to raise the bar.
Designed by Maxime Dautresme of Substance, the raw concrete and reclaimed wood-panelled izakaya creates a transportive atmosphere as soon as you enter, with denim-clad waiters greeting you in unison and an eclectic soundtrack of Japanese and American punk rock pulsating throughout the joint.
Fukuro is chic, rowdy and no-frills – the perfect place to relax and enjoy scrumptious food and fantastic cocktails in good company.
See more: Why the New Punjab Club is designed like a Wes Anderson film set
The extensive menu has been designed to inspire, with chef Shun Sato at the helm of the kitchen. Charismatic yet humble, his passion for cuisine draws upon memories of growing up in his father's izakaya in Sendai.
Sato worked for seven years in Australia at celebrated restaurants including Blancharu and Yoshii before coming back to Hong Kong and joining Armani/Aqua as its executive chef.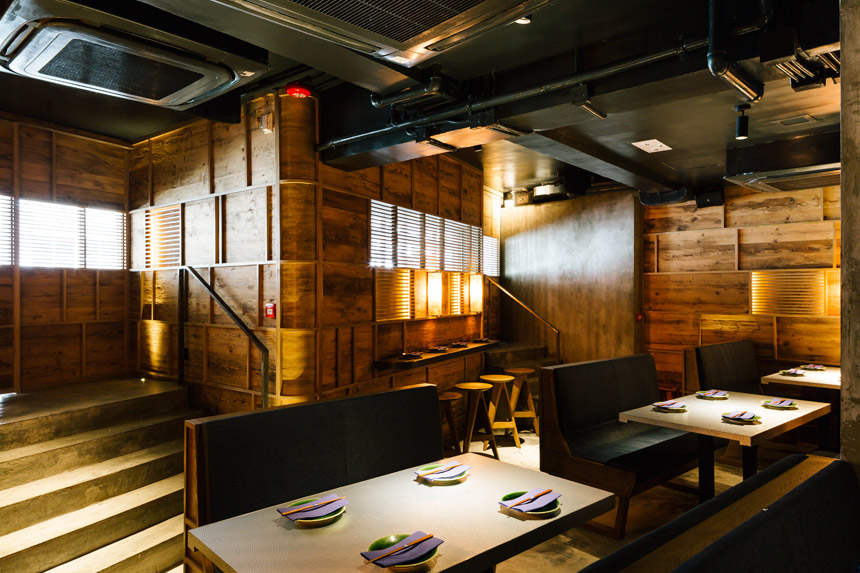 When he joined the Black Sheep Restaurants family in 2016, he started in the kitchen of neo-Parisian bistro Belon and worked his way up the ranks, moving over to Ho Lee Fook before heading up Fukuro.
I think the best part of my job is being able to see and talk to my guests, and knowing they have chosen to come to Fukuro, says Sato. There's only 24 hours in a day, but they choose to spend their precious time here – and that's the biggest compliment for me.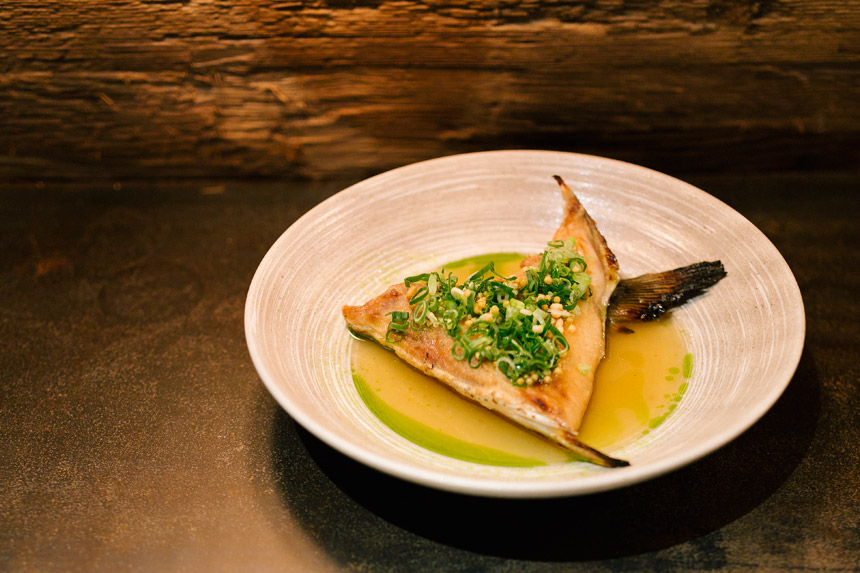 Hamachi collar cooked with Fuji apple ponzu (HK$158)
Among the dishes of the feast he has prepared for Home Journal, he points out his favourite three. The seasonal vegetables pickled in yuzu are always a refreshing way to start your meal, he explains.
In terms of snacks, the crispy caramel butter corn is a firm winner – we use local corn, which isn't sweet enough, so I utilise a French cooking technique to heighten the sweet flavour. I also recommend the yaki udon cooked with snow crab – this is the most famous udon in Japanese culture and we use crab to enhance this dish. The crab dashi, crab meat and crab butter is used entirely, so there is zero wastage.
See more: 8 of China's most beautifully designed restaurants
Market fish sashimi (HK$288)
Other highlights include the hamachi collar (cooked with Fuji apple ponzu) and the wagyu zabuton with seaweed soy and smoked oil – rich in flavour and stunning in presentation.
The drinks menu has been thoughtfully designed in unison, with a focus on sake and highball selections. From the Donto (a classic Japanese whisky highball concocted from green apple and soda) to the beautifully refreshing Kurafuto (crafted from mescal, shiso flowers and grapefruit tonic), there's plenty to whet the appetite, pair with the luscious food and keep you revelling late into the evening.