Local florist Mode Mok finds peace and balance in life through the art of ikebana.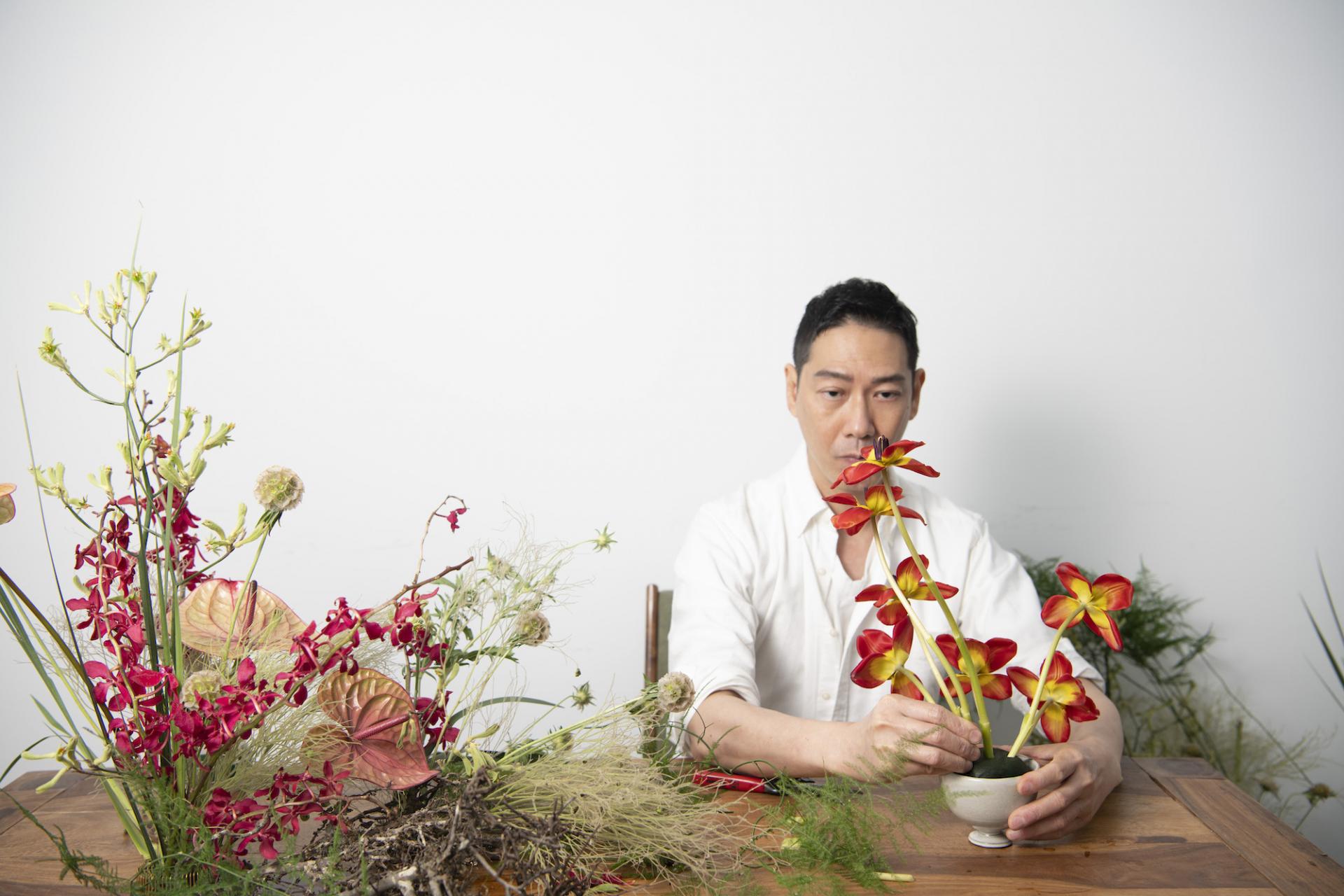 Floral arrangement in the East dates back to the time of Buddhist floral offerings. It became a fashionable trend in the palace during the Tang Dynasty (618-907 AD), resulting in the practice of flower appreciation and competitions based on colours, vibrancy, and sumptuousness.
Floral arrangement transformed into the search for elegance and refinement during the Song Dynasty (960-1279), usually featuring plum blossoms and narcissus. It became a popular hobby or a means of expression of one's character and charm. For example, plum blossoms represented
pureness; orchids depicted style and grace; chrysanthemums portrayed simplicity; while bamboo was a reference to elegance.
The art later reached Japan and blossomed into the school of ikenobo (the oldest and largest school of floral arrangement). Ikenobo later branched out to various schools of study, including the Sogetsu school, and the Ohara school. Passed from generation to generation, the distinctive art form of Japanese floral arrangement became known as ikebana, aka, kado.
Informed by Zen Buddhism, ikebana focuses on creating a world where the mind and flowers unite, adhering to the natural form of plants and creating harmony between man and nature. Through arranging flowers, the mind and soul reach a peaceful state.
Mode Mok, a local florist who studied ikebana for years, is mesmerised by what the art does to the mind and soul, prompting him to pass on his experience to his students through occasional classes on both Western and Japanese floral arrangements.
"Ikenobo has evolved from the Buddhist culture of flower offering, so there are strict rules when it comes to the display of floral materials," Mok explains.
"Ikenobo tells the beauty of flowers through lines and space, allowing flower appreciators to find peace of mind while sparking thoughts and imaginations."
There are three types of flower styles in ikenobo, he says, namely rikka (standing flowers), seika (pure flowers) and jiyuka (free flowers) – all displaying the natural posture of flowers likened to landscape paintings.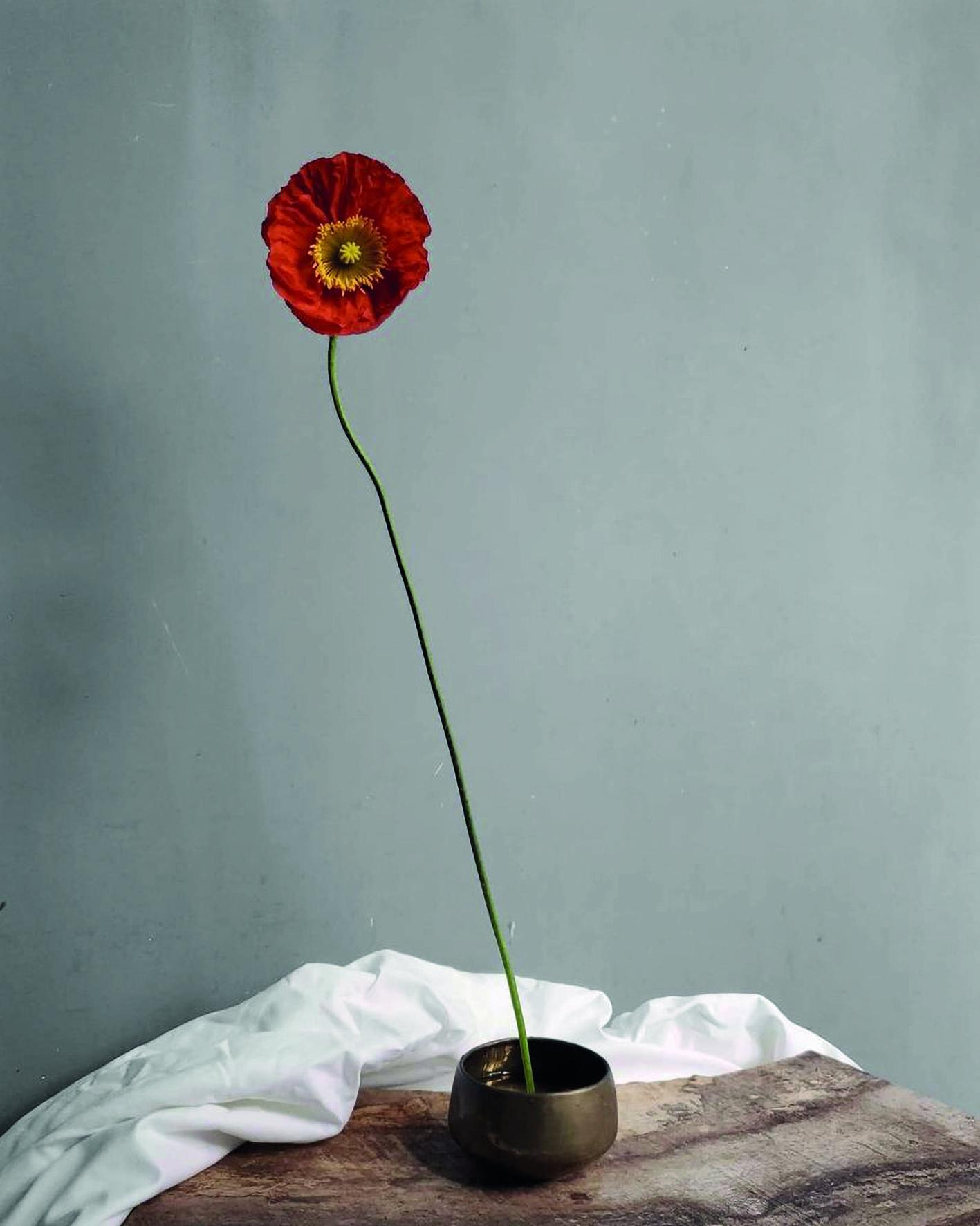 A 'self-knowing' form of art
Since ancient times, flowers have been used among scholars in the East as a means to portray aspirations and to express emotions.
Mok says half-jokingly that ikebana – different from Western floral arrangement – is a "self-knowing" art form because the florist has to face the flowerpot and start laying out from the front, as in landscape painting in which there are the front, middle and back sections. The first stem of the flower must be placed right in the centre as a foothold for the plants to branch out and for the silhouette to develop.
"Western floral arrangement can be appreciated from all angles, but in ikebana, you can only appreciate it by following the flower artist's perspective and viewing it from the front. And it's best to view it alone in order to take in what the flower artist wants to express," Mok says.
The art of letting go
To master the art of ikebana, one should first learn the art of letting go. In contrast with the intense colours of Western floral arrangement, ikebana focuses on the concept of "less is more", using crisp lines and elegant silhouettes to encompass the whole universe into one single pot – known as the "one flower, one world" concept in ikebana art.
To create the ideal silhouette, Mok cautions, one should keep only what they want most, and "let go" of the rest through proper pruning and cutting.
With a background in fashion design, Mok is no stranger to the art of letting go. The fleeting nature of fashion trends taught him to discard old thoughts and come up with new design ideas. Now as a floral arrangement tutor, he sees many of his new students are not comfortable with the idea of discarding parts of the flowers.
"They think it's a waste," he shares, "yet jamming all the flowers you've bought into a vase doesn't make it beautiful; most of the time, it's quite the opposite."
To create the perfect silhouette in ikebana, he suggests to choose three types of flowers and let the plants flow in natural forms in accordance with your own moods in the moment, in lieu of forcing certain kinds of shapes into the works.
This is in the same vein to Chinese ink painting where the painter depicts his thoughts on the canvas using just the right number of brushstrokes. In Chinese paintings, the empty space is just as important as the paint.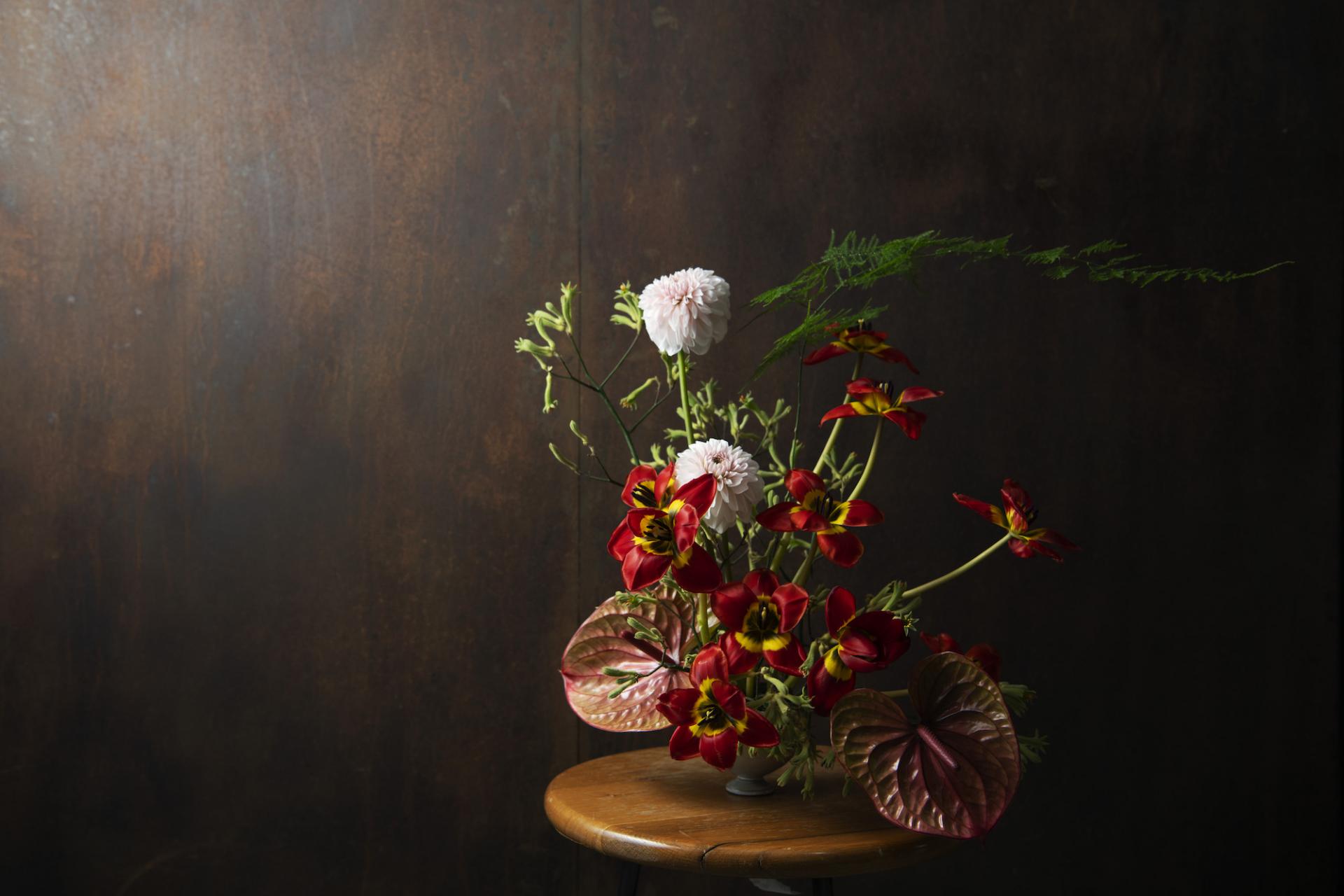 Imperfectly perfect
No one, it seems, understands the beauty of imperfection better than the Japanese. The concept of breathing new life into broken pieces has been deep-rooted in traditional Japanese art. Kintsugi – the Japanese art of repairing broken pottery by mending the fragments with lacquer or powdered gold – for one. Such a philosophy applies also
to floral arrangement, where a flower in its different stages of growth shares equal aesthetics values.
"A flower has a different kind of beauty throughout its life cycle," Mok says. "Take for example this pine. From budding, blossoming to withering, each step features a different texture. Even a plant with flaws shows distinct beauty, if arranged properly."
Mok demonstrated a simple version of a free-flow flower arrangement during our interview. From the moment he sat down, he was entirely preoccupied and remain focused throughout the process.
"Flower arrangement makes me lose track of time, and sometimes I don't even realise I have forgotten to eat," he grins, adding that he finds inner peace in the practising of ikebana.
In less than half an hour, a sprawling work of a foliage bouquet is ready on the table, comprising bouquets of gorgeous flamingo flowers as well as rough, old tree branches, telling a tale of the ups and downs of human life.