Perhaps this is the time to adopt a riot of colour and kitsch to perk up our spaces and our mindsets.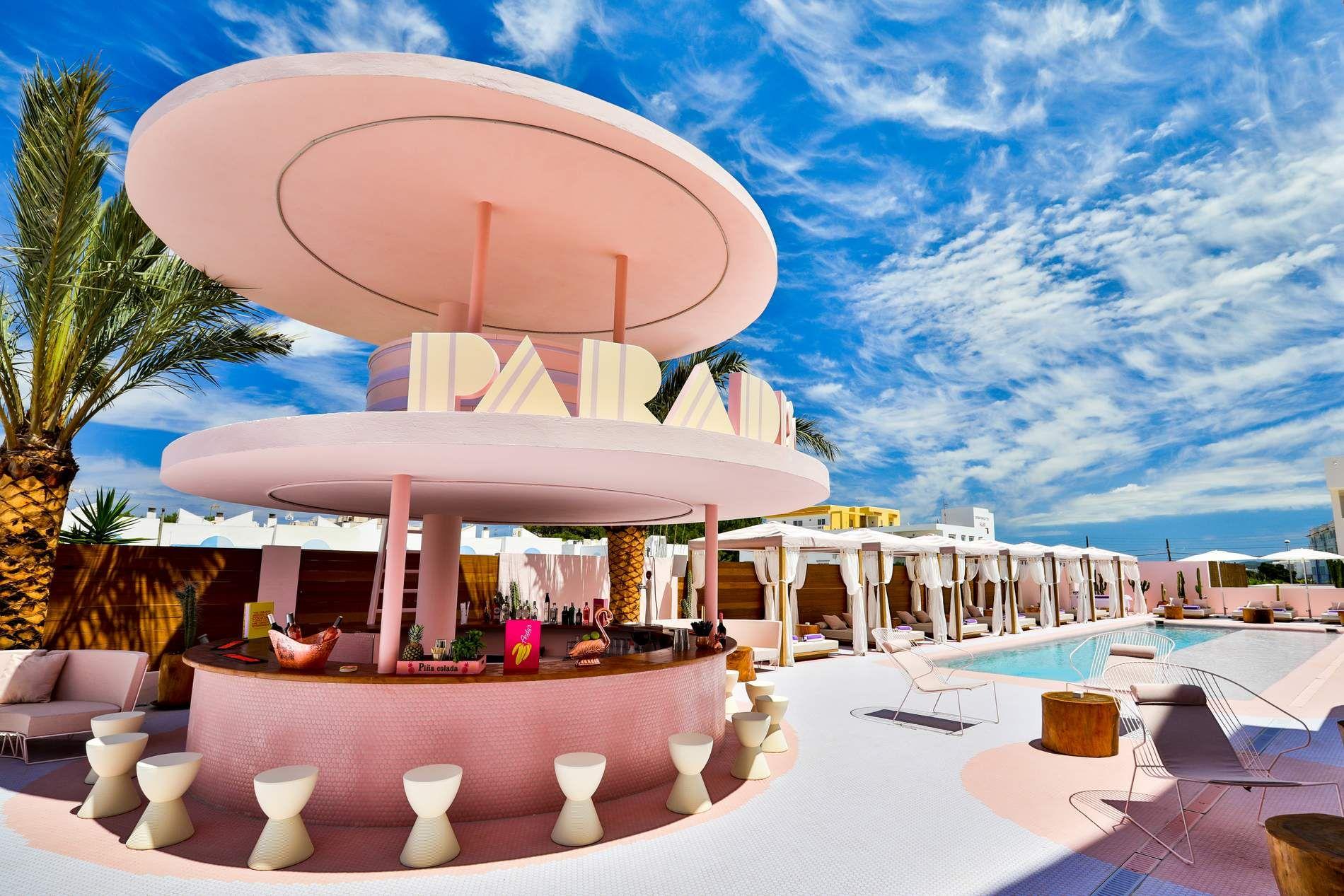 Maximalism is back. And maybe this is just what we need to give ourselves a much-needed boost – a visual feast for now, until we can physically visit. Although Ibiza's Paradiso Ibiza Art Hotel, launched in 2018, is not new, it perfectly fits the current zeitgeist of "more is more".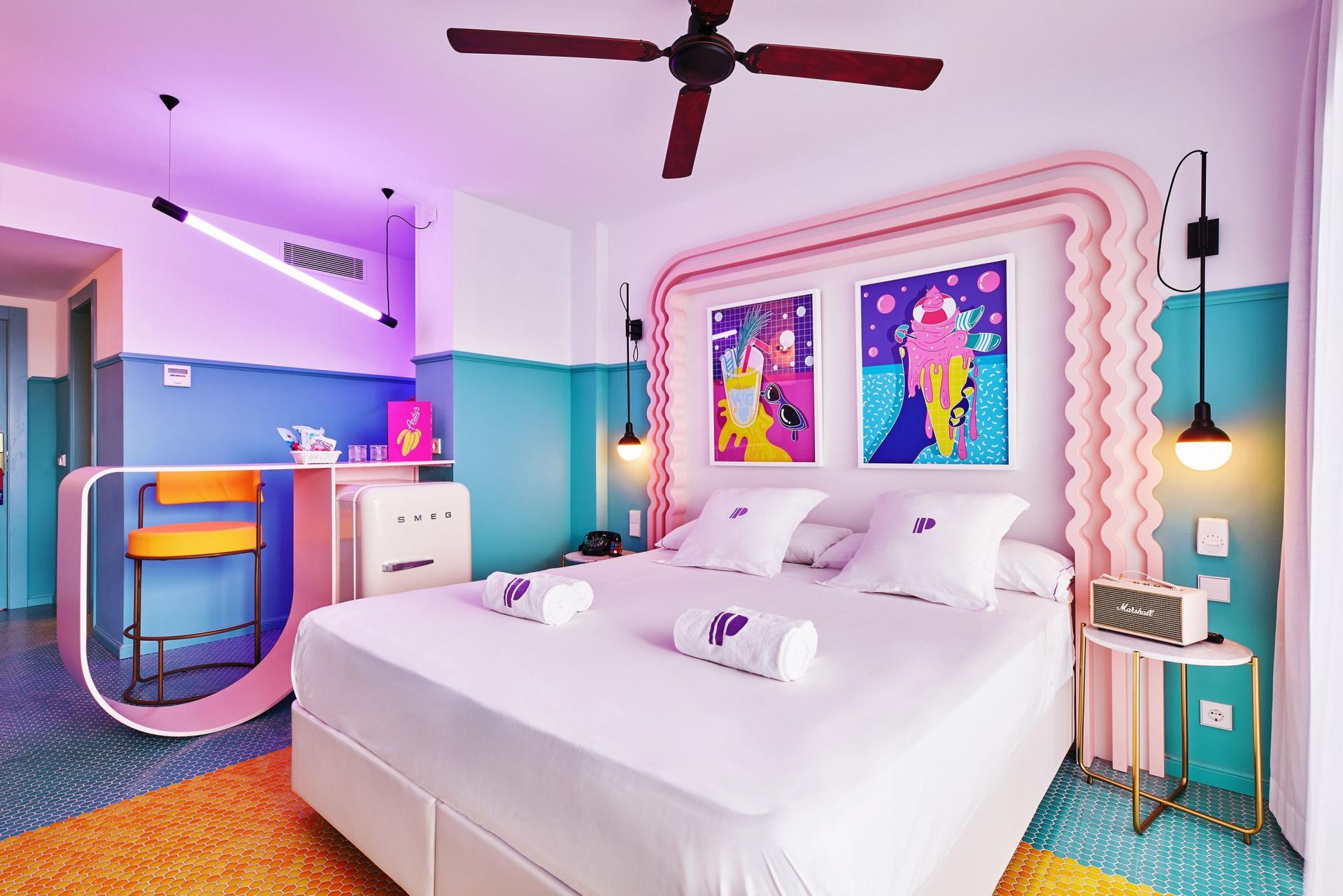 The Paradiso Ibiza Art Hotel is a dreamy pastel pastiche evocative of Miami Beach's Art Deco style – celebration of MiMo aesthetic that blends the Art Deco style of the 1920s and the Memphis style of the 1980s.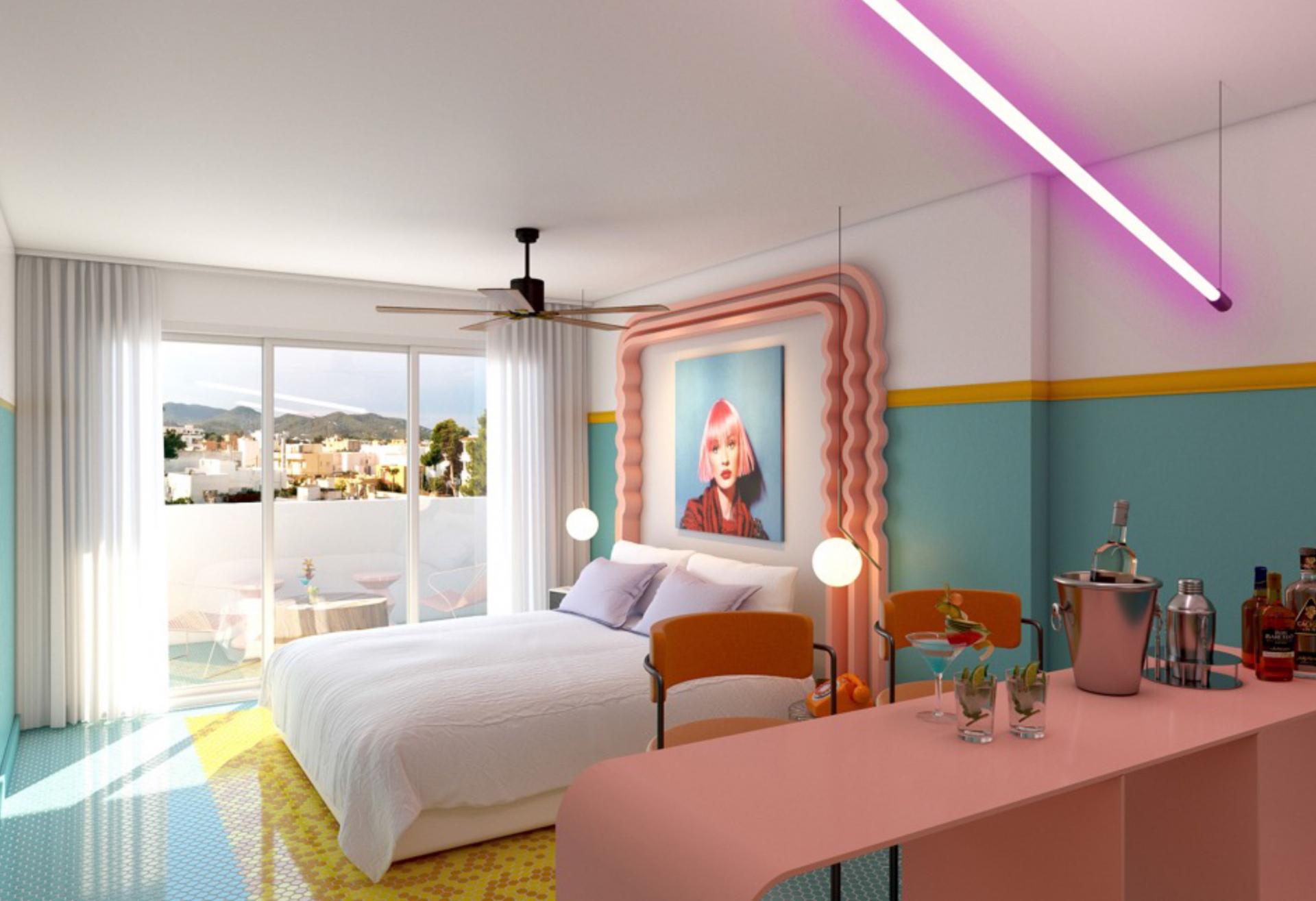 The hotel is located on the bay of San Antonio, a Mediterranean village on the southwest coast of Ibiza that is celebrated for its calm beaches, natural harbour, palm-lined promenade and nightlife.
Paradiso was designed by architect Michele Corbani and industrial designer Andrea Spada at the Spanish Ilmiodesign studio, who took inspiration from their Italian heritage – the design movement Archizoom, Italian architect Ettore Sottsass and the Memphis style – for the hotel's renovation. The concept was the world of art.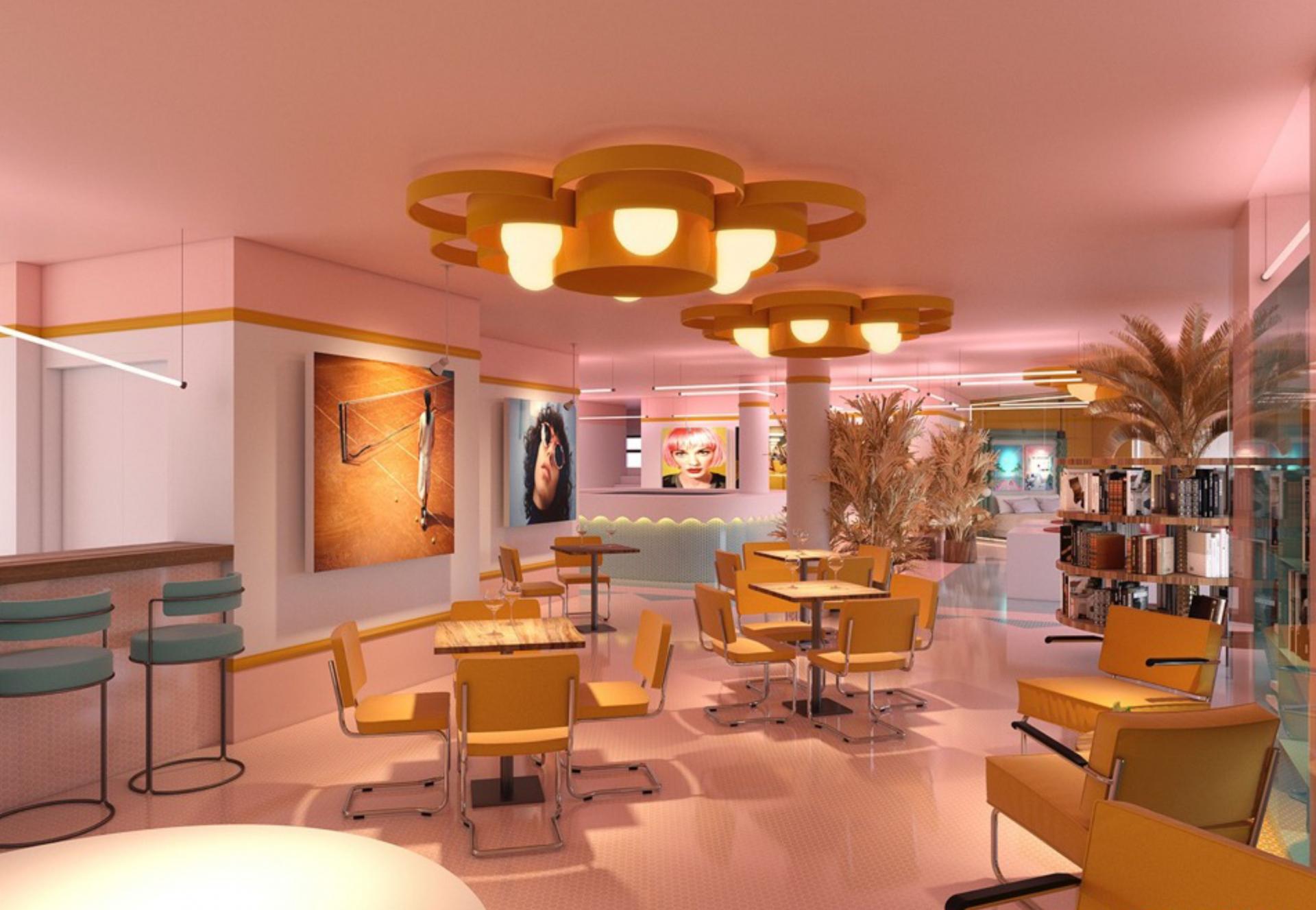 The hotel is more than a place to stay. It hosts an art programme directed by artist and curator Iñaki Domingo along with photographer and filmmaker Diana Kunst, who curate a series of events and exhibitions throughout the hotel.
Meanwhile, the Adda Gallery Ibiza, founded by Anna Dimitrova, specialises in street art and runs an innovative urban art program with seasonal shows from renowned contemporary artists. Dimitrova also runs "Residencies", a programme of short-duration residencies for leading international artists to come and work on the island and promote young, avant-garde artists.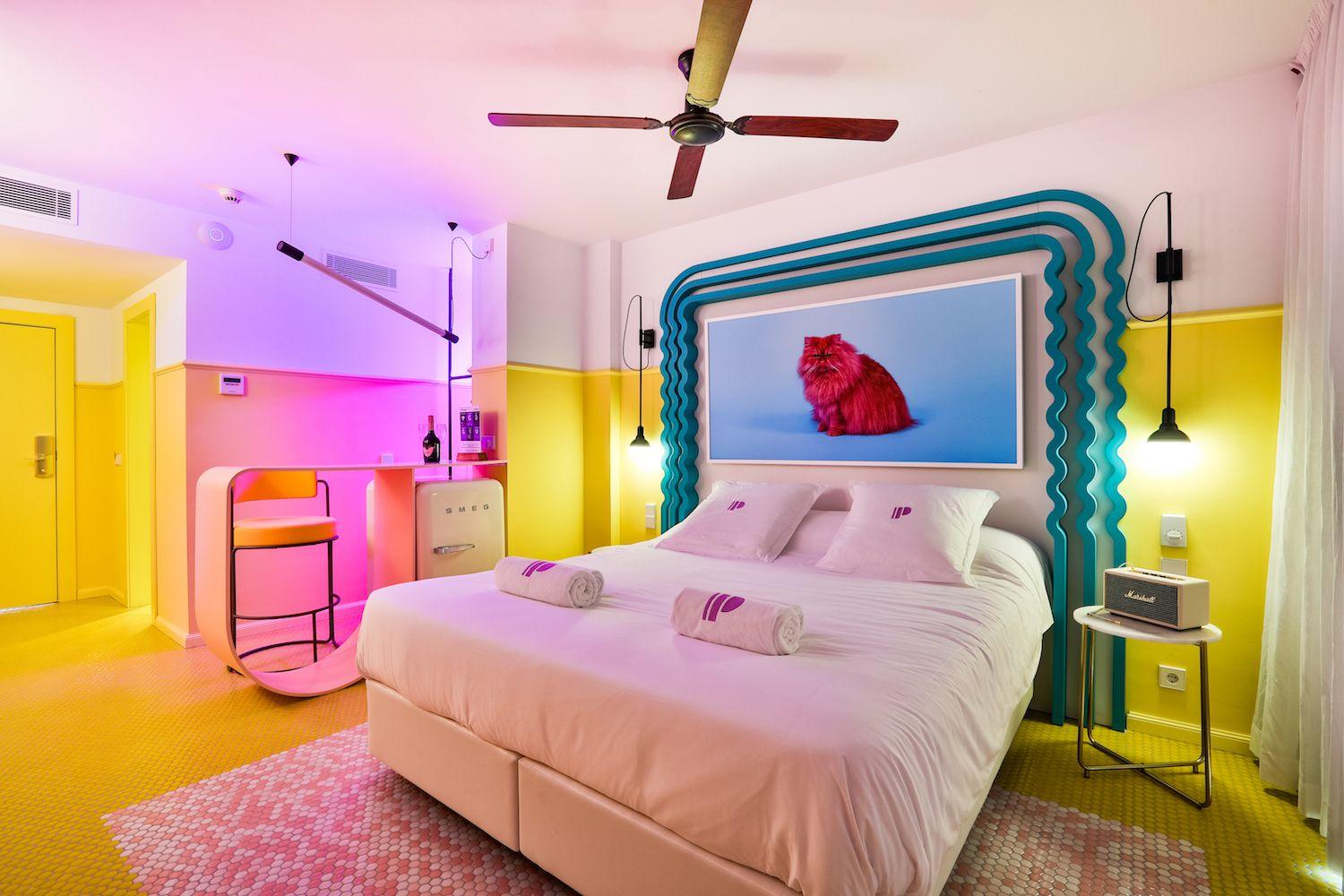 The real fun, however, is the "Zero Suite", a glass-enclosed bedroom in the lobby where artists can showcase their lives just like an art installation. Guests can also stay for free, as long as they don't mind being displayed like they are on a reality show.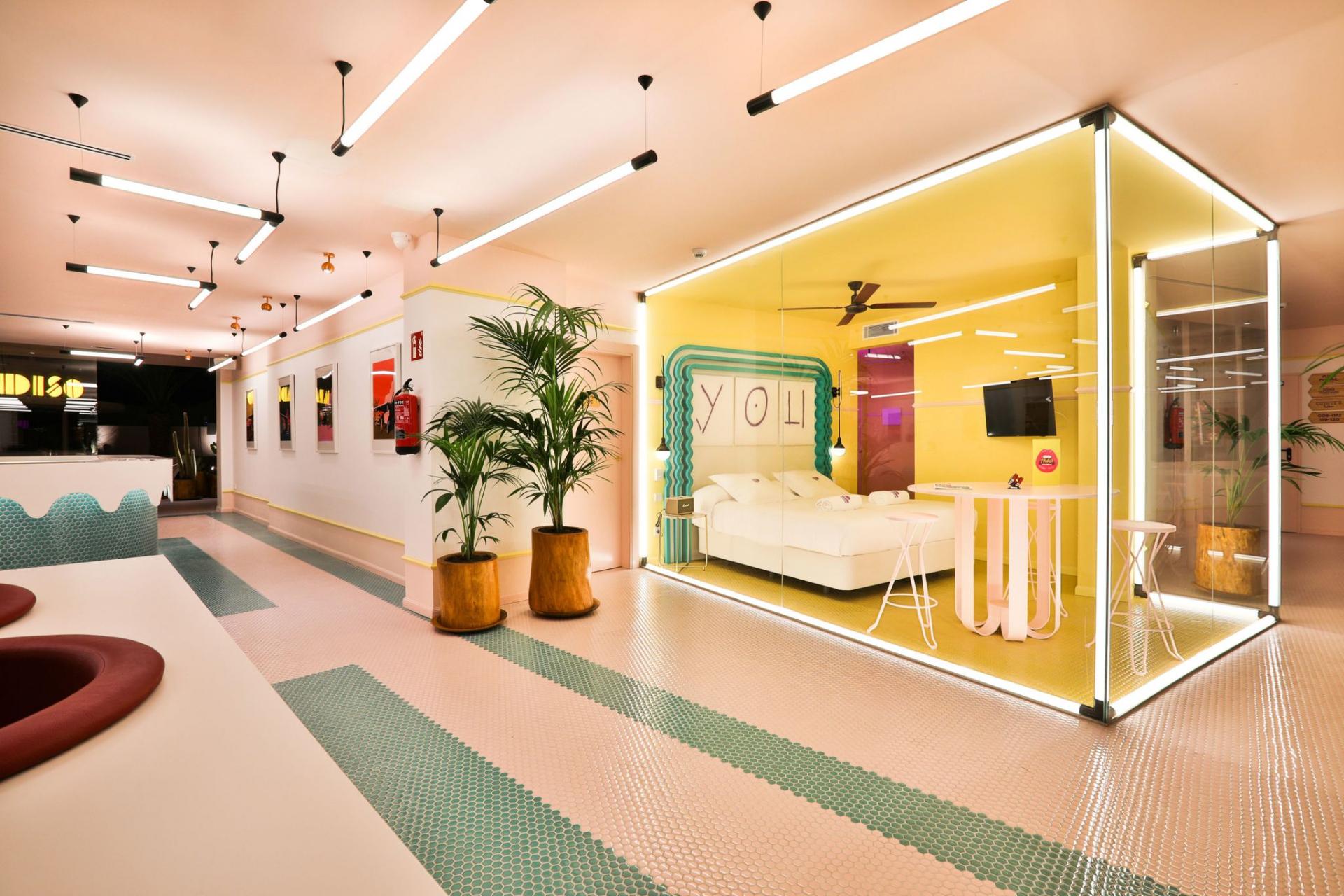 The lobby features pink mosaic tiles, painted walls and ceiling that contrast with the green stripes on the floor, and a spectacularly funky curvaceous seating in bright red. There is a library space with a selection of more than 100 specialist contemporary art titles, and a cafe bar.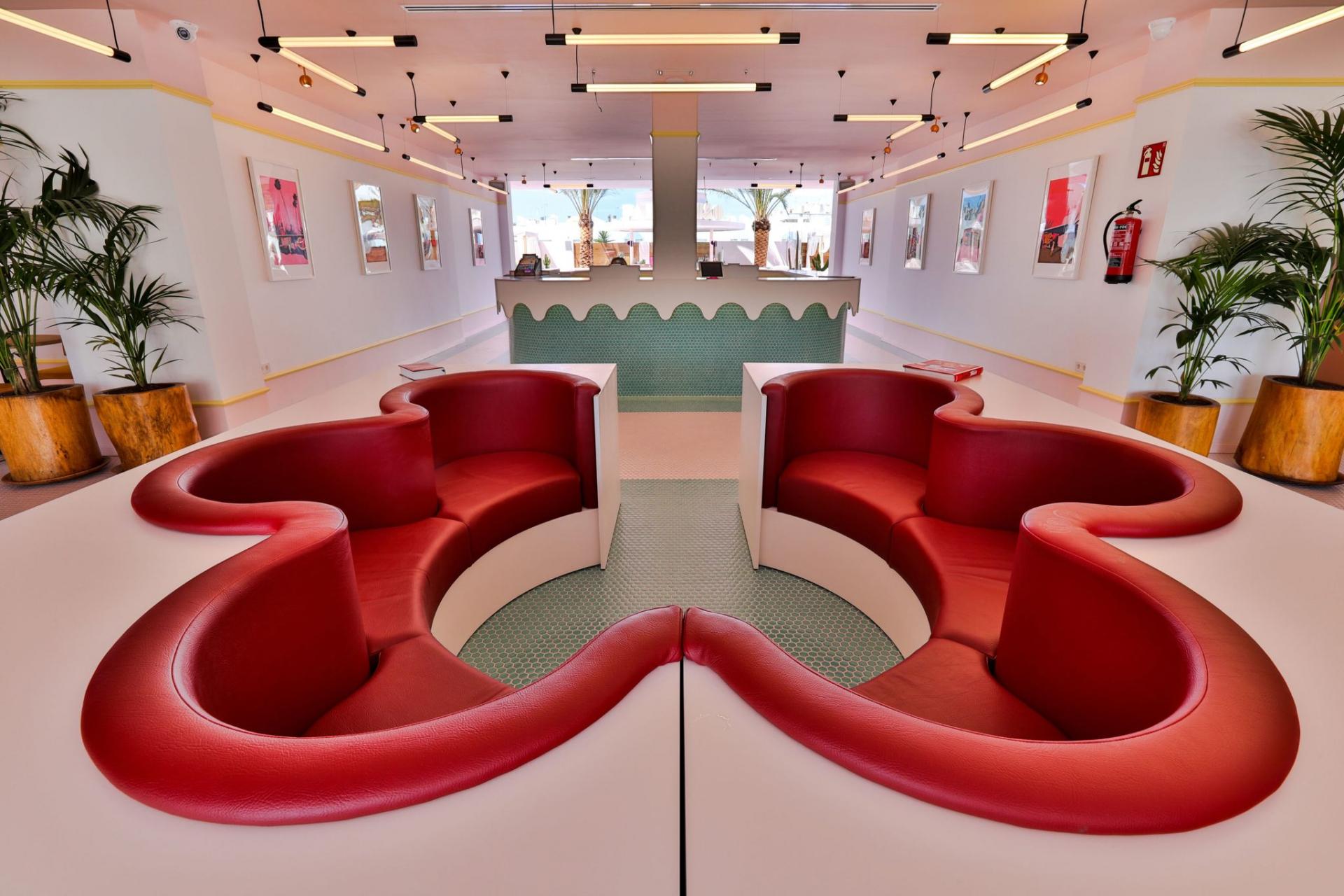 There is also an in-house tattoo parlour where an outdoor cinema – Cinema Dorado – shows cult films during summer. Dining takes place poolside at Andy's, and the pool bar is the perfect backdrop to sip a cocktail or two.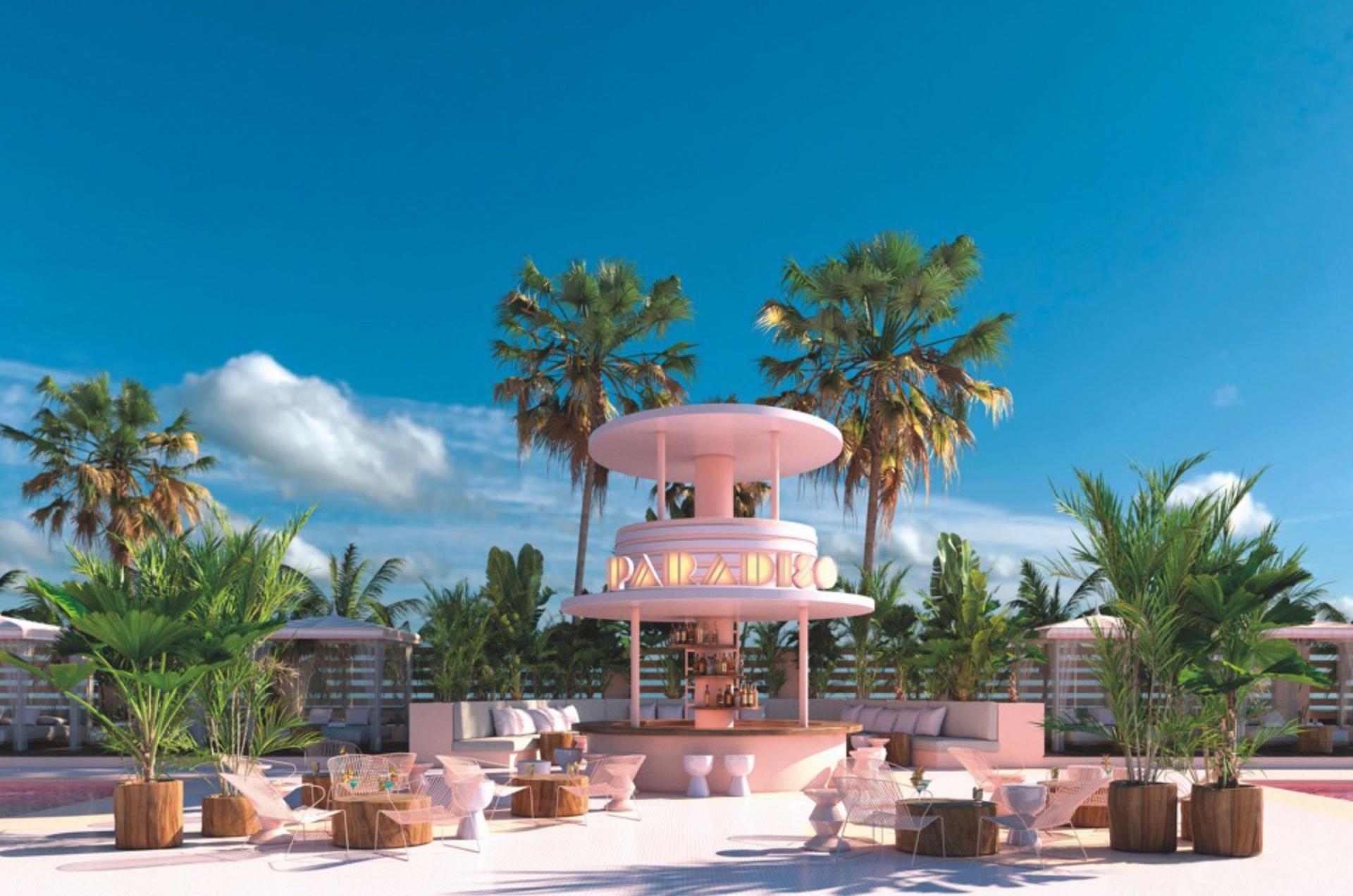 The guest rooms, known as Art Rooms, are playful, fun and bold in shades of yellow, pink, purple, green and orange, completed with neon lighting, colourful furniture reminiscent of the '70s as well as carpet tiles in turquoise, yellow and pink. Each room is dedicated to a specific artist with a piece of their art on the walls.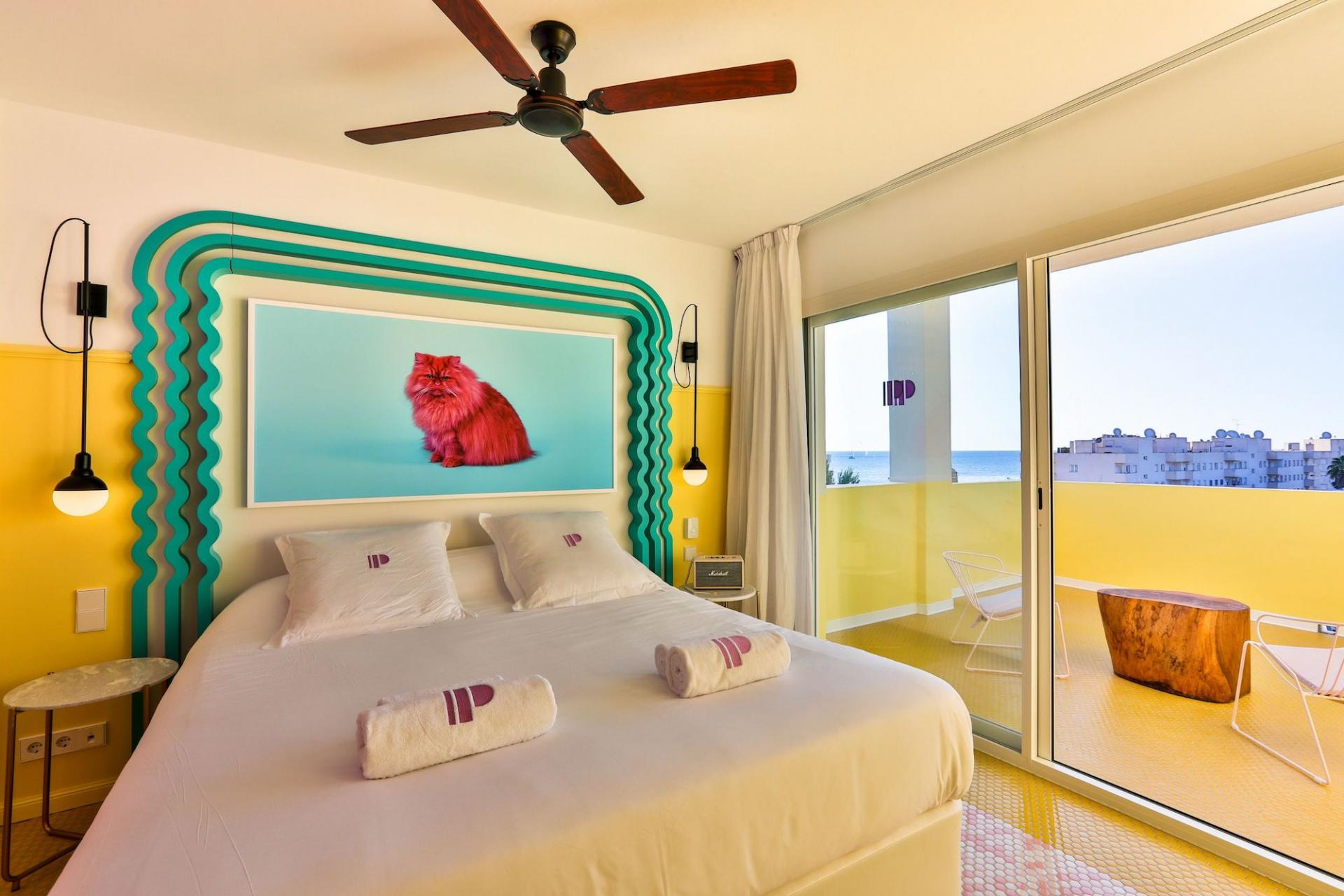 The bathrooms in the hotel incorporate more modern design elements like reclaimed wood countertops and stone-bowl sinks. Throughout the hotel, mosaic tiles in custom colours from Vitrogres are an essential style element.
The candy-hued swimming pool area spins a pink aesthetic in a fabulous Art Deco style, surrounded by decadent Cabanas with floaty curtains and loungers. The 1920's signage Paradiso is the icing on the cake. It's deliciously decadent.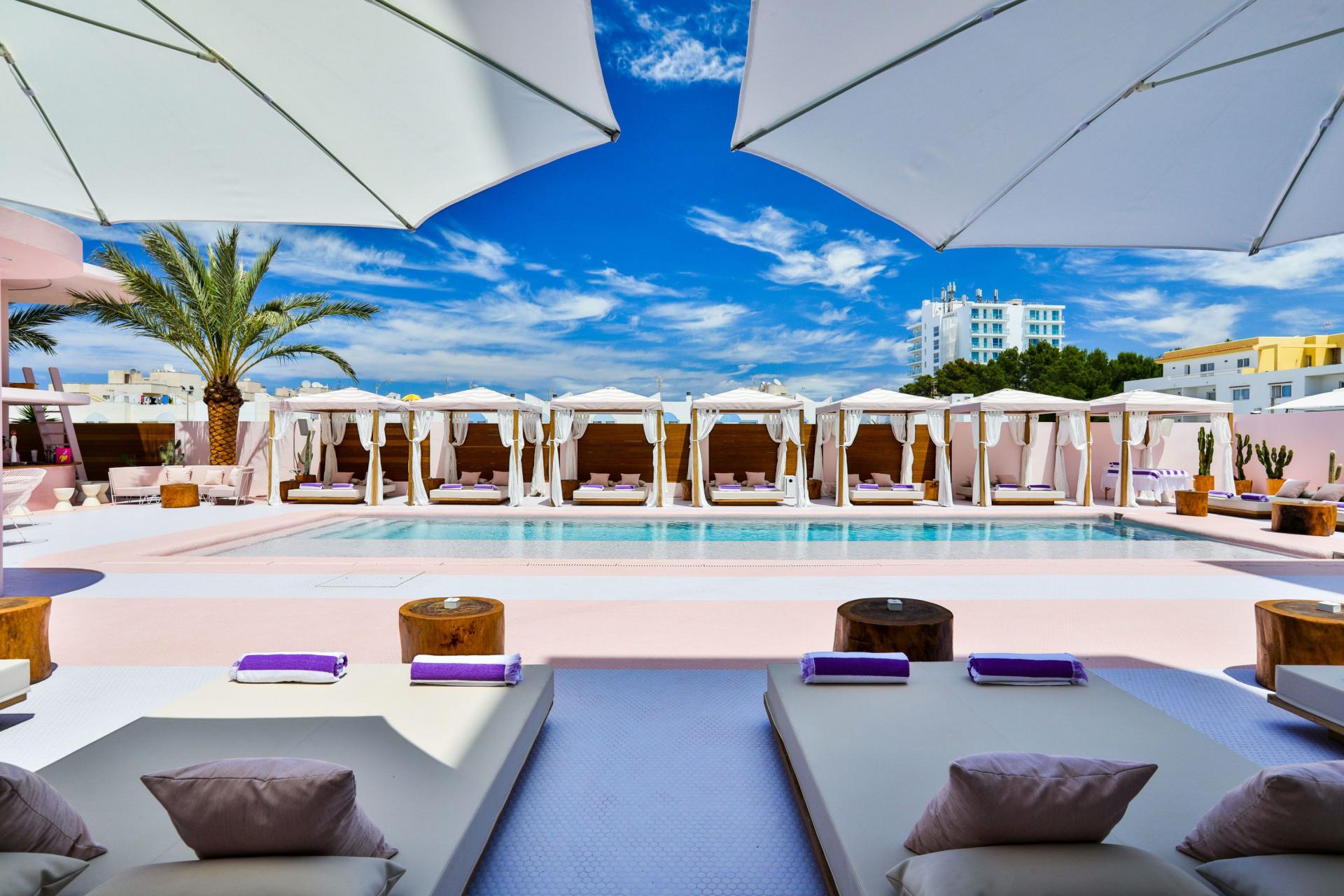 You can rest assured that your experience in this retro-chic oasis will be quite unique.
Image Credit: PARADISO Ibiza Art Hotel
***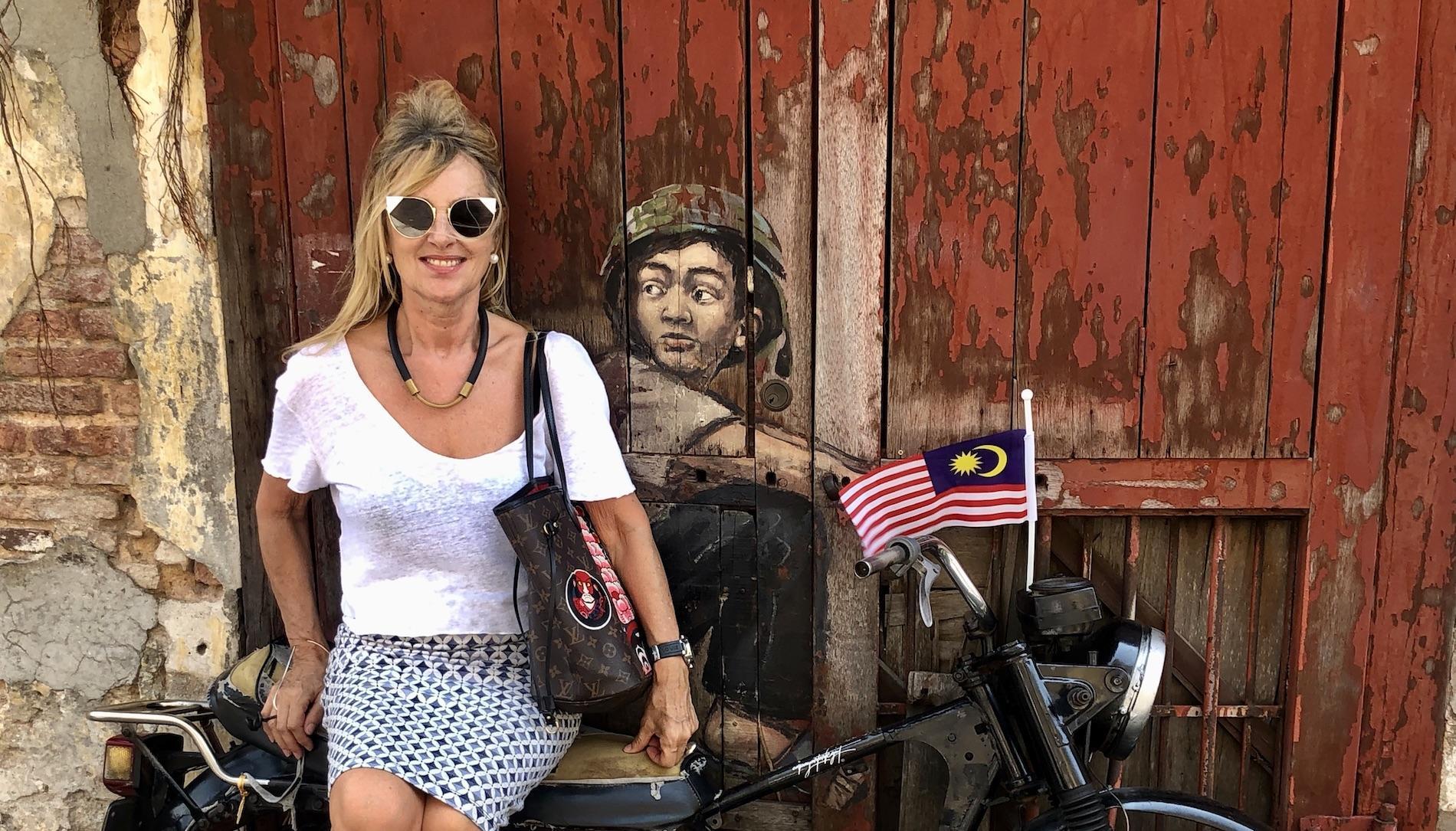 Anji Connell is an interior architect, garden designer and self-proclaimed nomad who regularly writes about art, design, lifestyle and travel from her globe-trotting adventures. Known for her bubbly persona and even more exuberant sense of style, Anji's portfolio spans everything from interior styling to furniture and landscape design for some of the world's most beautiful spaces. For now, you will find her @anjiconnell_acidplus and anjiconnellinteriordesign.com bingeing on future travel plans from her designer chair.