Leeu Estates is an exclusive private hideaway nestled within stunning vineyards, landscaped gardens, and fynbos (indigenous vegetation) perched on the slopes of the Dassenberg in the gorgeous Franschhoek Valley and overlooked by the magnificent mountains and just minutes away from the charming village of Franschhoek.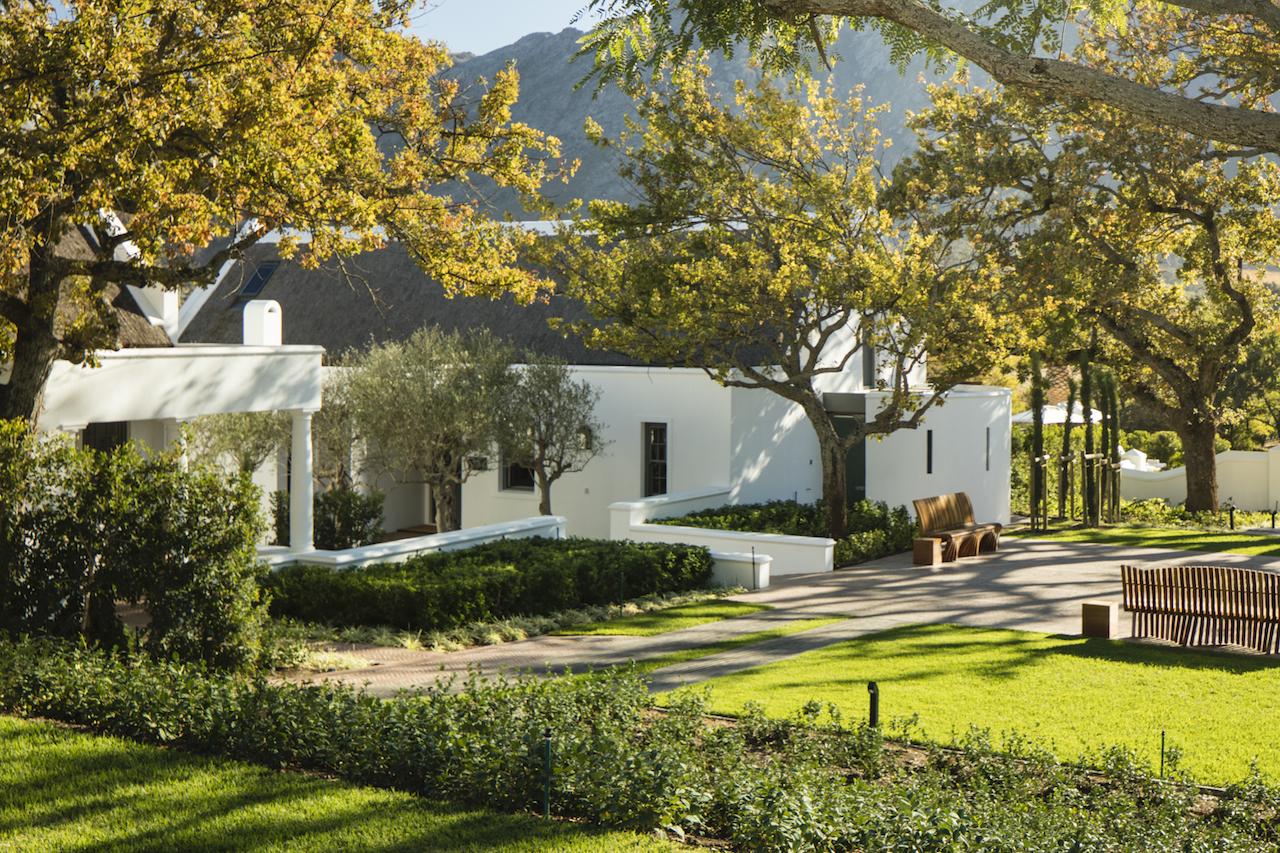 The Manor House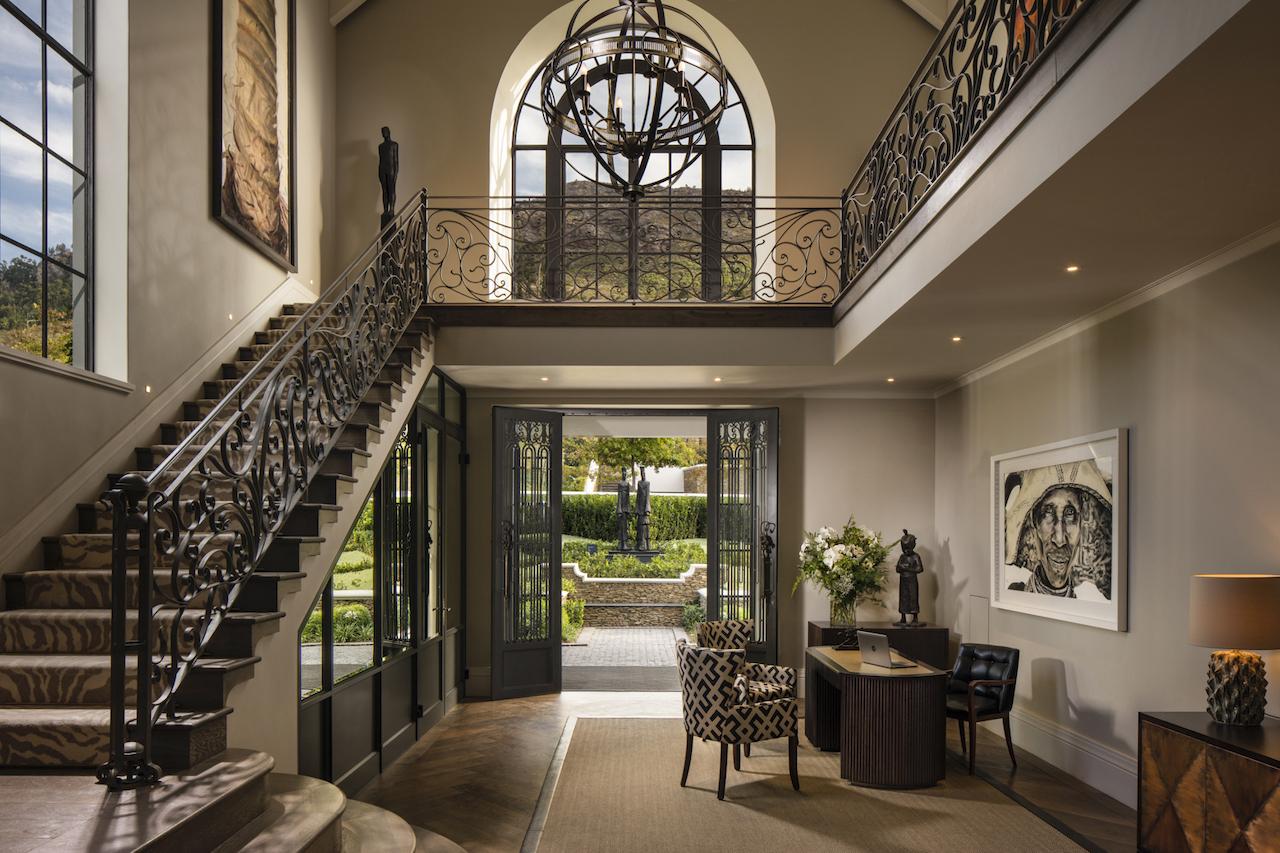 The 19th-century Manor House is a five-star luxury boutique hotel at the center of a working wine farm and meticulously manicured gardens with a fabulous restaurant and a gorgeous spa in an adjacent stunning contemporary building designed by Spanish architect Tomeu Esteva Therapies focus on the therapeutic benefits of South Africa's unique Pinotage grape.
Leeu Estates is designed according to the Vastu shastra architectural principles to promote a sense of wellbeing, set on an elevated location that faces the first rays of dawn.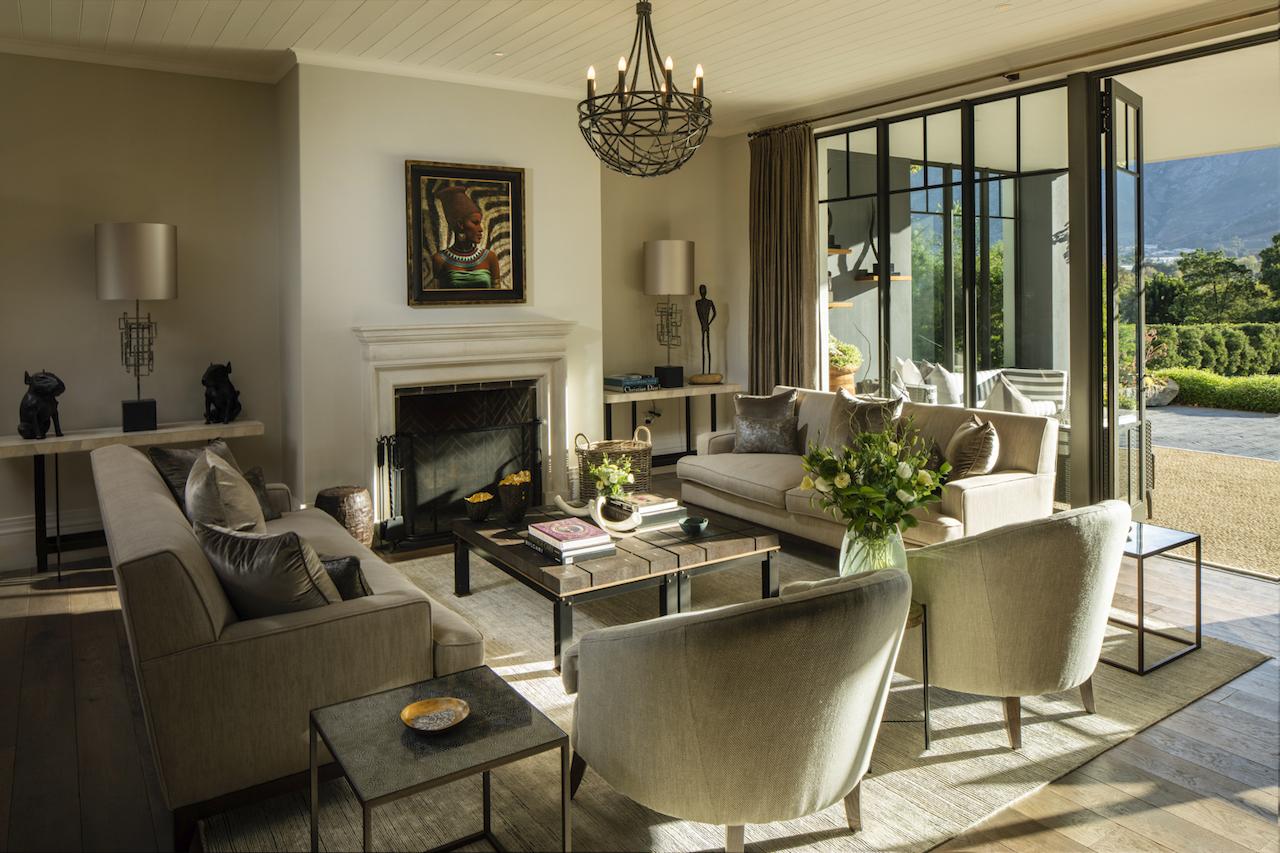 Leeu Estates is part of the Leeu Collection founded by Mr. Analjit Singh several years ago, including Leeu House, an exclusive 12-room hotel, and Le Quartier Français, a romantic 32-room hotel with two independent villas in the heart of the village of Franschhoek. Mr. Singh is committed to partnering with the best in wine-making, art, and fine dining to create an exceptional guest experience.
Leeu Collection is a firm favourite on the luxe list of hideaways for those in the know.
Lockdown has provided the perfectionist, Mr. Singh, with an opportunity to see his empire with a fresh eye, and the resulting changes have taken the property to another level, which amplifies the already impressive guest experience. Daily walks around the grounds led to Mr. Singh establishing a peaceful river walk with secluded outdoor seating areas and picnic spots to view the wine farm's commanding views and magnificent mountain backdrop. Seating has been added to the Bokkie Garden, which is very close to the founder's heart. The Afrikaans word "bokkie" means small buck but is also a term of endearment used by South Africans that is comparable to "beloved" or "sweetheart." The garden is a meditative and serene space where guests can reconnect with nature and one another. Its grasses and hedges are typically those found in the animal's diet in the wild. The acclaimed sculptor Angus Taylor's Reflective Resonance,' a bronze and Belfast granite sculpture, has a pivotal and powerful presence in the garden.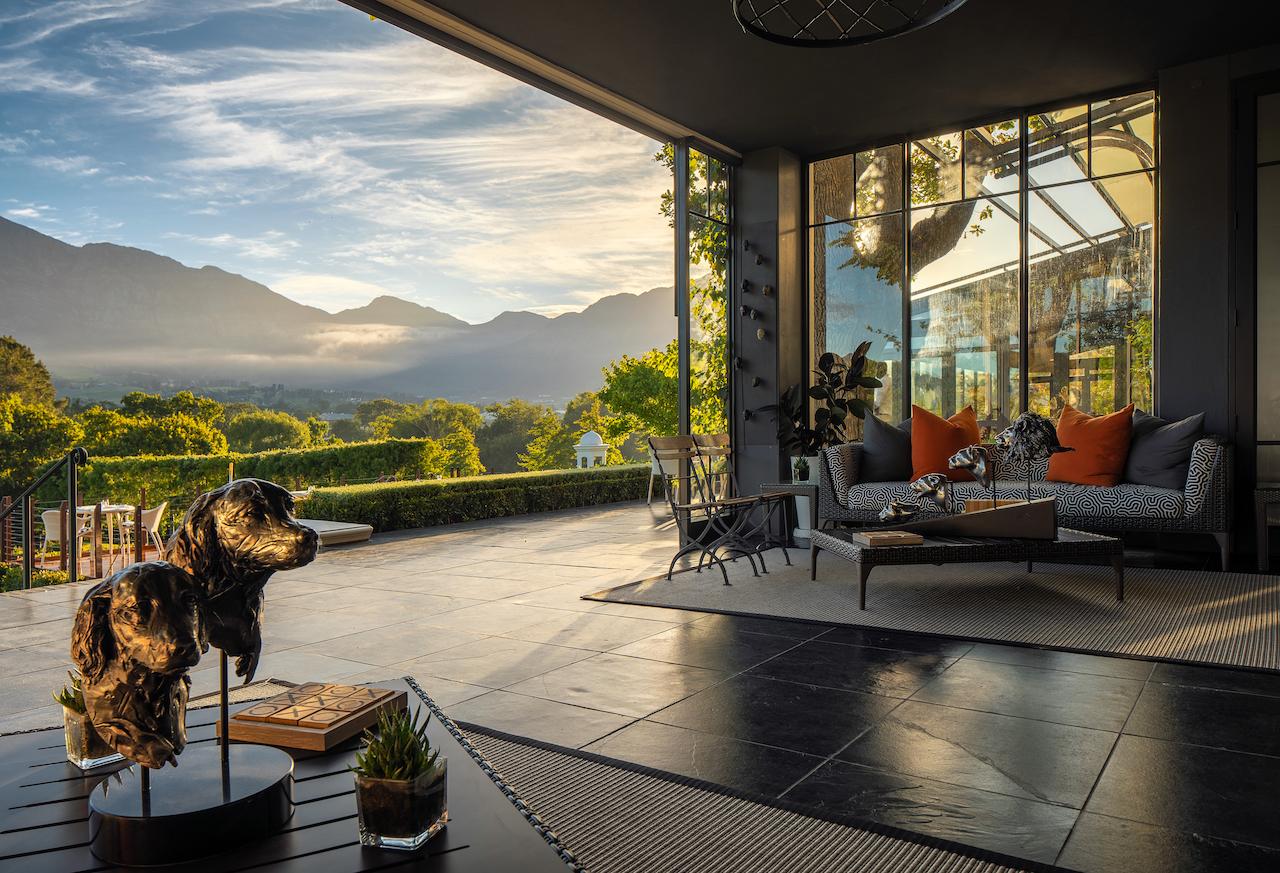 Designer Beverly Boswell's artful blend of contemporary and classic detailing in the elegantly furnished rooms and suites have a relaxing colour palette of chocolate, taupe, smokey blues, and greys with sweeping views across the valley.
Smoked solid oak floors, Tibetan rugs, hand-forged chandeliers, and a pair of mid-century Lucite table lamps and bespoke furniture in shagreen, vellum, bronze, and exotic wood finishes add a luxurious texture and interest. Eclectic contemporary art and objects are hand-picked from the owner's collection, add colour and interest.
Six new rooms and cottages have been created. The Estate vineyards have been doubled in size. New olive groves, orchards, and a herb garden have ensure local organic produce for the hotel's restaurants and reduce the field to fork miles. Two helipads allow for fast, secluded transfers from Cape Town.
The Fynbosch Quater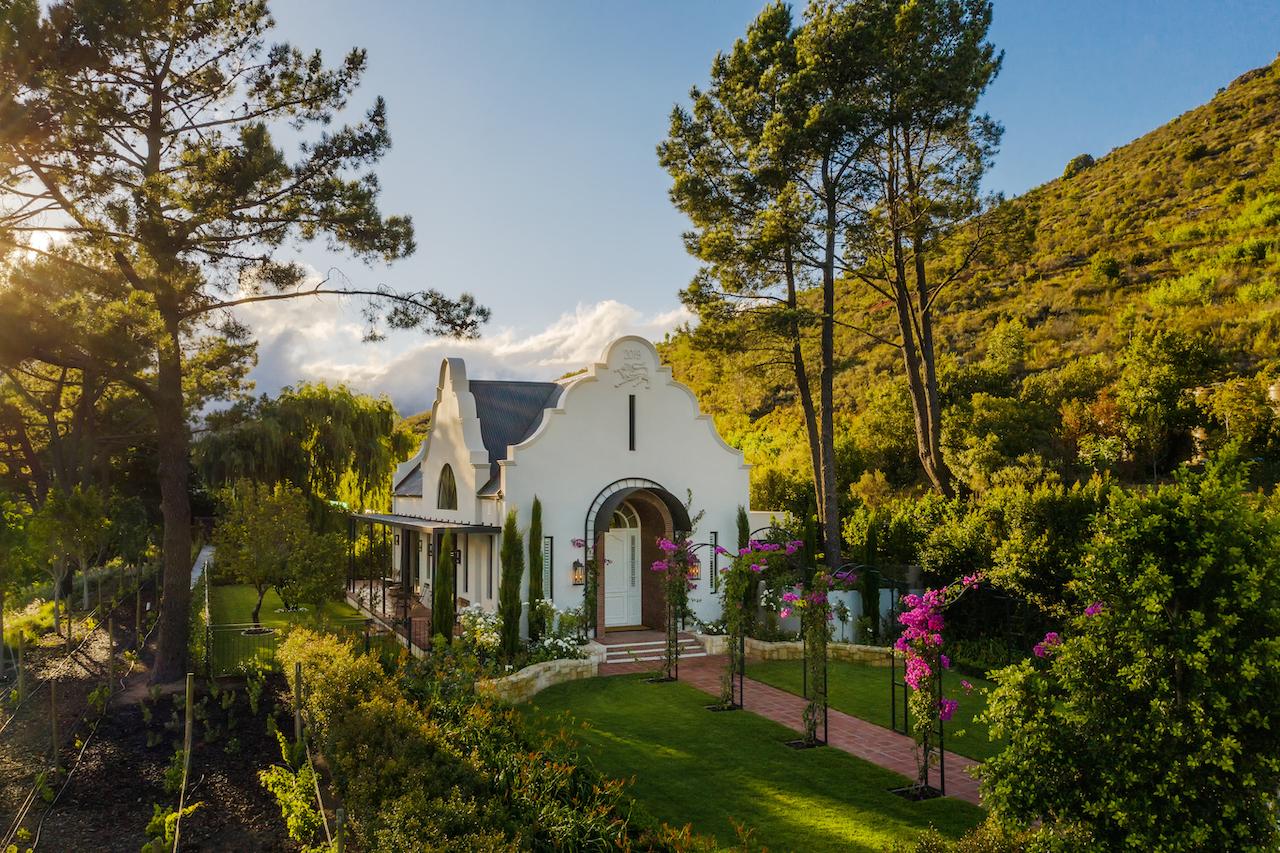 The icing on the cake is the new Fynbosch Quarter is designed and modelled on DHK architects Norval Foundation. A contemporary art museum and sculpture garden situated on the slopes of Table Mountain National Park within the beautiful natural beauty of the Constantia that combines art, nature, and dining where the gallery and restaurant benefit from the spectacular natural environment.
The Fynbosch Quater is the new home of Everard Read Gallery and the La Petite Colombe restaurant, both of whom were already partnered with Leeu Collection.
La Petite Colombe
La Petite Colombe has relocated from Mr. Sings Quartier Francois property, and Everard Read is a sister gallery to the existing Quartier Francois gallery. La Petite Colombe is the sibling restaurant to La Colombe in Constantia that consistently receives worldwide acclaim as one of the World's best restaurants. Award-winning John Norris-Rogers, previously with La Colombe, was appointed as Head Chef of La Petite Colombe in August 2017.
Norris-Roger's skills are in evidence throughout the meal. Expect inventive pairings with local produce and elements from his many travels, including Japan are mixed with classic culinary skill, its fun and unlike a lot of fine dining restaurants is fun and relaxed, and the staff are warm and obviously proud of what they do, and it shows.
La Petite Colombe's Chefs Experience Menu is seasonally changing, and it's a 'taste sensation.' The fresh fruit, vegetables, and herbs and spices are picked daily from Leeu Estates organic farm, which is just a few minutes walk from the restaurant.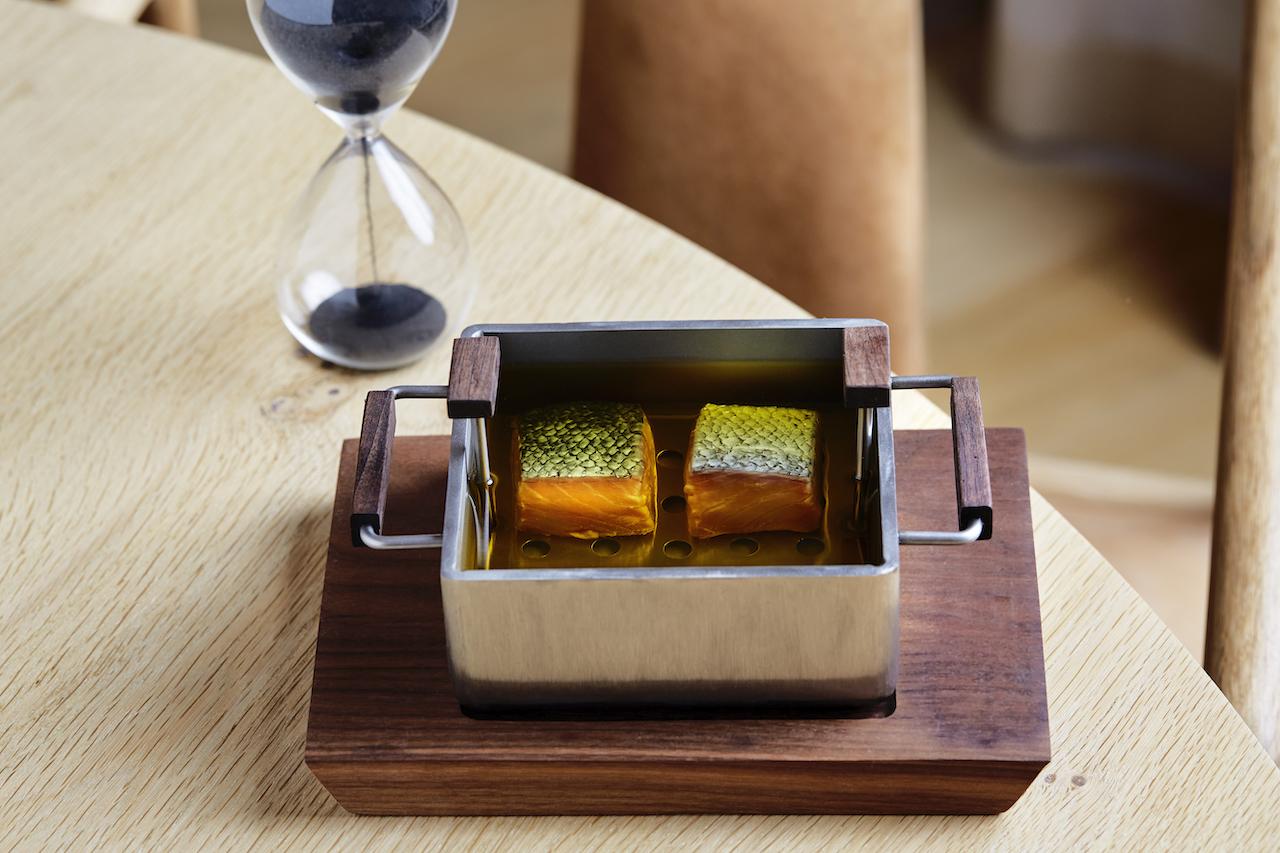 The confit salmon is a highlight on the menu that is cooked tableside in Leeu Estates olive oil.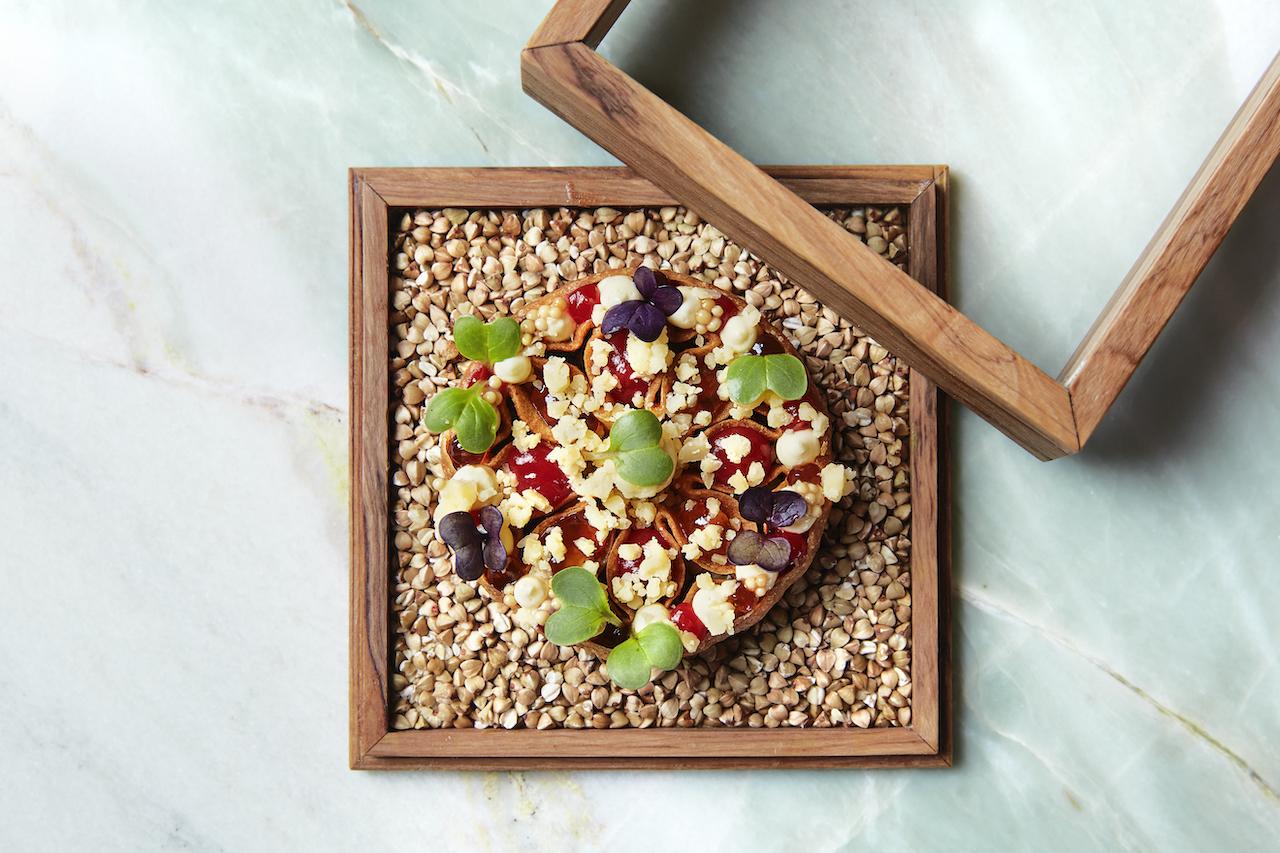 There is a Vegetarian Chefs Experience too that is equally inventive and refined, and delicious.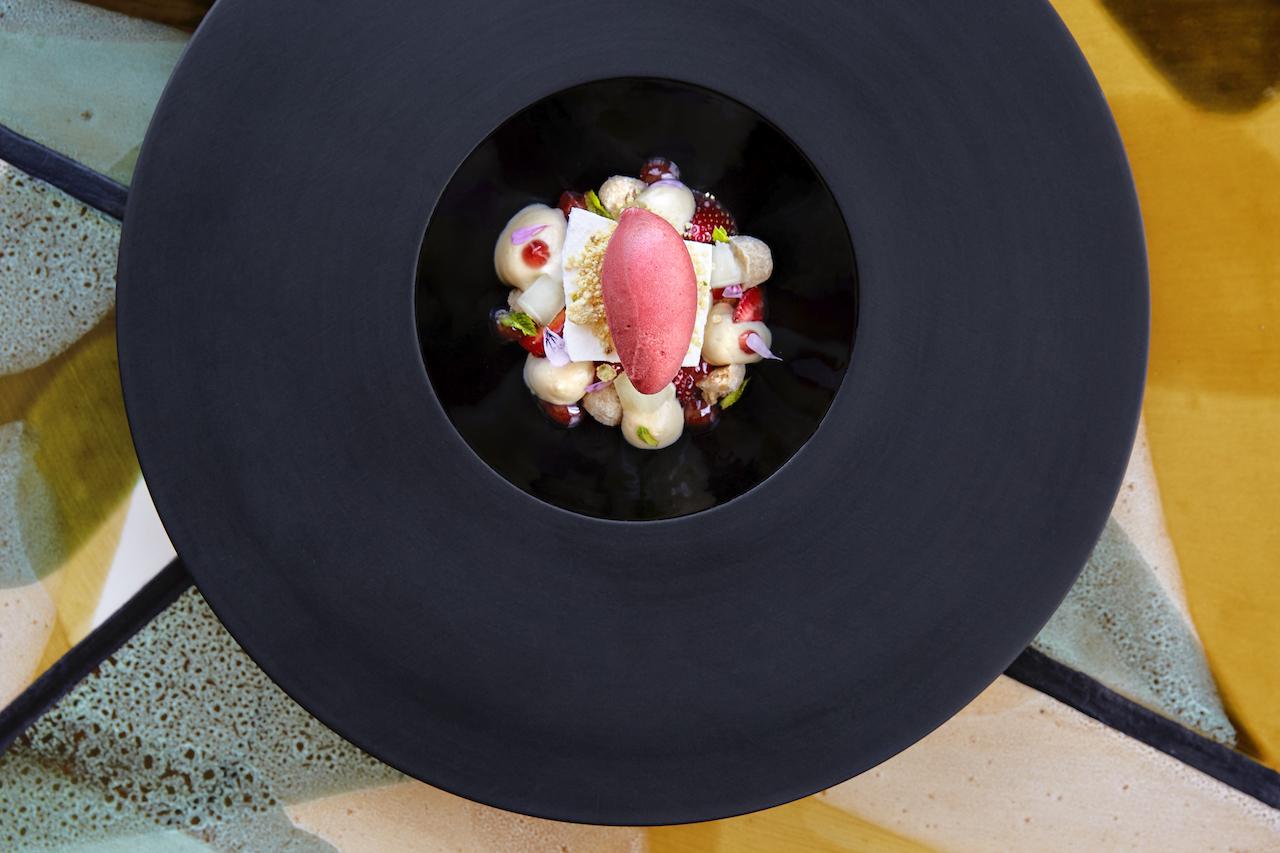 The dessert trolley or, as the Petite Colombe team refer to it, the Willy Wonka inspired petit four trolley is an absolute delight bursting with fun bite-sized treats.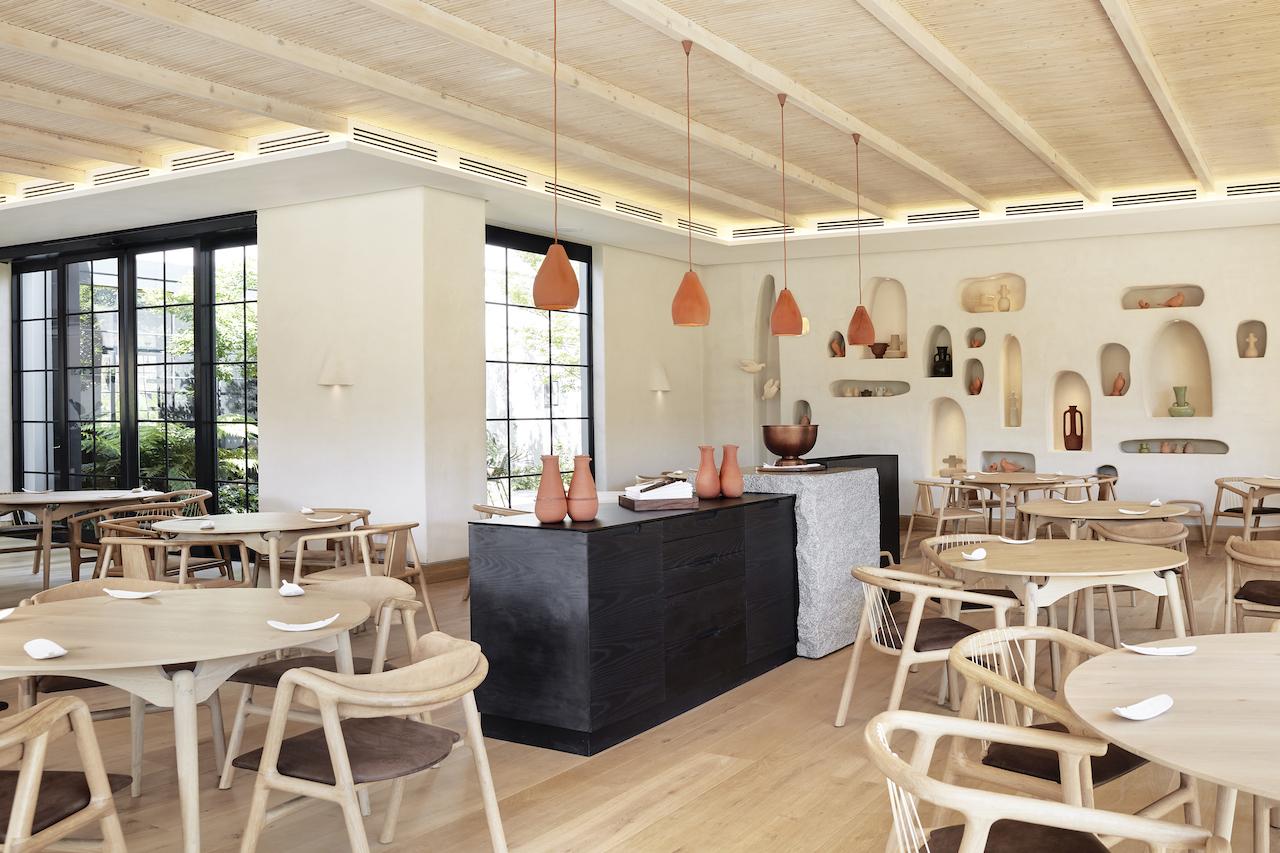 The interior is a perfect balance to the inventive food unique interiors crafted by the innovative MR Design Studio.
Everard Read Art Gallery and Sculpture Garden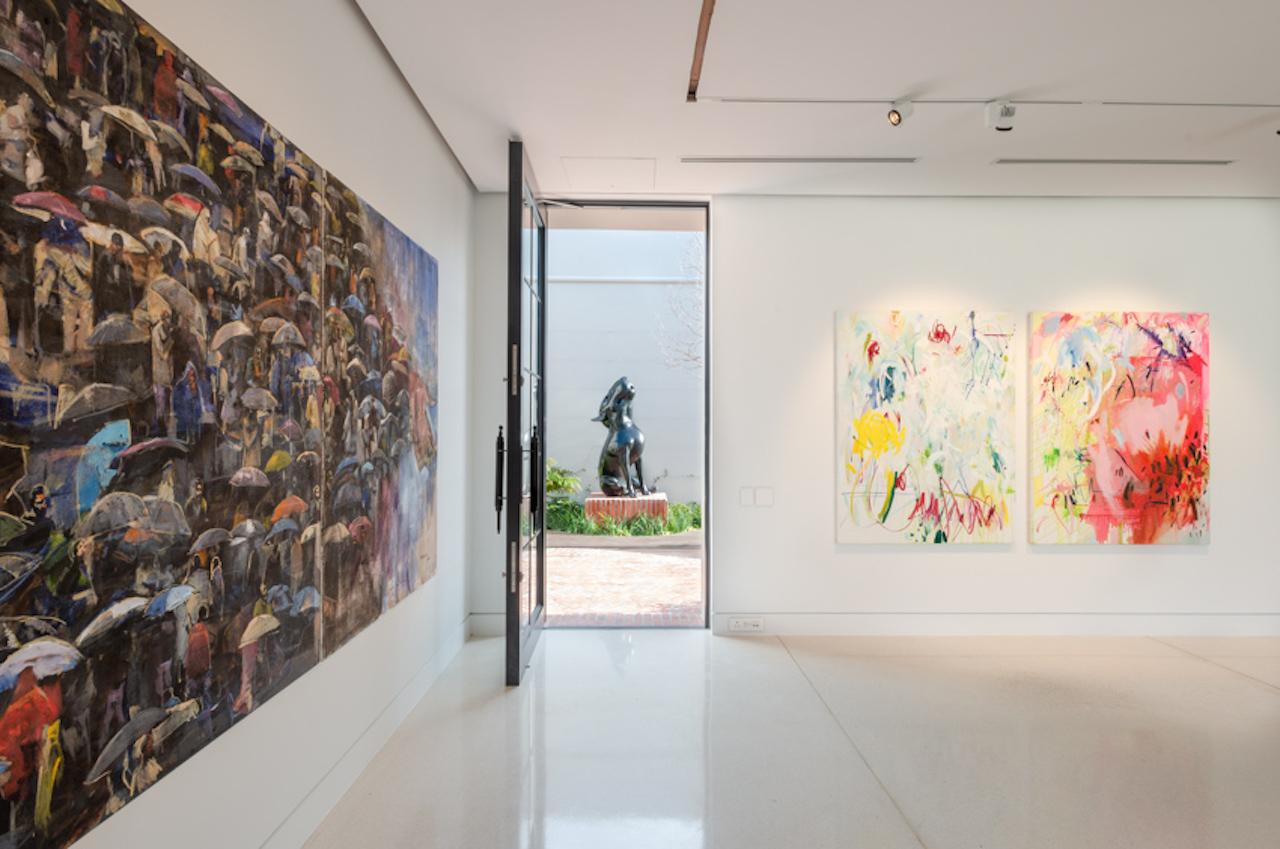 Established in 1913 in Johannesburg, Everard Read is South Africa's oldest and largest group of galleries; they specialise in contemporary art from South Africa and the diaspora, with galleries in Johannesburg, Cape Town, London, and Franschhoek. The new gallery augments the existing Franschhoek gallery focusing on monumental sculpture in the breathtaking fynbos and vineyards of Leeu Estates and exhibiting important works in the purpose-built gallery.
The gallery complex also includes a studio and cottage for their artist residency programme, which provides a tranquil retreat for artists to develop new ideas. Blessing Ngobeni ??? and Teresa Kutala Firmino are the first resident artists, whose resultant work is on view in early 2021. Nelson Makamo is a Johannesburg artist whose work is strongly influenced by children's candid innocence, especially children in rural South Africa. He believes they embody the peace and harmony we all strive for in life. That the search for eternal joy lies in the child within us all; we are just so consumed with worldly things that we forget the simplicity of life through a child's perspective. Nandipha Mntambo will take residency from mid-March 2021.
Le chene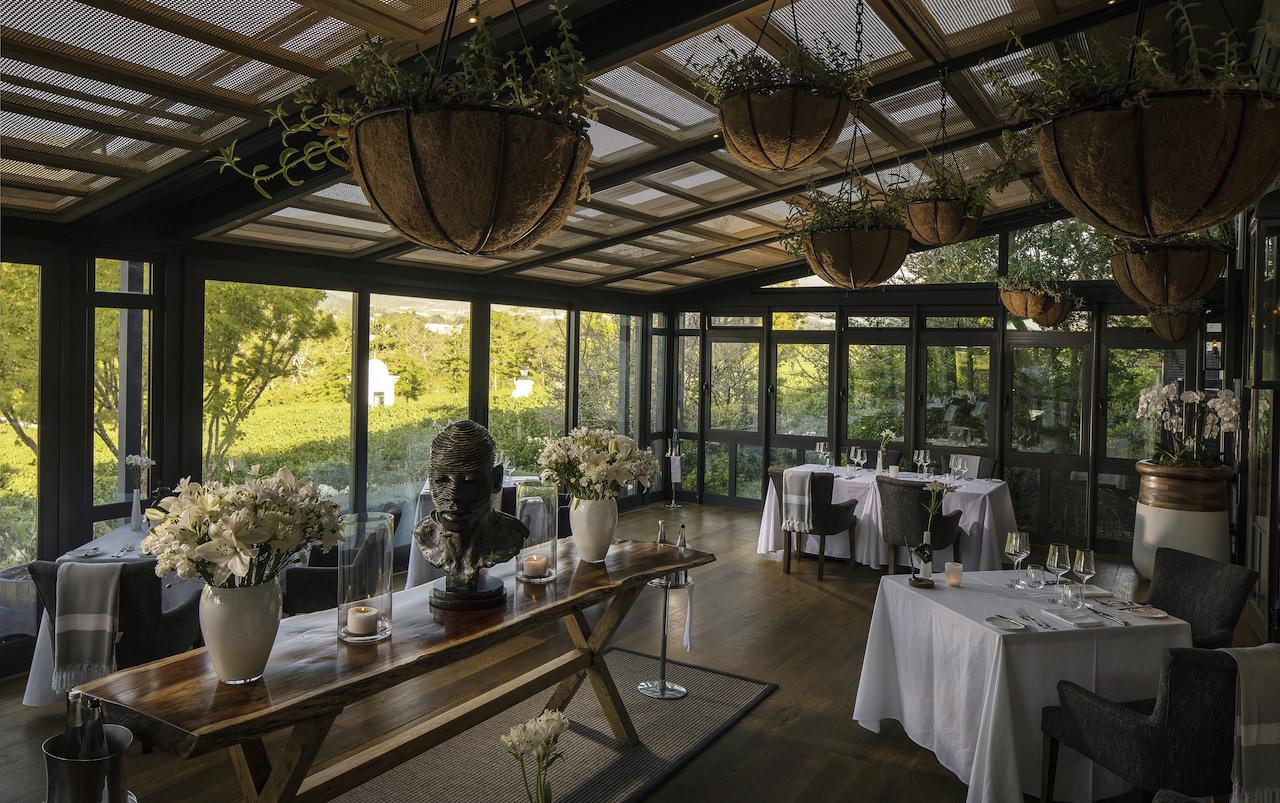 Award-winning chef Darren Badenhorst has recently taken over the restaurant at the Manor House. He showcases a delectable French-inspired menu best enjoyed from the extended deck and the valley's verdant panoramic views.Two helipads now allow for fast, secluded transfers from Cape Town.
The Wine Studio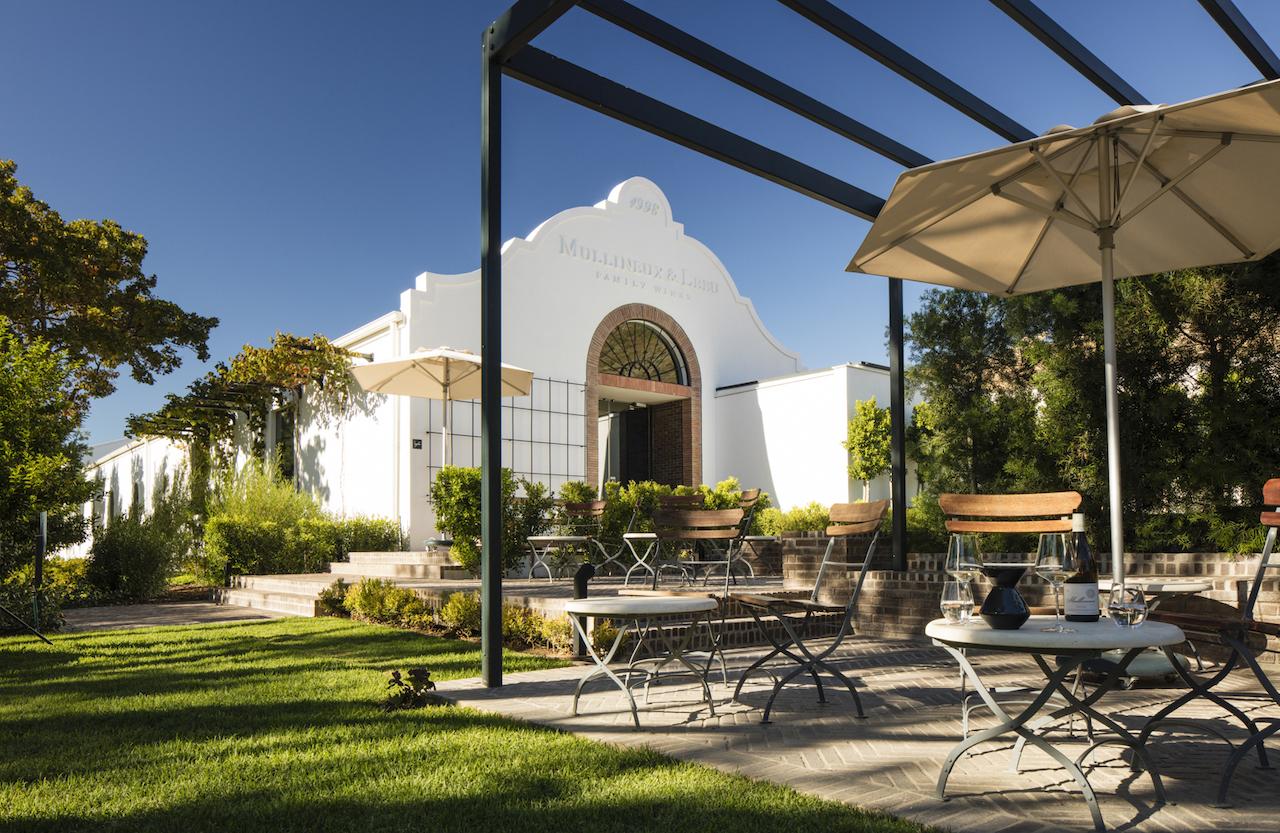 Take a beautiful walk through the manicured gardens and vineyards to the stunningly designed by the eminent Spanish Architect, Tomeu Esteva, The Mullineux & Leeu Family Wines Studio, for a wine tasting. Mullineux produces serious wines award-winning wines are open for wine tasting at the Wine Studio designed by the eminent Spanish Architect, ??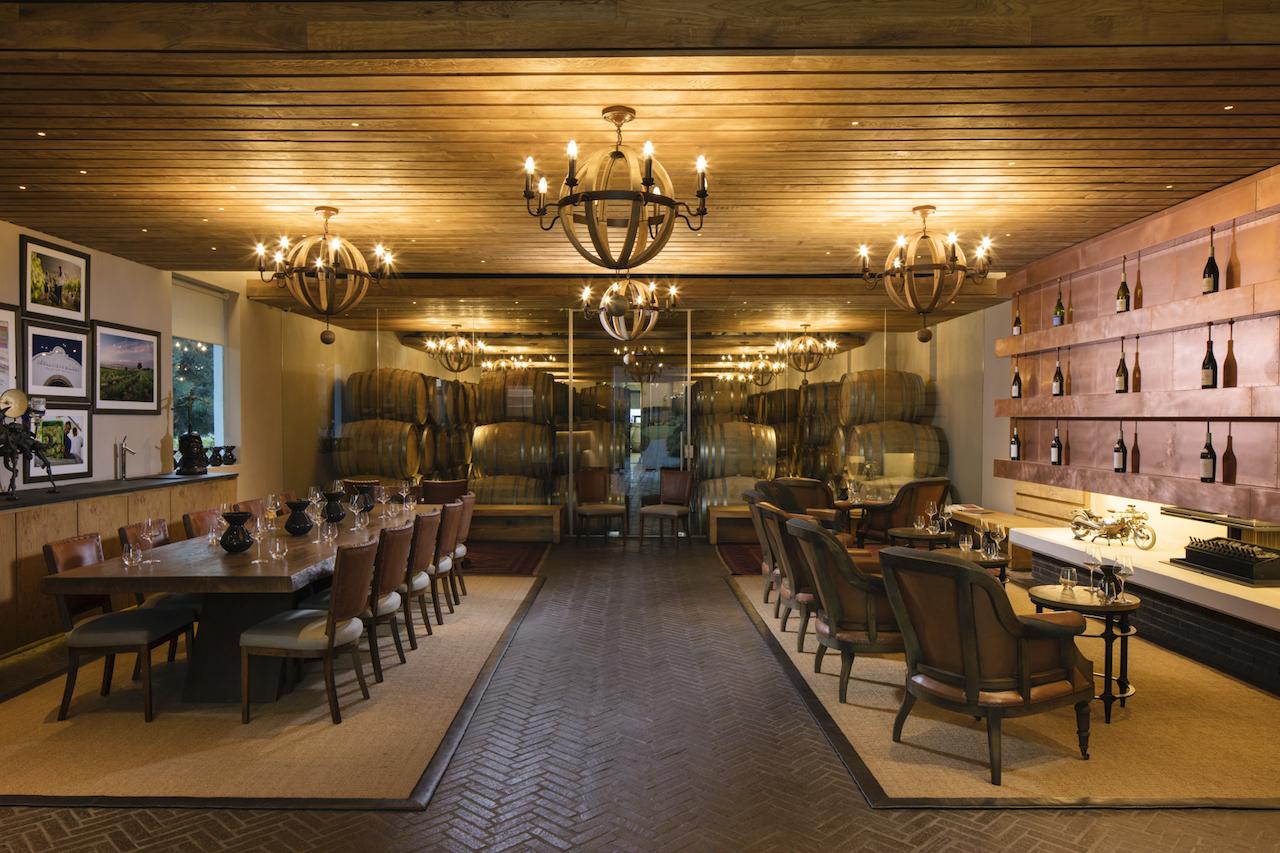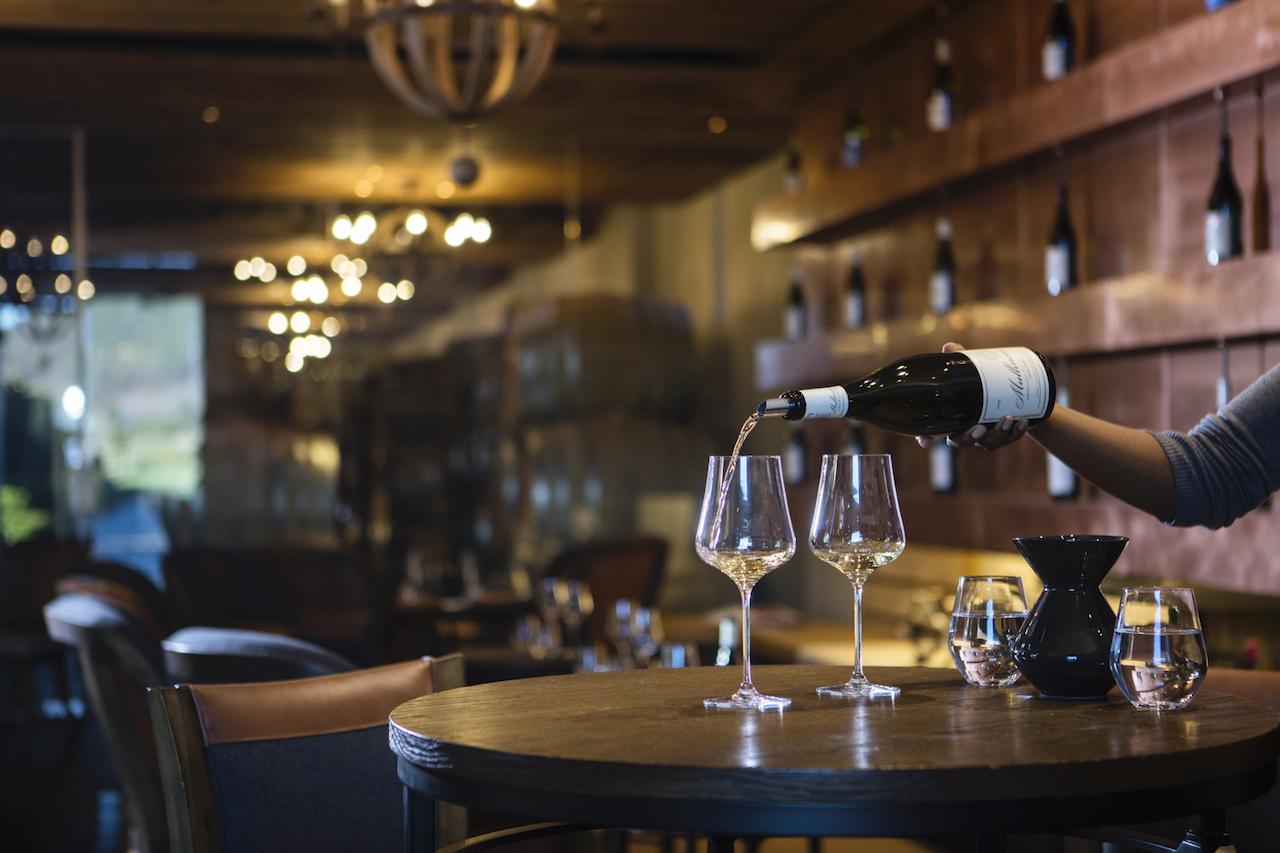 The wine-tasting experience strives to show the differences in terroir.
The Gardens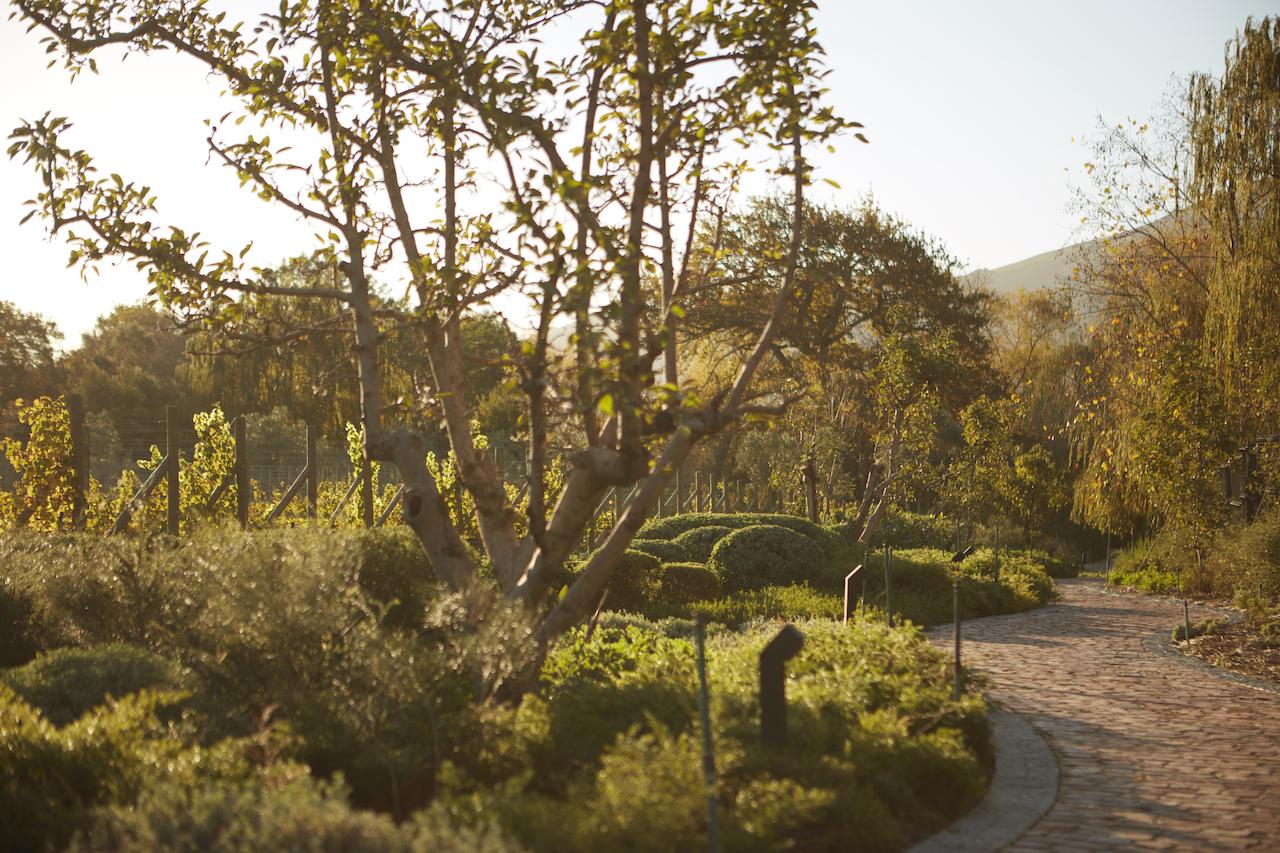 Feted designer Francesca Watson's beautifully crafted gardens are the perfect setting for the owner's extensive art collection. Geometrically patterned hedges provide defining garden architecture forms a strong link through and balance through the public and private gardens that are spaces both groomed and "wild" parts.
The Art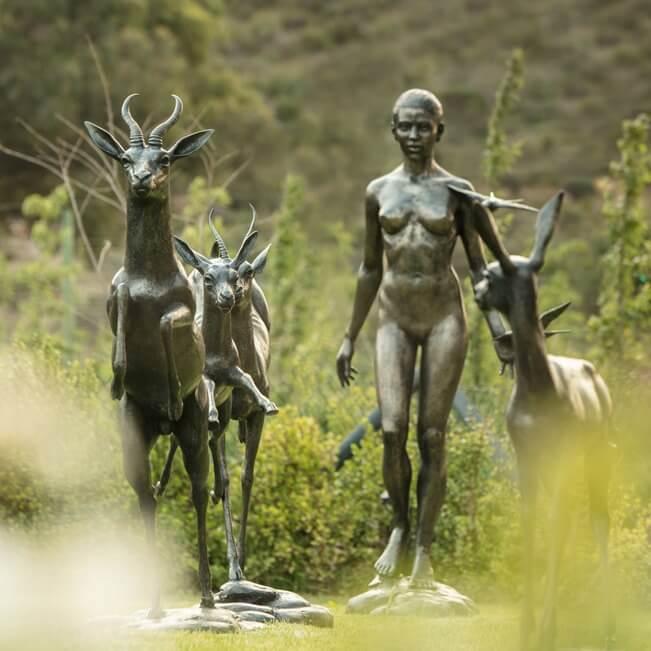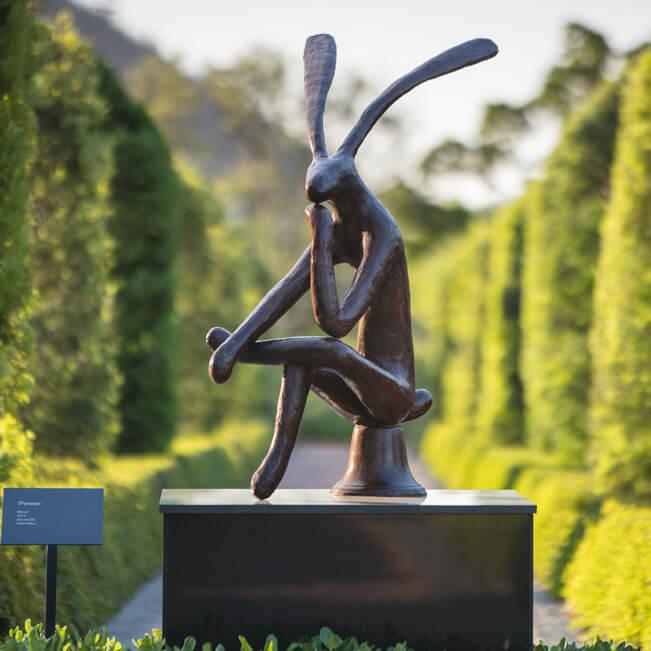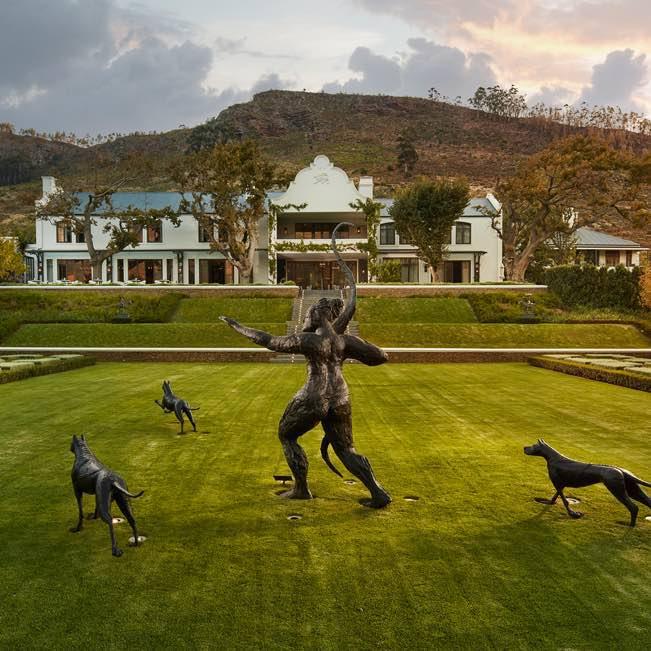 There is a superb collection of art throughout the hotel and the grounds, personally curated by Mr. Singh. Take a stroll around the manicured landscaped gardens to find the strategically placed artworks of predominantly life-sized bronze sculptures by renowned artists Angus Taylor, Deborah Bell, Dylan Lewis, and Otto du Plessis. Follow this with a relaxing afternoon tea, even better, a glass of Mullinuex MCC.
Franschhoek Village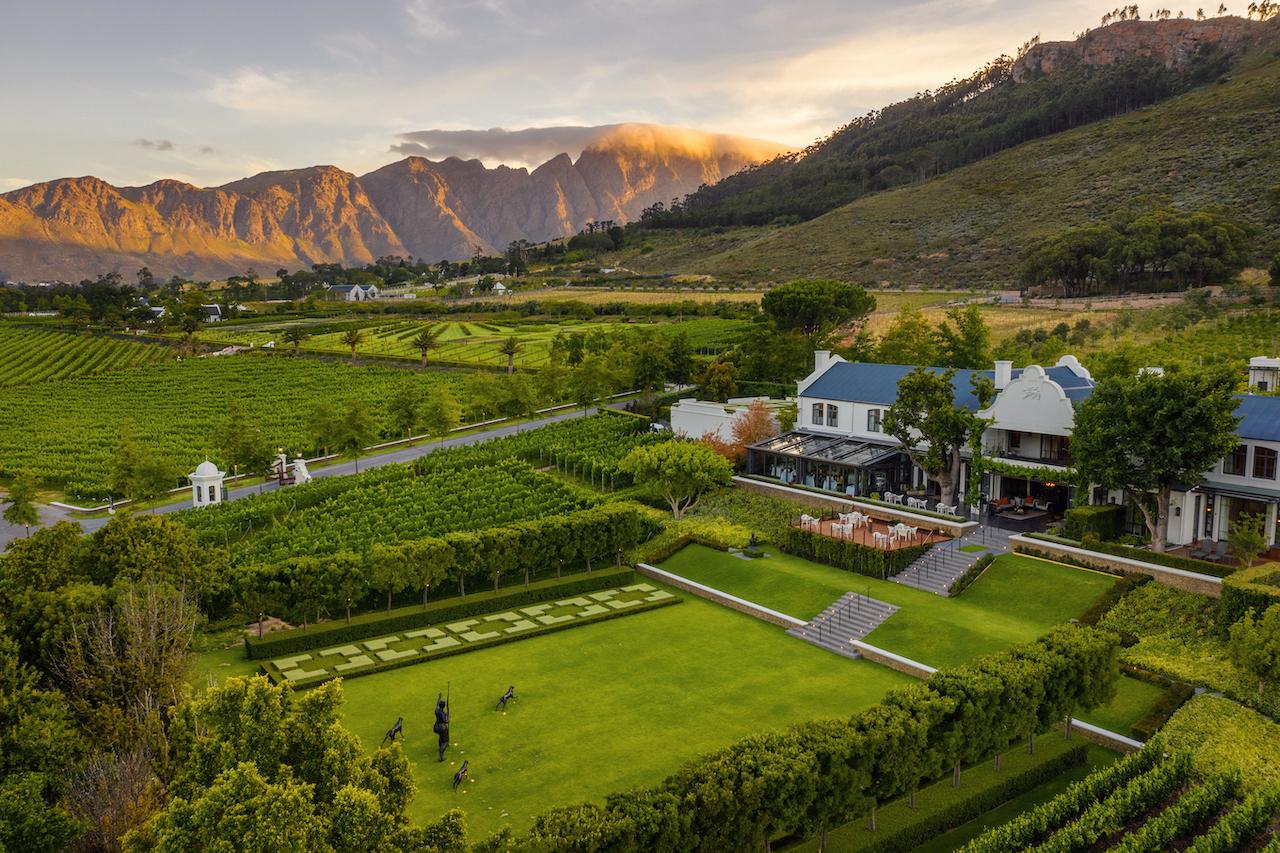 Once a sleepy country retreat, the village of Franschhoek began experiencing a boom in the 1990s, with property prices increasing. The ideal summer weather, snowy peaks in winter, and proximity to Cape Town have turned Franschhoek into one of South Africa's most sought after residential addresses with some of the top restaurants in the country within its borders. The strong wine culture and pristine natural and architectural beauty have made Franschhoek the "food and wine capital" of South Africa.
***
Anji Connell is an interior architect, garden designer and self-proclaimed nomad who regularly writes about art, design, lifestyle and travel from her globe-trotting adventures. Known for her bubbly persona and even more exuberant sense of style, Anji's portfolio spans everything from interior styling to furniture and landscape design for some of the world's most beautiful spaces. For now, you will find her
@anjiconnell_acidplus
and
anjiconnellinteriordesign.com
bingeing on future travel plans from her designer chair.