Embark on a scenic journey at the Hôtel Crillon Le Brave in Provence.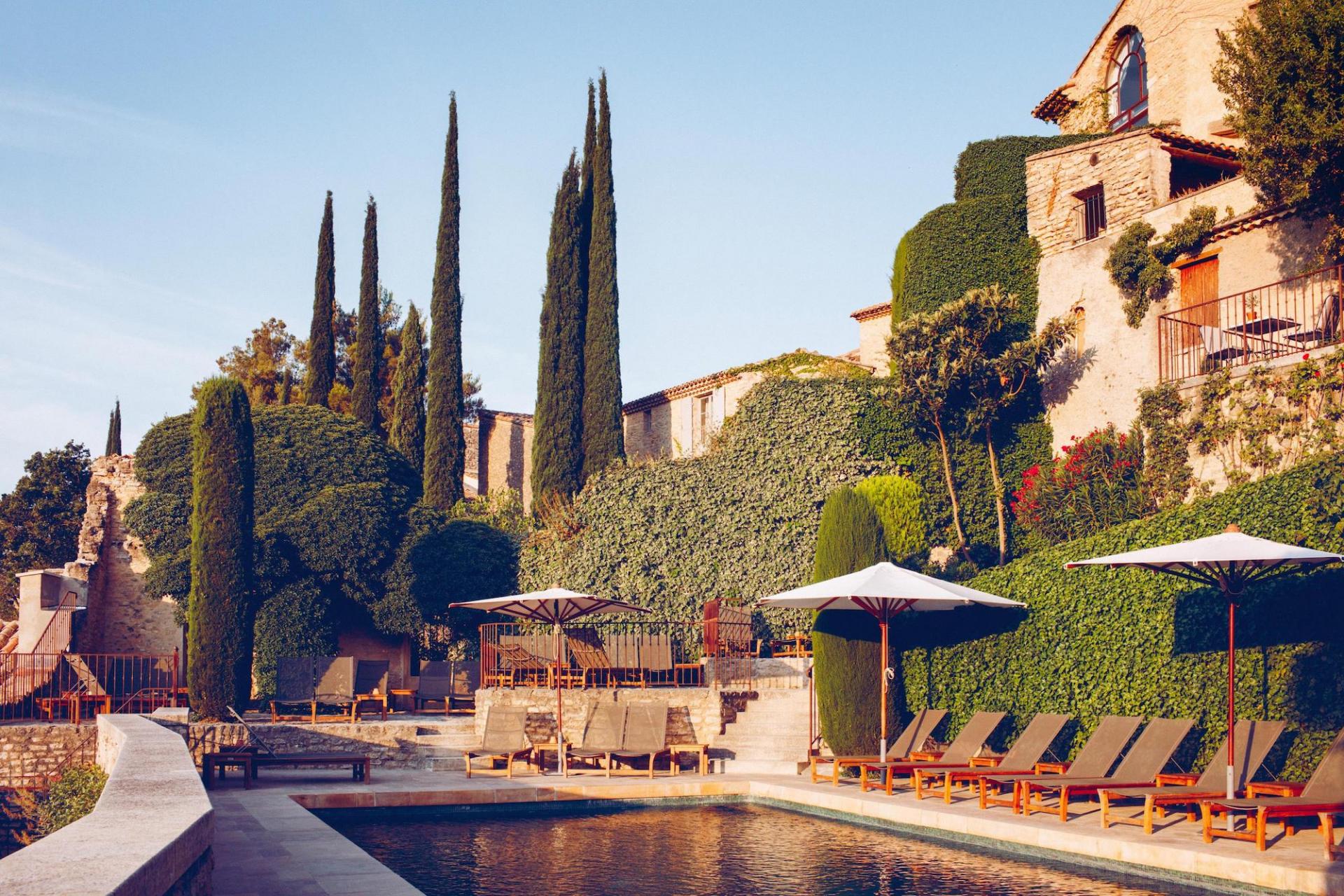 Provence is a magical destination celebrated for its peaceful lifestyle, bright sunshine and 'L'Art de vivre', the art of living, through its cuisine, wine, history, and people. With its pretty hilltop hamlets and unspoilt landscape, Provence is the perfect place to enjoy a slower pace of life. It offers authentic charm in spades, wrapping you in calm and tranquillity, fabulous food and wine and breathtaking views over Mont Ventoux, known as the bald Giant of Provence, the Luberon valley, with its vineyards and olive groves as far as the eye can see. And let's not forget the amazing light—it's no surprise the mythical landscapes and light of Provence have inspired numerous artists, such as Paul Cézanne, Van Gogh, the Lumière brothers, Marcel Pagnol. Crillon Le Brave is a place you can't help but fall in love with on sight and dream of returning to year after year.
Located in its namesake village, Hotel Crillon Le Brave is as inviting and comfortable as a good friend's home with a credible sense of — lived-in-ness.
Crillon Le Brave is one of Provence's most beautiful "perched" villages, full of character and brimming with history. A 17th-century hamlet in the department of Vaucluse, a charming pocket of Provence swathed with vineyards and dotted with ancient stone villages. Its lanes are a labyrinth of 17th and 18th century Provençal stone houses, with gorgeous wildflowers popping out of every crevice. A place that has essentially looked the same for hundreds of years. The village takes its name, Crillon-le-Brave, from Louis des Balbes de Berton de Crillon or "Le Brave Crillon" (1541–1615), one of Henri IV's fiercest and most valiant generals during the French Wars of Religion in the late 16th century. The same Crillon family also gave its name to the famous Hôtel de Crillon in Paris. A huge bronze statue of him welcomes you at the entrance to the village.
Spread over nine elegantly restored Génoise-tiled houses linked by small courtyards and charming alleyways that have been slowly acquired over time by the family Maison Parientes. The property faithfully respects its heritage, retaining many of its original elements. The building is organized on several levels, with gardens spilling prettily down the steep terraces where alfresco living areas transition from daylight to evening tête-à-têtes under the glow of ambient lighting and starlit sky's. The interiors, meanwhile, feature high-quality natural materials for a cosy and rustic feel that is elevated through an abundance of bespoke contemporary furniture pieces that exude an understated elegance.
A church on the edge of the village and the Virginia Creeper-clad café with little tables out front add to the authentic village charm. The hotel forms part of Maisons Pariente's collection of 5-star hotels that includes Hôtel Lou Pinet in Saint-Tropez and Hôtel Le Coucou in Meribel, and this October, Le Grand Mazarin, the first urban hotel in the collection, will open in the heart of the Marais in Paris.
THE ROOMS AND SUITES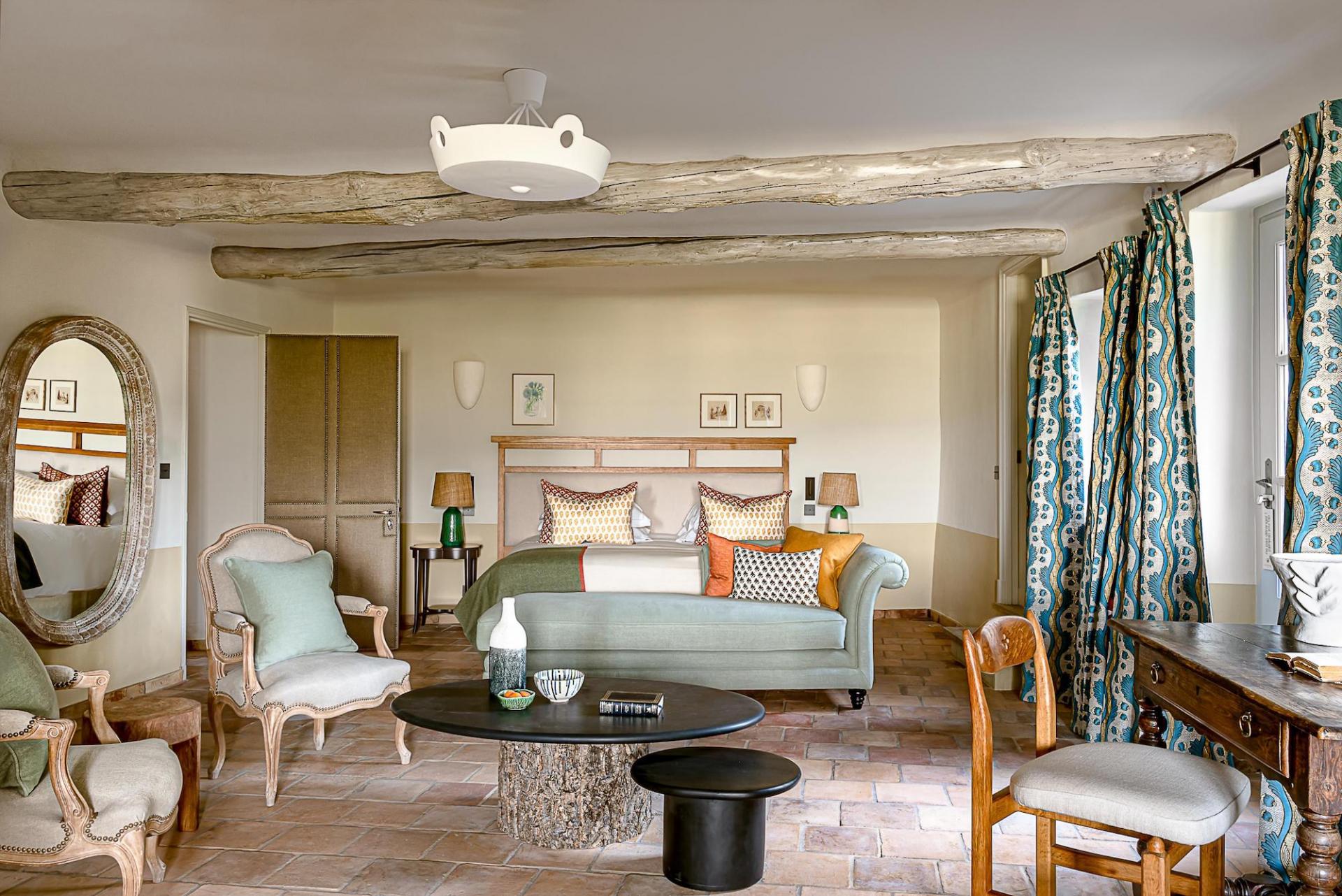 The rooms and suites retain an authentic soul of a traditional Provençal manor and are all spacious and warmly inviting with a chic, pared-back, relaxed Provençal aesthetic. Each of the 34 rooms, including 18 suites, are uniquely curated and remain true to its original layout. Under the leadership of architect Charles Zana, the decoration pays tribute to local crafts enveloping you in quintessential Provençal features. Lovingly sourced antique's bear the patina—that worn quality that reveals an object's untold history. Terracotta floors, wooden beams, black wrought iron, ceramics, crisp linens, and Pierre Frey fabrics in hues of wheat and oat, with local artwork come together in refined yet simple elegance. The equally gorgeous bathrooms have lovely zellige tilework, and the suites have large living rooms and bathrooms with a deep soaking tub. The highly sought-after Mont-Ventoux Suite has two tubs installed side by side with views over the Mont Ventoux and the valley. All have fabulously stocked minibars and Nespresso machines, crisp white luxurious bed.
THE RESTAURANTS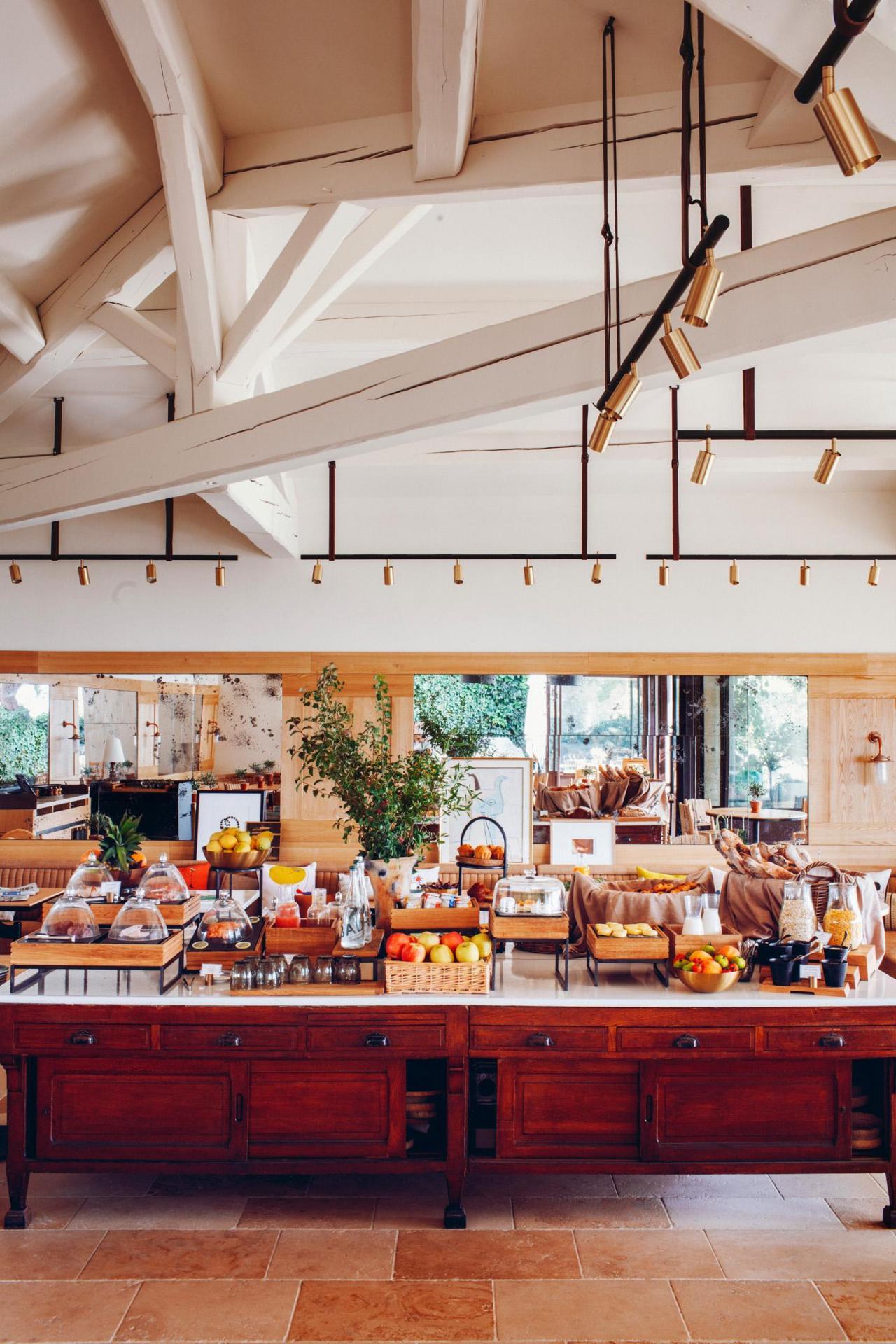 There are two equally fabulous restaurants to enjoy during your stay. Crillon's food and beverage philosophy extends the design ethos and follows Provençal traditions with contemporary twists. The chef handpicks fresh herbs daily from the garden above the swimming pool. LA TABLE DU VENTOUX. The more casual La Table du Ventoux serves a sumptuous Provençal buffet breakfast, lunch and pre-dinner drinks on the stunning panoramic veranda in front of the restaurant.
LA MADELEINE GASTRONOMIC RESTAURANT
Chef Adrien Brunet conjures menus inspired by the richness of the terroir of Provence served on the terrace under the stars. Taste sensations include nougat foie gras, fresh vegetables with homemade gnocchi, and lavender soufflé. LE BAR. The cosy vaulted bar is on the ground floor of Maison Roche, the oldest house in the hotel and has a cosy and elegant atmosphere. Leisurely evenings start with an aperitif on the terrace, watching the sun retreat across the flanks of Mont Ventoux before a delicious dinner on the terrace of La Madeleine, ending the evening with a nightcap at the cosy vaulted bar.
SPA DES ECURIES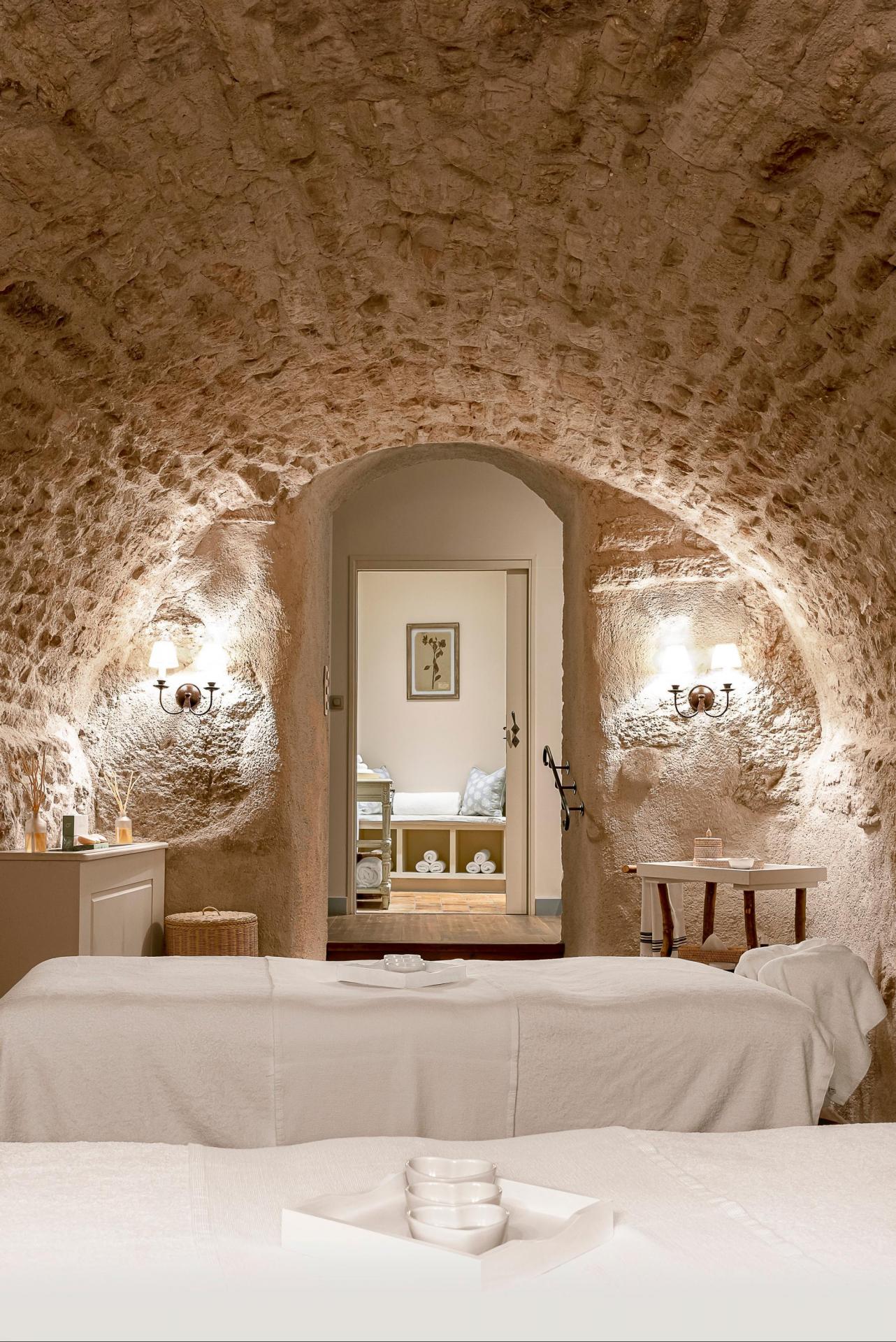 Head to the spa for the ultimate relaxing treatments to relax your mind and body under the monumental arches of the old 18th-century stone-vaulted stables. The spa collaborates with the exclusive natural brand Tata Harper, a pioneer in natural luxury skincare. Yoga classes, nature walks, and meditation workshops are available with Yoga instructor Ellen.
LE POOL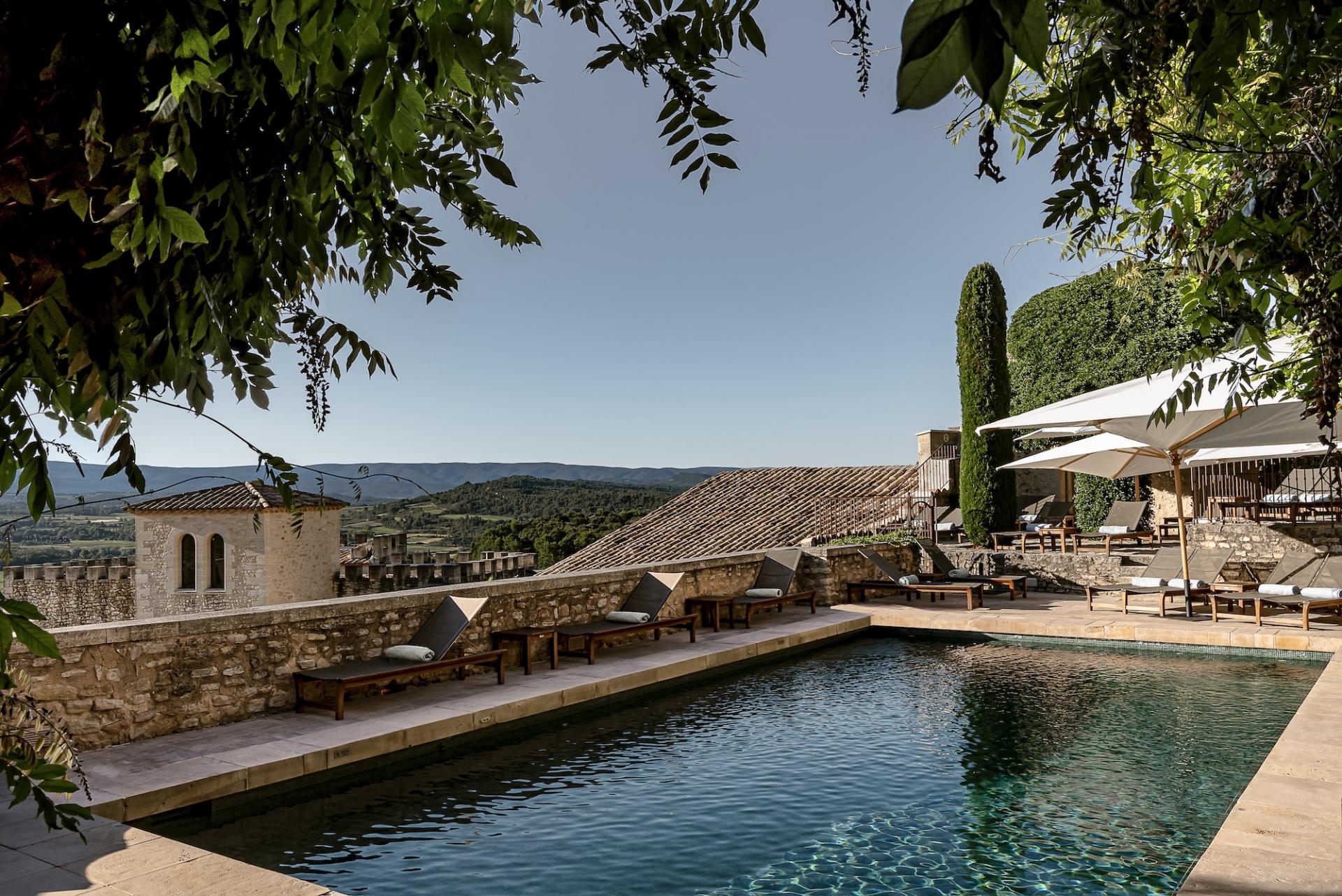 The swimming pool with raised cypress-studded terraces overlooks Mont Ventoux, and the plains below entice you to jump right in (fortunately, it's heated).
SCOOTERS
The hotel has a range of scooters to explore the region and enjoy the lovely natural surroundings.
FITNESS
Housed in the old chapel of the Provençal village, the fitness room has Technogym® equipment, Swiss balls, dumbbells, and yoga mats. A coach is available to design a personalized program, sports preparation and recovery, yoga, meditation, slimming and detox, and anti-stress treatment for total wellbeing and total disconnection.
OUTDOOR PURSUITS
The region is a paradise for bikers, Mont Ventoux is part of the Tour de France route, and cyclers can attack the daunting slope. There are fabulous hiking tracks and trails, paragliding, horse riding, and climbing. We mere mortals can take an electric bike through the vineyards, hills and lavender fields, discovering villages and local producers. You can also opt to perfect "the luxury of nothing" free of quotidian events, experiencing aimless and joyful experiences', such as picnics, slow walks, market shopping, sampling local products, and leisurely enjoying the sights. Or simply stay put in the blissful environs of Crillon. Provence offers something for everyone, be they artists of idleness, culture lovers, or sports enthusiasts.
BEYOND THE VILLAGE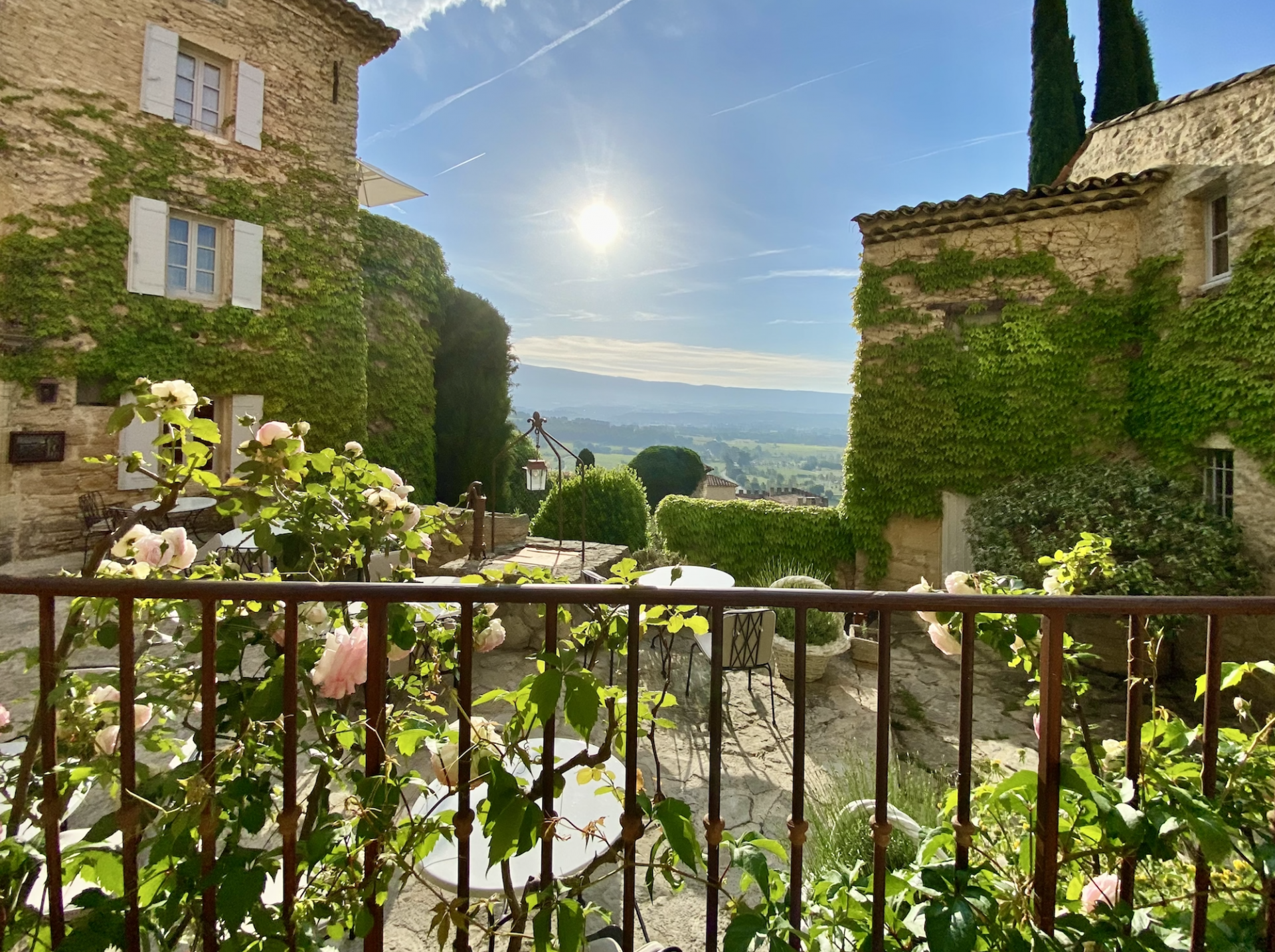 Discover 2,000 years of history in the medieval villages from the Romanesque period, with castles and abbeys in the heart of Provence's most famous towns and villages. Nearby theres the beautiful Gorges du Verdon, L'Isle sur la Sorgue famous for its antique shops. Avignon with its magnificent Gothic papal palace and the ancient town of Carpentras with its ochre facades, fountains and charming little squares. Aix-en-Provence is one of Provence's finest and most beautiful cities. The lovely village of Monieux is near the Nesque gorges, the second most beautiful canyon in Provence. You can take the spectacular descent into the bottom of the gorges to the Chapelle Saint Michel (12th century). Chateau La Coste is a magical destination for art, wine, and gastronomy, in a beautiful setting that celebrates the very essence of Provence and the art de Vivre.
WINE
Crillon-le-Brave is a gateway to some of France's most celebrated wines, including Beaumes-de-Venise, Gigondas and Châteauneuf-du-Pape. Tour local vineyards, meet passionate wine-growers and sample their exceptional, often organic wines, followed by leisurely lunches.
MARKETS
What's more fun than dipping into the sights, sounds and aromas of a local market, sampling the many tastes of this gastronomical region. The markets of Provence are an explosion of colours, scents and sounds, full of fruit, vegetables, cheese, bread, meat and fish, olives, oil, honey, wine, everything for the perfect picnic, and fabrics, soaps, crafts, clothes. And excitingly there are markets in every village every week, and more often in towns and cities. Discover delicious Provençal flavours at the Sault market that has been running every Wednesday since 1515. Carpentras is famous for its black truffle market that is held each Friday in winter between mid-November and mid-February. Sunday is flea market day at L'Isle-sur-la-Sorgue.
FIFTY SHADES OF LAVENDER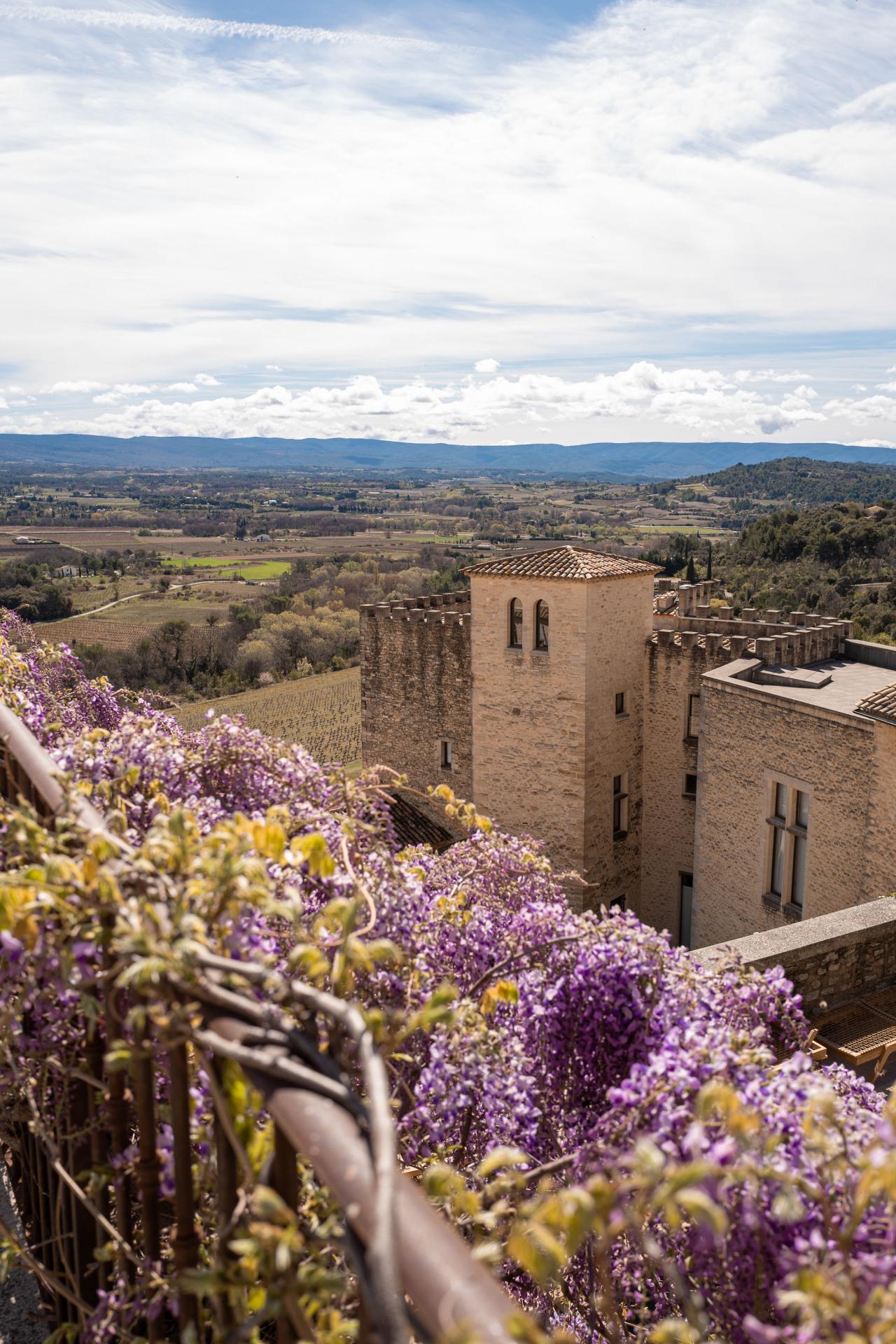 In season (mid-June and July), you can follow the enchanting Chemin des Lavandes (lavender route) for a full-on immersion of lavender and the intoxicating scents of lavender. The ancient fortified village of Sault is the birthplace of lavender and is known for its charming little streets and for growing and distilling lavender. The green resort and thermal baths of Montbrun les Bains at the foot of Mont Ventoux overlook a plain cultivated with lavender, nestled in the middle of green hills. Aurel is another charming little village with superb views over the patchwork of holm oak forests and lavender fields below, and Ferrassière village is famous for its Lavender Festival. This magical place is food for the soul in every sense. The craft and hospitality of the region shine through. You will leave happy and rested, complete with the peace and beauty, the essence of Provence.