Hei Design is the second company garnering the SGS x ADC Interior Design Service Excellence Certificate this year. We sit down with its director Chris Lau, who talks about the strengths of the scheme and why the industry requires a market-facing standard certification.
"It's a great honour being the second company receiving the SGS x ADC Interior Design Service Excellence Certificate. It takes a great deal of preparation but it's all worth the effort," Chris Lau says.
Compared to certificates or awards merely measuring design project quality, Lau says the Certificate offers a much more comprehensive assessment of the participating companies. "It gauges a firm based on the "6S" framework: Sincere, Service, Security, Smart, Safety and Sustainability."
Established in 2007, Hei Design is one of the leading design firms based in Hong Kong. On top of an existing office at KITEC in Kowloon Bay and a showroom in Sha Tin, the company will be opening the door of its new flagship store in Wan Chai very soon, and the Certificate has come at the right place at the right time.
"It acknowledges our commitment to delivering bespoke designing service. I have no doubt it will enhance our credibility in the design field and give clients added confidence," Lau says.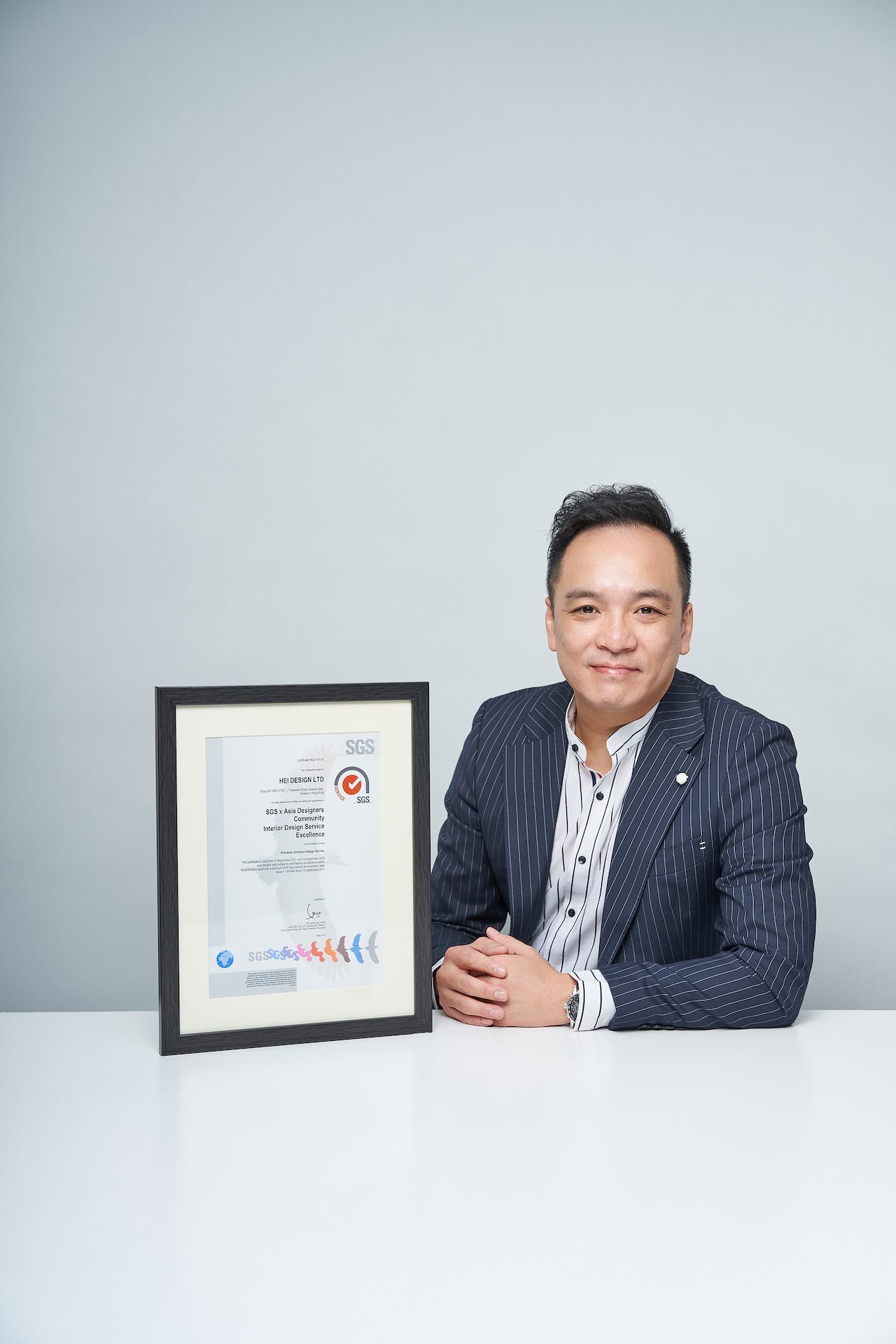 As much as a badge recognising the firm's achievements over the years, the Certificate also helps the team reflect on their skills and drives them to keep pace with new technology and industry developments.
"It pushes us to carry out internal assessments in the projects we undertake, because we want to make sure we're doing our best in every way possible," explains Lau. "Take building material, our designers ensure that we apply sustainable materials that are up to industry standard."
Lau pinpoints teamwork as one of the core strengths of the company. "With a large group of staff, our team has a clear, transparent division of labour. Everyone understands their duties and what they're responsible for," he says.
"Putting the right man in the right job is efficient. Say if we need to assign a team to monitor staff safety measures, we can allocate those that have the ability and capacity to do so."
Looking at the larger design industry, Liu acknowledges that some clients are "a tad wound up and skeptical when they reach out to design companies because of unpleasant encounters in the past."
"There's a certain level of concern among consumers about frauds and scams. I believe the Certificate will give them ease of mind by distinguishing responsible companies in the market. We hope more companies will join the programme and work together in raising the standard of the industry."
Learn more about Hei Design here.