Wood is the backbone of Malaysia's furniture industry. This is thanks in large part to local manufacturers' exceptional talent and skill in creating beautiful pieces out of wood.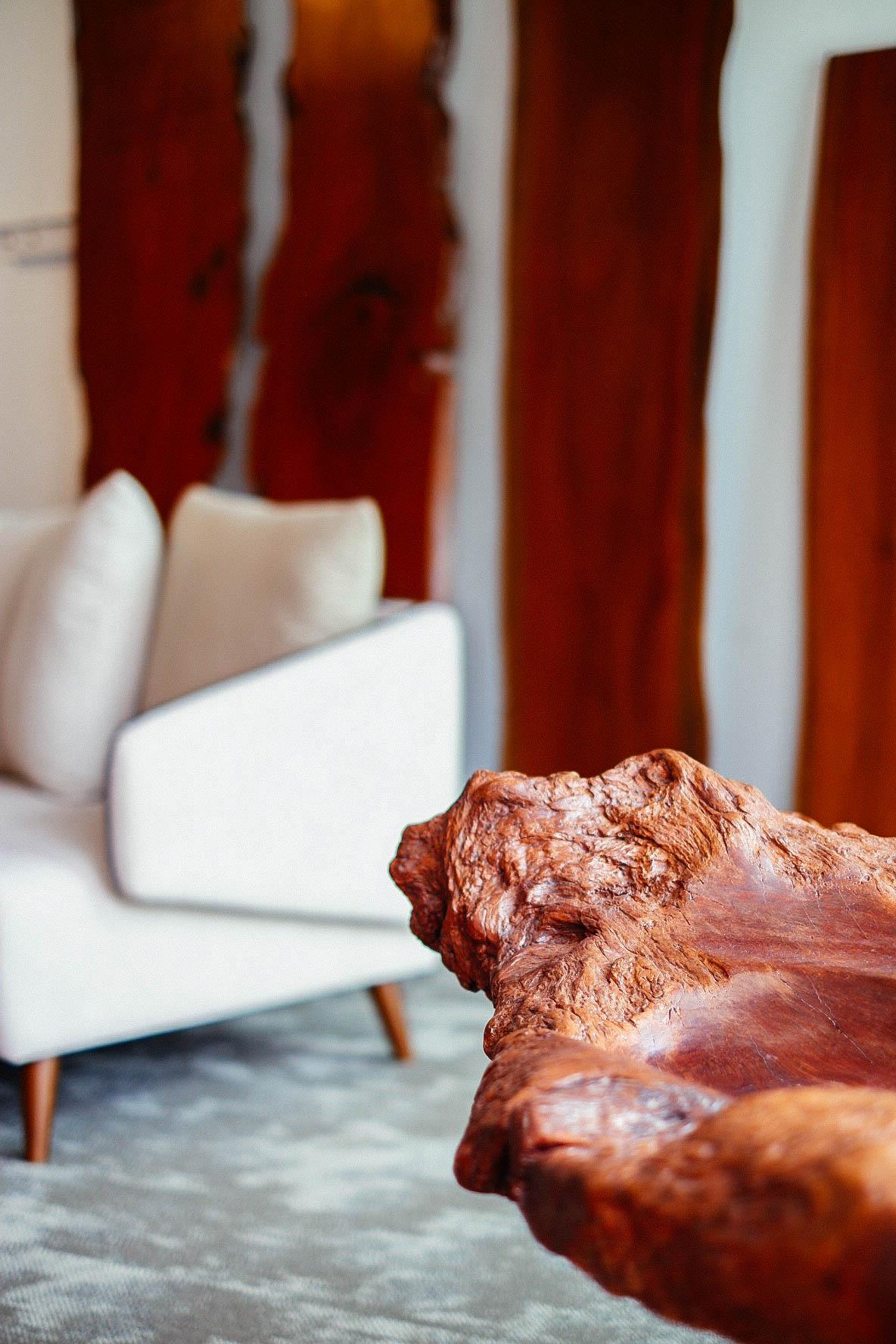 Dad's Woods in Gurney, Penang, has been making waves with their quality custom-made wood furnishing and sofa selection. Helmed by Khoo V-Ho, 28, and Giselle Khoo, 23, each masterpiece boasts exquisite craftsmanship and is built to last for generations. Every item is different since every piece of natural wood comes with its signature grain, texture, and splendour.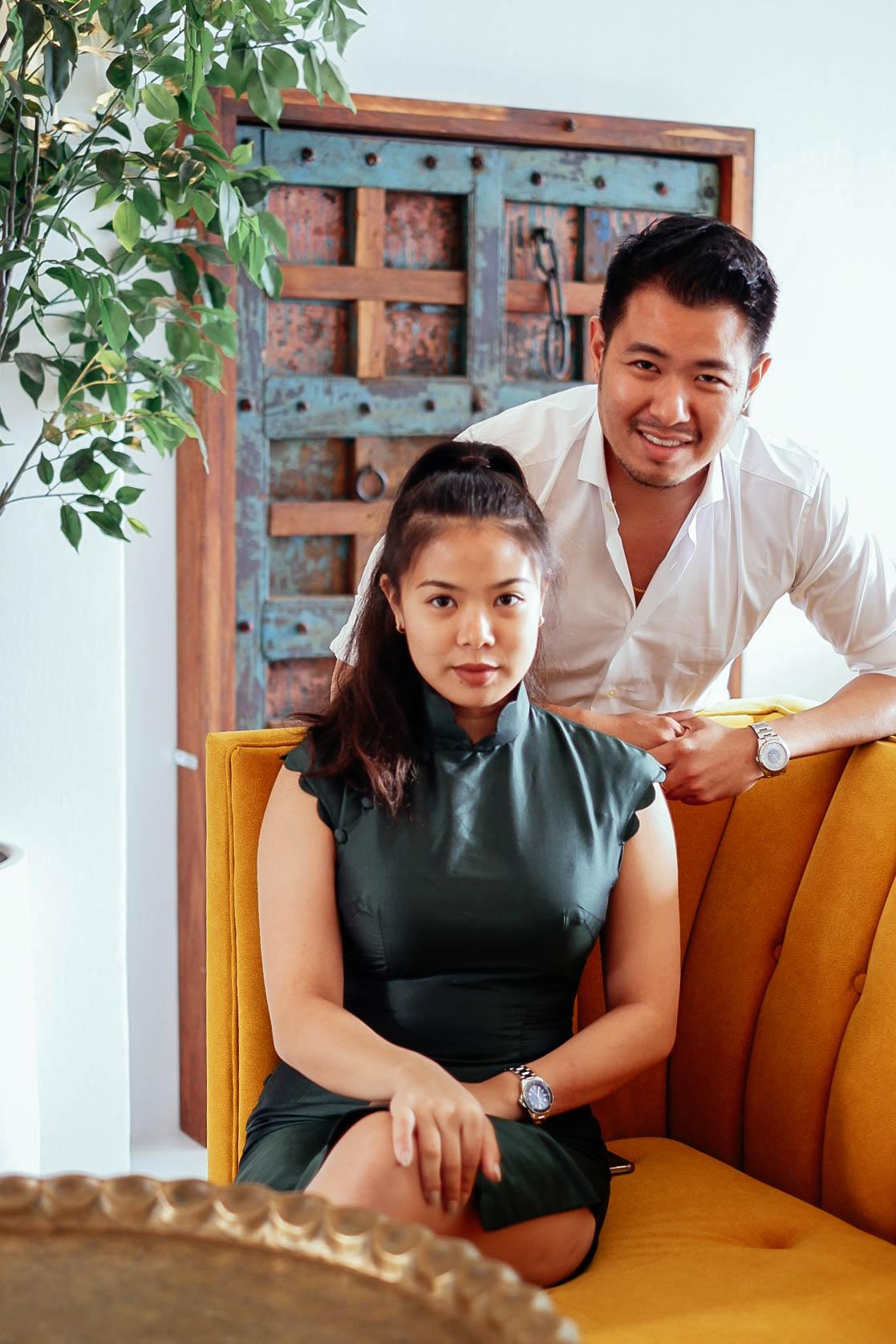 On top of that, they have also set up Boudoir, a café and cocktail bar set within an art-deco inspired furniture gallery, as a way for people to experience their furniture fully in a relaxed setting.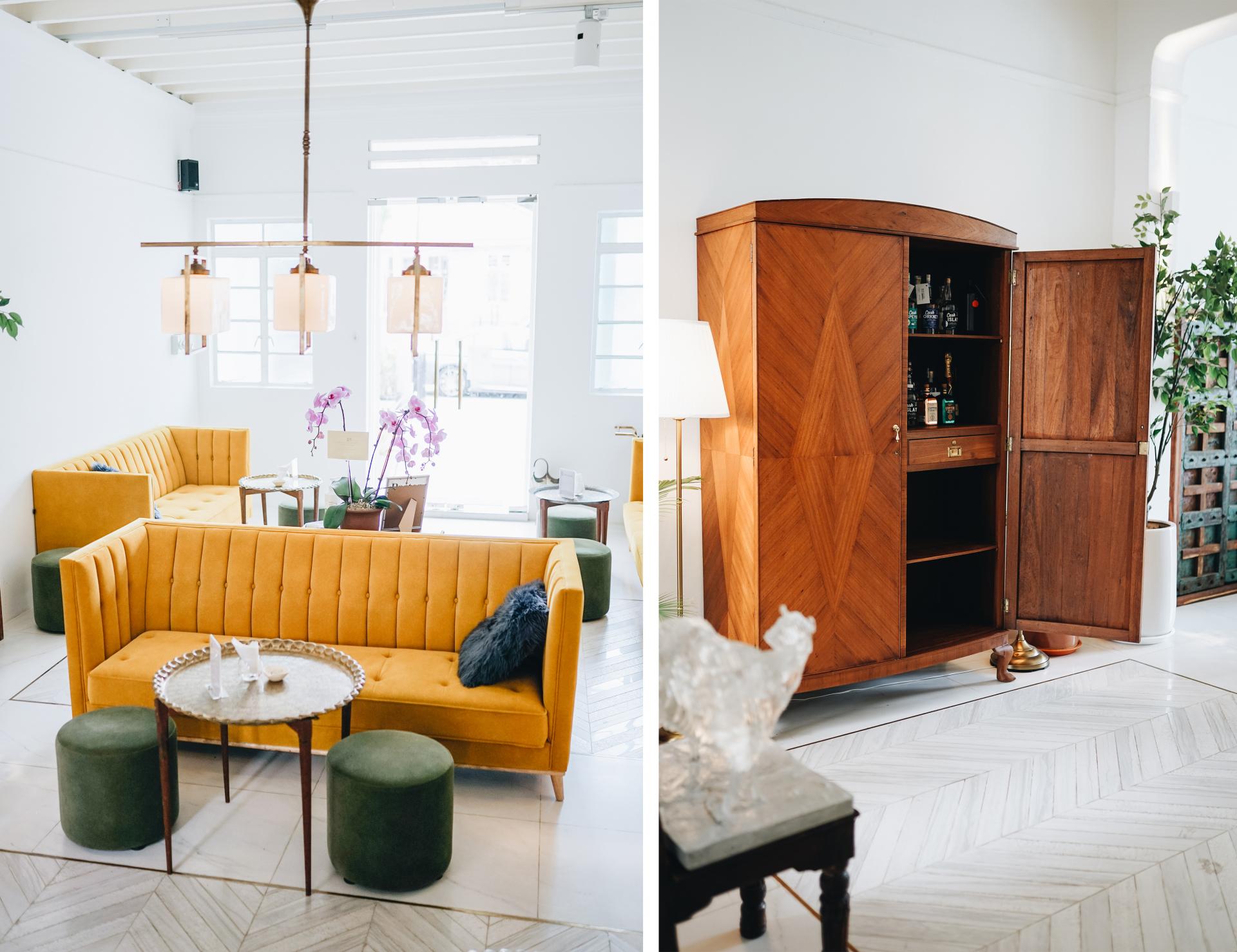 Here, the Khoo siblings share with us the beauty of bespoke wooden furniture, and their story on how they rebranded the family business into a modern and innovative brand.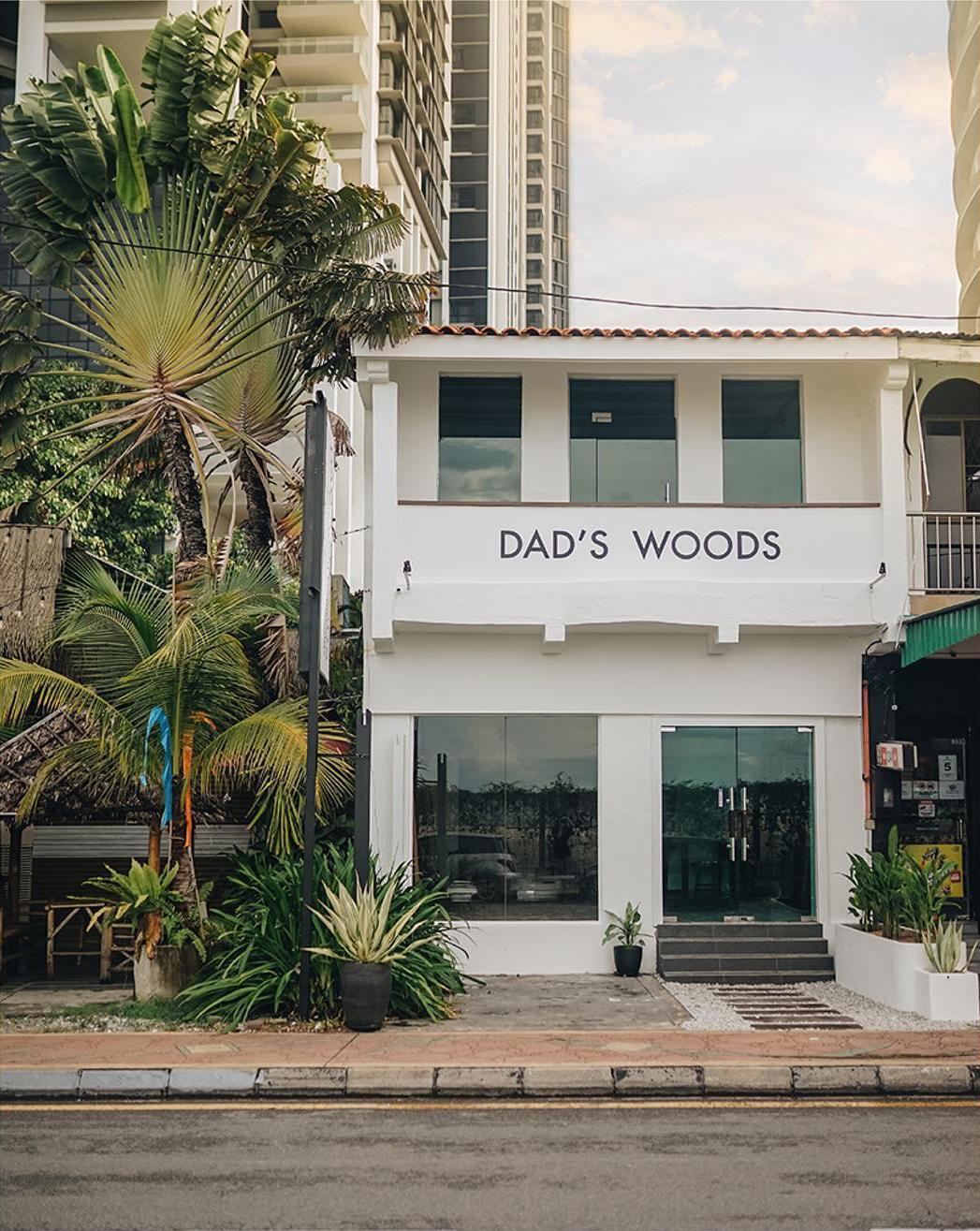 What's the story behind Dad's Woods?
V-Ho: My family was in the furniture business for well over 30 years. The old furniture shop, called Eng Wha Home Centre, is more of a traditional furniture shop that has everything.
Right after I graduated from university, I came back to Penang because my dad was really, really sick. So, when he passed away, I went into the furniture business, but it was more out of necessity. My mom's a housewife, and no one in the family has any business experience. Back then, I was only 22 or 23. My brother is in medical school, and my sister is still doing her A levels. About two years in, and we got an offer to set up a new shop of our own, and my sister decided to quit her studies and join me. Hence, we started the company.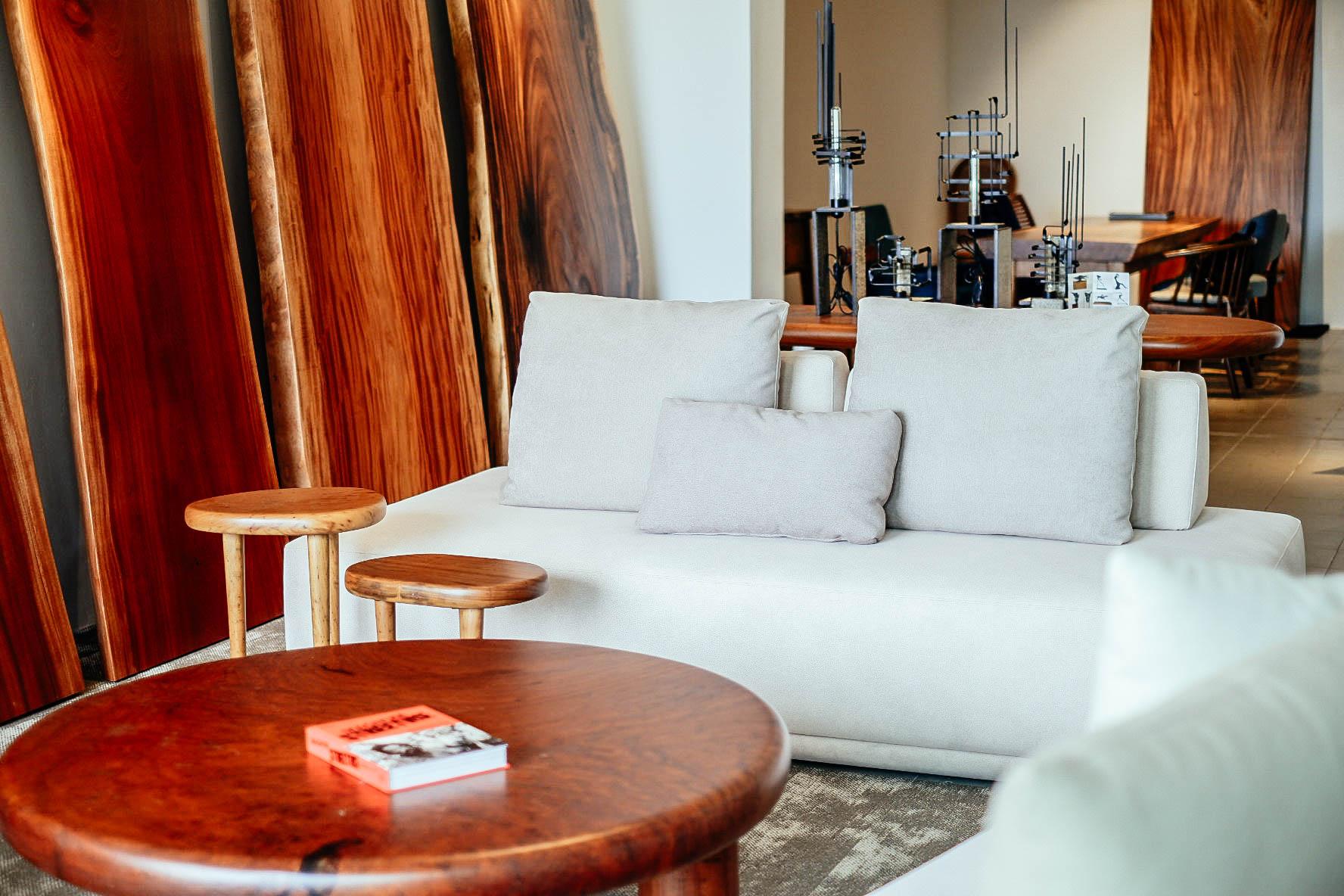 When you rebranded the business into Dad's Woods, why did you only choose to focus on bespoke wood furniture and sofas?
V-Ho: The wood furniture is a personal interest of mine; I like to collect many wooden antiques. And I started to notice that a lot of furniture these days is fast furnishing. So pieces from IKEA, for example, you buy a couch or a chair, and you throw them away in three years. The idea to have a company like Dad's Woods, is to make furniture with good quality Malaysian timber, and I want these pieces to last and for them to carry forward to become the antiques of our era in the future.

When did the idea for Boudoir come about?
Giselle: Boudoir came a year later, when we bought this premise. We thought of having a space where we can merge with local F&B businesses and provide a space where people can come in to experience our furniture and experience the vibe that we offer. It's not every day you can walk into a furniture shop, and you get to enjoy the furniture, so I always thought F&B is an excellent medium to create a relationship with your consumers.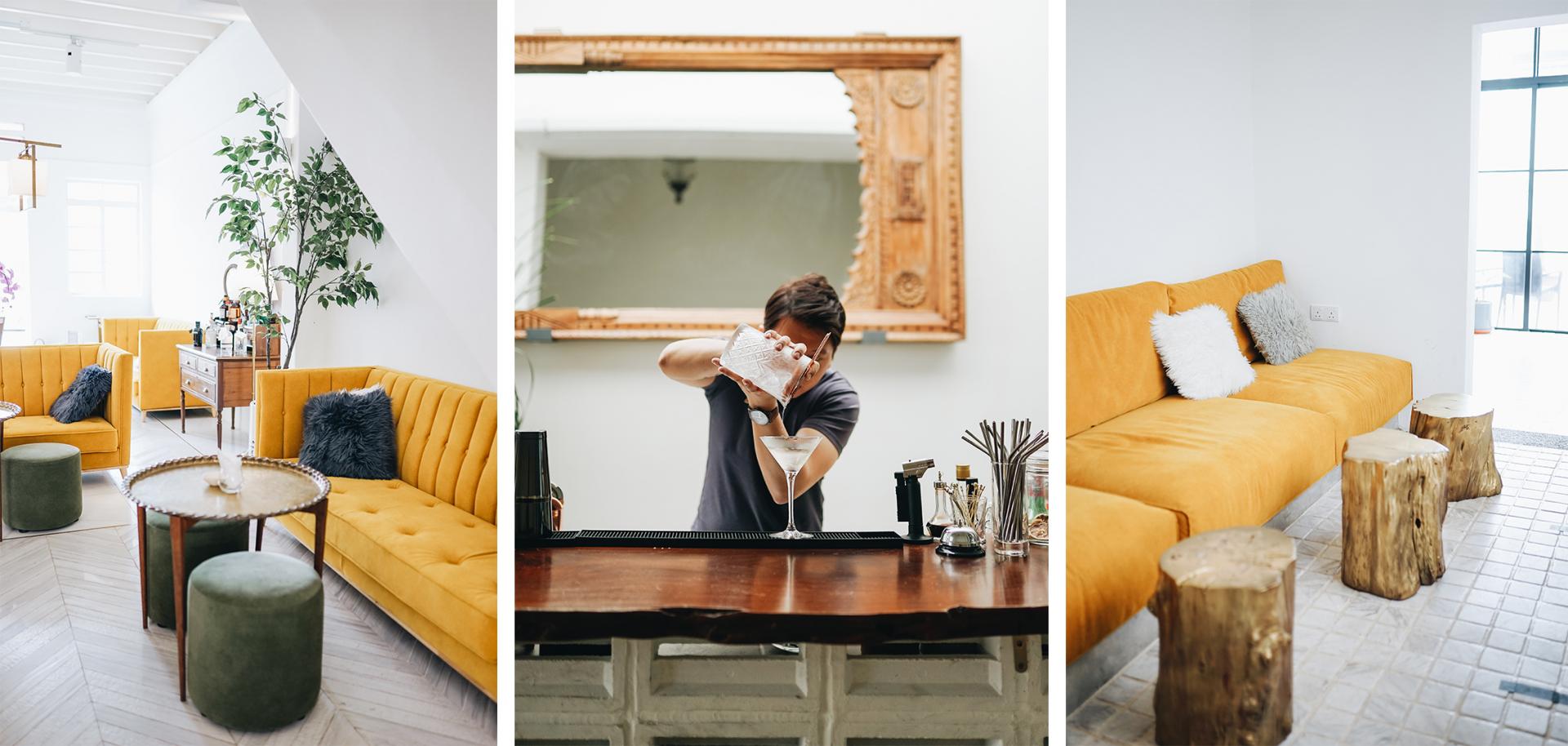 V-Ho: The first floor is a speakeasy lounge, you come in the afternoon, you can have coffee. By 3pm, you can have alcohol. I think it's a very good business environment because we use this place to host our clients and we start to see our clients hosting their clients here as well.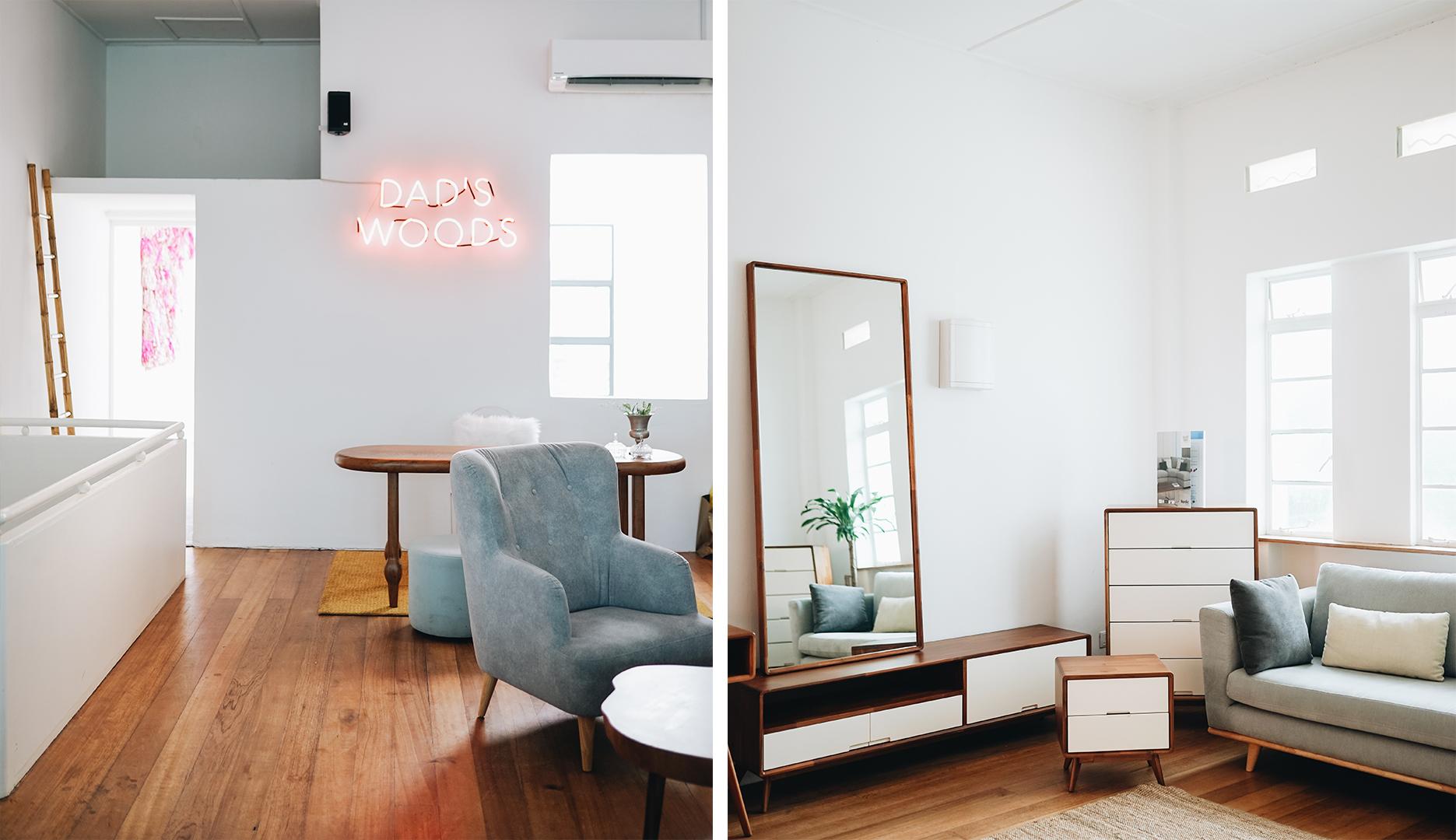 What is the appeal behind wood furniture?
V-Ho: Wood furniture has always been popular. We started off doing wood slab furniture, and we can sort of see the trend starting to dissipate already, so now we try to be more experimental like using epoxy and playing with shapes.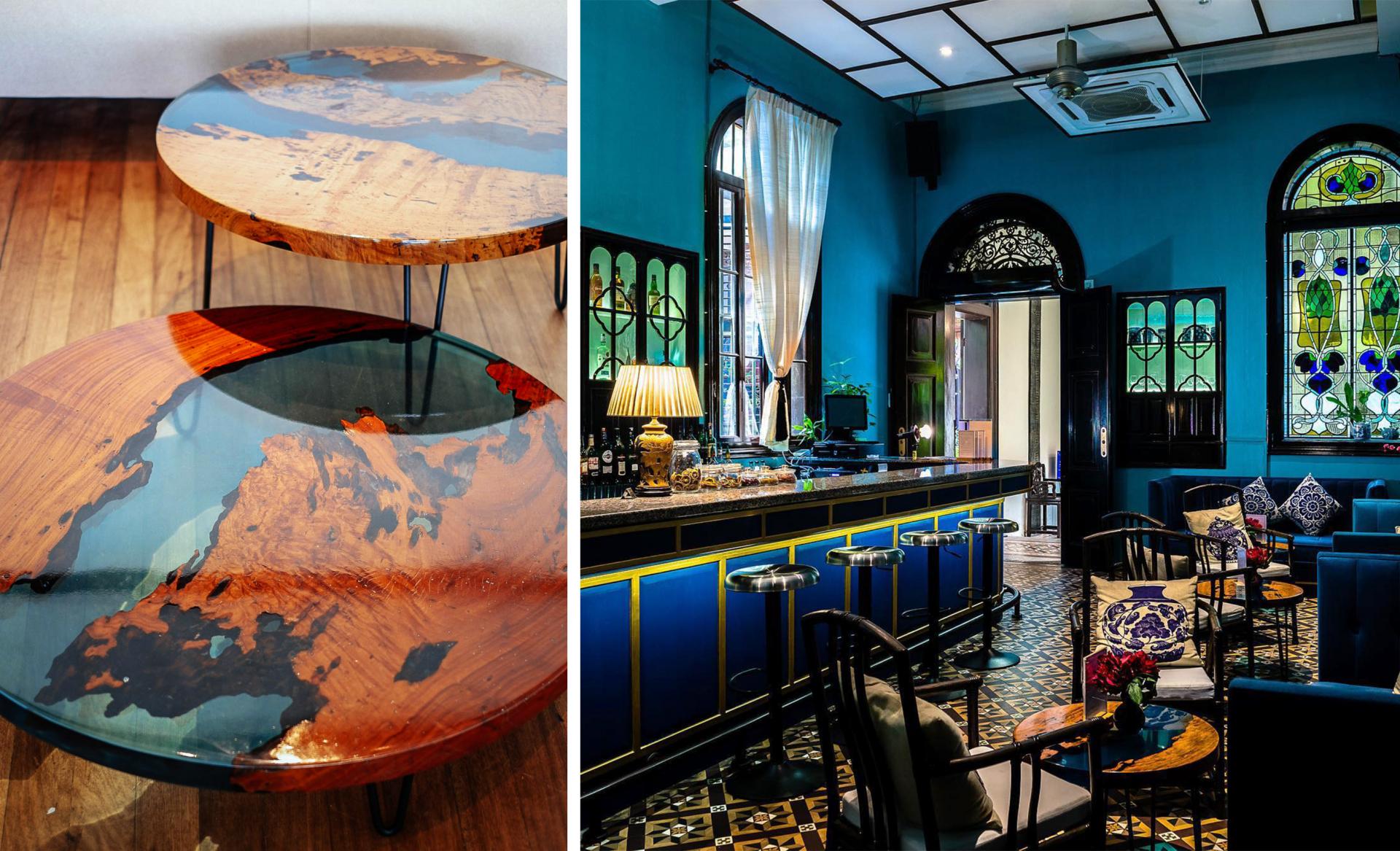 A lot of people like the look of wood but may not be very knowledgeable in selecting the kinds of wood themselves. What types of wood you offer, and how do they differ from each other?
V-Ho: It's like real leather and fake leather, genuine diamonds, and fake diamonds. The feel of it, the touch of it, and the longevity – pieces that you can keep and pass on are very important for us. We only specialise in Malaysian timbre, mainly hardwood. Hence, anything that is in the range of teak and above, and they're all sourced from Peninsula Malaysia, so nothing from Indonesia, Thailand, or Sabah and Sarawak.
Giselle: Chengal wood is the hardest wood and also our signature. When you first cut it, it's a yellowish-brown. As it ages, it will become darker and darker, and slowly it will turn into a burgundy red. Merbau wood is also very old, and it's more reddish. Mahogany is like an orange hardwood with grains. Raintree is a tree that grows faster, so there's more water retention in the wood, and it has more of a wood grain pattern.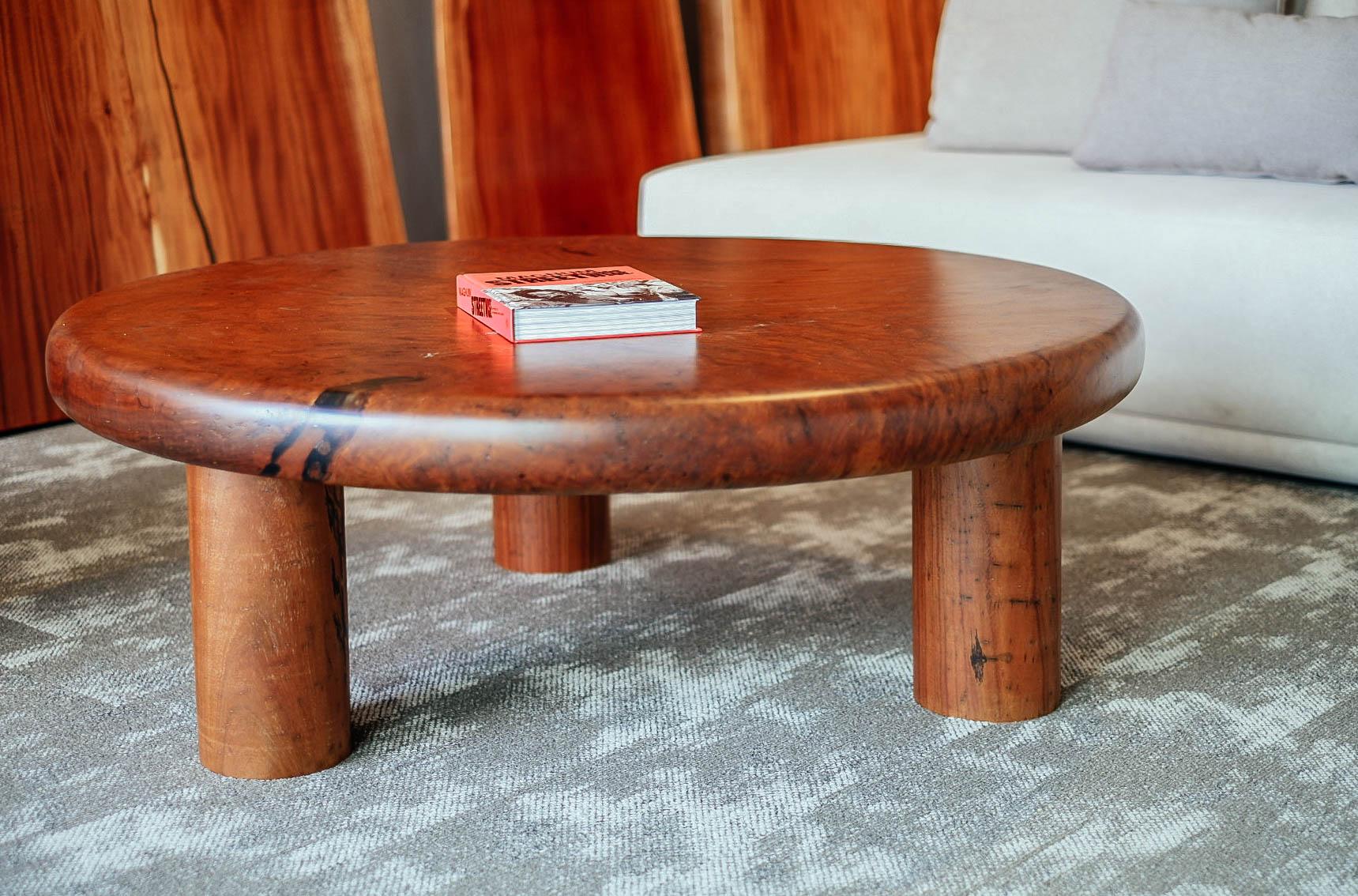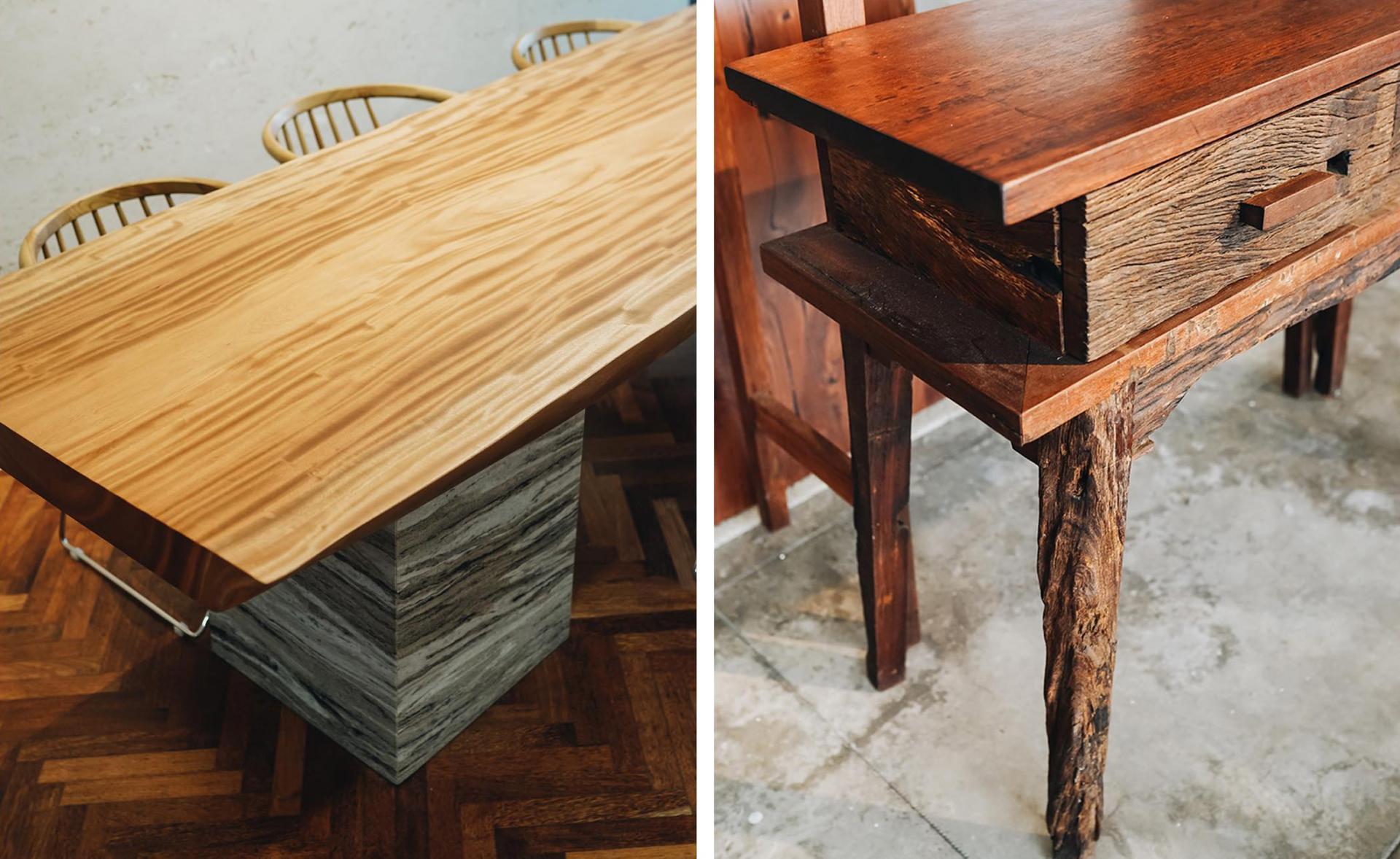 Can you tell me more about your sofa collection?
V-Ho: We have nine basic models, and from there, you can customise as you go. So let's say you want the backrest to be a lower, or your house has very low ceilings, or if you have an awkward nook to fill, we can make a lot of different variations.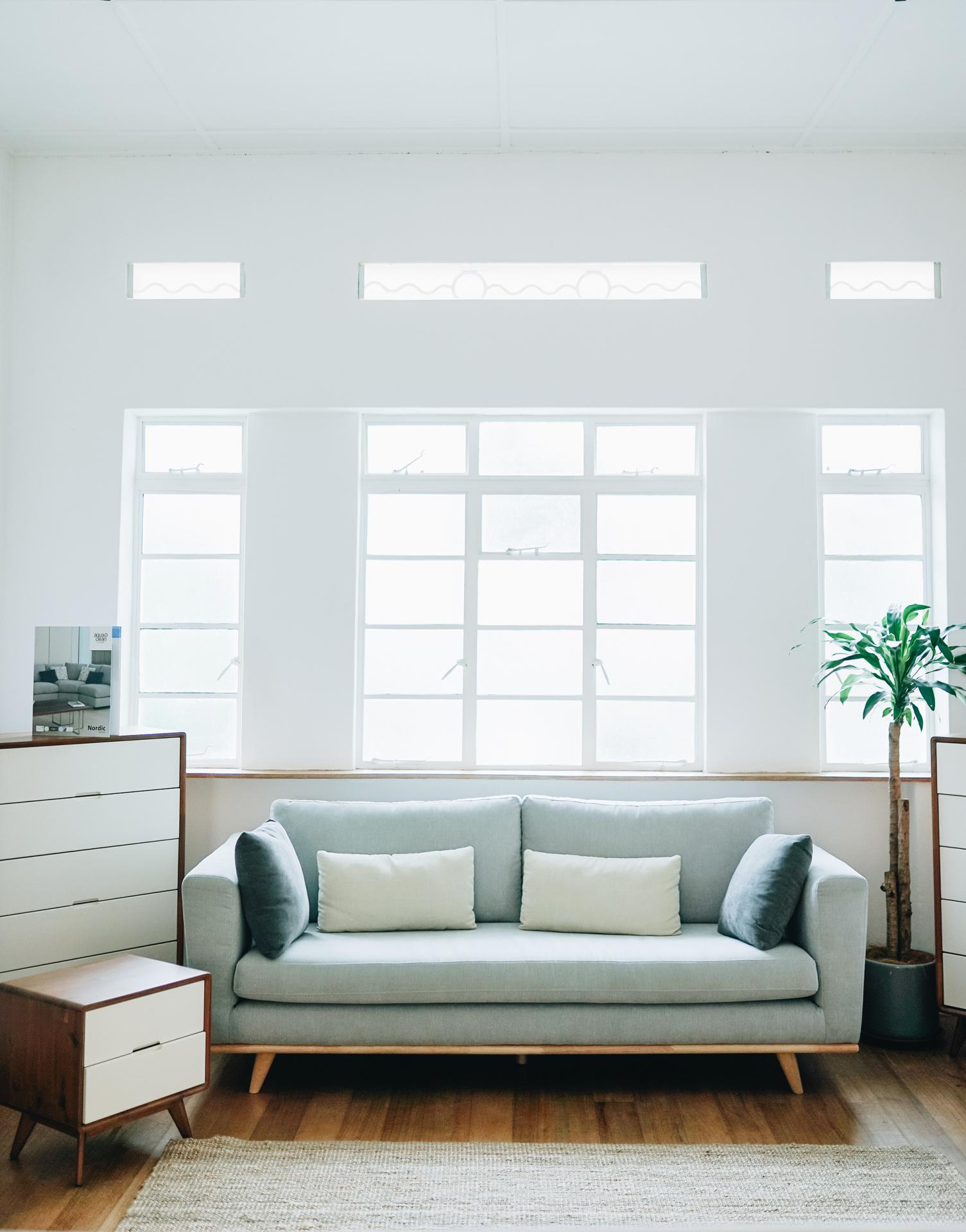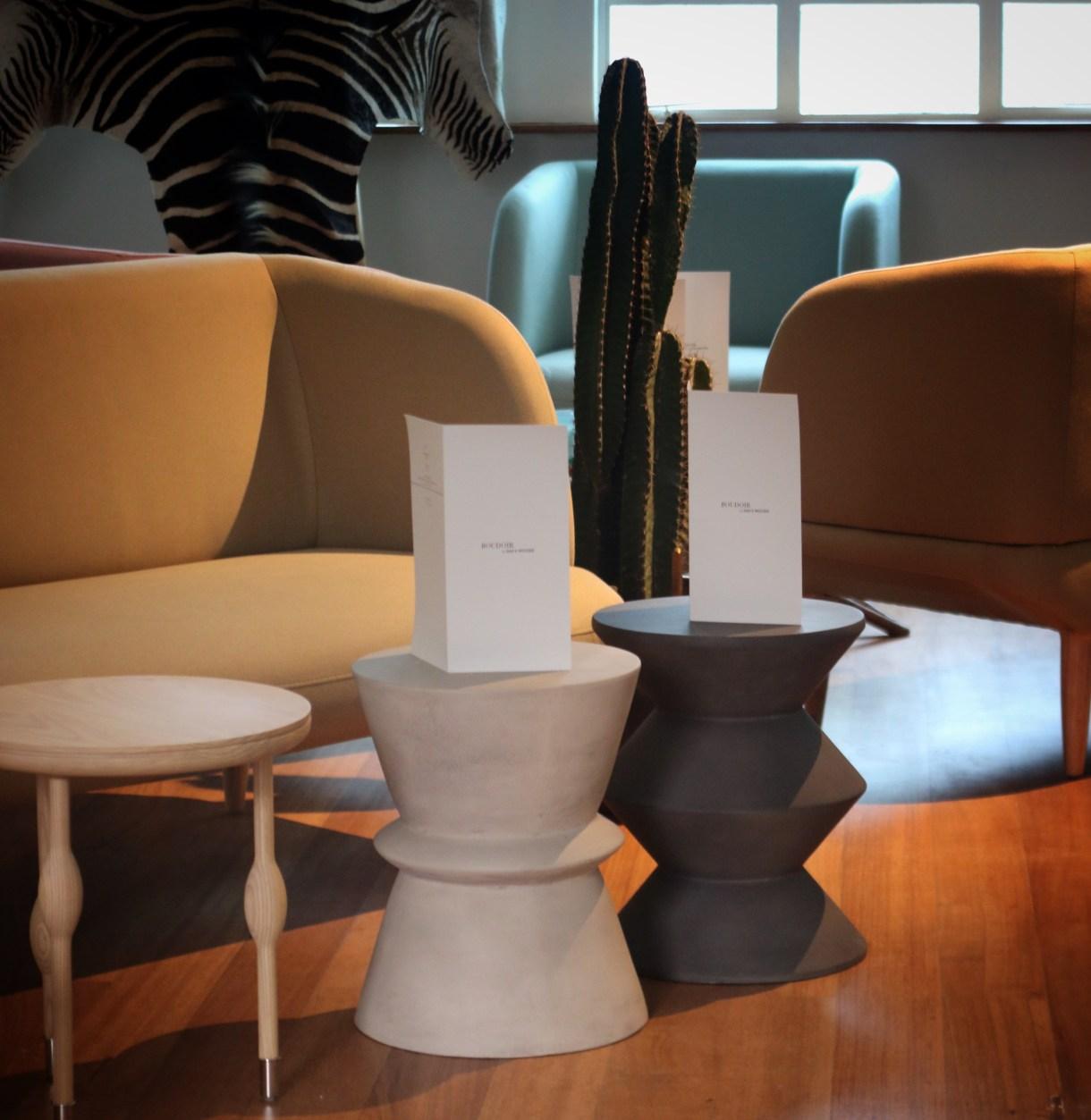 How do you stand out among your competitors in Penang or Malaysia?
V-Ho: It's definitely our personalised services. We can really tailor a piece to your personality. Let's say someone comes in, and he wants to make a desk that represents him. It's important for him because he uses his desk to do business, so we design a piece and tailor it to an image that he wants to portray.
And to me, every time I see like a piece of wood, I will think what's kind of furniture it's suitable for. I try not to deviate too much from the shape of the piece itself, it's a bit like Japanese wabi-sabi but more modern.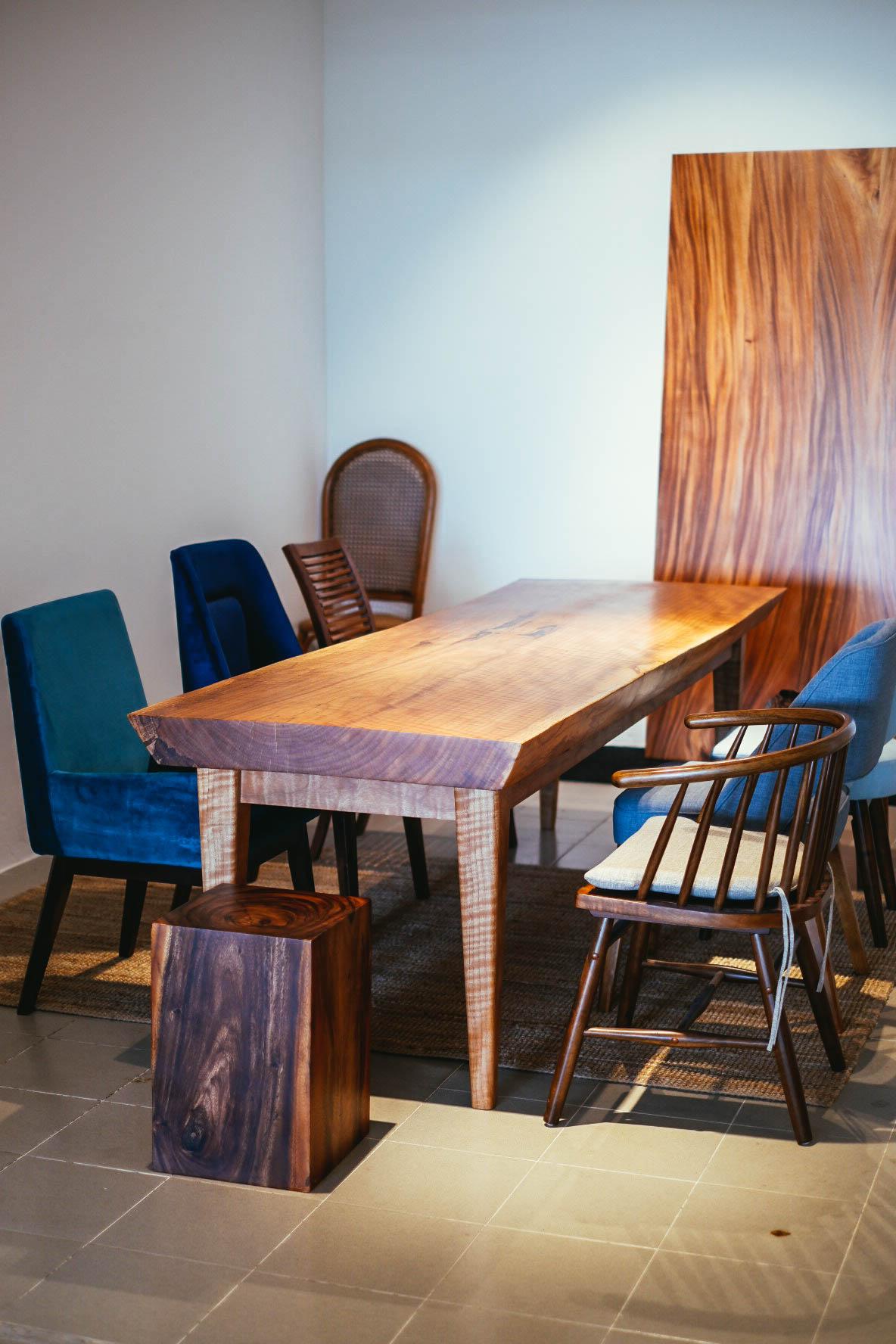 Where do you see Dad's Woods in the future?
V-Ho: We do look forward to having an international presence in the years to come, hopefully, Singapore, in the next two-three years. We might not be setting up a shop overseas, but definitely looking at some of the retailers to carry our brand, so I can travel back and forth if customers want personalised services.
Giselle: We're also looking to improve our logistics, especially when it comes to shipping internationally since our main clientele now is still in Penang or Kuala Lumpur.