Since moving to the East in 1995, Chilean native Claudia Meerovitsch has lived in her fair share of homes in Hong Kong, from three different bases in the Mid-Levels to Tuen Mun.
She met her husband, a Russian entrepreneur, in Australia while studying at the University of New South Wales and first visited Hong Kong in 1994. Together, they decided to make the leap in 1995. "I've always loved Hong Kong, from the moment I arrived," she says. Their newest residence – unlikely to be their last – might be temporary, but it's one where its owners say they've poured in a lot of love.
Home to what has been nicknamed the Instagram pier, the quiet waterside district of Kennedy Town can also count a number of trendy restaurants and watering holes among its many draws. In fact, it was what initially attracted the couple to veer west after undertaking a full overhaul for their permanent home on Kennedy Road, their choice validated by the real-estate advice of their architect. It wasn't difficult for them to be charmed, either. "The neighbourhood is nice and happening, with a lot of hip places to eat and visit," says Claudia. "You can also walk down the Kennedy Town pier, which I sometimes do in the late afternoons with our dogs to watch the sun set."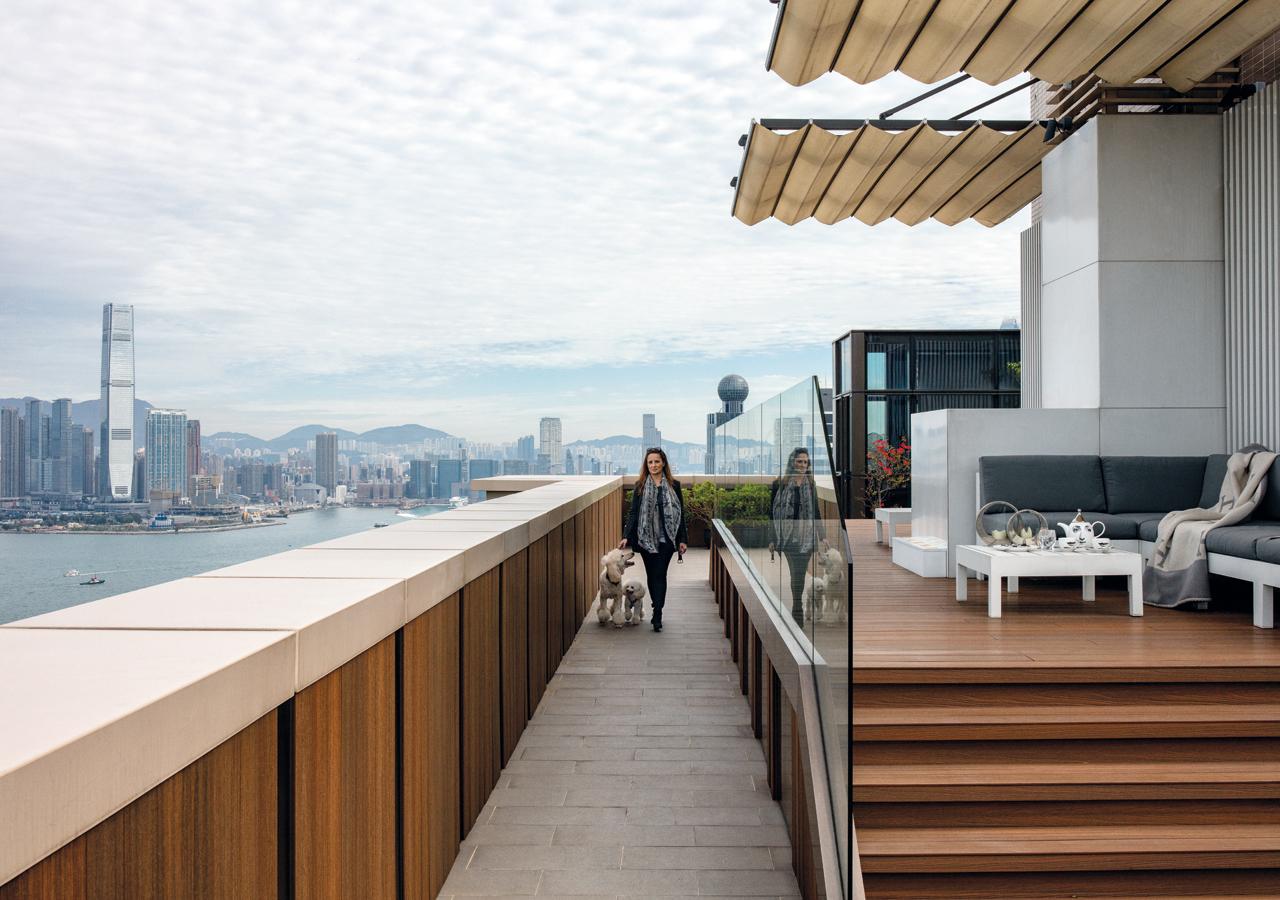 "We are always looking to invest in smaller homes, which I renovate and decorate myself," she explains. "For this property, the initial plan was not for us to move in, but to put it on the leasing market. But we ended up falling in love with how we designed the apartment and we realised we wanted to experience living in this area for a while."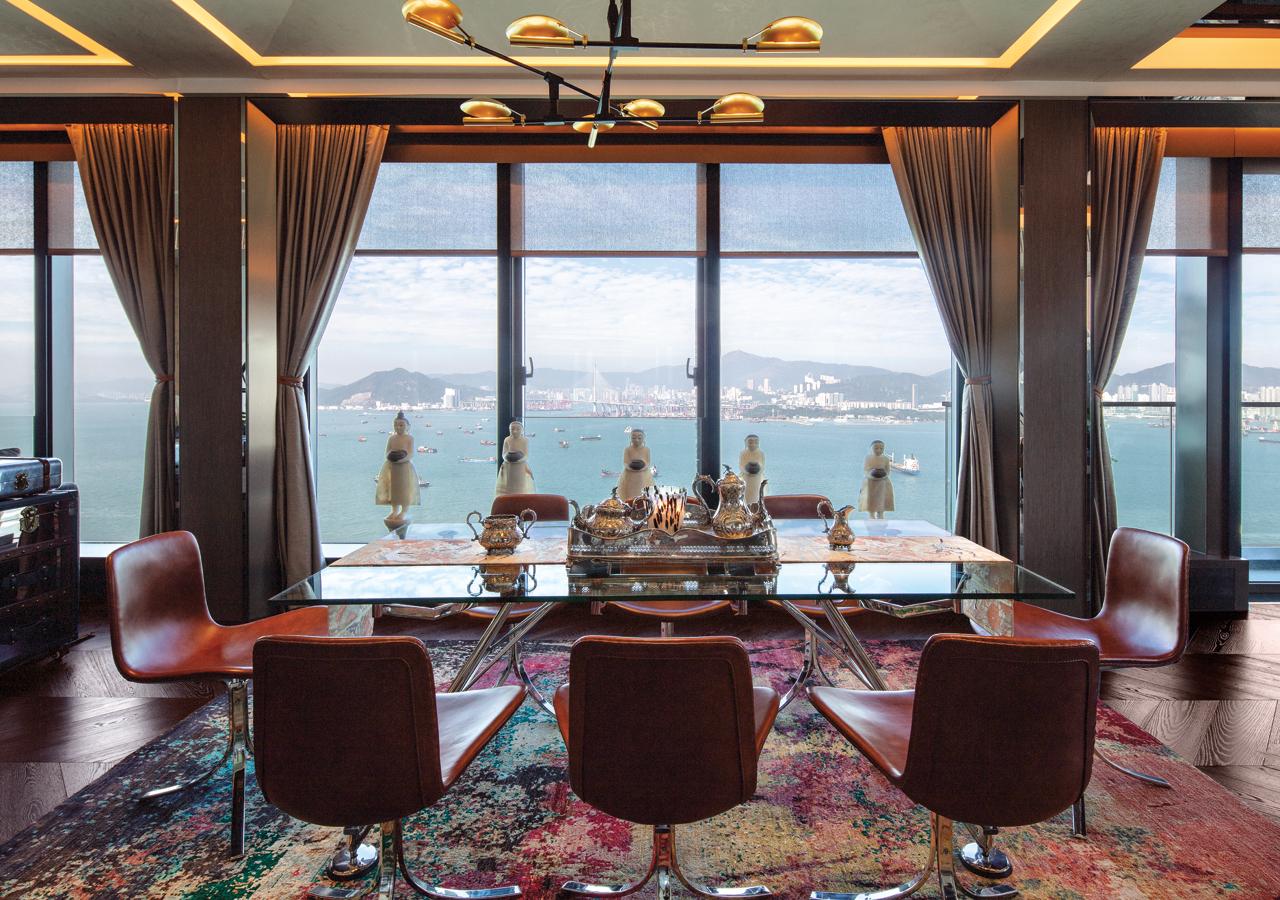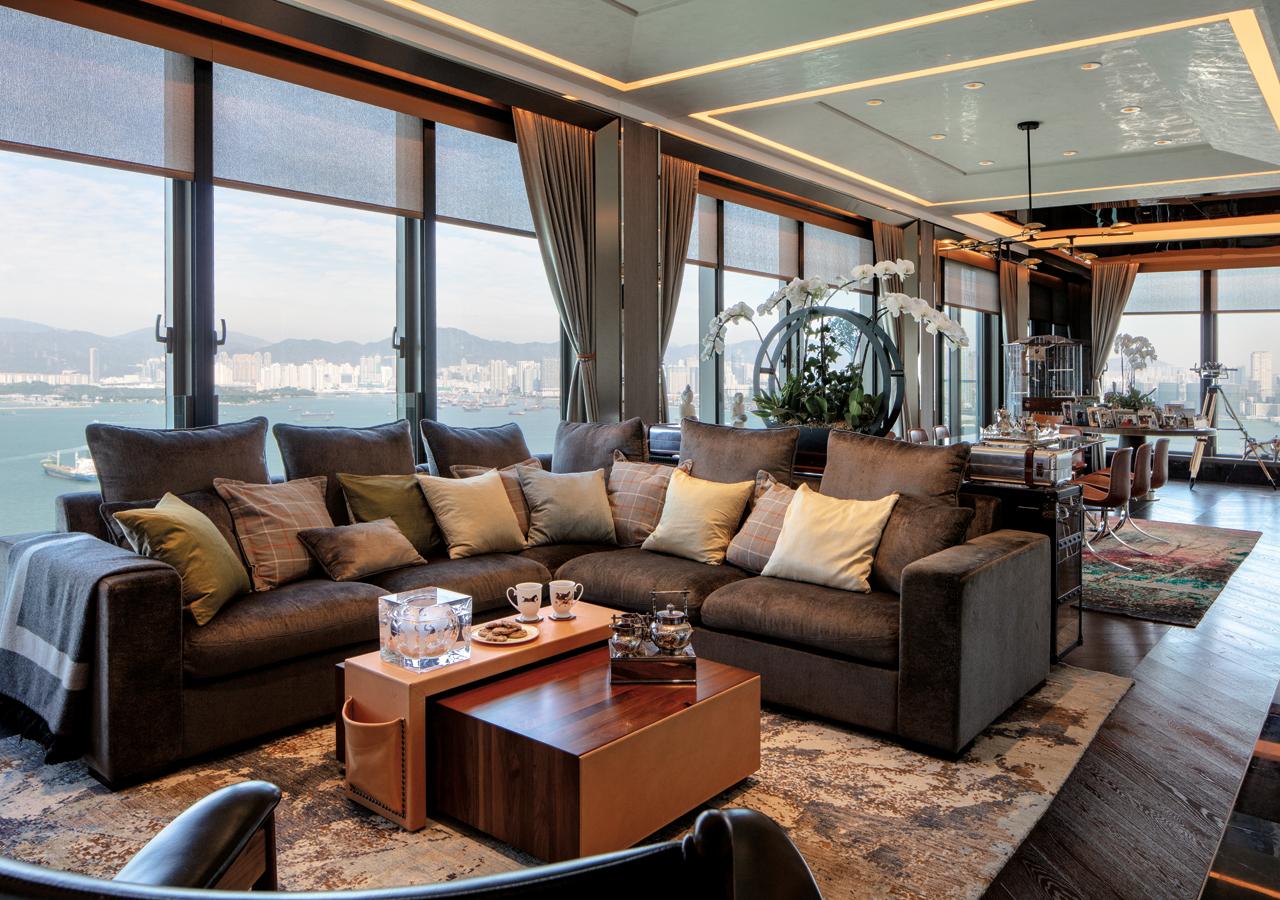 Visually a far cry from their family's colonial-style dwelling, modern glamour defines this urban escape, with its array of shiny, polished surfaces, gold and silver accents, and touches of sumptuous leather. Truth be told, it might have appeared almost gaudy elsewhere – but not in this abode, with 180-degree views of the vast Sai Wan waters offered by the floor-to-ceiling, wall-to-wall windows serving to produce the feeling of being insulated in a very lavishly appointed yacht. Claudia admits that she and her husband spared no expense when it came to decorating the apartment to be as luxurious as possible. "We wanted to recreate the feeling of being in a boat because we're surrounded by the water," she says.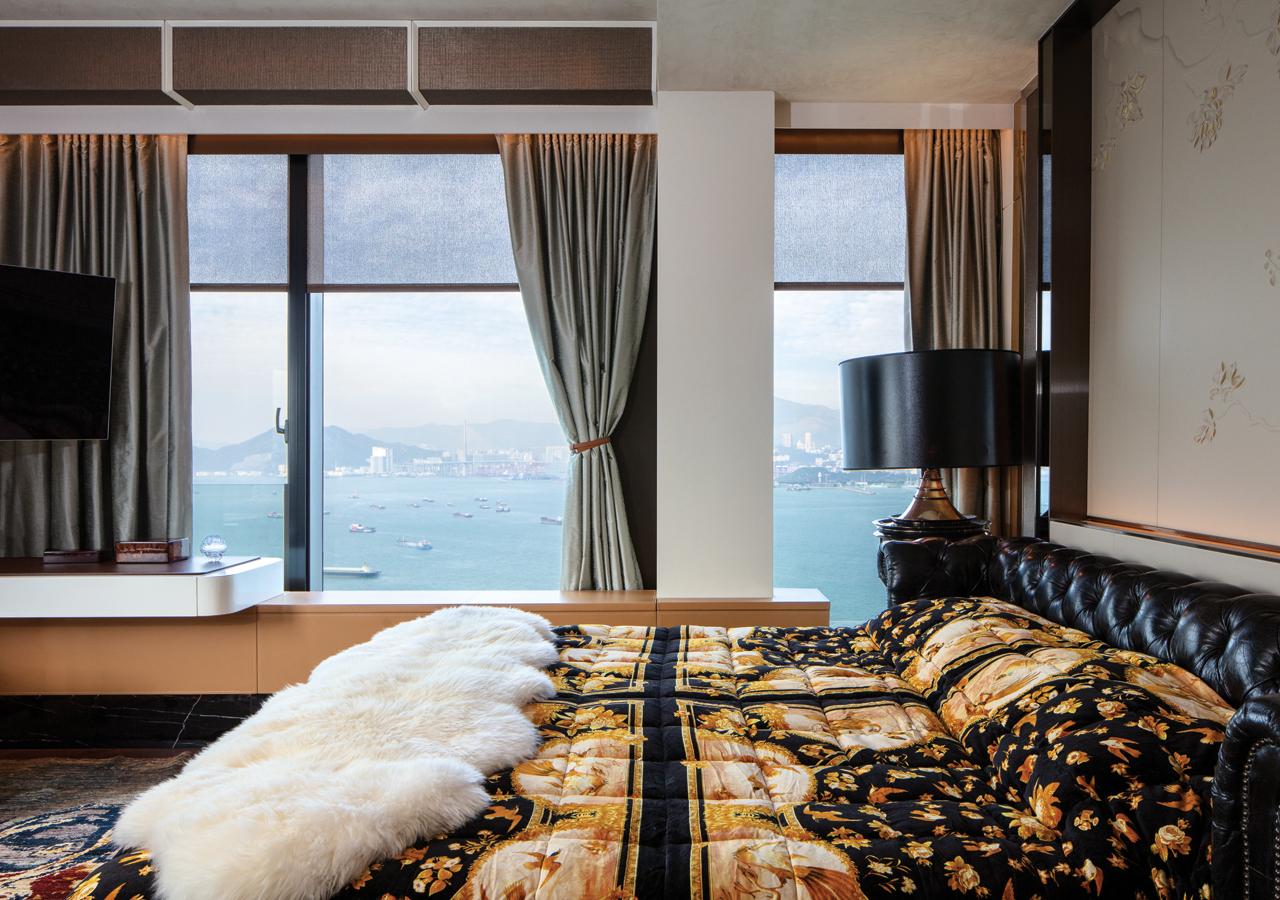 In the master bedroom, a plush Versace bedspread adorns the king-size bed, just one of Claudia's extensive collection of Versace textiles. "Funnily enough, through the years, the colours have changed, but I still like to keep them," she says. Alternating with them are llama-skin throws sourced from Bolivia, and plush blankets handcrafted in Australia and India.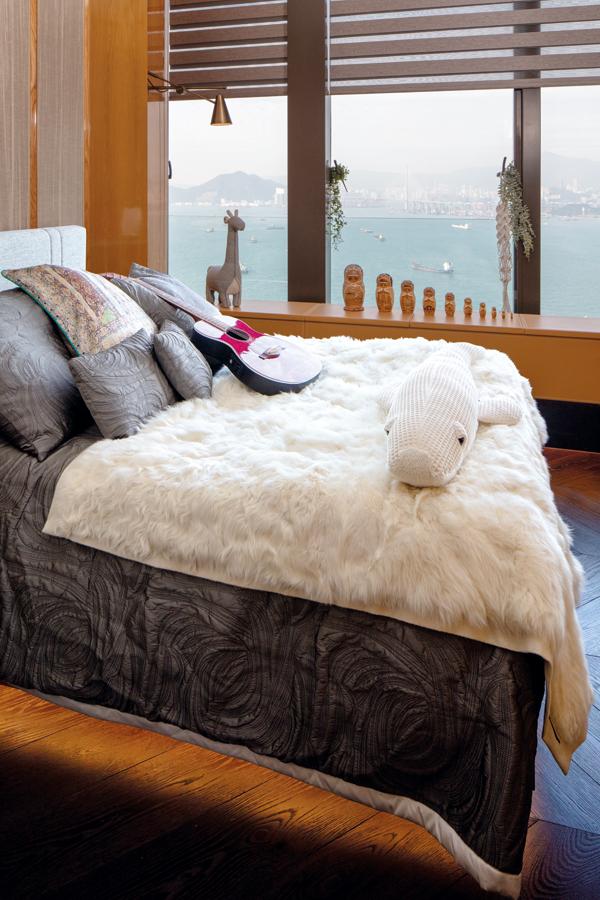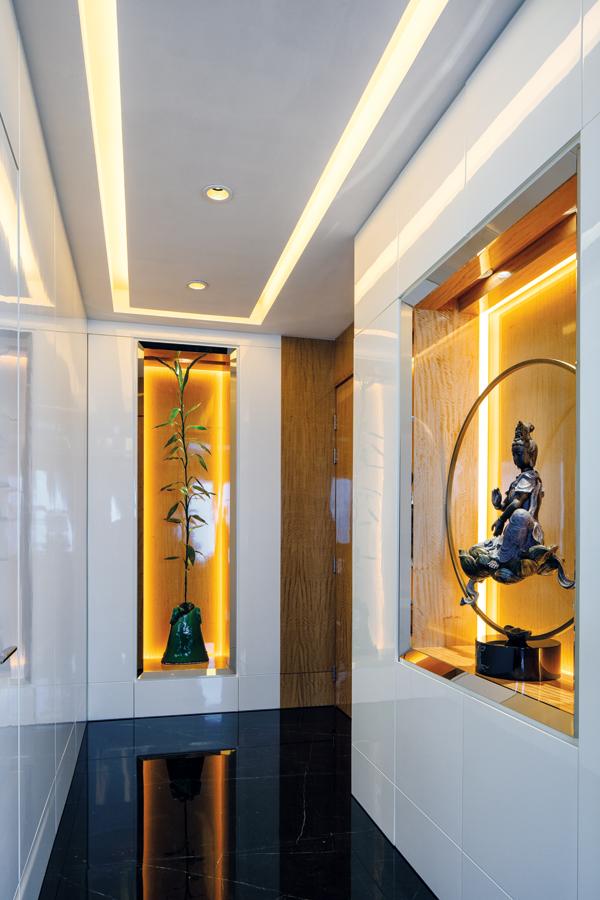 The home, though temporary for the family, hosts an assemblage of pieces and furniture with sentimental value and stories to tell. One of them, an ode to her husband's Russian roots, is an extraordinary matryoshka doll purchased in Moscow and placed in their youngest daughter's bedroom. Interestingly, though not a single member of the family practices Buddhism, a collection of marble monk figures stand guard in the living room and in the hallway entrance. "It took me a while to search for them in marble because most are crafted in wood," recalls Claudia. "I eventually found them in Phuket, though these come from Burma. I just love the way they look."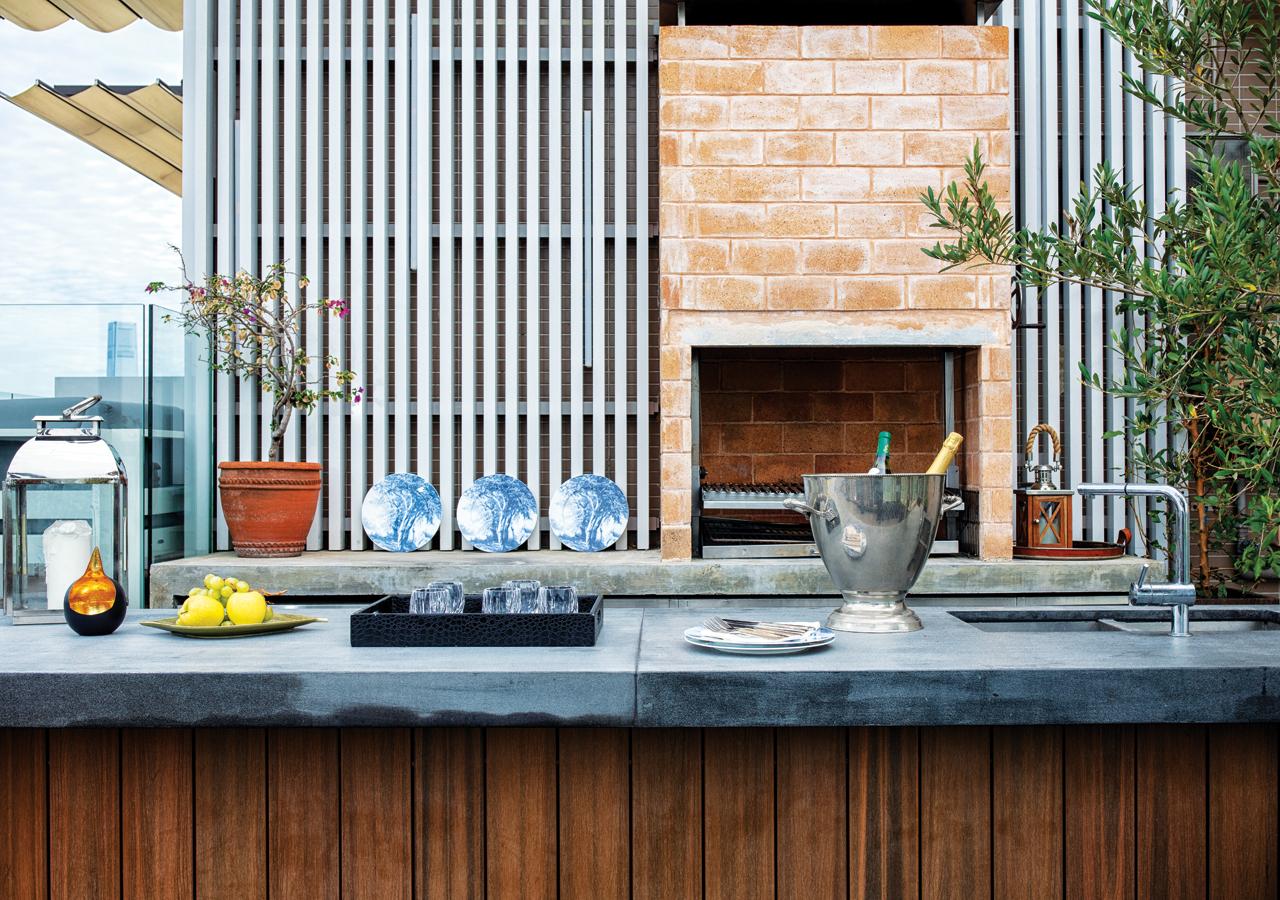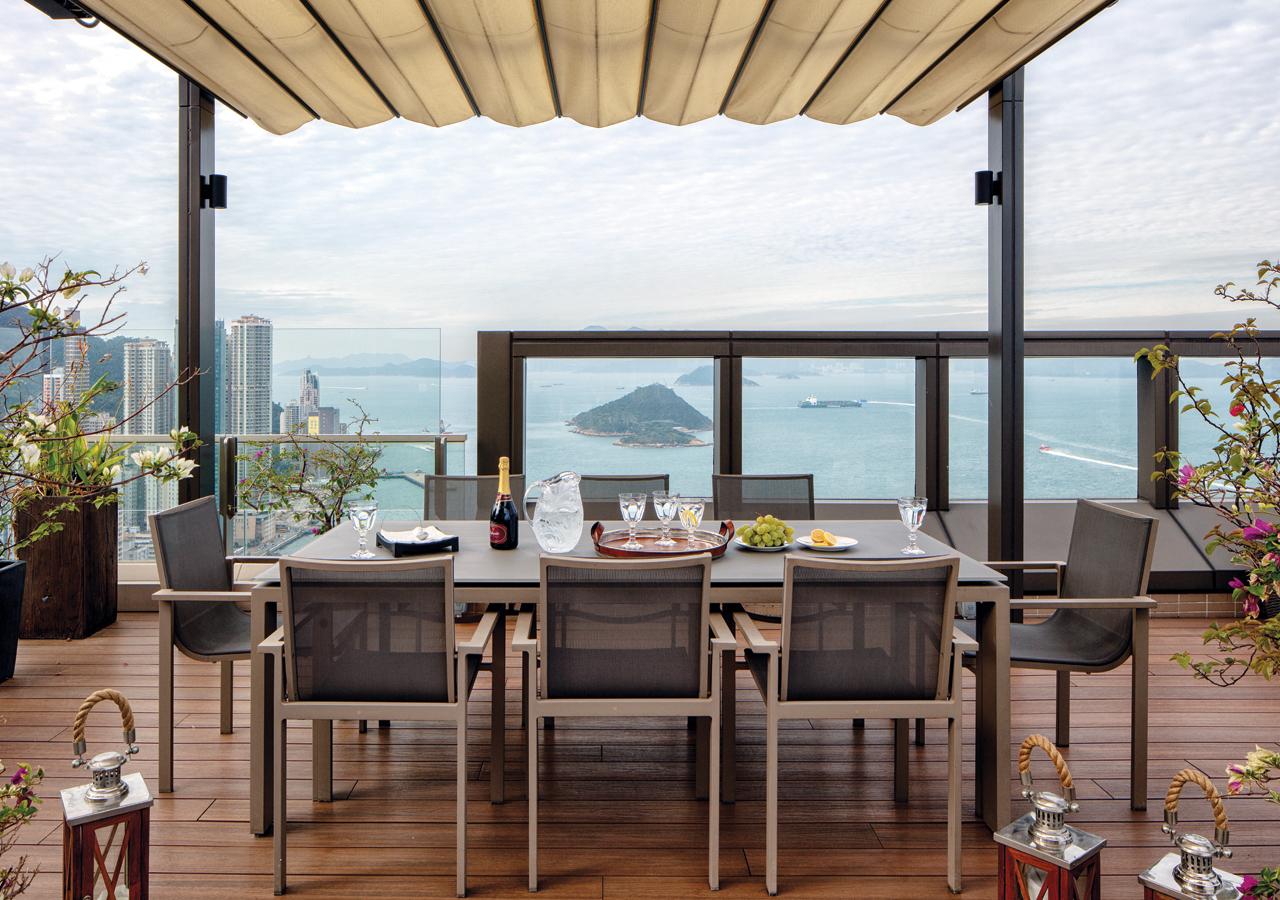 Whereas Claudia remained in charge of the main level of the apartment, which includes the living and dining areas as well as four bedrooms (one for each of their three children, plus the master bedroom), her husband's domain, design-wise, was the family's private 1,700sqft rooftop. The expanse is equipped with the husband's barbecue station, outfitted with a state-of-the-art outdoor grilling system, refrigerator and other amenities necessary for hosting get-togethers, complete with areas for entertaining decked out with outdoor furniture from Zzue Creation.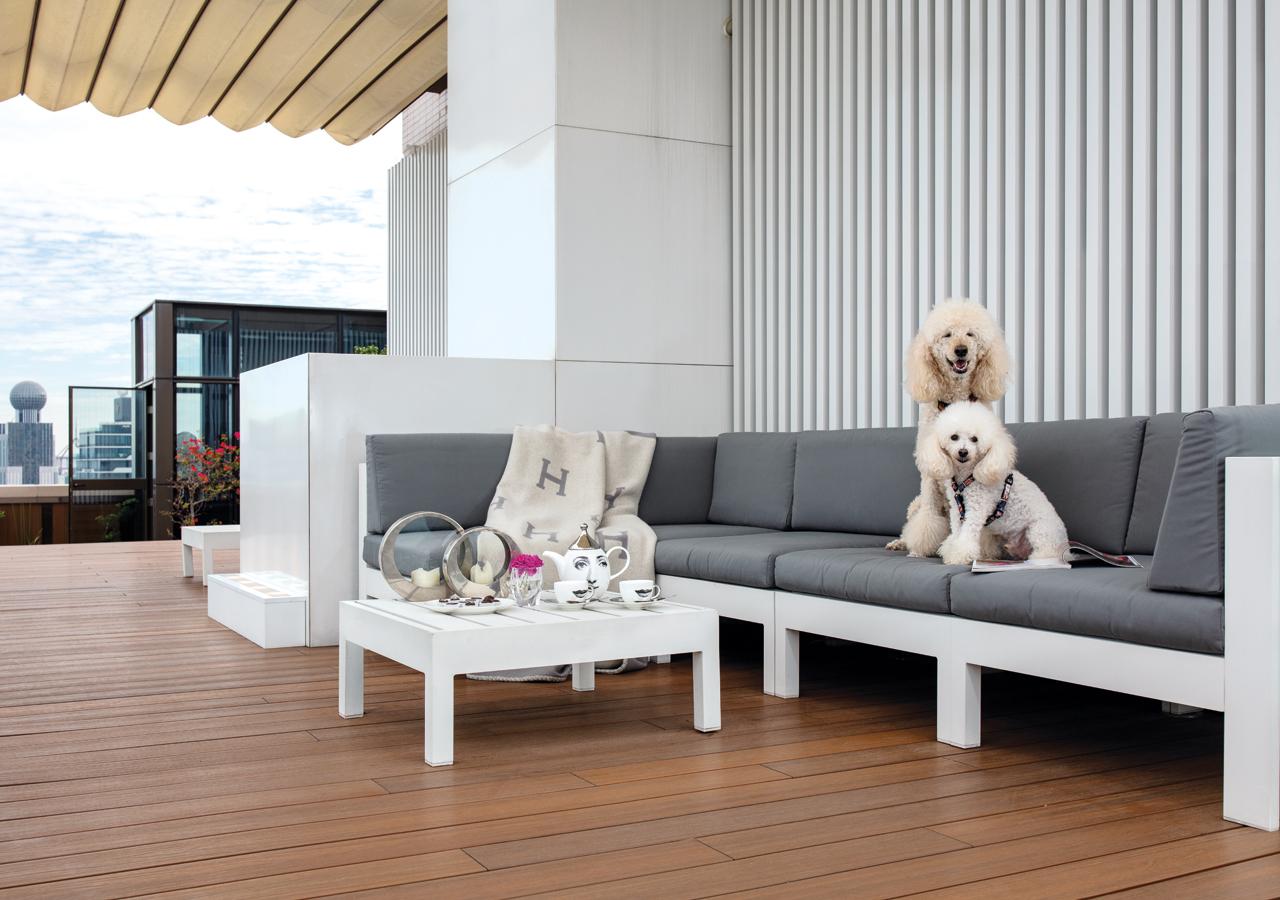 All angles of the rooftop feature unadulterated perspectives of the water, which Claudia wistfully notes is their favourite hallmark of this apartment – and one that they will feel particularly nostalgic for once they relocate back to their Mid-Levels home. "No matter where I sit here, even when it's sunny or rainy, it doesn't bother me," she concludes. "The view is just amazing."
A version of this article originally appears in our February 2019 issue.