When interior designer Kelly Wearstler first set eyes on this house in the West Hollywood district of Los Angeles, she was anything but impressed. It didn't have anything exciting, she recalls. I remember walking in and thinking, 'Oh my God! I'm going to have to really roll up my sleeves here.'

Previously, the home featured a Spanish architectural vernacular, with interiors dominated by brown ceiling beams and all-white walls. Kelly's goal was to give the space a voice and personality by infusing it with her high-voltage style, which she herself has difficult describing. I don't like the words 'fun' and 'playful', she explains. I would say maybe it's a little punk or avant-garde.
Whatever the proper term, the aesthetic certainly suits her clients, Lana Gomez and Sebastian Maniscalco, whose family expanded during the project with the arrival of their first child, Serafina, last April. Lana is a painter who hails from Memphis, Tennessee and initially met Kelly in 2008 through an internship for the designer; she worked on patterns for wallpaper and china, as well as custom art pieces. Lana's colour sensibility is really fresh, enthuses Kelly. Since then, the pair have become close friends and regularly go shopping together for vintage clothing.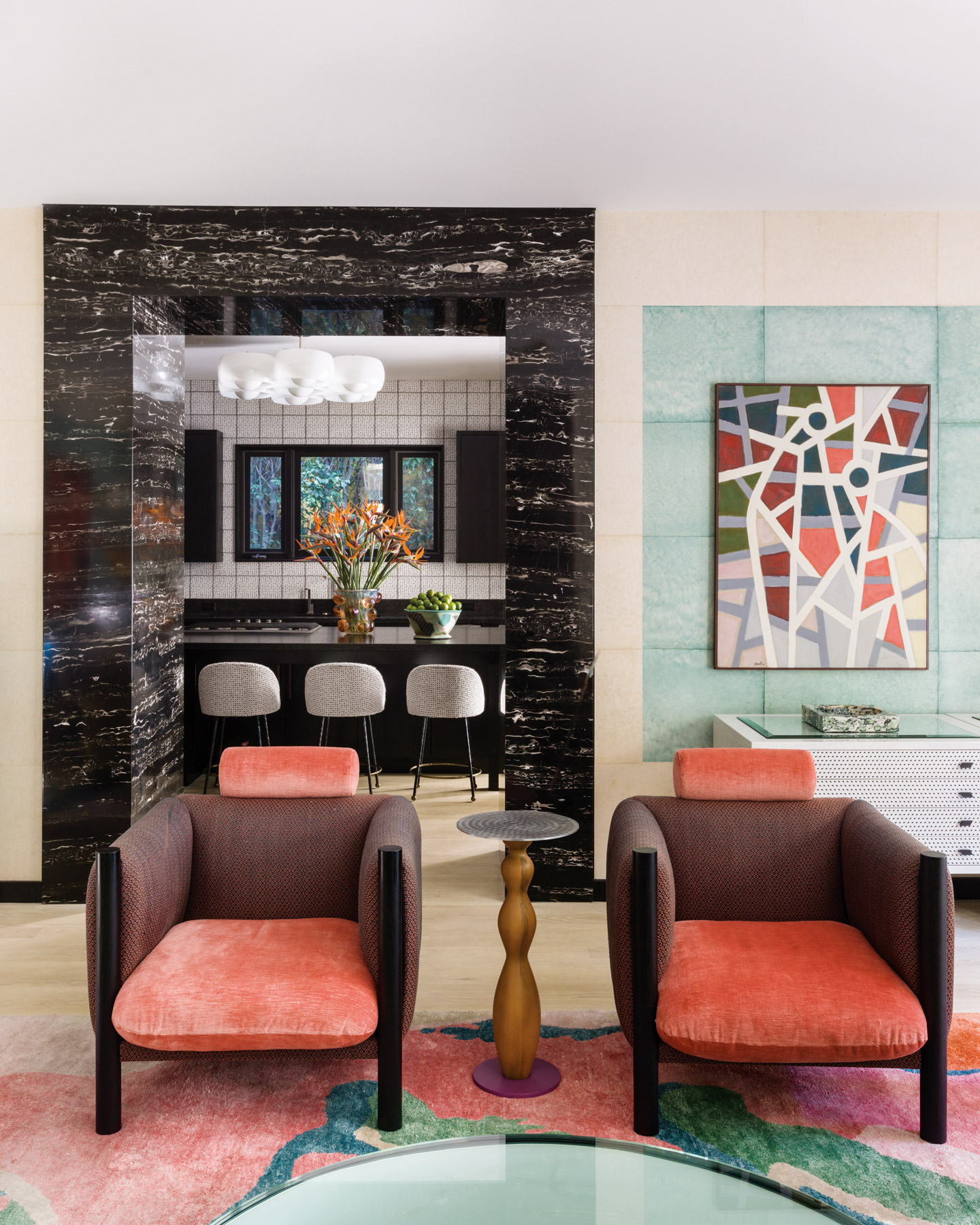 Sebastian, meanwhile, is a stand-up comedian who has appeared on The Late Show with Stephen Colbert and The Tonight Show Starring Jimmy Fallon; he had little experience with decoration. My wife is the artist, he says. I come from a family where you went to the furniture store, you bought a set of furniture, you brought it home and everything matched. This project was primarily Kelly and my wife working together, and I was more the guy who was asking, 'How much is it?'
Despite its rather bland appearance, the house, built in 2008, offered some advantages. It had a garage, which could be transformed into a painting studio for Lana. There was also a sizeable backyard and a large kitchen, which was perfect for Sebastian, who is a keen cook. I don't care how much square footage you've got – the whole house should be a kitchen, he quips. Nobody goes anywhere else. Every time I go to a house, everyone hangs out in the kitchen.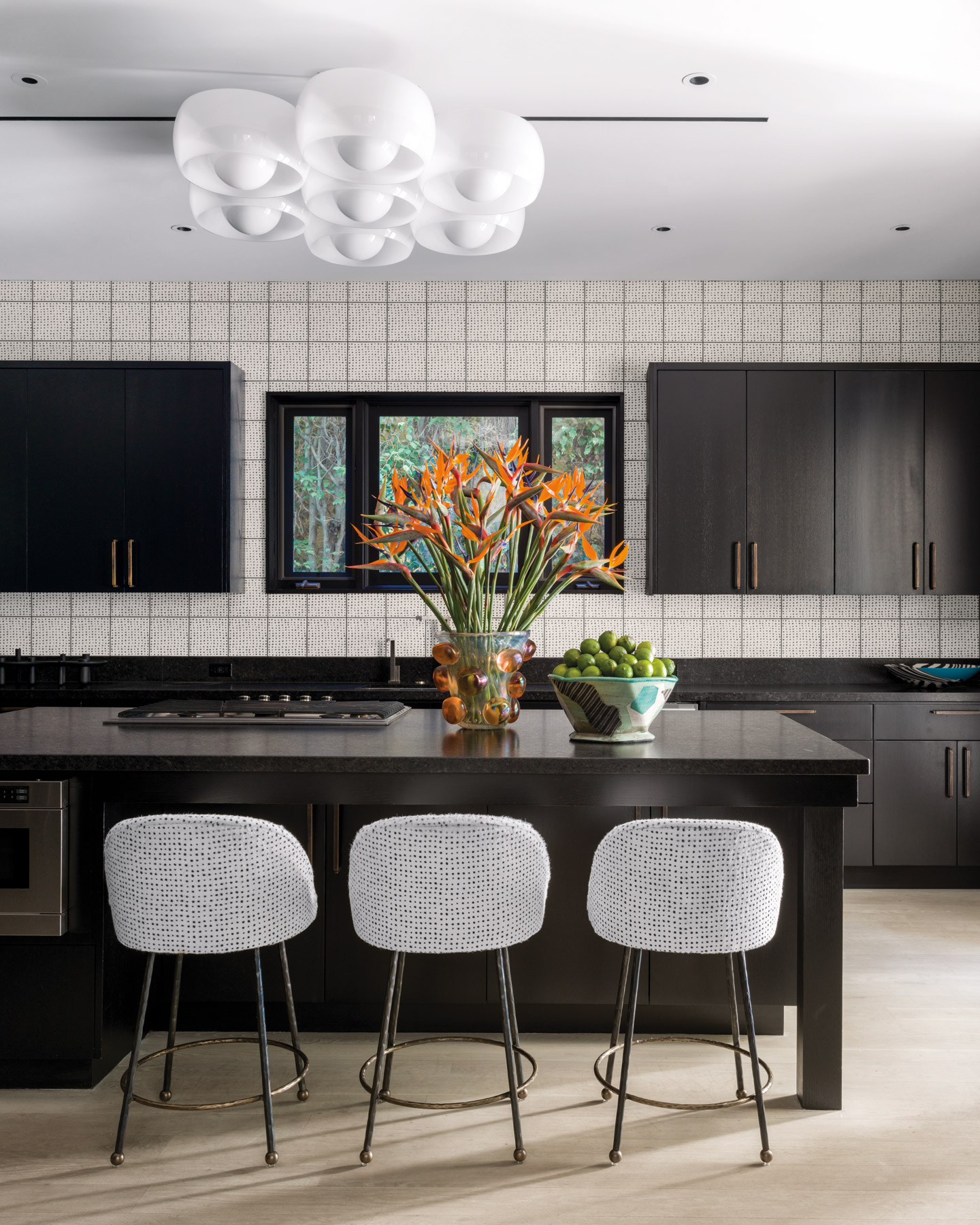 Luckily, little structural work was required. Among the few changes Kelly made were the creation of an arch for the front door, a new banister and round window for the stairwell, and the widening of the openings into the dining room and kitchen, which she cased in marble. She also raised the height of the master bedroom ceiling by about 75 centimetres.
The couple's brief for the interior was dominated by words beginning with the letter C – they wanted it to be contemporary, colourful and comfortable. We were sort of like the comfort police, says Lana, laughing. We tested out everything before we committed. They even had a chair for the backyard delivered on a trial basis before they ordered the full set.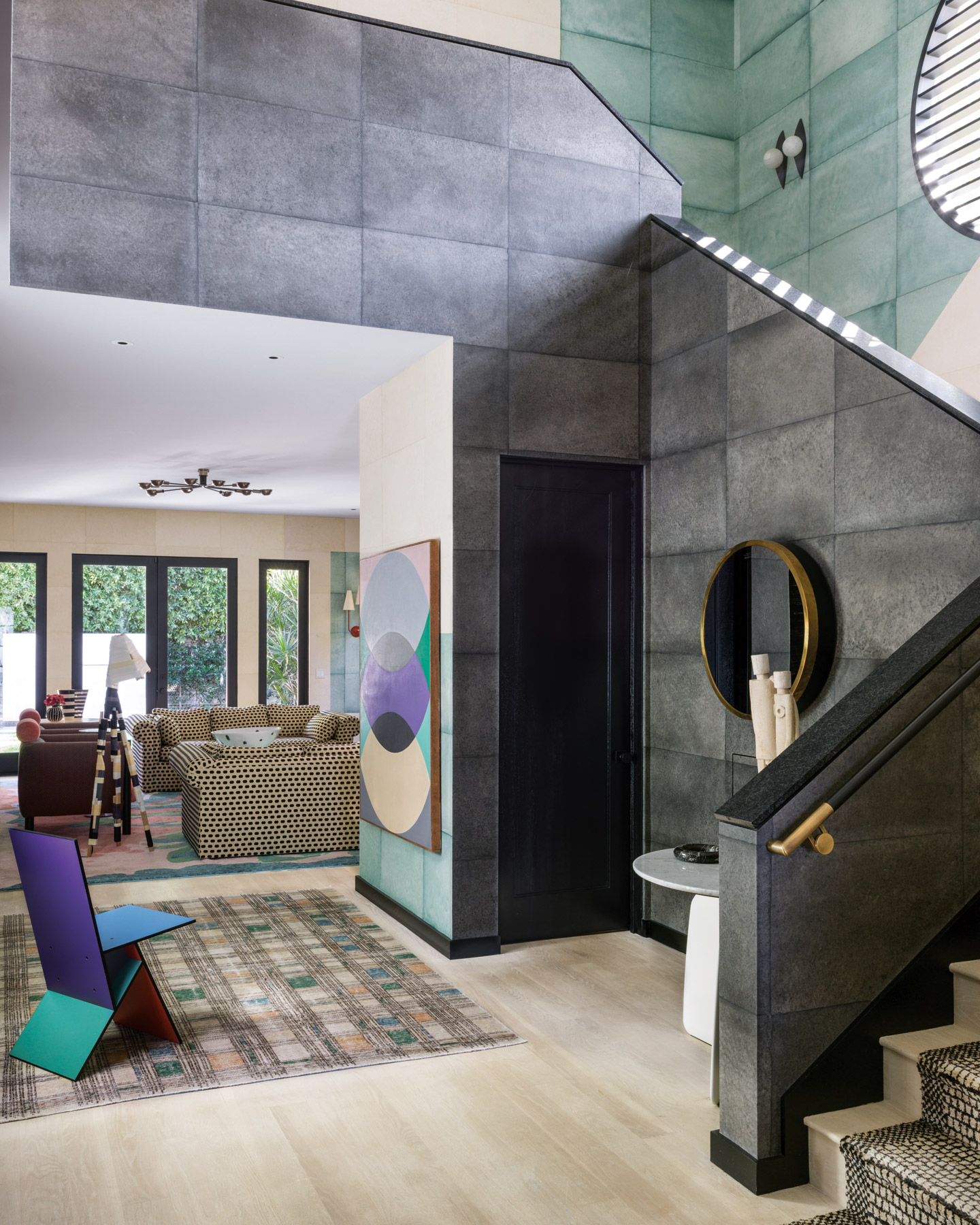 Kelly's idea for the interiors, meanwhile, was to use the same handmade Cannon/Bullock wallpaper throughout. It's a very broken-up space and somewhat choppy, so I wanted to create a tight dialogue between all the rooms, she explains. The wallpaper comes in custom-dyed square sheets, each of which is a slightly different hue. It was also hung to create distinct patterns in each space; one of the most dramatic is the diagonal arrangement in the dining room. I was blown away by it, enthuses Sebastian. It's really deceptive. People think it's stone.
Kelly was also keen to integrate some of Lana's artwork beyond the paintings. I didn't want it to start looking like a gallery, she says. So she turned a couple of Lana's canvases into rug designs for the living room and master bedroom. The rest of the house is filled with a wonderfully quirky selection of furnishings, carefully sourced over time. Kelly doesn't just bang out the design in a week, notes Lana. She does so much digging to find all the little gems. It's a true labour of love.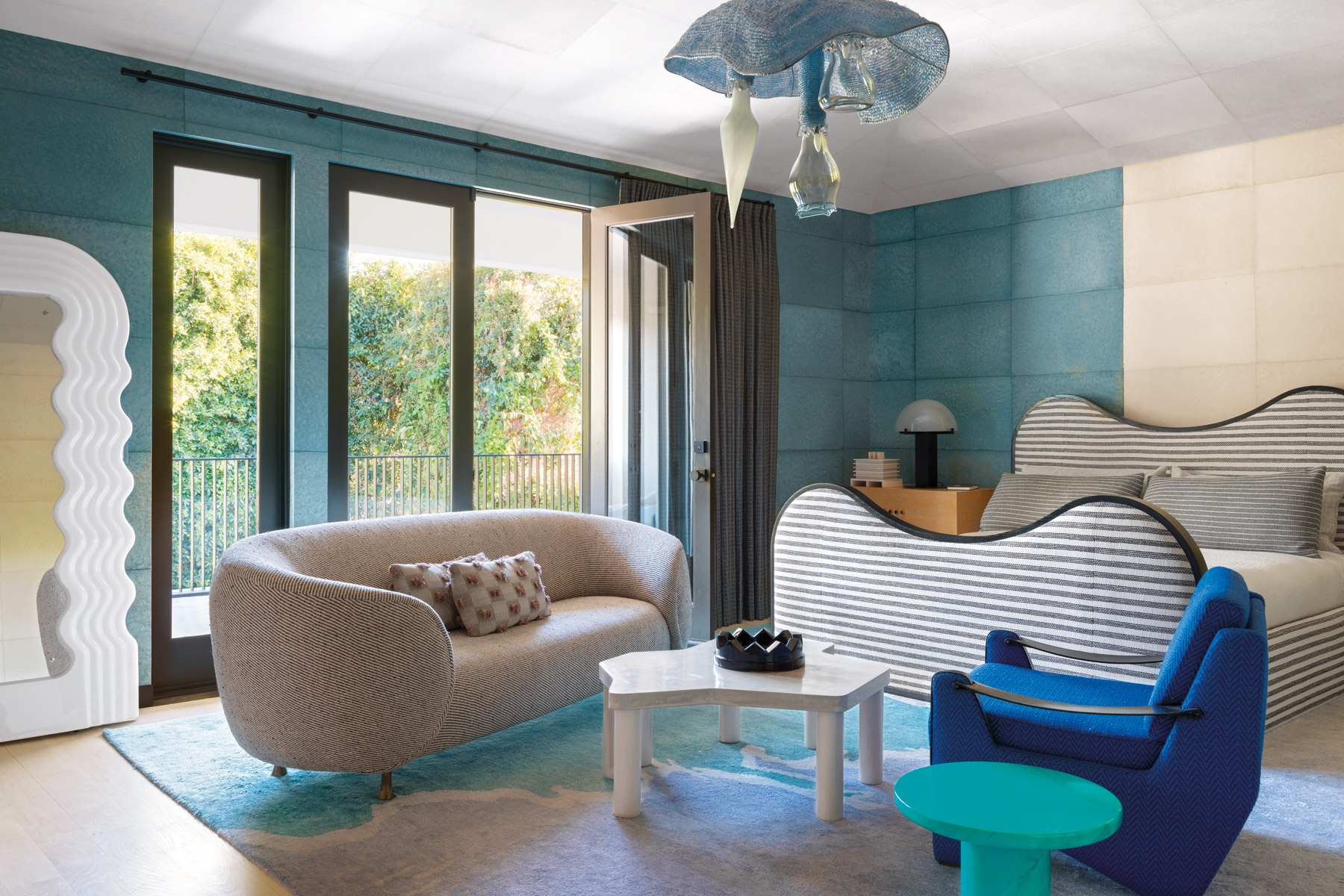 The Ettore Sottsass console table in the entry hall was chosen in response to Lana's love of the Italian maestro's work. Other statement pieces include the black-and-white striped dining table, the Misha Kahn chandelier in the master bedroom and the Anton Alvarez floor lamp in the living room. Kelly also commissioned artist Peter Shire and furniture designer Katie Stout to create custom items for the project.
The mix is visually dramatic and intoxicating, and the secret to achieving it a fine art. It's really a gut feeling, explains Kelly. But you do need pieces that totally contradict each other. That's what makes things work. Lana and Sebastian seem happy with the result as well. Every day, I walk around and see something else that makes me think, 'Hey, that looks fantastic, too!'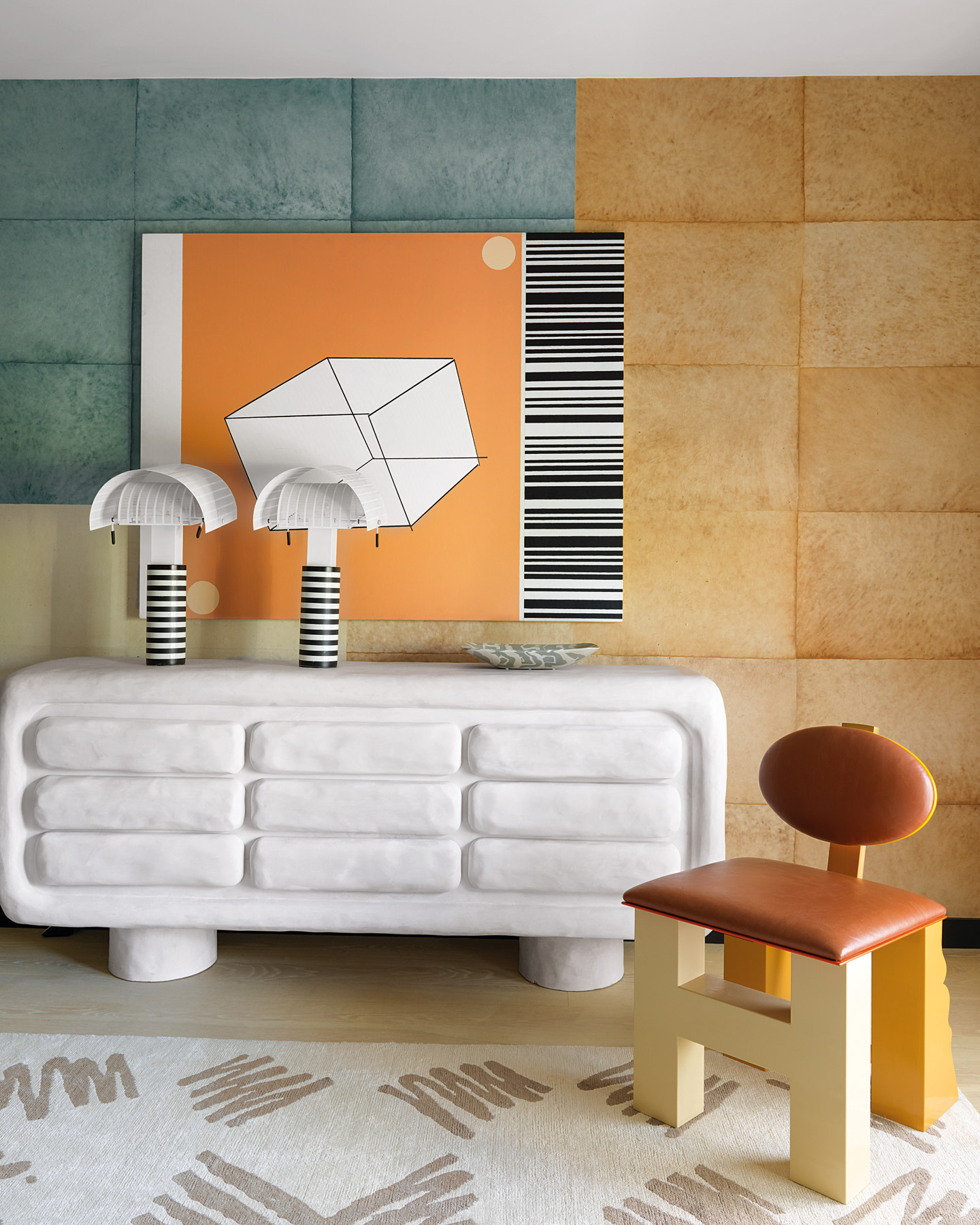 The post Celebrity designer Kelly Wearstler transforms this West Hollywood home into punk perfection appeared first on Home Journal.