One of the most buzzed about installations at this year's edition of London Design Festival was entitled Drop in the Ocean, conceived by Australian industrial designer Brodie Neill. Engaging the entire 10-storey-high atrium of the Norman Foster-designed ME Hotel, it followed the journey of a perfect droplet of water as it plunged for 4.2 seconds into a pool of almost supernaturally still water sitting in a sculptural basin made from ocean plastic, the concentric ripples of which expanded and set off a chain reaction as roaring waves rose up the walls of the chamber.
The whole idea is that the ocean plastic sitting beneath the pool at the bottom is literally a drop in the ocean of the 5.5 trillion pieces that are out there," says Brodie. But, also, it's about the idea that a single drop of water can effect a roaring wave of change – the idea that every little action matters."
Drop in the Ocean wasn't Brodie's first environmentally and socially charged piece of work, however. He set out on the path of design activism, almost by accident, in 2008 with the organically shaped chaise longue Remix, made entirely from reclaimed and waste materials rendered in a form that is otherworldly and organic in its beauty. We were taking back all of these materials from job shops, sign makers, prototypers, workshops, carpenters, and reclaiming them, remixing them, into different layers, and then, using the CNC process  – which was very much avant garde at the time – robotically carving this block of material," Brodie explains, adding that the digital element of this practice allowed them to create something entirely new. We were able to disrupt the system a little. And that really elevated this waste material – material that had literally come from the skip to the gallery, via a lot of technology and hard work."
Yet more hard work was involved when Brodie was selected to represent Australia at the inaugural London Design Biennale in 2016. Noticing that many entrants were focusing on social, economic, environmental and political issues faced by the countries they represented, Brodie looked to his home state of Tasmania, an island renowned for its rugged wilderness and natural beauty. I'd just come back from a visit to Tasmania, a very pristine, untouched space," he says. And it was shocking to go back to the same places I used to visit as a child – we're talking the bottom of the world here, there's nobody there, but there are drinking straws, shampoo bottles, soda bottles, all these types of wrappers. We'd just driven three hours down a dirt track, there's no electricity, there's no phone reception, but there's plastic."
From this disturbing realisation emerged the Gyro table. Inspired by 19th century specimen tables – tables inlaid with the spoils of an empire – Brodie substituted the precious materials typical of these objects with ocean plastic gathered from all over the world. Through a painstaking process supported by social media, we were able to access an international network of people, all of whom were passionate about the issue and sent in plastic they'd picked up from Tasmania, all across Australia, Malaysia, Taiwan, Borneo… I can't remember everywhere," says Brodie. And Gyro took on this beautiful, awe-inspiring shape and colour. There's over half a million pieces of plastic in there. It looks galactic in its detail."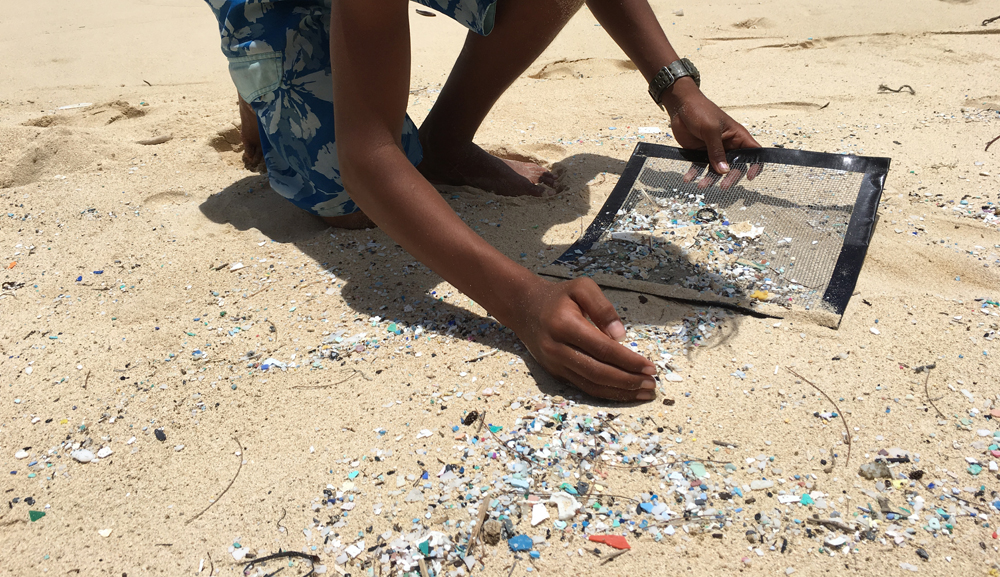 Gathering plastic for Ocean Terrazzo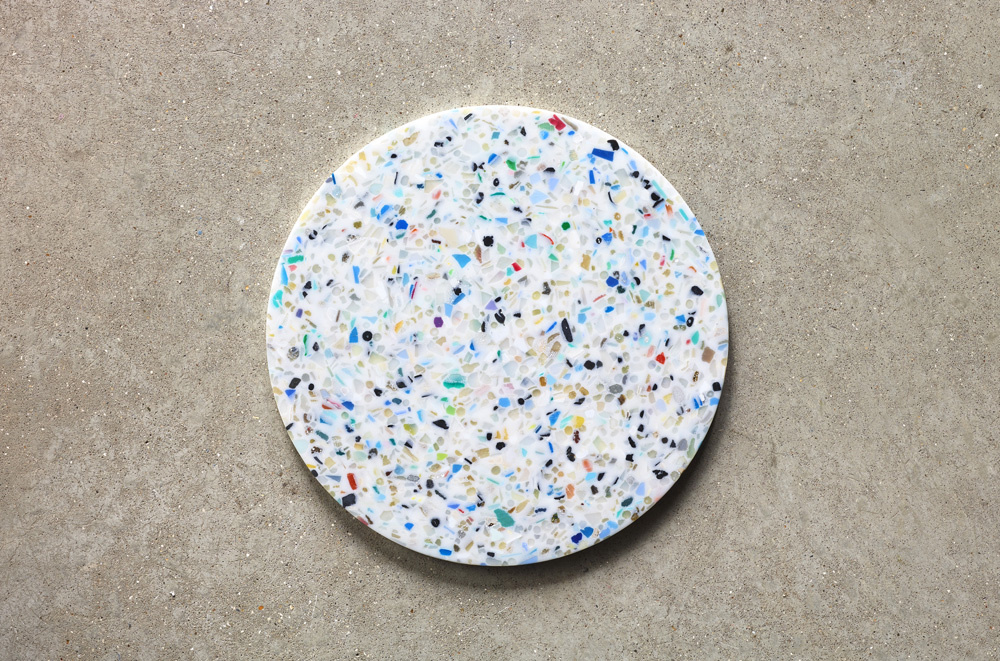 A sample tile of Ocean Terrazzo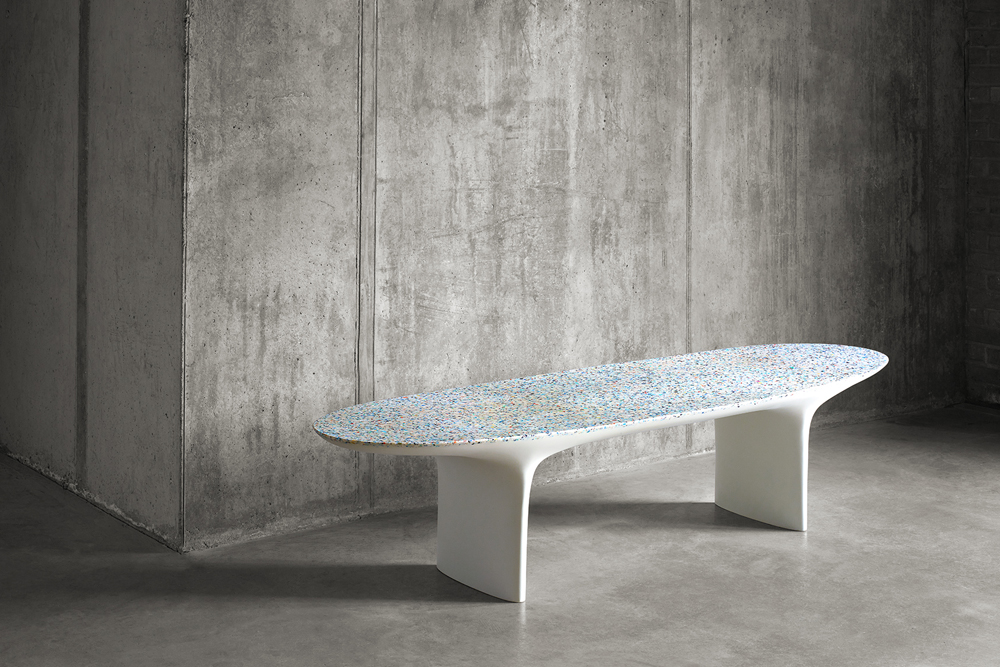 The Flotsam bench, crafted from Ocean Terrazzo
Indeed, the revolutionary Ocean Terrazzo composite that arose from the biennale installation (which, as the name suggests, uses plastic gathered from the sea in the place of traditional terrazzo materials) is both stunning to behold and ethical in its existence, bolstering an awareness that the designer hopes to promote through his creations. Drop in the Ocean took it one step further, fomenting dialogue and inspiring change. We've been invited to go the European Union to speak to them about closed-loop industries that are trying to find ways to keep plastic, ocean plastic, in the material economy so that it doesn't literally get lost at sea" says Brodie.
I didn't set out to become an activist, but I think that if we're going to design things, we need to be responsible in the materials we use, the processes we use, the waste and the pollution objects may create in their manufacture, but also their function and their life," he adds. Of course, if you make things to last that's probably the best thing you can do. That's the way that I was trained, to make things that will live longer than I will."
The post Brodie Neill on being an accidental design activist appeared first on Home Journal.