As we edge closer to Home Journal's 39th anniversary – our maiden issue was first published back in October 1980 – we invite our readers down memory lane as we rediscover some of the most unforgettable stories, powerful personalities and one-of-a-kind photoshoots that have graced our pages. Every week, we present a look back at our magazine through the decades:
Time waits for no man – or woman. That is the perennial truth as relevant today as it was back in 1981, when the team behind Home Journal's April 1981 issue curated a list to help homeowners make their minutes matter and use their time more effectively.
To avoid being consistently overwhelmed by never-ending to-do lists and find time for well-deserved relaxation, homeowners need to control their time more carefully than ever before. Borrowed from the high powered world of business executives and boardrooms, these constructive techniques to gain control of time are used successfully by women and men who realise that time is the most valuable thing they own – because time is life. We highlight 10 top tips: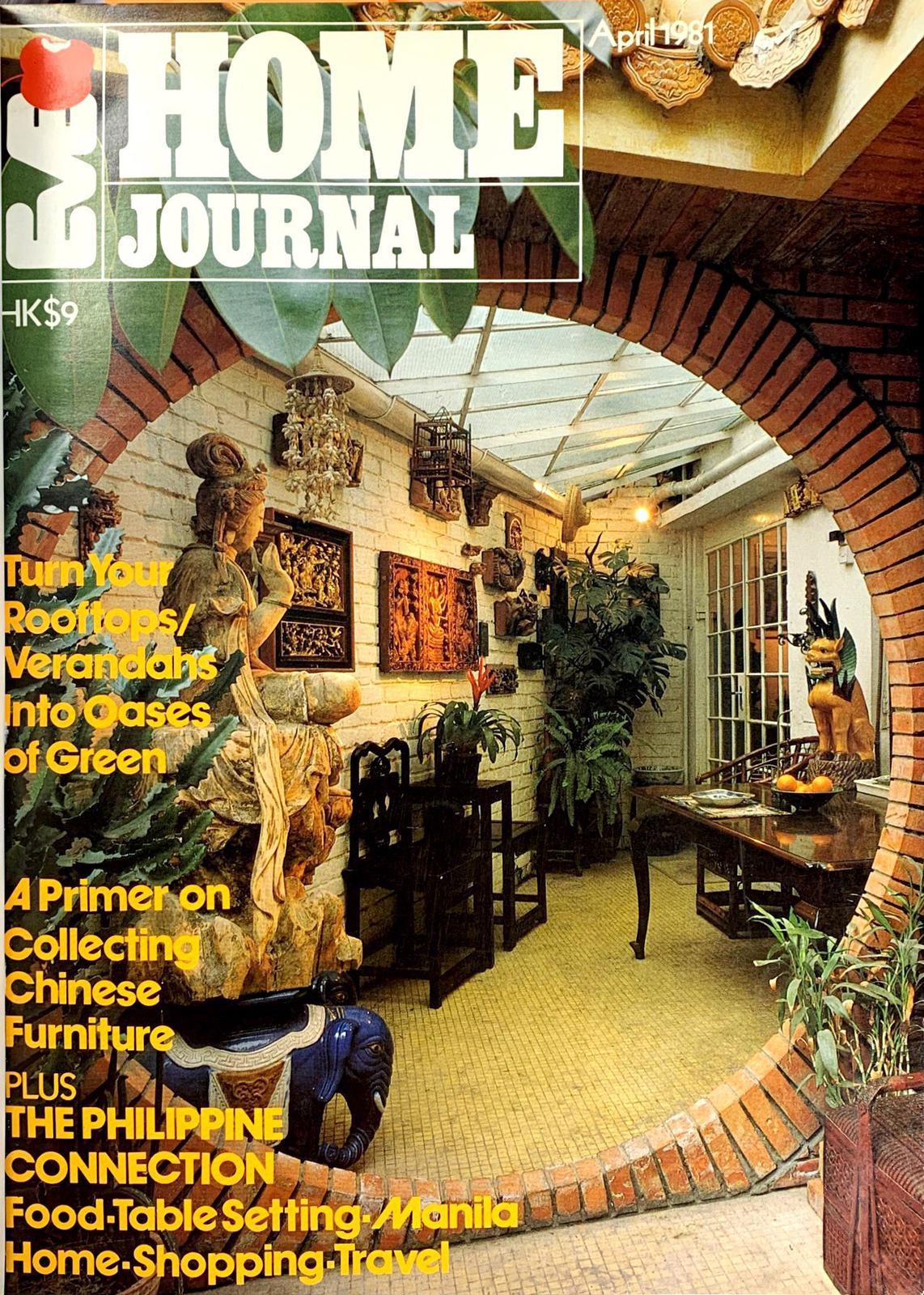 1. Stop Feeling Guilty
Instead of wasting energy feeling guilty, we should aim for what is reasonable keeping a house moderately clean is a reasonable goal; having floors that shine like mirrors isn't.
2. Set Some Goals
Many management consultants advocate sitting down and analysing both long-term and short-term goals for your home life. Once the list is written down, it should be kept in a handy place. Adding new goals as they come to mind will keep the list fresh.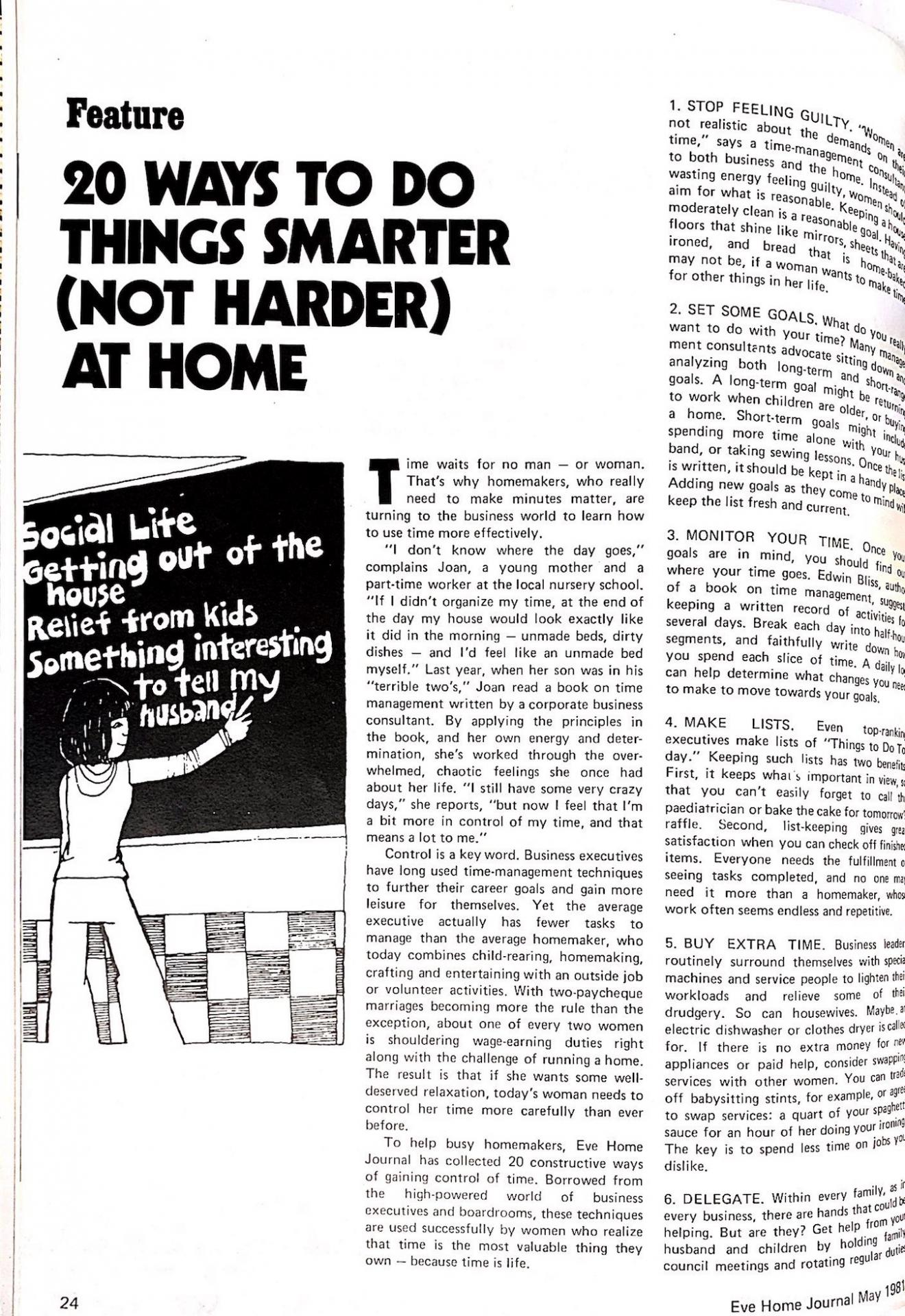 3. Monitor Your Time
Keep a written record of activities for several days. A daily log can help determine what changes you need to make to move towards your goals.
4. Make Lists
Even top-ranking executives make lists "Things to Do Today". It keeps what's important in view and a satisfaction when you check off finished items. No one needs this more than a homemaker, whose work often seems endless and repetitive.
5. Keep Things Where They're Needed
Having the right equipment handy can reduce the time spent on any task. So if the kitchen utensils you use daily are buried deep in a drawer, consider hanging them near the counter where they are used.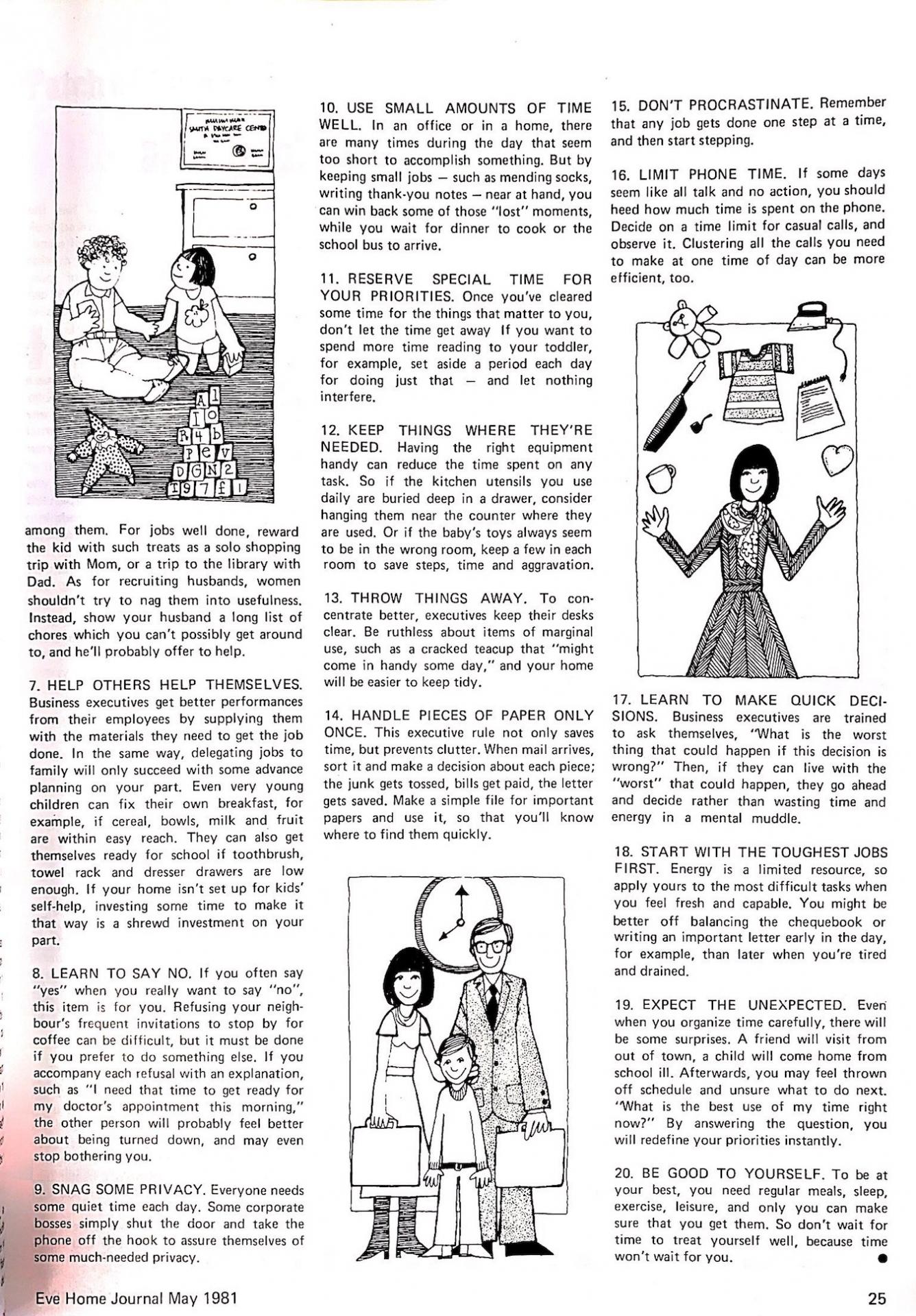 6. Throw Things Away
To concentrate better, executives keep their desks clean. Be ruthless about items of marginal use, such as cracked teacup that "might come in handy one day".
7. Handle Pieces of Paper Only Once
This executive rule not only saves time, but prevents clutter. When mail arrives, sort it and make a decision about each piece. The junk gets tossed, bills get paid, the letter gets saved.
8. Learn To Make Quick Decisions
Business executives are trained to ask themselves, "What is the worst thing that could happen if this decision is wrong?" Then, if they can live with the "worst", they go ahead and decide rather than wasting time and energy in a mental muddle.
9. Expect The Unexpected
Even when you organise time carefully, there will be some surprises. A friend will visit from out of town, a child will come home from school ill. "What is the best use of my time right now?" By answering this question, you redefine your priorities instantly.
10. Be Good To Yourself
To be at your best, you need regularly meals, sleep, exercise, leisure, and only you can make sure that you get them. So don't wait for time to treat yourself well, because time won't wait for you.
Cover photo courtesy of kikki.K.
See also: Discover Supermodel Miranda Kerr's New Furniture Line