"Previously, I rarely did these photo shoots," says a blazer-clad André with a laugh as we wrap up the final shot for our May 2019 cover shoot at the St Regis Hong Kong.
You wouldn't have been able to tell. The celebrated designer du jour, who has been holed up the past few days putting finishing touches to this landmark project before flying off to Milan for the international launch of his lifestyle collection André Fu Living at Salone del Mobile ("It's the first time we're taking it to a global platform"), is affable and cool as a cucumber amidst the bustling action and scurrying crew of editors, photographers, hotel managers and staff alike.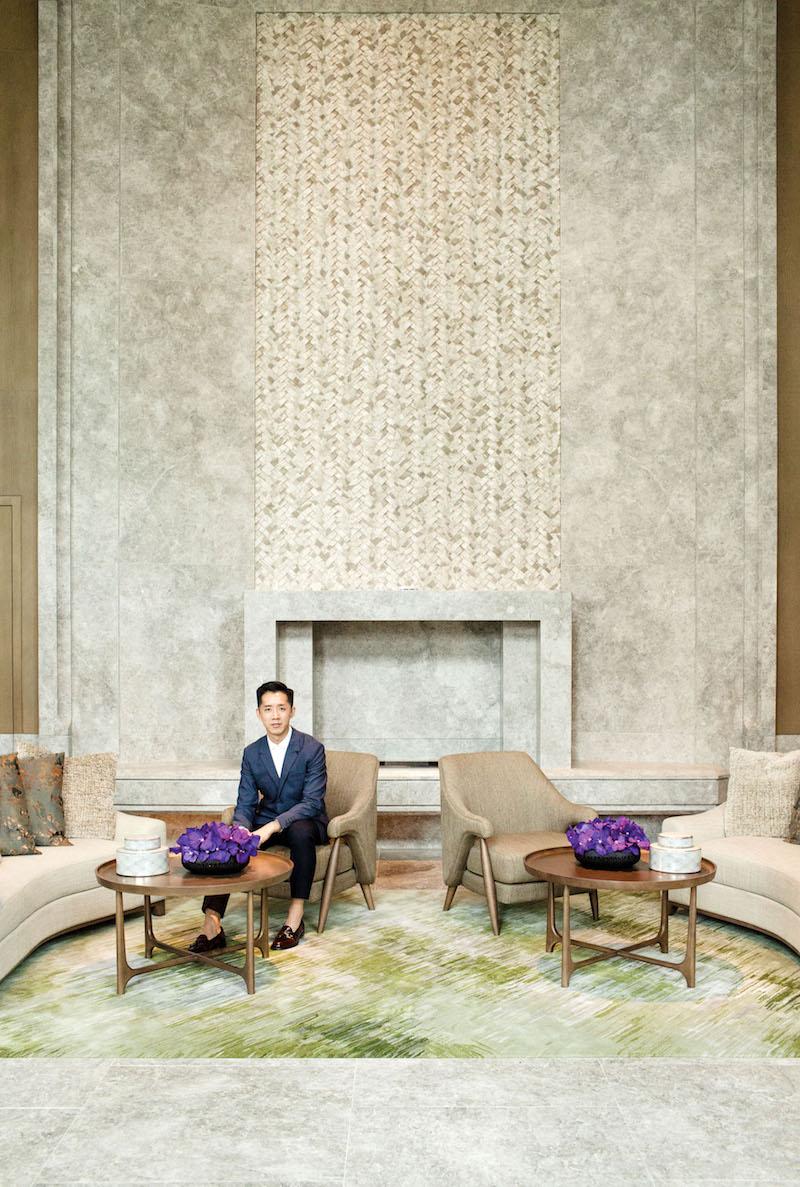 Sprightly even—especially when reflecting on some of the milestones and moments that marked his career, as well as some of the things that are currently inspiring him—travel, solitude, his home and an exciting crop of emerging talents on the design scene:
On designing his own collection…
André Fu Living really is a personal expression of myself. In the process of realising the brand, I really questioned myself: What should I do? How should I start? It's quite a refreshing situation because I never thought I would feel questioned by my own self.
On finding stillness...
I need time by myself. I need to find that inner calm; I think I'm quite good at it (laughs). A level of focus is also key. I do think quite a lot. Sometimes I say, "If you sleep two minutes less and that makes a difference, sleep two minutes less."
The real luxury these days is time. I'm learning to focus on what's key and critical, and sidetrack the more trivial stuff.
On Asian designers…
I'm a Hong Kong-born designer with an education background that transposes different influences. I've never looked at myself with a bracket. I'm a designer, I respond to what I do, and I'm happy to work in all locations I'm inspired by.
For me, it's more about having that global mindset that enables us to adapt, observe and interpret everything we see. I think that's important.
On his home…
It's a duplex apartment on the south side, with beautiful panoramic views from Deepwater Bay to Repulse Bay.
I did it quite simply. It's almost like a gallery—white ivory painted walls. We put in large parquet floors. There are curated objects I've collected from my grandmother's and uncle's home, prototypes throughout the years like furniture mock-ups, and some from the Living collection. A small collection of artwork, too.
On his career evolution…
I don't have a set goal, but I do give all of myself to things that I do. Perhaps there's been a degree of perceived success that has brought me opportunities; I want to maintain that open mind and just get on with it.
Having the Upper House as a launching ground for my career was a unique opportunity, even to this day, but I haven't pigeon-holed myself. You have to be aware of what's going on. You can't just blindfold yourself.
On young designers…
Travel more, see more. I think it's important to be culturally versed to be a designer and not just someone that responds to images. Only when you see something do you understand the proportions; you're not just gauging from a 2-D print.
On where he sees himself next…
To venture out. It's interesting when you're asked to do a second hotel in a city—what do you do? How do you differentiate? We launched Waldorf Astoria Bangkok and are looking at a second hotel property in Bangkok, and we're going deeper into Thai culture.
Nowadays, my idea of travel is to do a project because only then do you actually understand how they work, how they live and how they see their heritage—for me, there's nothing more interesting.
Read more: Heart and Soul: André Fu's St Regis Hong Kong Is An Emblem Of Heritage and Nostalgia