There's been debate for centuries as to whether creativity is something we are born with or something we can acquire.
Elaine Lim and Vince Lu, the dynamic young couple behind the New York-originated, Hong Kong-based design studio Lim + Lu, could be used to argue the former – that visionary talent is, in fact, inherent to certain people.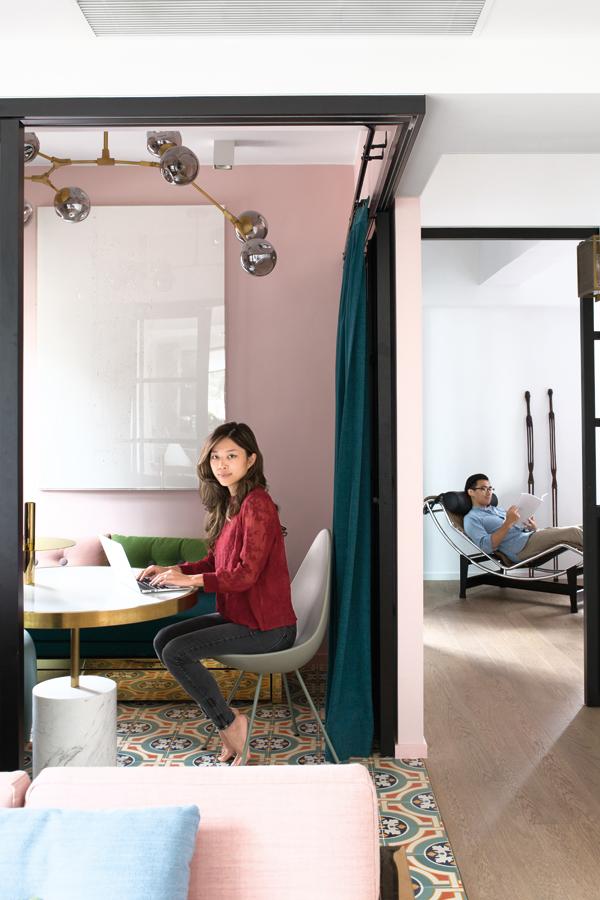 Elaine's parents are both artists and Vince is the son of architects, so it was a natural path that led the pair to Cornell University, where they met while studying architecture. From there, they moved to New York City and, after working for different firms, decided to establish their own, turning their focus inwards to interiors, furniture and smaller items. Finding the costs of producing prototypes in the US to be too high, Elaine and Vince made the decision to relocate to Hong Kong, where they would not only be closer to sources of production but also to their families.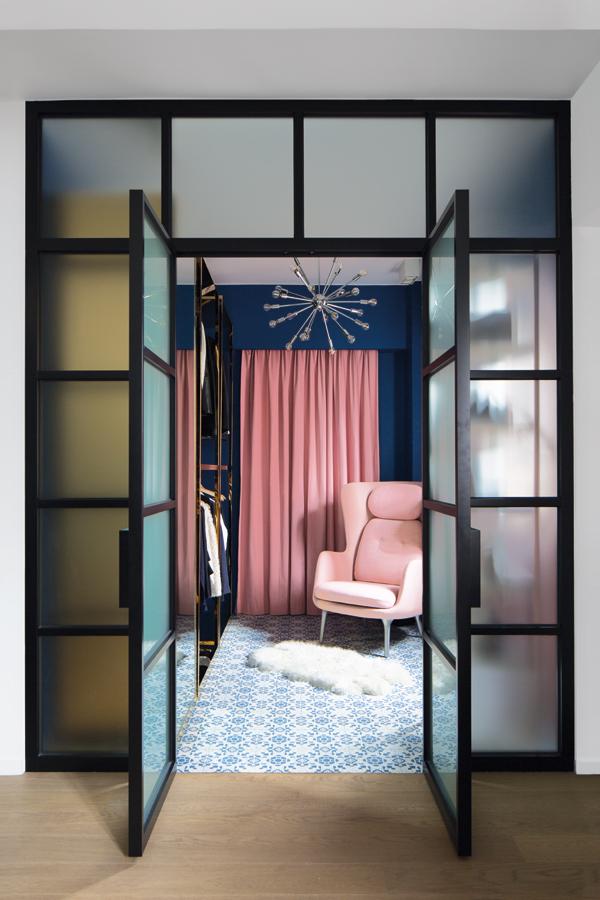 When they first found the apartment that was to become their home, it was a far cry from the fresh, light-filled dwelling it is today. This used to be a three-bedroom apartment; there were a lot of compartments to it, so it wasn't airy or open at all," says Vince. We were in New York for four years and we lived in a loft, so our first question was how to introduce a New York industrial loft into a typical Hong Kong apartment layout. And because it's rare to get loft spaces in Hong Kong, it was really about how to rethink the traditional apartment."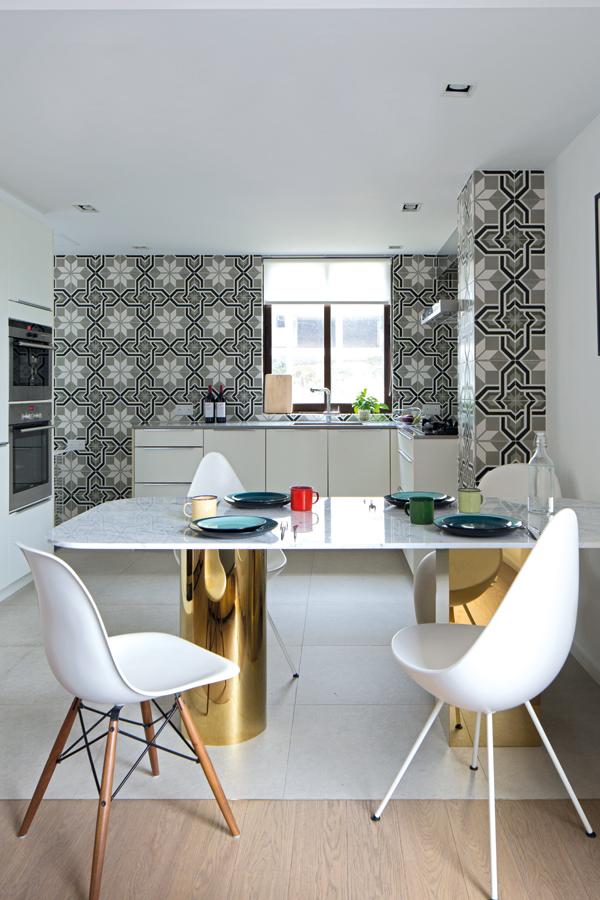 Colours and tiles play important roles in Elaine and Vince's design ethos, striking a balance between refinement and personality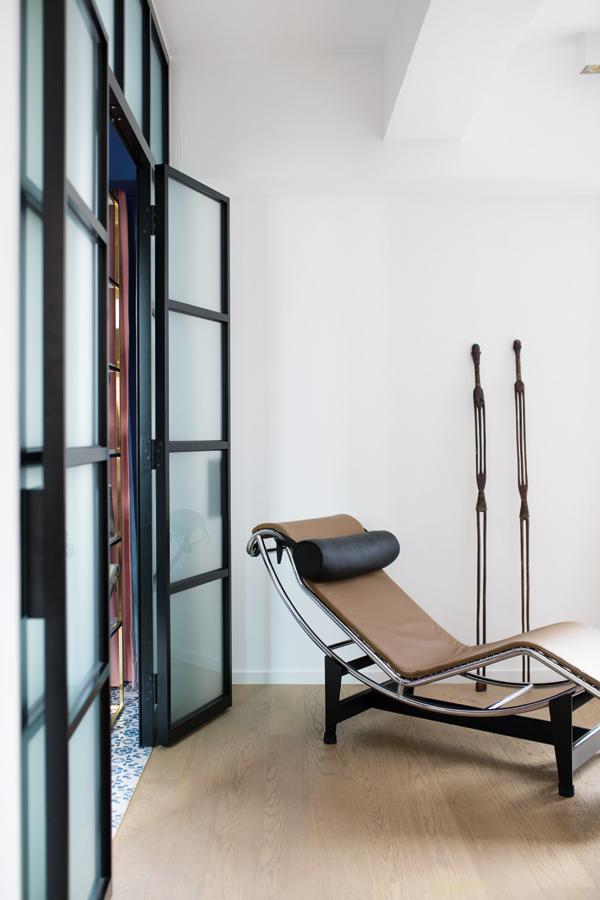 The first thing to go was the long, dark passageway that bisected the space. Our thinking was that with so many corridors in a standard Hong Kong apartment, you can waste a lot of space purely due to circulation," explains Vince. So we said, 'Let's get rid of all the corridors – and then all the corridor space becomes usable space.'"
See also: 7 Homes That Make Us Covet Small Space Living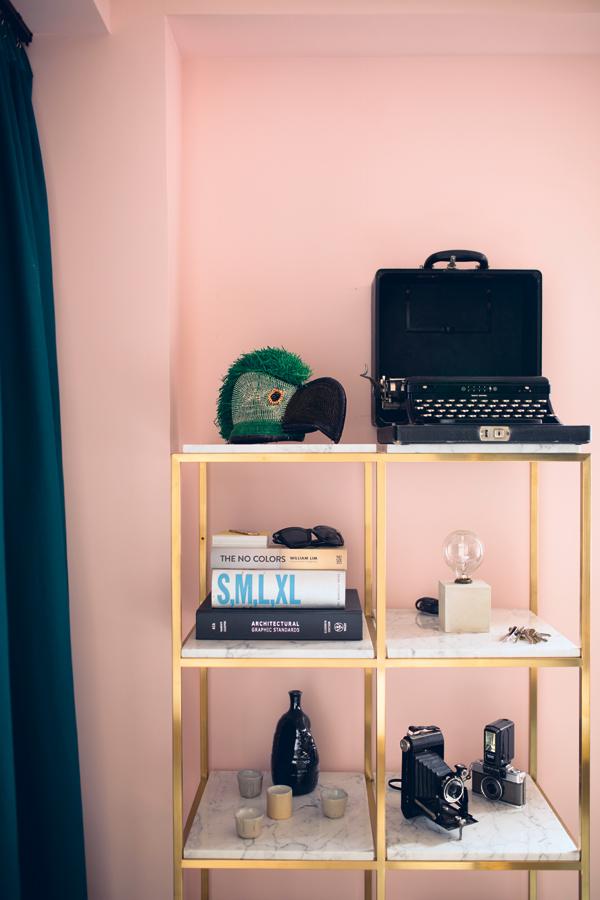 They arrived at an intelligent layout that comprises one main area – the living room and bedroom, interconnected by a continuous wooden floor and white walls – and what Vince calls support spaces" that serve as expansions of the primary space. One such setup has been nicknamed the pink room".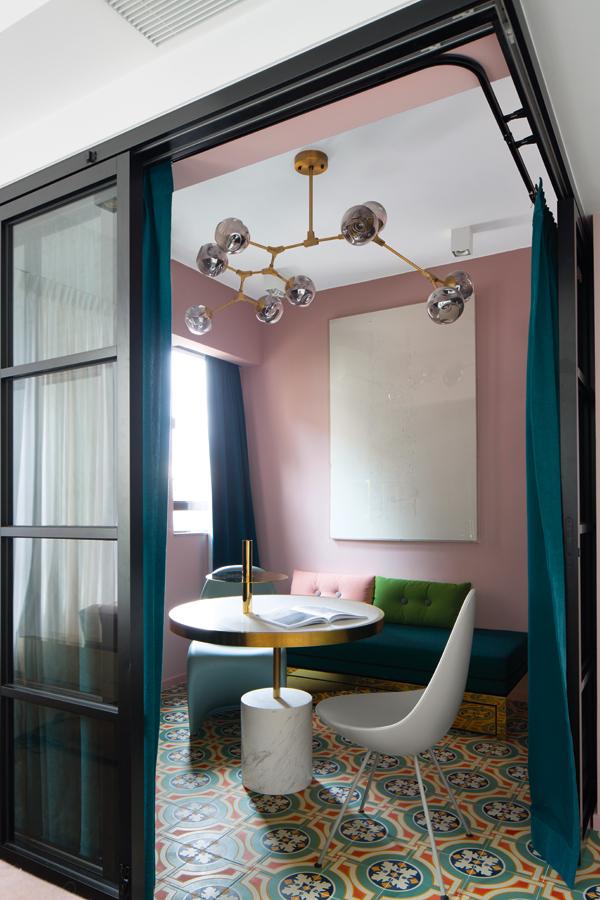 He explains, It's a study but also an extension of the living room. It's a different colour and when you walk into it, you feel a different texture underfoot, because all the extensions have cooler, tiled floors as opposed to the warm wood. I think the pink room, and some of the furniture pieces, really embrace our philosophy of flexible living."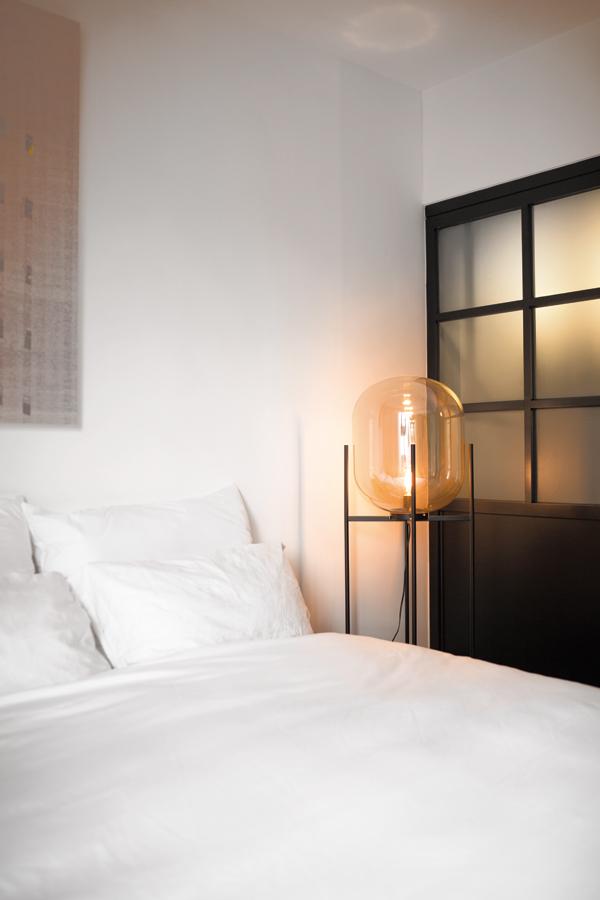 When the couple first moved in, all they had was a mattress on the floor. We moved in, settled down and then started to design what we really needed – it became like essentialism, almost. We basically designed everything except for the chairs and lighting, which was brought back from our old apartment in New York," Vince shares.
See also: A Celebration of Contemporary Flair and Vintage Aesthetics in Tuen Mun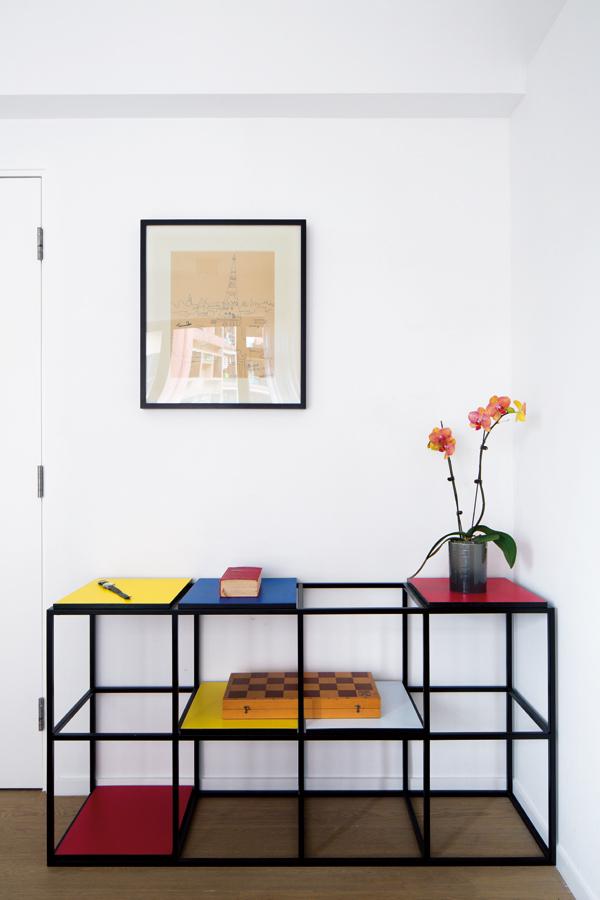 Furniture can be so static and so permanent that it can get quite boring – and we get bored really easily," adds Elaine, explaining why almost all of their appointments can be reconfigured or redefined. A particular standout piece is the frame table, a constantly evolving entity that adapts to the duo's daily, if not hourly, needs.
We moved in, settled down and then started to design what we really needed – it became like essentialism, almost."

— Vince Lu
Colour plays an equally important role in the couple's abode. Because we were both formally trained as architects, a lot of the things we were used to looking at were very monochrome," says Vince. But then when we started moving into interiors, we figured, 'This is real life.' It's not like practising architecture on paper or in the studio. People enjoy having colour in their living space. However, we try to keep a refined balance between the two; you have certain things that are very monochrome, which we set off with certain colours."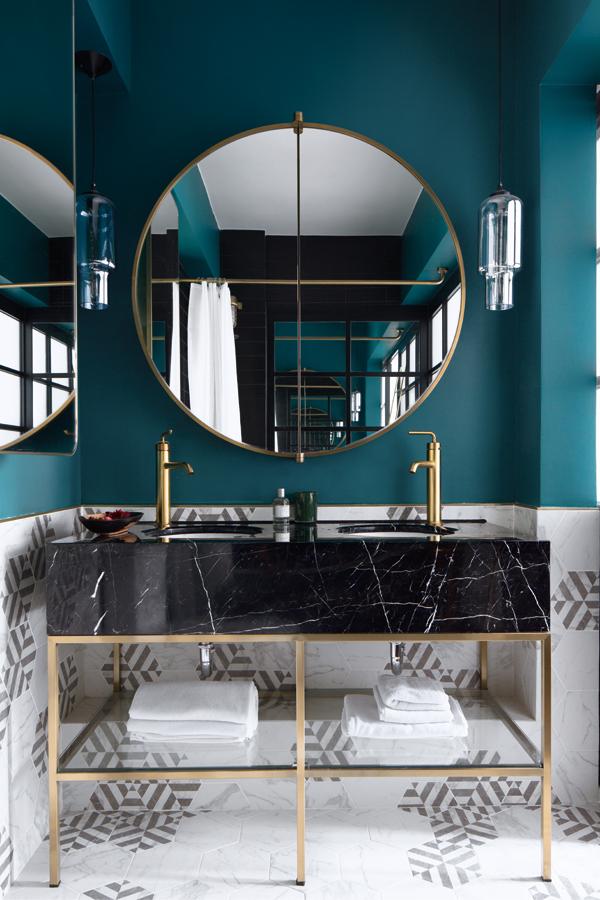 The most striking hues are reserved for the support spaces, from dreamy pinks to emerald tones, the latter of which adds a touch of glamour to the bathroom. A roll-top bath injects yet more opulence into the space, which was all Elaine's doing. I grew up in a house with a really big bathroom, so I'm not used to typical Hong Kong bathrooms, which are so overlooked. You don't enjoy spending your time in them," Elaine says. And I love taking baths, so I got what I wanted."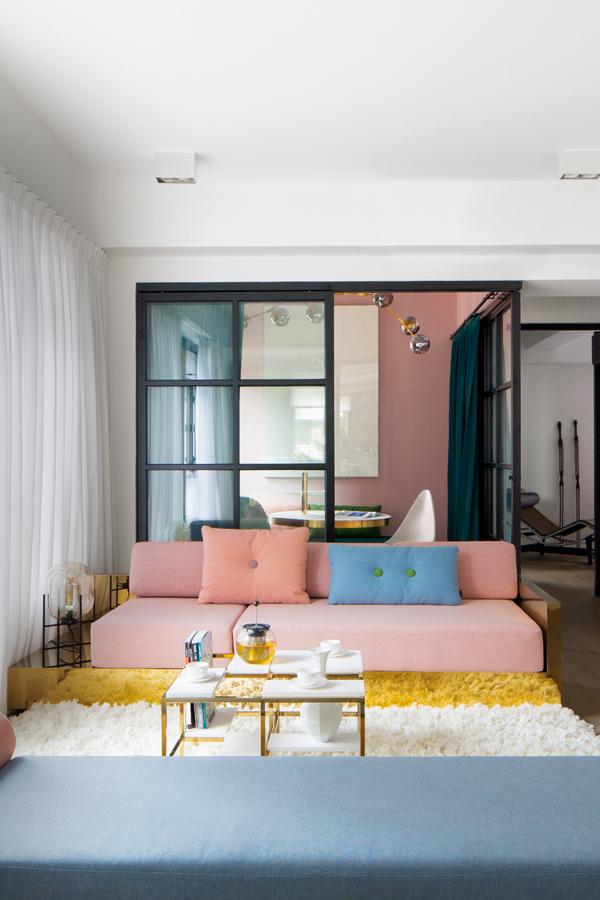 The open-plan living room, filled with furniture designed by the creative couple specifically for the space, flows into the bedroom and beyond
Indeed, it's evident that Elaine and Vince's home is very much a labour of love. The same amount of consideration has been devoted to each idiosyncratic, personal item on display as to the decor and furnishings. The collection started growing and kind of curated itself," says Vince. There's always a place for certain things. We want to curate the entire living space – which is why we have created furniture, products and interiors – because we believe that design is a lifestyle and we should see it holistically."
For more home tours and interior inspiration, visit our Homes tag.
A version of this article originally appeared in our April 2017 issue.
The post At Home with Elaine Lim and Vince Lu appeared first on Home Journal.