Ghislaine Vinãs speaks with certain understatement when she asserts that this is "not your normal home." Indeed, this four-bedroom apartment – on which she collaborated with architect David Hotson – is anything but ordinary.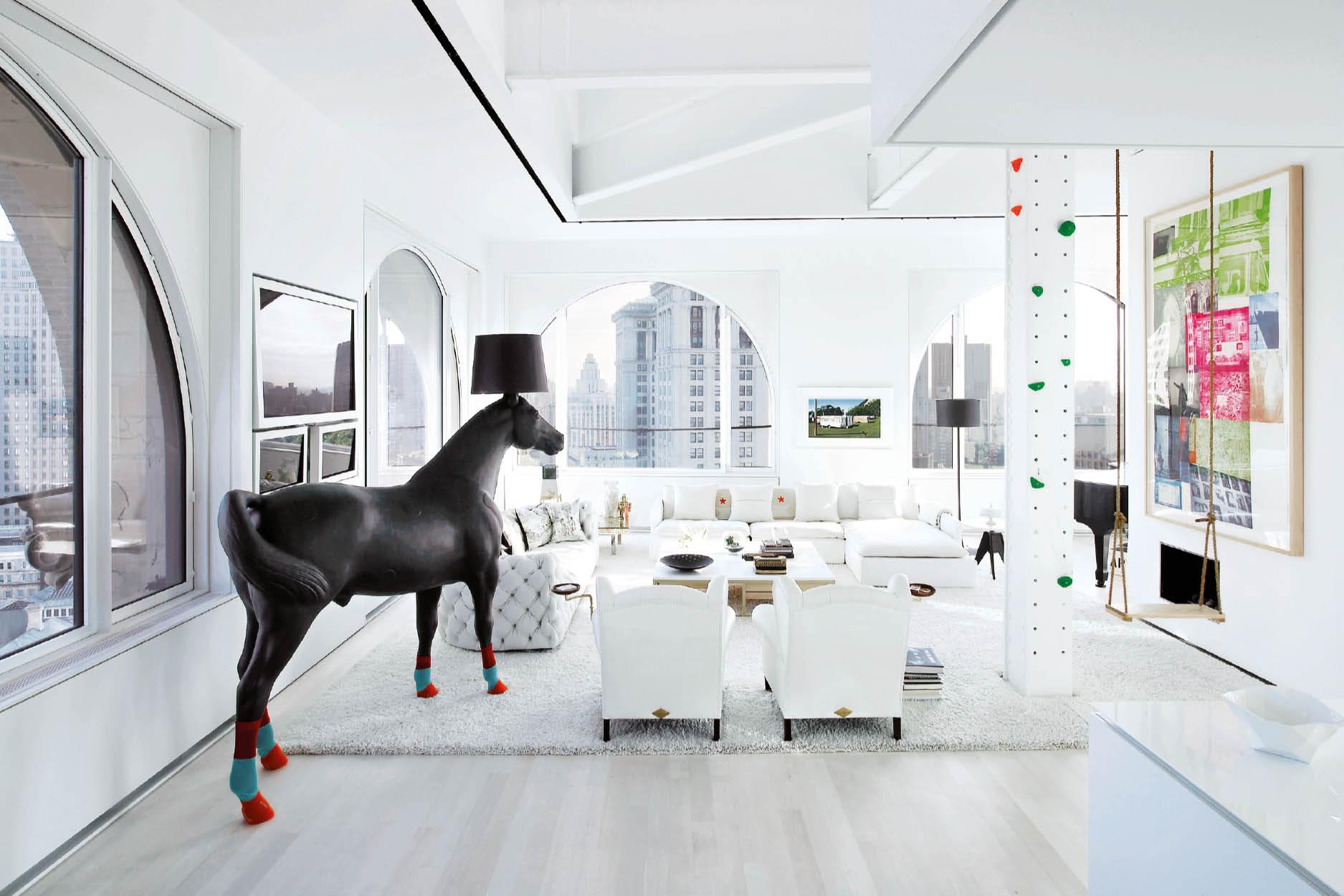 It is filled with a masterful interplay of intricate volumes and a wonderful sense of whimsy. Among other things, it features a 14-m-high living room, a 25-m-long slide and a 1,500-sq-ft terrace. There is also a swing, a climbing wall installed on one of the structural columns and impressive 360-degree views of New York.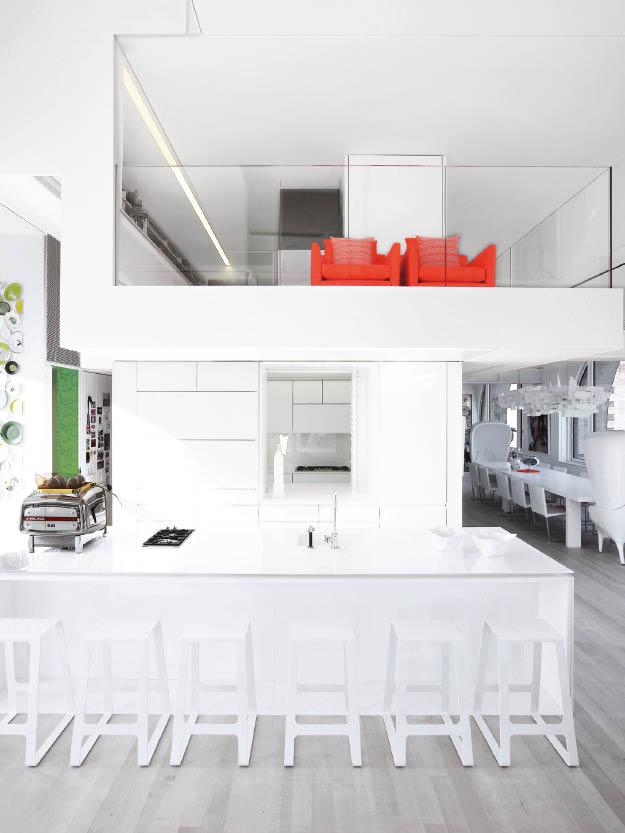 Located in Lower Manhattan, the 6,600-sq-ft space occupies the top four floors of a 21-storey tower constructed between 1894 and 1896. The building was converted into condominiums in 2002, but this unit was the last to sell. No doubt its complexity had something to do with it. With its sloping rooflines and arched windows, it is quite atypical. There was no air-conditioning, no domestic water on the upper level and just a tiny kitchen and bathroom.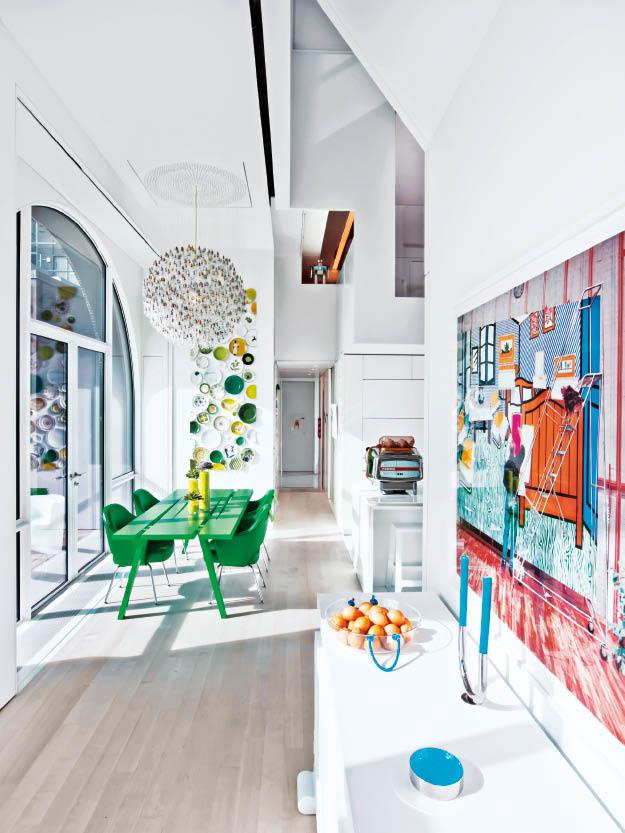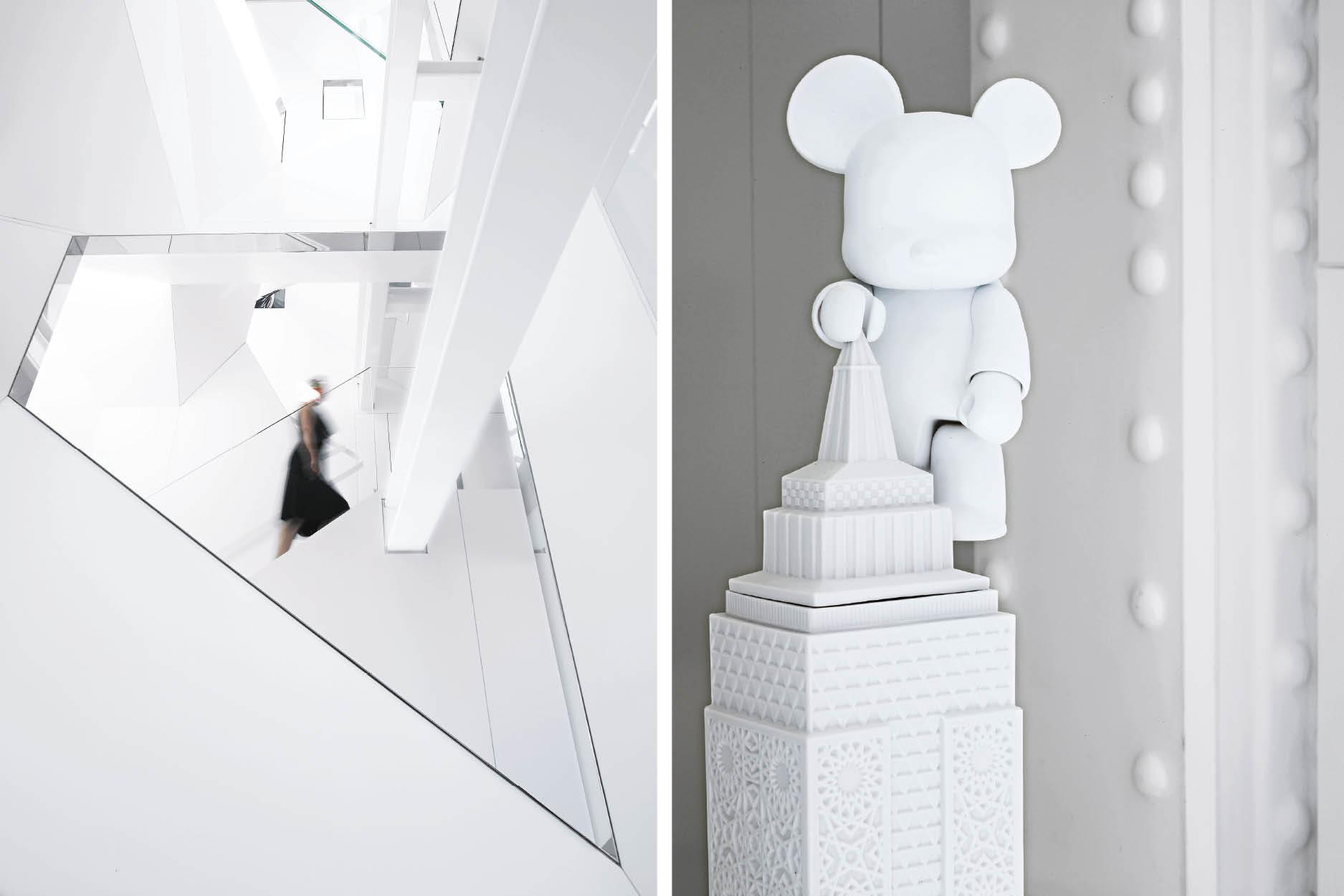 The current owners visited it by mistake. "It was advertised as a finished space," they remember. Still, they were not only undaunted by its challenges, but also actually excited by the possibilities of having so much vertical space – a rarity in New York. None of the space, however, was open, so there was no sense of the dizzying height. One of David's most strategic design decisions was to create a four-storey volume at one end, criss-crossed by a series of glass platforms and bridges that allow vertigo-inducing views up to the eaves and down to the living room.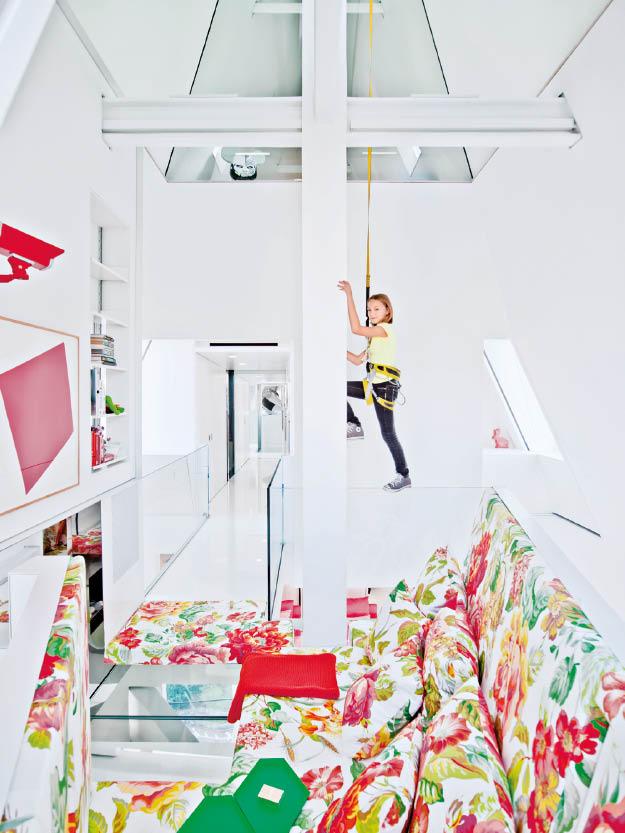 Stylistically, the clients requested something resolutely contemporary. "The outside of the building has copper cornices and terracotta tiles, and some egg-and-dart motifs," they explain. "We thought it would be fun to contrast that with something super, super-minimal and modern." More than anything, David was determined to create a breathtaking spatial experience. It is also deliberately confusing. "You can't really understand the apartment until you walk through the front door," he maintains. "You have all these somewhat disorienting, intersecting glimpses that escape your efforts at comprehending them. The space possesses you, you don't possess it." Walls are set at angles and there are various ways of moving through the apartment (you can, for example, access the office from the living room via a ladder). As you do so, you are treated to different visions of the same space. Ghislaine herself was originally flummoxed. "It's such a mind warp," she says.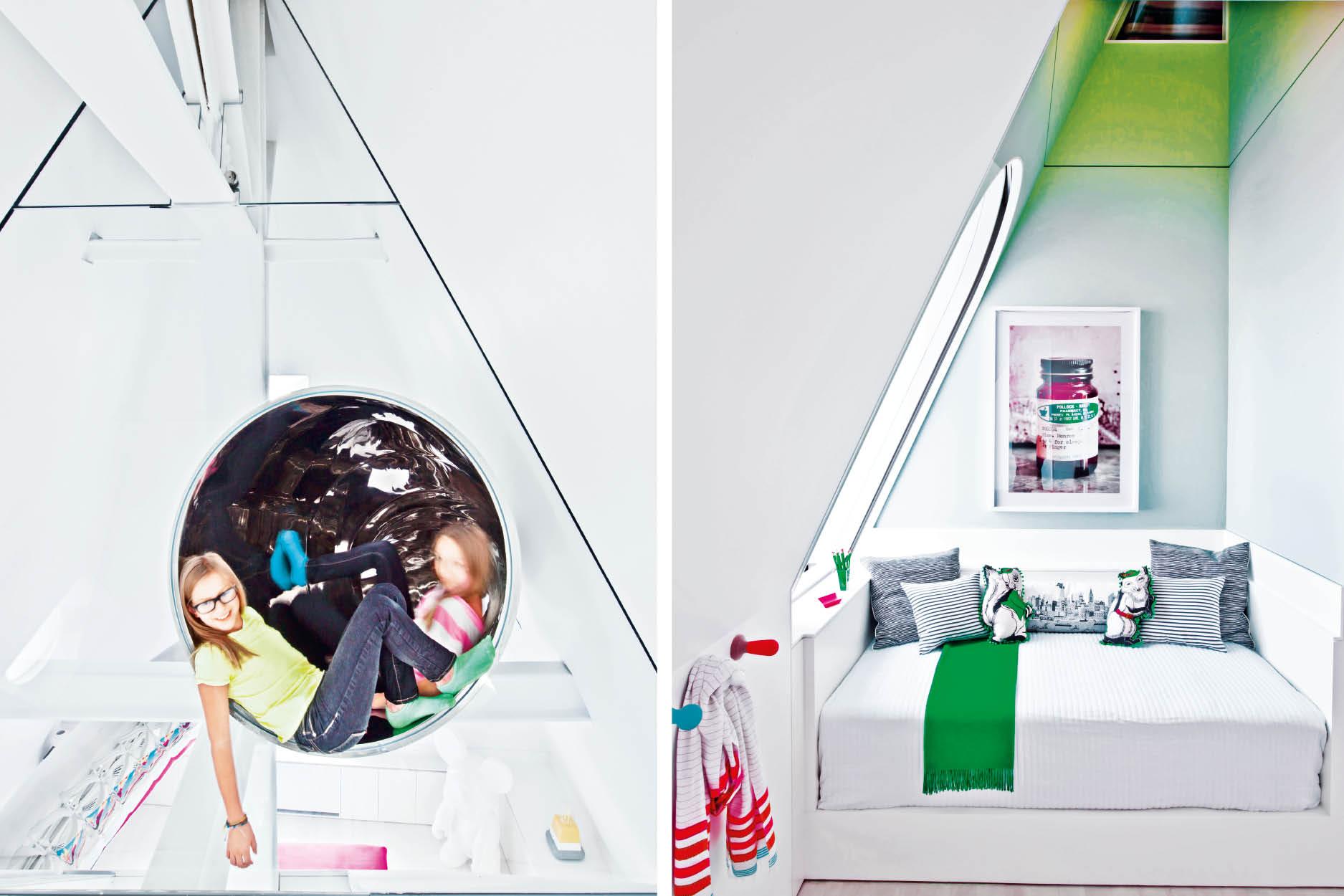 Her aim, however, was very clear: to turn this bravura architectural masterpiece into a home. Even so, she insisted on having a stark white backdrop. "It's almost like putting clean sheets on a bed," she opines. She also felt it would be the perfect canvas for her trademark pops of bright colour – she is a particular fan of greens and oranges (even the underside of the white dining table was painted tangerine). She incorporated hot pink and vibrant blue into one of the bathrooms, and egg-yolk-yellow into another. The clients, meanwhile, requested a few softer hues. The wife asked for Prada green, the husband wanted the living room to be cream.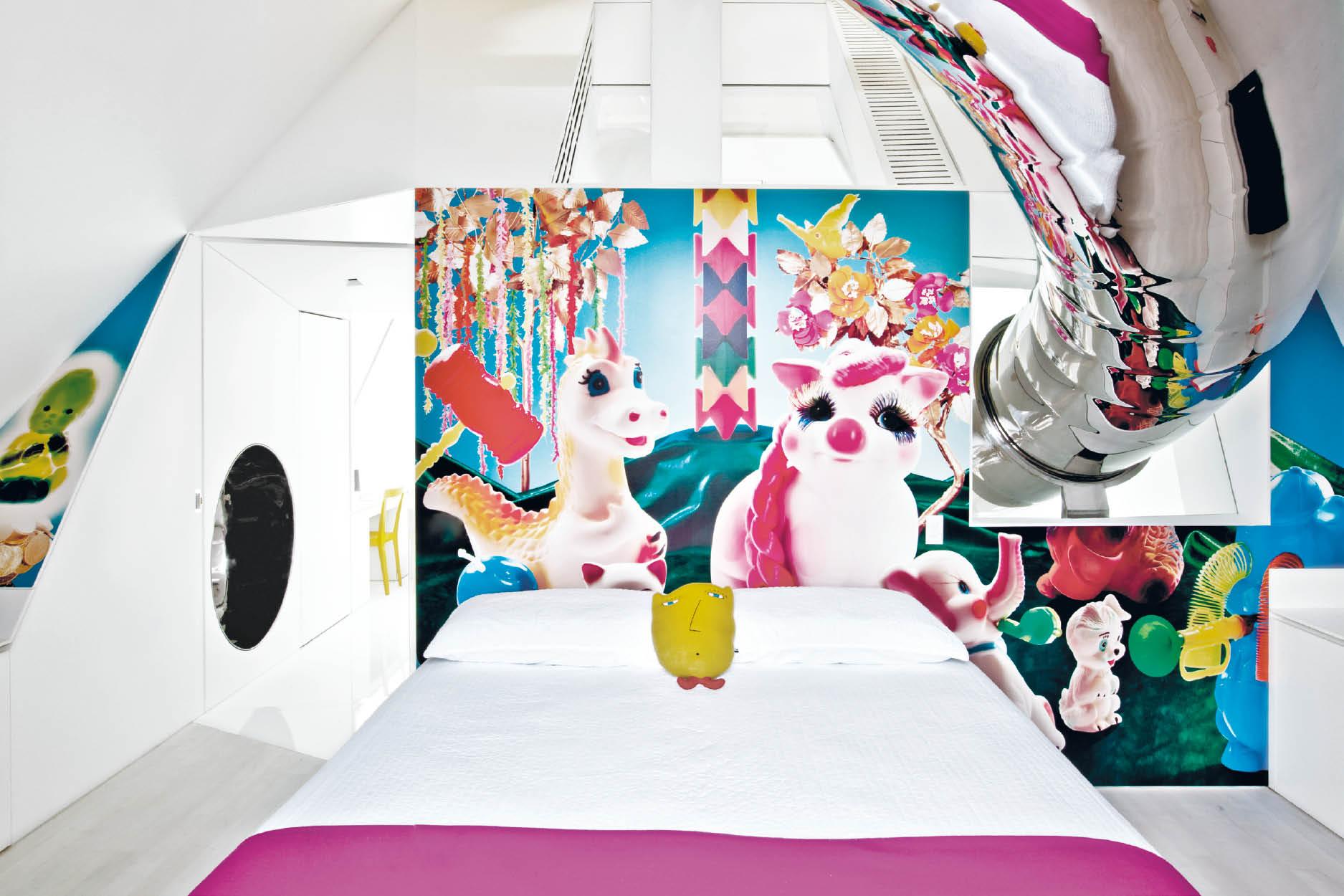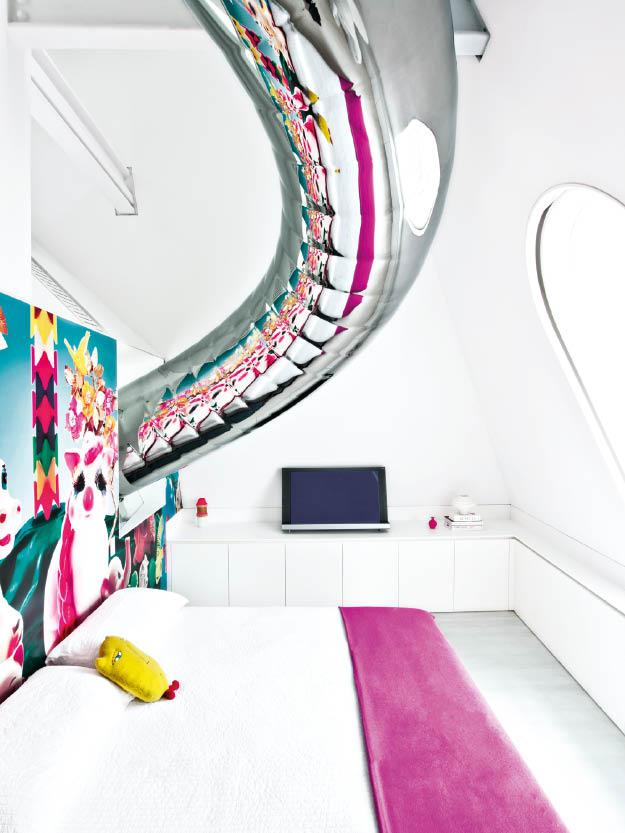 David readily admits they are not tones he would have chosen himself. "I was so enamoured with the spare, severe, white volumes. I was envisioning a very pale palette," he recounts. "David's work is incredibly pure," concedes Ghislaine. "I'm all about messing things up." Still, it was a tension that proved extremely exhilarating. As David notes, "that contradiction and the contest for attention between us was one of the really successful things about the project."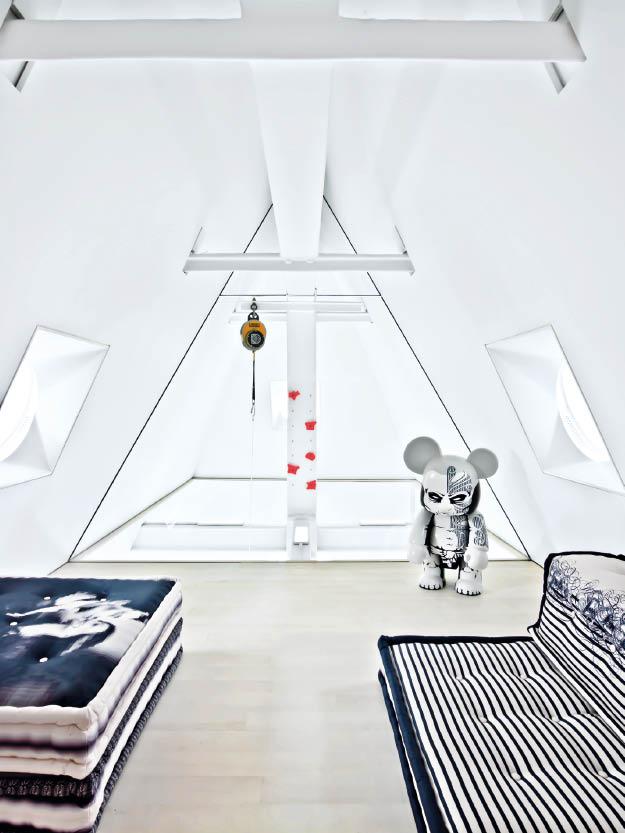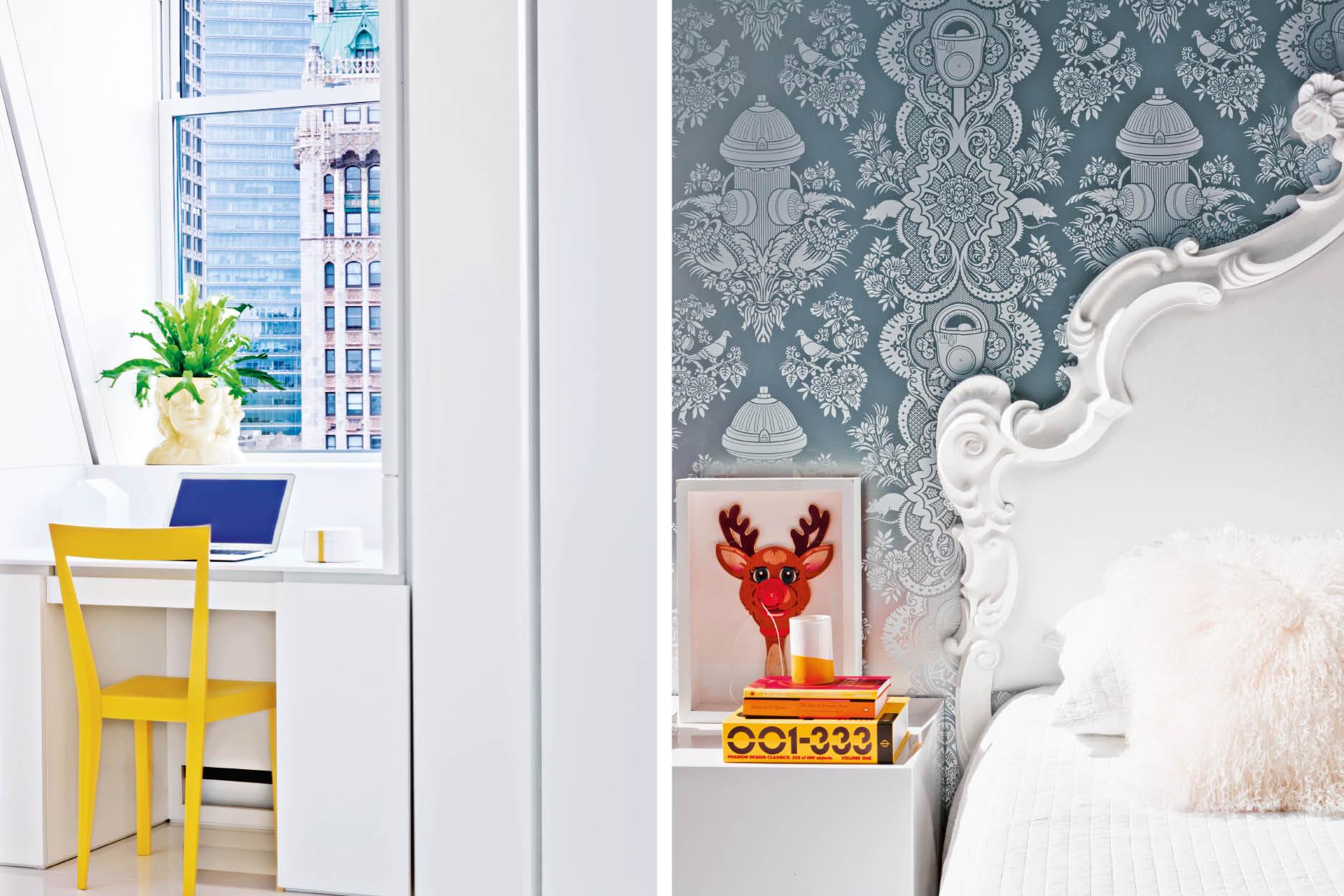 One thing they did have in common was the desire to introduce lots of quirky, tongue-in-cheek touches. And many of the most fun ideas actually came from the clients – including the stainless steel slide, which was inspired both by Carsten Höller's Test Site (2006) installation at London's Tate Modern, and Wallace and Gromit. It was fabricated in Germany, hoisted onto the balcony with a crane, and welded and polished in situ. "It's not just a toy. You use it to get down from the second floor really quickly," enthuses Ghislaine. That said, it does engender the occasional scary moment. "Every so often, somebody will completely freak out in a good way," quips the husband. "It's blood-curdling because it acts like a big gramophone amplifier. The first time it happened was with Ghislaine. It was horrifying. Then, we realised she was still alive!"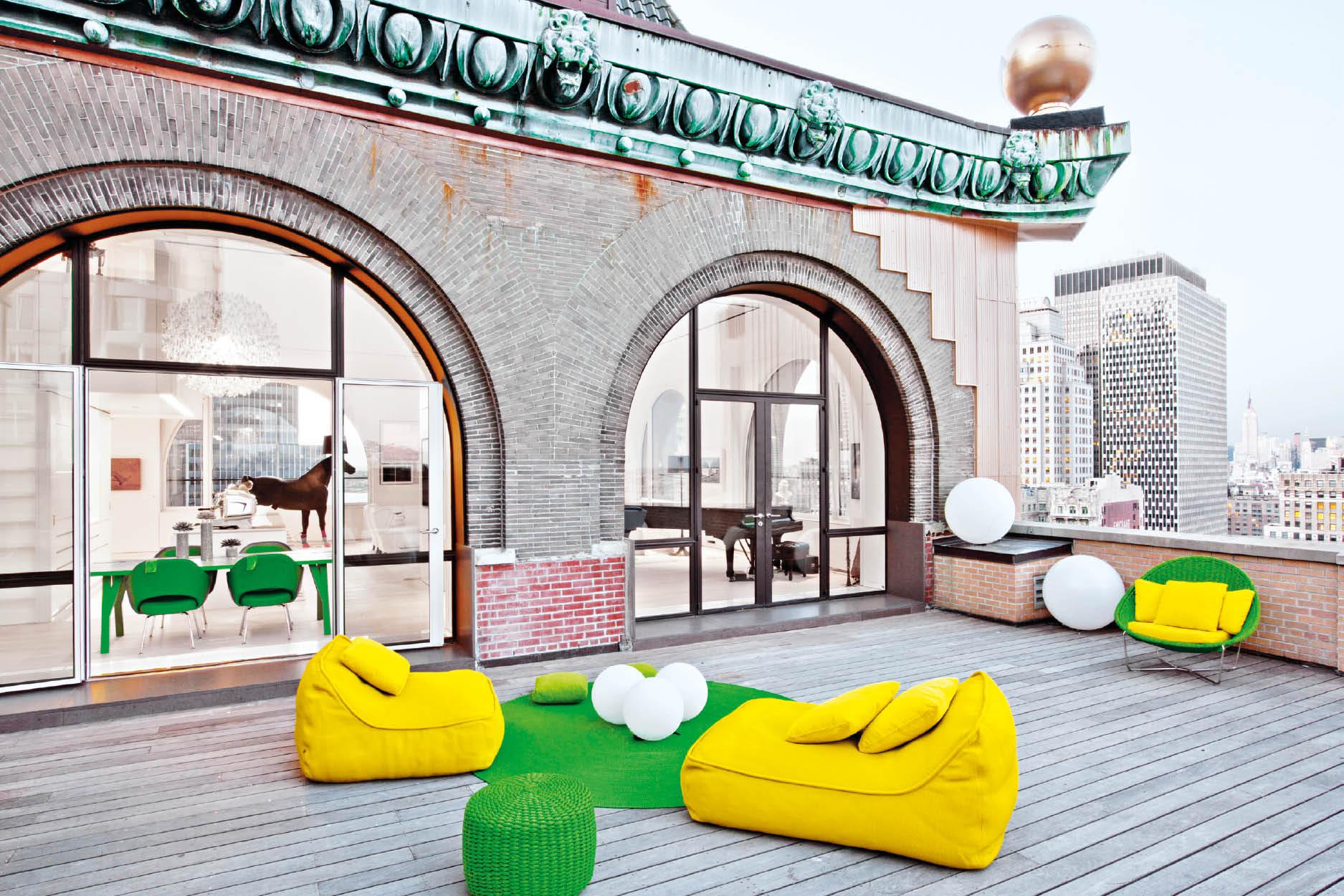 Photography: Eric Laignel | Tripod Agency
See more: Step Inside a Hong Kong Residence Inspired by the Japanese Philosophy of Wabi-sabi