Self-confessed perfectionist and aesthete Francesca Barrow founded Façonner to help brands better communicate their message in an often oversaturated market. To me, 'to curate' is to present something beautiful in a beautiful way, she says. That is what Façonner does – decides what is beautiful and how best to show it off. The Façonner space works much in the same way as an art gallery does – except that the 'art works' we curate are in fact the creations of design brands (interior, fashion and lifestyle products) and the 'gallery' is a private residential space which evokes the feeling of a home so that the spectator can envisage these items as if in their own life.
For a special seasonal shoot, Francesca styled this festive feast to showcase the elegant appeal of top African designers, including Halsted Design, Ardmore Ceramic Art, and Patrick Mavros.
Here are her top tips on dressing your table:
– I'm so bored of the neutrals that have dominated the luxury design market in recent years. I wanted to do something different and, being so inspired by Halsted's heritage, bring a little Africa to the table by way of prints, motifs colours and raw appeal.
– I'm an aesthete, so I'm going to say that the dinner party table needs to be designed to every last intricate detail because ultimately, along with laughter, it's this that makes it so inviting to sit down and stay a while.
– Glassware, cutlery and chinaware impact our senses and our enjoyment of what we eat and drink, so it should be the very best we have.
– The table must be visually enticing and have a good flow of energy to keep the party going.
– Don't be afraid to be bold. As with everything in design, the use of colours, textures and prints can be done in a way that is well-balanced and classic, rather than outlandish and overbearing.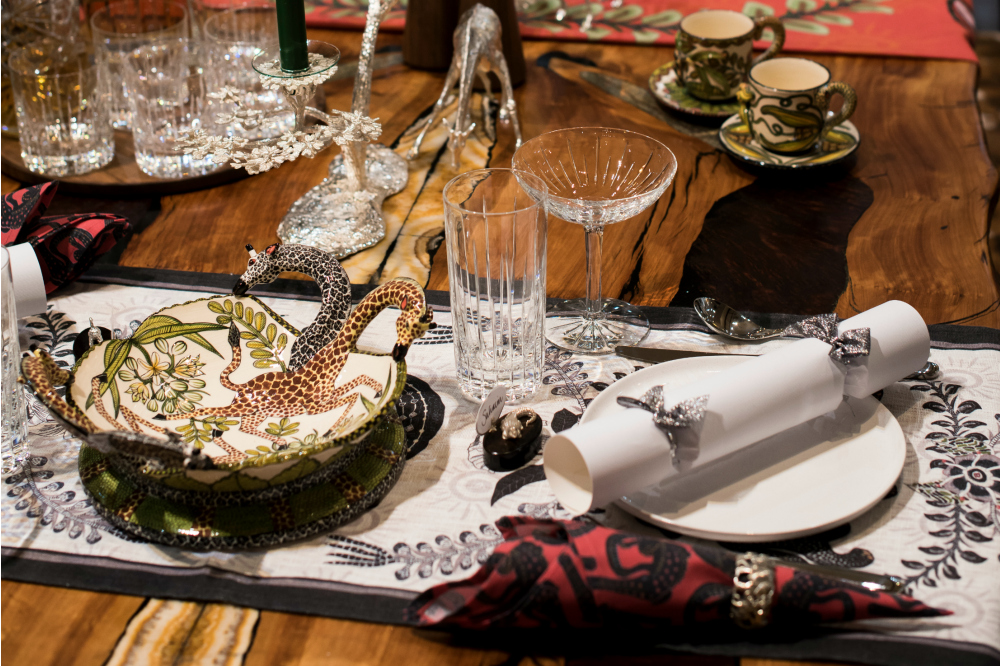 Original African artwork adorns statement tableware by Ardmore Ceramic Art, which is complemented with crystal-stemmed glasses from British luxury design house Linley.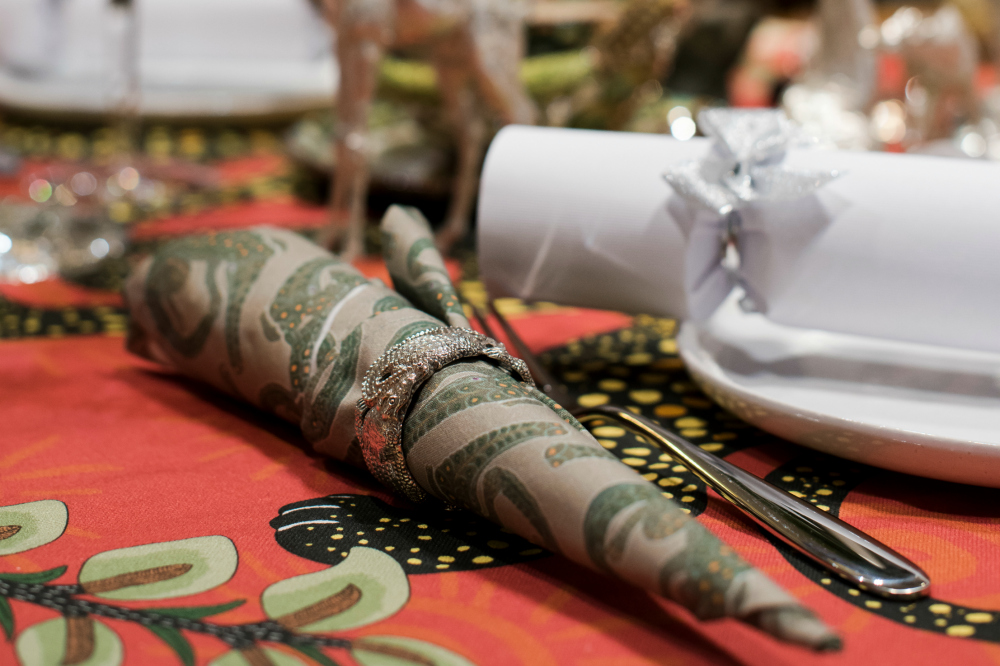 Contrasting prints from Halsted Design's debut collection on the table runner and napkins add sumptuous appeal to the table setting.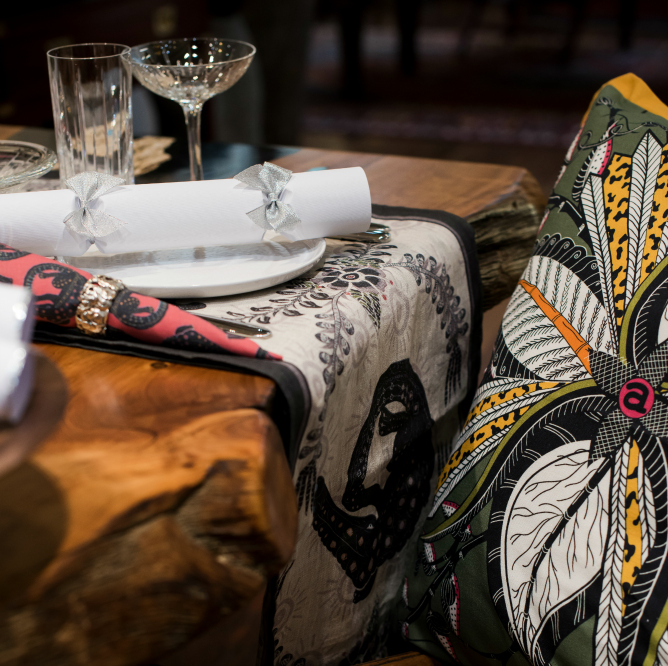 Halsted Design cushions inject pops of colour into the opulent palette.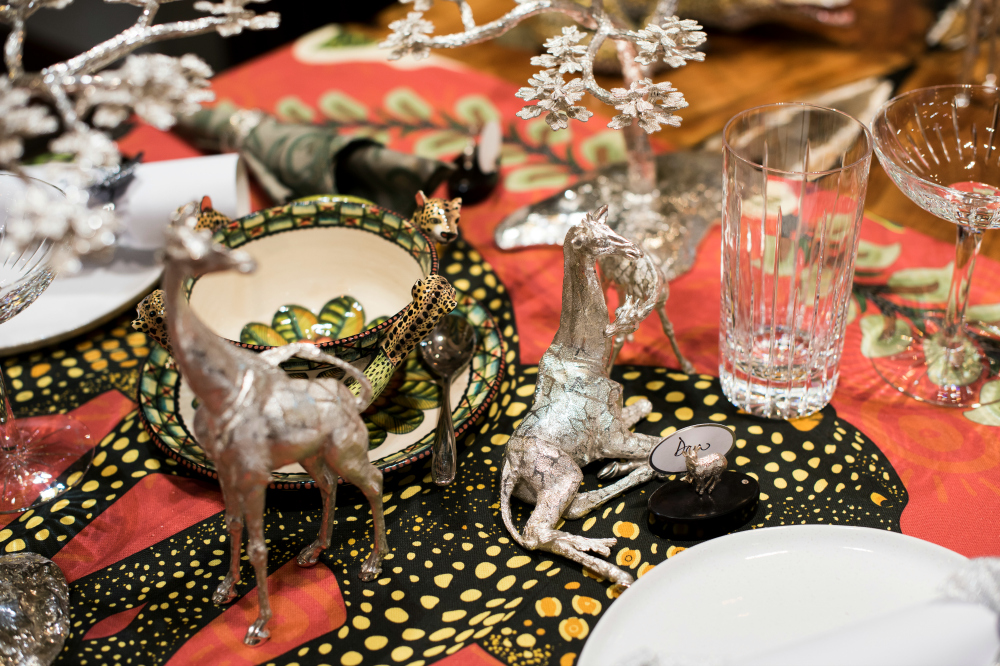 A detail shot illustrates the various materials and motifs at play.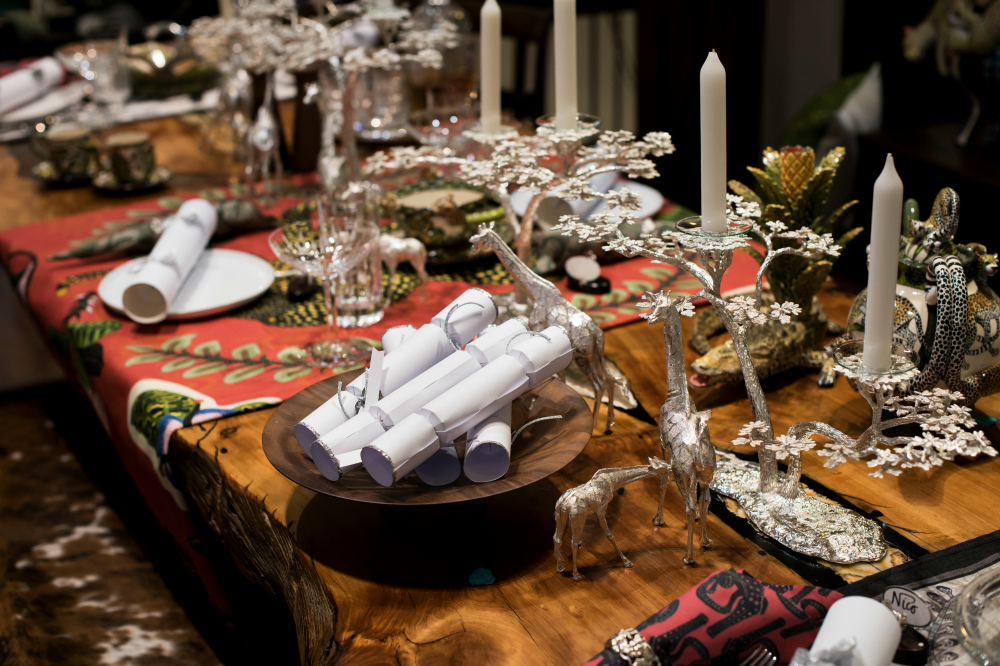 Sterling silver giraffe figurines and fari tree candle holders from Patrick Mavros evoke sultry scenes from the savannah.
The post An Elegant Affair: Francesca Barrow styles a seasonal spread appeared first on Home Journal.