Fuin founder Luke Fehon introduces us to a new way to live.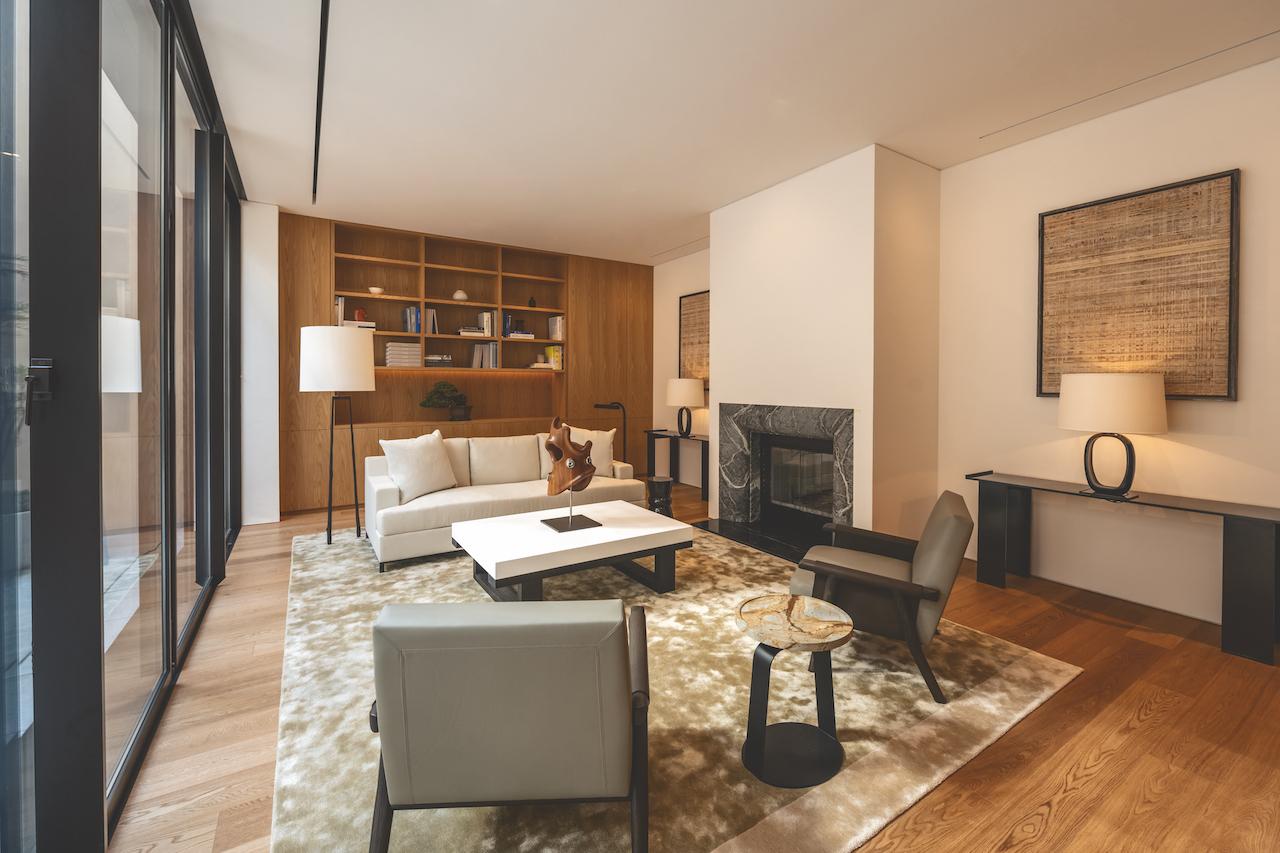 There's something about the space. There's something about the way the sun drapes light and shadow over it, imbuing it with life. There's also something about the quietness of its materiality, making it inviting, as though saying "come, but take your time". Come when you are ready to come home.
Because home is what it is, this space – that of AMOMA Hiroo in Tokyo – the residential project debuted by Fuin in January. Though amongst universities, museums, foreign embassies, and restaurants that sparkle with Michelin stars, AMOMA Hiroo is a world of its own, a getaway amid the cosmopolis. And it's all thanks to its space.
"Our homes are our foundation," says Luke Fehon, founder of Fuin. "The people who inhabit them, and the space itself, is a comfort, a refuge and a place to recharge, reflect and prepare for all the challenges and joys life has to offer."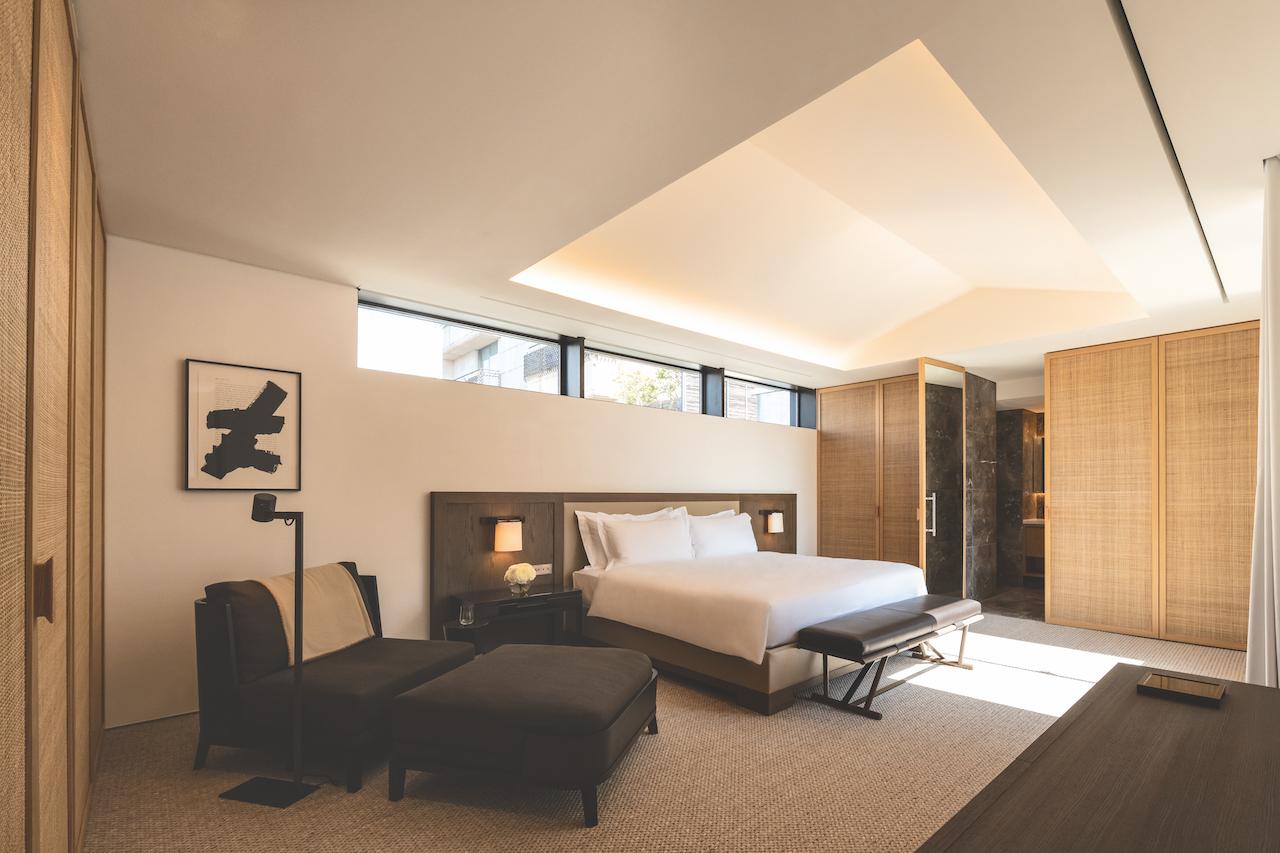 It's an ethos that's evident in the spaces of AMOMA Hiroo, a sanctuary of seven two- storey homes set among gardens, enclosed behind an understated entranceway. Clean lines, a muted palette, textures evocative of nature, and elevated planes permeate the residential enclave.
There's a richness to the space – the kind that comes with the confidence of its material and conceptual foundations, the kind that reassures you: here, you can make yourself at home.
A collaborative effort among Tokyo interior design studio Wonderwall, French interior styling atelier Liaigre, and Japanese horticultural studio SORA BOTANICAL GARDEN Project, led by Seijun Nishihata, AMOMA Hiroo features three unique interiors across its seven homes, ranging in size from a spacious 3,100 to 4,000 square-feet.
Each design is governed by an emphasis on the effortless flow of movement, energy and light. Oak wood, glass, stone and patinated bronze create a calm and meditative environment. In addition to the communal gardens, each home is blessed with its own tsubo-niwa – a type of small garden typically foundintraditionalJapanesehomes.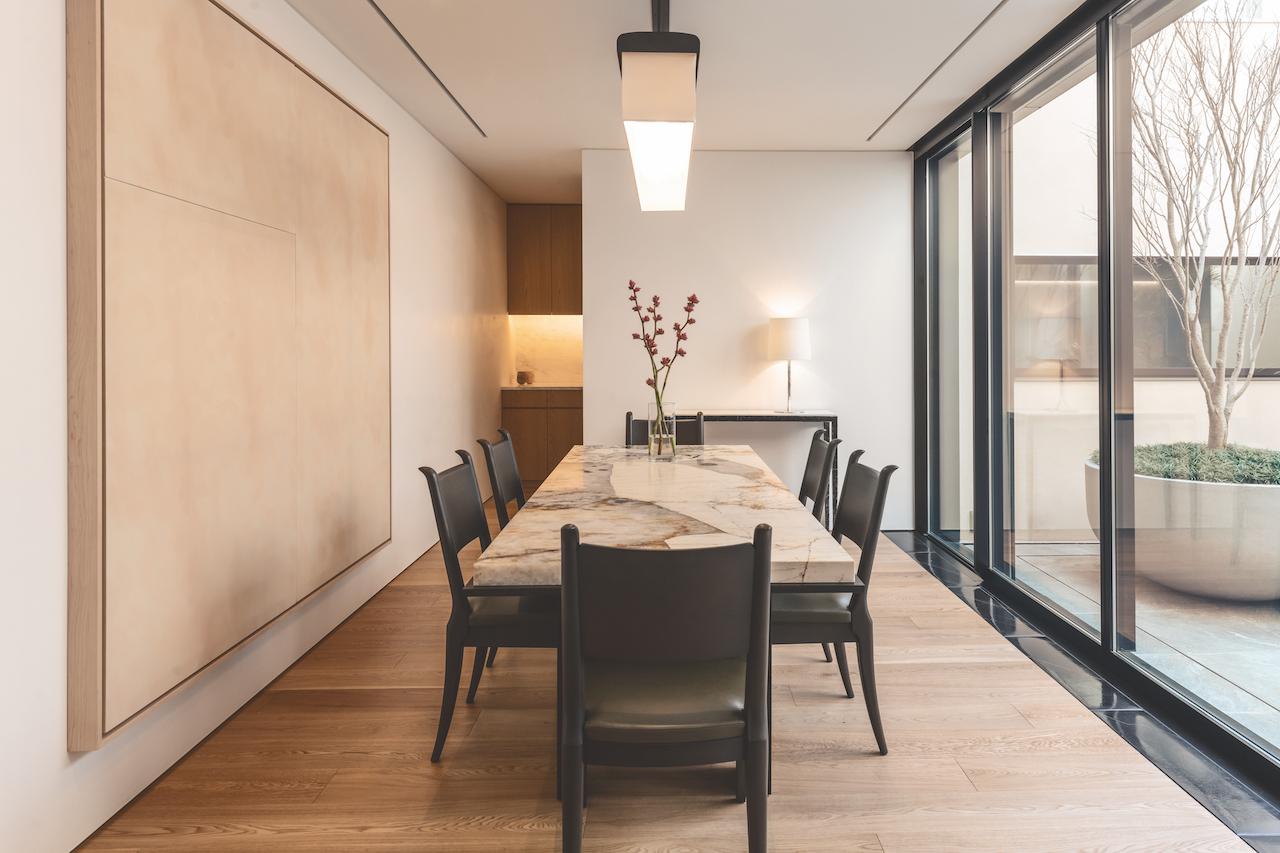 "We approach every project with a sense of reverence for the natural conditions in which it exists," Fehon says.
"Space, volumes and materials are conceived to craft a nuanced environment that elicits a sense of calm and relaxation. Ultimately, it must be a pleasure to inhabit these spaces."
And a pleasure it is, indeed. The natural world outdoors continues inwards, toward the interiors of each home, in the black marble stairways, the oak wood touches, the daylight that spills in through the windows, and the pebbled courtyards. These details are complemented by marble textures and hues of grey and off-white.
In the master's bedroom upstairs, a complete at-home spa experience awaits in the Hinoki wood tub – a kiss of indulgence. The kitchens, punctuated by appliances and fixtures by Bulthaup, Miele, Gaggenau, and Dornbracht, are customisable to owner specifications. Furnishings, from the dining tables and the lush sofas, to the kitchen cabinets, are courtesy of Liaigre, the high-end interior styling brand exclusively distributed by Fuin.
Residents at AMOMA Hiroo can also retreat to the on-site fitness area that is adorned with Japanese shoji screens and state-of-the-art gym equipment.
Still, that's only half the experience. If you're a resident of a Fuin property, rest assured you will be taken care of. At AMOMA Hiroo, residents can tap into an array of bespoke services and lifestyle experiences, including concierge assistance, discreet housekeepers, private chefs and personal trainers, all of whom are available around the clock, upon request.
The jewel among these offerings is the access to a fleet of Rolls-Royce Phantoms, complete with experienced chauffeurs who are at the ready to take you where you need to be, plus a one-year VistaJet membership which comes with access to more than 70 private aircraft.
"Luxury is a haven from the world outside, where you have the space to calm your mind, relax and enjoy intimate moments," Fehon says.
"We create spaces with an obsessive attention to detail, executed to the highest standard in the most discreet of locations."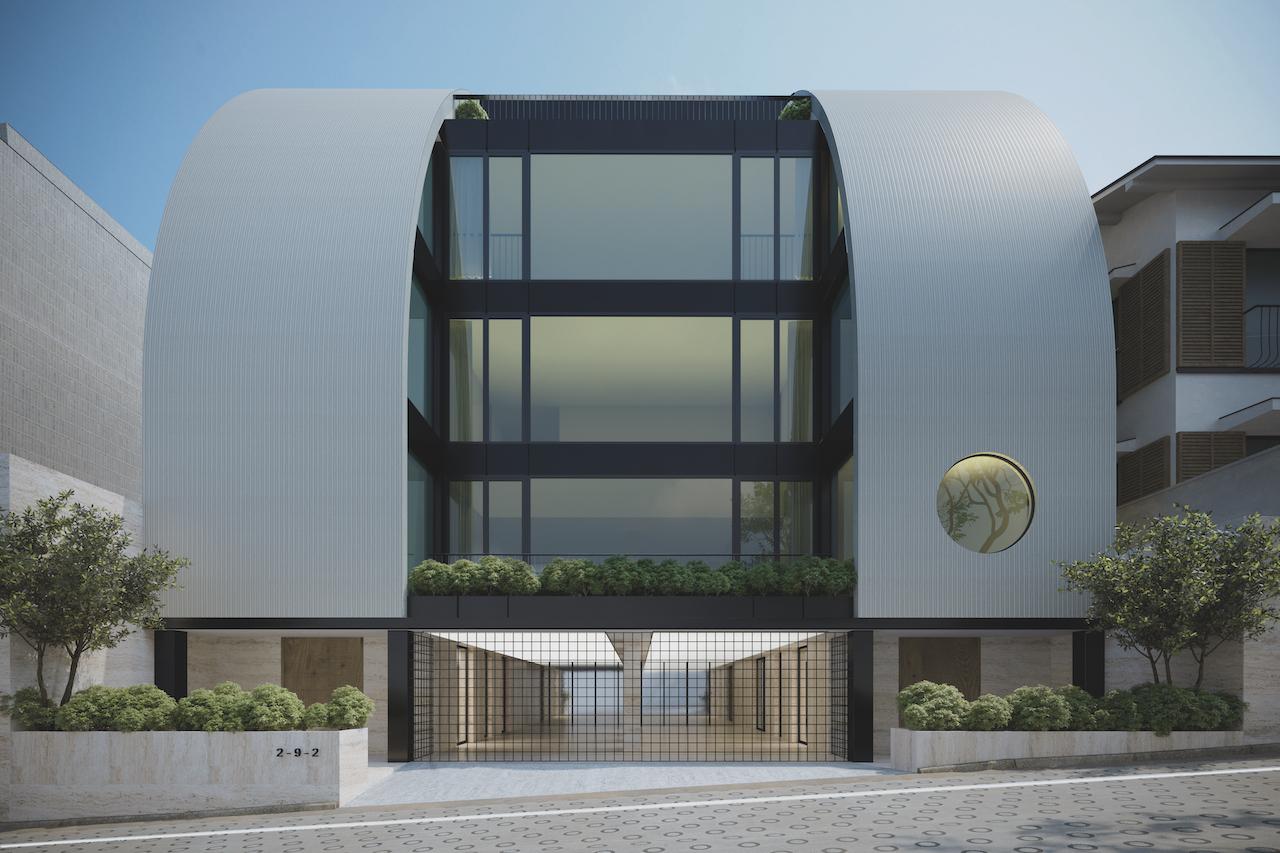 It's a standard that's indisputable, especially when you take a look at another such space: AMOMA Minami Azabu, a five-minute drive from Hiroo. The commanding structure is suffused with inspiration from Brutalist architecture: white, stately ribbed curvatures flank large black-framed glass façades. Within its surrounds are grid-like gates and circular windows.
Only two three-bedroom homes co-exist here, a rarity that adds to its appeal as perhaps the most unique residential landmark in the city.
The homes are situated in the bottom and top halves of the five- storey building, accessible through private lobbies on the ground level. Upwards one way, a light travertine staircase leads to the second level, home to the gathering spaces: the dining room and kitchen, living room, terrace and garden. There's also a guest bedroom and en suite bathroom. Massive glass windows bathe the space in natural light.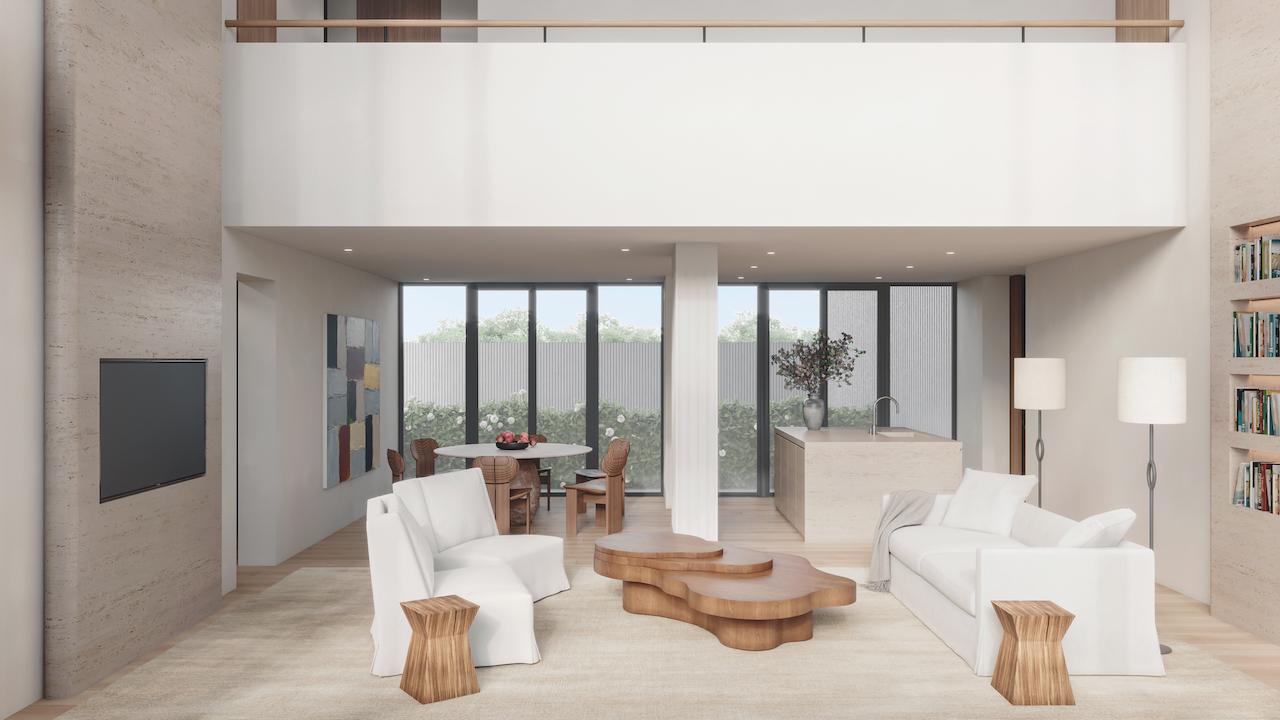 Up another level, and you'll come to an additional bedroom and en suite bathroom, as well the master's bathroom. Herein lies the crux of home life and luxury: at the end of a walk-in closet corridor, outfitted with oak wood, sits a travertine bathtub. This, here, is a world away from the rest of the world.
Back on the ground level, if you were to ascend the other way, you'd have two options for your route: via stairs, as in the first residence – which totals 2,832 square-feet – or a private lift. This leads to the fourth floor, home to the 3,358 square-foot residence's sleeping quarters: two bedrooms, each with en suite bathrooms; a dedicated laundry facility; as well as an expansive master bedroom, replete with a massive open-plan walk-in closet and, yes, a tub of its own. The vast space is topped only by the most arresting of views – shared by the person still in bed, and the one luxuriating in the bath.
On the topmost floor is a spacious open-plan living and dining area, kitchen, restroom, terrace and garden.
Fehon's obsession to detail is, arguably, rivalled only by Chad Chanvipava, the designer and founder of Studio Philo. The young interior design firm launched in spring of 2020, and counts AMOMA Minami Azabu as one of its projects.
On the communal levels, designed for gathering, double-height ceilings create a spacious and airy feel. Furnishings from Liaigre, and other complimenting period furnishings, punctuate the various spaces, while a consistent palette and texture motif of white Shikkui plaster throughout the walls, ivory ribbed concrete columns, dusty beige travertine in the lobby, kitchen, and bathrooms, and light brown oak wood across the floors create a calm and anchoring environment.
The simplicity and intimacy of these features are both intentional to the space, and central to Chanvipava's approach to design.
"Luxury is expressed through the selection of honest materials used in each room," Chanvipava says. "It's creating spaces that have been carefully examined and designed to achieve its functional purposes, as well as an aesthetic pleasure."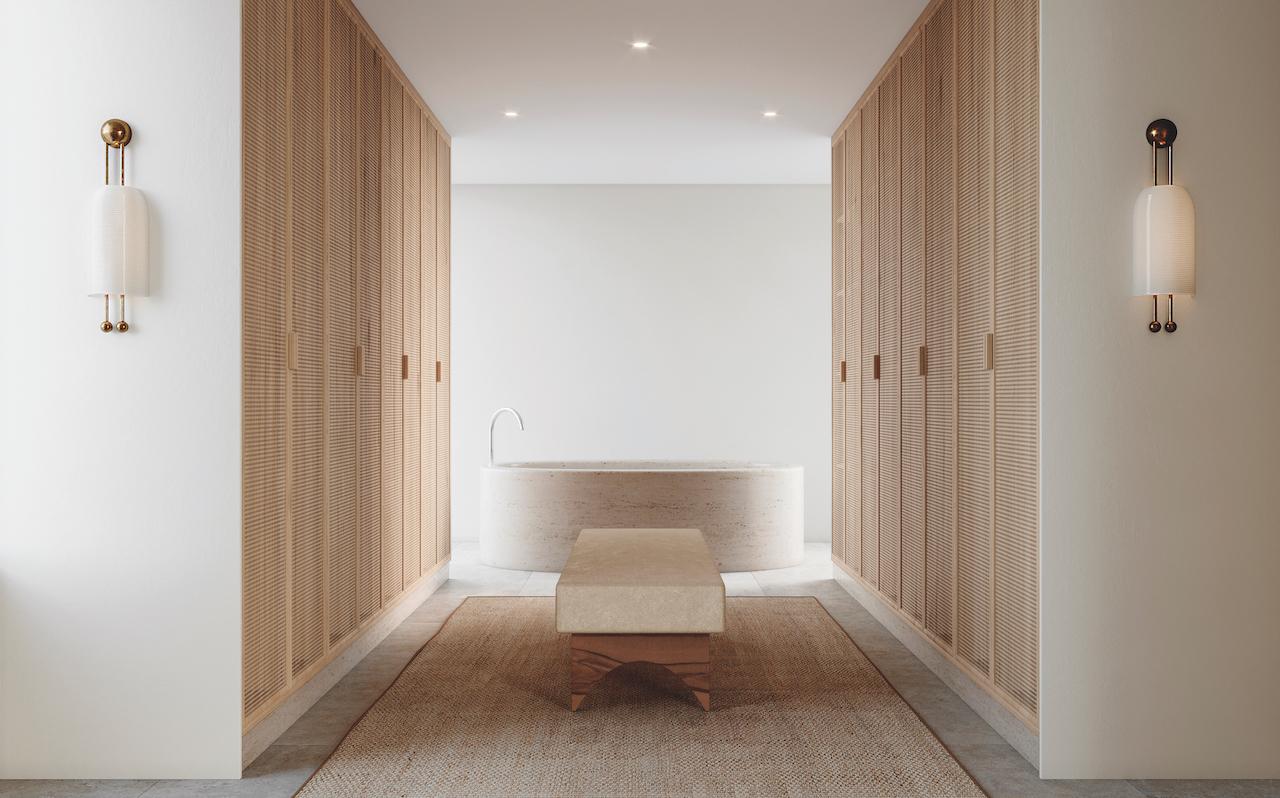 Residents at AMOMA Minami Azabu likewise benefit from housekeeping services by request, as well access to AMOMA Hiroo's fitness facility with round-trip transportation provided by a fleet of chauffeur-driven Roll- Royce Phantoms. There's also a VistaJet membership, and its access to private aircraft.
It's a life of utmost luxury that awaits every AMOMA resident. But what does luxury even mean today in a world rocked by a global pandemic?
Fehon has some ideas. "For many, this has been a forced period of reflection," he says.
"We have had a moment to pause and reassess our priorities, what truly matters to us, what brings us joy, and the things in our lives we'd be better off without.
"These extended periods at home have reinforced how important the environments that we inhabit are to our state of mind and wellbeing. This is something worth investing in and fully appreciating."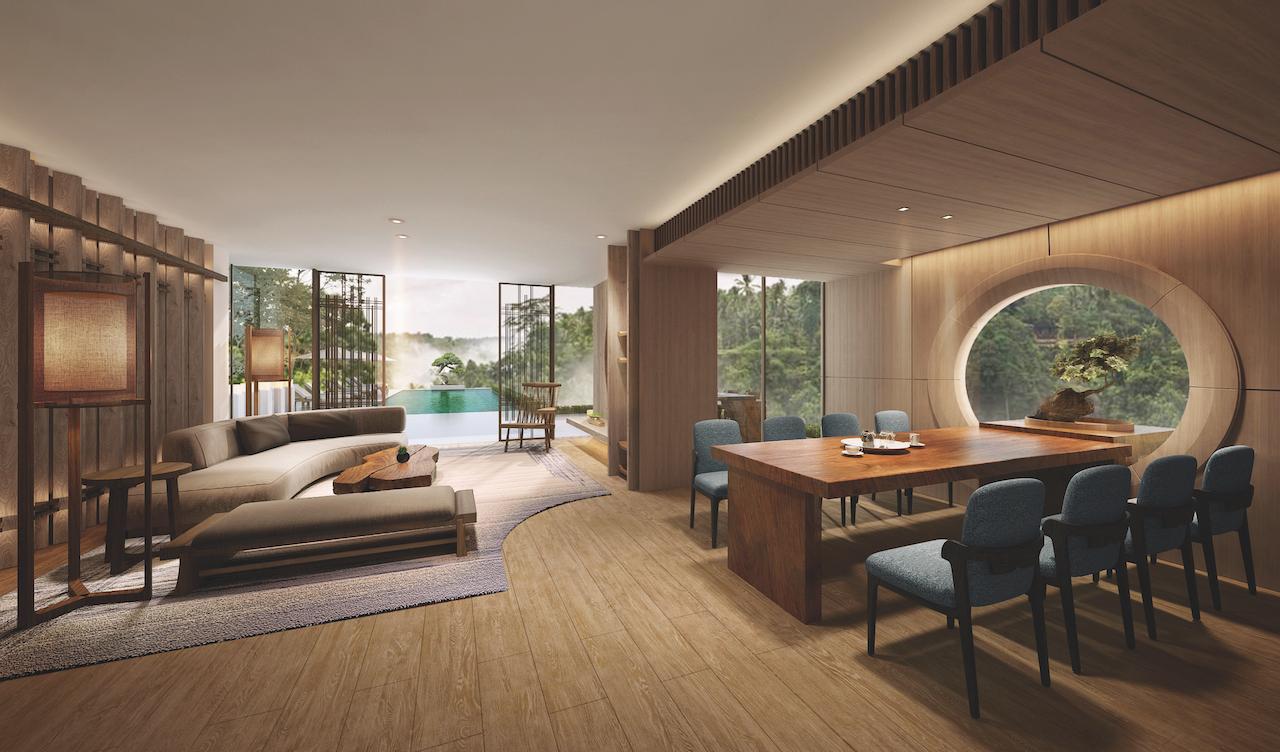 If investing in a thoughtful and well-designed home is a luxury, then Fehon is intent on making more of that luxury available.
AMOMA Atami, which debuts this summer, is a collection of 30 ultra-luxury villas in the seaside city of its namesake within Fuji-Hakone-Izu National Park. The project, a 90-minute drive from Tokyo, taps into the gifts of award-winning designer André Fu for both the exteriors and interiors.
"The site in Atami is incredibly special and we wanted to entrust this work to someone we consider a master of the craft," Fehon says. "André's appreciation for Japanese aesthetics, along with his own design principles, have resulted in a structure that pays homage to the natural environment in which it exists."
The oasis, where every home gets a piece of idyllic ocean views as well as its own private pool, is only just a taste of all that's yet to come from – and for – Fuin.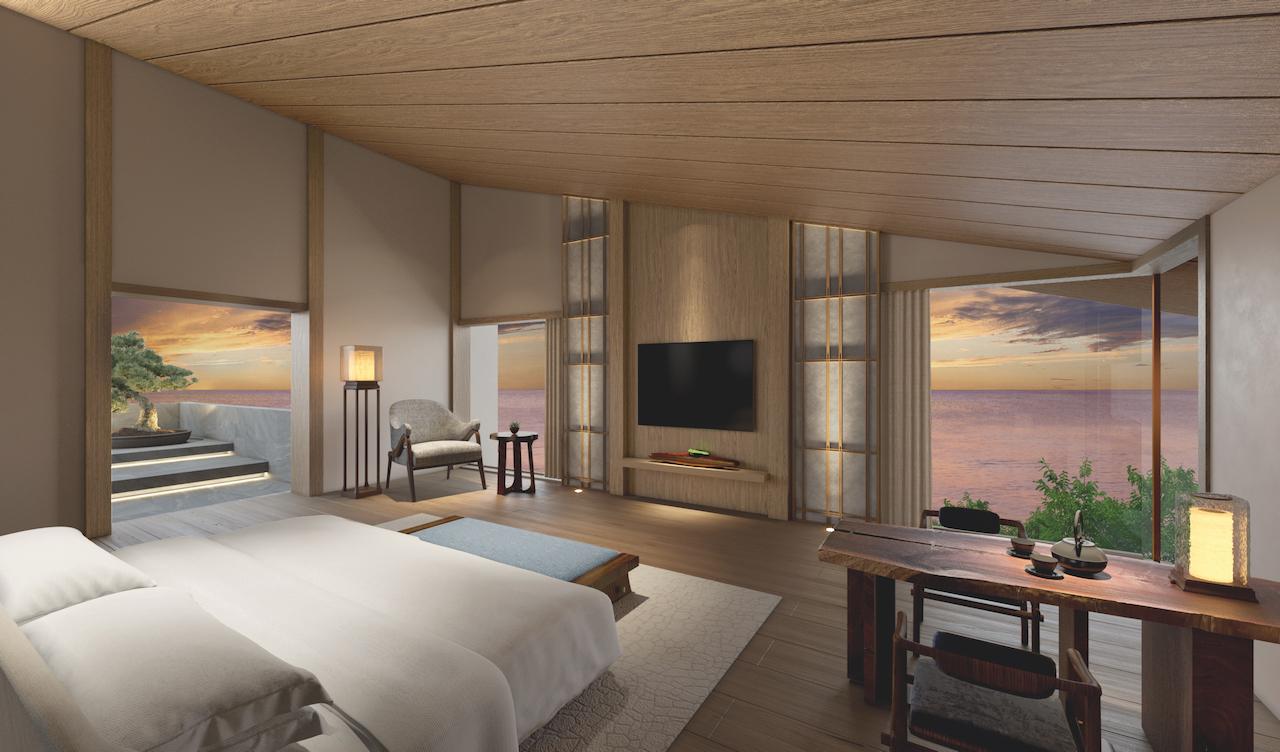 "We have a very exciting period ahead of us," Fehon says. "With an additional nine projects in development, we can't wait to share our philosophy of a life well-lived with an even wider audience."
It's an audience that's appreciative of space – what it's made of, as well as the way it makes them feel. It's an audience that appreciates authenticity as much as ingenuity, simplicity as much as creativity, because the right amount of each is what brings a space – a home – to life.
A home that's there for you once it's time to retreat from the world. A home that's present, not passive. True luxury, after all, exists in quiet confidence and assuredness.
"True luxury does not shout in your face – it whispers in your ear," Fehon says. "And that, is enduring."